Introducing: The Urwerk UR-120 Space Black — Time Travel For The Wrist
Travel to a future where mechanical watchmaking has evolved with an avant-garde angle
Urwerk exists in a rarefied space occupied by brands of a different species than the Swiss norm. Hyper-modern yet exhibiting a strong sense of craftsmanship, Urwerk's designs are in an exclusive league indeed. The UR-120 Space Black is created within the brand's secret lab by artisans with their eyes on the future rather than in the rearview mirror.
I bet you'll find it more challenging to name tech- and innovation-centric watch brands. Powerful independents like MB&F blaze the way, often high in the price stratosphere. Meanwhile, brands like Linde Werdelin, Gorilla, and Behrens lead a small pack of the more reasonably priced avant-garde. But while many of these brands sometimes dabble in more frivolous and glamorous looks, Urwerk remains industrial to the core, even with the curvy vision of the UR-120.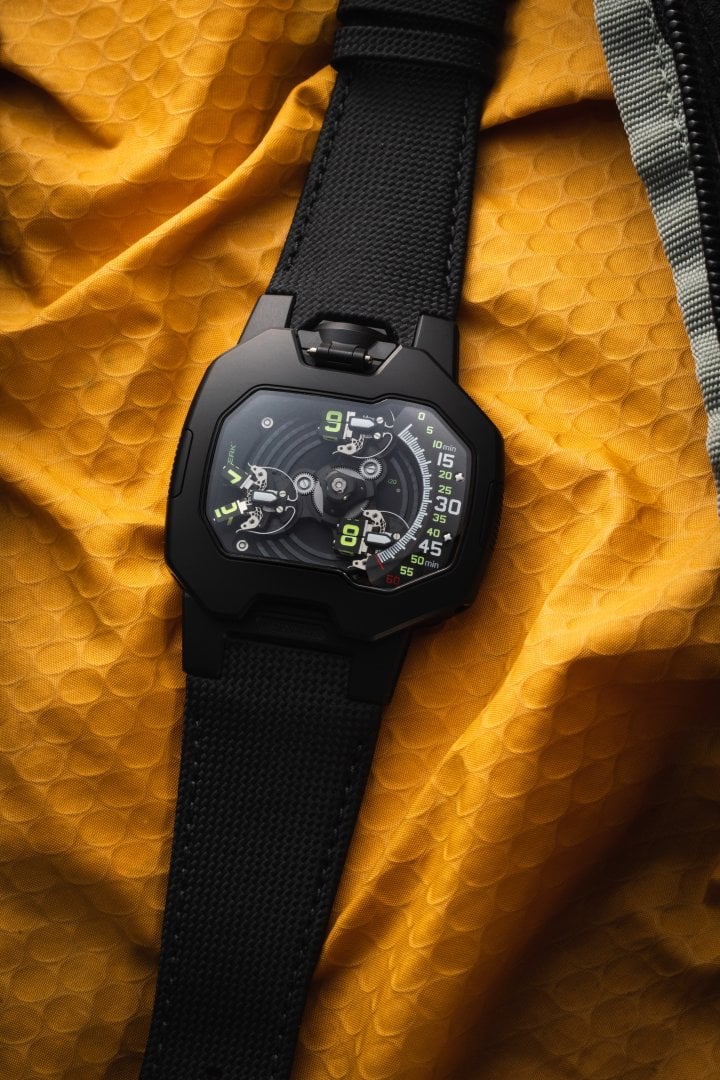 Urwerk UR-120 Space Black — A dark twist on heavy-hitting wrist tech
Urwerk's Felix Baumgartner and Martin Frei seem to have created their very own horological universe, and this is their second version of the curvaceous UR-120. Any Urwerk creation is instantly recognizable and polarizing. Now, for me, that P-word has a positive charge since great design is never universally embraced. Many of you might be reading this knowing well that your next watch will be yet another '60s-inspired diver, but stop for a second. I'll put it to you that we frankly don't need any more wrists endowed with vintage charm, so view the UR-120 as a deep dive into the future of wristwear.
Even the word "dial" has no place in this dark universe, where balanced asymmetries take center stage.
Just like the previous UR-120 model in its gray tone, this titanium and steel watch has complexities aplenty. It is also legible despite its slightly unsettling darkness. The mechanically powered digital display has a wildly complex satellite complication. Each slowly orbiting satellite rotates on its axis to the left of the minute display. Even the word "dial" has no place in this dark universe, where balanced asymmetries take center stage. And when you look closer, the complex window reveals a legible and logical yet slightly jarring layout. After a day of wearing the UR-120, though, it'll feel as natural as reading the time on a Casio while still feeling like a wrist event.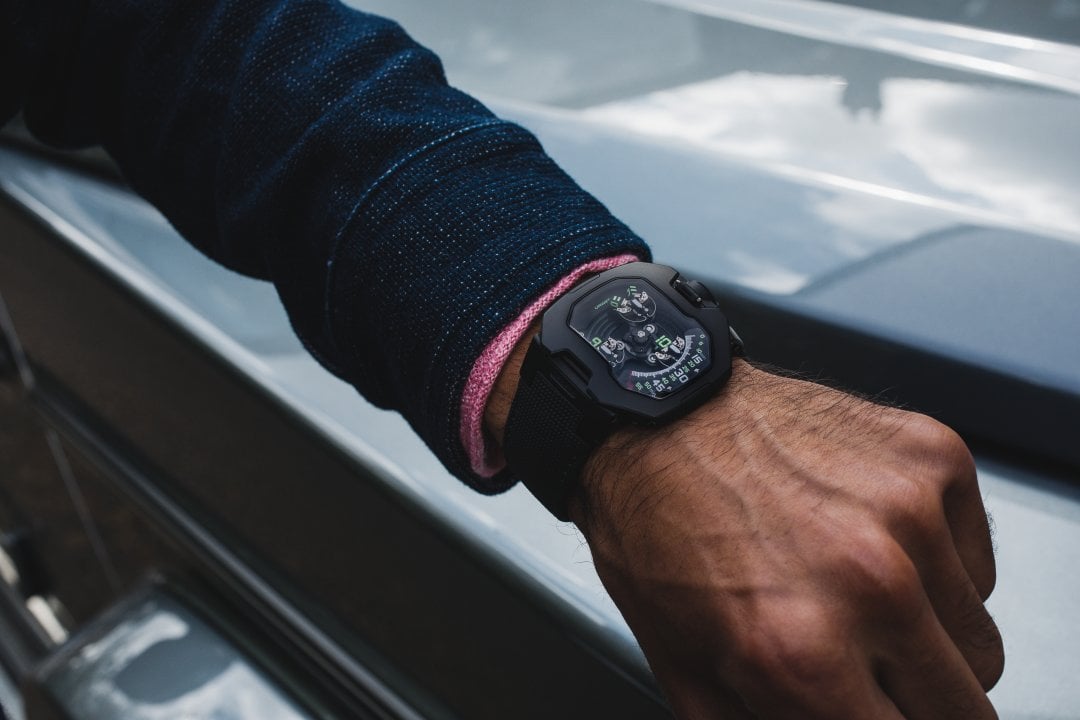 Legible complexities with a Star Trek Easter egg
The time is read on the right third of the UR-120 display, dominated by an arc for the minutes. The hand-like indicators that point to the bold white and acid-green numerals are affixed to the hour satellites. After a satellite traverses the minute track, it reaches the left part of the case, triggering a sequence. The satellite splits open, revealing two rectangular studs with acid-green half numerals. They take on a V-shape, reminiscent of the Vulcan salute. Once separated, the studs spin on their axes and then shut, all to display the new hour upon reaching the edge of the minute track. The mind boggles as to how the imagination of Baumgartner and Frei works, but even in still shots, it is utterly fascinating.
When it comes to wearing it, I'd implore you not to glance down at your wrist when driving, cycling, or electric-scootering through your metropolis. An accident will happen, surely, as this is addictive viewing. Trust me, seeing the UR-20.01 caliber at work, you'll never look at a Swiss lever movement in the same way again.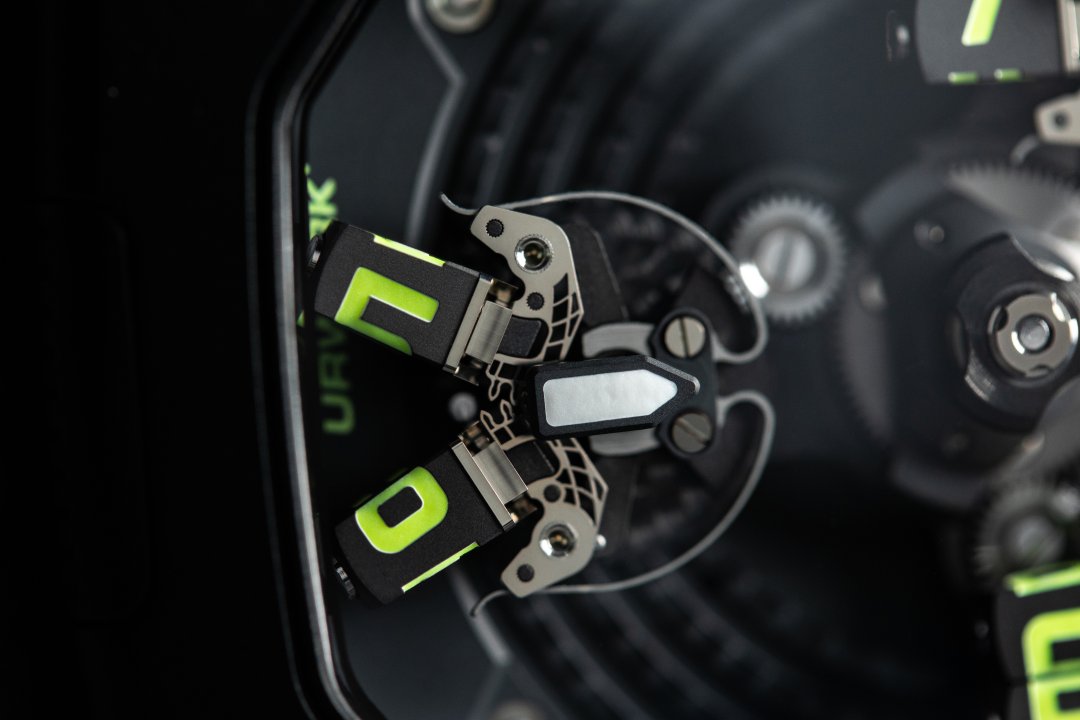 Asymmetric ergonomics
I have tried on an Urwerk and was pretty chuffed with its fit, so much so that one is close to being on my most-wanted list. The curvature of the 47 × 44mm case will make it feel as broad and alien as it looks, but in this new all-black guise, it packs a punch that is also comfortable. As Martin Frei says, "The use of black not only exudes elegance but also fundamentally transforms our perception of the object. Black works its magic by subtly distorting our judgments of size." And with an already-compact feeling, even the 15.8mm thickness shouldn't feel overpowering. Yes, black is slimming, but it's about the UR-120 itself and what it does to your perceptions.
It feels like an instrument rather than a watch, and buying this or even just trying it on will feel different and involved. It'll always catch your eye, even if paired with a pink Hawaiian shirt (with acid-green details to match the numerals, right?). The case seems to fold in on itself in its layered design, and the hinged lugs effectively act as part of the strap and hug the wrist. The UR-120 will never feel like any of your other watches but always like an Urwerk. That's a win-win in my book.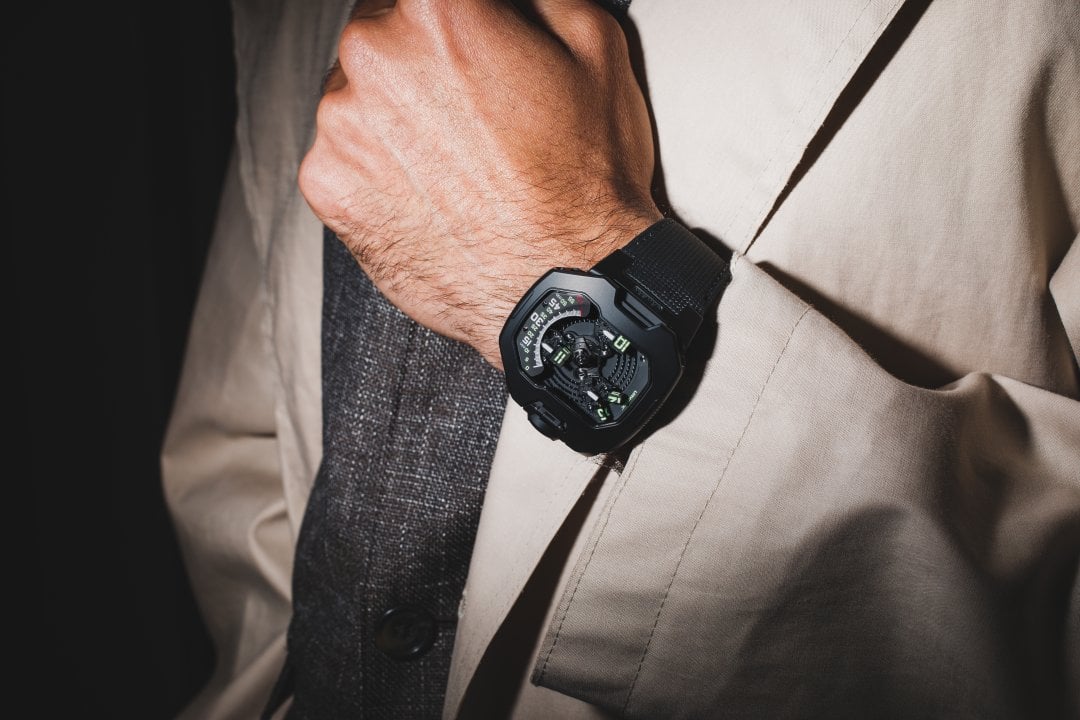 Do I see myself as some kind of aspiring space cadet?
That was actually the first question that came to mind when I saw the image above. It even intimidated me slightly. But the answer is still always a "yes" when I see a new piece of futurist wristwear from Urwerk. On one hand, I enjoy the fit and feel of small-sized vintage watches, but lately, my taste is changing. What many of you are probably pondering is how to embrace this dark, techy style. Do you need to dress in all-black, no-logoed Japanese couture with a minimalist man-bag? Nope. I believe that contrasts are the spice of life, and shorts with a denim shirt work just fine. Sure, at CHF 110,000, the UR-120 Space Black will outstrip any watch budget I'll ever manage to construe, but that doesn't hinder my desire. On its black calfskin-lined Cordura strap, it's expensive but dangerously alien in a very tempting way.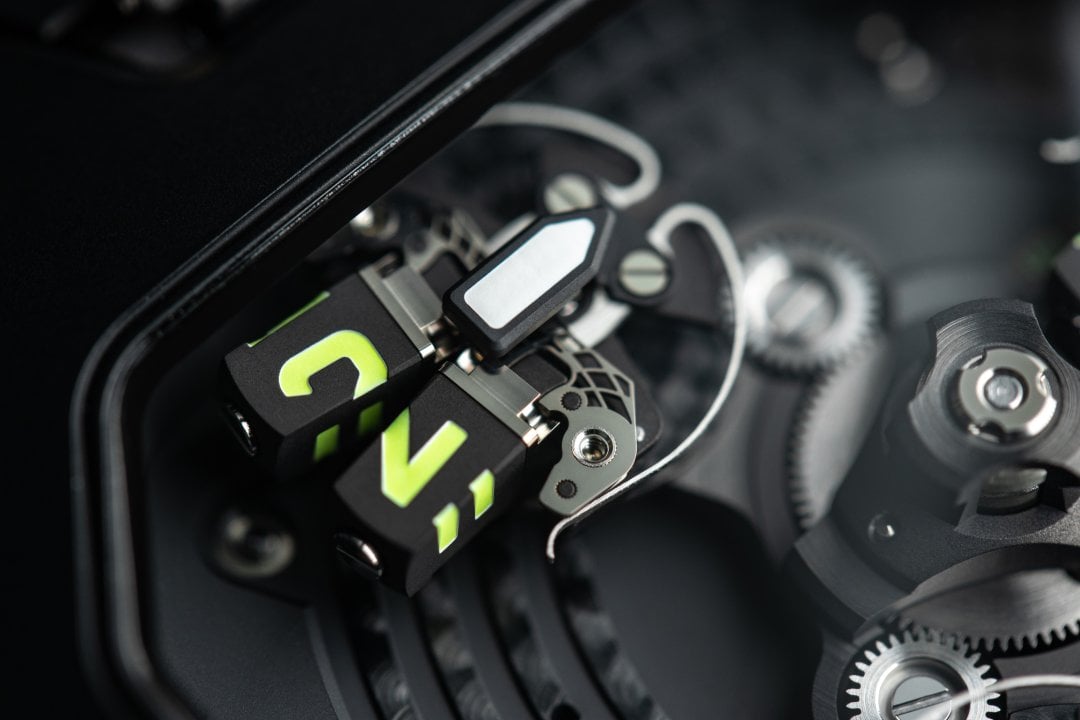 Urwerk UR-120 Space Black — A forward-looking conclusion of sorts
To be honest, I see this technical, futurist Haute Horlogerie as imperative in 2023. I've caught the comments myself, with affluent twenty-somethings understanding the value of a Vacheron but not wanting the style of their granddad. Frankly, I haven't got a cool 110K, but for watchmaking to traverse the age gap and last into the next century or millennium, contemporary craftsmanship is what we need. And for the granddads out there, the UR-20.01 caliber features details like hand-finished circular and straight graining, Côtes de Genève, and polished screw heads. The UR-120 Space Black might look like an alien ship, true. But look closer, and you'll see that it embraces everything we love about watchmaking in a razor-sharp black suit.
Dear Fratelli, is this mechanical über-tech the future of watchmaking? Or are you still hoping to top your collection of fourteen '60s-vibing divers? Let me know in the comments.
Watch specifications
Dial
Asymmetrical display with satellite jumping hours and arc-shaped minute track
Case Material
Sandblasted titanium with sandblasted steel bezel, black DLC treatment, and silicon (SI) coating
Case Dimensions
47mm (diameter) × 44mm (length excluding hinged lugs) × 15.8mm (thickness)
Crystal
Curved sapphire crystal with antireflective treatment
Movement
UR-20.01 — automatic winding, 28,800vph frequency, 48-hour power reserve, 32 jewels
Strap
Cordura with calfskin lining
Functions
Time (digital hour satellites and analog minute display)