Jean Dunand Tourbillon Orbital Confucius
In Basel, I had the pleasure to meet with Thierry Oulevay (CEO and co-founder of Jean Dunand) and one of his watches, the Jean Dunand Tourbillon Orbital. This tourbillon watch features a one-minute flying tourbillon that orbits the dial once per hour. Furthermore, it has this cool power reserve indicator in the case band and moon phase on the caseback. You really need to take this watch off your wrist if you are planning to show it off properly.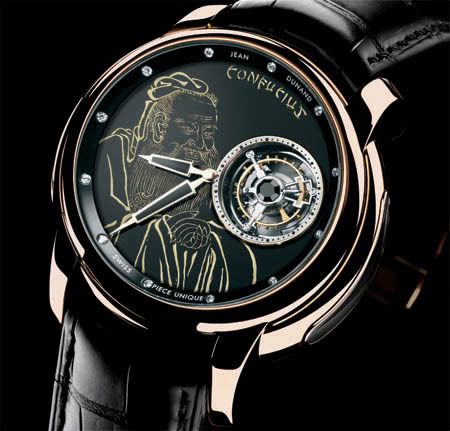 One of the things that struck me most, was the beauty of the dial and hands. I am not very much into tourbillons, so I focus a bit more on the dial and hands in these cases 🙂 The sky scraper hands are one of the nicest pair of hands I'd ever seen on a watch.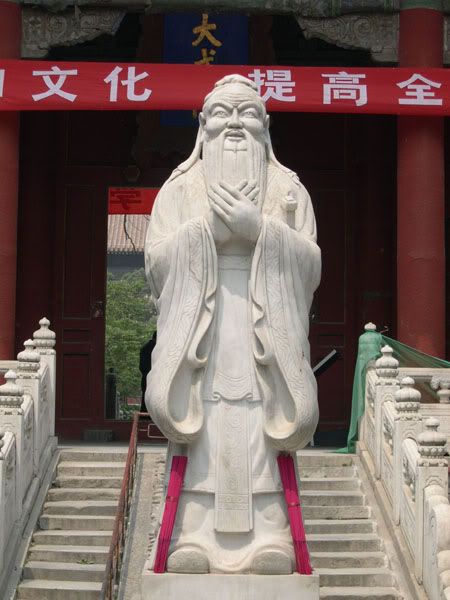 This time, Jean Dunand pays tribute to the artistry of miniturist painters, who perform an art that can be traced back to the 14th century Persia. Eventually, this form of art was also found on the cases and dials of time pieces. Jean Dunand's passion for the Orient is recreated today in this miniature line portrait of Confucius, Chinese thinker and social philosopher who lived from 551 BC till 479 BC.
The above picture was taken by myself in 2005 at the Confucius temple in Beijing. This temple was built long after his death, in 1302 to be exact. The temple was in bad condition a few years back, especially compared to a number of other large temples in the city. You can read more about Confucius and Confucian temples by clicking here.
Below, you can see the hand-painted portrait of Confucius on a very thin black onyx dial that has been inserted on top of a gold disk.
Countless hours of manual labour and fifteen kiln firings have been invested in this miniature. Because required precision, a brush with only a few marten hairs is being used for the brushes. Working from the face outwards with the aid of a binocular microscope, the artist applies the colours often repeating a stroke to increase volume that can be appreciated on Confucius?¢'Ǩ'Ñ¢ beard or drawing out the stroke to achieve the nuance and gradation to render the curve of Confucius?¢'Ǩ'Ñ¢ forehead. Each painting session is followed by a stint in a 90-100?Ǭ? C kiln culminating in a final kiln firing of 6-7 hours. The final result, a mere 3/100ths of a millimeter thick, is proof positive that complication and ornamentation, exceptional technology and consummate artistry do indeed produce remarkable results. You can find a number of interesting articles on the Jean Dunand Tourbillon Orbital Confucius in the Articles section at the Jean Dunand website.
As for the technical specifications of this watch:
The JD Orbital Tourbillon watches have a 110 hour power reserve, which is indicated by a gauge in the side of the case (as can be seen below).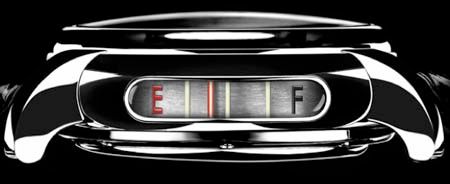 Winding the handwound movement needs to be done by a folding key, located in the caseback at 3 o'clock. The 45mm case has a 15.3mm height and uses two domed non-reflecting sapphire crystals. I wouldn't try it if I were you, but Jean Dunand claims that this watch is 3ATM water resistant 🙂
I don't remember the price of the Tourbillon Orbital watch I have seen in BaselWorld, but I do remember that it cost a fortune. I guess that doesn't matter for the watch connoisseur with only limited financial boundaries, these type of watches are for true fans of unique haute horlogerie.