Les Noble Watch Roll – You Can't Go Without A Watch Roll
Watch Roll – One of the most useful accessories
When you own two watches you could say you already have a collection. So if you travel, even if it is to meet up with other watch collectors, or for a weekend away with your girlfriend, you need something to carry your watches in. A watch roll is the perfect solution. Now, they come in different sizes, materials and quality. Today we will have a look at the watch roll by Les Noble.
Les Noble
Les Noble, a Dutch company that is specialized in accessories like credit card holders, wallets, passport holders, leather iPhone cases etc, also carries a canvas watch roll in stock. The watch roll is nicely delivered and protected by thin paper and a cardboard box.
A green waxed canvas watch roll comes out. Sized 280mm x 245mm. It has four watch pockets, so enough to carry 4 extras around during your trip or holiday for example. However, you can also use it to carry a couple of straps and a strap tool for example.
Quality
With these accessories, it is mainly in the details. The four pockets in this watch roll (65mm x 100mm) are big enough to 'host' most of the wristwatches out there. But what's really nice, is that the inside of each pocket is finished with soft suede leather, to protect your watches as good as possible. Once the watches are inside, you can fold over the other half of the canvas watch roll and roll it up. There is a long leather lace you can use to tie it up. The only thing I would have rather seen is that it would use a bit of velcro or some sort, to tighten it properly. Now you need to tie your own knot.
Les Noble Gentleman's Club
As written above, the package is pretty awesome. It makes a nice giveaway for Christmas or someone's birthday, or for yourself of course. Les Noble includes a small business card, which you might not want leave around the house. I think it was actually the first time in my 7 years of marriage my wife asked me whether I visited a brothel. The back of the card says "Gentlemen's Club" which might comes across a bit odd to some people. On the Les Nobles website, there's a non-filled blog that says "Gentlemen's Club", so I assume it is some future project.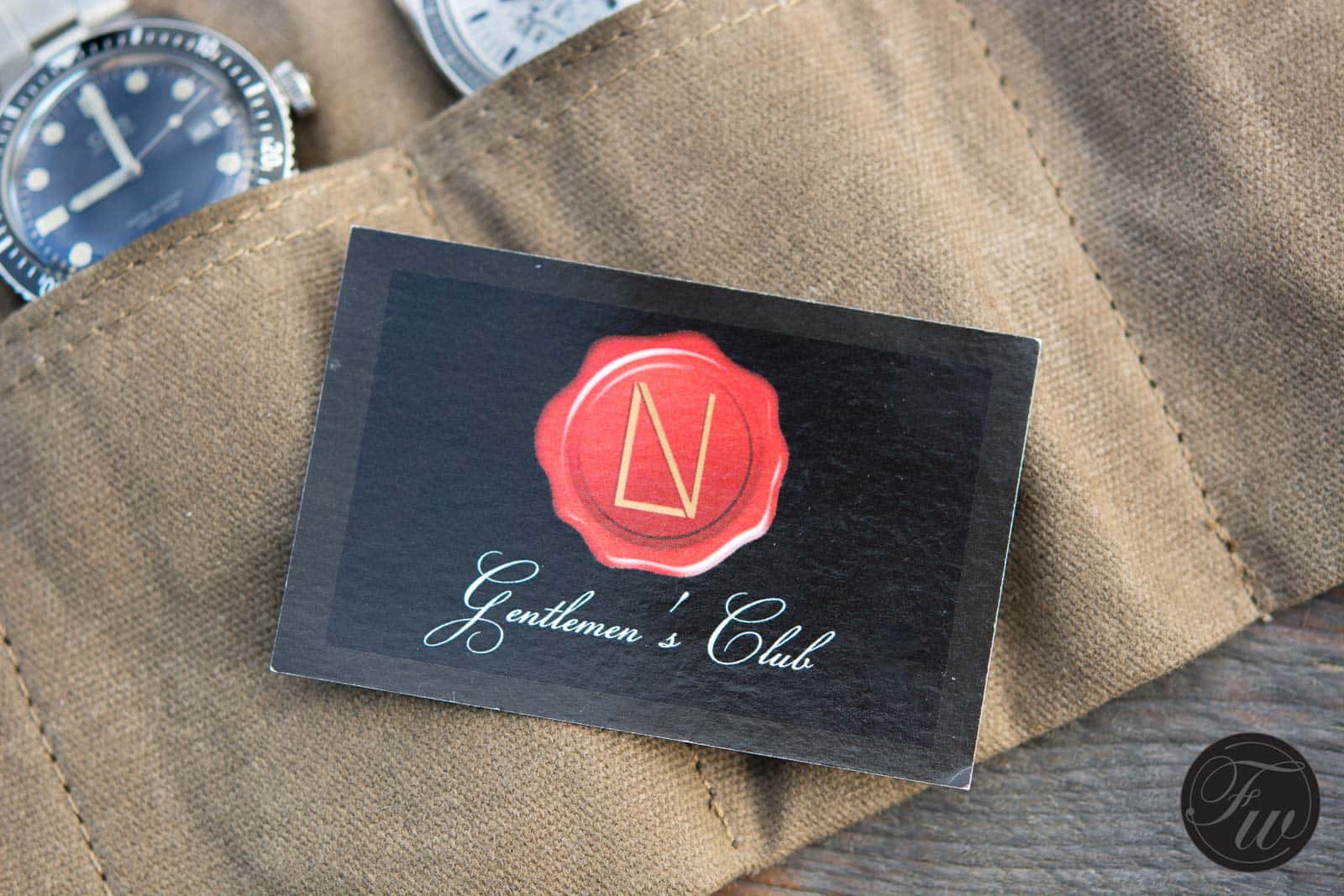 Traveling Around
Other than that, it is a cool product for a very fair price. It is a no non-sense product that helps you protect your watches from being damaged or 'losing them' out of sight during a trip or stay. The Fratello team carries around watch rolls like this (and this one) wherever we go, whether it is for a GTG or simply traveling for a couple of days. They easily fit in your backpack or trolley, by rolling up the waxed canvass watch roll it is immediately protected as well. The leather inside of the four pockets is a nice feature and well-thought of.
Availability
For now, it is just this one model you can order from the Les Noble website. Les Noble offers free world wide shipping of the watch roll and the price of €60,- includes sales taxes.