Lex Watches becomes the BRM dealer for The Netherlands and Germany
Lex Watches, one of Fratello's sponsors and just recently on the Dutch market has exciting news to bring! Since Lex Watches is trying to stand out from the crowd, they also look for partners that stand out. Lex Watches have found a brand that they feel fits very well with their own philosophy. The brand is not very famous to all of you (yet), but all watches are precious timepieces, made in house and by hand, all in very small production numbers, making all the produced watches special and rare!
The brand we are talking about is BRM which is short for Bernard Richards Manufacture. At BRM they build every watch by hand, and almost all parts are manufactured in house. BRM uses, besides ETA based movements, in-house made movements (Precitime) which are used in the BRM Birotor, R-50 (pictured below) and BRT models. All parts, screws, push buttons etc. are completely made in house by hand and with high tech machinery. At BRM, all parts are crafted from raw material, never stamped, but all made by hand or carved from material by high tech machines and superb craftsmen. Due to this high quality craftsmanship, BRM only produces about 2000 watches each year! Making every watch an exclusive piece.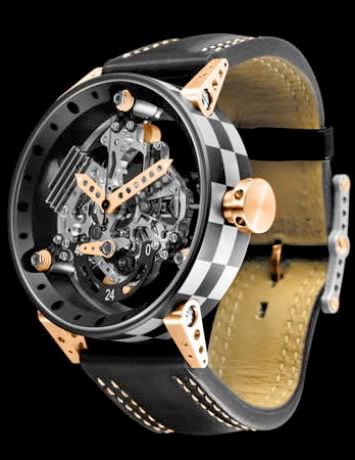 The brand is really in the line of racing and shows great mechanical skills. All parts and edges are really beautiful made by hand, unseen in the watch manufacturers market. This makes BRM a special and very high quality brand, that chooses to be different and small. They will never produce watches in large quantities.
All watches have 3 years of warranty, and one can choose dial, hands and strap colors as they wish. Check out our website www.lex-watches.com for all possible models of BRM.
Lex Watches states that they are proud to be the authorized dealer for BRM in Holland and Germany.