Long-Term Watch Review: Fortis Marinemaster M-40 — The Best Tool Watch I Own
A love affair in full flight
The way in which I find myself falling for watches matters more to me as I age. I must admit that it took a while for me to own up to that fact. In my youth, I'd been intensely product-focused. I wouldn't say I pooh-poohed those that bought and wore watches for purely emotional reasons, but I regarded them as a different breed. For me, the build quality, the refinement of the design, and the intellectual merit of the mechanics mattered more.
Nowadays, while those things still matter to me more than anything else when it comes to adding watches to my collection, deciding which watch leaves the box every morning and spends the day on my wrist is most definitely a matter for the heart. The Fortis Marinemaster M-40 that I met in September, fell in love with in November, and committed to my wrist soon after is the perfect example of the perfect love affair in full flight.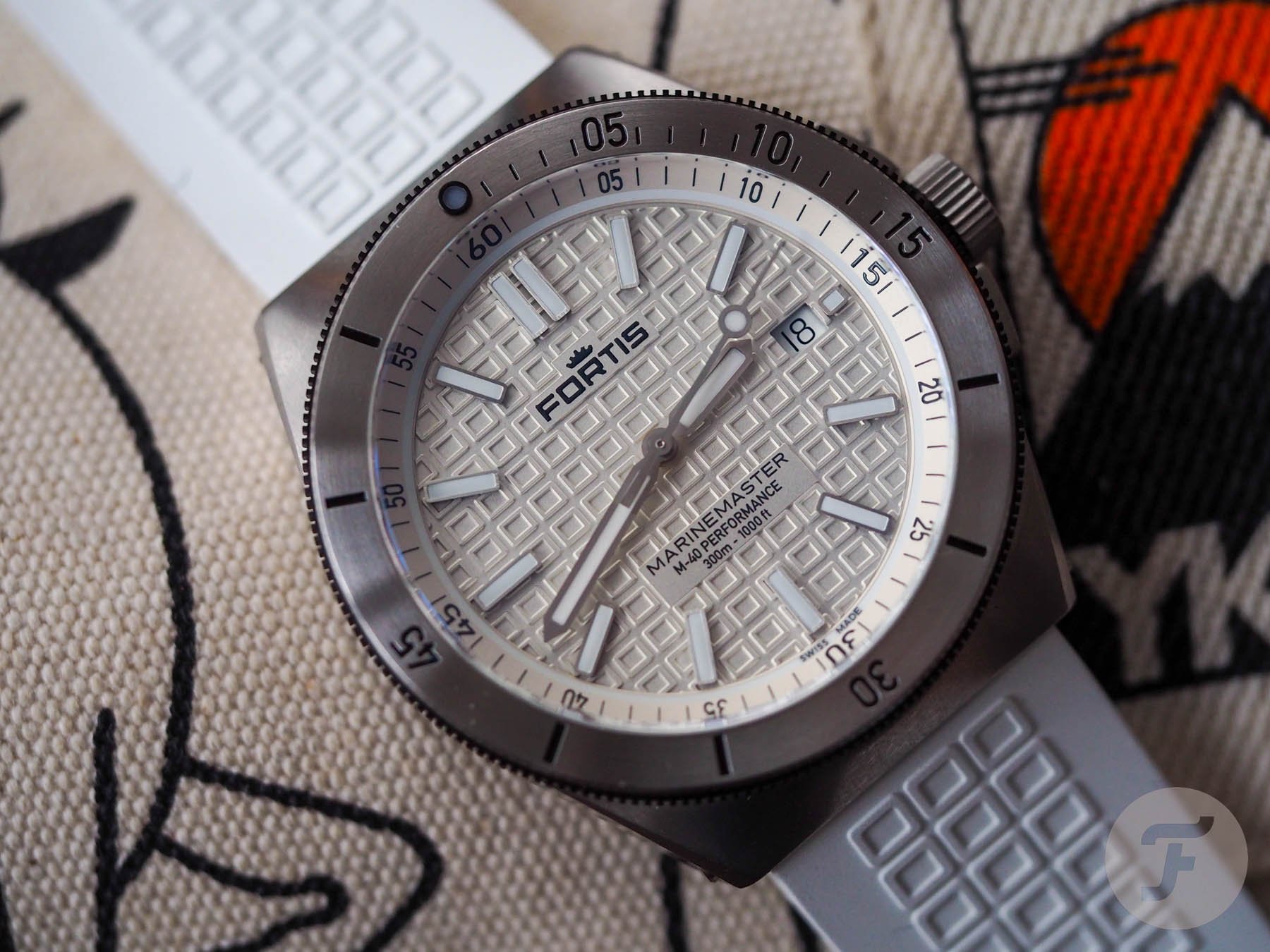 An unexpected journey
I was sitting around the main table in the first-floor room of the Fortis HQ in Gretchen to which all visitors are directed upon arrival. It wasn't the first time I'd been there so I was studying the reactions of my colleagues who hadn't yet had the pleasure of experiencing team Fortis's hospitality. Part of that hospitality included our hosts proudly showing my team Fratello the brand's latest invention: the Fortis Marinemaster. This unusual, barrel-cased watch didn't make an explosive impression for its shape (the true wonder of the Marinemaster's form wouldn't become apparent until further inspection, but the array of unusual colors (as well as the bold crispness of the Snow White model that would become my latest beau) really caught our collective eye.
One eye that was particularly rapt by the seasonal shades on offer belonged to Dave Sergeant. As you may know from my frequent taunting (that is wholly inappropriate without express written permission in 2022, apparently), Dave is red/green colorblind. As such, he tends to gravitate toward the color yellow (because he knows it exists). In the absence of yellow, however, he fell in love with the Serenity Blue model.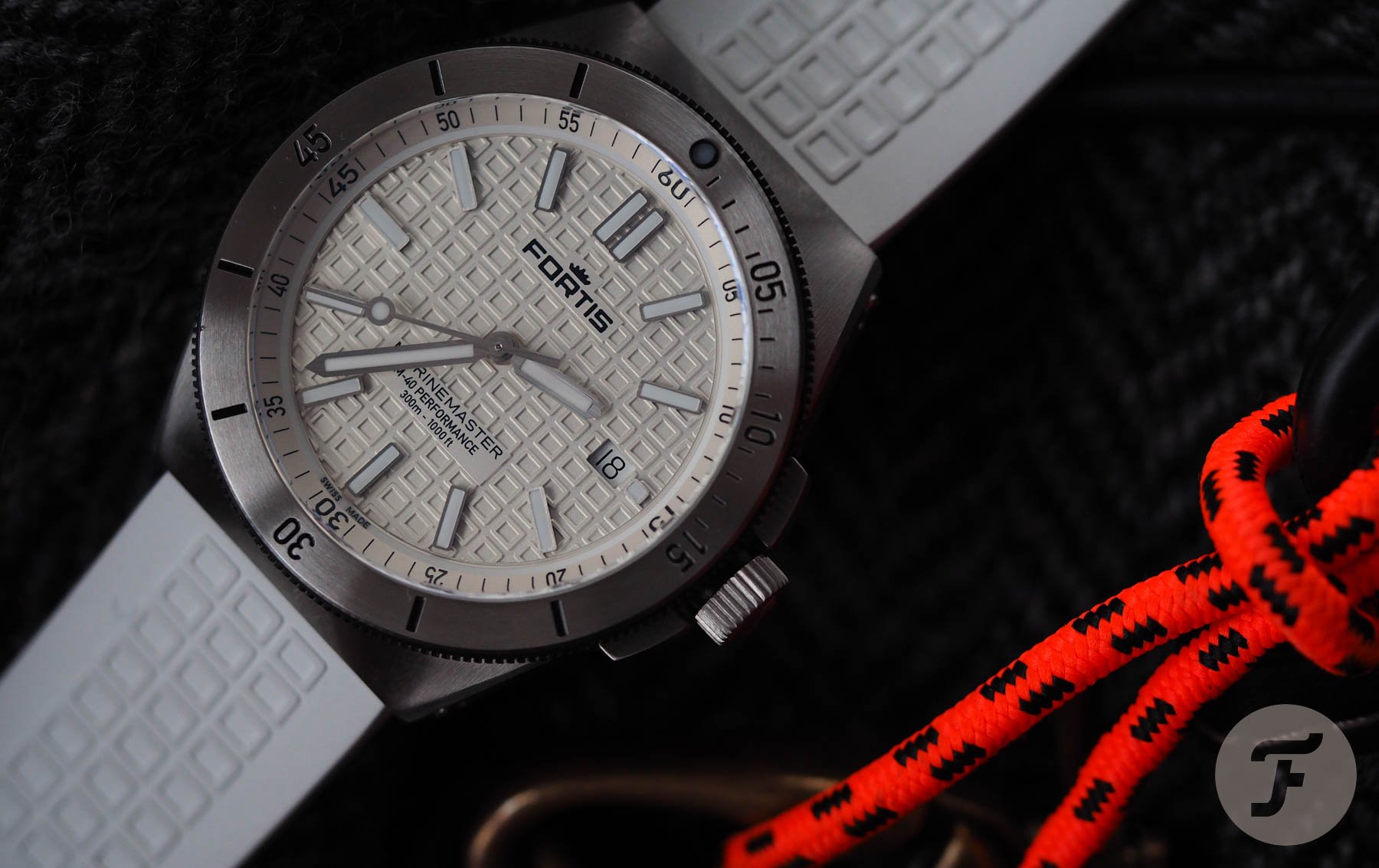 Who knows what Dave can see?
Now, truth be told, no one is quite sure what Dave sees when he looks at this model, but he assures us he's not half bad with greens, so we're assuming it's something close to reality. However, I think the point is (and this was supported by my "color vision deficient" friend's testimony) is that the general mien of the color, however that color itself is perceived, remains regardless. What I mean by that is that bright colors, whether you're able to tell what color they are or not, are still "bright". Similarly, dull colors are dull. And while it sounds sensorily inaccurate to describe a color (not the surface itself) as having a texture, there is something about that green, in particular, that seems to suggest as such.
Greens that aren't green, and blues that aren't blue
In fact, when you look at the four colors of the Marinemaster M-40 (that's the 40mm wide variant as opposed to the 44mm option with a black dial and orange chapter ring), you realize that, without exception, all of the colors chosen are very special. We have a green that isn't quite green (there is something a bit yellow, something a bit brown about it), a blue that isn't blue (hello Mr. Green), a grey that is just about the most lively shade of cement I've ever seen, and a white that is as pure but not quite as white as the snow that named it…
In addition to these colors' "visual texture" and depth, there is, of course, also the bold dial pattern to consider. At first, the repeating "Fortis 'O'" background seems somewhat Greco-Roman and seems to jar with the more futuristic housing, but your eyes quickly get used to it and it suddenly seems very much at home right where it is.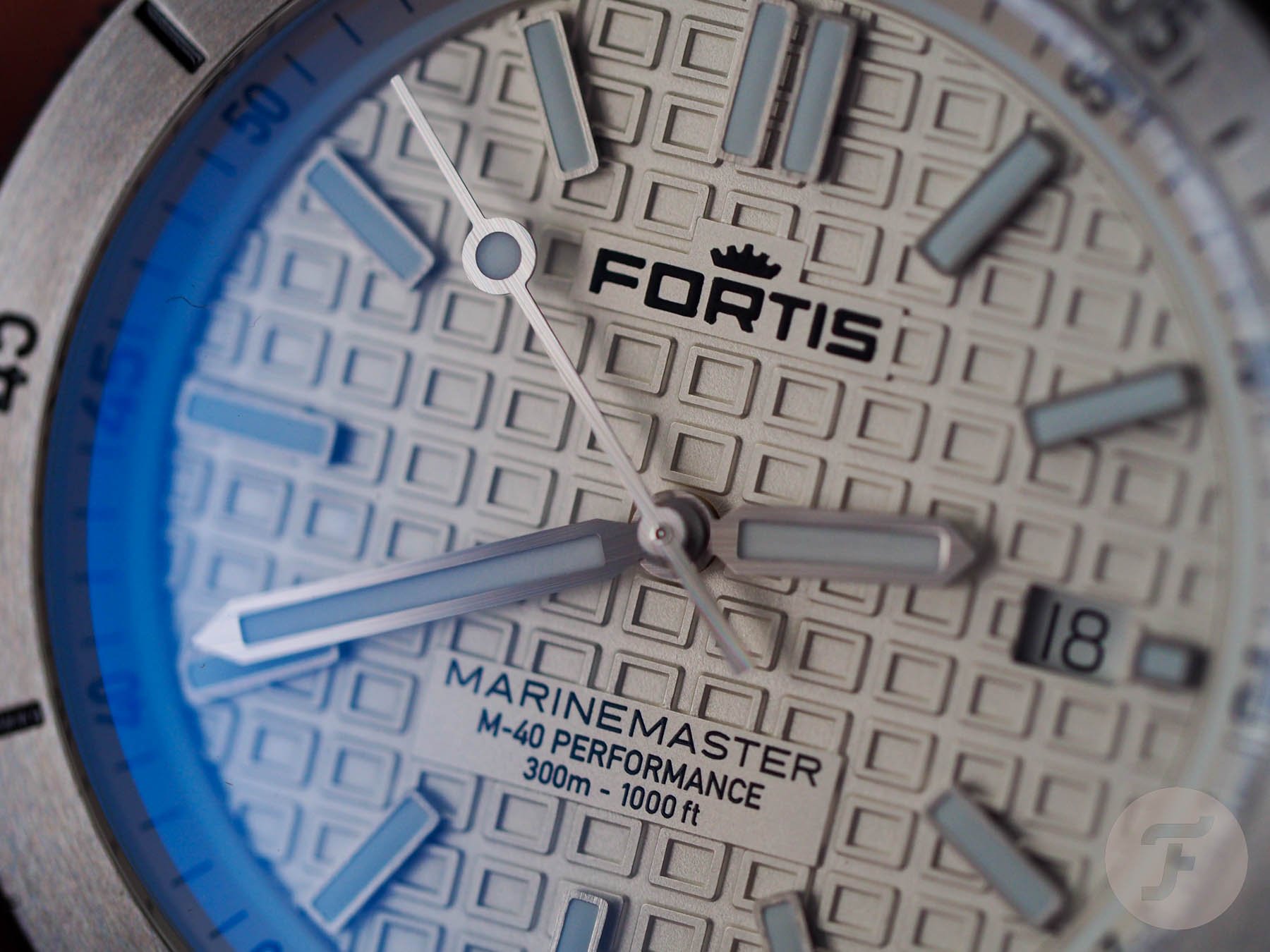 The best thing about this surface decoration is the way it interacts with light in an interesting but not distracting fashion. I think the rigid pattern appeals to my brain in a way that something more organic like a sunburst simply does not. I love the way the whole dial changes from different angles. Sometimes the small squares seem as pronounced as towers erupting from the field of the dial and, at others, they seem to disappear entirely. Sometimes their edges are sharply defined, whereas on other occasions they blur and blend into their surroundings. The brushed handset is simultaneously enjoying its own intimate relationship with the light and provides a constant counterpoint to the dial itself.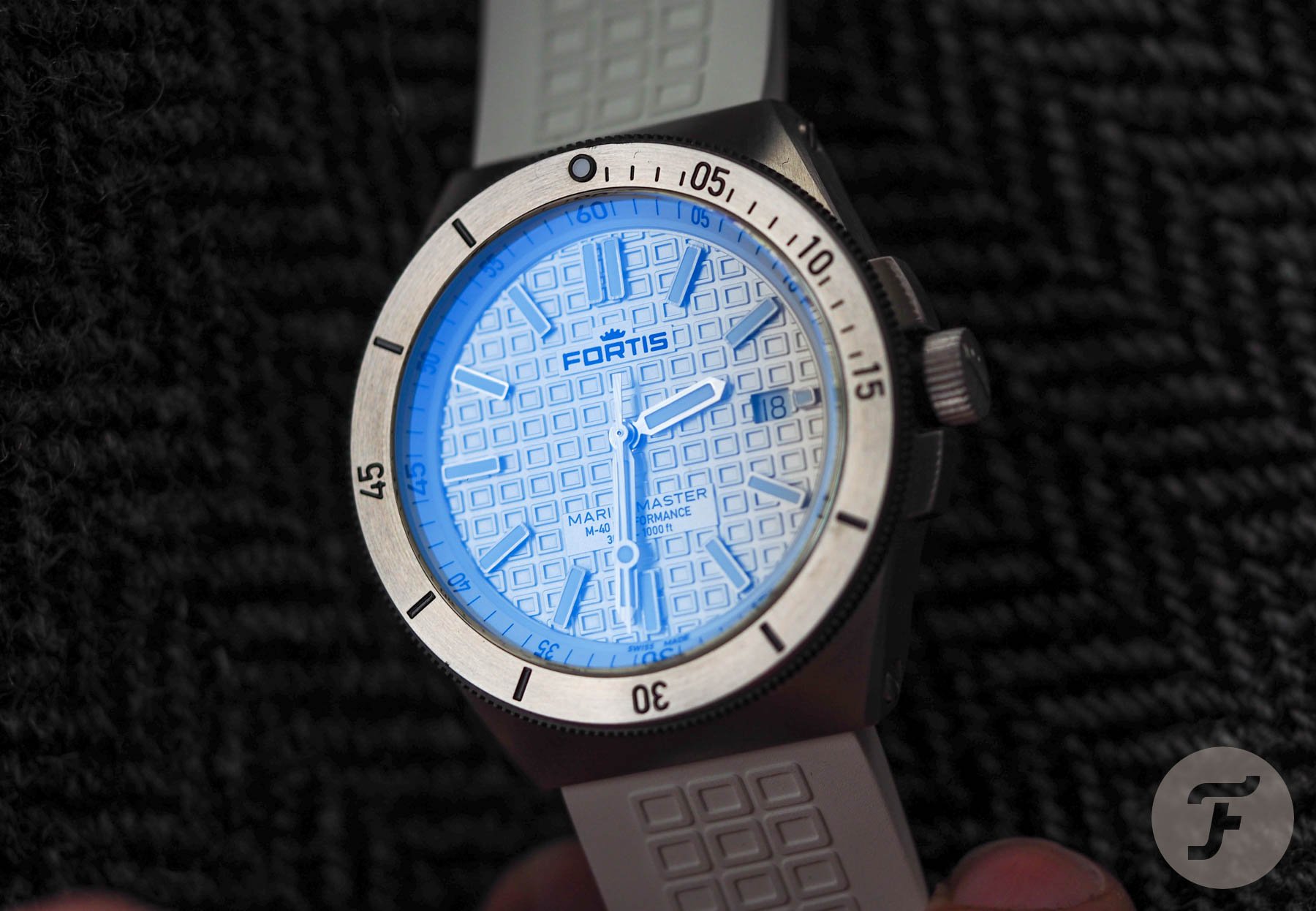 The case that won me over
The most notable thing about the wearing experience of the Marinemaster M-40, however, is the case. I didn't fully appreciate this (read, at all) until I wore the very first prototype for a week while testing watches with Fortis in the Arctic. The flowing sunray brushed surface of this tonneau-shaped masterpiece is stunning. The precision of its machining is truly first class. Getting this kind of design right without ending up with weak, buttery edges or uneven reflections on the broader surfaces is so difficult. For the creation of this case, Fortis turned to the best in the business (in my opinion), and here it reaps dividends.
It's very hard to appreciate just how well done this is from static shots of the watch so I made this video on my Instagram to demonstrate how the light moves over the hooded lugs (which is where the real magic can be found):
View this post on Instagram
The question is: with such exciting, off-beat colors available, why did I choose the "boring" white dial? The answer is simple: the white ring of lume that hugs the inner edge of the chapter ring on each of the models is completely hidden on the white version during daylight hours.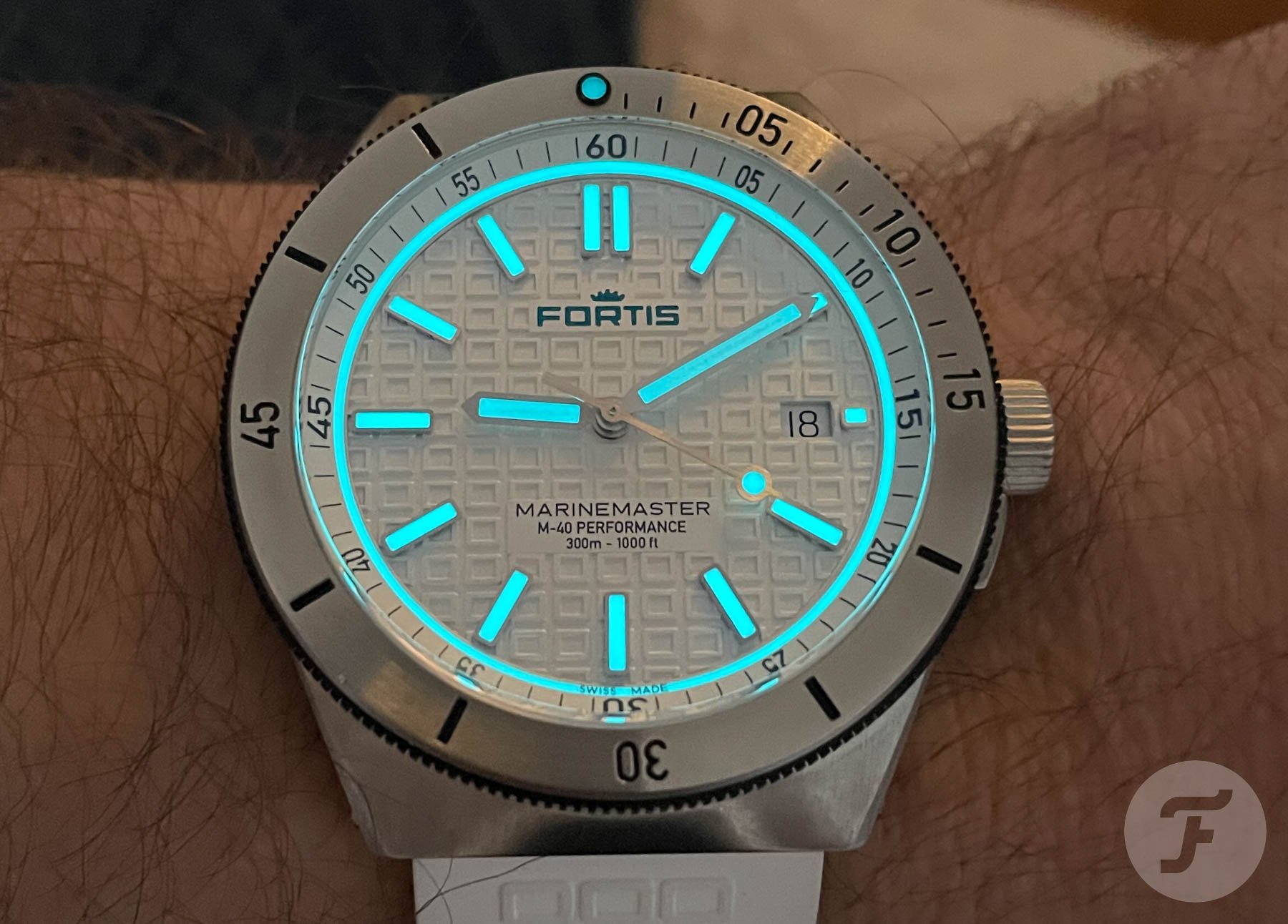 This might seem like a shame to some of you (which would be fair enough), but I haven't been able to shake the thrill I felt the first time Andreas (of Fortis) shone a UV lamp over the white dial and that secret line of lume blazed into life. I swear to goodness, I yelped out loud with joy. That kind of moment isn't easily forgotten and has me glancing fondly toward my wrist several times throughout the day whenever I remember it.
Seriously.
Have I gone soft in the head, the heart, or both?
I'm not known for being a particularly soft guy. Prickly. Short (in all ways). Borderline volcanic. These are things people might be tempted to say about me (when out of earshot if they know what's good for them). However, the Fortis Marinemaster M-40 Snow White is the latest in a select line of watches that have truly melted my icy heart. I honestly don't know how to describe this shift in where I place most importance other than a result of the natural aging process.
A lot of my more senior colleagues seem to understand where I'm coming from. The younger ones tend to think me a bit doe-eyed all of a sudden. It isn't that they approach collection building in the same clinical fashion I always did, but their emotions are more in the enthusiastic and excited vein rather than the borderline emotional breakdown category.
More than a spec sheet
The Marinemaster M-40 is 40mm wide, is made from recycled steel, has a 120-click unidirectional rotating bezel, a crown-signed screw-down crown, and is water-resistant to 300 meters. The lume homogeny (the evenness of the glow strength between the hands and dial markings) is absolutely excellent (the lume pip is slightly dimmer but the time readout itself is a thing of pure beauty). The rubber strap (21mm at the lugs as with all Fortis bands) is soft and comfortable out of the box, but extremely thick and tough. The white one might not be for everyone (and, in fact, I think I will swap it in and out with a stretchy fabric hook strap from the brand as the mood takes me), but it completes the look.
But the watch's build specs are what they are. You don't buy this watch if you are a movement nut (it's powered by a UW-30, which is a modified Sellita 200). You don't buy this watch because you collect classic watches. This is something new. This is something exciting. In an era when the majority of historic brands are leaning on their history to provide inspiration for their "novelties" Fortis, the brand that commercialized the automatic movement is redefining what a tool watch can be.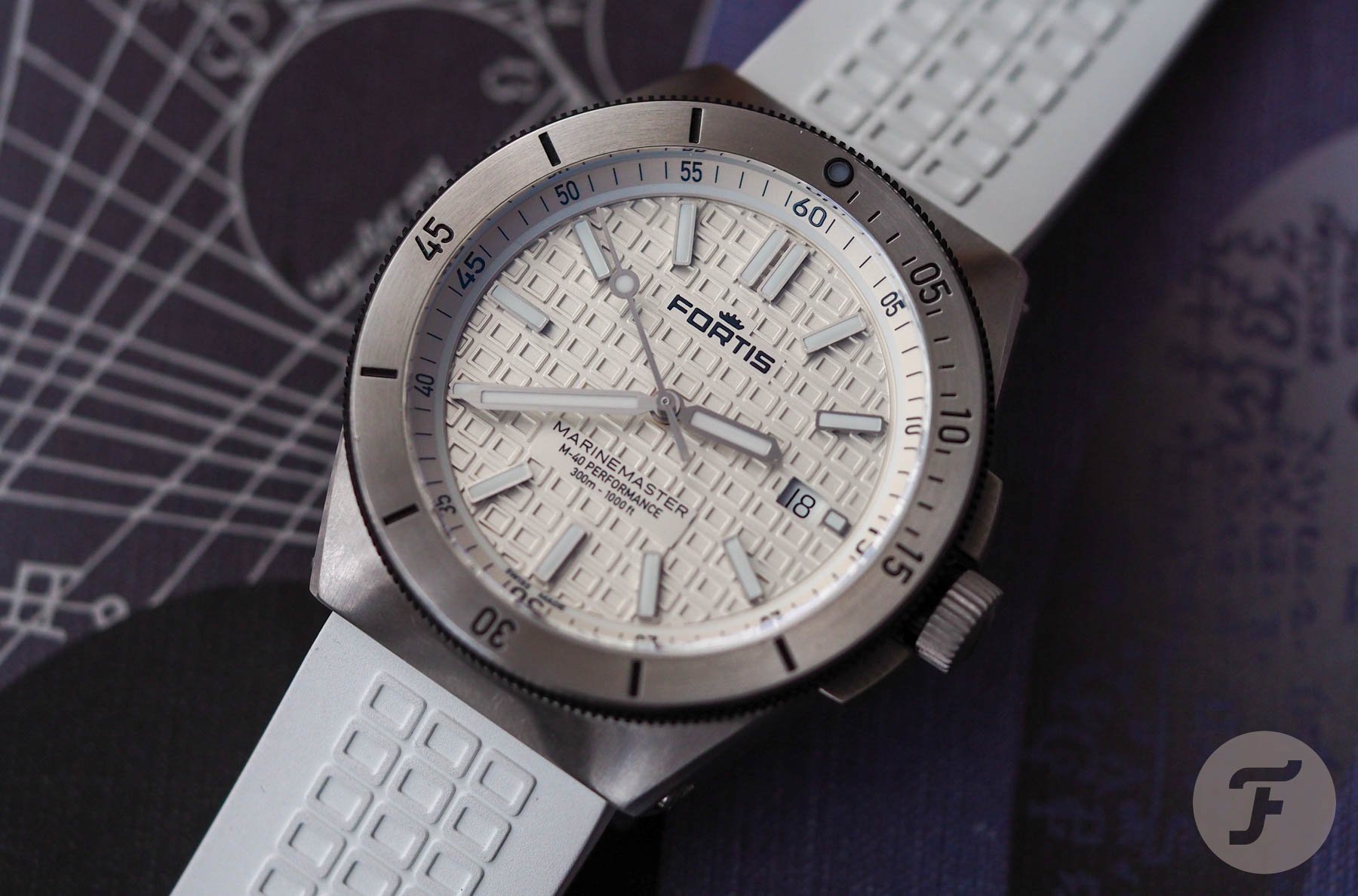 Something very special
It may not be for you. It certainly wasn't for me. And then I gave it a chance, quite by accident. Now, it sits on my wrist more than any other watch I own. I don't know how long this love affair will last and for how much longer the Fortis Marinemaster M-40 will be able to fend off the raft of rivals waiting to take its place, but right now I'm enthralled. It seems a silly thing to have such a visceral reaction to a watch. It seems sillier still that I'm talking about a new design, a new form, and a blank canvas with no fan forums yet to fan the flames of desire. And yet here we are. True love, found when I least expected it. That's a treat I never saw coming. Learn more about the Marinemaster here.