Longines Heritage 1951 Chronograph Review – Hands-On
Longines is one of those brands that perform very well when it comes to new watches, but also has its share of collectors of their vintage collection. With over 180 years of history, there are definitely some very interesting Longines timepieces to consider. Both from their actual catalog as well as from their past. Nowadays, Longines is part of the Swatch Group and is positioned somewhere between Omega and Tissot. Also based on some watch market data we have, we identified that watch consumers also positions this brand between Omega and Tissot and noticed an increased interest in Longines over the past few quarters.
An interesting trend, as I also see a decline in interest in a number of watch brands by consumers over the last year. However, I am not surprised about the increase in interest in Longines because this company from St Imier is putting a lot of effort and thought in creating interesting and especially affordable mechanical timepieces. What to think of their beautiful Heritage collection? I've enjoyed the introduction of pieces such as the 180th Anniversary mono-pusher chronograph as well as the more recent Heritage 1973 and Heritage 1968 watches. Modern classics as the Conquest are great everyday timepieces and what to think about their Legend Diver (we reviewed it here). It is – in my opinion – one of the coolest affordable diving watches available.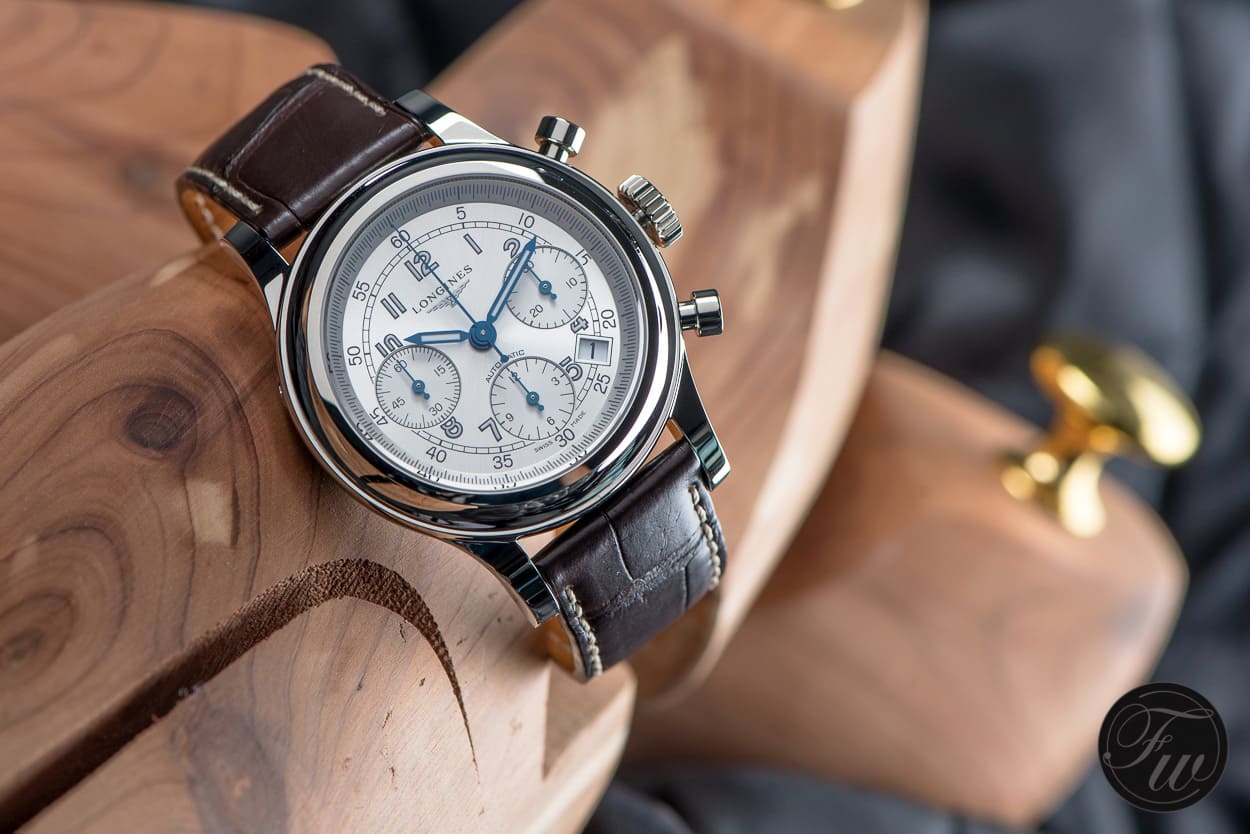 Longines Heritage 1951 Chronograph
Let's cut through the chase though and have a look at the Longines I have in front of me. It is the Heritage 1951 Chronograph reference L2.745.4.73.2 with a silver dial and a classic tri-compax dial lay-out. I selected this particular watch as my love for classic 1950s watches and chronographs in particular is huge. The first thing that drew me to this watch were its looks. Unmistakeably 1950s with its round case, unprotected chronograph pushers, large crown and printed scales on the silver dial. The next thing I've paid attention to was the price tag: A retail price of only 1350,00 Euro. Affordable luxury is something I am keen on to focus on here at Fratellowatches so this Longines fits the complete picture.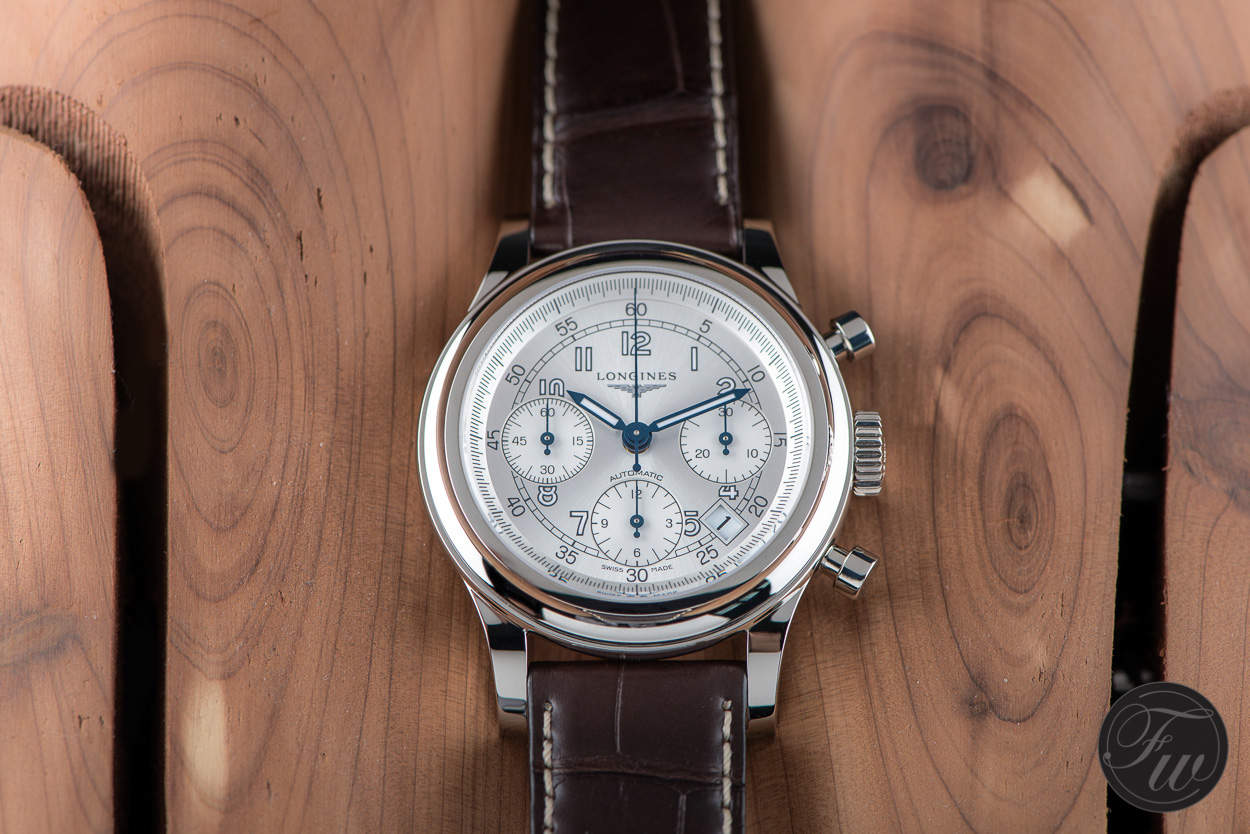 A beautiful shaped 41mm diameter case with long and curvy lugs. Typing this, I realize it sounds a bit weird saying this about a watch. However, that is – I guess – the consequence of describing something  that has a timeless beauty. The stainless steel case has a sapphire crystal to protect its silver dial and a very smooth polished bezel on top. The entire watch has a polished finish for that matter, which makes it – in my eyes – a classic dress watch. With sports watches you will see some matt brushed finished surfaces, which wouldn't fit the design of the Longines Heritage 1951 Chronograph.
The Arabic numerals on the dial are printed as well as the Longines typography and logo. It has a very classic appeal to me and the blued hands support this thought. The slender chronograph second hand corresponds perfectly with the three smaller hands used for the three sub-dials. I love these slender hands on a classic chronograph as I am a bit put down by a number of other watch brands that seem to have just picked a few hands from the shelf and put them on their watches. To me, the dial shows that Longines has put a lot of effort in getting things done right. Doing things right the first time, that's what it is all about.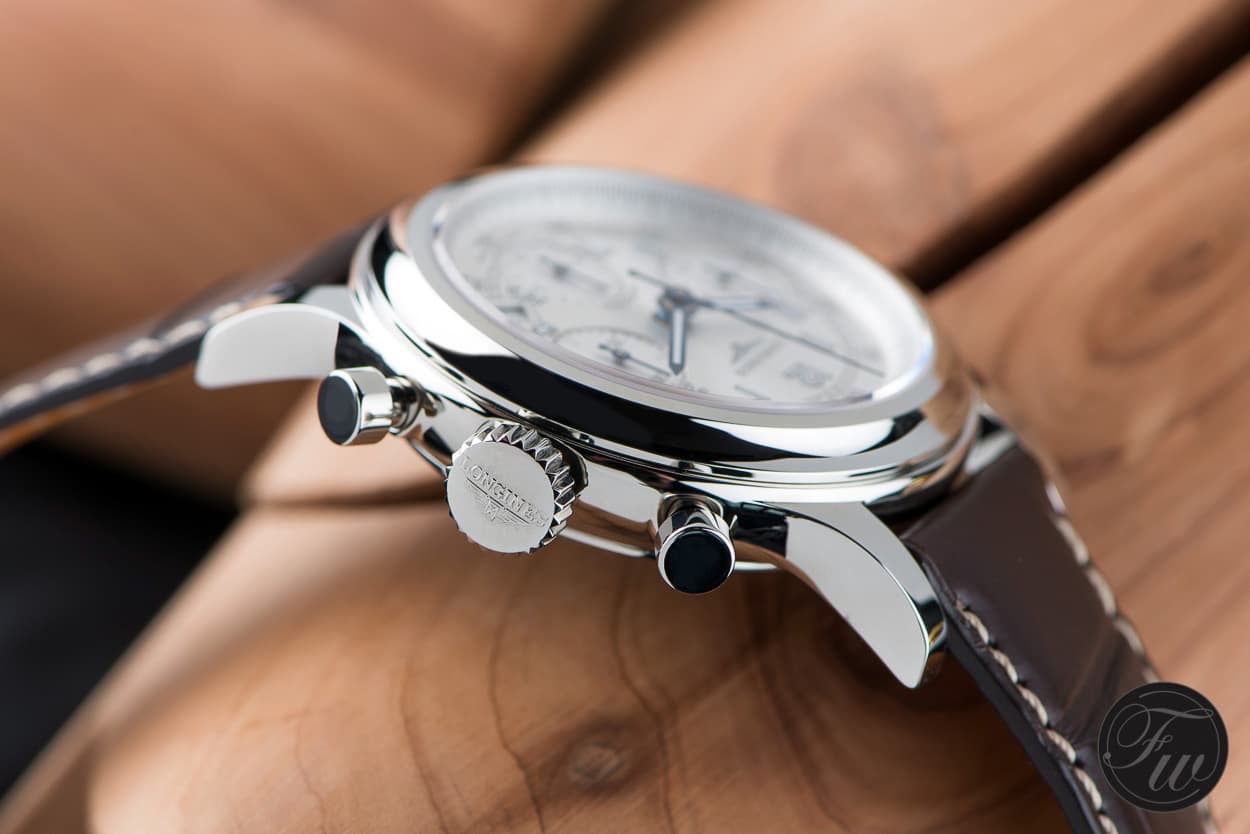 As written above, the Longines Heritage 1951 Chronograph has a big winding crown and unprotected pushers. It means that there is no protective crown guard to prevent the wearer from damaging the chrono pushers (or knocking them off) or damaging the crown. To be honest, this also should belong to sports watches anyway and is more something of 'aesthetics' then real functionality when you are wearing this watch on a daily and normal basis. As soon as you start to get the life of a SAS-agent, astronaut or being active in the army, I'd suggest buying another watch with different features. For normal use, these pushers and winding crown are just fine. The crown has a nice shape and has quite a flat surface. The Longines typography and logo are embossed and the teeth of the crown reminds me of an old oil cap or something. Very nicely done! There is only little I can comment on the pushers, I just love this shape pushers on classic timepieces. I don't have much going on for rectangular pushers – with a few exceptions – and just like the look & feel of these ones.
The photo above also shows the height of the polished round bezel and the polished surfaces on the watch case in general. As you can see, the lugs have a very small nice facet on there as well. The slightly domed sapphire crystal sticks out a tad bit from the bezel.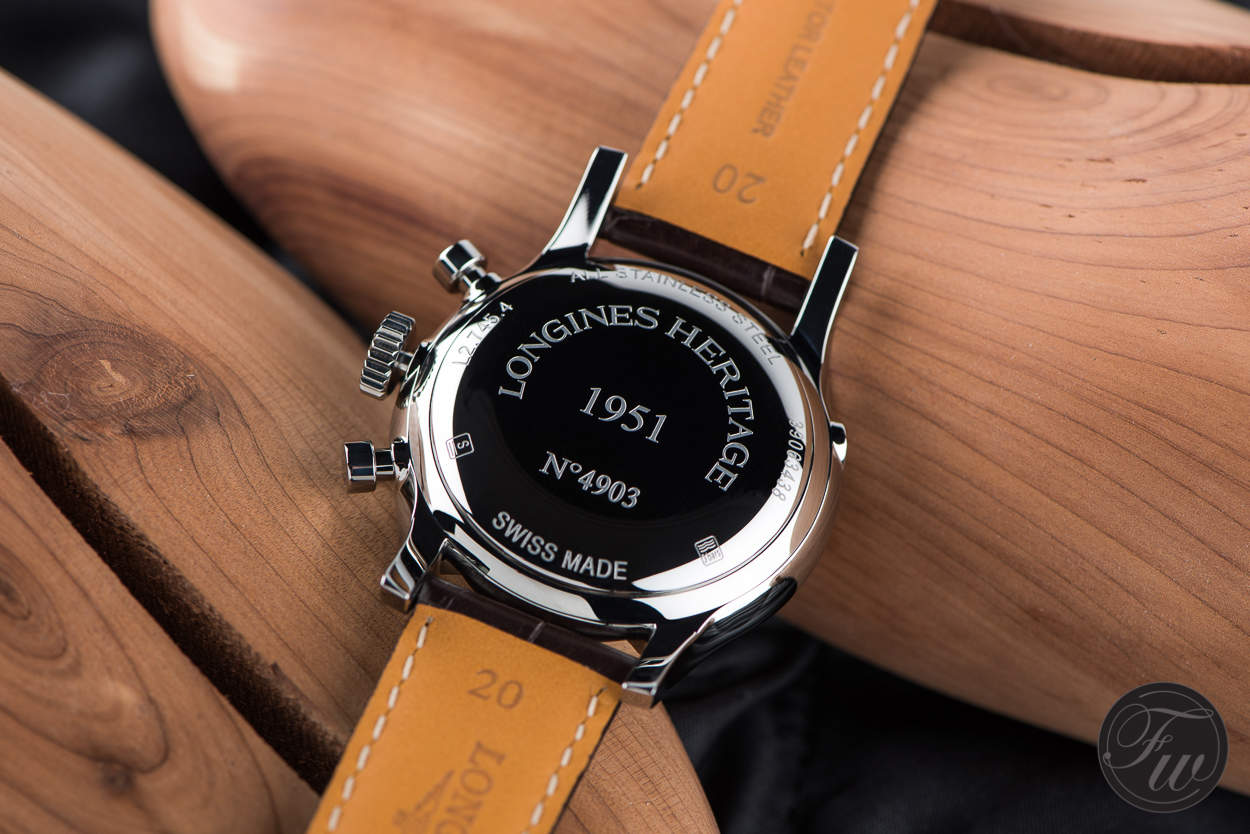 The caseback of this Longines Heritage 1951 Chrono has a lot of information engraved. Perhaps a bit too much for my taste. On the other hand, the number of people needing a lot of space to have something engraved are probably to count on one hand anyway. So, I am nitpicking here. The information indicates that it is a Longines Heritage 1951 model and also mentions the reference number and serial number. Although I have no indication or information received that it concerns a limited edition, these watches seem to be individually numbered anyway.
Underneath the solid stainless steel caseback is a self-winding caliber L683 movement. Longines does use some ETA movements for some of their other collections that are especially and exclusively created for them. A nice advantage when being part of the Swatch Group I guess. However, for this Heritage 1951 Longines used the (to collectors) well-known ETA/Valjoux 7753 movement. A chronograph movement with a proven track-record. It has a power reserve of 48 hours and is really a dedicated chronograph movement (no piggy backing/add-on chronograph module).
As you can see on the right side of the case in the photograph above, there is a small corrector located at ten o'clock (when you have the watch in front of you, dial up) to set the date. The watch comes with a nice alligator strap and a tang buckle.
All-in-all, a very nice watch that I've worn a couple of weeks with much pleasure. This 41mm modern interpretation of a classic Longines chronograph with a very modest price tag of 1350,00 Euro makes it a watch worth considering if you are looking for a new timepiece in this price range.
More information can be found at www.longines.com. You can also join Longines on Facebook and learn about their latest introductions and events.