Louis Moinet Ultravox Photo-Essay
with rare and visible striking hours mechanism.
One booth you should never miss during Baselworld is that of Ateliers Louis Moinet. Where many try to incorporate a unique theme or try to breathe luxury, Moinet stands out with a bit of a mysterious, yet warm air to it.
CEO of the brand, Jean-Marie Schaller, is always there to welcome you. Their Baselworld booth breathes something out of this world, and so are many of their creations which are inspired by the extraterrestrial. They presented us the Louis Moinet Ultravox with an extremely rare hour-strike complication.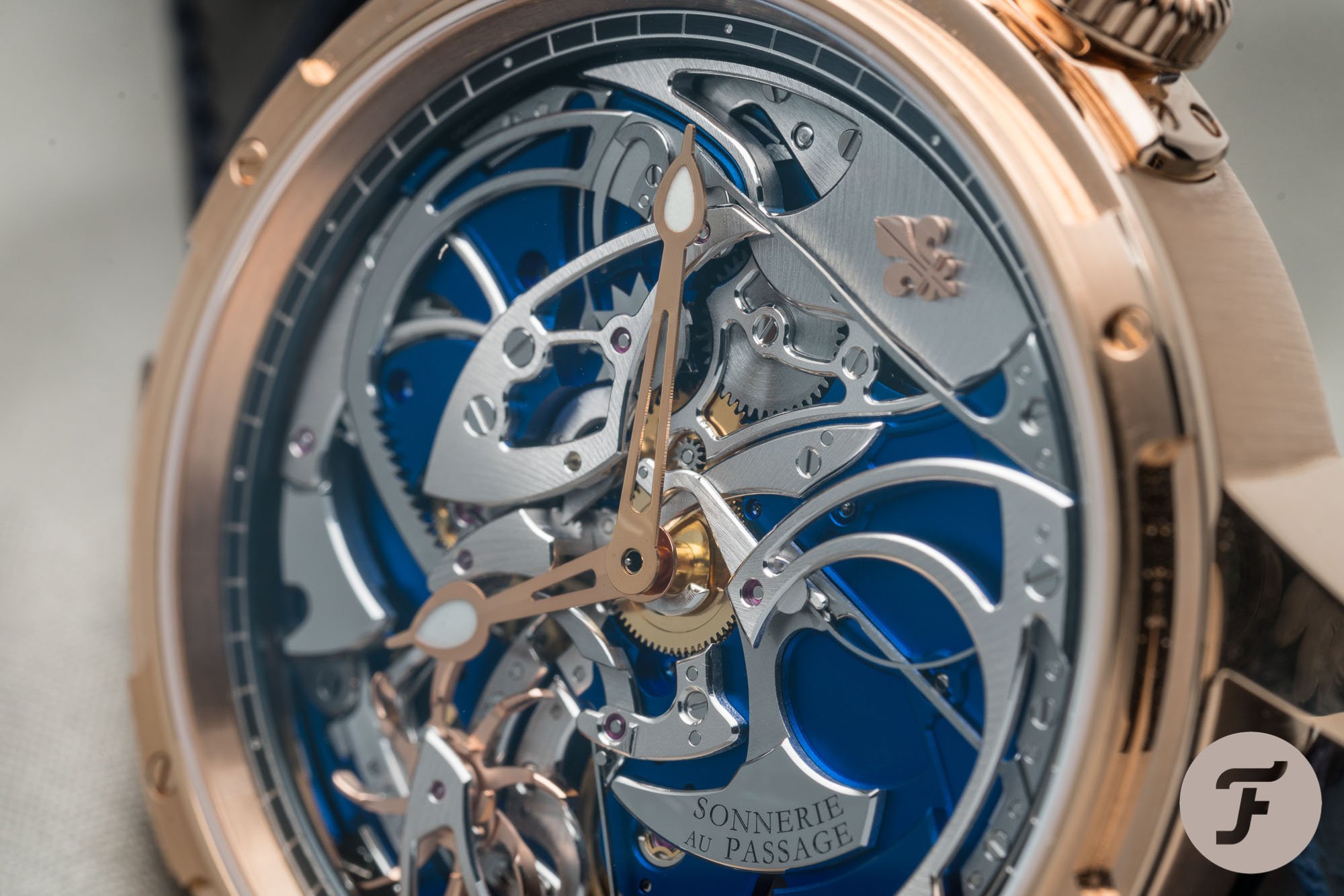 Louis Moinet Ultravox
For those who know the brand, they will recognise the case design. This alone is a work of art as it consists of 65 different elements. But the 46,5mm case, although beautiful and detailed, isn't what your attention is drawn to. With the lack of a traditional dial, the highly complicated movement is fully exposed, and all essential parts are visible through the sapphire glass. Just under the central position of the hands, you find the words 'Sonnerie au Passage'. Sonnerie translates to ring or alarm in French and au passage means in passing.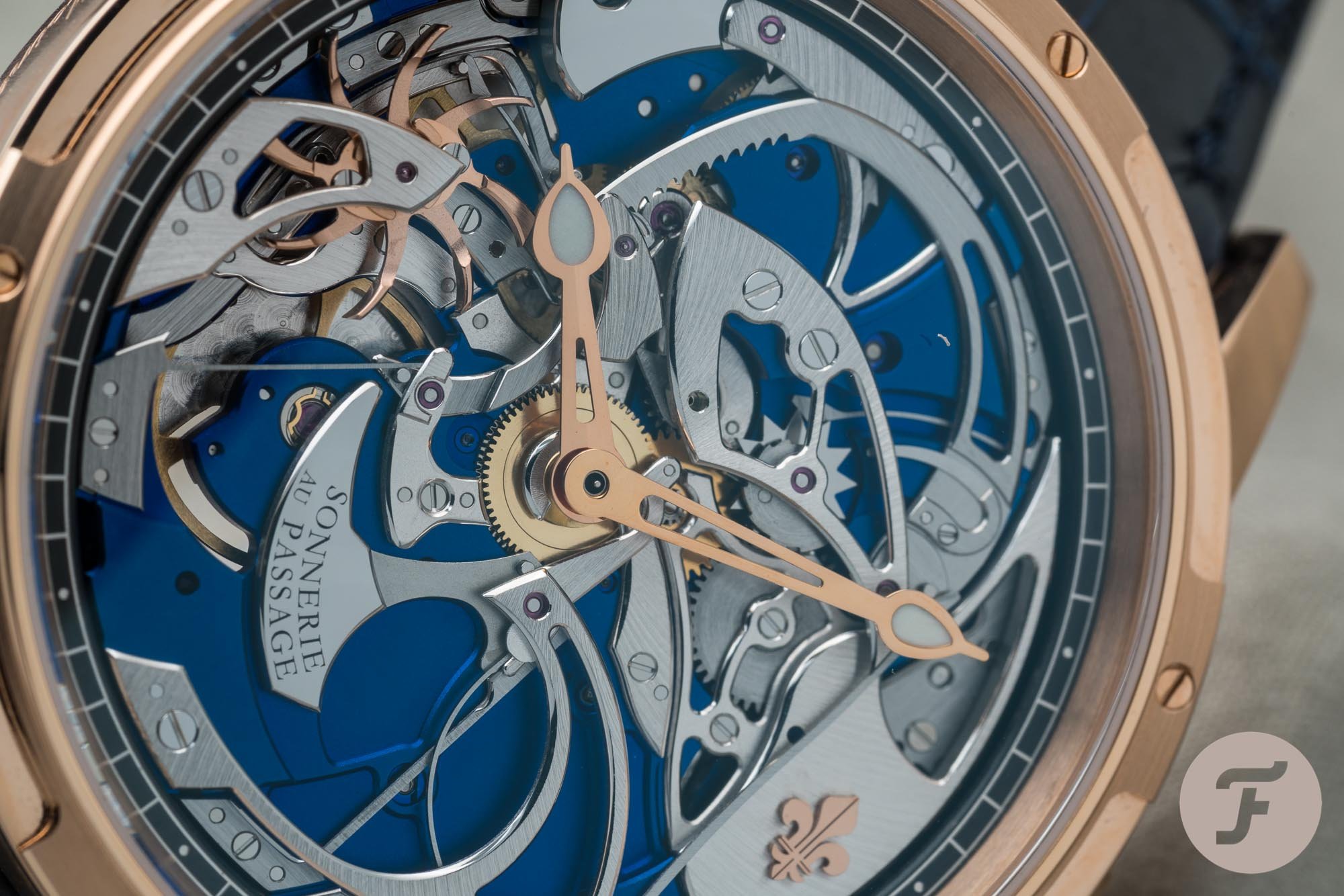 Where only the hour and minute hands seem to be the visual functional elements, there is a lot more going on. The watch has its hour-strike complication made visible. From the 'moving yokes' to the balance wheel, inertia wheel and the hammer itself. These will function at each hour where the strike mechanism gets into action and gives you the number of hours with an equal amount of chimes.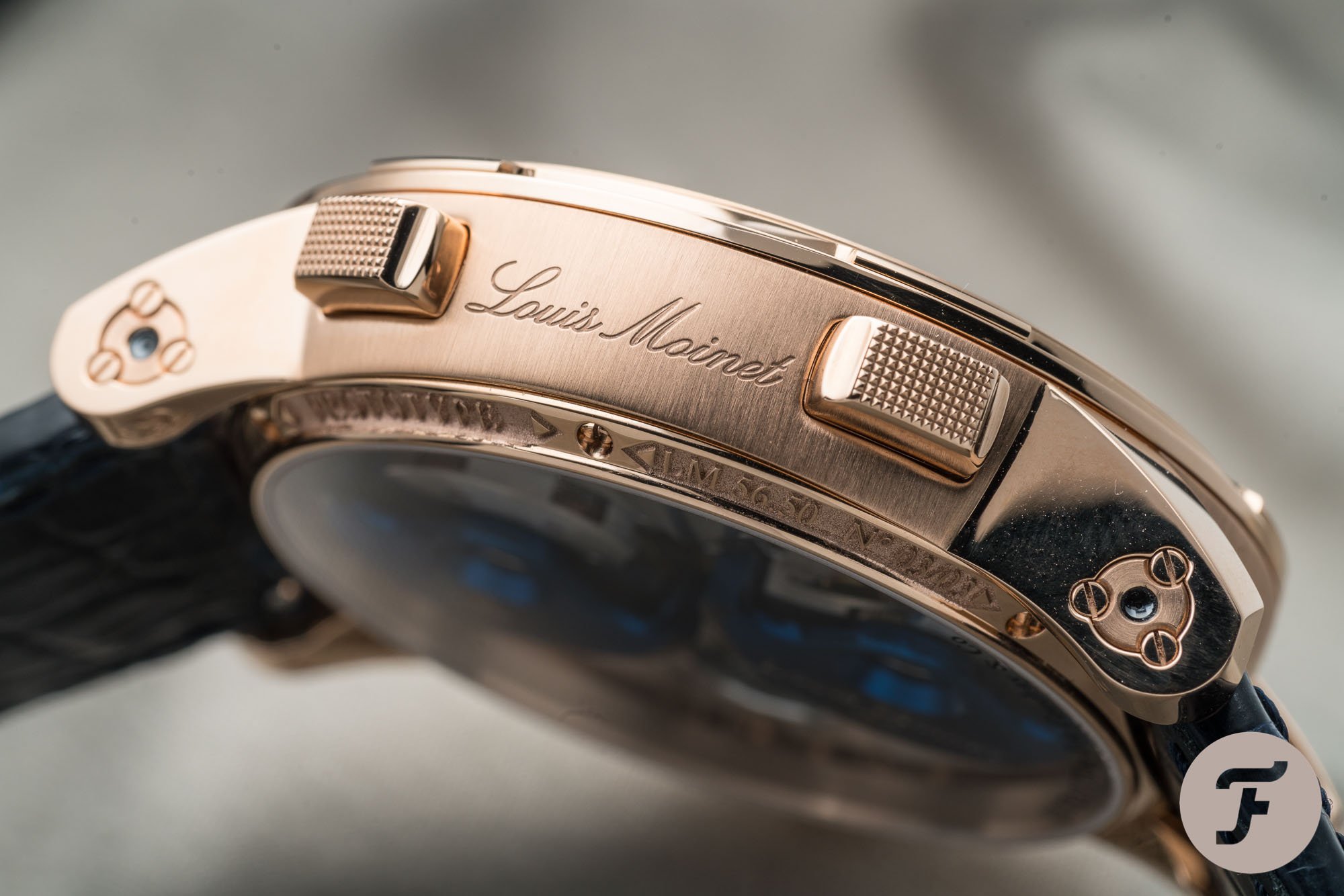 Something that can also be triggered by the pusher at 10 o'clock. For those occasions, you need silence you can disable the automatic hour chime with the pusher at 8 o'clock. Convenient during those meetings or when you are requested to turn off your phone. Although it could help to keep to end that meeting at the right time.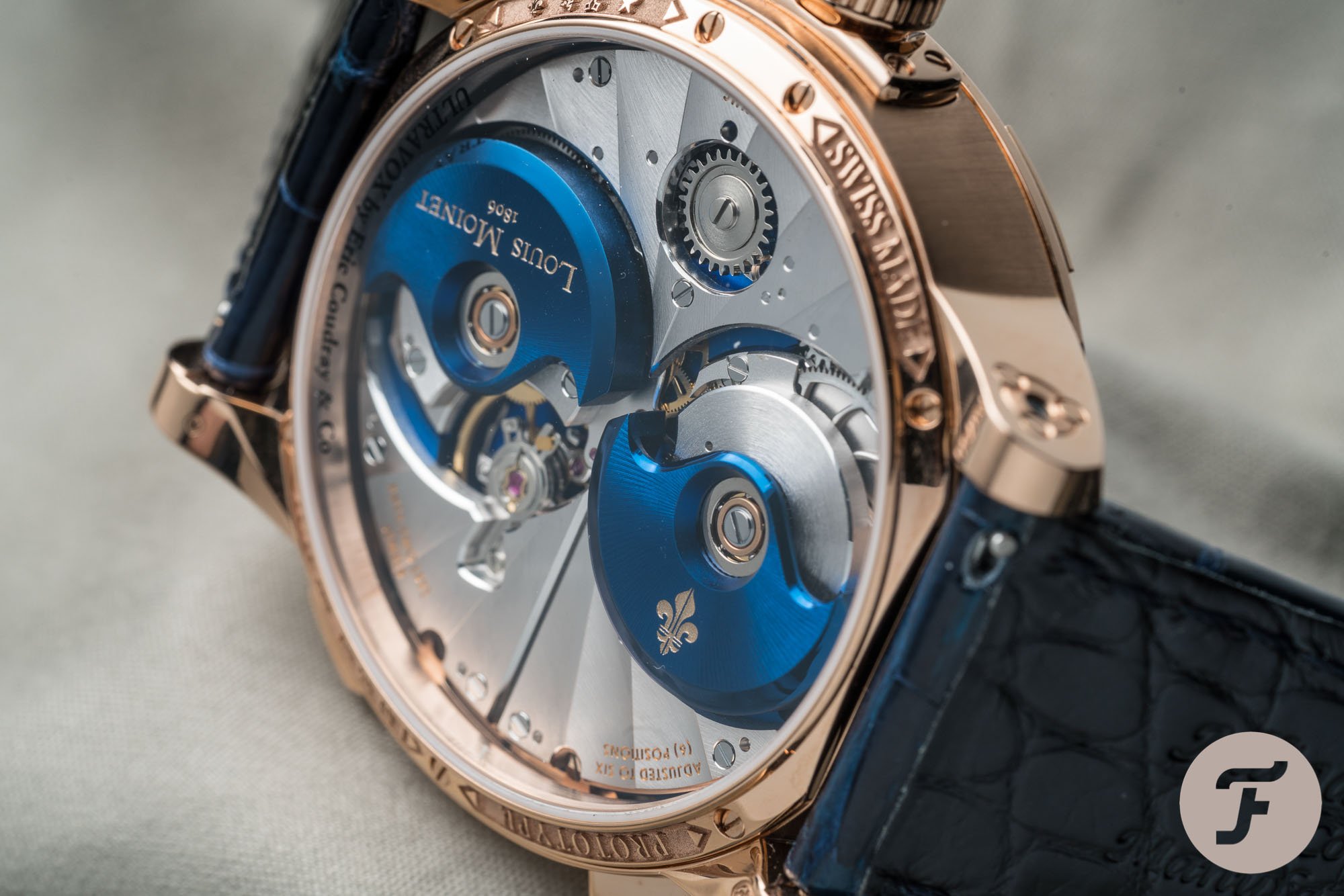 On both sides of the watch, you will find the typical 'Moinet Blue' colour. This rich and deep, yet bright blue always is an eye-catcher. You can wonder whether such a stunning piece of Haute Horlogerie needs it, but it looks incredibly good. Especially combined with the 18K rose gold case.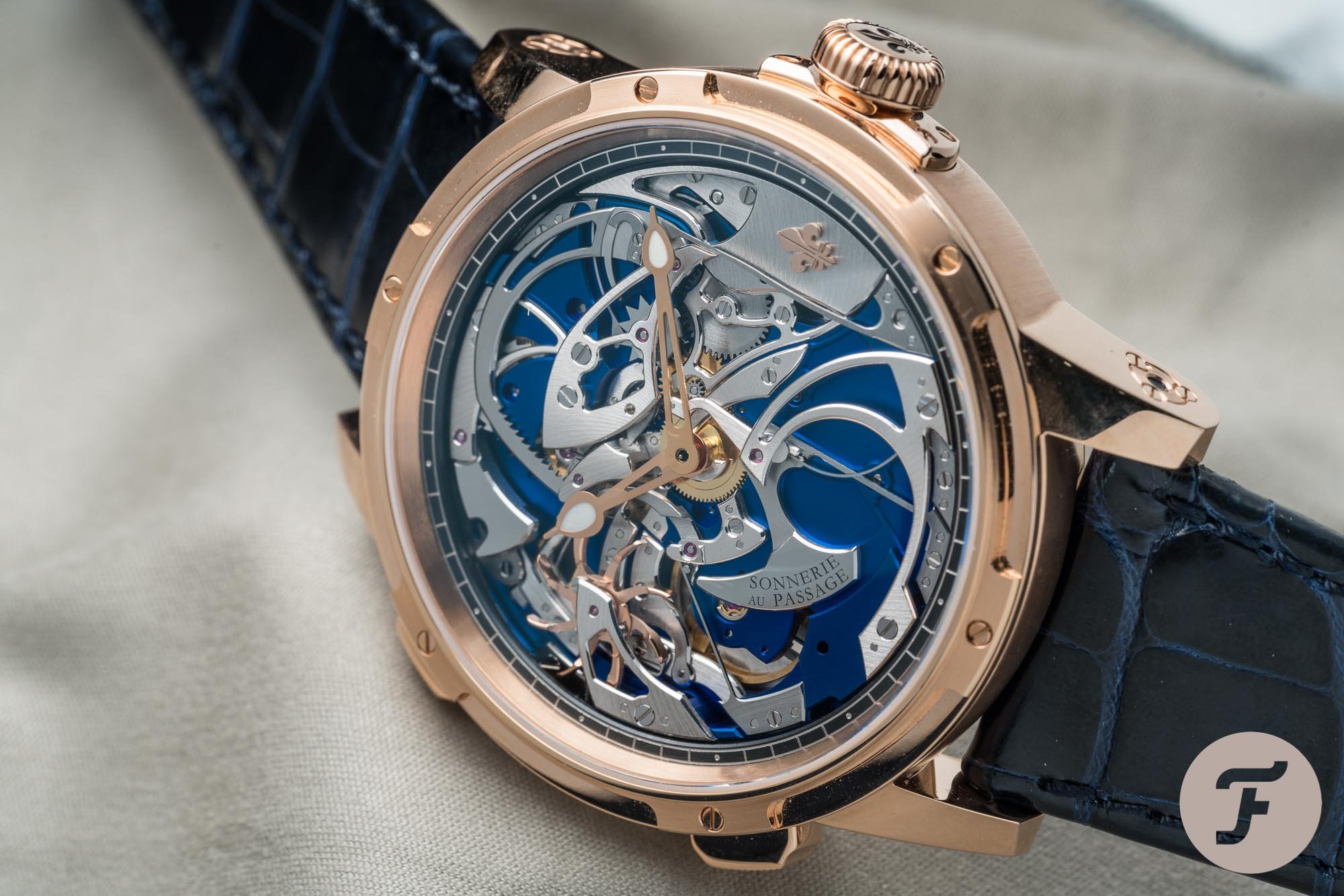 Signed Eric Coudray & Co
Looking at the back side of the watch you will see two small rotors at 12 and 6 o'clock of the movement. Both have their own and separate function as one power the time and the other controls the hour chime function. Underneath the top barrel you also partially see the second balance wheel. All of this is visible through a large sapphire glass which bears the name of Eric Coudray & Co. Without whom this watch probably never would have seen daylight. Although the watch was first launched last year, looking at the images of that model it has been completely revamped.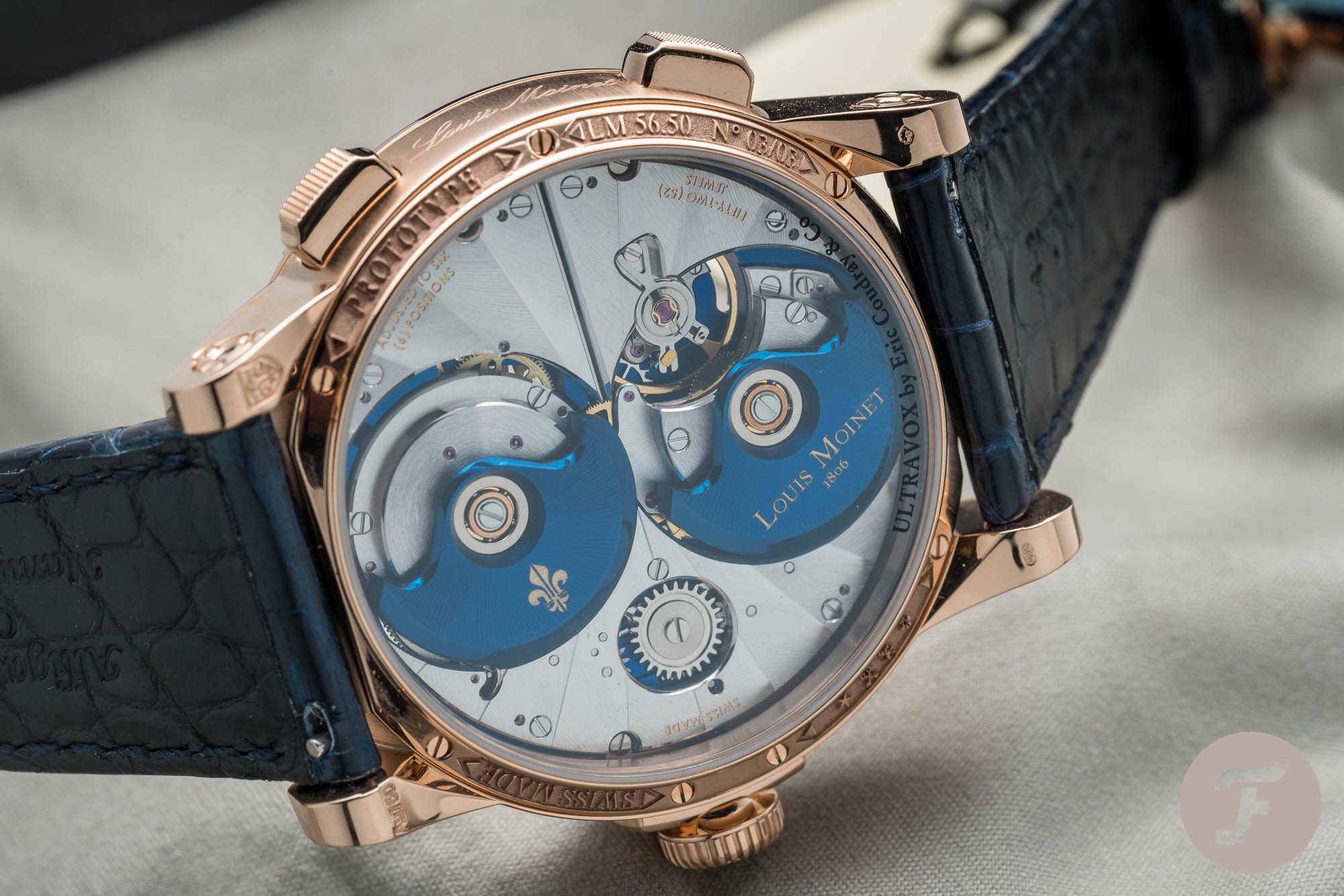 The name Ultravox is chosen for this timepiece as it's Latin translation, 'the Ultimate Voice' makes a great link to the strike mechanism and influences on Louis Moinet. His clocks that he made back in the days often portrayed famous Roman figures. As you can imagine this kind of watch isn't exactly rolling off a production line, hence it's strictly limited to 28 pieces at a price tag of 150.000 CHF.
For more info, visit the Louis Moinet Website.
Watch specifications
Case Material
18K Rose-gold
Functions
Hours, minutes, Striking Hours.
Special Note(s)
Limited edition of 28 pieces