March Mania: Quarter Finals — AP Royal Oak Vs. Omega Speedmaster Professional
RJ and Gerard battle it out in a clash of the most iconic watches in their own league
We are approaching the end of March and thus the end of March Mania. It is a very successful but especially fun project on Fratello, and we thoroughly enjoy seeing the results and the discussions below each round. We would like to thank you for that!
We even noticed some of you are starting to call yourself Fratelli already, in the comments. And we really see that as a token of appreciation for what we do, but also for the other readers that vote and comment on these March Mania articles. On April 13, we will be giving away a few straps from LIC and a Hamilton Intra-Matic Chrono watch from our shop to some of you. Make sure to read how you can participate in this contest in order to win those items.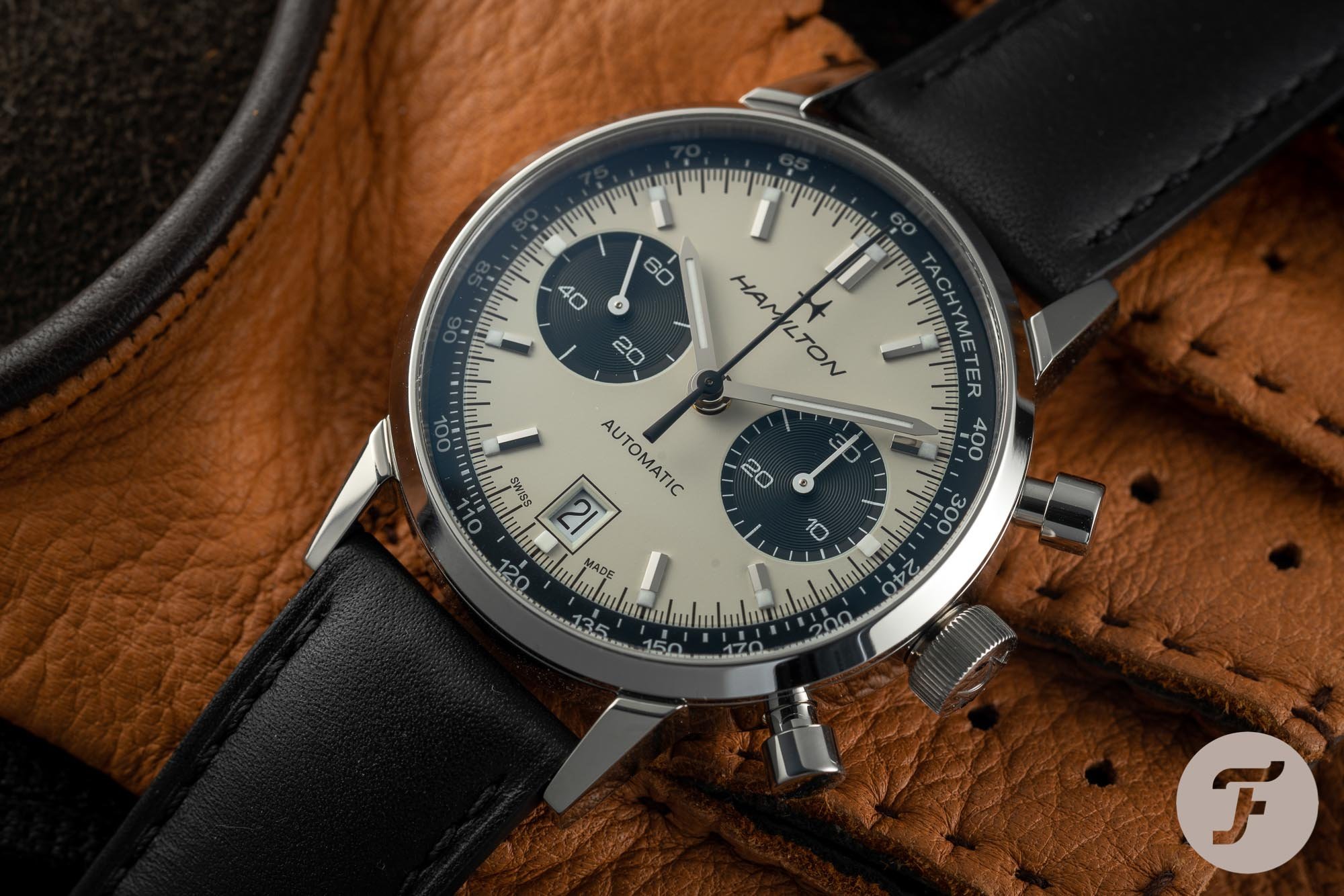 When we started the competition, we had 96 watches. Now we have started the end game! We are at the stage where our writers go head to head and hope to battle their way through to the final. At this point, each of our writers has only one watch remaining.
RJ has one watch left, as does Gerard. We need you to pick your favorite in this March Mania quarter-final. Tomorrow Mike and Tomas step into the fray, followed finally by Ben and Bert. The Final Four stage commences this coming Monday so you've not got long to register your opinion. Go hard or go home. It's time to leave it all on the court…
Login to your Fratello account and drop us a comment. Who did you vote for and why? What's your prediction for the later rounds? With the Omega Speedmaster 321 out, it is anyone's guess who will come out on top… Who knows? You decide!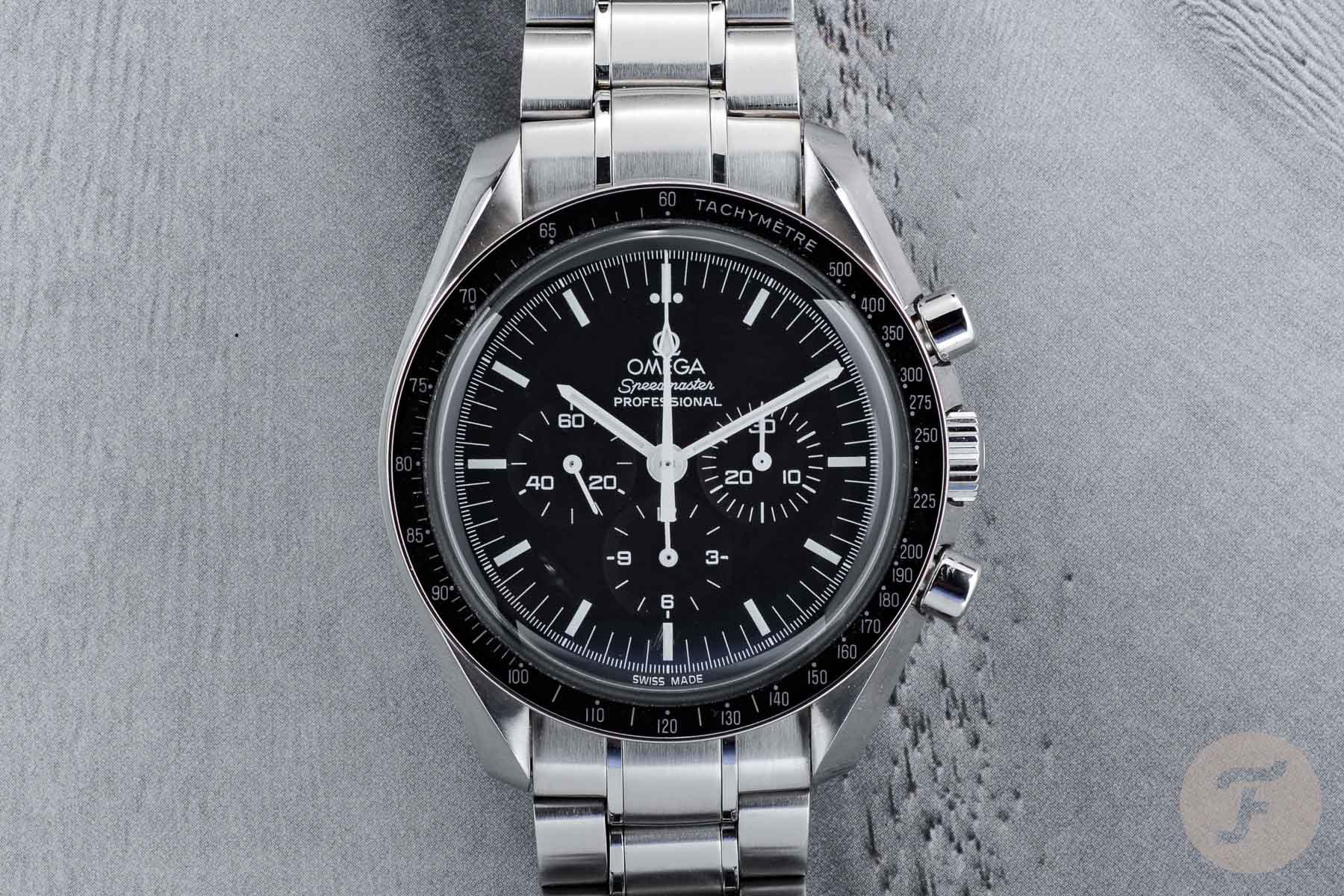 Audemars Piguet Royal Oak 15500ST vs. Omega Speedmaster Profesional 3570.50
Robert-Jan: On the one hand, I feel a bit that a Speedmaster should be my champion. There were two Speedmasters in my initial 12 picks, and neither made it to this round. On the other hand, I need to be fair and give credit where credit is due. I couldn't be more proud to hand it over to Gerard as he has been my Speedmaster mentor and it is his first love (as well) when it comes to watches. So, I have to defend my second love, the Audemars Piguet Royal Oak.
When I was just into watches, in the 1990s, I saw a picture of this watch in one of my watch books (yes, books; there wasn't much going on at the time on the internet). I immediately fell in love with the octagonal bezel, the brushed and polished surfaces, and, of course, the tapisserie dial.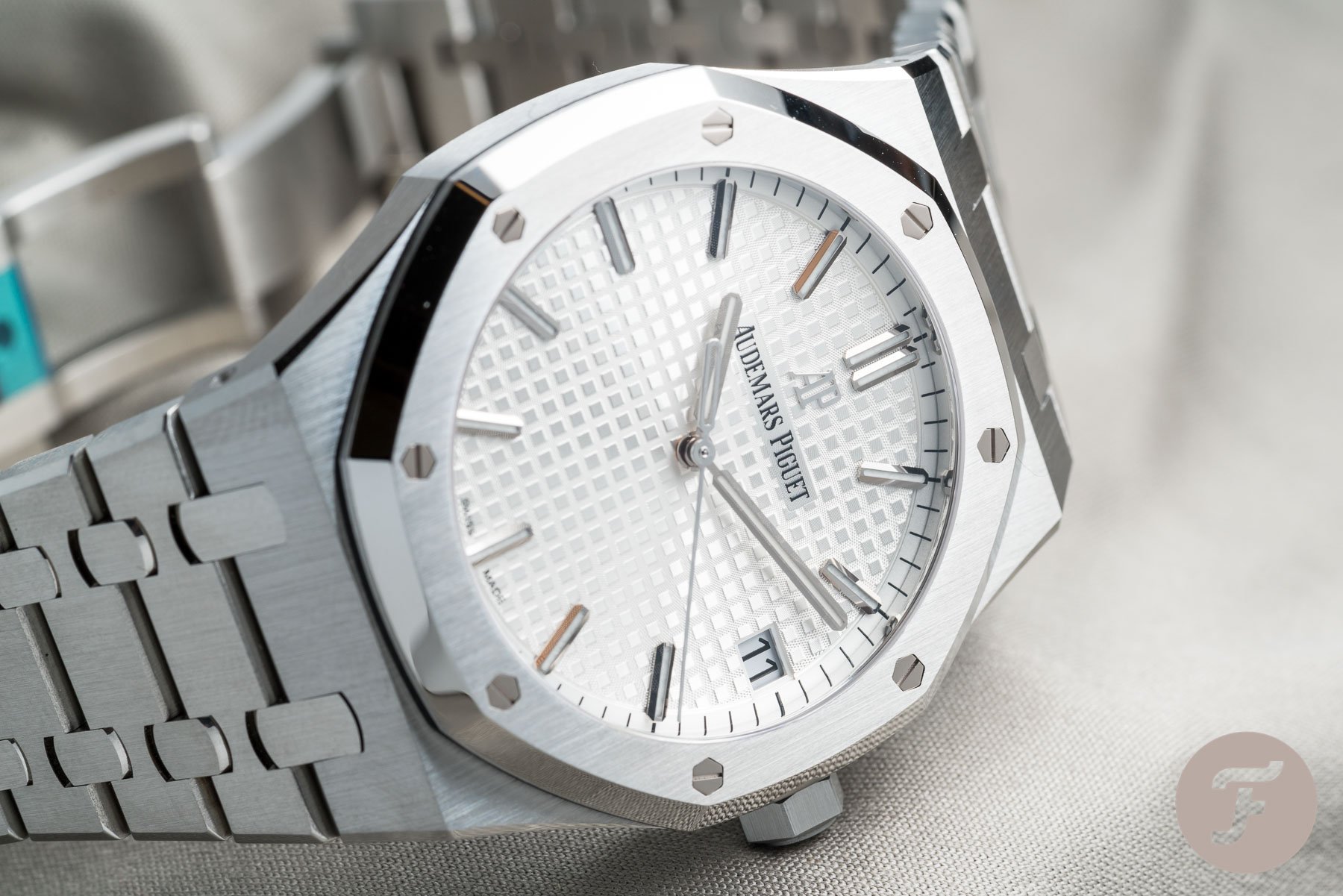 Gerard: Thank you for the flowers RJ! The Speedmaster Professional very much belongs to both of us in my opinion, it would have been nice if we had been at this point in March Mania as opponents with a Speedmaster Professional each. But that's not the case, so this round should be a walk in the park for me now. I mean, there's nothing wrong with a proper Royal Oak, but I can't see the 15500ST being that proper. RJ, as you taught us, the 15500ST is just a beautiful watch in stainless steel. With the same DNA as the original Royal Oak 5402 reference from 1972, but with different dimensions, and a different movement. Just like you, when going Royal Oak, I prefer the — much more true to the original — Jumbo. True, the 15500ST won't make you look like a fool either, but it's not the real deal and my Speedmaster Professional 3570.50 very much is.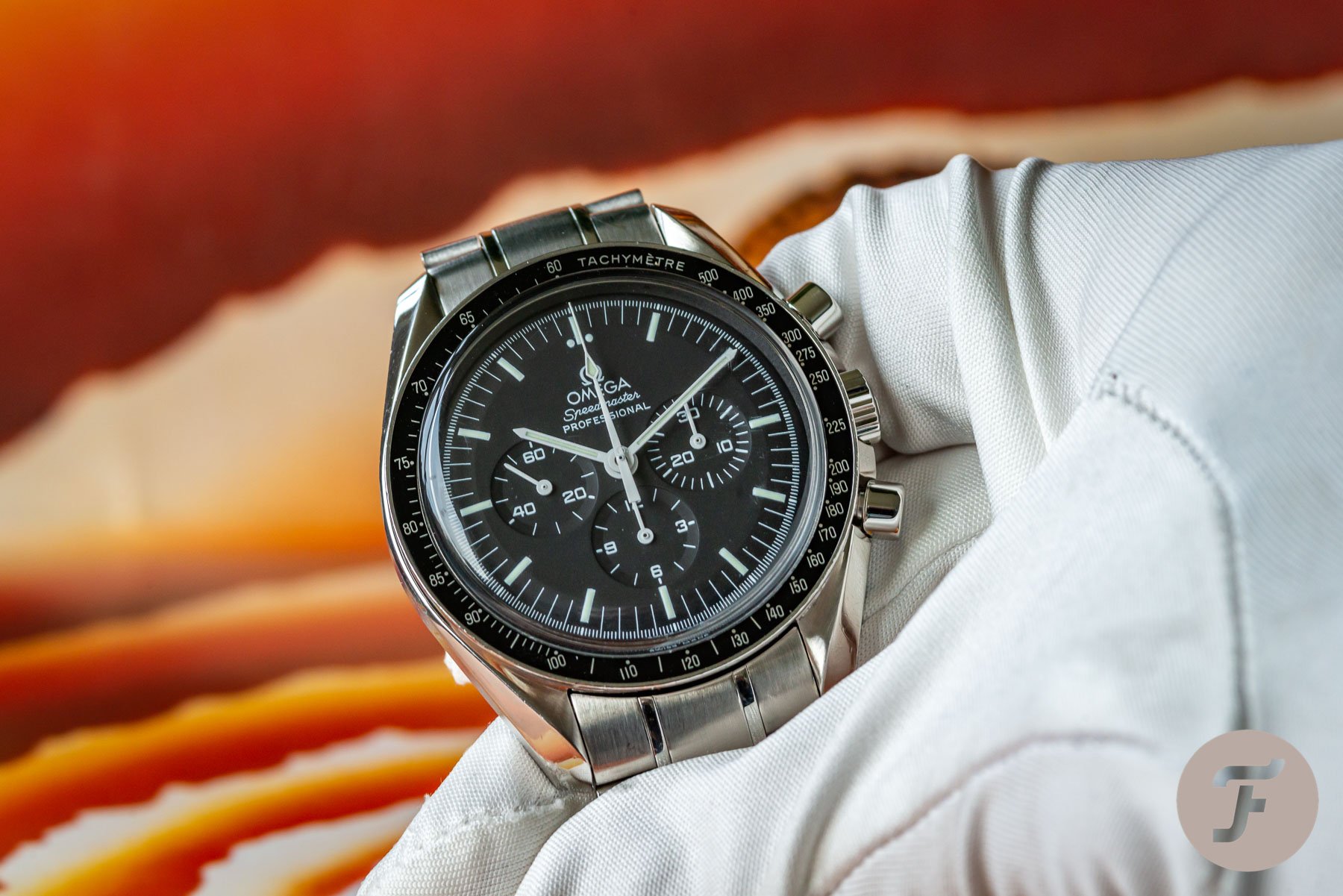 RJ: I don't disagree here. The 5402 is the original Royal Oak like the CK2915 is the original Speedmaster, and the 105.012 the original Speedmaster Professional. That doesn't make me think the 15500ST is a lesser Royal Oak, nor the Speedmaster Professional 3570.50 the lesser Speedmaster. Your Speedmaster Professional 3570.50 doesn't use the caliber 321, just like the Royal Oak 15500ST doesn't use the caliber 2121. The fact is, the Audemars Piguet Royal Oak is an amazing watch, whether that's the 15202 or the 15500. The finish on both watches is impeccable, and on an entirely different level than the Omega. With all due respect, Audemars Piguet is Haute Horlogerie.
G2: The Speedmaster Professional 3570.50 is a true original. It is one of the cornerstones of the Omega Speedmaster Professional collection. How interesting and beautiful the various special versions — like the Tintin, the Snoopys, even the Speedy Tuesdays — are. They wouldn't have existed without one of the original Speedmasters. These core Speedmaster models have always been incredibly important to the model and the brand in general. They are and will be always available. And from a price point of view, they are normally the most accessible. I've said it before: every watch collector should at least own a Speedmaster Professional in his or her collection. I've never ever heard anyone regret having bought a Speedmaster. This is what determines a winner.
RJ: The same can be said for the Royal Oak. It wasn't always a community's favorite, but times are changing and today the Royal Oak is one of the most coveted watches in the world.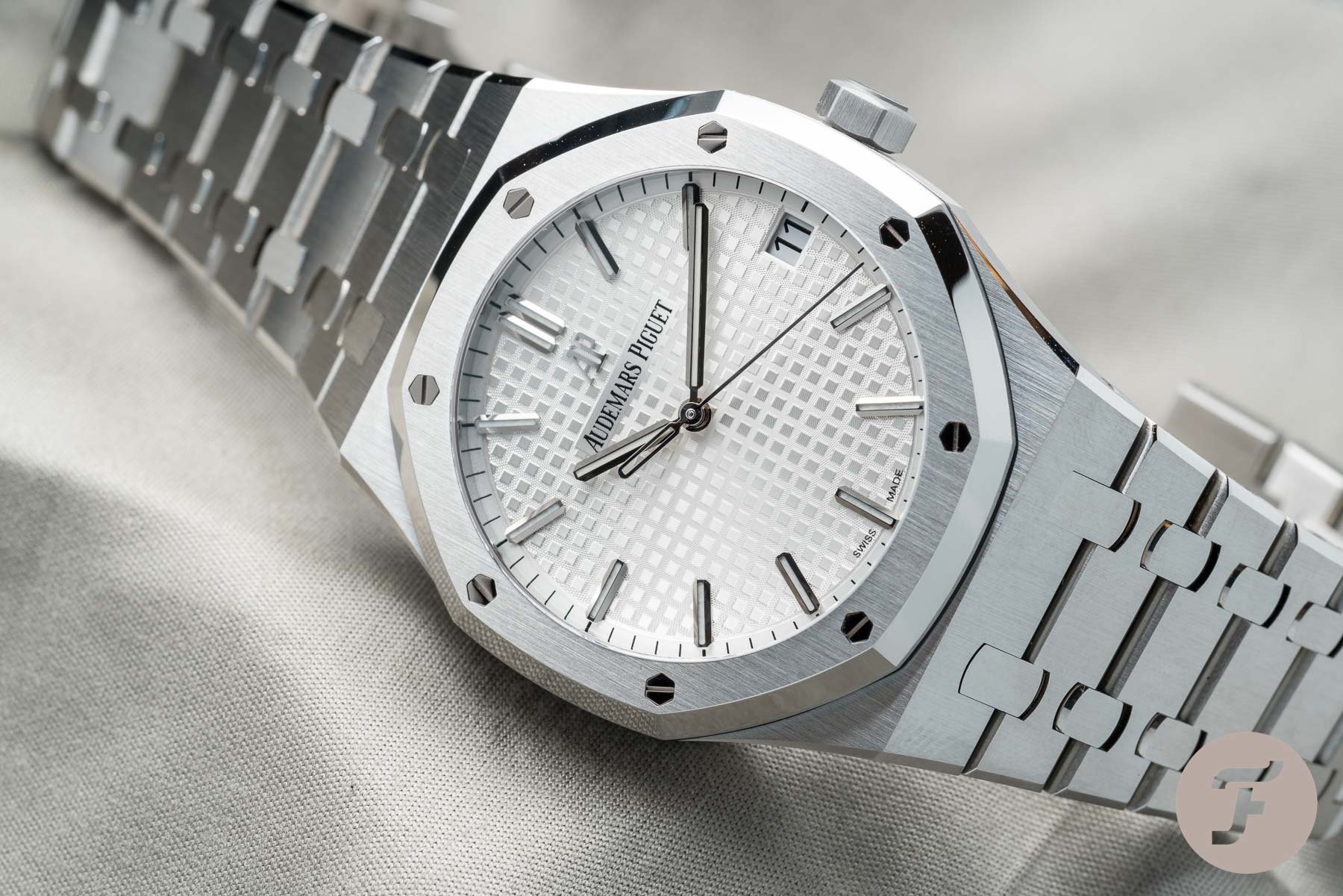 RJ — Royal Oak 15500ST
So, let the watches talk for themselves, I would say. I won't cry if the Speedmaster Professional wins this competition, as you know I love that watch. Again, something you taught me. However, the same can be said for the Royal Oak. It was actually one of your Royal Oaks (an Offshore actually) around 20 years ago that became my first real-life encounter with the model.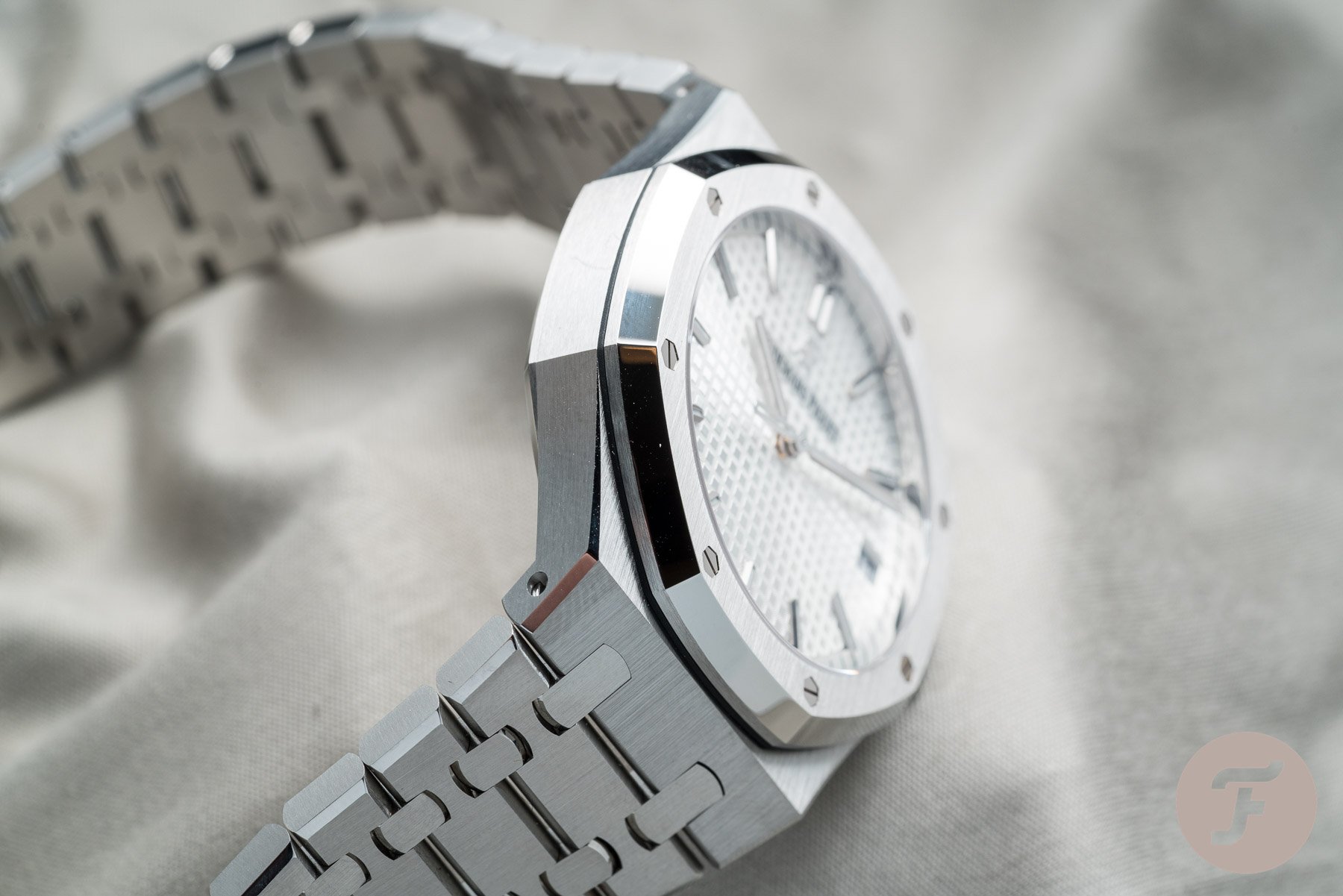 The 15500ST is not a 15202ST, but it does have a seconds hand, it has a modern-sized case and a solid bracelet. It is a modern everyday timepiece that clearly carries the DNA of that very first Royal Oak 5402ST from 1972. I used to have a 15300 myself and the 15500ST is a successor of that 15300. I think that this new Royal Oak version ticks a lot of boxes for those who want to have a contemporary watch. Where the 15202 (or 5402) is rather fragile, this 15500ST is a luxury sports watch that meets modern requirements.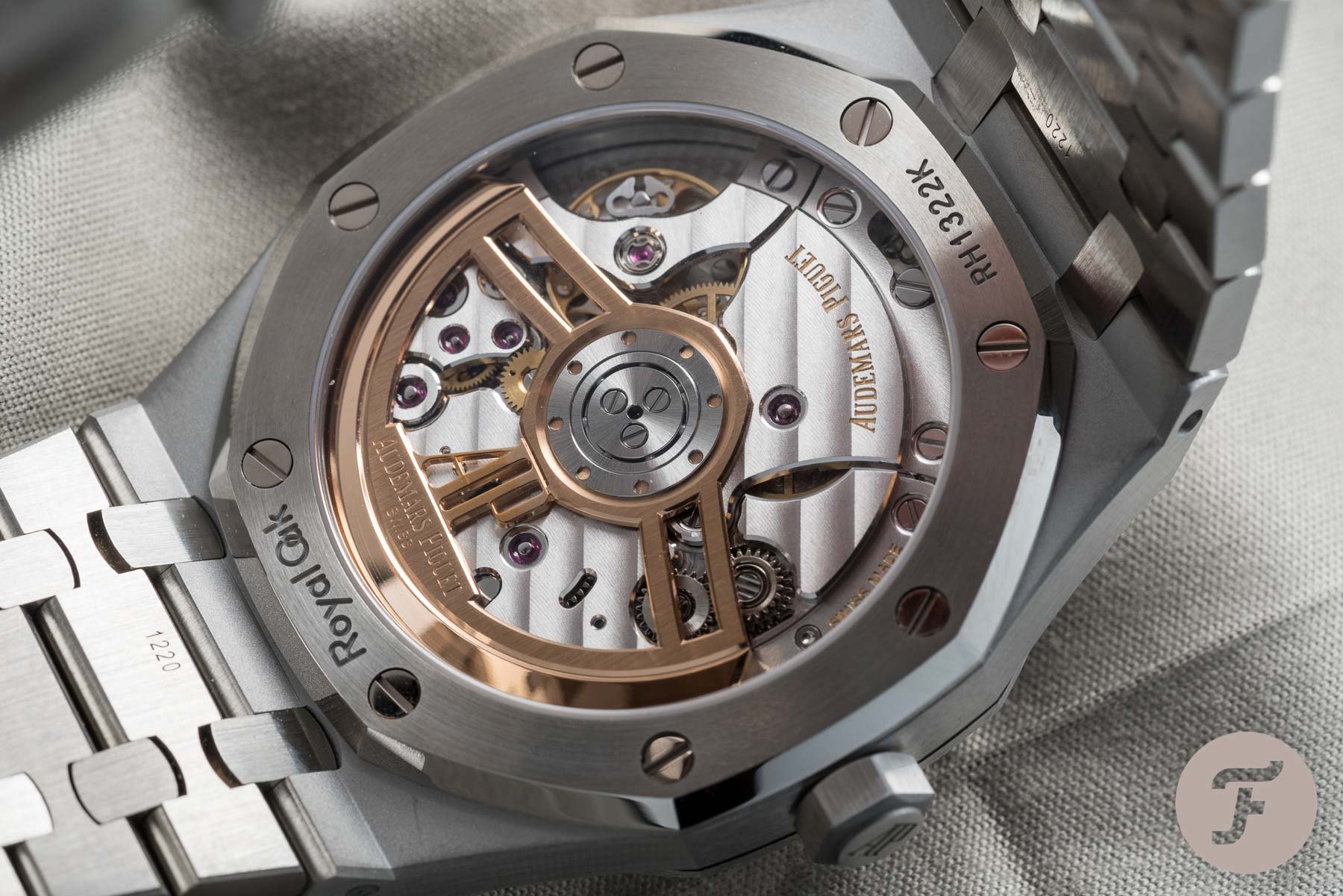 For this 15500ST, Audemars Piguet uses its in-house developed caliber 4302. That's quite an upgrade from the movement in the previous 15400ST generation. The power reserve increased from 60 to 70 hours, and the operating frequency went up from 21,600vph to 28,800vph. As I've said, it is more modern. But besides, it is an incredibly nice-looking movement.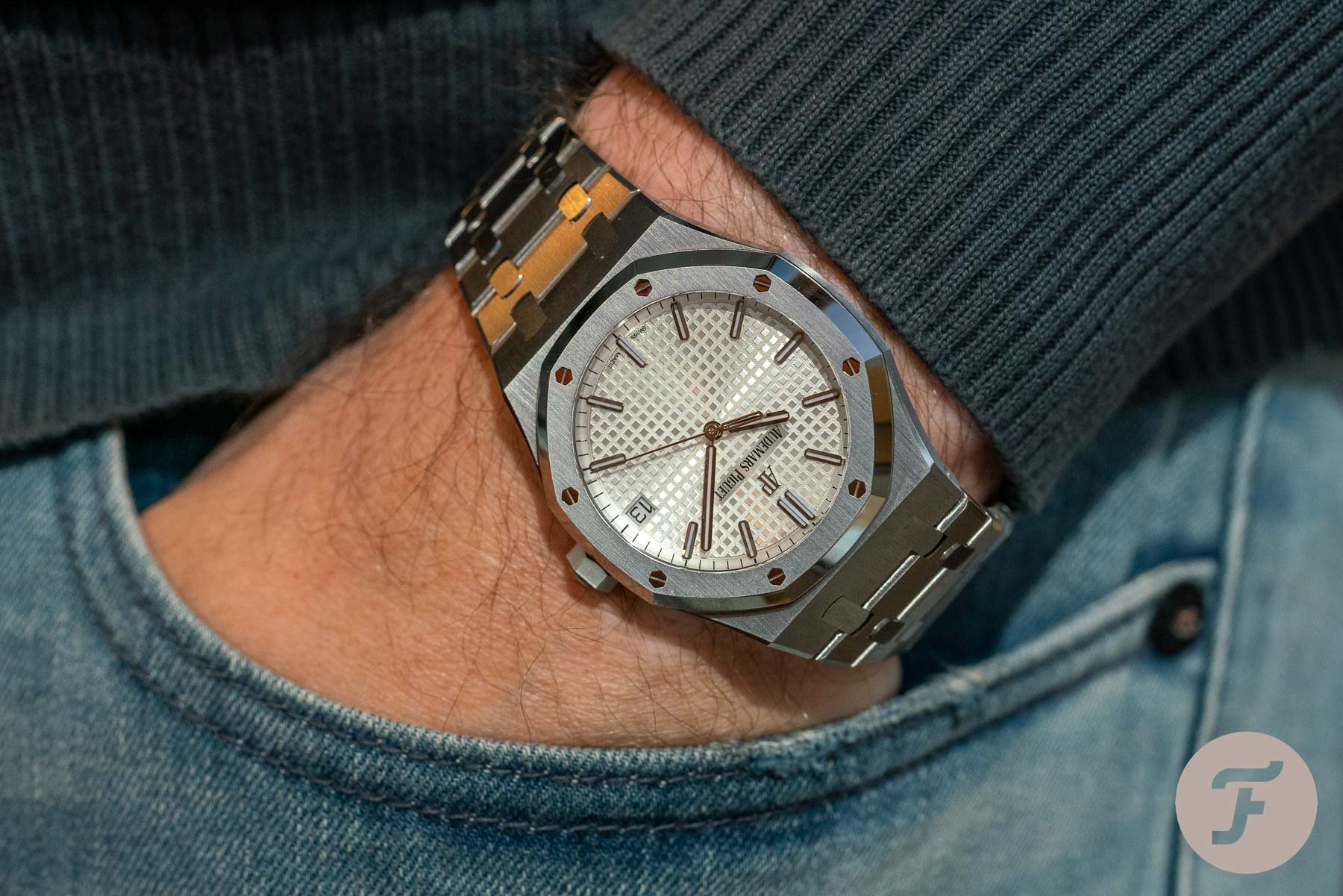 But, I also know that these days, for a large part of the crowd, it is not only about the movement. Or only about the aesthetics of the watch. The total package needs to be cool. And the 15500ST perfectly embodies this. The beautiful silvery-white dial with tapisserie is pretty amazing and will never cease to impress you as the owner of such a watch. This Royal Oak 15500ST has a diameter of 41mm and a very modest height of just 10.4mm. We are not in the 1970s anymore Gerard, we need to move on. Today's customer is not the same as the one 49 years ago.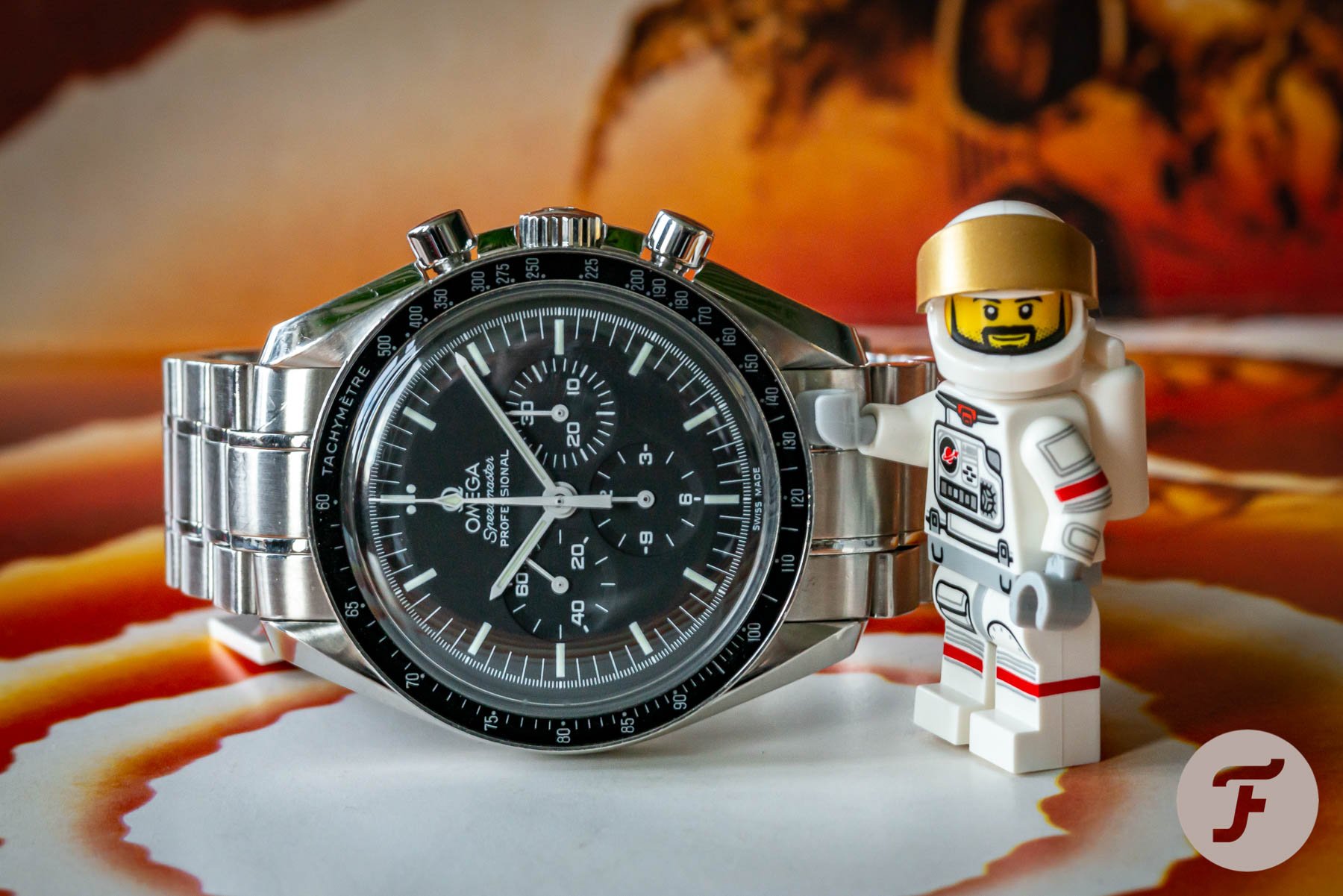 Gerard – Speedmaster Professional 3570.50
Gerard: I have to agree with most of the points you brought up for the 15500ST. It is a modern descendant of former Royal Oak models and it fulfills all requirements that people expect to find in a modern watch. As such, the newly introduced Speedmaster Professional with caliber 3861 technically would have probably been a better opponent. Although aesthetically there's hardly any difference to the 3570.50 we have here. It's true that today's customer is not the same as the one half a century ago, but herein lies one of the very strong advantages of the Omega Speedmaster Professional. While the customers have changed, they still value the Speedmaster in its original appearance. And the nice thing is, even a humble standard version of the former generation is strong enough to meet today's customers' strong expectations. The 3570.50 model we're talking about here was made in 2006, but — even 15 years old — I expect it strong enough to defeat a modern interpretation of the illustrious Royal Oak.
RJ: The Speedmaster is an iconic chronograph, no doubt. Whether that's the CK2915 or the latest Master Chronometer. But I think here also desirability comes into play. The Speedmaster Professional is a watch that any collector should own at some point, it is also a watch that is in reach for many collectors. It might take a few months, or a few years even, to save up, but it's a realistic target if you want to own one. The Royal Oak 15500ST with a retail price of €22,000 is a watch that will remain a holy grail for many.
Both the Omega and the Audemars Piguet are icons. There's no question about that. Let the best watch win, vote wisely!

Win the Hamilton Intra-Matic Chrono by participating!
So now it's over to you! We want your votes, but we also want to hear your thoughts. Better still, by sharing them with us, you'll put yourself in the running to win either a LIC leather watch strap or (drum roll, please) the HAMILTON INTRA-MATIC AUTO CHRONO. Yes, that's right, as Karina detailed in her post yesterday, we will be giving away one of Hamilton's most popular models for one lucky commenter. How do you win? Comment on the March Mania tournament as often as you can, engaging with other readers, helping to create a happy community atmosphere. The best contribution will be handsomely rewarded, so what are you waiting for? Let your voice be heard!
March Mania: Quarter Final 2