Meet The New IWC Portugieser Collection
An upgrade for the iconic "Portuguese"
The story on the iconic IWC Portugieser watch is one that is well known in enthusiasts' circles. Today, IWC introduces an update of their entire Portugieser collection. From a three hands watch to a perpetual calendar.
But first, let's do a quick rundown of the Portugieser and why it is such an iconic watch. Back in 1939, IWC watchmakers created a big watch on special request by two dealers from Portugal (hence the name) that had the precision of a pocket watch. At that time, IWC was well known for its precision pocket watches and the Portuguese dealers wanted to have that same level of accuracy in a wristwatch. Smaller wristwatches were the trend in those years, but unable to deliver the same performance as the IWC pocket watches.
From reference 325 to Portugieser
Based on a hunter pocket watch movement (caliber 74), IWC made a 41.5mm (whopping size at the time) wristwatch with a small seconds hand and Arabic numerals on the dial. Sleek hands made it a classy appearance, as you can see in the image below of an early reference 325 IWC 'Portuguese'. According to IWC's records, until the late 1970s, they only produced 690 of these reference 325 'Portugiesers', of which only 141 watches found their way to Portugal.
In 1993, IWC's Marketing and Sales director Hannes Pantli not only had to celebrate the 125th anniversary of the company with the complicated Il Destriero Scafusia watch but also launched the Portugieser. The then-new name for the resurrected reference 325 collections. Bullseye, as over the years the Portugieser has become even more known to a larger audience than the reference 325 ever was. A (new) icon was born.
IWC decided it was time to upgrade the Portugieser collection once more, and show us a number of new models. Let's have a closer look at them.
IWC Portugieser Automatic
The brand from Schaffhausen introduces two pillars in the Portugieser Automatic collection, 5 reference IW3583 variations in a 40.4mm case, and two new IW5007 variations in a 42.3mm case. If you like things clean and simple, the 40.4mm (and 12.4mm thick) IW3583 models are interesting to consider. They feature IWC's caliber 82200 movement that has the famous Pellaton winding system and a power reserve of 60 hours. Certain parts of this movement are made of ceramic, to prevent them from wearing out. The movement can be admired through the sapphire caseback of the watch.
You will find a number of reference 325 elements in this watch, such as the date at 6 o'clock, the Arabic numerals and the design cues of the case, of course. These watches are delivered on a leather strap made by the Italian shoe manufacturer Santoni (I'm a big fan of those) with a folding clasp. The price of the 40mm Automatic will be CHF7000 Swiss Francs / €7250. The rose gold version (reference IW358303) has a price of CHF17,200 Swiss Francs / €17,000.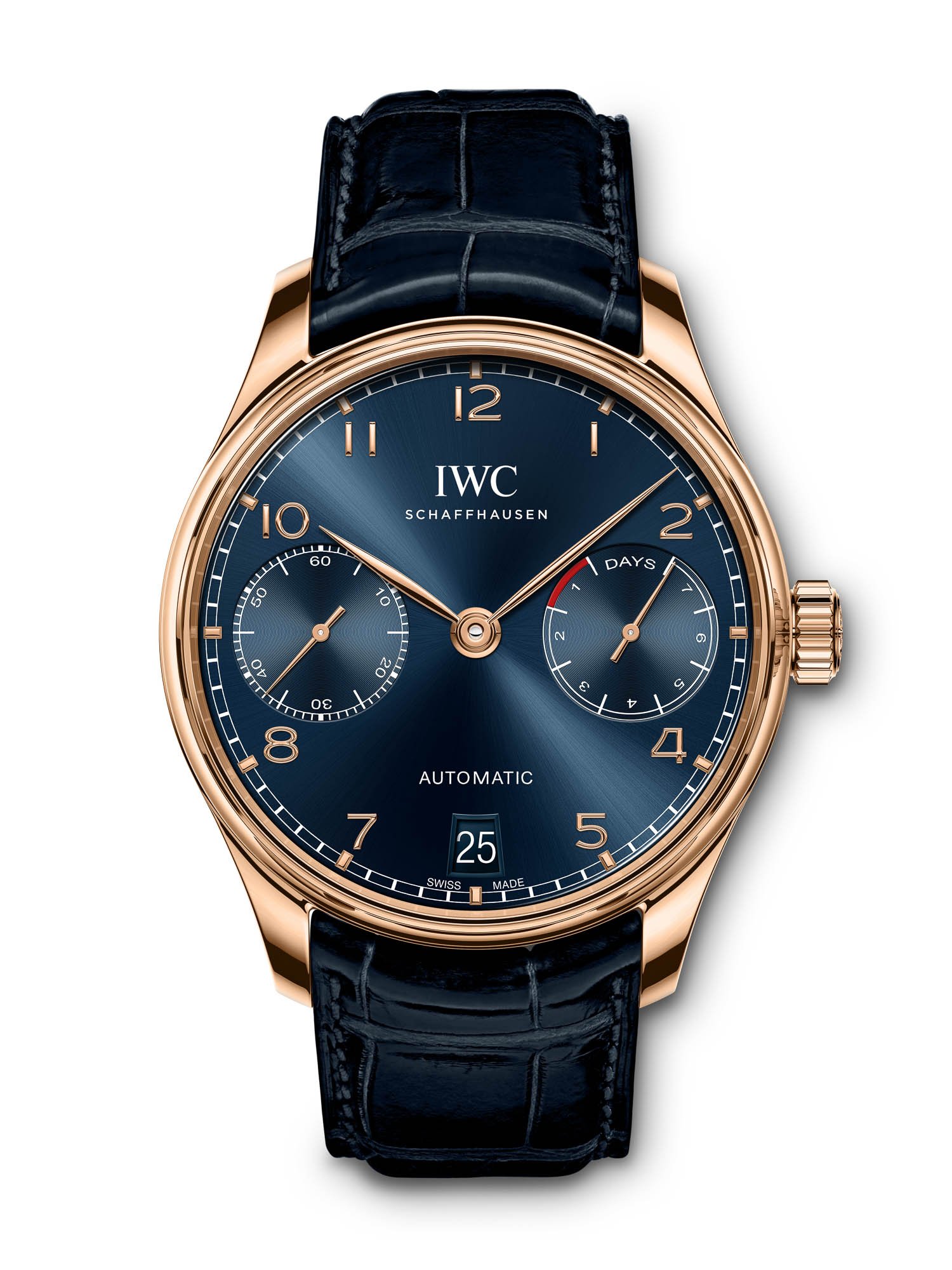 One of my favorite Portugieser models
Now, for the 42.4mm version, this is probably — besides the chronograph — the best-known contemporary version of the Portugieser since 1993. And to be honest, this is one of my favorite Portugieser models. Sometimes mistaken at first glance for being a chronograph due to the two subdials, but one subdial is a power reserve indicator and the other one is for the small seconds. Is it too crazy to think that this two register watch might be partially the success or instigator for the high amount of two-register chronographs out there?
Not regarding functionality, of course, but purely talking about aesthetics. Anyways, the Portugieser Automatic IW5007 has two new variations. One in steel with a burgundy red dial and there's a boutique edition in rose gold, with a blue dial. Both watches have caliber 52610, using the Pellaton winding system, have a power reserve of 7-days and use – like the caliber 82200 movement – parts of ceramic to prevent it from wear and tear. The thickness of the case is 14.2mm.
The price of the steel IWC Portugieser Automatic (7-Days) with burgundy dial (ref. IW500714) is CHF12,800 Swiss Francs / €12,600. The boutique edition in rose gold and blue dial (IW500713) has a retail price of CHF24,000 Swiss Francs / €23,400.
IWC Portugieser Chronograph
One of the most successful Portugieser models is the chronograph. IWC now introduced three new editions, with some interesting color choices for the dials. Blue, green, and burgundy red. It seems that the burgundy trend, that was started last year with Jaeger-LeCoultre Reverso, is doing quite well. This 41mm diameter watch (13.1mm thick) uses an IWC caliber 69355 movement. A two-register chronograph with central seconds and a minute counter at 12 o'clock. The green and burgundy dial versions are in a steel case, whereas the blue dial version comes in a 18K gold case. This 5N 18K gold version is a boutique edition.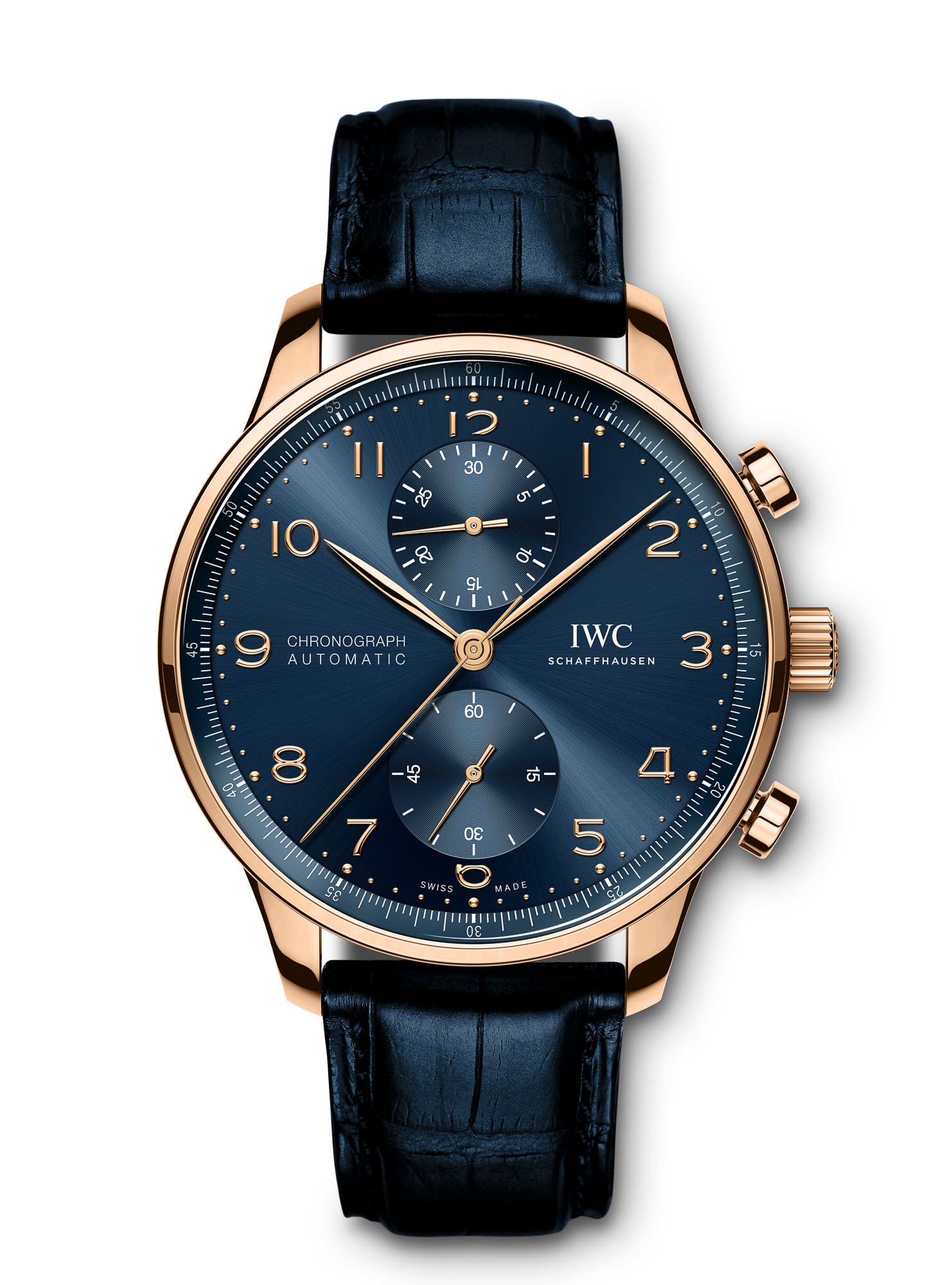 The prices of the steel models in green (IW371615) and red (IW371616) are CHF8200 Swiss Francs / €7950, the red gold model with blue dial (IW371614) has a retail price of CHF17,900 Swiss Francs / €17,700.
IWC Portugieser Yacht Club
In 2010, IWC added the Yacht Club collection to the Portugieser family. A hybrid between an elegant Portugieser watch and a sports watch with nautical influences. This year, IWC introduces two new models for the Portugieser Yacht Club collection: Yacht Club Moon & Tide and the Yacht Club Chronograph. The Yacht Club Moon & Tide (reference IW344001) is an 18K gold model that has a complication that will indicate the time of the next high or low tide. On top, it has a moon phase indicator. In fact, it shows a double moon, one for the northern hemisphere and one for the southern hemisphere. To keep things sporty, it has a rubber strap with a textile inlay. The Yacht Club Moon & Tide has a caliber 82835 movement with a 60-hour power reserve. This model measures 44.6mm in diameter and 14.4mm in height.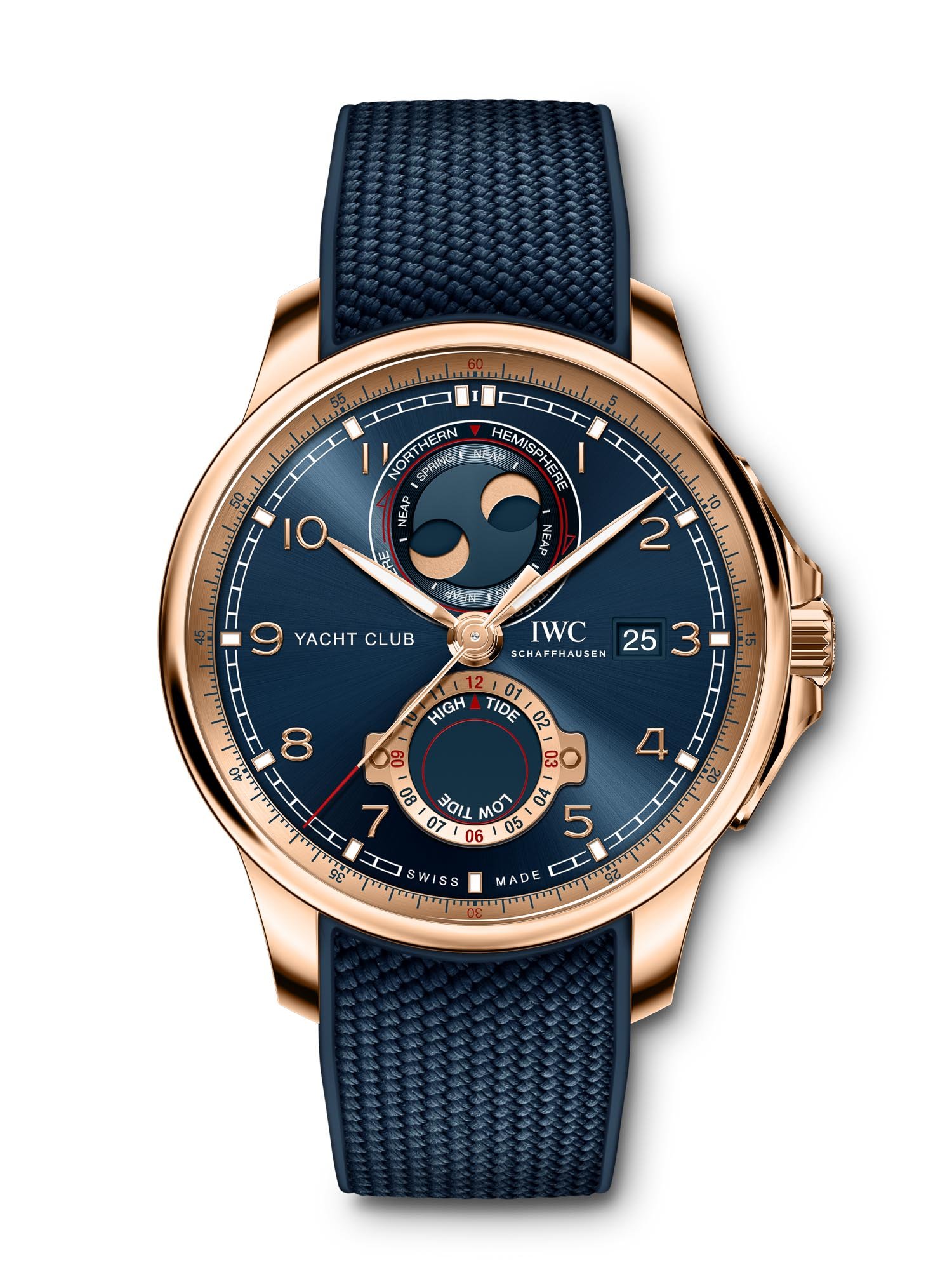 The retail price of the Yacht Club Moon & Tide will be CHF35,000 Swiss Francs / €34,800.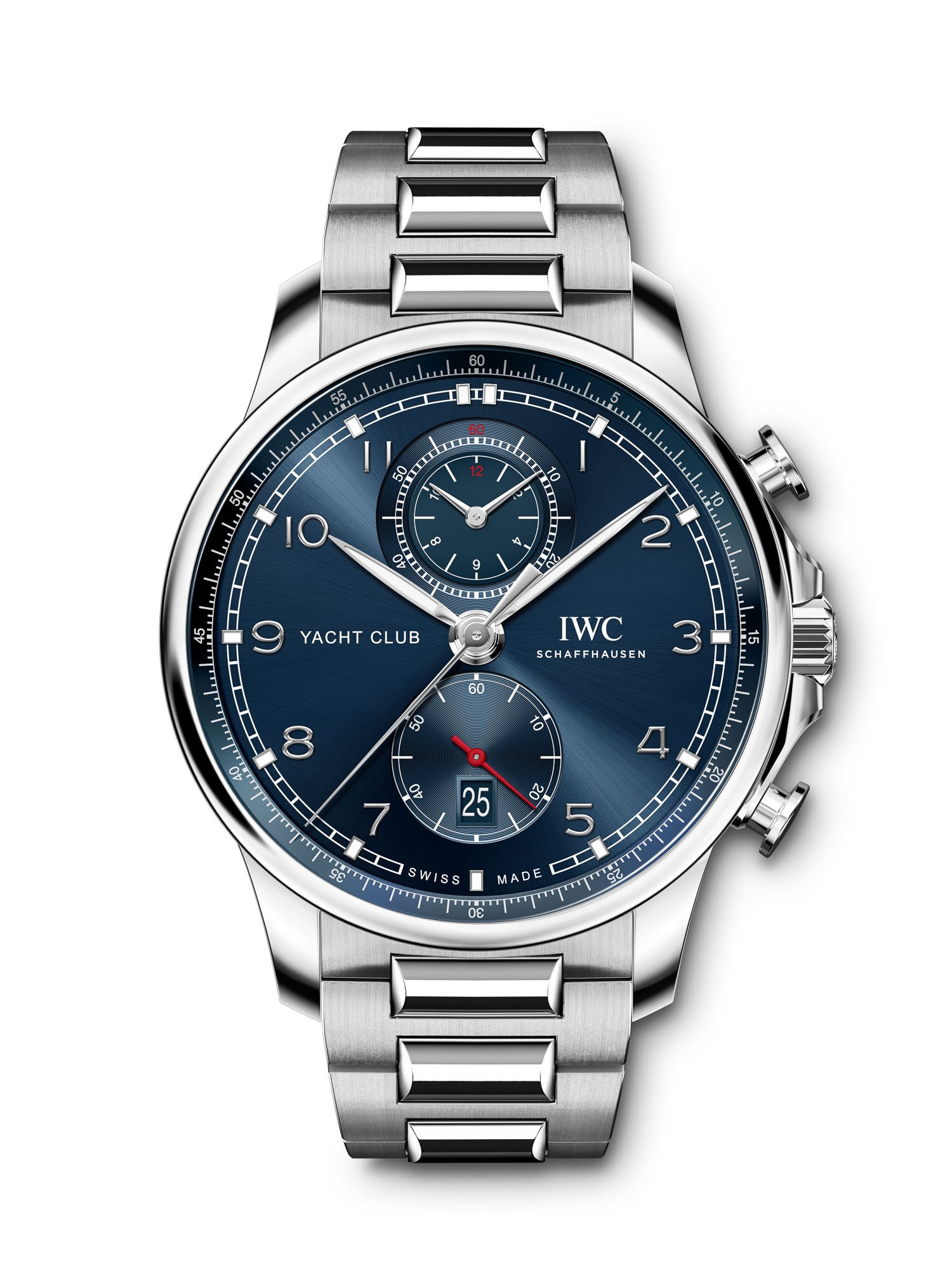 The other Yacht Club is a chronograph. It is the 3rd generation already since 2010, and has reference IW3907. It is a 44mm case watch with either stainless steel or bi-colour (yeey!). The chronograph caliber IW89361 movement also has a flyback function, meaning that you can restart the chronograph by just pressing reset while it runs, no need to stop it first. This movement has a power reserve of 68 hours.
The Yacht Club Chronograph retails for CHF13,500 Swiss Francs (€13,000) in steel and CHF 20.500 (€19,700) in bic-colour.
I have to add that for a nautical watch, the water-resistance on these watches is a bit weak. 30 meters for the Yacht Club Moon & Tide and 60 meters for the chronograph version.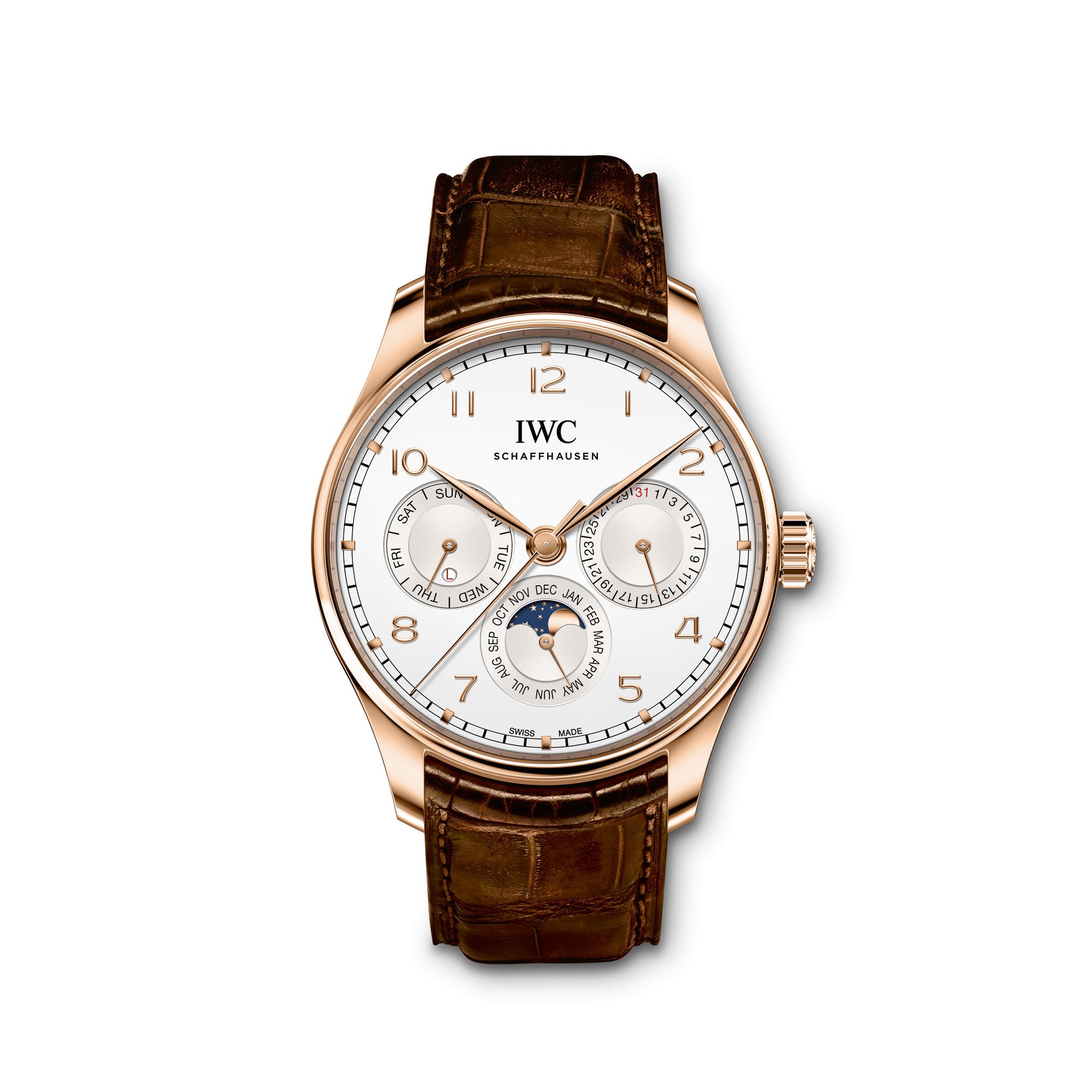 IWC Portugieser Perpetual Calendar
Next to the IWC Portugieser Automatic 7-Days, the Perpetual Calendar version is definitely something I'd rock. IWC introduces four variations of the Portugieser Perpetual Calendar, including two boutique edition of which one has a four-digit year indicator. One of the variations of the IWC Portugieser Perpetual Calendar is in stainless steel (reference IW344203). The others are made of gold. The steel version as well as the gold versions (except the boutique edition) measure 42mm in diameter.
These watches are powered by IWC's caliber 82650 movement. It has 60 hours of power reserve and is able to advance the calendar with a single impulse during the night. Every function can be operated via the crown. The stainless steel Portugieser Perpetual Calendar (IW344203) has a retail price of CHF23,000 Swiss Francs / €22,700. The gold version with silver-plated dial (IW344202) will retail for CHF33,000 Swiss Francs / €32,800. Then, there's the gold boutique edition with blue dial (reference IW344205) that will retail exactly the same as the IW344202.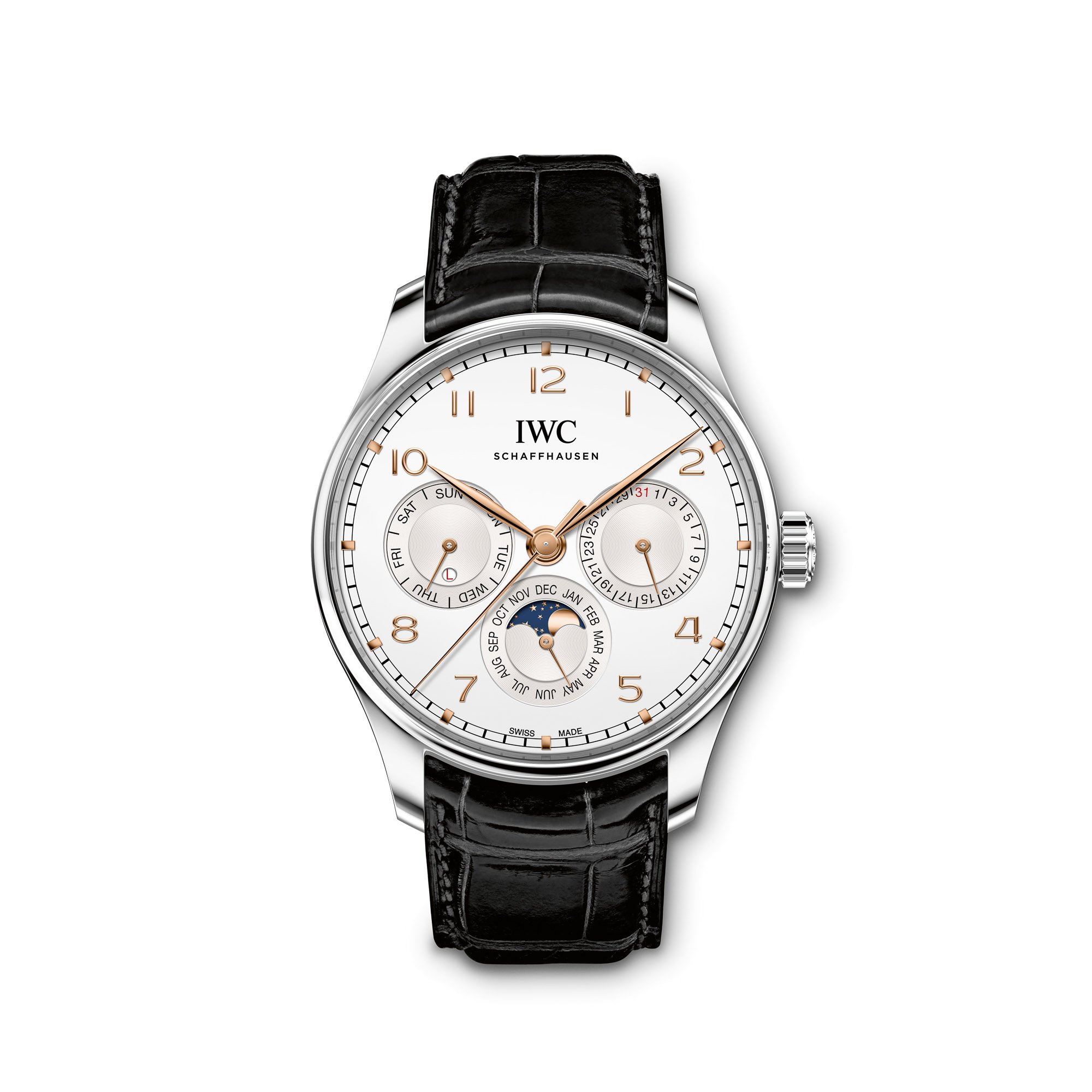 The 18K gold boutique edition of the Portugieser Perpetual Calendar (reference IW503312) is slightly larger than the others, with its 44.2mm case diameter (and 14.9mm in height). This edition is made of Armor Gold, IWC's own alloy that has more resistance to wear (5 to 10 times more than conventional 18K gold). Besides the case material, there's an extra subdial (small seconds), a four-digit aperture for the year indicator and there's a power reserve indicator (7 days).
The IWC Portugieser Perpetual Calendar Boutique Edition reference IW503312 will have a price of CHF115,000 Swiss Francs.
More information can be found via IWC online.
Follow me on Instagram via @rjbroer