Micromilspec Launches The Official Watch Of The U.S. Space Force
A mil-spec watch for the USSF branch of the Armed Forces
Watches with military history and provenance speak to a subset of watch collectors. Timepieces that were present at significant moments in history speak to the stories they bear witness to. For those who might not have noticed, the United States Armed Forces added a new branch in 2019, the Space Force. Now, in collaboration with Norwegian brand Micromilspec, the branch has a mil-spec watch of its own.
Why is the U.S. Space Force commissioning a watch from a Norwegian microbrand? Well, Micromilspec is not your average microbrand. The brand focuses on made-to-order watches for the military, first responders, and other special clients. Its watches are typically not available to the public. Micromilspec calls Oslo, Norway home. From this base, it designs its special projects and works with a network of trusted manufacturing partners in Switzerland to produce its products. An interesting link between Micromilspec and the U.S. Space Force is that they were both founded in 2019. The Space Force was created upon signing the National Defense Act into law, creating the first new branch of the armed forces in the U.S. in over 70 years. Focusing on global space operations to enhance coalition performance on the battlefield, the Space Force aims to provide military options to achieve national objectives.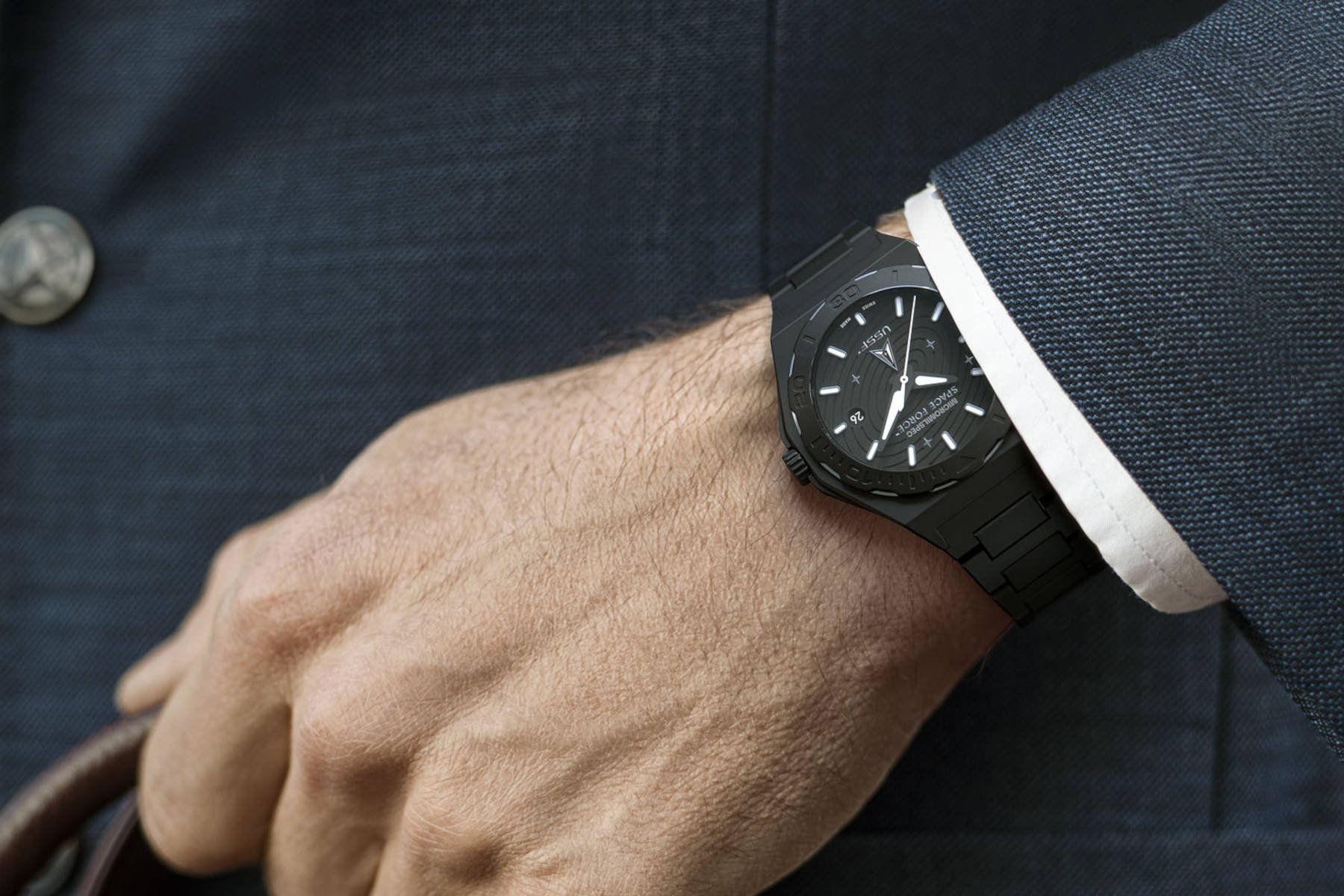 Mil-spec for the U.S. Space Force
While we are all familiar with standard "mil-spec" designs, they typically emphasize function over form. Brands that come to mind in this arena are Marathon and Benrus. Creating a mil-spec watch for the newest armed forces branch is a unique challenge. We already have flight-qualified Omegas for NASA astronauts. Additionally, the Space Force conducts most of its operations here on Earth, much like NASA, so the watch needs to serve various objectives to complete the mission.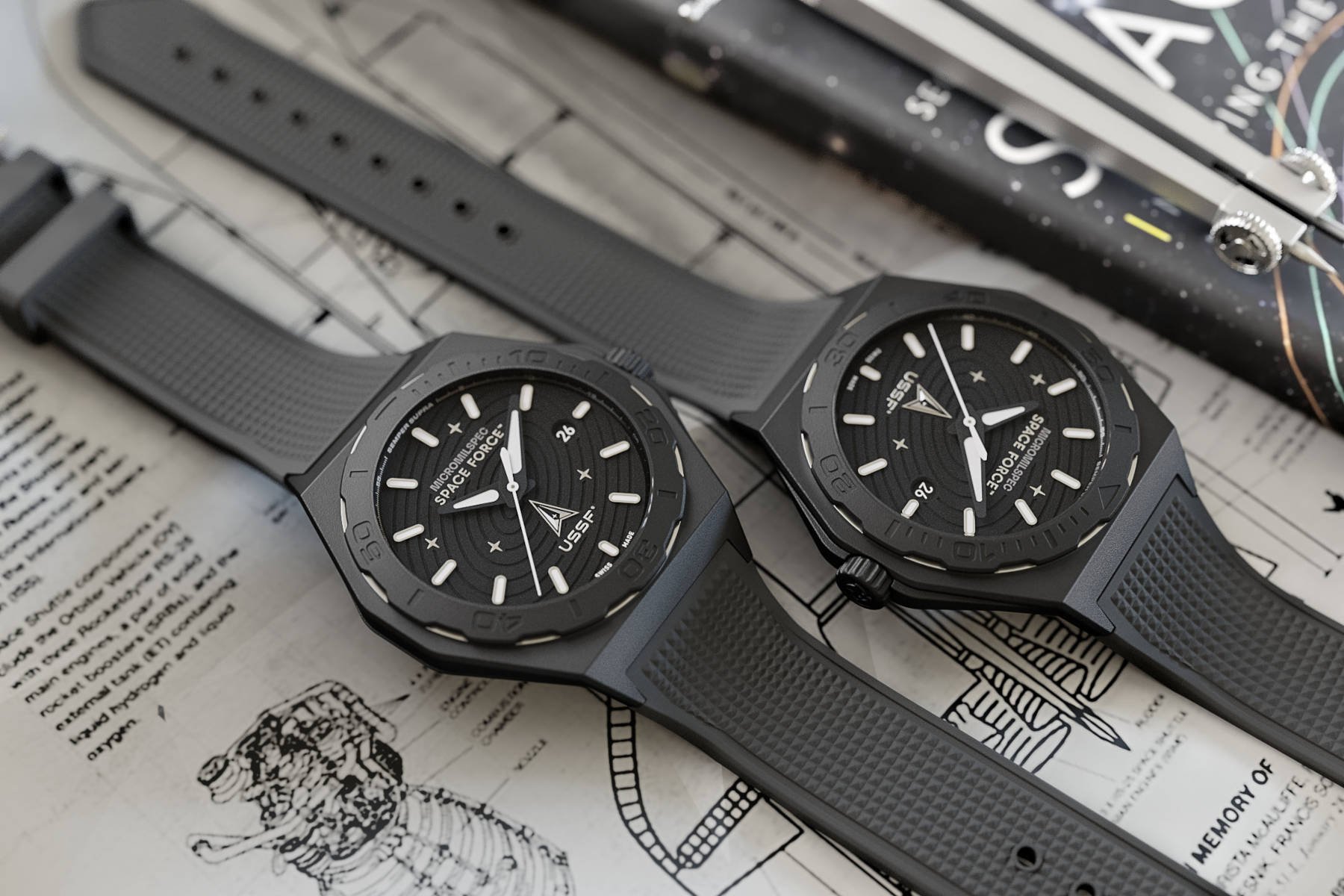 The mil-spec version of the Space Force watch features a PVD-coated stainless steel case measuring 42mm in diameter, 12mm in thickness, and 50.3mm from lug to lug. Black PVD eliminates glare, which can be helpful in several military applications. This might also be the first application of an integrated-look bracelet in a military-spec watch. The bracelet is PVD coated to match the case, and the watch comes with additional leather and rubber straps with flaring edges to match the lugs.
The dial and handset are matte black and feature Super-LumiNova applications to provide visibility in low-light conditions. A laser-engraved stars-and-orbits pattern inspired by the mission of the Space Force adorns the dial along with the Space Force insignia. The watch provides time and date functionality and a uni-directional bezel with a minute track. Engraved on the rehaut is the Space Force motto, "Semper Supra," which is Latin for "Always Above." Finally, wearers can personalize the case back with their unit or other custom engravings. Overall, there are elements reminiscent of Omega, TAG Heuer, and even Tissot in the design. That said, everything comes together well in the execution. Unfortunately, this version of the watch is only available to purchasers enlisted in the U.S. Space Force.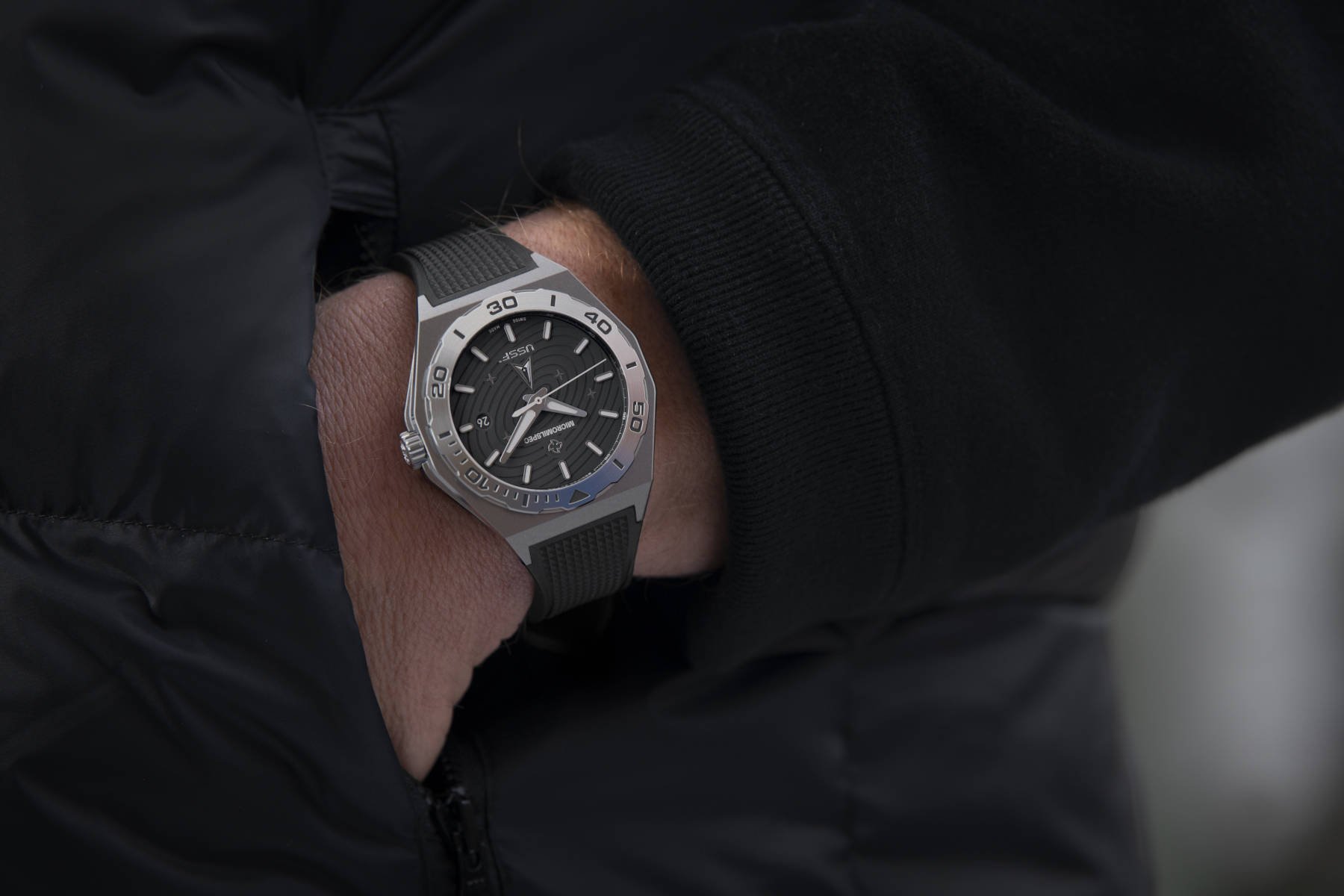 Civilian edition
Fortunately, for those of us with a U.S. mailing address, a civilian version of the watch is available. The case dimensions are the same, as are the water resistance (100m) and available strap options (bracelet, leather, rubber). The civilian version also features a steel case, but it's not PVD coated. Featuring a gray dial and steel hands and markers, the watch has mainly brushed surfaces with some polished accents. Another difference is the display case back, allowing a view of the Sellita SW200.
Overall, Micromilspec has created an attractive watch with a unique backstory. Both watches look great on the provided H-link bracelets, which taper nicely to a butterfly clasp. Though technically not a "proper" integrated bracelet, it is interesting to see a mil-spec watch design with this look. It's something we don't typically see on military-issued watches. Additionally, the specially fitted strap options complement the design quite nicely. However, with a 20mm lug spacing, regular watch straps are still compatible. You can easily swap in a NATO if that's more to your liking.
Micromilspec U.S. Space Force Watch pricing and availability
As alluded to, these watches will only be available to U.S. residents or those with a U.S. mailing address. That's a stipulation from Space Force, not Micromilspec. Unless you work in the U.S. Space Force, the non-PVD civilian model is your option. If you meet the requirements, the ordering window is open until mid-July. Micromilspec produces these watches to order, so while not limited by quantity, they are limited in production. Priced from $1,500, they are not inexpensive, but from a design and story perspective, they offer a unique opportunity. They are the first watch created for the newly formed U.S. Space Force. The Space Force Watch is an interesting alternative to others in this price bracket, and if that speaks to you as a collector, this could be an exciting addition. Find out more and place your order on the Micromilspec website.
Watch specifications
Model
U.S. Space Force Watch
Dial
Matte black (mil-spec) or matte gray (civilian)
Case Material
PVD-coated stainless steel (mil-spec) or stainless steel (civilian)
Case Dimensions
42.0mm (diameter) × 50.3mm (lug-to-lug) × 12.0mm (thickness) × 20mm (lug spacing)
Case Back
Solid (mil-spec) or display (civilian)
Water Resistance
10 ATM (100m)
Strap
Steel H-link bracelet with butterfly clasp and additional rubber and calfskin leather straps
Functions
Time and date, unidirectional rotating bezel
Special Note(s)
Made to order (order window through mid-July)