Nerdy or Nice: Is An Apple Watch A Good Christmas Gift?
Does an Apple Watch do the emotional job a mechanical watch does so well?
As Christmas is getting closer every day, the annual rush to find a great present is about to begin. Of course, I buy a lot of socks (classic) but since I recently got into watches, I figured that my beloved husband deserves something classier than boring old stockings. No, this year, I have my heart set on a watch for him; not any watch but a watch that expresses appropriately how I feel about him. The only problem? He wants an Apple Watch…
So, I am wondering if an Apple Watch can do the job of an emotionally loaded timepiece that symbolizes eternity, love, belonging, and family? Imagine him in about 50 years, in 2080, giving his grandchild a rather exceptional present for a birthday: the Apple Watch he once got from his wife. The only thing is that all the features are outdated, the design is retro (at best) and his grandson doesn't even know what the hell it is or why it doesn't switch itself on when he tells it to.
Our grandson's answer? "Um, thanks … I guess."
Yesterday, today, and tomorrow
Of course, I had in mind a mechanical watch. Why? Mechanical watches are incredibly classy, they symbolize a certain stage in life where you have kind of made it, have found yourself (and perhaps even love), and they feel like they will be with you forever. They were the right choice yesterday, they are the right choice today, and they will be the right choice tomorrow. And also tomorrow's tomorrow. Overmorrow's overmorrow, for that matter — ad infinitum.
In my opinion, that makes a mechanical watch the perfect gift for someone you love! Now, let's have a look at a few timepieces I myself couldn't get enough of: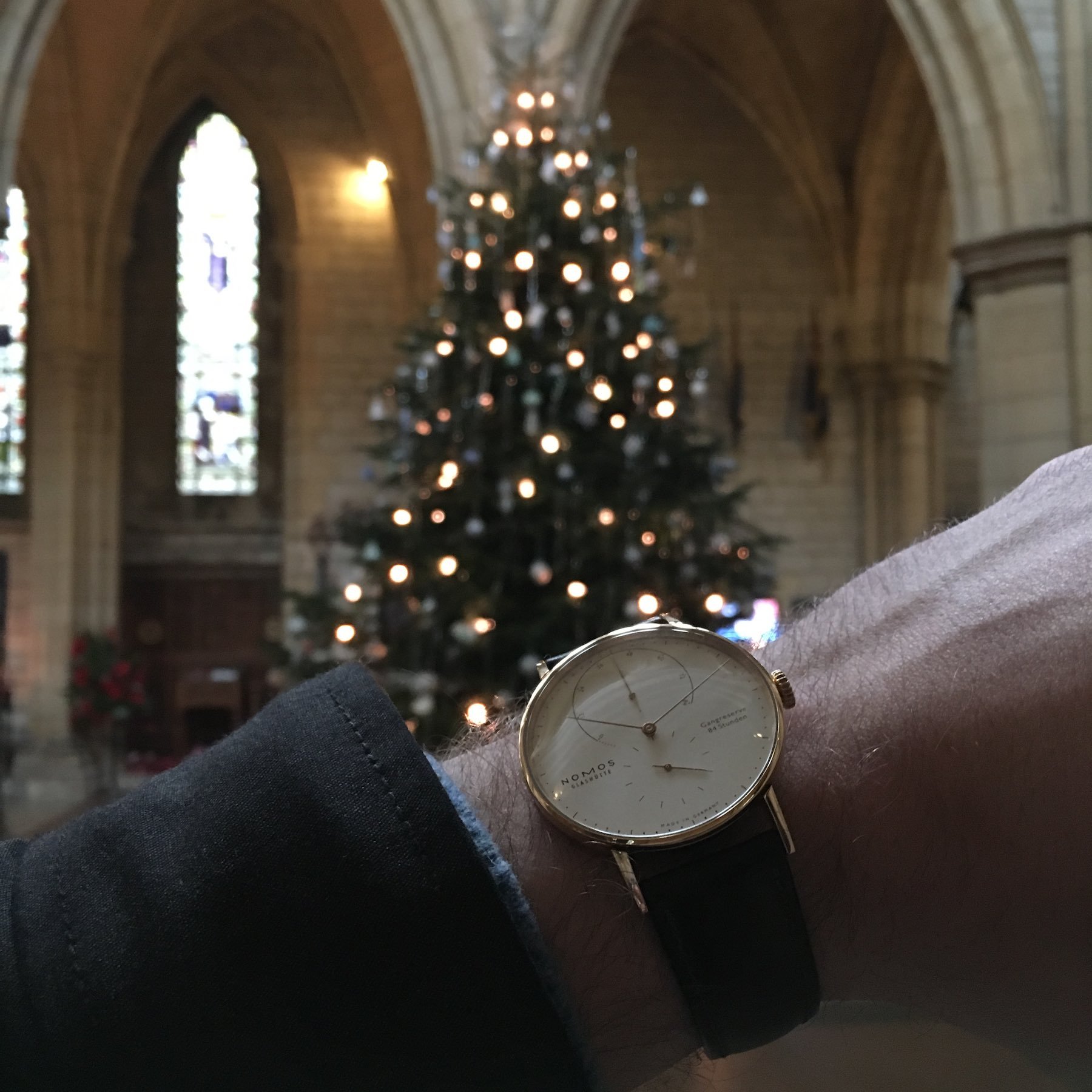 NOMOS Glasütte Lambda
The first watch I really liked was the NOMOS Glashütte Lambda in rosé gold, ref. 952. I love the slender hands in combination with the fine bezel, and particularly, the rose gold color is just magnificent. Is it just me or does this watch have a slightly "Christmassy" vibe? I also like that it comes from the same region in Germany where I met my husband — so it doesn't just look great. It also tells a great story.
Then again, it is so classy that it might even be a little too classy. It's going to be our 10th anniversary this year, not our 50th — so the watch should look the part, and a little youth and freshness wouldn't hurt… Whether or not I should go as far as an Apple watch, however… How about: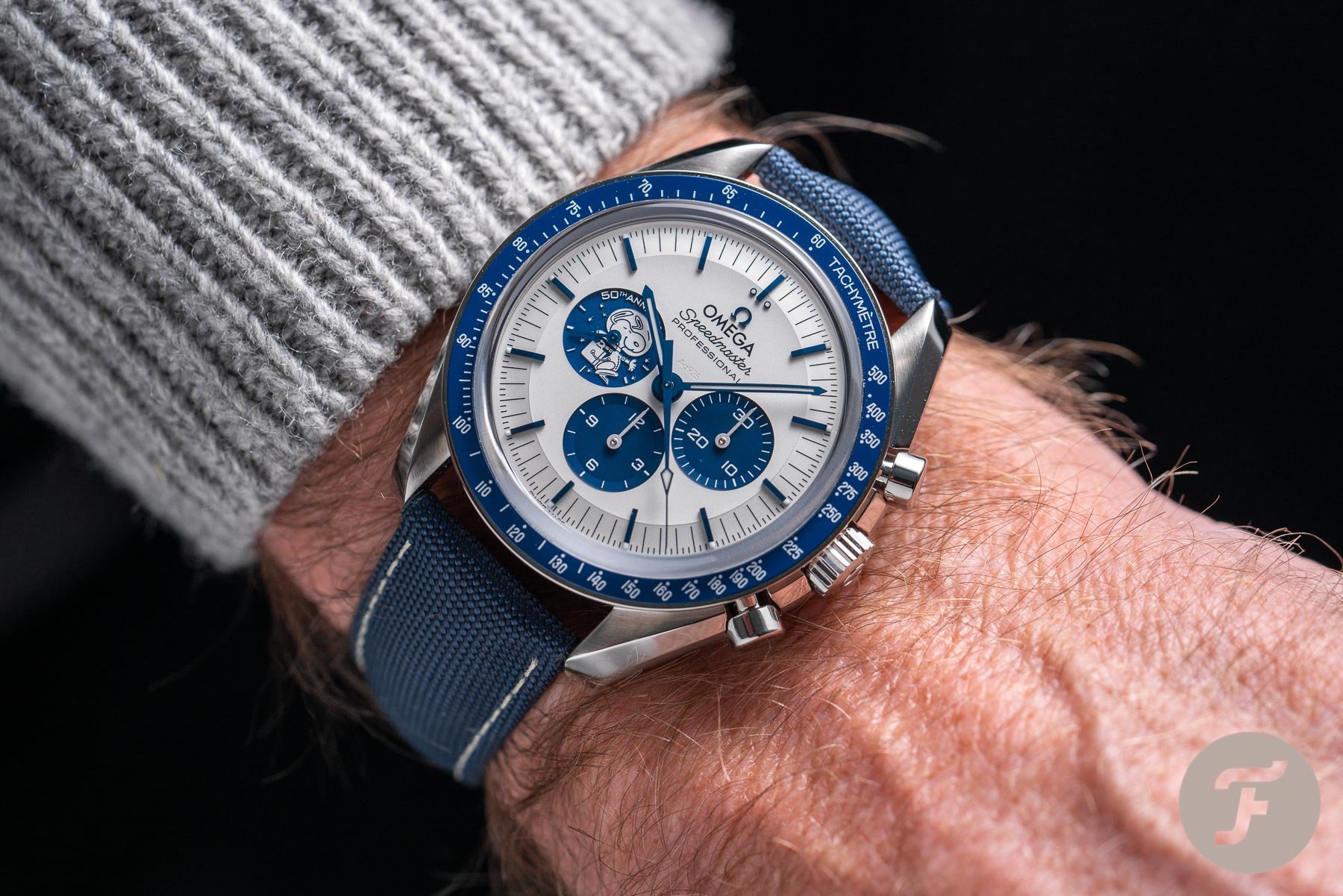 Omega Speedmaster "Silver Snoopy Award" 50th Anniversary
That's why the Omega Speedmaster "Silver Snoopy Award" 50th Anniversary also made it on my list. The reason why is … ah, I mean, just look at this beauty! That's why! The only adjustment I might have is that I would combine a cognac brown leather strap with the dark blue bezel. Yes, I am a sucker for the brown-blue combo (although that would be possible to achieve with the new Apple Watch Series 6, which comes in an aluminum blue case version too). The only other thing I'd change about Snoopy III? The price! It may well be worth it, but at close to five figures, this is at the top end of steel Speedmasters.
Sjöö Sandström Royal Steel Worldtimer LEET
Watch number three is an interesting one: the Sjöö Sandström Royal Steel Worldtimer LEET with its black dial and stainless-steel case has a completely different look. So, why this watch? As we live in Stockholm, I like the idea of giving my husband a Swedish timepiece to celebrate our shared adventure. Also, I find it clever that the model somewhat resembles the Apple Watch — black, steel, lume — but still is a mechanical watch. Nerdy, but classy.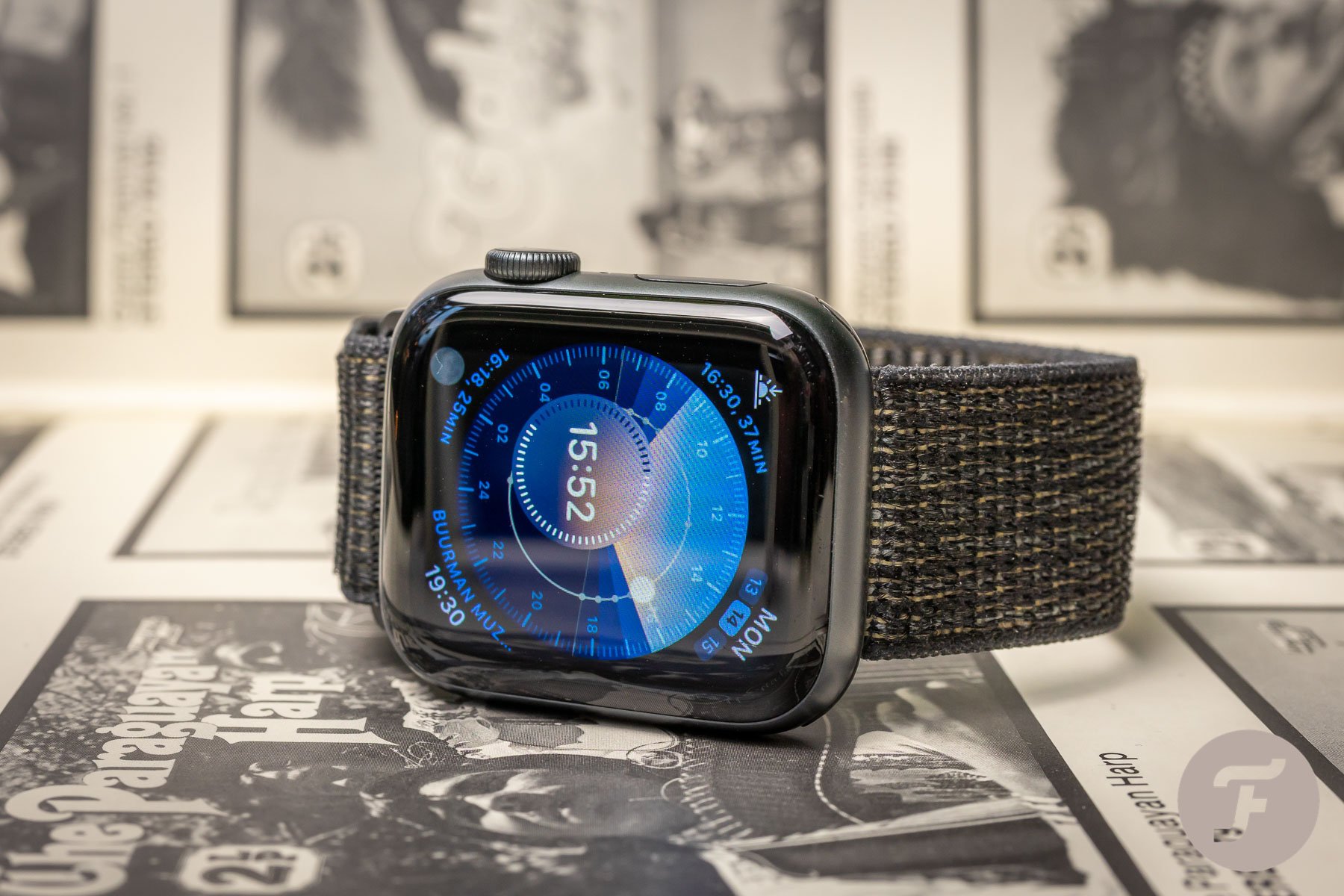 Hands-on question: which watch to buy?
Obviously, this list is by no means exhaustive. But these are some of the watches I think you could give to your grandchildren without an odd reaction. And speaking of giving: these are also the watches I would like to borrow once in a while for myself; the same way you'd borrow boyfriend jeans or an oversized work shirt. These watches are timeless but will still tell the time 50 years from now. Better still, they will never go out of style.
…food for thought…
All romantic, theoretical thoughts aside, I am still not sure which watch to buy. A gift should please the one receiving it, after all. Knowing exactly that an Apple watch probably is the one this year but still getting a mechanical watch as a gift feels a lot like "mama knows best" — a label that I am absolutely not comfortable with. But then again… Speedmaster "Silver Snoopy Award"… Nomos Lambda … I'm just saying, it is food for thought…
One thing is for sure, though: if he's been naughty, he is getting a Galaxy watch.
How do you feel about the Apple watch?