The New Greubel Forsey Double Balancier Convexe — A Bold Amphitheater Of Gears
And it just happens to tell the time
The Greubel Forsey Double Balancier Convexe is not a name that rolls easily off the tongue. But without even seeing the watch, you just know what's coming. If your collection consists of scratched-up G-Shocks and military field watches, you'll have one of two reactions. For me, it's like listening to my wife, the astrophysics buff, talk about black holes and neutron stars. I'm simply left feeling slightly inadequate. Alternatively, you will consider selling your tool-watch collection to buy 147 lottery tickets in a rush of enthusiasm.
These are valid reactions to any new watch from Greubel Forsey, and the Double Balancier Convexe is no exception. Like the Greubel Forsey Balancier S2 in my story here, its monochrome palace of micro-mechanics fries my synapses. I am simply a big fan of the brand. The fact that Greubel Forsey, despite the demographics of its clientele, manages to steer clear of bejeweled dials and gem-set cases is one of the reasons. There is a visible love for pure, high-tech craftsmanship that is inspiring, and the brand maintains its clear design language.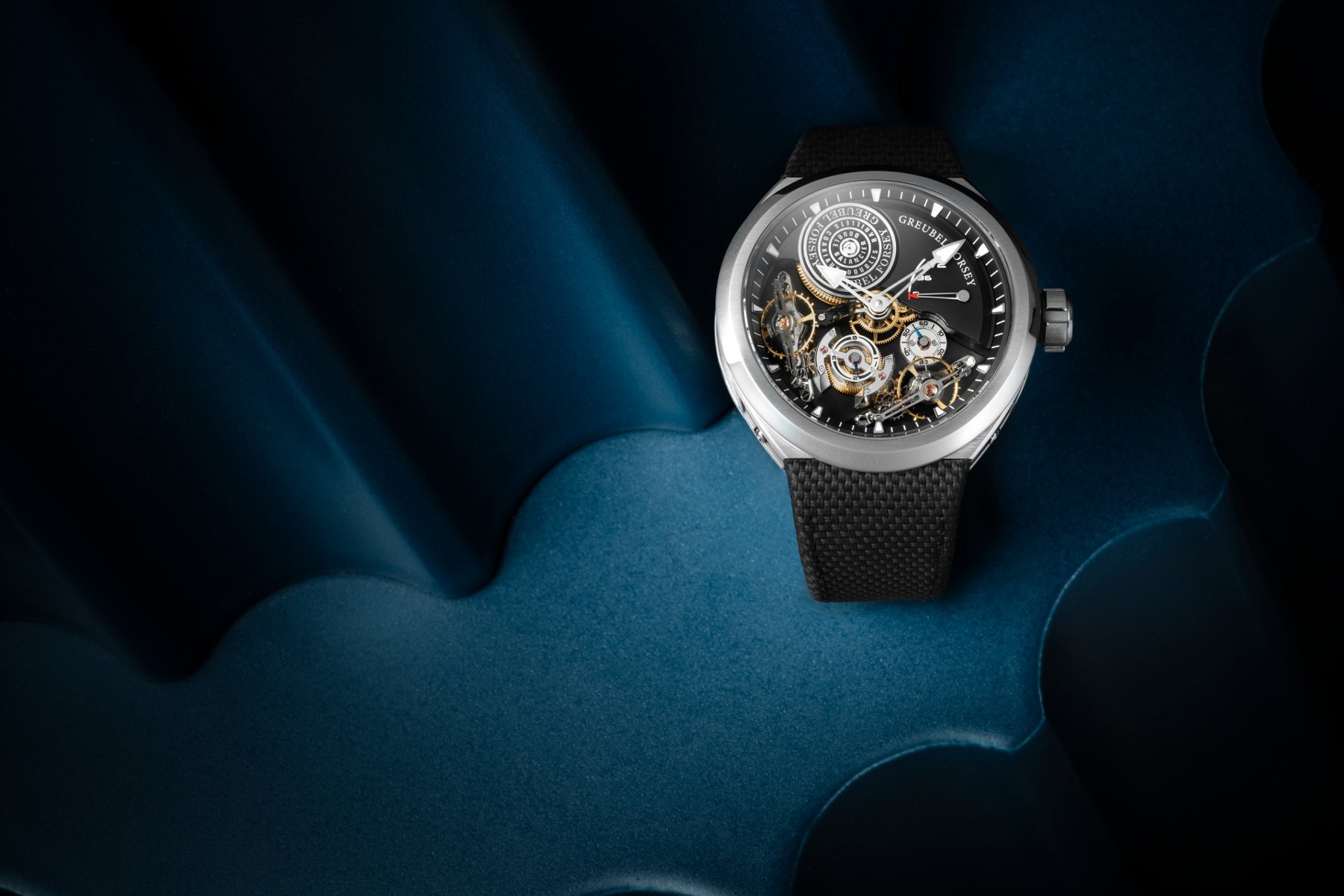 The sensory assault of the Greubel Forsey Double Balancier Convexe
The recognizable language of Greubel Forsey starts with the skeletonized arrow hands, softly curved and proportionate to the dial. The second hallmark is an angular step in the dial structure, revealing the intricacies within. More often than not, I find fully open-worked or skeletonized dials too busy and distracting for the sake of it. Within the dial depth of the Double Balancier Convexe, however, the signature move of a slightly curved angle from 10 to 4 o'clock does a magic trick unlike any other atelier. It is almost like you have the x-ray vision of Superman, or the dial surface got accidentally slashed by alien weaponry, revealing the inner secrets of Greubel Forsey. And they are nothing but enthralling.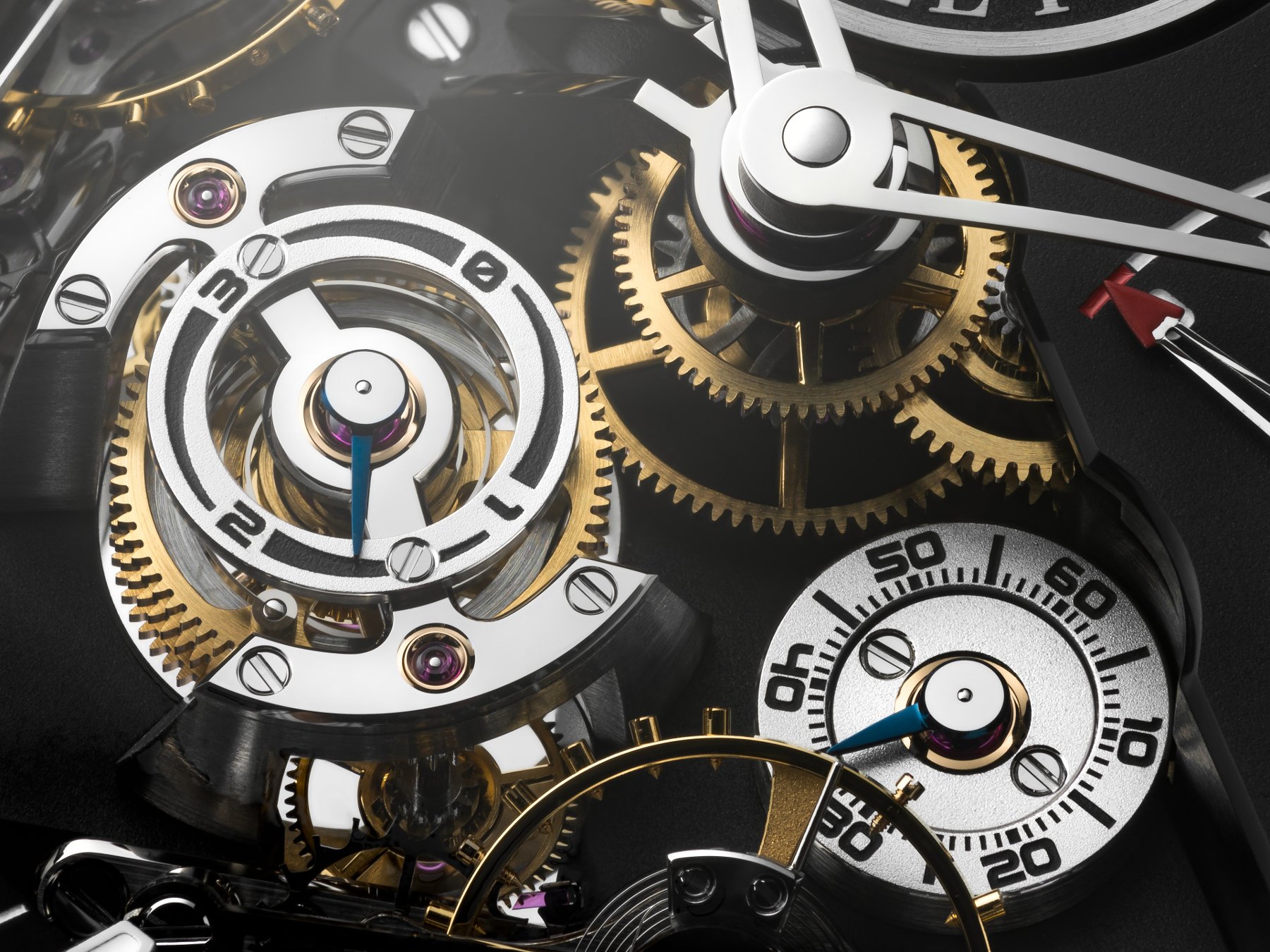 A formidable challenge to my horological dictionary
Seriously, any watch from Greubel Forsey will challenge a poor watch journalist with the depth and assertiveness of its design. Avoiding ostentatious and florid language might seem an easy task, but not when faced with this sculpture of time. I'm not going to fool you with a spiel on a large watch wearing much smaller, but it is comfortable for its 43.5mm case size. I tried on the titanium GMT Sport last year, and there is magic within the curved, wrist-hugging case and bracelet. Titanium is notoriously hard to machine, and Greubel Forsey makes it look easy. Now, to be fair, a deliciously soft-edged finish on a bracelet is expected for five-figure sums. Greubel Forsey certainly delivers on that. It is a detailed but bold three-link bracelet that somehow manages to impart the comfort of the slinky H. Moser Streamliner. That says a lot.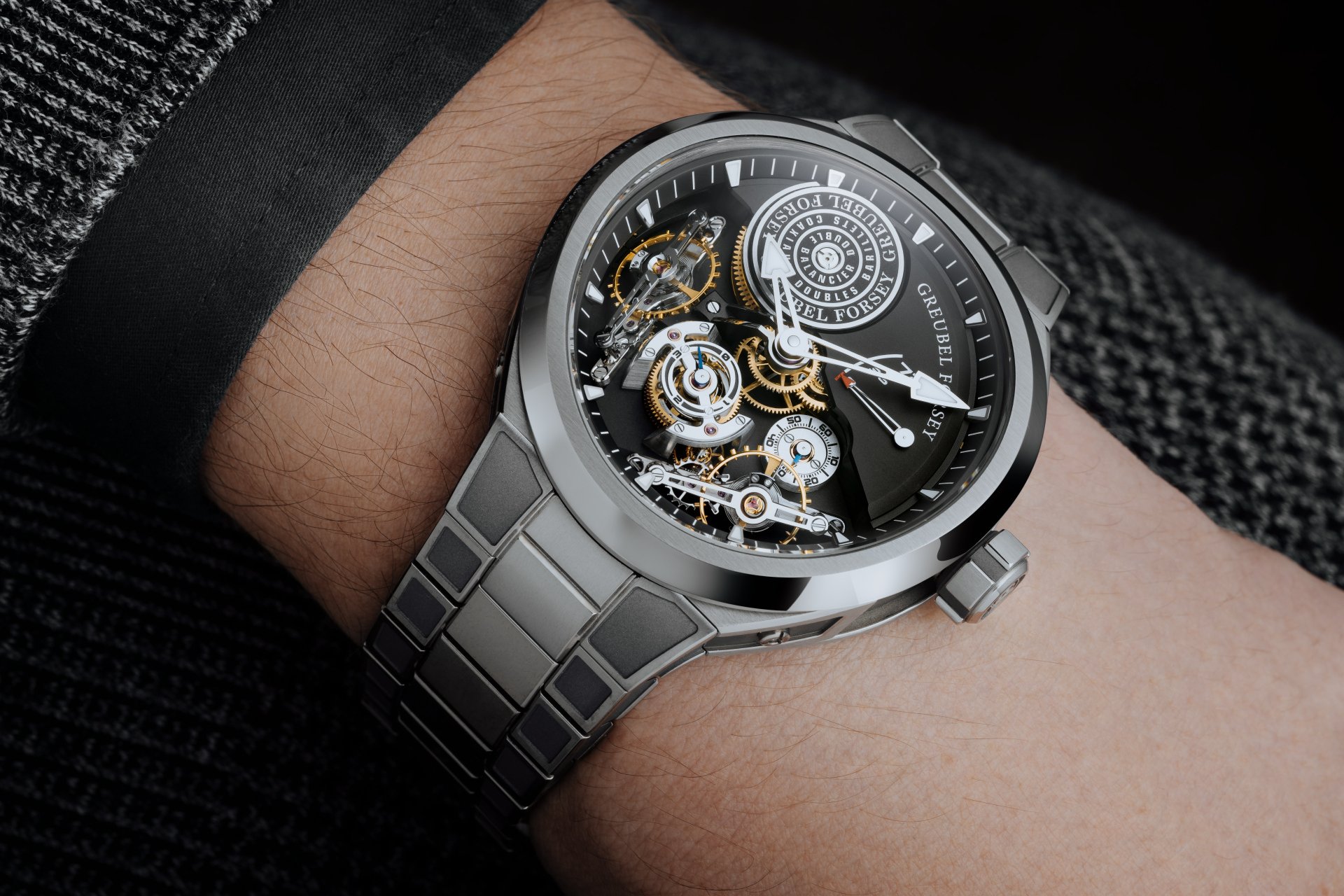 Curvy complexities
How many times have you tried on a big, bold sports watch only to find it similar to a floating brick on your wrist, lugs poking out? The Double Balancier Convexe commits no such crimes. The curved, short-lugged case wraps around your wrist with the type of lightweight comfort that titanium brings. This allows you a single concentrated focus on the dial. Experiencing the intense three-dimensionality of any GF dial is bucket-list material, and even a normal wrist shot will give you an inkling of its hypnotic nature. The remains of a normal dial sit silky black and almost apologetically cut back at the top of the dial with a power reserve at 2 o'clock. The curved Greubel Forsey logo inside the rehaut is razor-sharp but a bit unnecessary. After all, it is twice repeated on the barrel cover at 11, including a poetic feature list of sorts.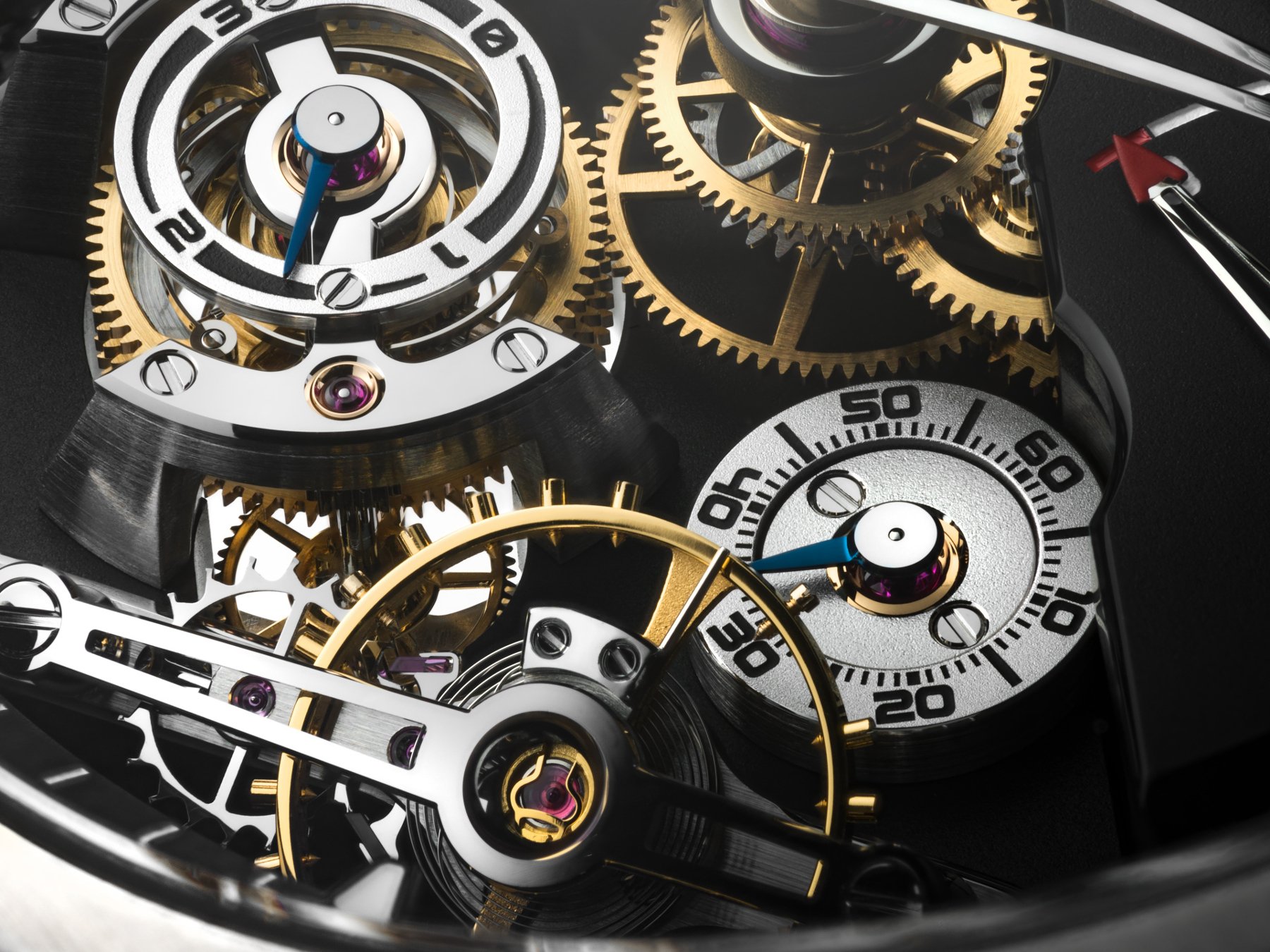 Into the depths of the Double Balancier Convexe
But, let's be completely truthful here. It doesn't really matter what is inscribed on the beautifully engraved cover, or the fact that the tip of the power-reserve pointer looks candy apple-lickable. This is about the double balance wheels pulling you into the abyss below. The Double Balancier was patented by Greubel Forsey in 2007, featuring two regulating organs jauntily inclined at 20 degrees. Here, they are even more dramatic at 30 degrees, separated by a spherical differential calculating their average rates. These three features are framed by intricate skeletonized bridgework and hand-finished anglage down to the smallest screw head. The gear train seems to rise from the dark depths below, almost appearing to originate from within your wrist, through a black titanium bridge holding the hour and minute hands.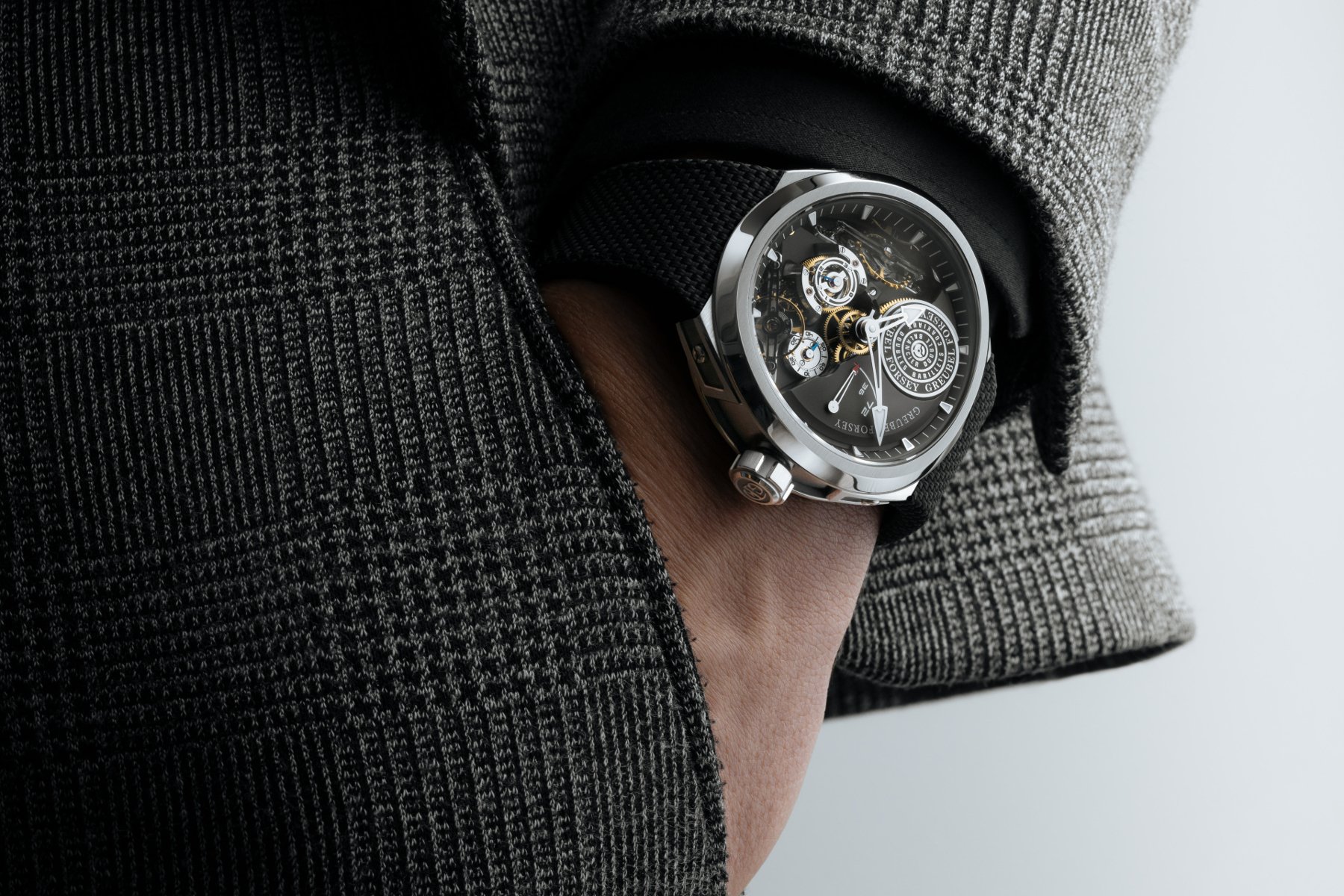 A lot more than mechanical maximalism
For me, the Greubel Forsey Double Balancier Convexe exists in another dimension beyond watchmaking. Such is the impact of its micro-architecture and almost intimidating presence. The curved, domed crystal swathes this life-like scene within a tech-sports case. Unlike the brash blue of the last edition of the GMT Sport, this is a more focused design language. My favorite details might be some of the least apparent, such as the spherical differential. Nestled between the heartbeats of the balance wheels, it has a four-minute cycle. While making me think of a Darth Vader's TIE Fighter, the bright flash of a tiny blued pointer is a charming touch. If you enjoy the pop of blue, it's echoed in a razor-sharp pointer on the small seconds dial. This appears floating in the dark void at 4 o'clock, a cool and rather whimsical touch.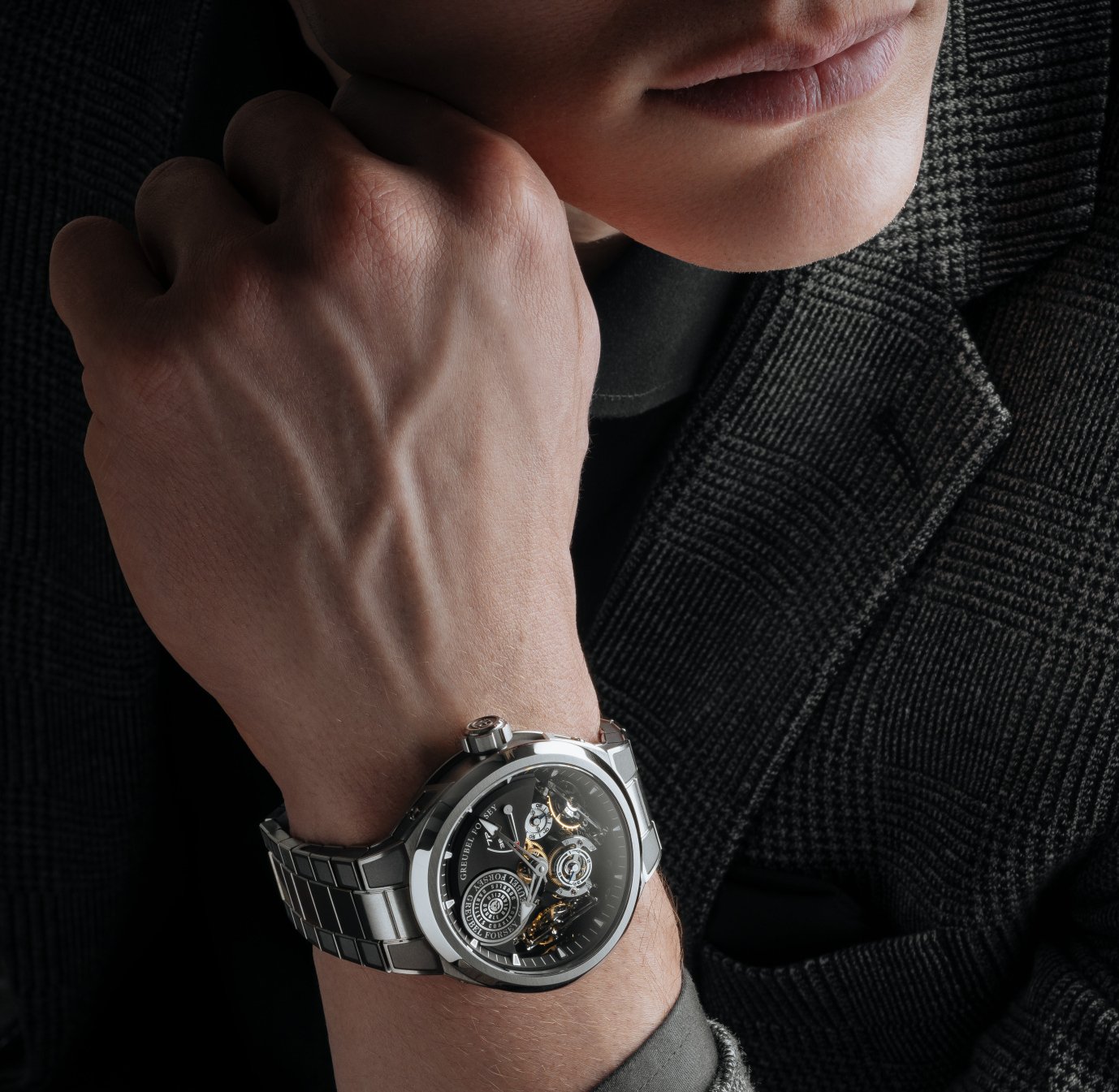 Greubel Forsey Double Balancier Convexe — A complex heart and an easy conclusion
The Double Balancier Convexe is endowed with an opulent formality. The movement has two coaxial barrels nestled under the circular-grained cover at 11 o'clock. This gives the 374-part movement a full 72 hours of performance in this amphitheater of gears. You can order the bracelet separately — and who wouldn't? — but in its standard form, the watch comes on a strap. This dials up a more casual vibe, and it is a comfortable rubber and textile strap with a titanium clasp. The 43.5mm case with a 46.5mm dramatically curved bezel and crystal actually is remarkably slim at 14.35mm. It's not dressy thin, but with many basic chronographs coming in at 15-16mm, this is impressive.
The Greubel Forsey Double Balancier Convexe is still a big watch, don't get me wrong. But to quote Clark Gable in Gone With The Wind, "Frankly, my dear, I don't give a damn." Let's not even dream of considering one of these as an everyday watch, because it's not. And the price? CHF 295,000 on the Ballistic strap or CHF 335,000 on what might be the best titanium bracelet available today.
Find me and follow me at @thorsvaboe