NEW: The Laurent Ferrier Sport Auto Just Became My Integrated-Bracelet Grail Watch
The end of the Nautilus is irrelevant. This is The One.
Yes, why not start with a bold statement, and also the price of the new Laurent Ferrier Sport Auto? Why would you buy yourself a fairly ubiquitous sports watch at ten times the retail price, seriously? Or buy what constitutes a tool watch, now superseded by demand outstripping demand, to such a point as becoming slightly ridiculous? Here is your alternative. To be honest, for me, any reference of pebble-smooth goodness from Laurent Ferrier is a better option to Patek, and — get this — actually available. At CHF 46,000 before tax, you will not have to wait eight years, or pay ten times retail price at a frenzied auction. A win/win in anyone's book, and in mine it gets the headline.
So this would be my choice of wristwear should I for some reason stumble across a fortune of unknown family diamonds squirreled away in a Norwegian fjord. My allegiance lies with the independents, so I should rightfully disqualify myself from writing this article. But, to be honest, I don't like everything expensive and non-big-brand. I can, however, say with a hand on my heart that I have yet to see a Laurent Ferrier that I don't desire. I have the feeling this is not going to change by the looks of this blue dial, my color of choice. The market is insatiable for integrated bracelets, and this is a delightfully chuny design, with an elegant taper. So by first impressions alone, the new Laurent Ferrier Sport Auto has everything going for it.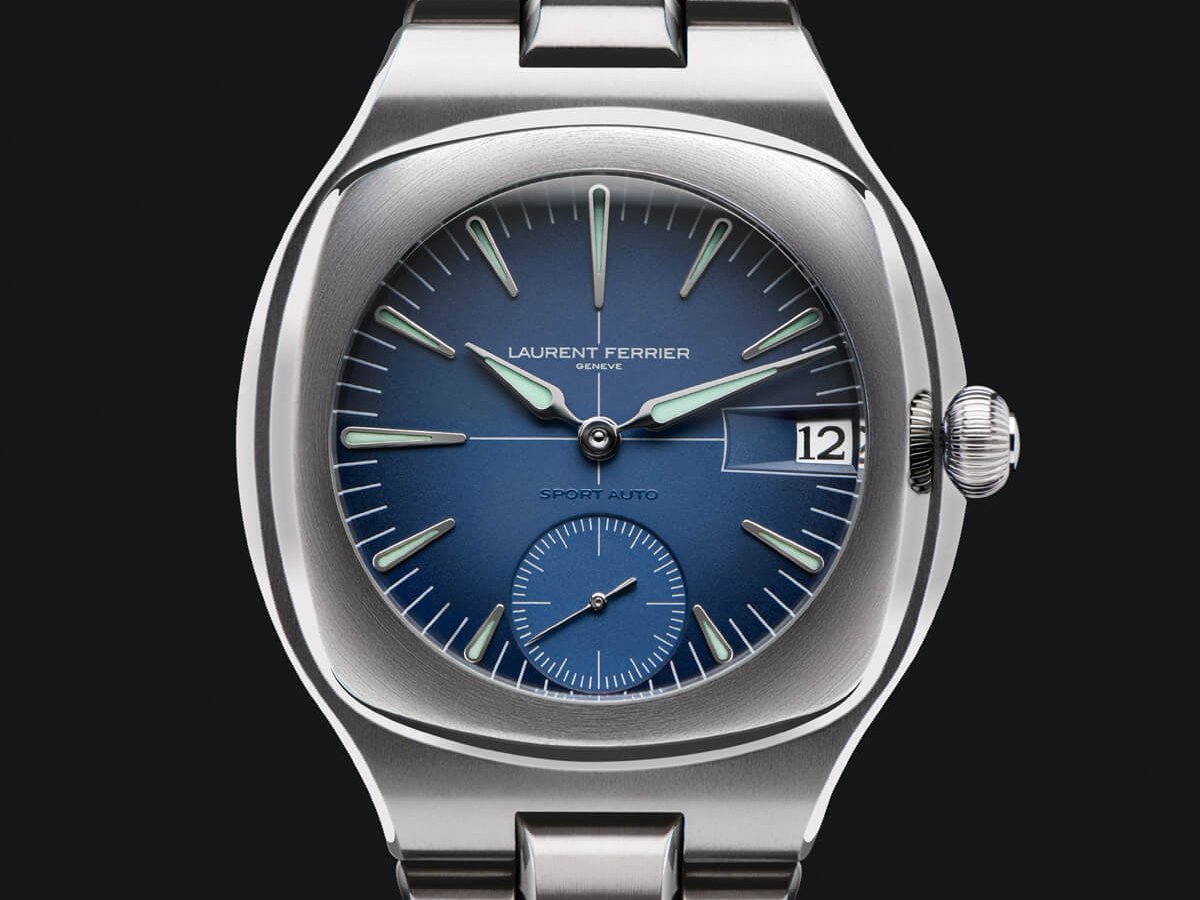 The Laurent Ferrier Sport Auto — What a story
The new Laurent Ferrier Sport Auto is Ferrier's tribute to his motor racing adventures. Adventures experienced with partner and friend Francois Servanin at the 24 Hours of Le Mans. In 1979, they almost beat Paul Newman's Porsche team and made it to the podium. The sheer guts of anyone attempting the grueling 24-hour race make F1 look like child's play, and what a fitting tribute this is. I will freely admit to having a deep affinity and love for this independent brand. It's blatantly obvious in my story on the Square Micro-Rotor Retro. Here, we have a new version of the Laurent Ferrier Sport, and yes, the Patek Philippe 5711 does spring to mind. Perhaps, ironically, because I know Laurent Ferrier's background. He was part of the 5711 adventure too, being employed by Patek for over 30 years.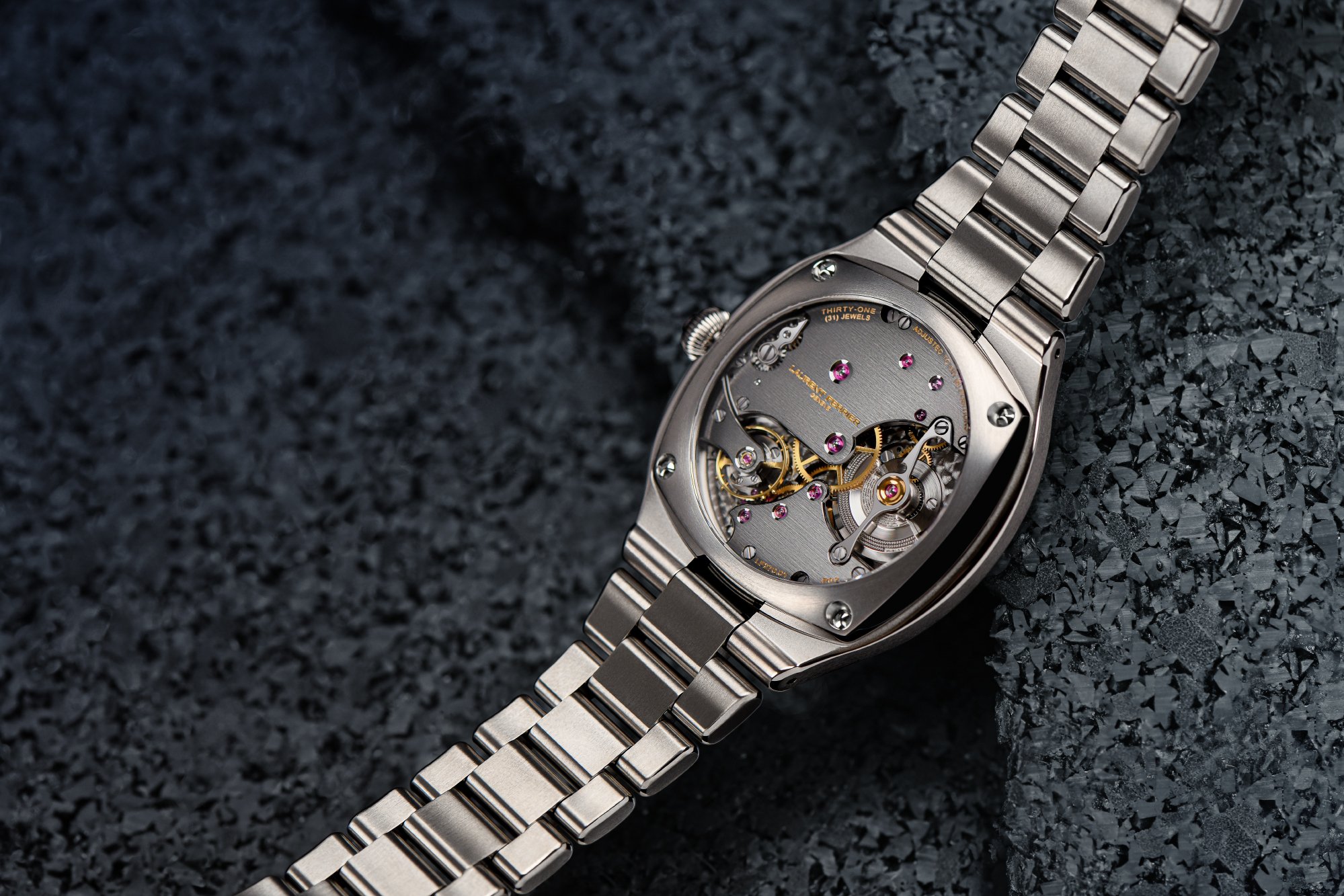 A finely brushed pebble of titanium perfection
To quote Ferrier on the case as a "refined interplay of firm and rounded curves enlivened by a few counter-curves" beats my words with a simple sentence. Let's elaborate on that. While not svelte at 41.5mm, this is the broad, well-rounded case. The soft, brushed-pebble feel of the titanium might make your partner look at you quizzically. Because trust me, you will become guilty of removing it from your wrist for the occasional fondle, such is the finissage. Because of the tonneau-shaped case and broad, inset bezel, the Laurent Ferrier Sport Auto will wear comfortably smaller visually. Add this to the intense lightness of Grade 5 titanium and I will utter what seems like a cliché: this could be that perfect One Watch to sell all the rest for. Surely, you'd think, no one actually does this. But yes, believe me, it happens.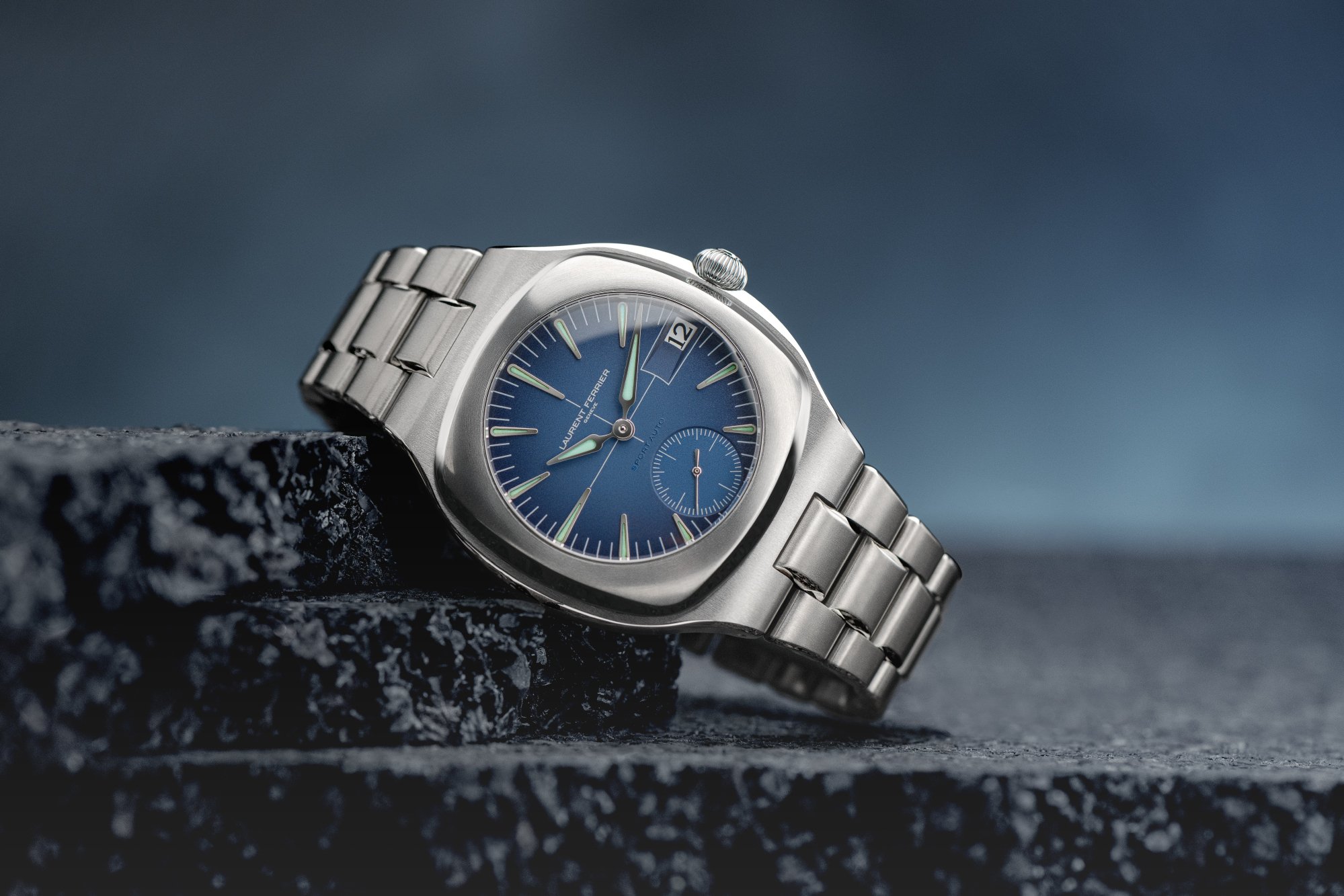 A bright blue dial for the future
I have an Instagram collector friend who came to a realization that brings me back to the 5711. Why risk your life for a watch, or let it be relegated to a safe? You may find this lateral personal safety angle slightly boring, but the times have changed. In London, Paris, hell, even Amsterdam, you risk being beaten up and robbed (or worse) for your watch. This is the reason some people start shying away from conspicuous signs of wealth like a Submariner or a Patek Philippe 5711. The Laurent Ferrier is not seen on the wrists of every other aspiring actor/rapper/K-Pop star, so it's all good. For me, I shy away from the usual wrist suspects for another reason — the allure of hand-finished craftsmanship. You might feel that a Laurent Ferrier is expensive, but I forgot the price after one look at the soft gradient of the powder blue dial.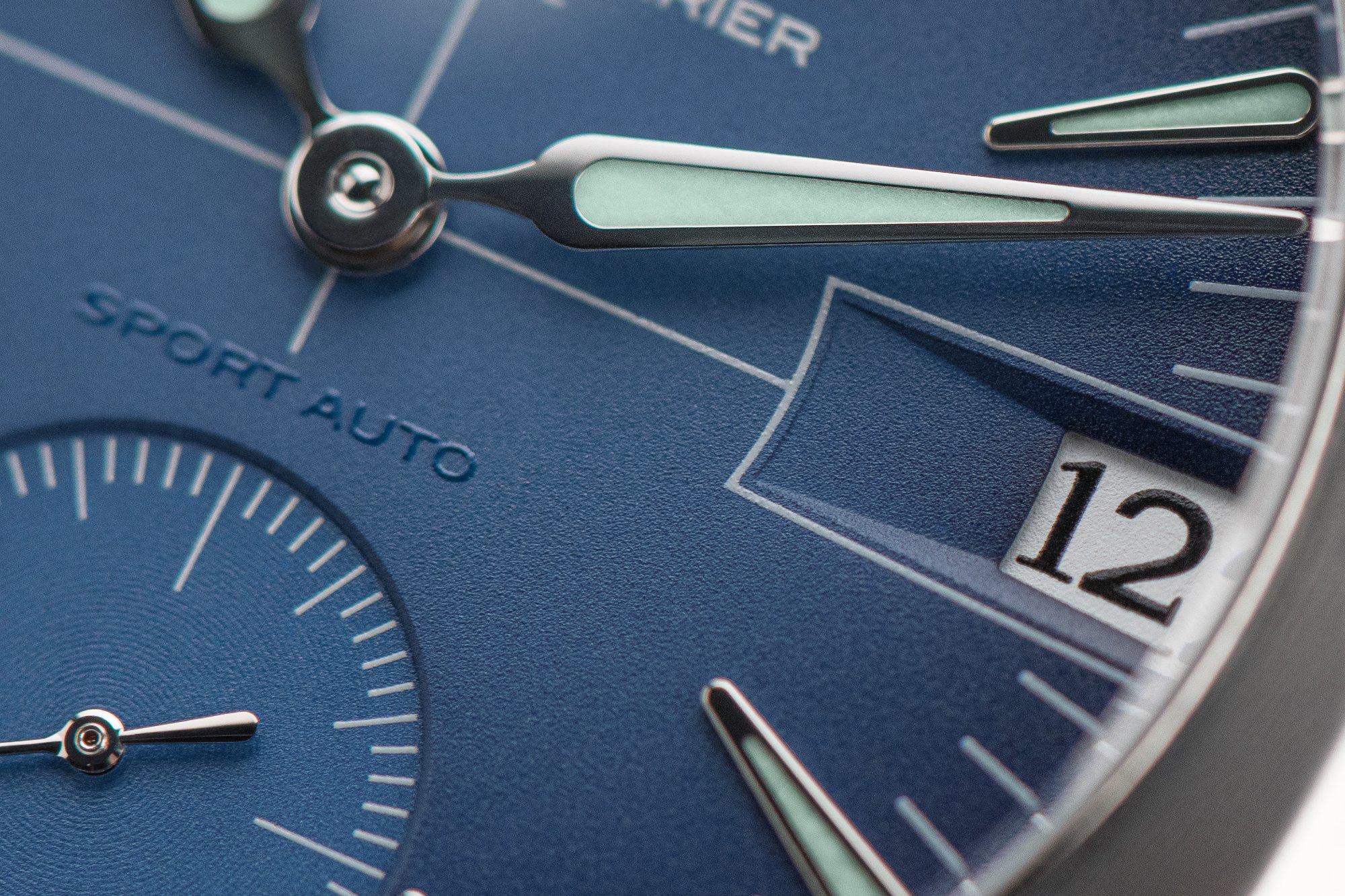 Date window of the year
The trademark Laurent Ferrier stretched-out white gold indices are here, with a touch of light lume-green. His soft Assegai hands are a visual delight, especially when the hour hand kisses its identically shaped index. The date window displays a whimsical touch, and its shape is as cool as it is indescribable. It smacks any date window-skeptic on the head with its formidable presence. Getting back to the cool motor-racing vibe, the date window seems to be shaped like a NACA duct on a racer's hood (true, Laurent?), framed by pinstriping. This ties in with the crosshair design, and relief SPORT AUTO logo above 6 o'clock. The recessed, trademark, snailed small-seconds register is slightly lighter in blue, and the entire dial is fresh. It does not look like any other dial on the market today.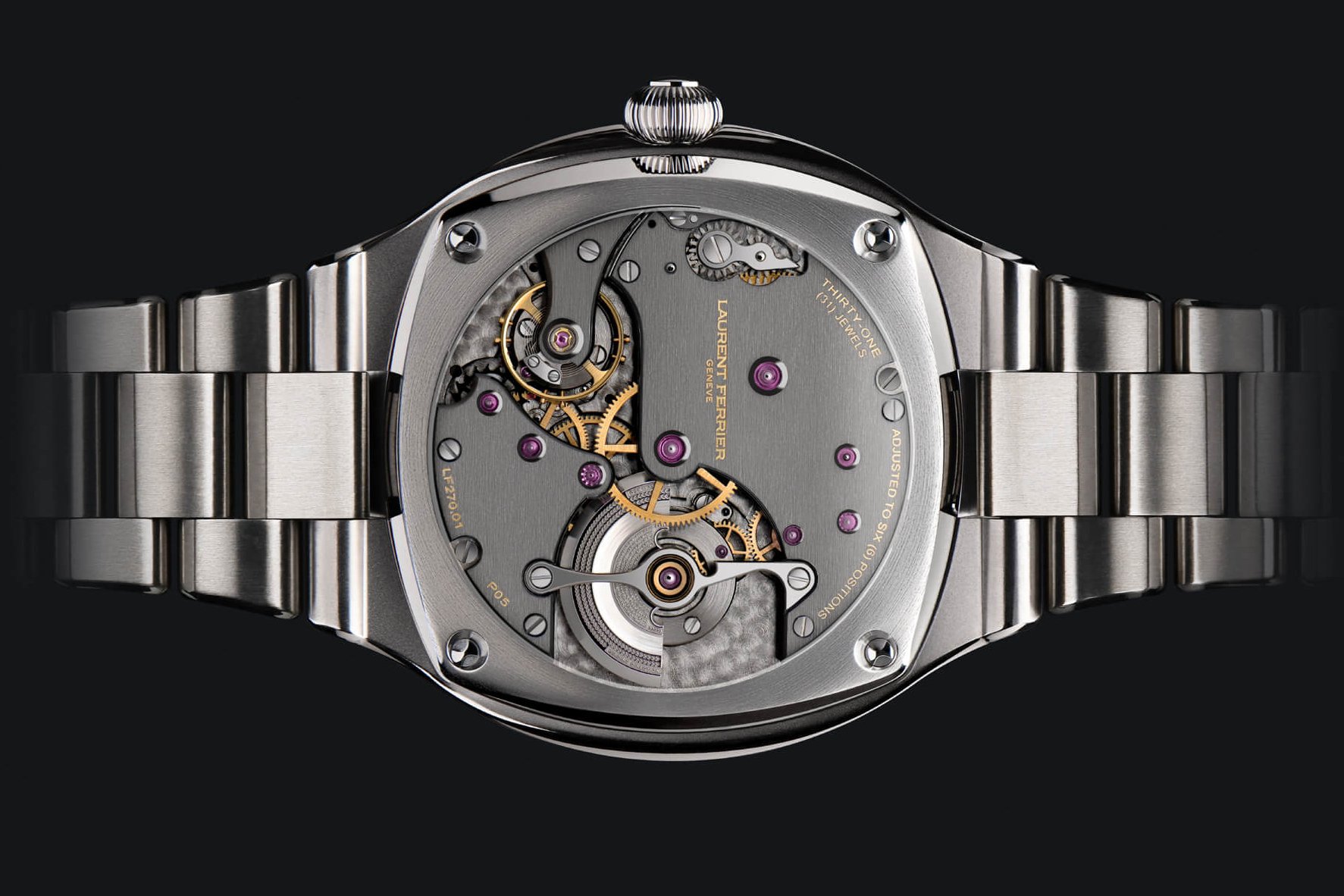 Yes, it is a sports watch
This strong dial alone makes for a big win in my book. And if I didn't already admit to loving Laurent Ferrier's crown design like no other, I do now. I'm failing miserably at being objective. The new Laurent Ferrier Sport Auto is undoubtedly a sports watch. It has incredible finishing, but it's still a sports watch. I know how difficult grade 5 titanium is to machine and polish. This beats hallowed Swiss 904L steel cases for sharpness and curvature of beveling and is another massive feather in the Ferrier cap. The bracelet is, well, chunky for lack of a better word, yet exquisite. Big square cushions for center links are satin-brushed and give off strong glints of light with their polished side bevels. The taper is elegant, and the single middle-link connection to the case is simple and proportionate.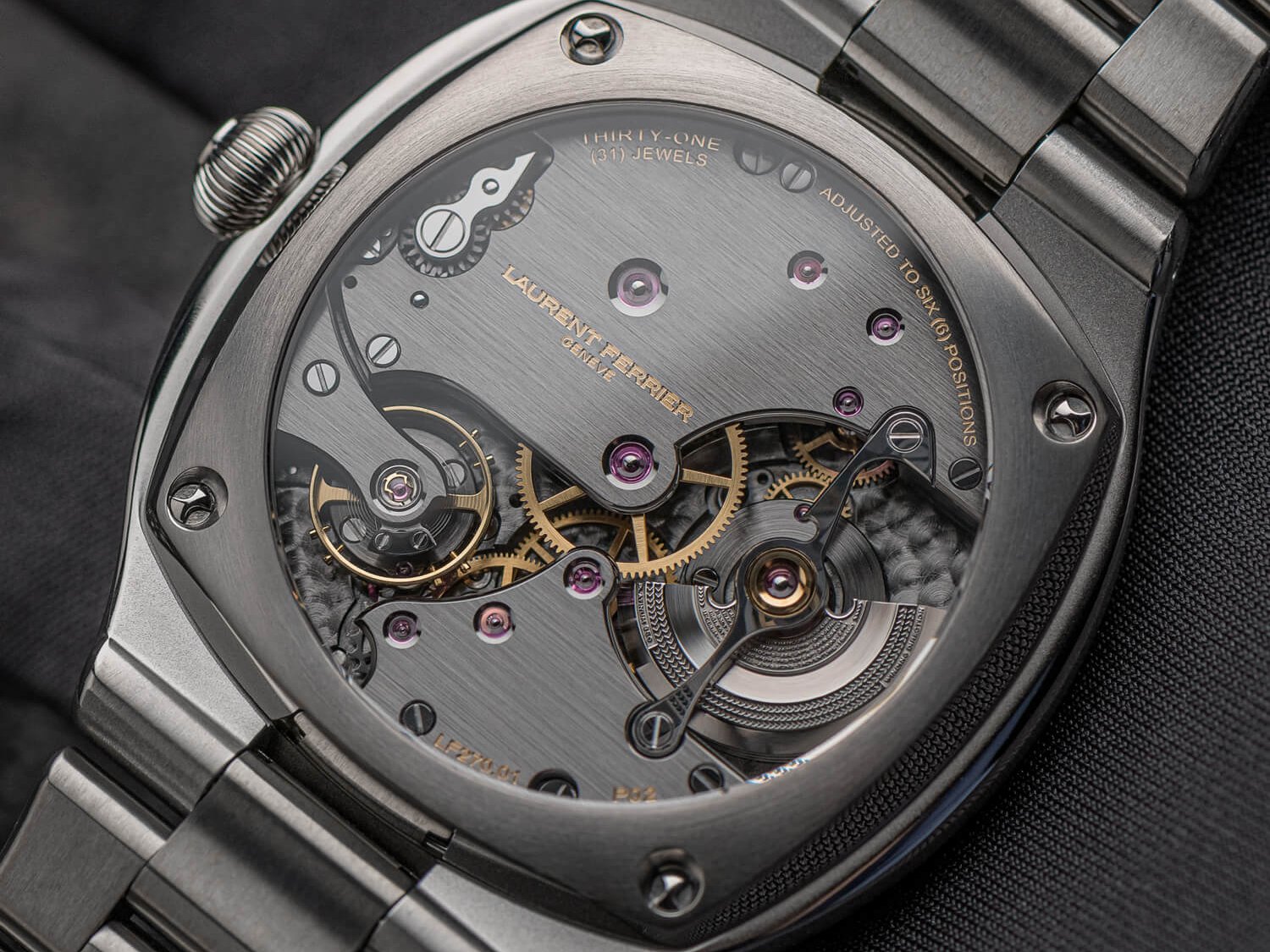 Automatic news under the hood
That would be a rear-mounted hood, of course, just like a racing Porsche — I'm trying to link up the motorsport clues here. The LF 270.01 caliber is only Laurent Ferrier's second automatic movement and is as beguiling as the powder-blue dial. It might be frustrating to see so many of the intricacies hidden from view, I agree, but still. Behind the broad brushstrokes of the ¾ mainplate lies a hand-finished movement. Its escapement, balance and beautiful micro-rotor is visible through a figure of eight of sorts and framed by perfect anglage. With its solid 72-hour power reserve, behind the horizontal satin finish and ruthenium-treated bridges lies true craftsmanship. The perlage in the background makes each component pop as they battle for attention, and leaves me only with one thought.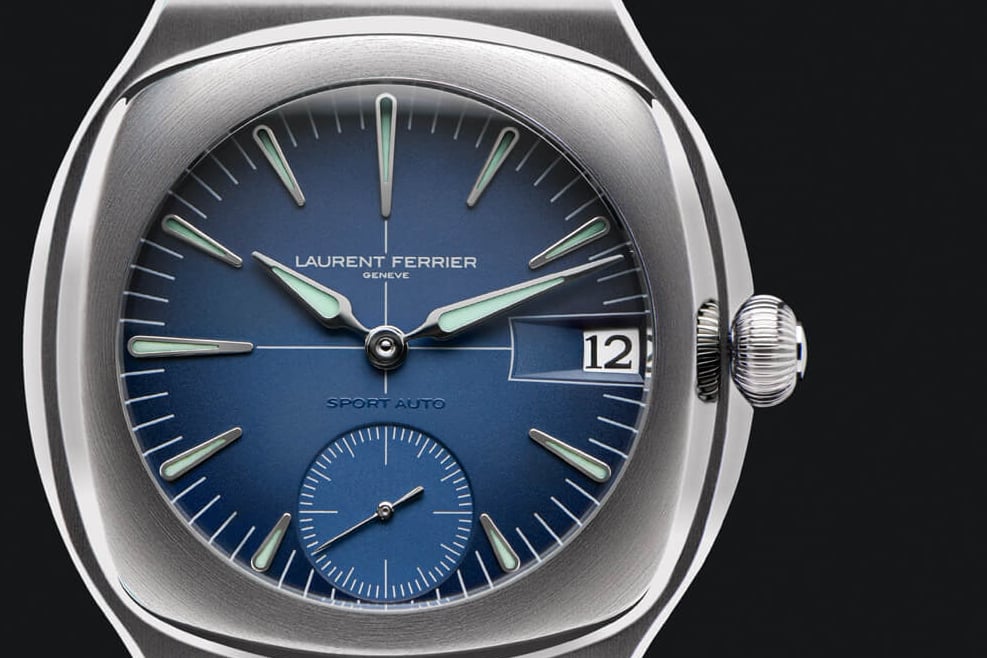 The perfect alternative on a bracelet
The rear view alone, restricted though it may be, is reason enough to make this the perfect Nautilus alternative. Why would you pay more for a production model from Patek Philippe or a vintage, scratched-up Rolex? Have one more look and I'll rest my case. This, for me, is nothing but the pinnacle of the much-touted Integrated Sports Bracelet genre. In fact, it is the one I would strive for. You can order one anytime you like, without dating your AD's mom or spending a pre-qualifying amount on Day-Dates for your family. And yes, for CHF 46,000 before tax, most crazy auction prices for ubiquitous steel sports watches become totally irrelevant. If in doubt, take out your loupe, and you'll be sold in 10 seconds flat.
Could this be the integrated bracelet sports watch we have been waiting for? Or am I pounding a very big drum for a small brand? Let us know in the comments. I'm considering what to sell and how much to borrow.
Follow me at @thorsvaboe