New Release: MING 18.01 H41 Diver
MING finally gives us what we want and it's fantastic
It's finally here — the new MING 18.01 H41 and it rocks! We're here with news on the two variants and an exciting bracelet from one of the hottest independent brands.
But first, because this new MING 18.01 H41 will sell out in moments, here's the link for your ordering pleasure. We'll see you in five, so you can actually read about what you've hopefully scored.
First, an apology and a plea on the MING 18.01 H41
"The best laid plans of mice and men often go astray," was written (and translated from Scots-language) by Robert Burns in 1786. And folks, nearly 235 years later, this is definitely still the case. You see, I was supposed to have a prototype of the new MING 18.01 H41 in my hands in time for this review, but customs had different ideas. So, I must apologize in advance and let you know that a far more informed review is coming posthaste. Will it be old news? Maybe not and I'll tell you why in a bit.
Travel back to 2019…you wish!
No, you can't really travel back to 2019 although, daaaaaamn, that would be pretty good considering the current state of the world. You can, however, check out my article on the MING 18.01 Abyss Concept. MING pulled a weird move and, for the first time, released a diver. Sort of… The Abyss was truly a passion project and, in my eyes, an internal challenge that yielded just 10 glorious divers. These sold faster than you can utter "6,500 Swiss Francs" because that's what they cost.
I had the chance to buy one of these 18.01 Abyss models, but as I often say, something Gold and Speedmaster did a moon landing on my bank account. It's one of the very few watch regrets I have, but the MING team told me soon after that my yearning would one day be assuaged. That day, friends, is here and we welcome the new MING 18.01 H41.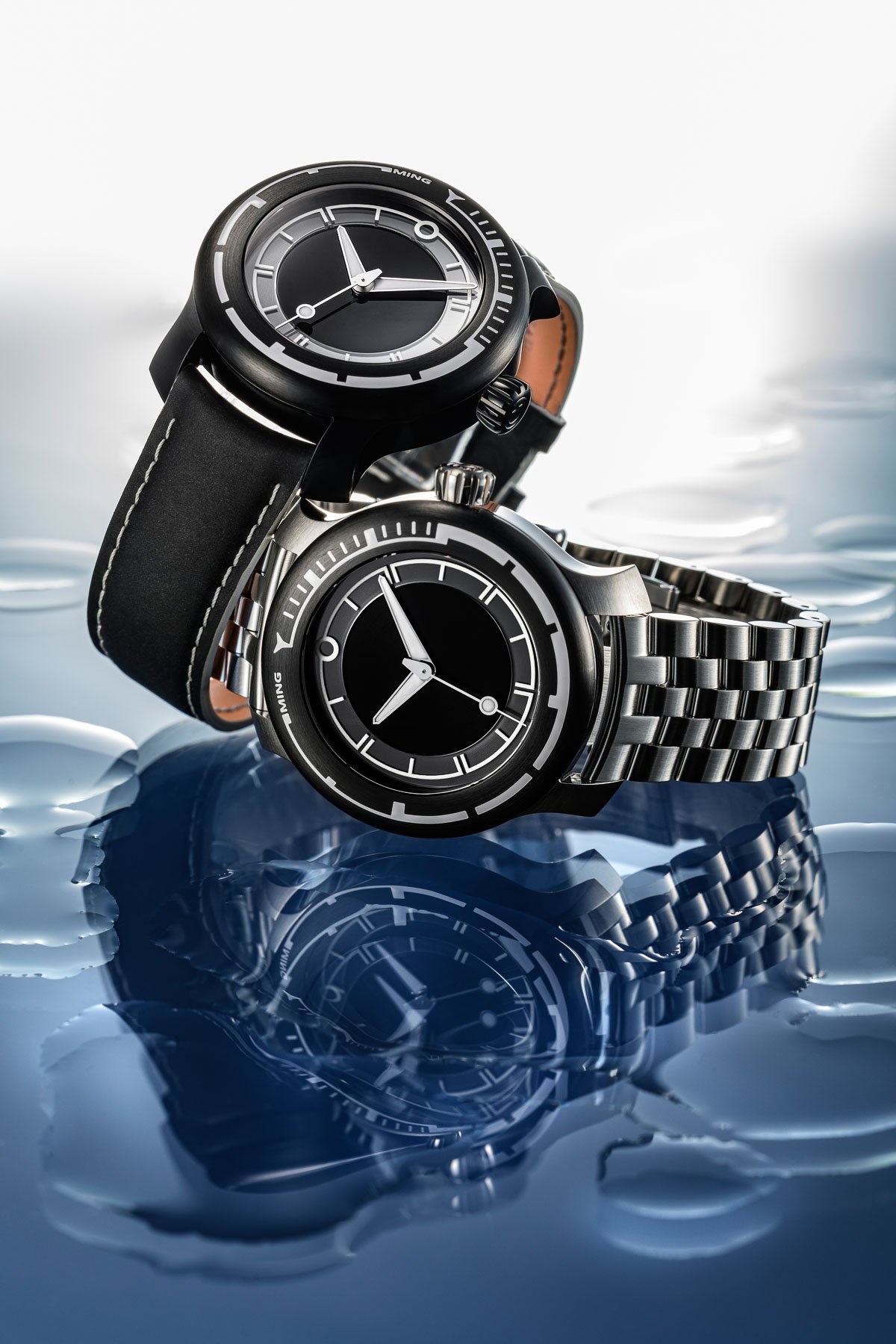 Two MING 18.01 H41 models for the picking
What's better than one MING diver? Well, two of course and that's exactly what we get. The MING 18.01 H41 comes in two choices and the primary difference relates to the case. This new dive watch can be had in either a Grade 5 titanium case or black DLC-coated version. The bezel is the same on either model and comes in DLC-coated stainless steel with boat loads of epoxy-applied Super-LumiNova X1 for the count-up markers. Staying on the bezel, it's naturally unidirectional and has a click per minute. The head weight is unsurprisingly light at 65 grams.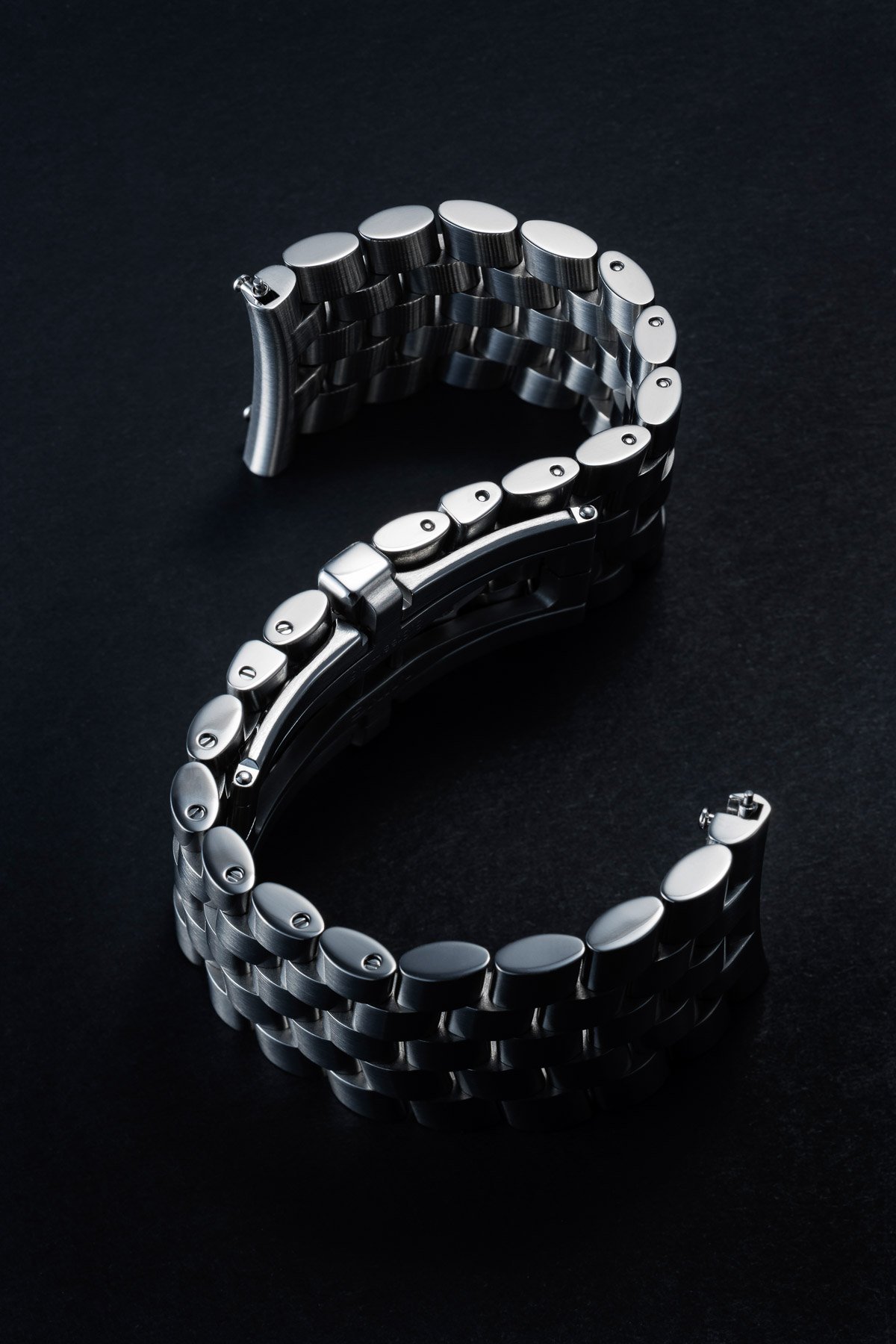 The all-DLC MING 18.01 H41 model is available on a new waterproof 20mm Jean Rousseau rubber strap with 18mm clasp. However, if you're choosing the bare titanium version (MING calls it two-tone), you can get it on either the strap or newly designed Grade 5 titanium bracelet. The bracelet takes its cue from the Abyss Concept and is a mix of matte and polished links. A butterfly type clasp lies underneath with a couple concealed side buttons there to unlock it. Incidentally, this 20mm bracelet will be available separately for a reasonable 500 CHF and has unique curved spring bars. MING tells us that it will fit any and all  prior models.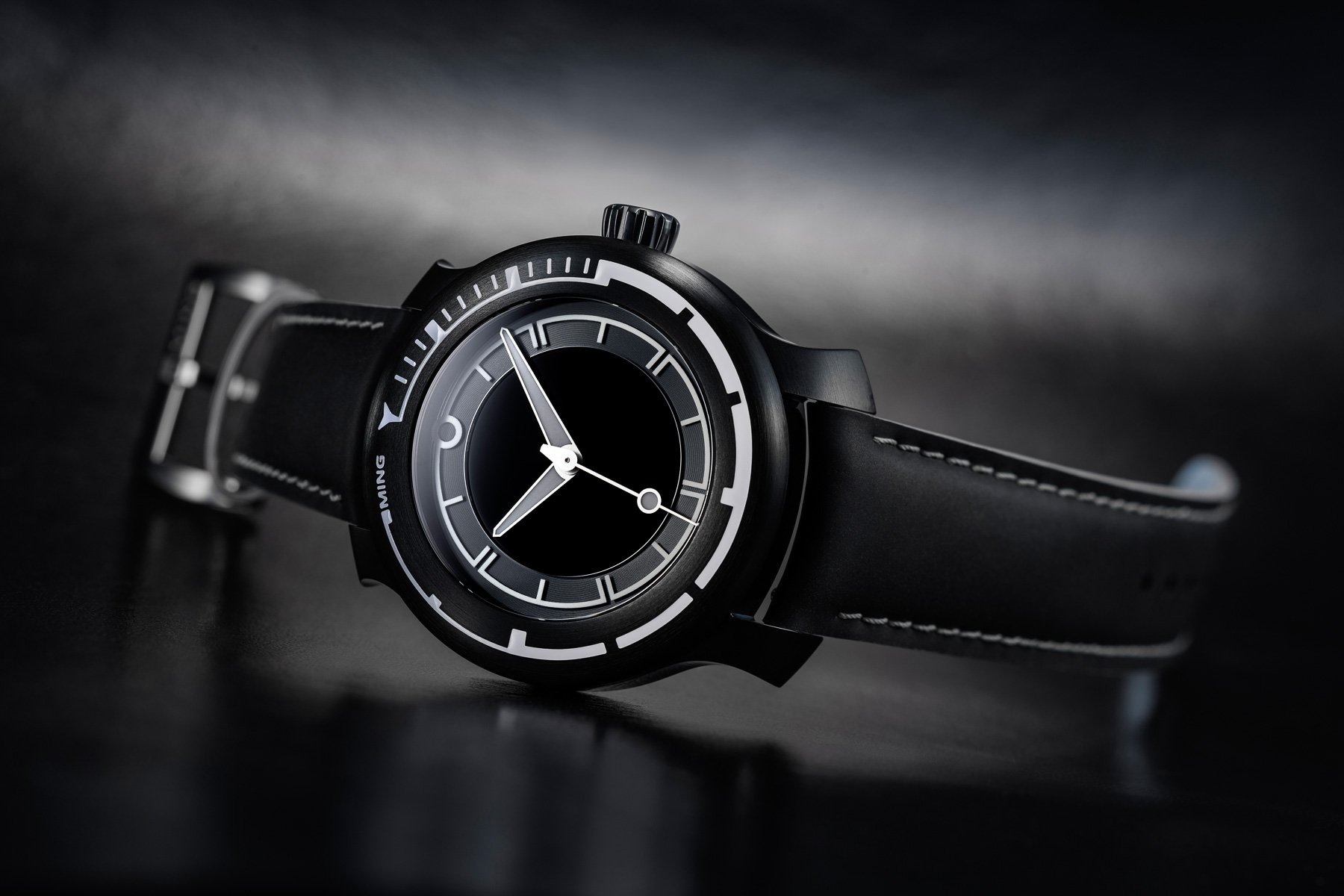 Specs and things
Divers can be big clunky things, but the MING 18.01 H41 was designed at 40mm. And it's capable of resting on an ocean floor down to 1 kilometer while keeping time. With that type capability, it must be chunky right? Wrong because it's a very Submariner 12.9mm in thickness. MING goes on record to say that they think this has to rank as one of the thinnest watches to achieve such a depth rating. I don't know about you, but this aspect will be appreciated for those days that you're not snorkeling around the Titanic. In the same vein, the lug to lug is spot on at 46mm.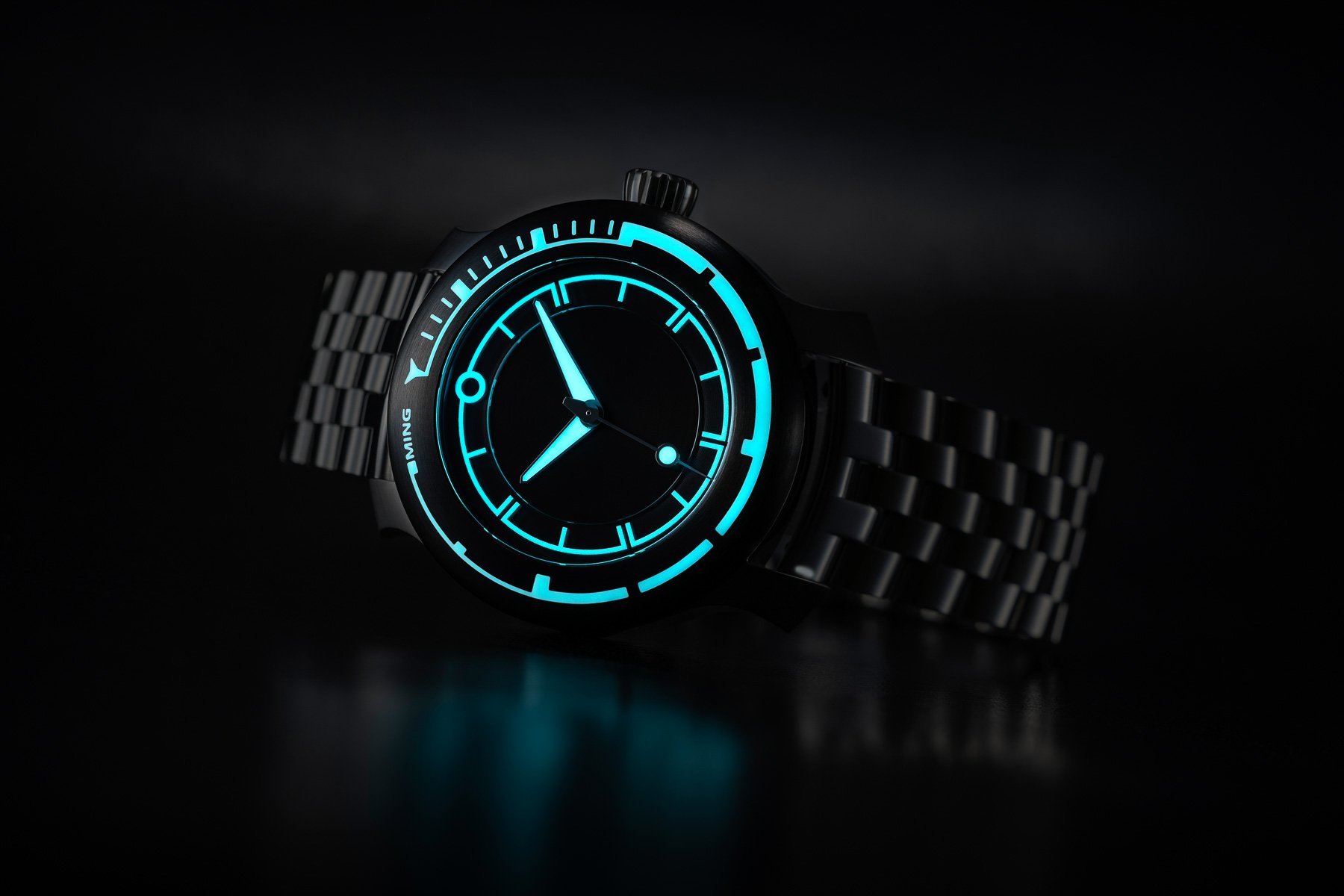 A 3.5mm anti-reflective sapphire crystal sits flush with the bezel. We spoke about lume on the bezel, but the rest of the MING 18.01 H41 is equally lume heavy. The silver hands are filled with the stuff, but my favorite aspect has to be the sapphire infused ceramic called HyCeram. And yes, there's lume there as well. Finally, a screw-down crown is employed and shows a red ring when it's unscrewed as a warning.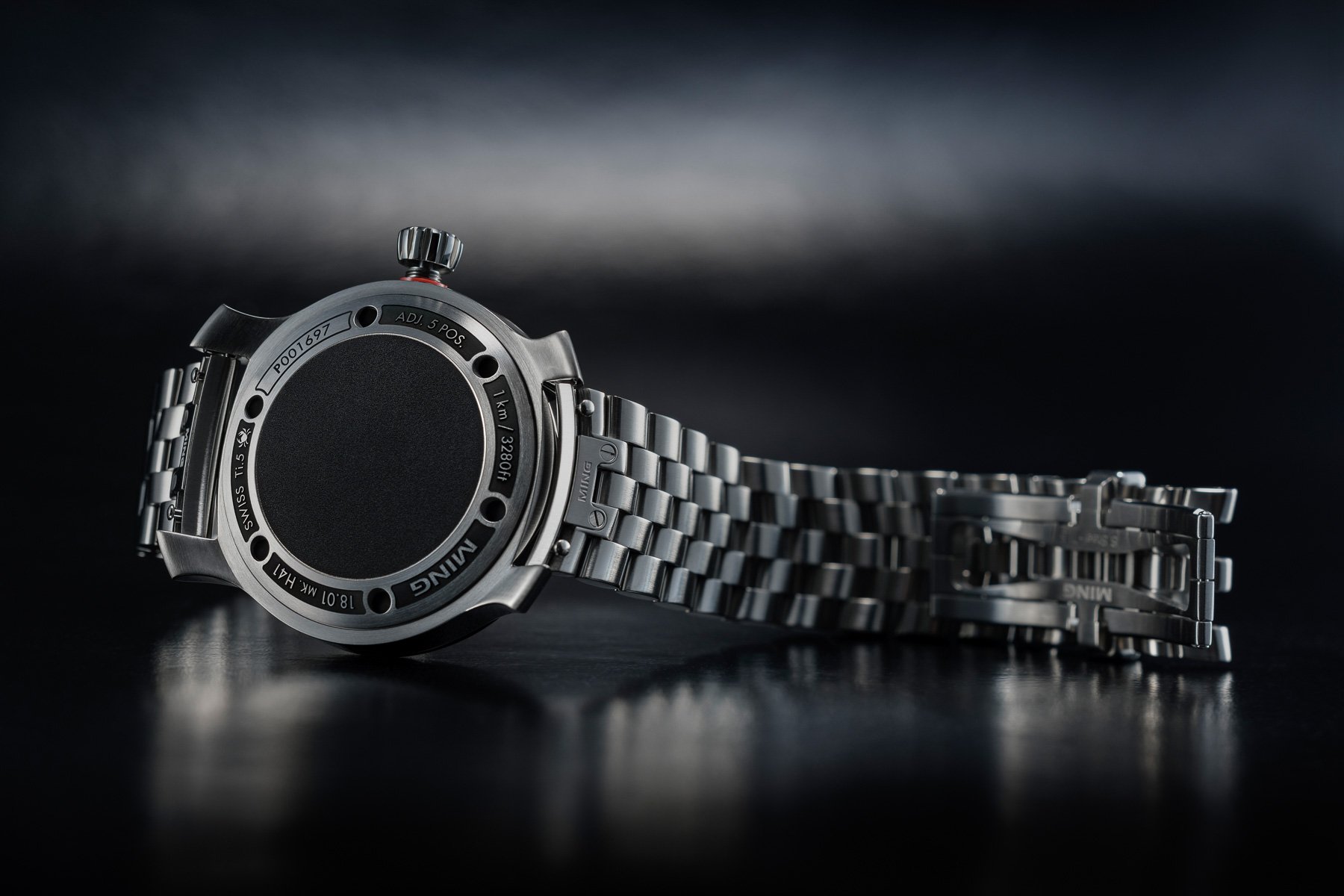 Familiar design yet new
Not only is the MING 18.01 H41 consistent with last year's Abyss, but it's in keeping with the rest of the company's watches. The scalloped lugs, the flared crown and the visage are all unmistakably MING. They've managed to update the Abyss and make it thinner like the most recent dressier releases. Check the screw-in case back and it's also in line with the recent 27.01 that we reviewed. On the diver, though, a rough surface dominates to help grip a wetsuit and a little crab even shows up to the party.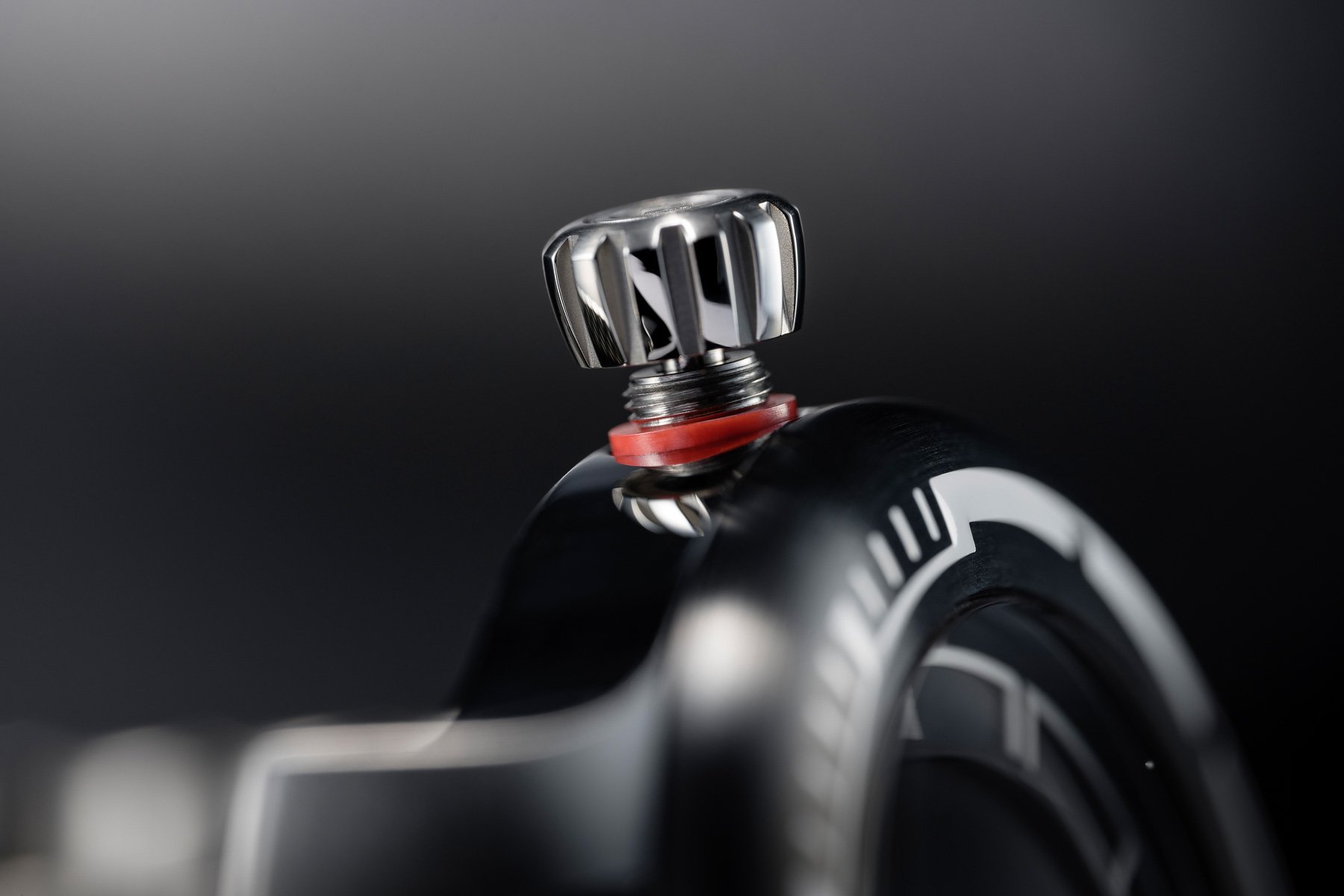 A trusted movement in the MING 18.01 H41
As is normally the case with the company's watches, the MING 18.01 H41 uses an ETA 2824-2 that's been modified by Schwarz Etienne. The date has been removed and there's no "dummy" stop when the crown is released. It's also been adjusted to 5 positions and tested for 250 hours after the modifications. Hacking, a 40 hour power reserve and a 28,800 vph frequency are all expected.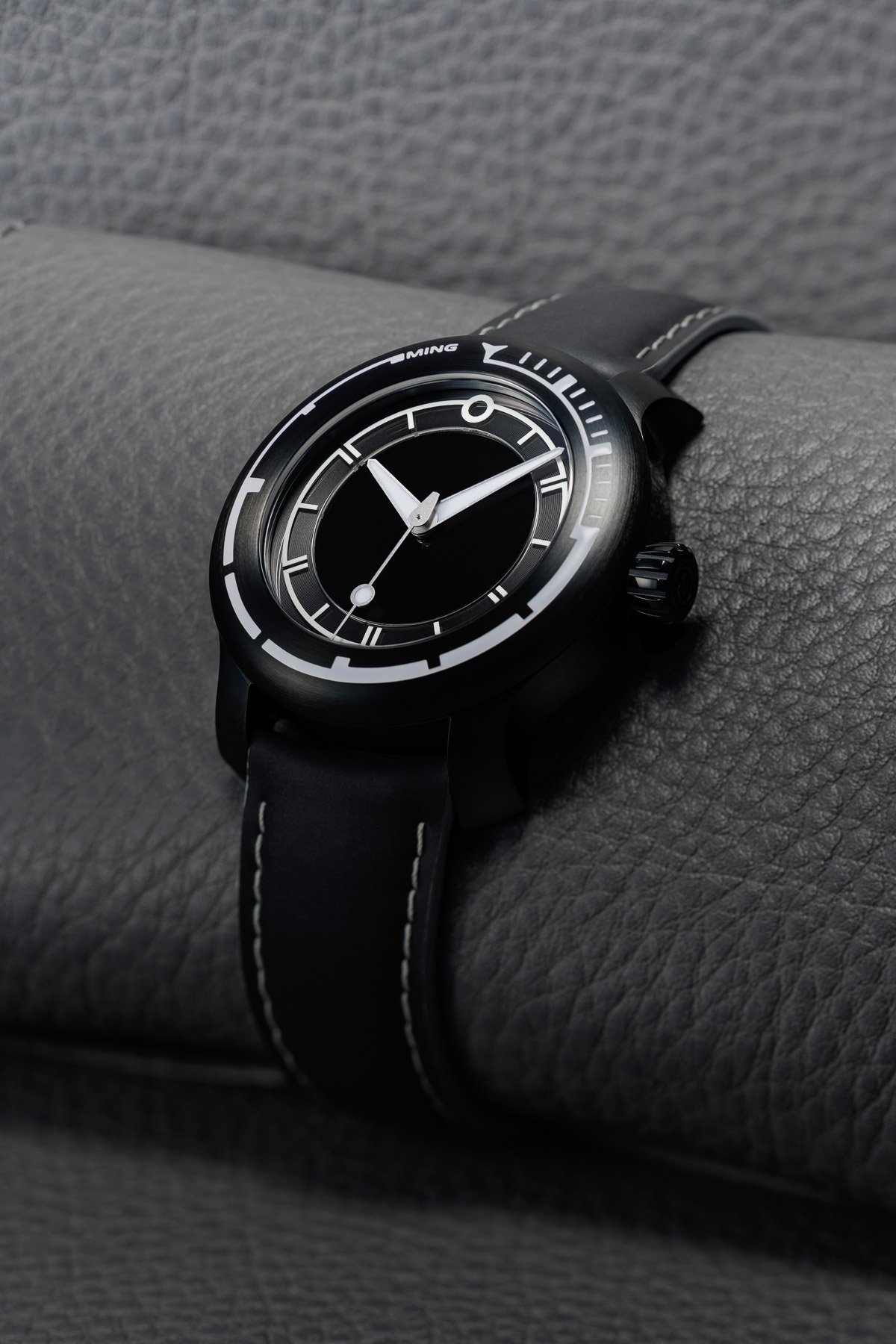 Pricing and final thoughts
The MING 18.01 H41 took a lot of development work in order to achieve such specifications while keeping it so wearable. Therefore, the pricing is above mid 1,000's we're used to seeing on some of the brand's dressier affairs. But at 2,950 CHF for the two-tone on rubber, 3,250 CHF for the two-tone on bracelet, and 3,250 CHF for the full DLC model on rubber I think it's a fantastic proposition. It looks unique, the finishing will likely crush anything double the price, and it will be exclusive. I will be ordering a two-tone on bracelet if you're curious and I'm expecting shipment in November.
Speaking of exclusivity, I can already hear the frustration over yet another watch that's gone in milliseconds. And yes, if you've read this far instead of hitting the link above right away, you've missed today's chance for the MING 18.01 H41 diver. BUT, here's something incredibly cool. MING has listened to the frustration over immediate sell outs and will offer a second ordering window on August 22nd. You'll have over two weeks to prepare and by then, if the postal system does its thing, you'll get my hands-on impressions.
You can visit the official MING website here for more information.
Watch specifications
Dial
Two-part composite dial with ceramic HyCeram Super-LumiNova X1 fused to sapphire
Case Material
Grade 5 Titanium, bare or black DLC coated. Black DLC coated stainless steel dive bezel filled with Super-LumiNova X1
Case Dimensions
40mm Diameter, 12.9mm Thickness, 46mm Lug to Lug, 20mm Lug Width
Crystal
3.5mm thick sapphire crystal with antireflective coating on both sides
Case Back
Screw-in solid case back
Movement
ETA2824-2 automatic modified by Schwarz-Etienne for MING, adjusted 5 positions, date function removed, 28,800 vph, hand winding, hacking, 40 hour power reserve
Water Resistance
1000 Meters
Strap
Black rubber Jean Rousseau strap or Grade 5 Titanium bracelet
Functions
Time (HH:MM:SS), Unidirectional 60-click dive bezel
Price
2,950 CHF two-tone on rubber, 3,250 CHF two-tone on bracelet, 3,250 DLC on rubber
Special Note(s)
Shipping November 2020