New Watch: A. Lange & Söhne Little Lange 1 Moon Phase
Heavens above!
If you've spent as long in and around the luxury watch industry as I have, you'll know the feeling I'm about to describe: sometimes, you love a brand for all the right reasons and adore its products because each and every one has a distinct character, a story to tell, or a level of craftsmanship that blows your mind without seemingly having to try, and yet somewhere, in the back of your mind, you feel like there might be more to come. Often, in ways we cannot predict, brands are still able to surprise us. And, in doing so, show us a vision of something yet more majestic that could be just around the corner. The A. Lange & Söhne Little Lange 1 Moon Phase first bewitched me, before sending me on a journey…
If there is one complication I feel A. Lange & Söhne pulls off better than any other brand, it is the moonphase complication. That isn't to say the Lange moonphase is the most accurate, most creative, or most integral part of the watch's design, but I am suggesting that when it comes to a mixture of dial balance and aesthetic execution of the complication itself, there is no better brand.
The effect is dazzling…
Here we see the moonphase complication take center stage, with the kind of starry, starry night that would make Don McLean proud spilling out all over the dial. Instead of the sleek, subtle dials we're used to seeing Lange's moonphase windows enliven, we have a dark blue gold flux background sprinkled with copper particles. The effect is dazzling and the legibility, thanks to rhodiumed Roman markers and hands, is satisfyingly strong.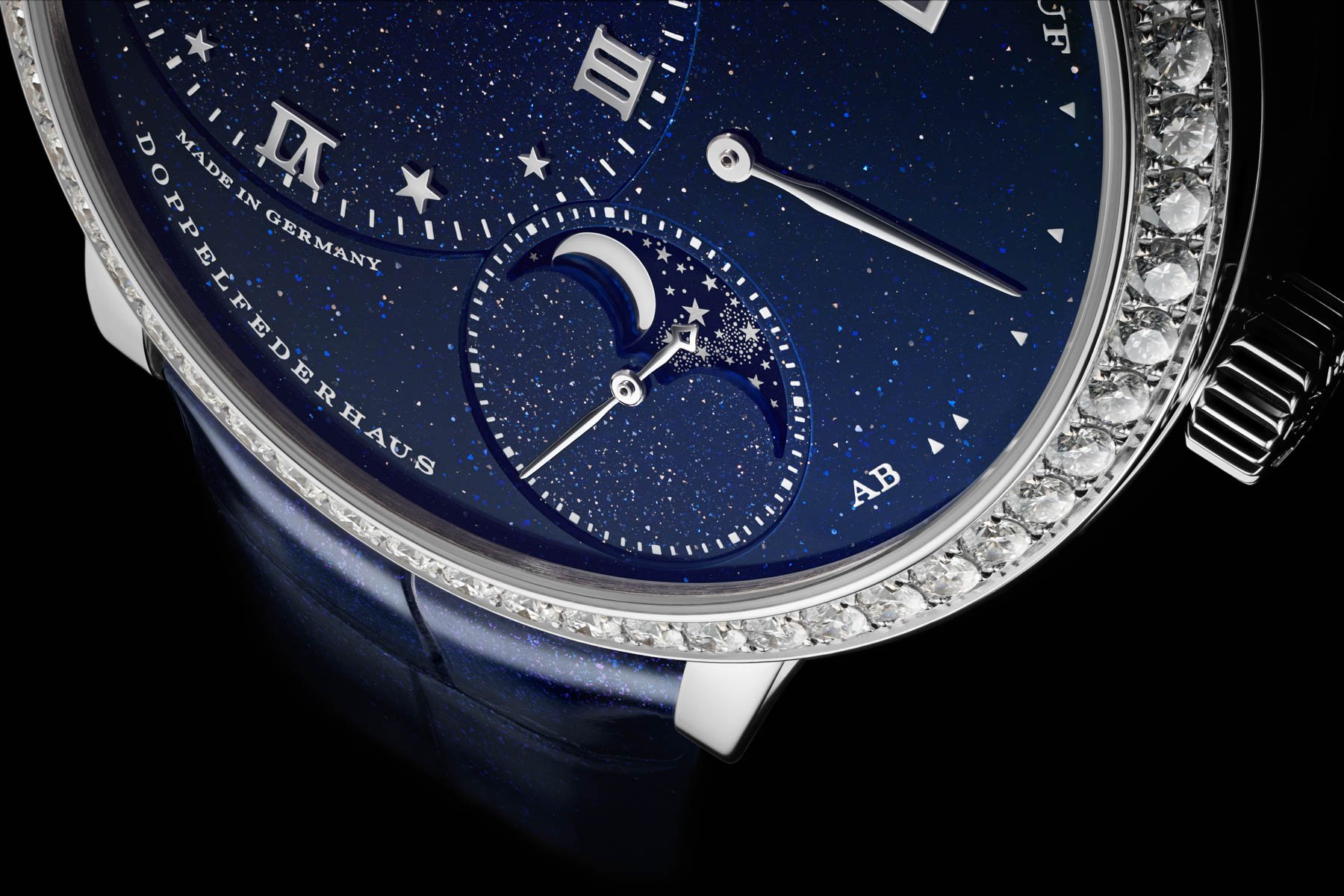 The lunar disc
The theme is continued on the white gold lunar disc, which is decorated with 628 stars of its own. If that dial-side sparkle wasn't enough for you, you have the option of teaming this Little Lange 1 Moon Phase with a diamond-decked bezel. If you go for that option, your 36.8mm wide white gold case will be topped by 56 brilliant-cut diamonds.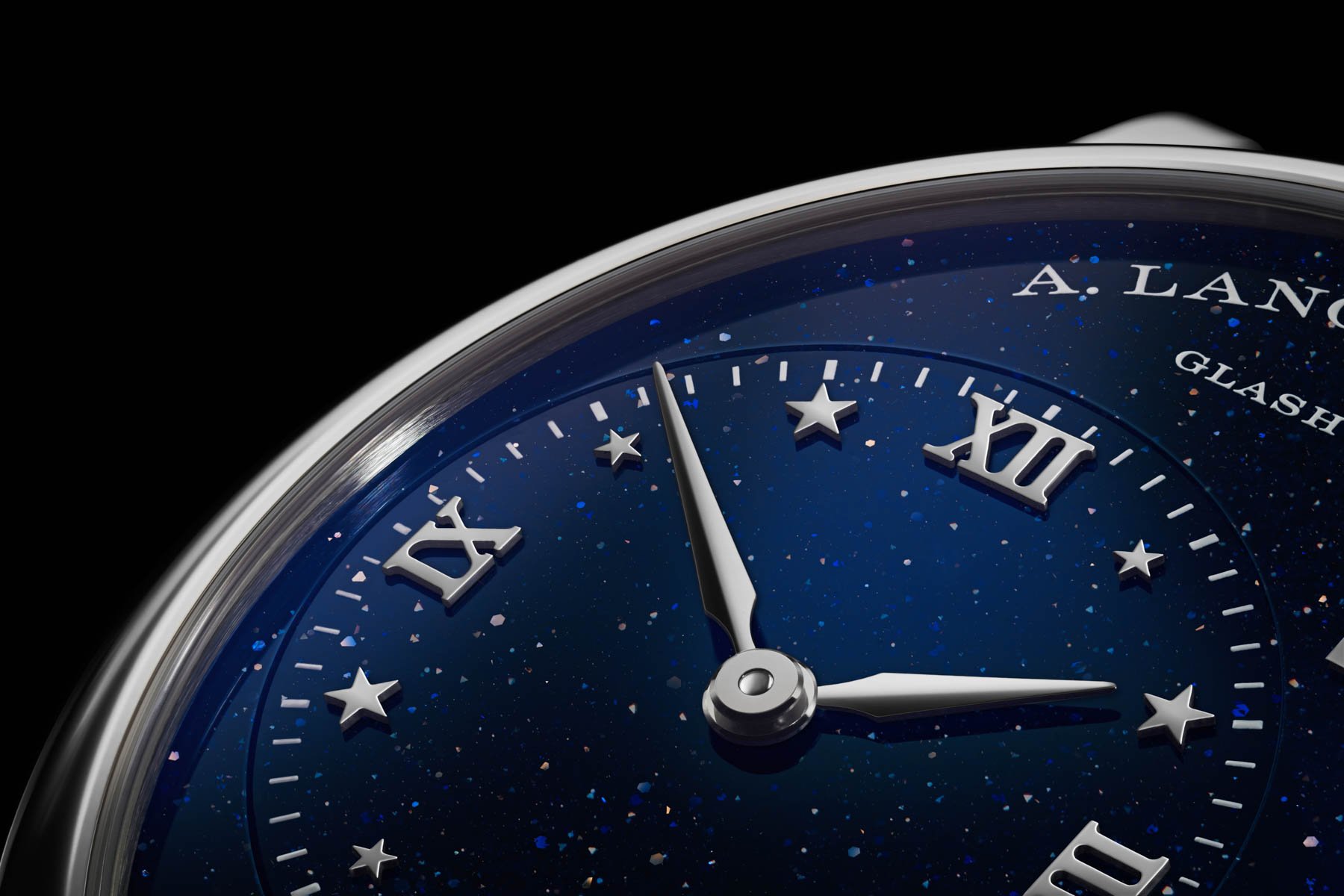 More than a pretty face
These kinds of aesthetic "specs" normally accompany watches with very little of interest going on behind the dial. Nothing could be further from the truth here. This watch uses the in-house L121.2 caliber, which will record an accurate moonphase for 122.6 years if allowed to run continuously. Assuming that you occasionally allow the 72-hour power reserve to run down, however, a quick adjustment of the moonphase indicator can be performed using the corrector between 7 and 8. The same is true for the big date complication, which can be advanced using the recessed pusher between 10 and 11 o'clock also.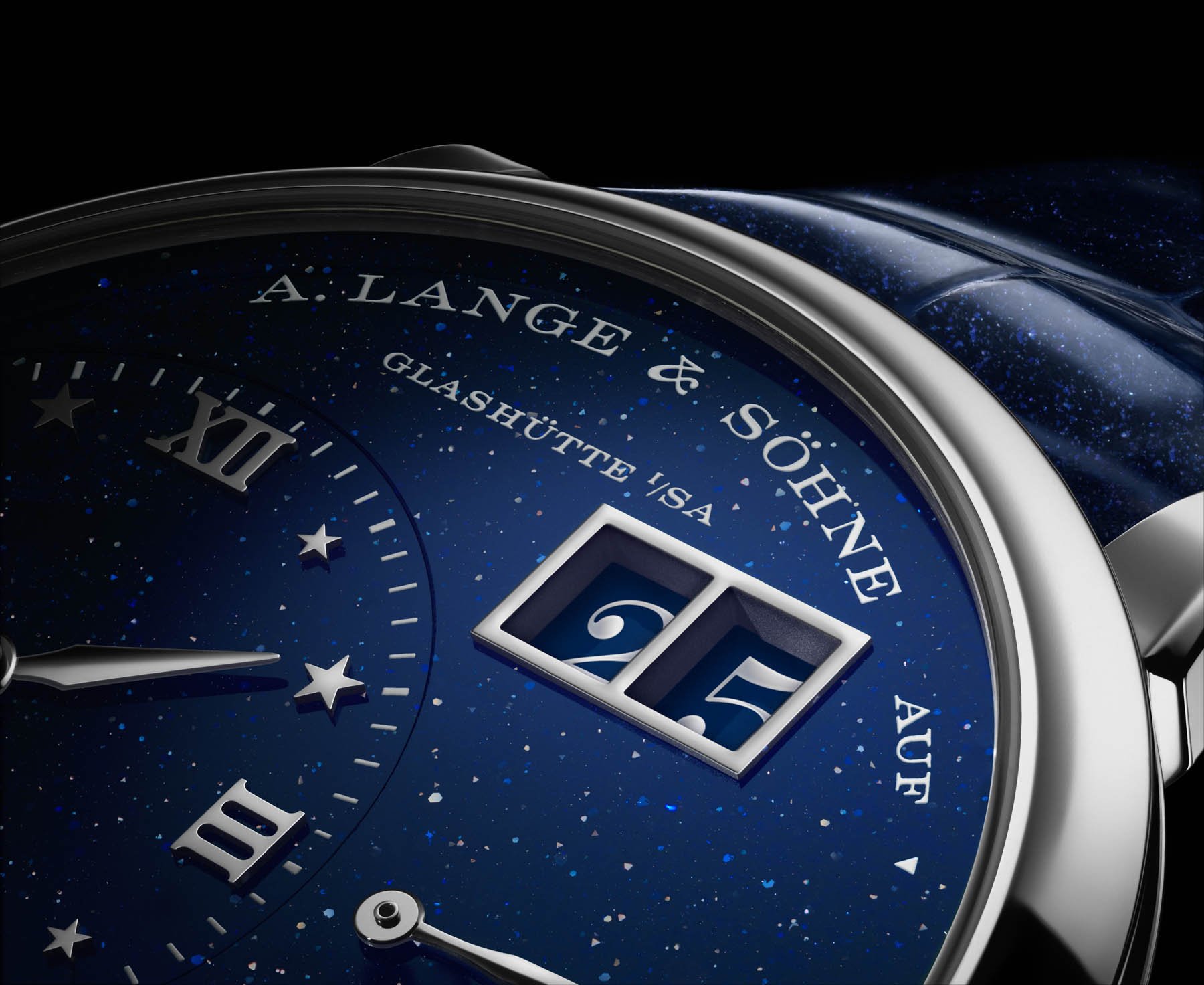 A surreptitiously dynamic dial
Here's a tiny thing that may have escaped your attention: the stars in between the time dial's cardinal points are in two sizes. The markers for 1, 4, 7, and 10 o'clock are small stars. Conversely, the markers for 2, 5, 8, and 11 o'clock are bigger. The Roman Numerals that mark 12, 3, 6, and 9 are even bigger than the big stars. What this does to our eyes is pull them in a clockwise direction around the time dial. While it may seem jarring at first to use three sizes of hour marker arranged in this fashion, it is a clever way to add a bit of vitality to the time dial, which itself does not benefit from a going seconds hand (that overlays the moon disc). A small thing, perhaps, but it is the kind of design element worth noting and discussing. Let us know how you feel about it in the comments below!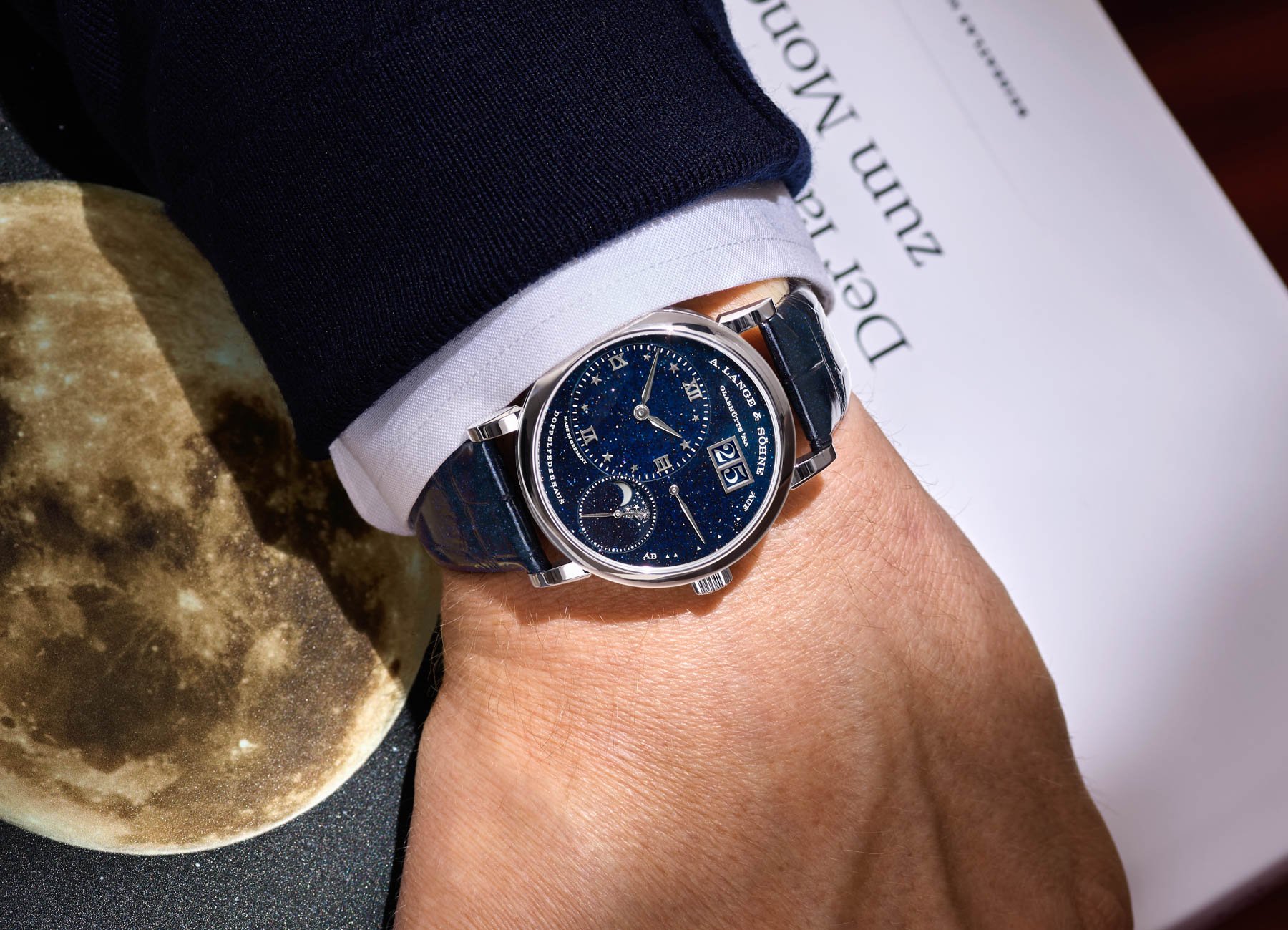 For whom the moon rolls
This is a pretty versatile watch on the wrist. The Goldilocks dimensions of 36.8mm by 10mm work for both men and women. Having the option of a diamond or white gold bezel will surely enhance the appeal of the watch and does present the rather amusing potential for making this one of the priciest "his and hers" purchases the industry has to offer. Reference 182.086 (without the diamonds) will retail for €42,800, while reference 182.886 comes in at €53,900.
My dream Lange is lurking in the shadows of greatness
Picking up where my first paragraph left off, I have been on a journey with this watch. In many ways, this is one of my favorite releases from A. Lange & Söhne for a while, but it instantly gave birth to an idea I would like to see put into practice. My favorite complication Lange currently produces is the day/night indicator used in conjunction with the moonphase complication. This has been forsaken here in favor of a totally consistent blue tone. While I appreciate the crisp cleanliness of the result, I'd like to see that day/night indicator alongside this starry display.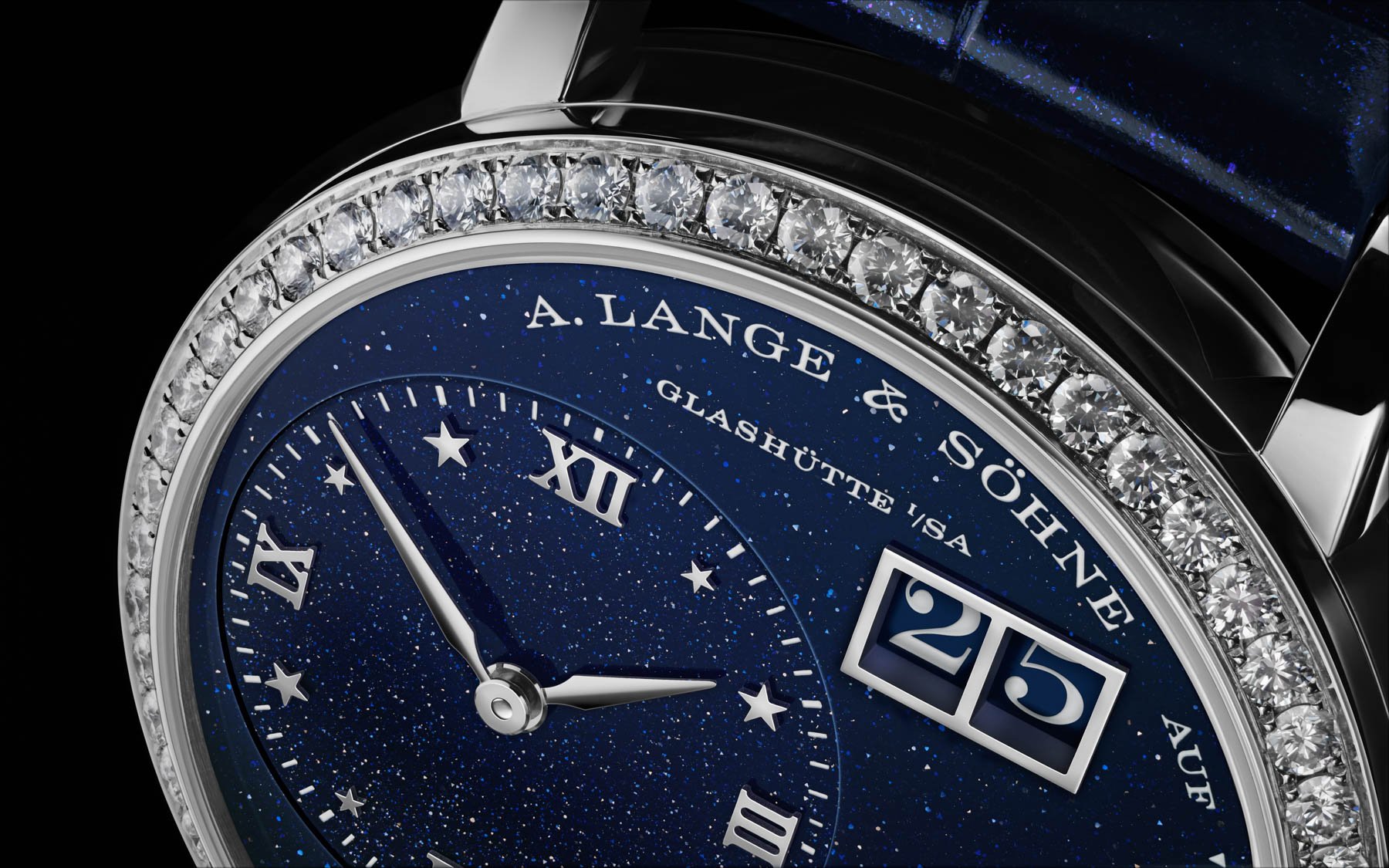 Additionally, I would like to see the above modification packaged in one of A. Lange & Söhne's honey gold cases. I think the rare, warm tones of honey gold would look absolutely divine next to this dark blue gold flux dial (with honey gold hands, date window frame, markers, and moons to boot). For me, fusing this new dial with those existing Lange specialties would result in a watch too beautiful for words.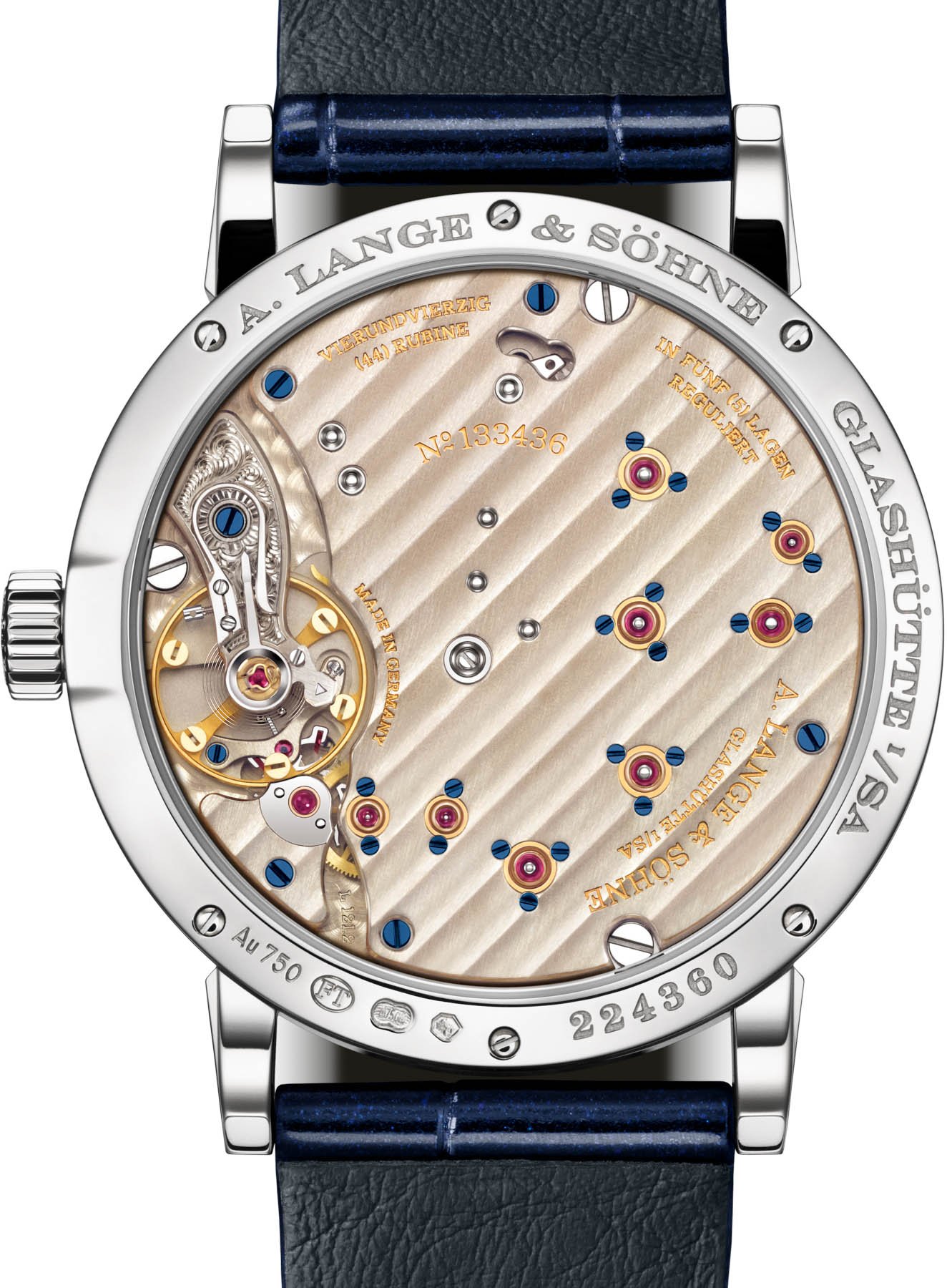 Who knows? Perhaps the powers that be are reading. Perhaps one day we shall see such a thing. In the meantime, however, there is plenty to enjoy about this new release, which is a laudable blend of design and execution befitting of a place alongside some of the finest wristwatches in the world today. Learn more about A. Lange & Söhne here.