No Risk, No Reward: The Tricky And Exciting World Of Private Watch Deals
How I acquired my Cartier Santos and Blancpain Bathyscaphe
Watches are all about stories and experiences. That dent in the bezel reminds you of a particular holiday. You might have worn one of your watches on your wedding day. A watch might have been worn by an actor in your favorite movie. These are all things that you remember when you look down at your wrist. And I think the way you acquired a watch is just as significant as the memories you create with it when you wear it. 
There are many different ways to acquire a watch, of course. You could, potentially, just walk into an AD and buy one. Or you might have to get on a waiting list for a while before getting "the call". Maybe your watch was a present from your wife or your manager, or it was passed down from a previous generation. But today, I'd like to highlight another way of adding a watch to your collection. Namely, buying one from a fellow collector. Or, at least, that's who they tell you they are…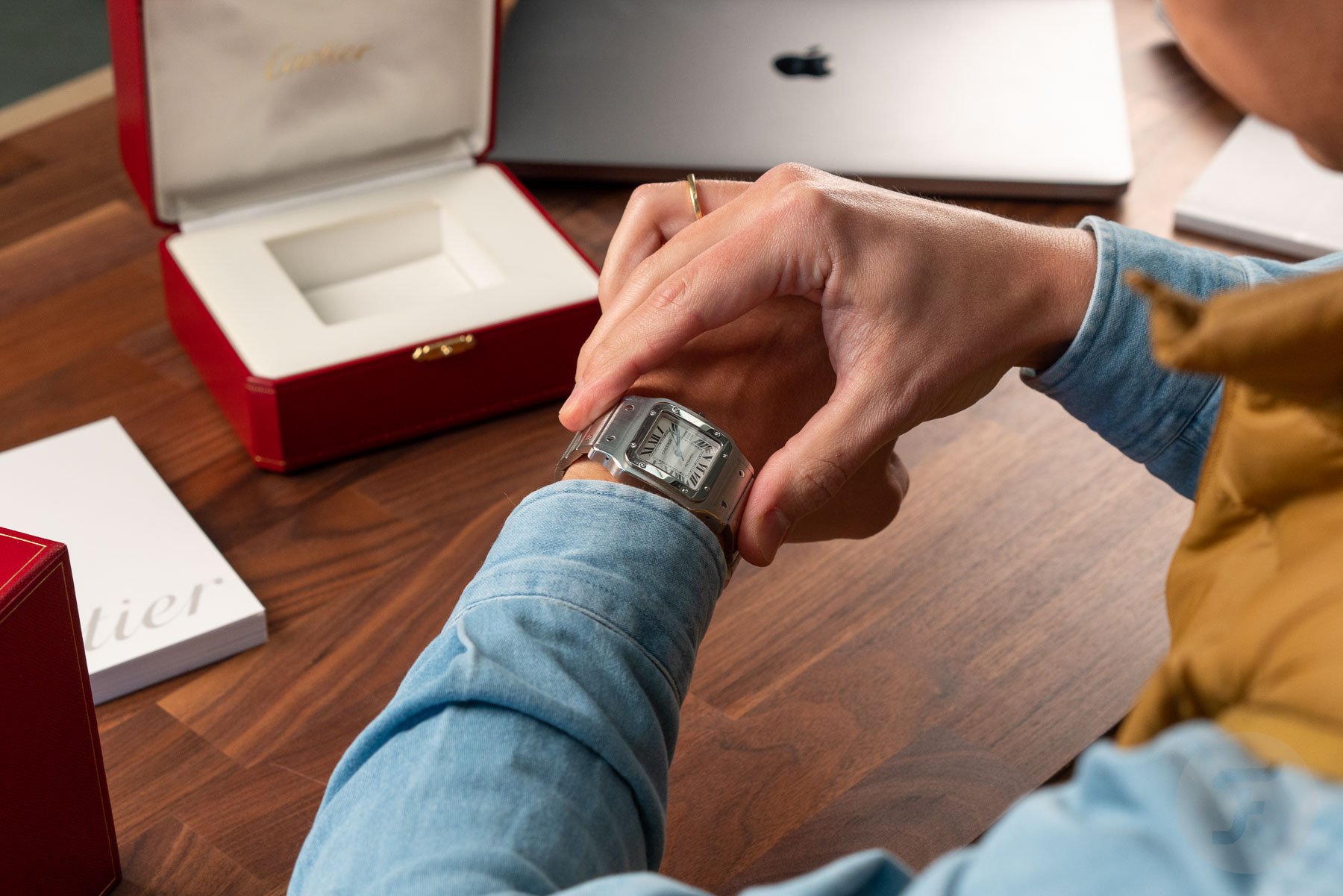 A Cartier Santos through the back door
I had just sold my 1974 Rolex Datejust that I had gotten a few months earlier. Unfortunately, it hadn't been what I had hoped for, but thankfully, Rolex is almost never a net loss. But I was sure that another iconic watch was going to have to take its place in the collection. After some searching online and trying on different watches at secondhand and authorized dealers, I was quite certain the money was going to be used to buy a Cartier Santos Galbée XL (ref. 2823). I'll explain the exact choice of that watch in a different article. For now, I'll focus on the way I got the watch on my wrist.
As I'm writing this article, the secondhand market for Cartier watches seems to be booming. At the end of 2020, when I got the Santos, prices were increasing, but not as much as they are now. As we were in a lockdown and shops were closed, my sourcing channel was the internet. I mainly used Chrono24 because it gave me a sense of where prices were at when looking for a full-set Santos. There were a few offerings from dealers and a few from private sellers. I remember going over the pictures, counting all the included bracelet links. I figured that, if the bracelet was complete, it was probably a watch that had been looked after quite well.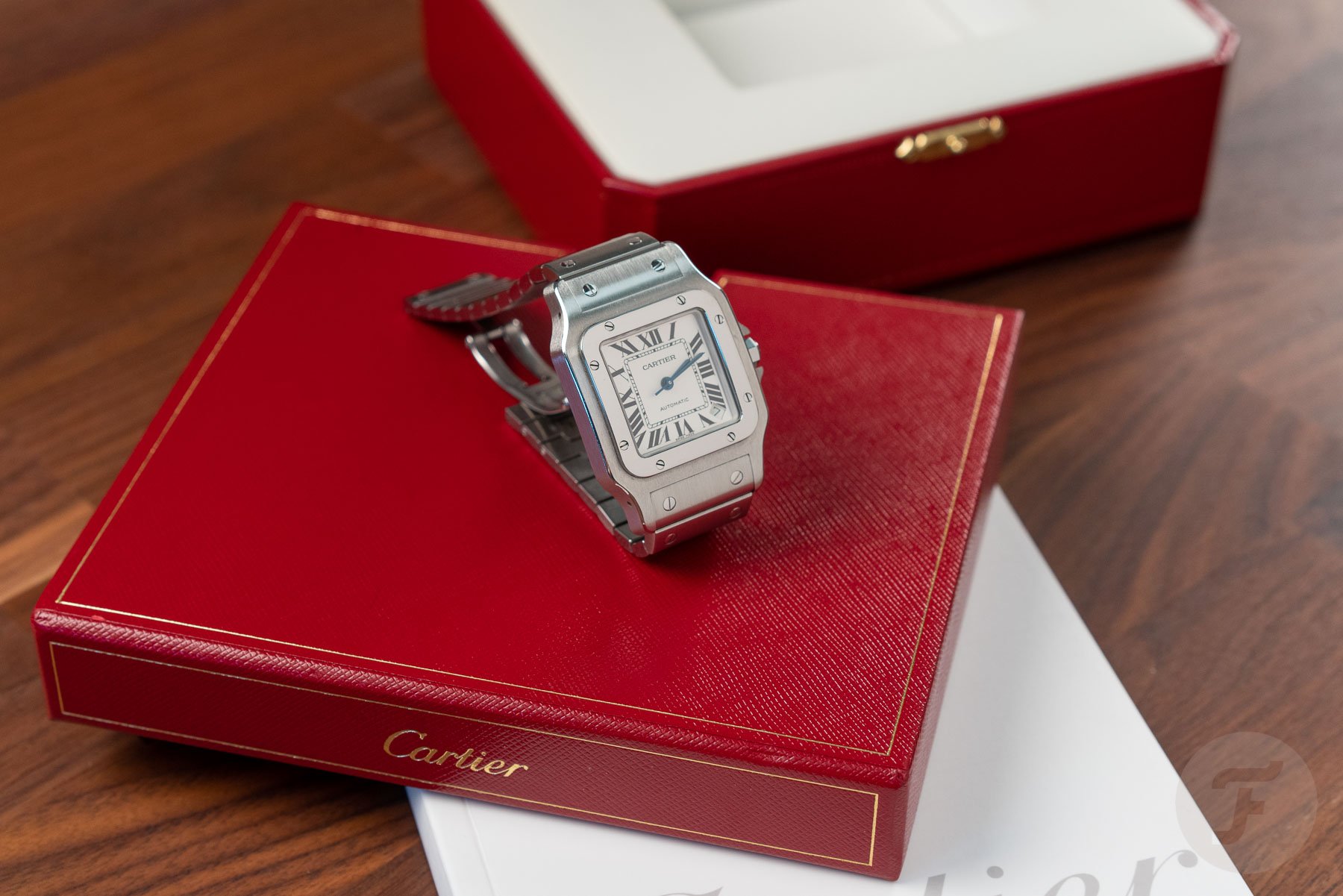 So I contacted a few of the commercial and private sellers with questions about their watches. At the same time, I also tried to see whether there was any room to negotiate on the price. After I had studied all the pictures and asked all my questions, I decided to try first with one of the private sellers. His watch and all that it came with looked most convincing to me. When I asked him if there was still some room to negotiate, he proposed to make a deal outside of Chrono24. That way he wouldn't have to pay any fees and was willing to lower the price. But the risk on my side would increase, of course.
Background check, please!
He offered to send me a copy of his passport and other documents to prove his identity. He also sent me his references from one of the bigger watch forums for other sales he had performed there. I checked everything out, and I felt quite comfortable dealing with him. But in the end, it was still "just" a private person who could very well be selling me an empty box or a fake watch. We also got in touch through WhatsApp so he could send me photos and videos of the Santos. Everything just seemed to check out, and I decided to go for it. 
We set up a bill of sale and both signed it, agreeing that when my bank transfer had cleared, he would send me the watch. And that's exactly what happened! A few days later, a big box was delivered, and inside was the Cartier Santos Galbée XL from 2006. All in all, it had been a very pleasant experience. But when I look back, it could also have gone horribly wrong. The guy could've sent me a passport that wasn't his. He could've sent me photos and videos he found somewhere on the web. It could all have been one big show, but it wasn't. It was a very smooth transaction between two watch enthusiasts that both wanted to get a good deal.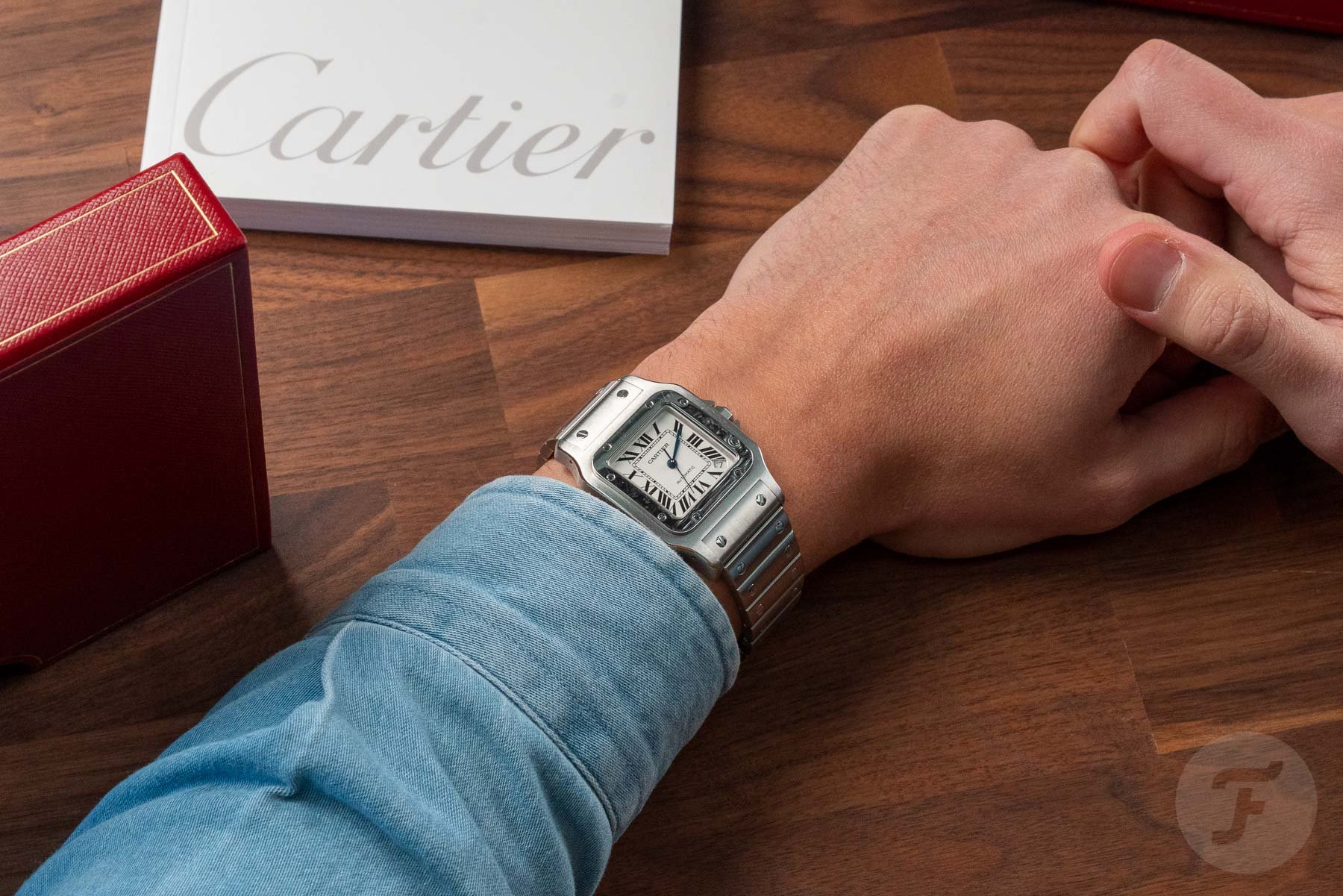 Sure, the watch was first offered on Chrono24, and that, to me at least, made me feel a little more confident. But that wasn't the case when I bought another watch from a fellow watch enthusiast. This time, I didn't even have to search for the watch. It was offered to me directly by a guy on Instagram.
"Psst… Hey, you want to buy my Blancpain Bathyscaphe?"
You know how it goes. You start getting into a certain watch and share some thoughts on your Instagram or on a watch forum. I shared some IG stories with the option to choose one or the other as my next watch. In this case, it involved a Rolex Submariner and the Blancpain Fifty Fathoms Bathyscaphe, 38mm in gray. I also shared some pictures from when I tried on both watches, and people started reacting right away. And there, in between all the jokes and sometimes great pieces of advice, was also a guy who offered me his Bathyscaphe. It was a full set of the exact watch I was looking for.
I had been following him for a while exactly because of the fact that he owned one. That's what I usually do when I start researching a watch. I follow some owners so I get a good feel of what the watch looks like in real life. But I never expected one of those people to contact me directly and offer me his watch. This particular guy had quite an active account on which he shared beautiful wrist shots of the watches in his collection. This included an impressive lineup of watches from Patek Philippe, Rolex, Jaquet Droz, and Breguet, and the list goes on.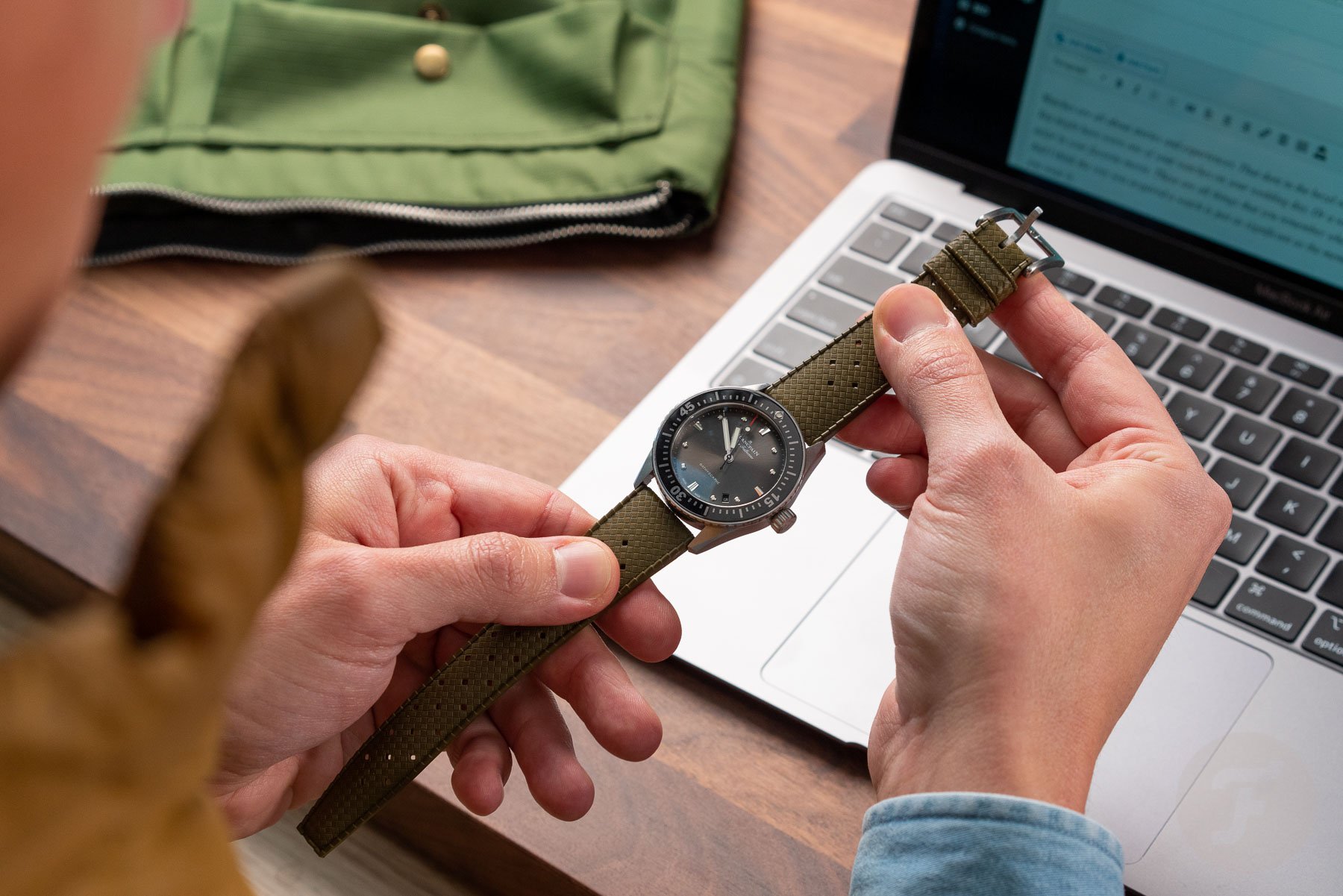 Too good to be true?
He told me he wasn't wearing the Blancpain Bathyscaphe enough to justify owning it. He was actually already in touch with a gray-market dealer. The pictures for the shop had already been taken and the price the dealer would pay him had already been decided. But when this guy saw my stories and pictures, he figured he would be happier to sell it to another watch enthusiast directly. He thought it would be better than selling it to a watch dealer who would then sell it to another enthusiast after adding a big premium on top. 
He said he wanted to offer it to me for exactly the price the dealer was offering to him, which to me, actually looked like a very good price. It was on the lower end of what the watch was going for on the secondhand market, and it was certainly a lot les  than what the AD would charge me for a brand-new one. The watch also looked good for a four-year-old and worn watch. It all started to look a little bit too good to be true, honestly. 
Alright, let's do it!
We kept in touch, and he shared some information on his background. He told me he was a director of a company in Poland. On the side, he really liked watches and engaging with the watch community. We also connected on LinkedIn and everything looked credible. He told me he needed an answer from me soon otherwise the gray dealer would put the watch on his website and it might be sold soon. He agreed to give me a couple more days to think it over. And after those two days, I decided to do it.
Of course, there was a risk, but what if the guy was honest and I could get a good deal out of it? We arranged for the bank transfer, and although I was a bit nervous about it, I still wanted to go ahead with the purchase. Maybe I also wanted to prove, even though I don't know exactly to whom, that there are still good people out there. The idea of the deal coming to a happy ending excited me.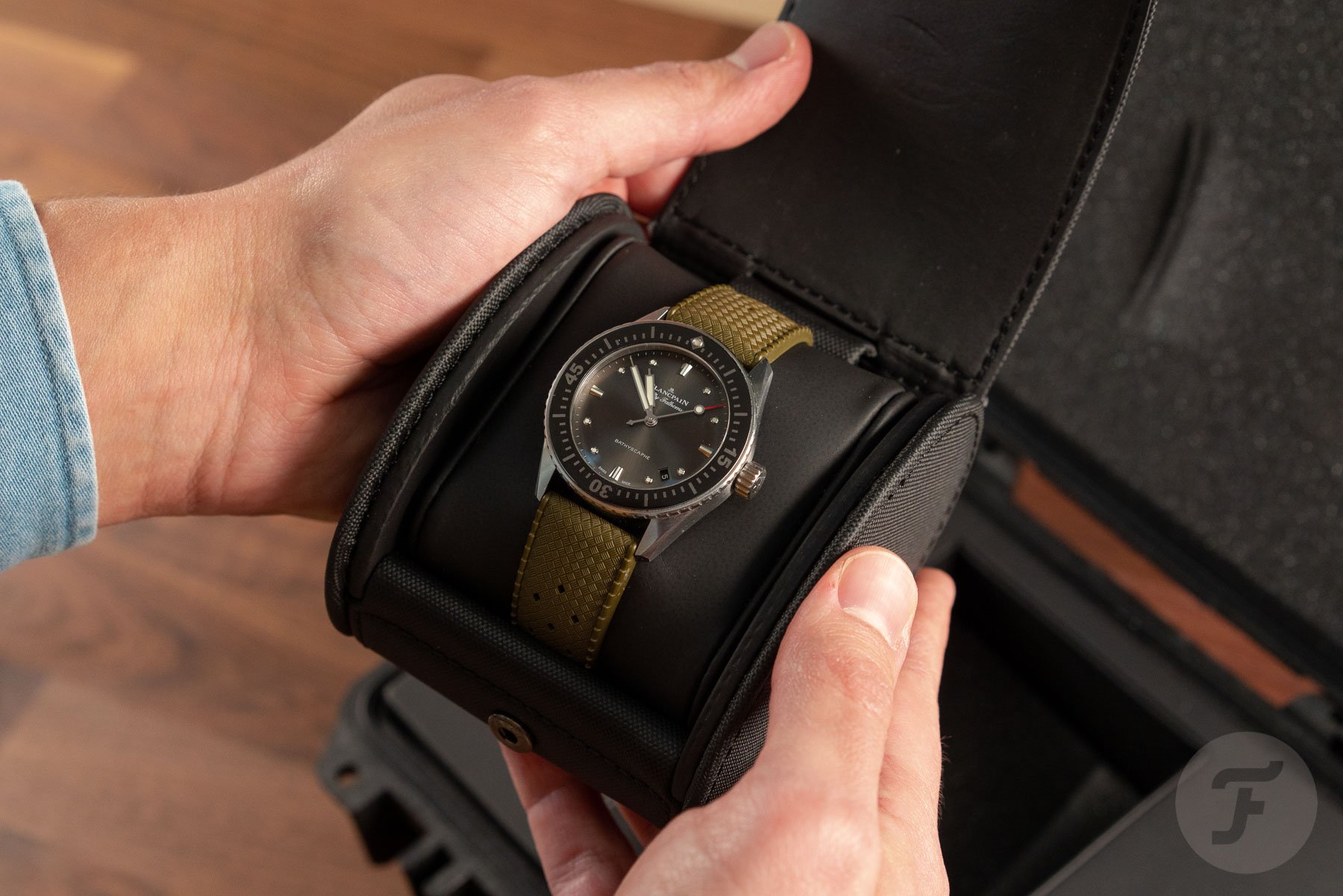 "Are you sure you want to do this?"
So I grabbed my phone and tried to make the bank transfer. It didn't go through. I tried again, and then the app said my account was blocked for a certain period of time and that I had to call them to see what was going on. And just before I got the chance to call the bank, the bank called me. It was someone from their fraud department. The man on the phone asked me whether I was aware that I was trying to transfer money to an account in Poland. He also asked whether I was put under pressure to do so. According to him, this kind of thing happened quite a lot, and I had to be certain that I was dealing with a credible party. 
Other than the "could you please let me know as soon as possible because otherwise, the gray dealer will put the watch online," I didn't feel like I was put under a lot of pressure. I assured the man on the phone that I knew what I was doing, and he enabled my account again. The payment went through, and the seller agreed to send me confirmation as soon as he received the money.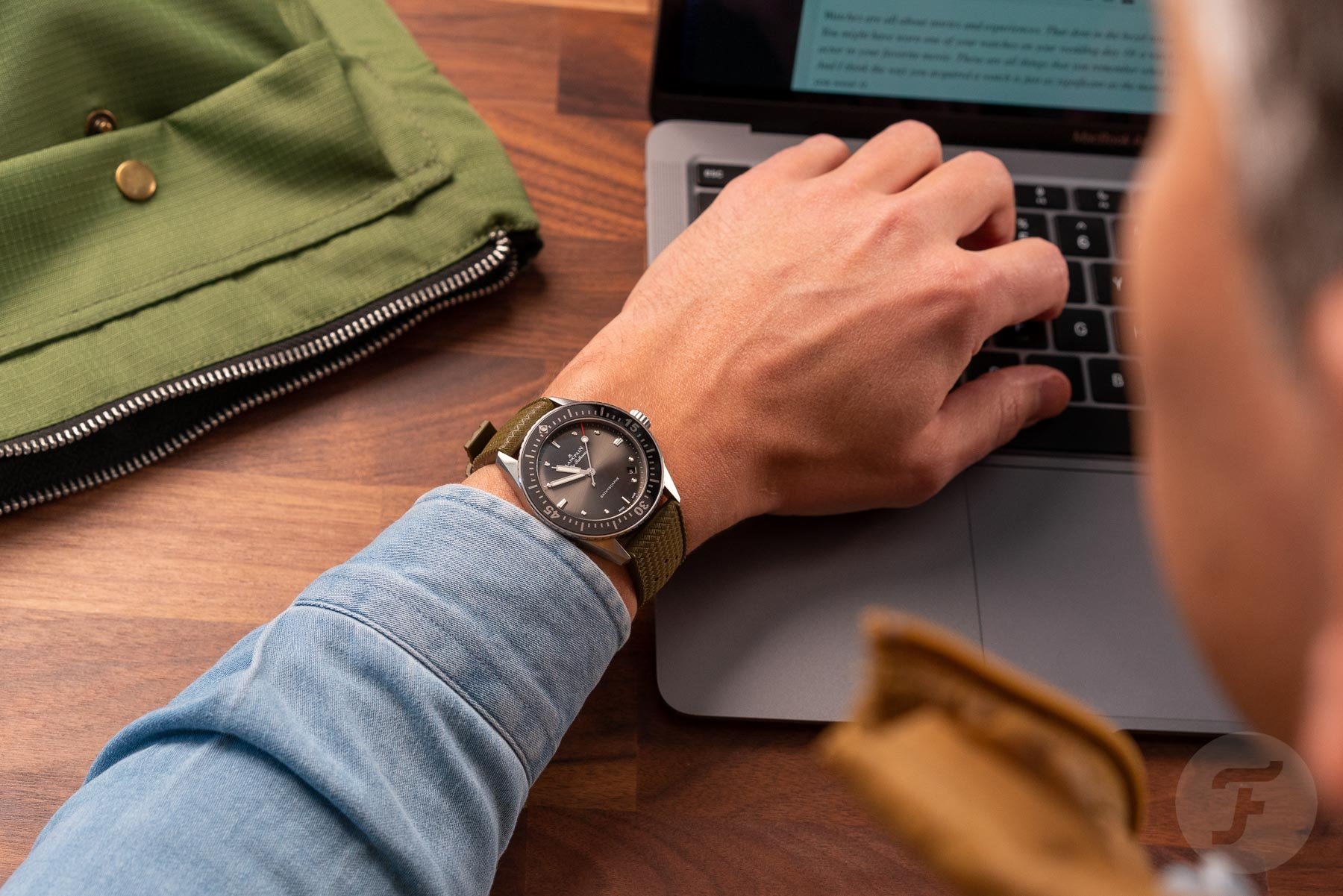 The next morning, I had already received an email from a courier stating that something was on its way to me from Poland. The seller had already made the shipping label because he had received the money in his account that morning. It could, of course, still have been an empty box or a fake watch, but to me, this all added to the credibility of the seller. And rightfully so, because a few days later, the box arrived at my home — a full-set, gray Blancpain Bathyscaphe in a delightfully wearable 38mm case. 
I thanked the seller for his honesty and the way he had handled the deal. It was, yet again, an arrangement between two enthusiasts who wanted to get a deal they could both be happy about. 
Buying watches from private sellers — All is well that ends well
And now, when people see these watches, I always proudly tell them about how I got them. It's something that will always be connected to these pieces. It's exciting to feel that it could've gone horribly wrong, but that in these cases, everything was all in order. 
What's this like for you? To what extent is it important to you how you got a hold of a watch? Have you ever taken (big) risks to acquire a watch? And how do you feel about that now? Tell me all about it in the comments!
And if you ever want to offer me your watch, now you know how easy I am. Just get in touch through Instagram @fliptheparrot.