Nomos Ahoi Atlantik Datum – A Hands-on Review
Nomos is a huge hit in its home country, Germany, and in its price range, the brand is extremely popular. This is likely is due to a combination of the watches' Bauhaus-inspired design, the company's laid-back, friendly attitude and how Nomos approaches their customers.  Which factor is most important?  I'm not sure.
Nomos
What I can tell you, however, is that almost every co-worker (I live and work in Germany) who buys a new watch at least considers a Nomos. The choice often includes one of Nomos' signature models. This made me wonder more about the secret behind Nomos' success. Personally, I like Nomos. For several years, we've visited the brand in Basel, have attended their unique receptions at BaselWorld, and have been to the manufacture in Glashütte multiple times. However, I have never truly considered buying one until recently. Let me elaborate on this a bit more.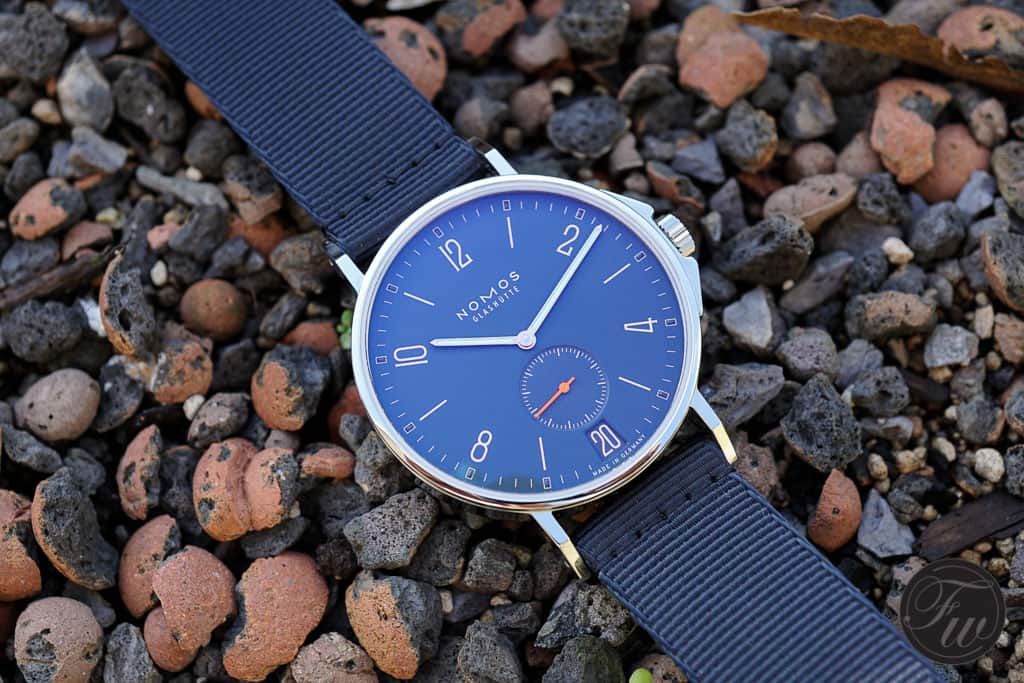 First real watch for many
Nomos is a true success story in many ways. It's a company that started its life when Germany reunified in 1990 and has, in that short period, become one of the most iconic watch German brands. Their design aspect is simple and classic: one could say classically Germanic. Additionally, NOMOS watches are not only attractive, but also relativley affordable. You get a lot of watch for your money and many young Germans choose Nomos as their first "real" watch over well-known Swiss timepieces. The production is in Glashütte, a historic home of German watchmaking, and the movements Nomos uses are in-house produced.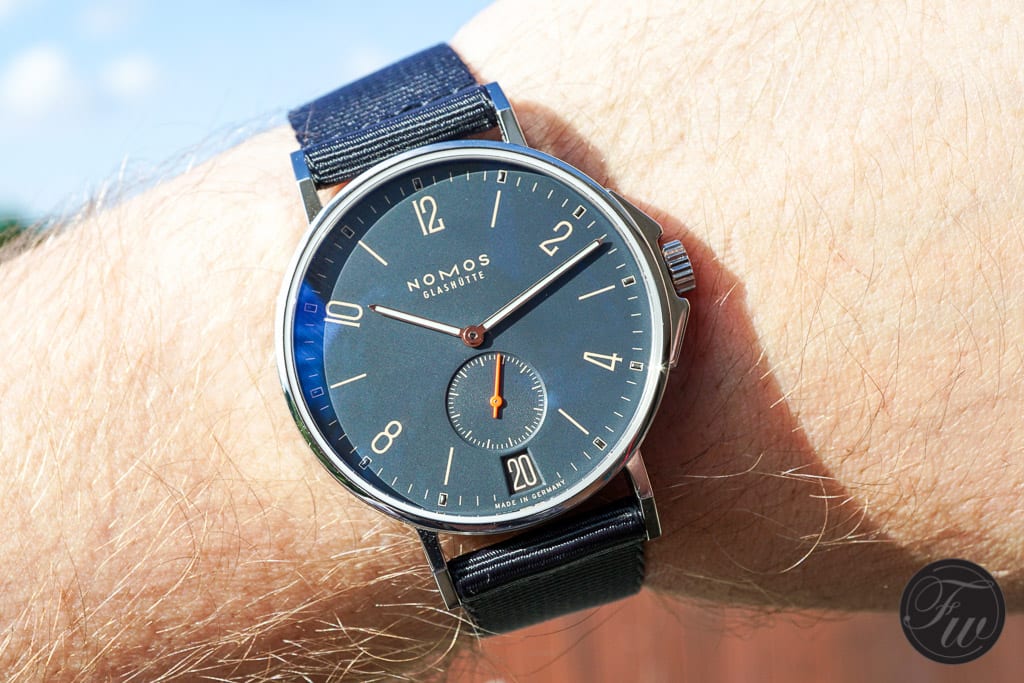 Nomos Ahoi Atlantik Datum
What I've been searching for is that "it factor" that apparently affects so many when wearing a Nomos. In order to attempt this, I reached out to the friendly people at the press office and asked if I could review one of their 2017 novelties: the Nomos Ahoi Atlantik Datum. They kindly agreed and in a few days the watch was at my office. German precision so far! 😉
As I lifted the green box out of the parcel, a group of 6 guys gathered around me and before I could even take a glance of the Nomos, it was gone! They all wanted to try it and I had no choice but to sit back and let all of my colleagues have their turns. After about 3-4 deep sighs, many wristshots and 20 minutes later the watch was finally on my wrist. My first impression: impressive.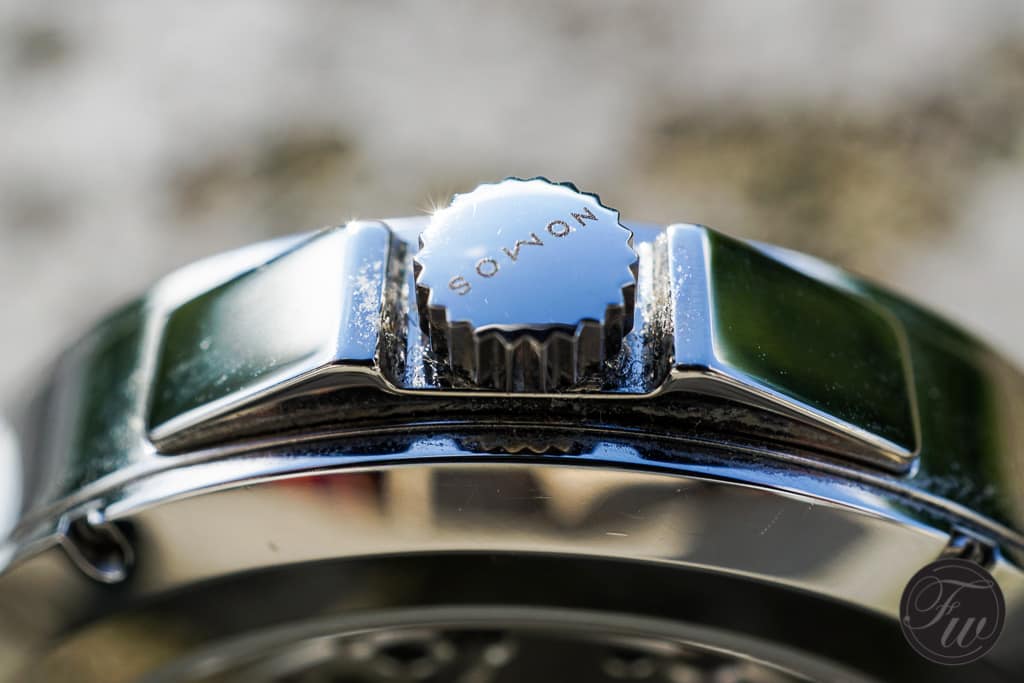 New size
The Nomos Ahoi Atlantik Datum is not a new model, but the range was expanded when it received a new size. This was key for me because in the past, I overlooked Nomos watches (for my own collection) because of their smaller sizes. I'm not a huge guy, but I'm tall and have a relatively large wrist. Watches below 38mm don't look so good on me, especially if they're modern watches. Also the clean, almost sterile design hasn't really been my thing. This new Nomos Ahoi Atlantik Datum, with its 40mm size and 10.6mm thickness, though, looked perfect for me. I know some may say that Nomos should keep true to their relatively short history and keep on producing smaller watches, but I disagree. The brand is still far from making >44mm timepieces like others, so call this a moderate increase. What we end up with is a well-balanced watch with a large dial with a short lug design that adds to the visual size of the watch.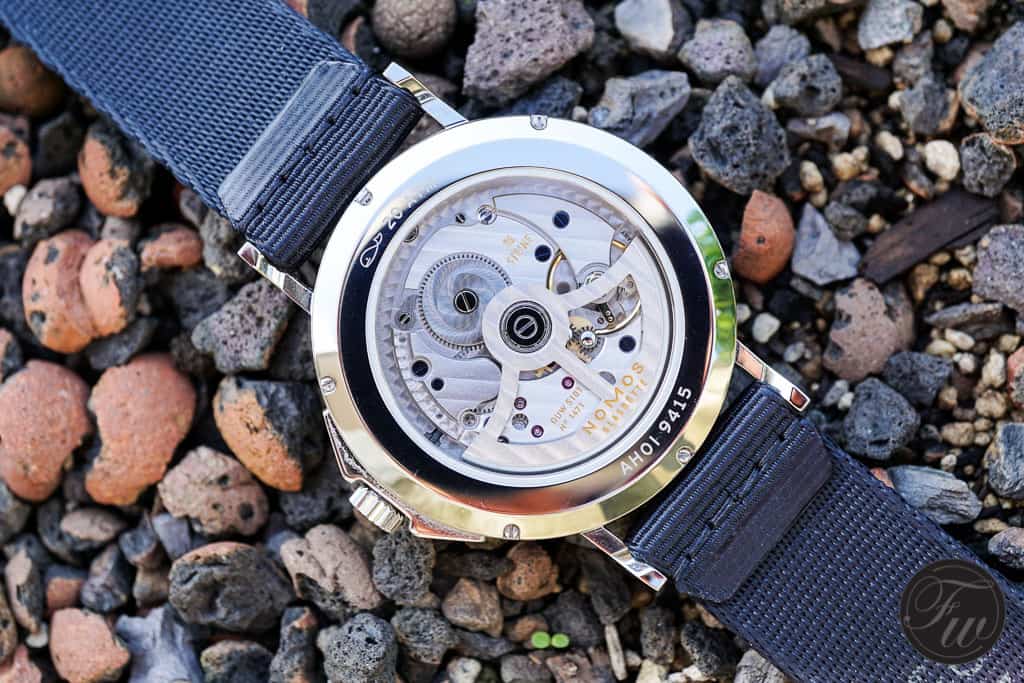 Got the looks
The dial has a dark (Atlantik) blue color and that is something I fancy. The little neon orange second-hand is a nice touch and makes the watch instantly recognizable. While the main hands are gold-plated, all these colors form a nice harmony. The date is hidden at the 6 o'clock position and it does not disturb the unity of the dial. The Arabic numerals are a Nomos design trademark just like the aforementioned orange second-hand. Like every real diver, the Nomos Ahoi Atlantik Datum also has a screw-down crown with crown-guard. There are other nice details, like the display case back, which is fixed with 6 screws to the case. Then there's the movement, which is beautiful and has a real wow effect.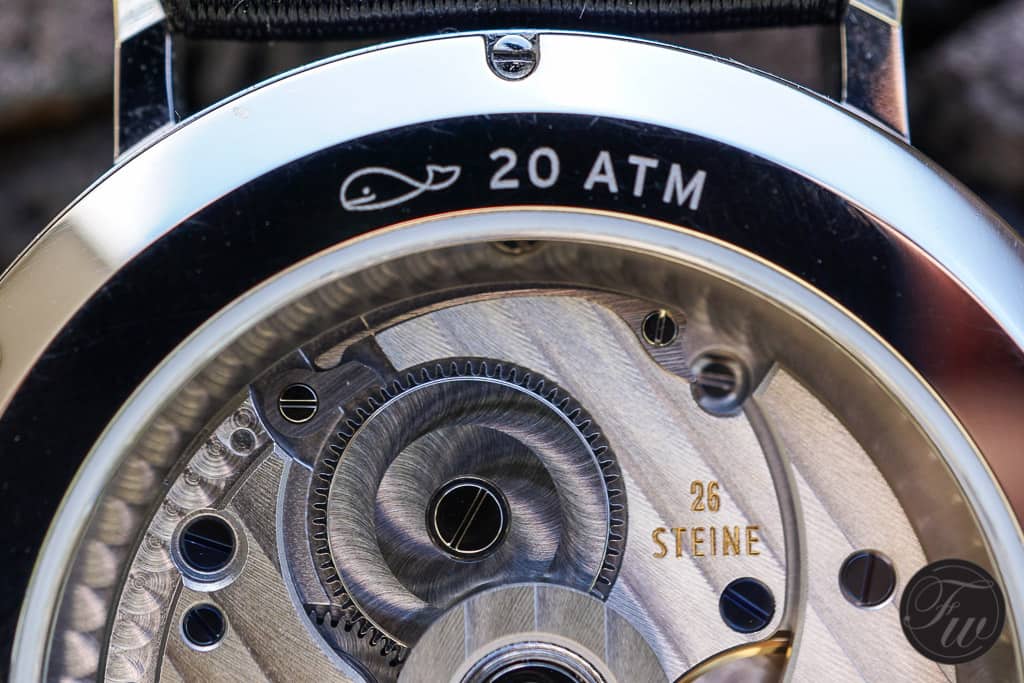 DUW
As I said in the beginning, Nomos is very proud of their in-house movements and they are beautiful works of art. The beating heart of the Nomos Ahoi Atlantik Datum is the caliber DUW5101. It is an automatic 26-jewel movement, with circa 42 hours of power reserve, date and Incabloc shock protection. The DUW5101 (Deutsche Uhrenwerke as in German Movements) has a hacking mechanism that allows you to set the time as accurately as possible. It's also beautifully decorated with blued screws and rhodium surfaces decorated with the unmistakable Glashütte stripes and the Nomos perlage. Since the Nomos Ahoi Atlantik Datum is considered a sporty watch from Nomos it also has a water resistance of 200 meters and that, despite the lack of a rotating bezel, actually allows you to take it diving.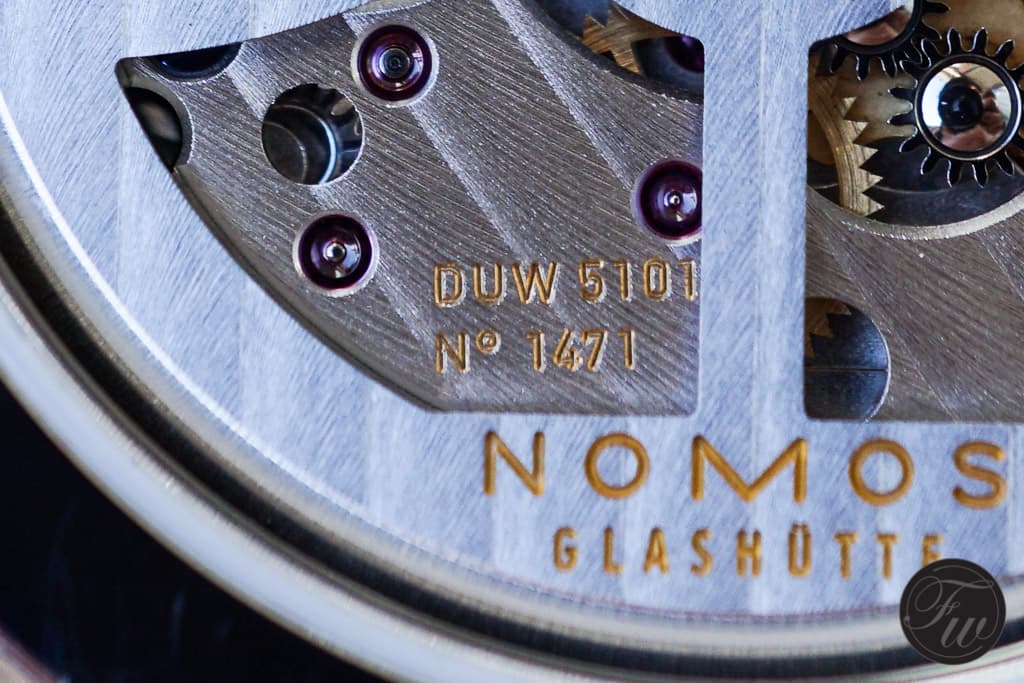 Price
The strap on the Nomos Ahoi Atlantik Datum is not leather, but a more sporty 20mm nylon. It feels like a very soft two-piece NATO. The Nomos buckle takes inspiration from the vintage winged clasps. Price-wise, the Nomos Ahoi Atlantik Datum costs €3620 delivered when ordering it from the Nomos online shop. This is a bit more expensive than your average Nomos. Here's my contention, though; it is not an average Nomos. What it is  is a lovely watch with great wrist presence, more sporting capability and a future classic. With an increased size and a colorful dial, the Nomos Ahoi Atlantik Datum has now finally made it my list of potential additions.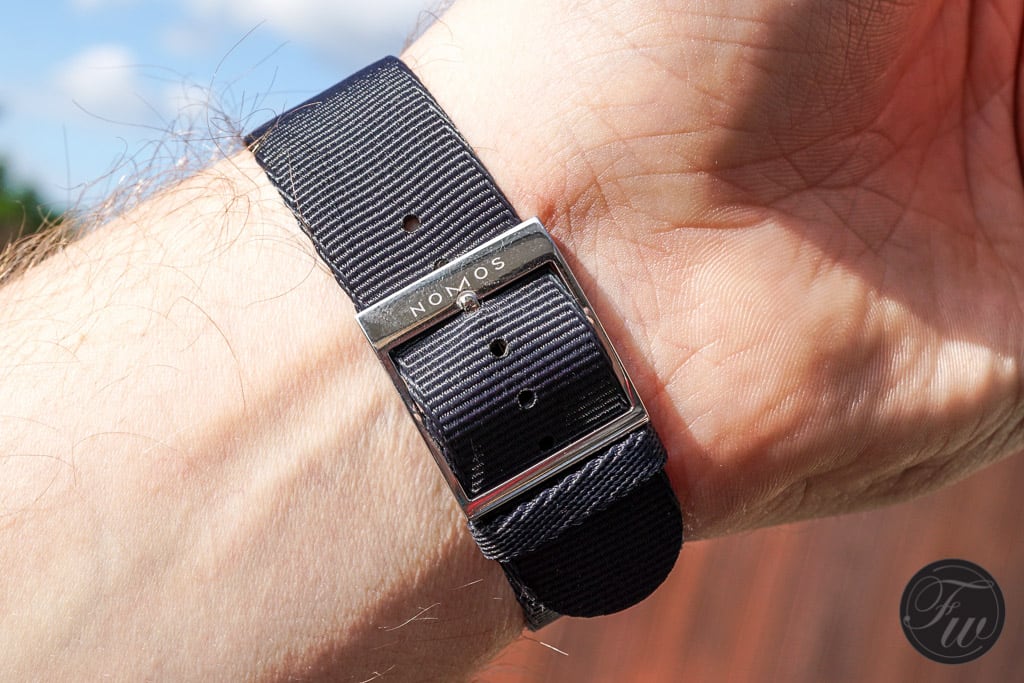 For more information on Nomos and their collections, please visit their website.