NOMOS At Work Series – 14 New Watches
In all honesty, even though I love this brand from Glashütte, I don't own a NOMOS watch (yet) nor was there one – seriously – on my radar. Reason? They are too small for me (or I am too big for them), that's basically the reason. Now, NOMOS introduced 14 new watches as being part of their 'At Work Series'.
These new NOMOS At Work Series are not entirely new though. They are based on existing watches from the Tangente, Metro, Orion and Tetra collection, but have one thing in common: they have large(r) diameters, new dials and are ultra-thin.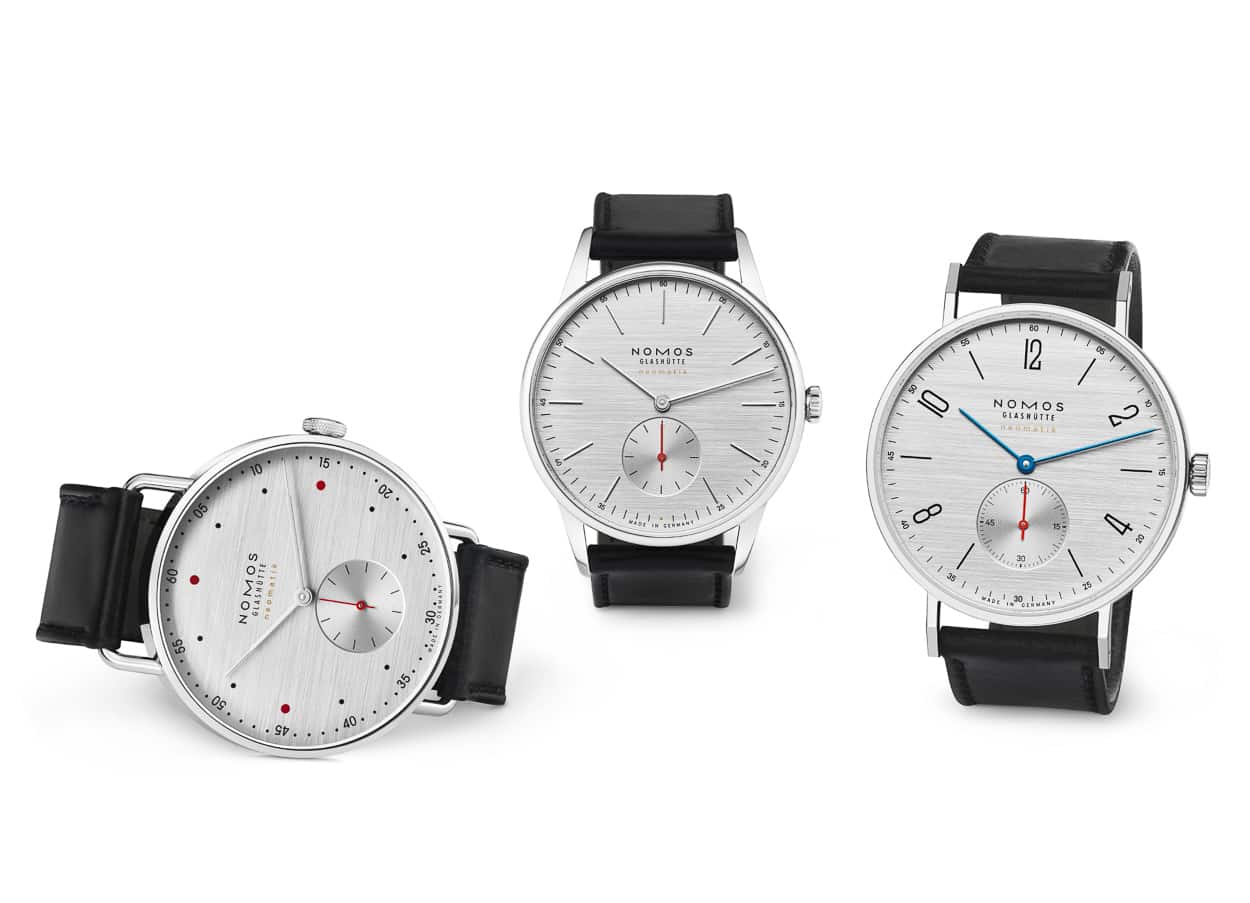 NOMOS At Work Series in 39mm
As I've written above, I love NOMOS watches and some times I just wish I had the small sized arms of our contributor Michael. Once in a while he wears this cool FlikFlak and nobody notices it, so small are his wrists. He loves NOMOS and has no excuse not to buy one I guess (he might even do own one). Well, I guess I am also without excuses anymore, as the new NOMOS At Work Series have a 39mm diameter. A size that fits me rather well, especially as a dress watch.
I don't get the 'At Work' thing to be honest. NOMOS explains it as new watches that concentrate on the essentials: for men who work in the office or doing business, rather than those who are sailing or flying planes. That's a cheeky wink to some of the brands out there who focus on people who work in the office but would have loved to be that hero, pilot, moonwalker or COMEX diver where at least their watches would have given them this 'sensation'. I guess what NOMOS meant to say with the 'At Work Series' is that it is a watch for real people, like you and me. A great looking piece for every day wear and use, aiming at the majority of men without a space, diving or race suit. However, I am not sure why they picked the 'At Work' name for these 14 new watches, but I am not a marketing guru anyway.
That said, I love the new size and the three dial colors they come in: midnight blue, white silver and silver-cut. The polished silver-cut dials are just amazing and would be absolutely my personal pick.
The 14 watches are very thin, but certainly not too thin (8.65mm for the Orion for example). I prefer my watches to have a bit of body so I am perfectly fine with a 8.65mm thick (or thin) watch. The ratio needs to be good, that's what counts in my book. A 35mm watch with a thickness of 15mm doesn't make much sense to me nor does a 45mm watch with a thickness of 7mm. Also interesting is that the Orion neomatik 39 is clearly addressed as a 39mm watch, but in fact is 38.5mm. NOMOS stresses the fact that the watch measures an exact 38.5mm but wears larger due to the slender case and long lugs, but just rounding up 0.5mm doesn't sound very German to me.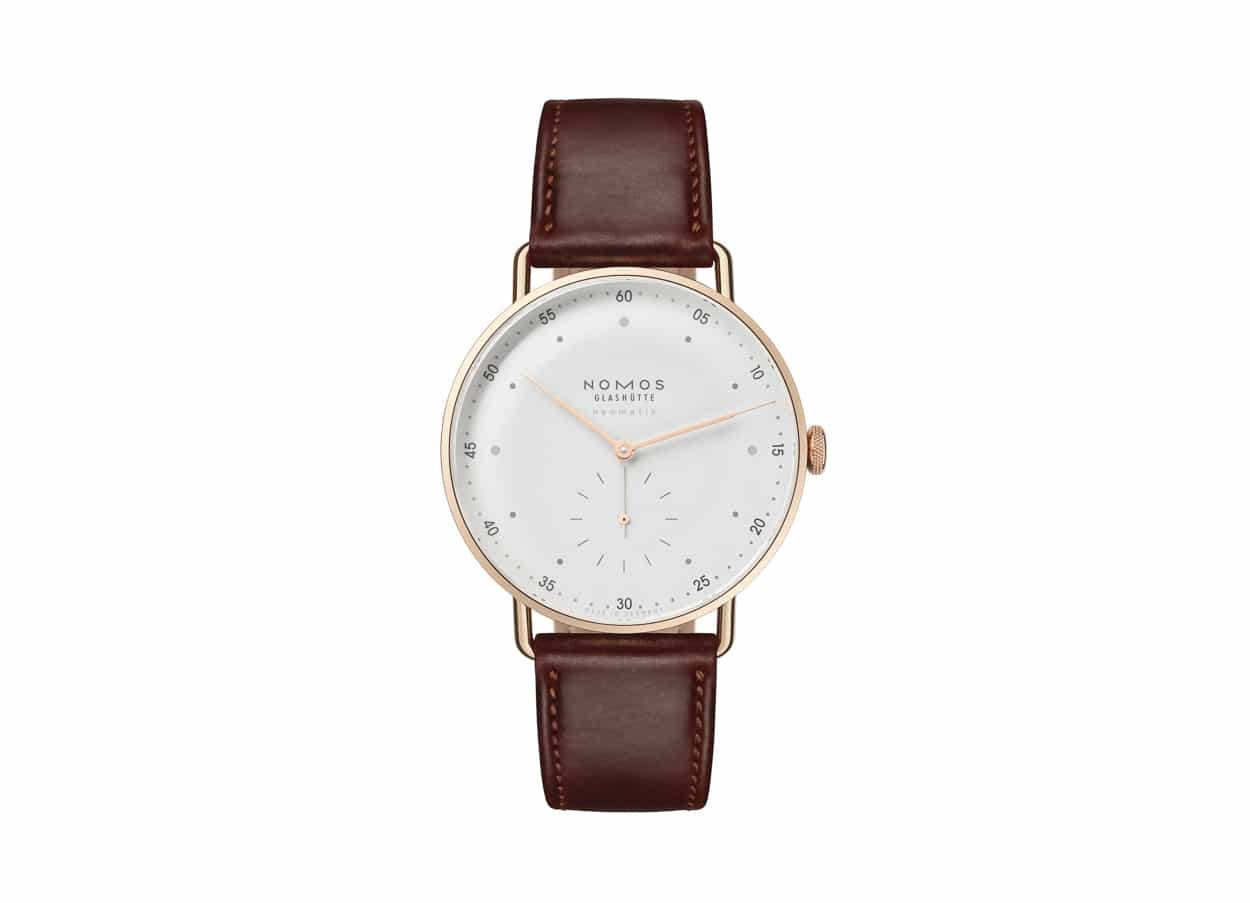 13 watches are in stainless steel, and 1 is in 18 carat rose gold; the Metro Roségold neomatic 39 with a retail price of 7200 Euro. It only weighs 6 gram more than its stainless steel brother, but the appearance is completely different.
Caliber DUW 3001
All 14 watches have the NOMOS caliber DUW 3001 movement inside. An in-house movement from NOMOS, the 10th actually, that is ultra-thin (3.2mm in height). This self-winding caliber winds in both directions, is just as thick (or thin) as some of the manual wound movements out there. Good Glashütte tradition is the so-called three-quarter plate, a plate that covers the most important wheels of the movement. A construction that has been used for over 150 years and so does this NOMOS caliber DUW 3001. The movement is finished with their own NOMOS perlage, a type of finish that can be found on the base plate, pallet cock and balance bridge. The movement can be admired via the sapphire case backs of these watches.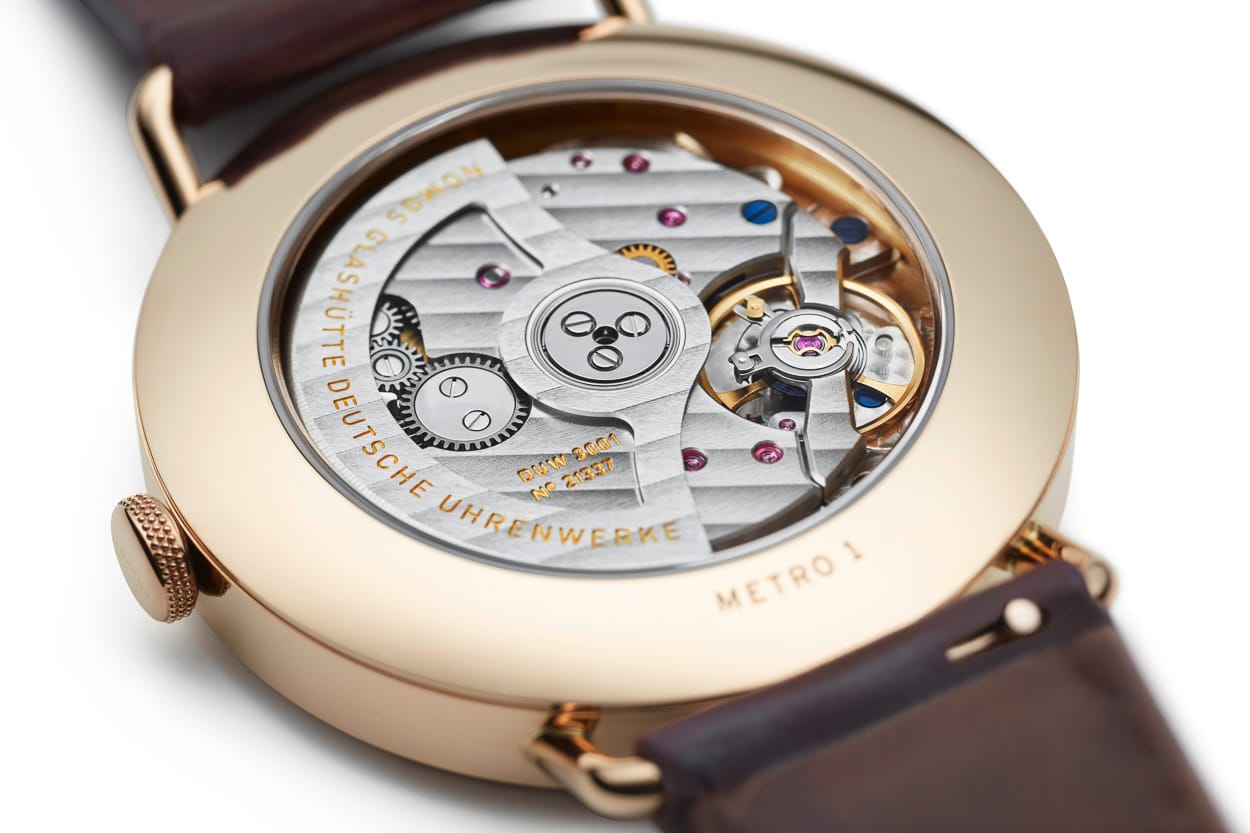 All 14 NOMOS At Work Models
Here's an overview of all 14 models. The Tangentes are most attractively priced, starting at 2800 Euro. The most expensive NOMOS At Work model is the rose gold Metro neomatik 39, with 7200 Euro. However, most models (Tangente, Orion, Metro and Tetra) are around the 3000 Euro mark.
The Tetra models being my least favorites (but merely due to the fact I can't 'stand' square watches), the Orion and Metro models are probably my choice. I like the price point of these watches very much. Quite different from where NOMOS used to be, I often hear, but over the years their watches also improved a lot, especially when it boils down to the mechanical heart of them. I think the price is justified for these watches and would definitely consider them when being in the race for a fine and slim watch on a strap. Whatever model I'd pick, at least it would have the amazing looking new silver cut dial. Stunning!
More information on the At Work series, here.