NOMOS × Doctors Without Borders Tangente 38 Marks 10 Years Of Support
The brand's emergency aid models surpass 10,000 pieces
On December 22, 1971, in Paris, 13 journalists and doctors officially created Médecins Sans Frontières (Doctors Without Borders), commonly known as MSF. It was a new form of humanitarian effort rallying volunteers to provide an emergency medical response and help people afflicted by crises in conflict zones. The movement would prioritize the welfare of those suffering despite political or religious boundaries. Fifty years on, MSF remains a non-profit and impartial organization. Therefore, any kind of contribution makes a difference. And this is where NOMOS Glashütte's emergency aid model comes in. The German watchmaker has produced more than 10,000 pieces of such models in its decade of supporting MSF. For the 14th edition, NOMOS presents the Tangente 38 – 50 ans de Médecins Sans Frontières.
"We make watches that support Doctors Without Borders — tangibly, with monetary support." — NOMOS Glashütte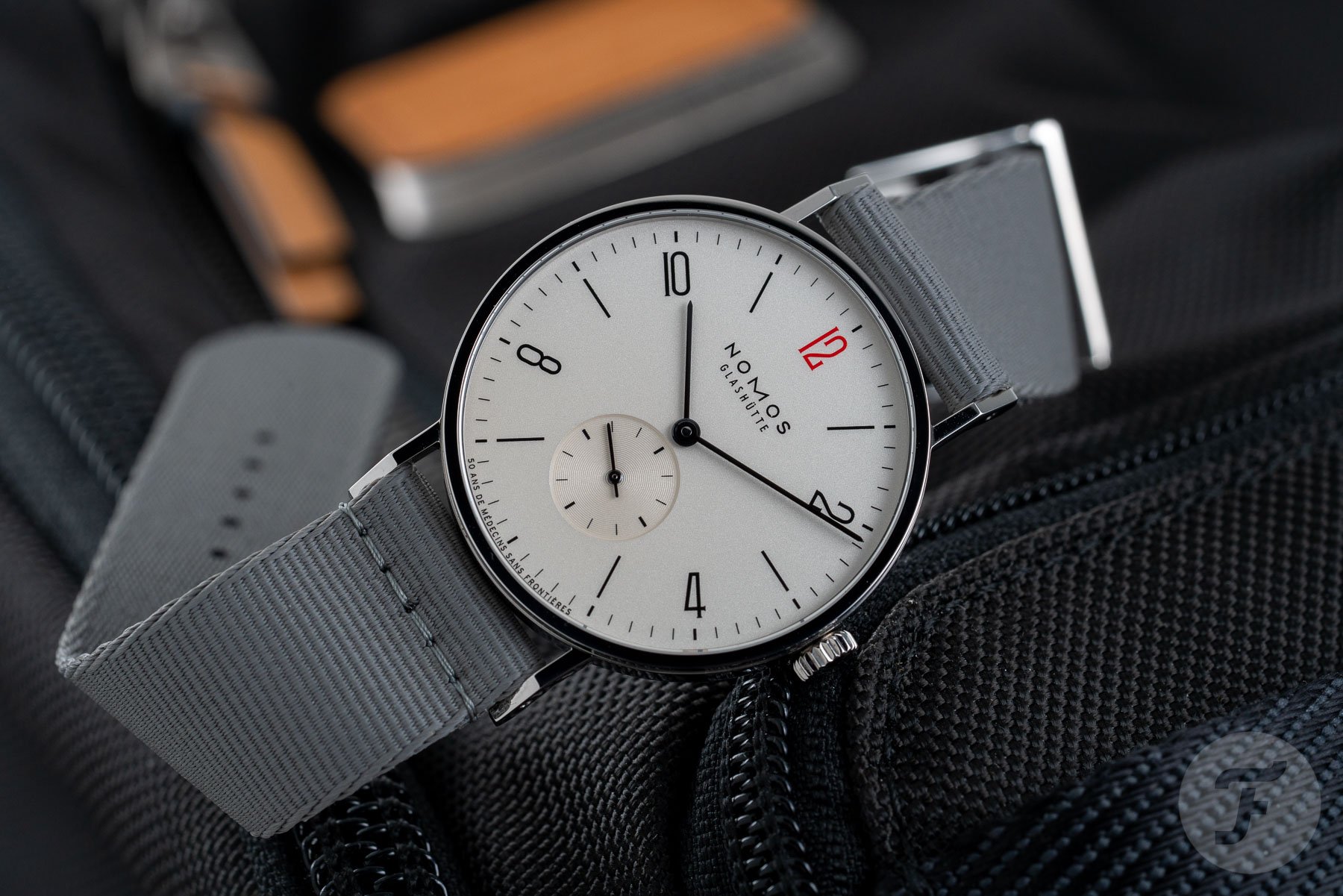 A noble calling
A friend of mine in London is an expert craniofacial and pediatric plastic surgeon at the renowned Great Ormond Street Hospital for Children NHS Foundation Trust. He took a year of sabbatical and volunteered in Sierra Leone, so I have heard what it means to deliver medical aid and set up a healthcare presence in underserved and marginalized regions. He says that there is a natural draw for those coming out of medical school to serve MSF and emergency aid organizations like it — a higher calling, if you will.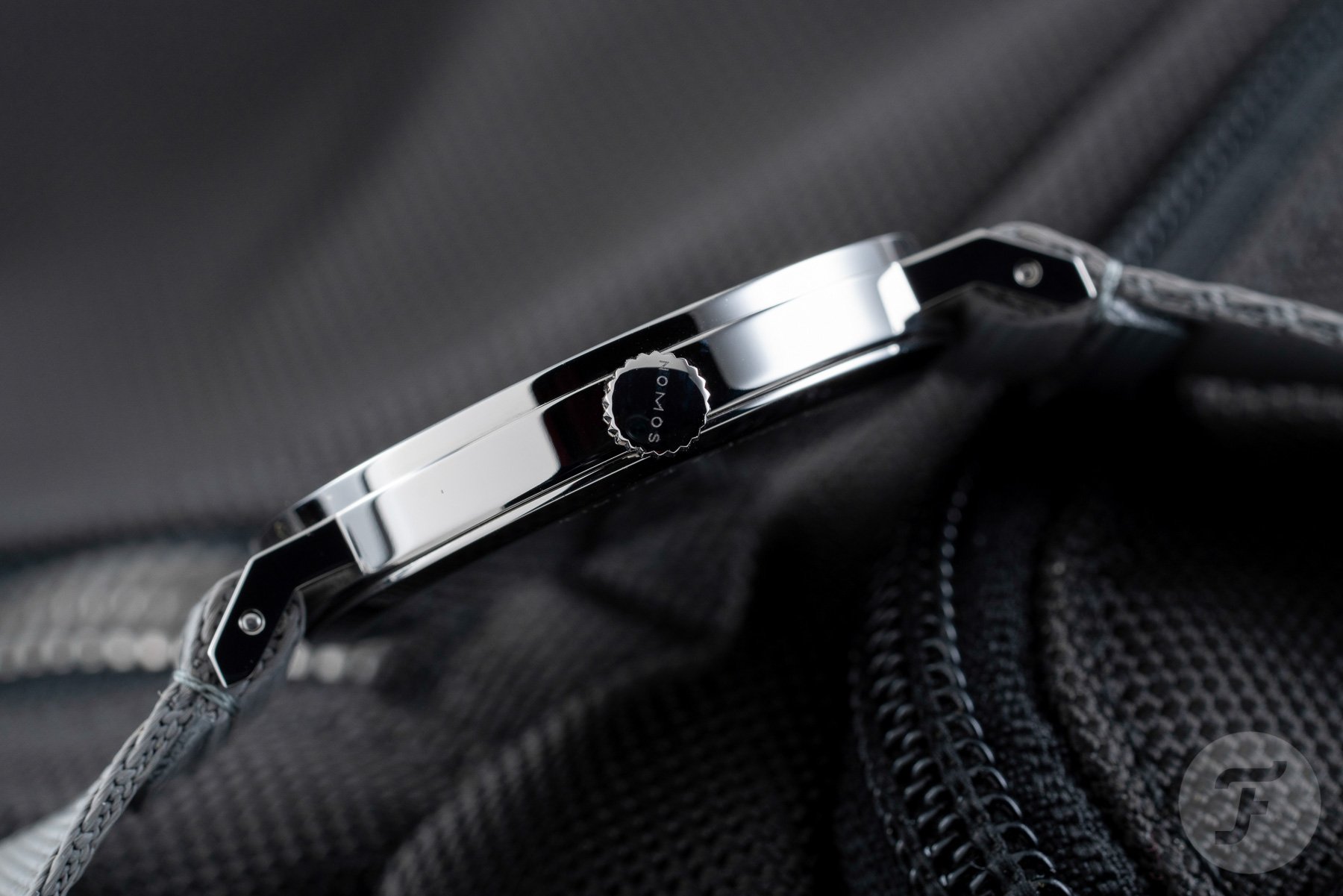 A Nobel Peace Prize calling
To many, MSF is a true blend of idealism and pragmatism. At its founding, 300 volunteers including doctors, nurses, and other staff banded together on a mission. As of 2021, this Nobel Peace Prize laureate is a worldwide movement with over 63,000 people. It is self-governed and organized by member-based associations in order to direct aid to the field. To stay neutral and independent, MSF receives less than two percent of total income from governmental or public institutional funding. According to MSF, it has refused to take funds from the European Union and its Member States since 2016. As such, the need for donations and contributions from individuals and private companies becomes ever more crucial.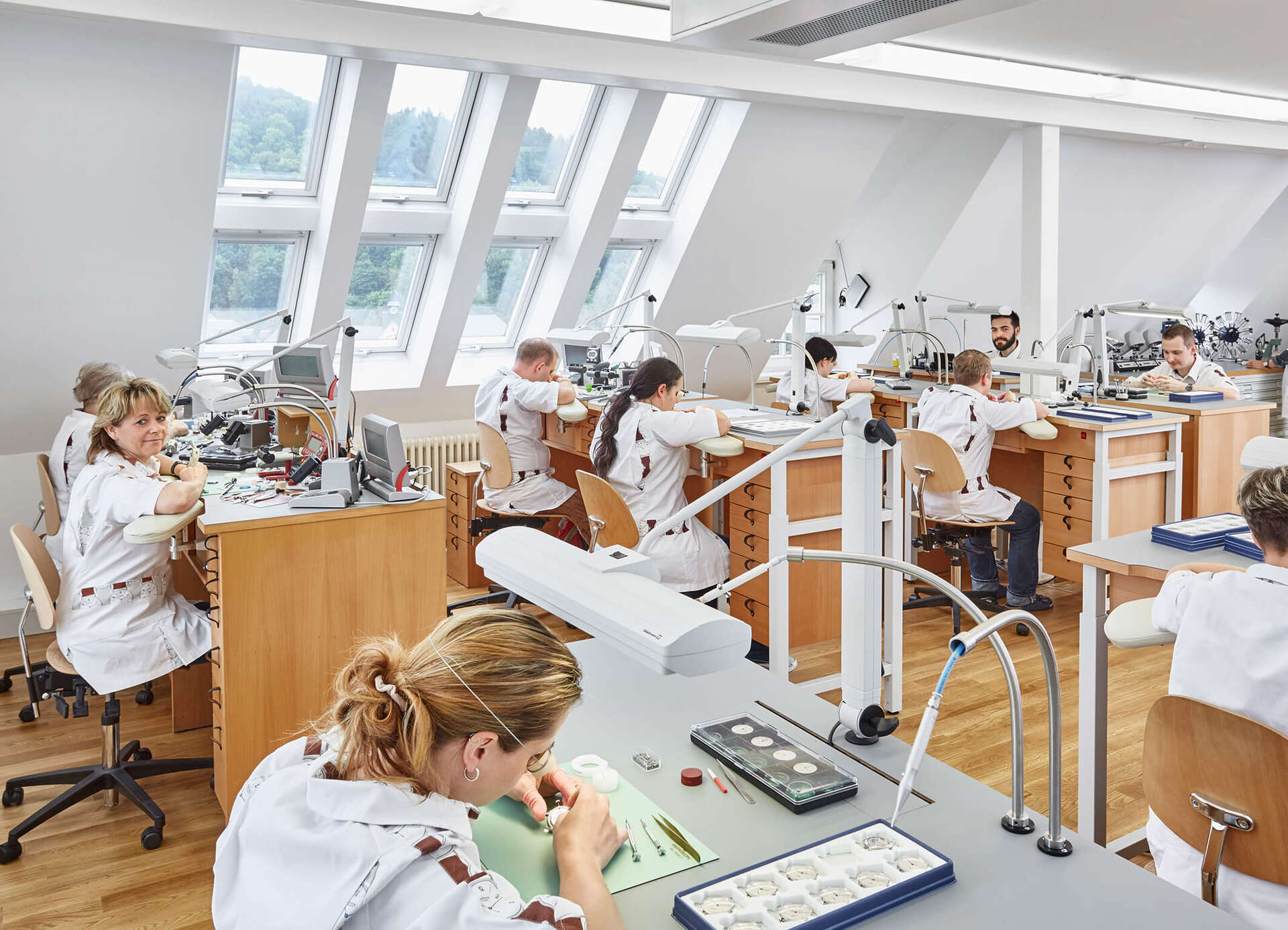 Tangible support
As an independent watchmaker in Germany, NOMOS has created an emergency aid model in its flagship collection, the Tangente. Compared to the prior, more-limited editions for MSF (such as the Ahoi that Rob covered here), the latest Tangente 38 model is a larger run of 2021 pieces and at a lower price point of €1,620 including VAT. It is important to note that €100 from each sale goes directly to MSF's Germany section (Registered charity number: VR 21575 B). And this special MSF edition carries the same price as the standard Tangente 38 model.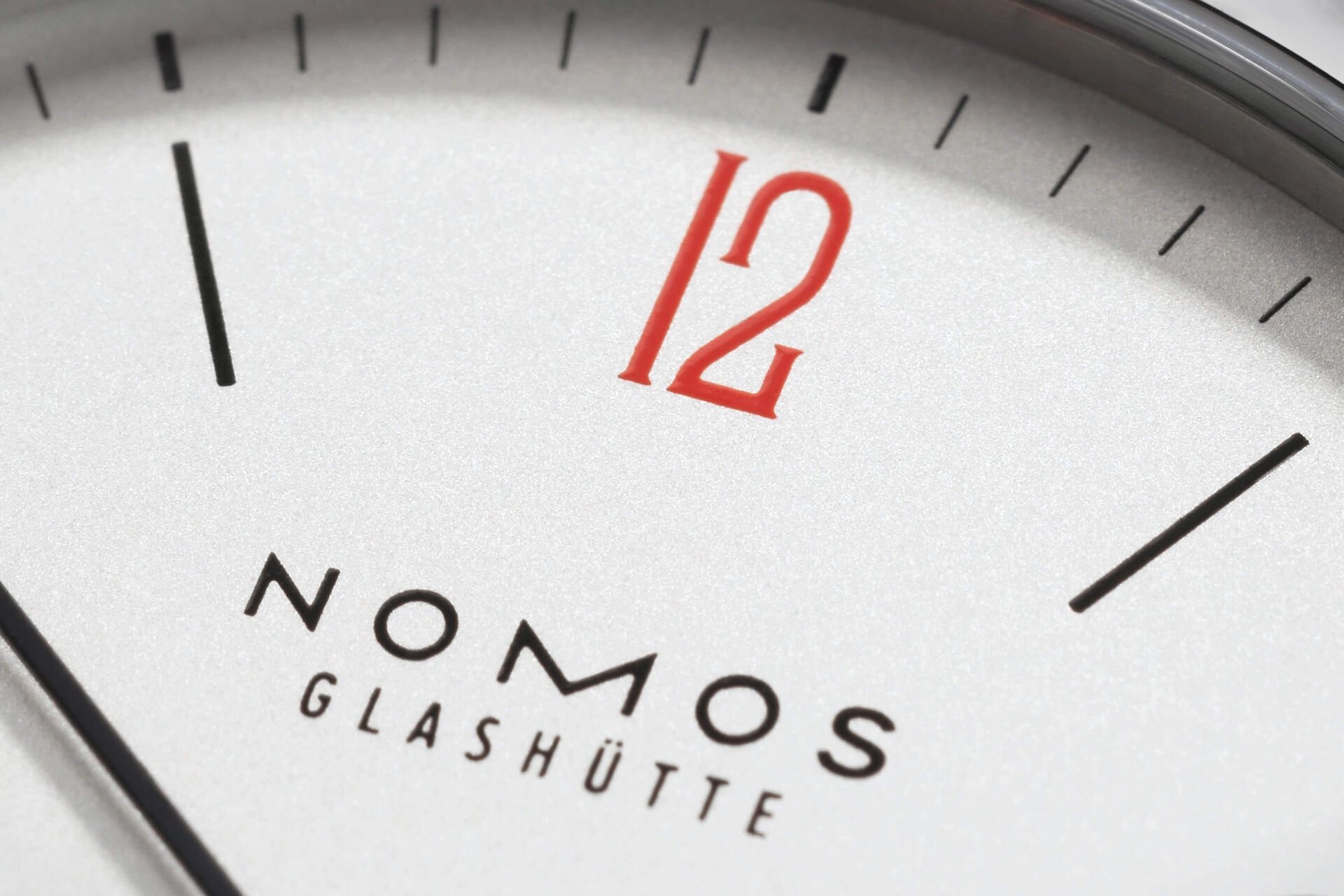 The Doctors Without Borders edition
A distinctive feature of the MSF edition is the "12" numeral in fiery red on the galvanized, white silver-plated dial. Red has been the color of MSF for half a century and is recognized for emergency aid. This is somewhat of a signature for the NOMOS MSF editions to identify the watches that lend a hand. The brand says it wanted to use a pop of color to raise more emergency aid awareness in the hopes of encouraging others to provide support.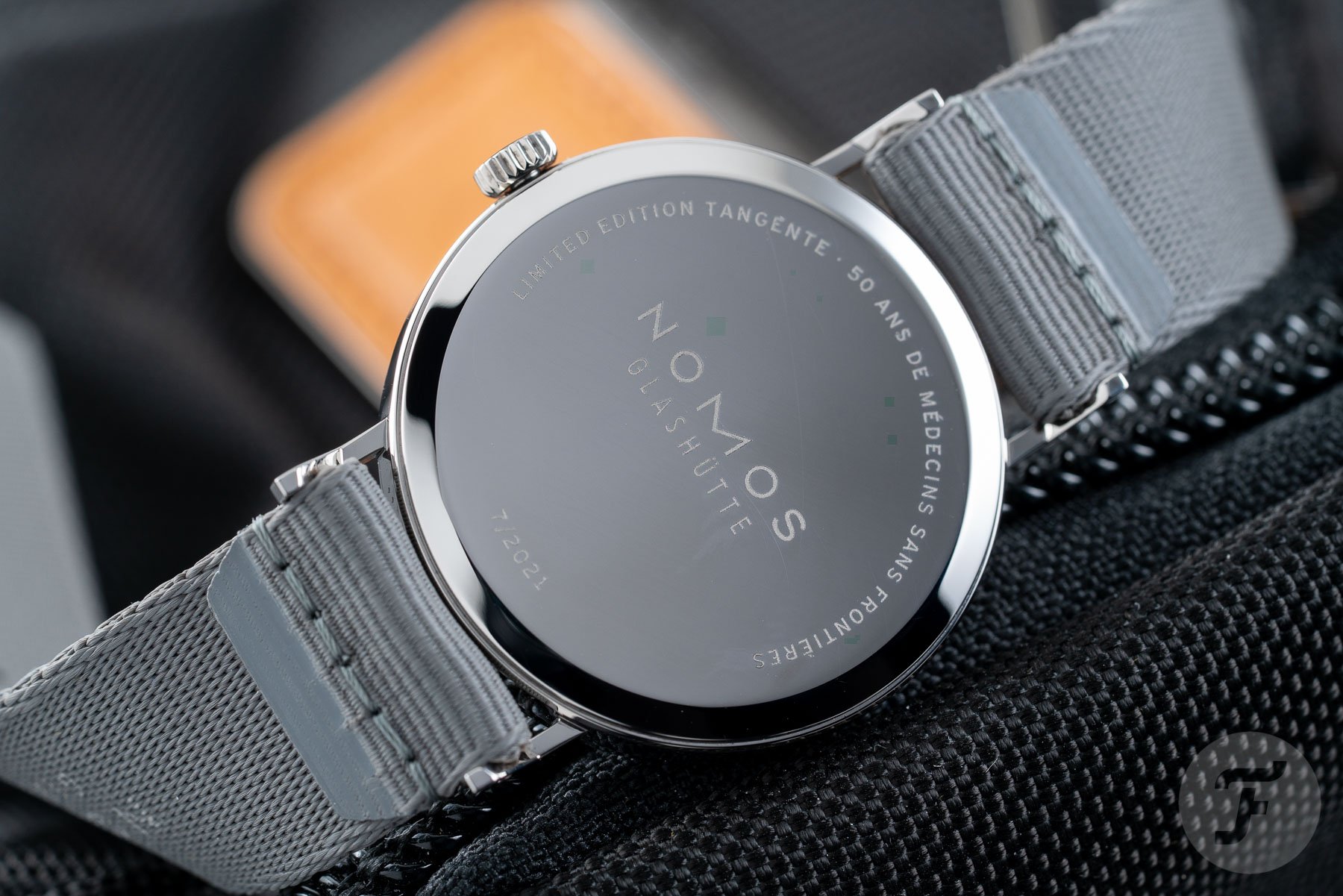 The MSF edition comes in a circular 37.5mm stainless steel Tangente case. It has a super-slim profile of 6.7mm in height, thanks to the manual-winding Alpha caliber. This in-house, handcrafted caliber is adjusted per chronometer standards. The highly precise movement offers a 43-hour power reserve, so it needs winding once every two days. This classic caliber is protected by a solid case back engraved with "Limited Edition Tangente – 50 ans de Médecins Sans Frontières" and a limited-edition number.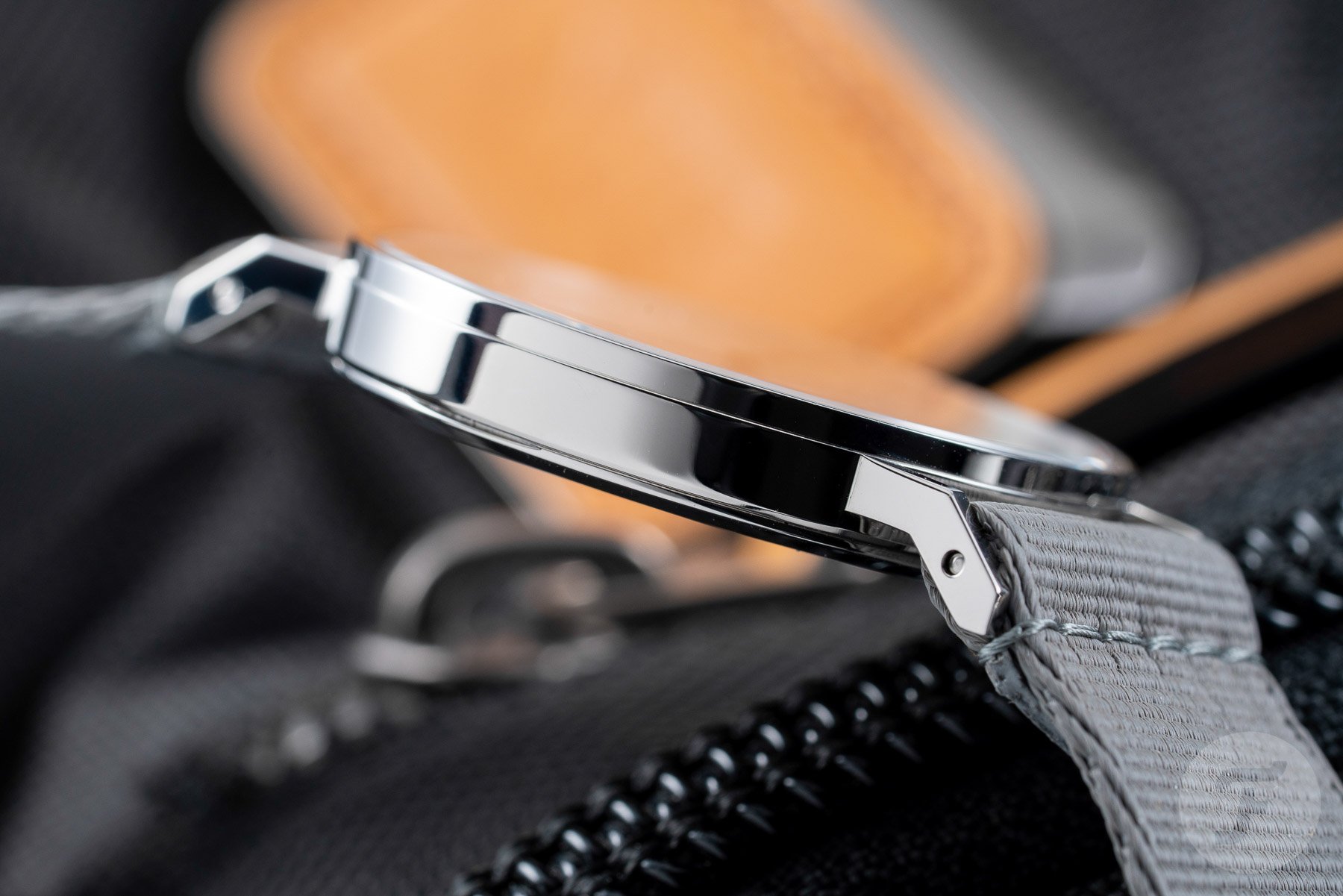 Around the front, the style is minimalist and unmistakably NOMOS. The hands are oxidized black against a super-clean dial. The NOMOS Glashütte wordmark sits below 12 o'clock. At the bottom arc below six o'clock, it has a small inscription of "50 ans de Médecins Sans Frontières". A flat sapphire crystal seals the case, and a gray textile strap finishes off the look.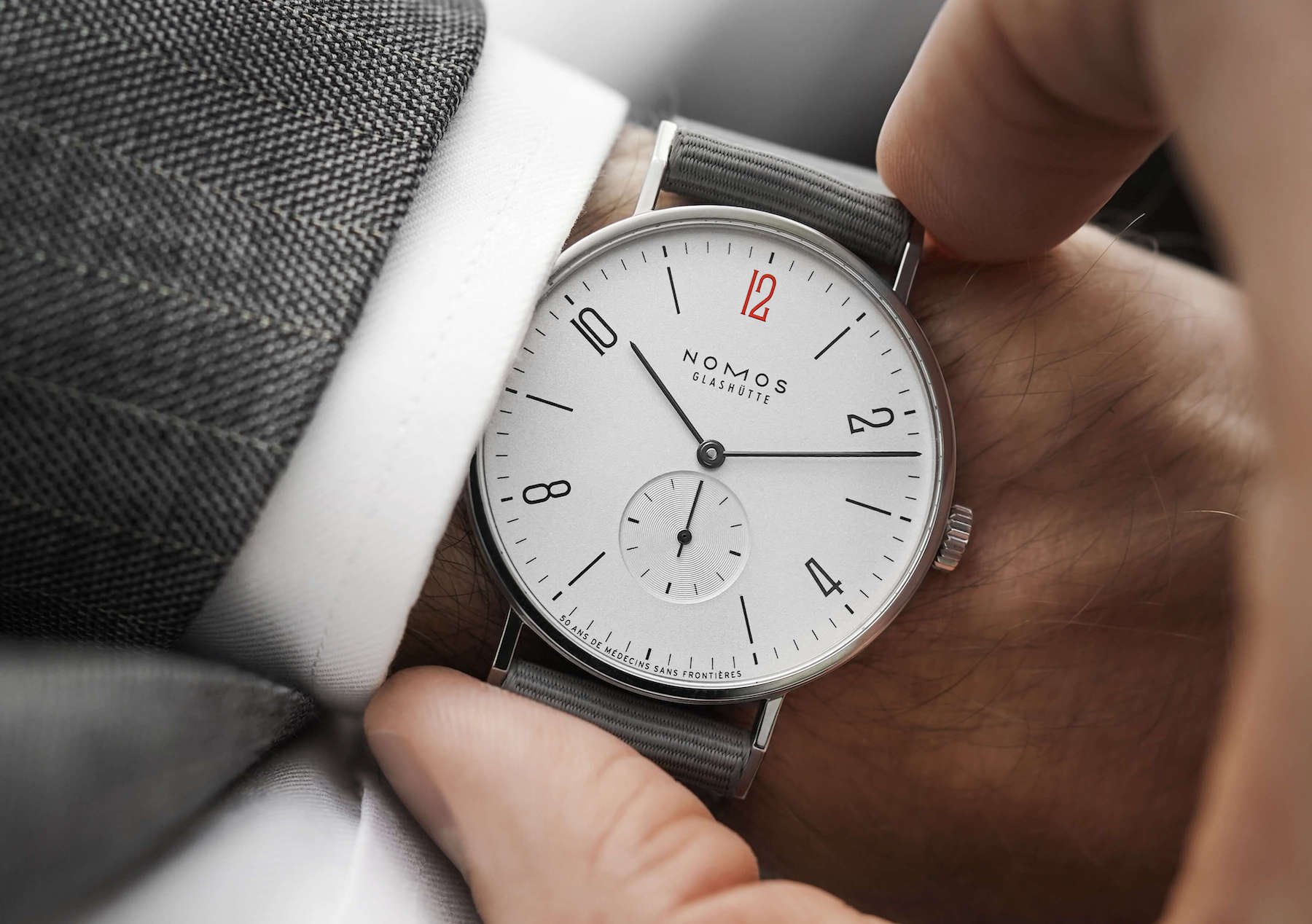 Ten years and counting
This year's Tangente 38 – 50 ans de Médecins Sans Frontières not only marks the 10th anniversary of NOMOS's involvement with MSF but also brings awareness and a reminder of those in need. In recent months, the war in Ukraine has exacerbated the devastation caused by local conflicts, the pandemic, droughts and crop failures, and so on. Of course, MSF certainly appreciates your donations. And those qualified can also give support by getting directly involved with MSF as healthcare workers or on the logistics side. In the watch community, it is good to know we have another way to contribute while talking and enjoying watches.
Learn more about NOMOS Glashütte's partnership with Médecins Sans Frontières here.
This is a preferred position post. Learn more.