Norqain Independence 20 Watch Marks Partnership With Kenissi
Norqain's tech just got a shot in the arm...
I regard myself as an enthusiastic cynic. I don't like much, but what I do like, I love. The Norqain independence 20 watch has some elements that really speak to me and others that don't appeal personally. Fundamentally, though, this watch heralds a brave new dawn for the brand as it raises the curtain on the Kenissi era. And if first impressions are anything to go by, it's going to be a good one…
We've known this was coming for a while. The partnership with mechanical movement manufacturer Kenissi was hot news earlier this year. It threw Norqain's relatively new name into contention with a lot of established and resurging brands using and about to use the same movements. And yet the vehicle in which Norqain would choose to debut its new proprietary caliber was unclear. Now we know.

The Independence 20 watch is a verdant vision. An arresting shade of green will, undoubtedly, be the first thing you see. Whether you like that shade or not may be the beginning or end of the discussion. But before you pass judgment, check out the wrist shots in this article. My first impressions of this color from the press photos were subject to change. It looks really bright, but in real life, the brand's description of it as a "forest green" makes more sense.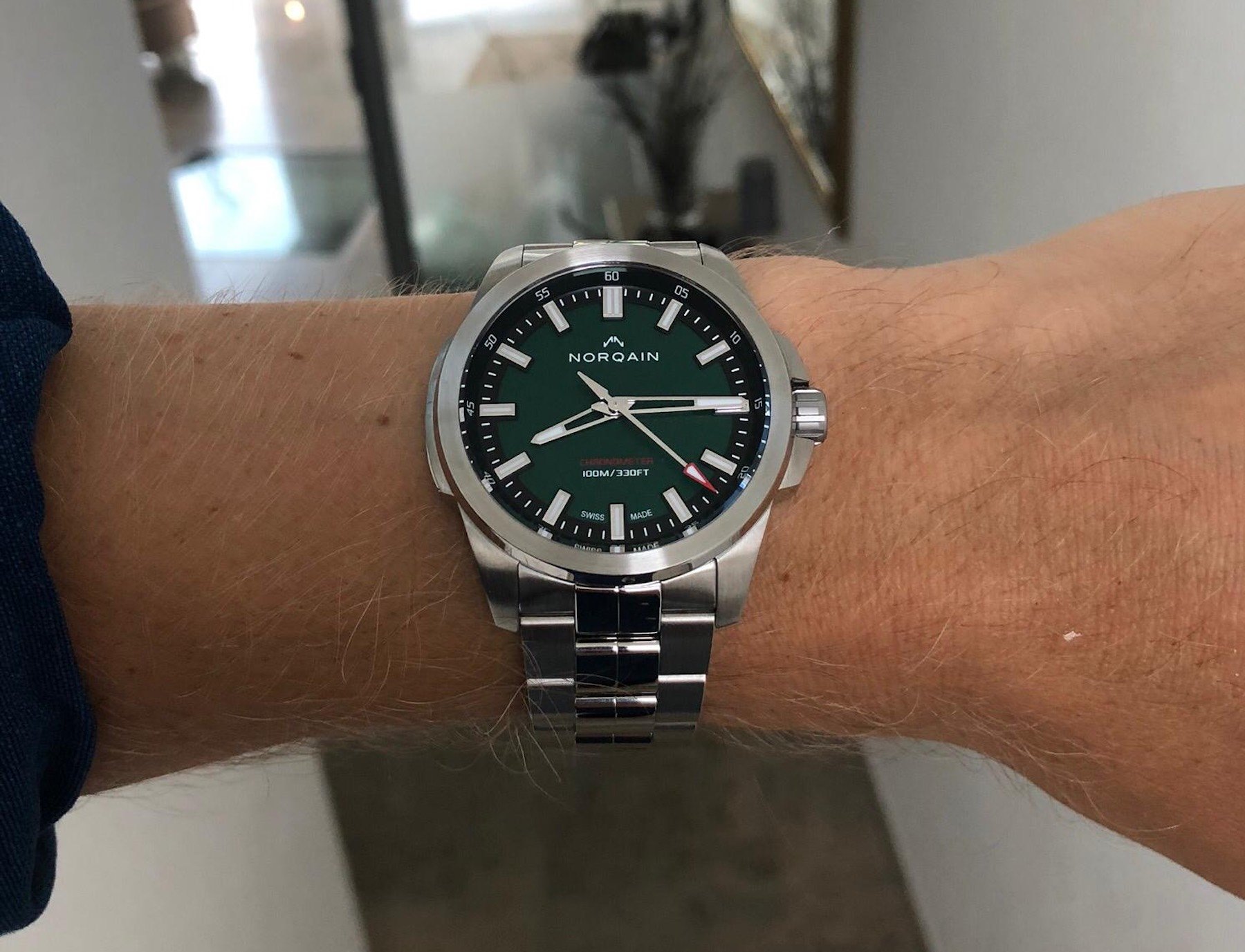 The dial
If you love it, great. If you don't, then bear with me. Let's take a look at its structure and design rather than the final hue. That element — although arguably the most important — is easily changed. The dial is a multi-dimensional beast. A rehaut ring is made even more complex by the addition of polished, applied, luminous hour markers (with a double stripe at 12). Furthermore, the rehaut itself is unusually complicated. Around the edge of the dial it starts off sloped. That section is printed with five-minute numerals. It then flattens out gracefully towards the subtly patterned surface of the dial.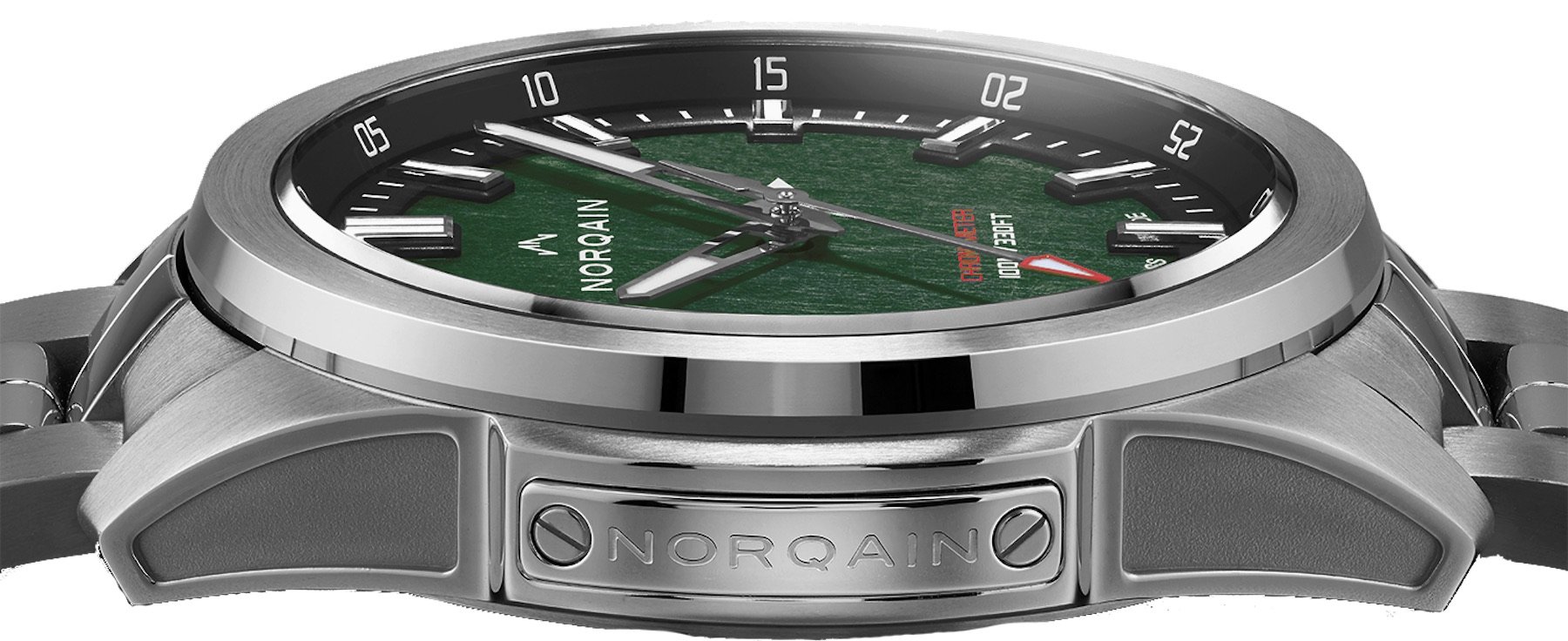 The criss-cross texture of the dial (best observable in the picture above) is an unusual but engaging backdrop. Each one of these "scratched" surfaces is unique. I am glad Norqain tried (and executed well) a new idea here. It is easy to mess this kind of experiment up. I am happy to say, the brand has not fluffed its lines at the first time of asking.
The wordmark is really nice and clean…
The logo for Norqain is not something I care for, but it is neat and crisp and makes sense (it is the first and last "Ns" of the name brought together to form a peak). The wordmark is really nice and clean and the characters have a pleasing kerning to my eye. The designers smartly kept the text between the center and 6 to just two lines. One of those lines is colored in the same red as used for the tip of the seconds hand, which provides a very satisfying chromatic link.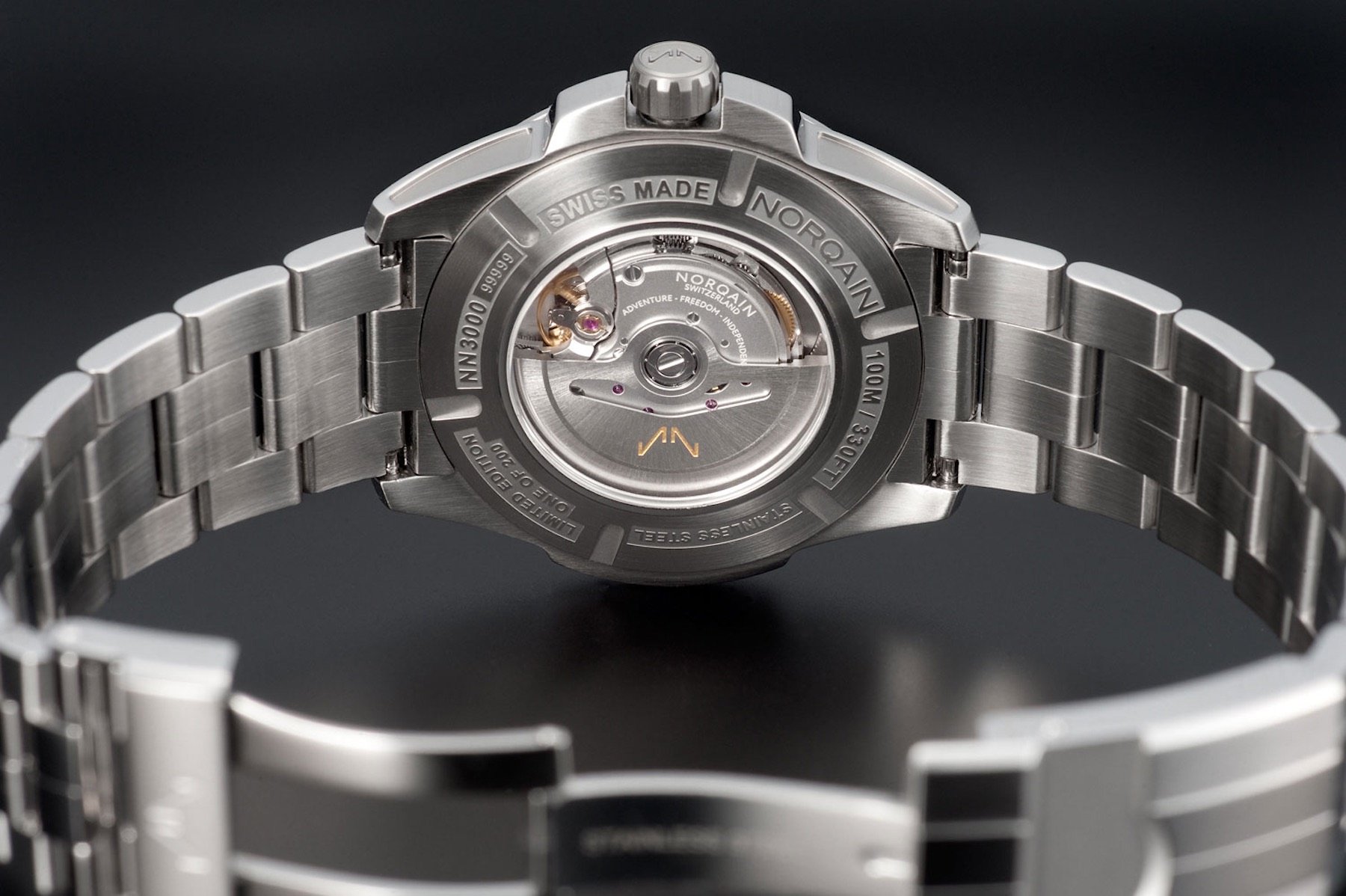 The really good stuff
Now we get to the really good stuff. The handset is divine. It is not perfect (the hour hand could easily have been filled-in entirely with lume so it remains more visible through the cut-out the minute hand as it passes over it) but it is darn close. This design is light (thanks to the skeletonization I just criticized) but robust. The forms are digestible but slightly novel. The seconds hand, which could easily have looked loud and crass, comes off as the star of the show. A lovely, thoughtfully designed counterpoise helps out on that front.
The crown is a strong design with thick, graspable grooves and a pleasing length that ends with a slimming chamfer.
I think the crown and 42mm case (with the exception of that plaque on the lefthand side) is a thing of beauty. It is not actually symmetrical but the presence of the lefthand "ear" upon which the plaque sits really balances the whole affair. While the customizable plaque is not, nor has ever been, my thing, they are certainly popular with customers. Reportedly, 80% of buyers in North America have opted to have their plaques engraved. That, I suppose, is what I would do if I had one of these on my wrist permanently.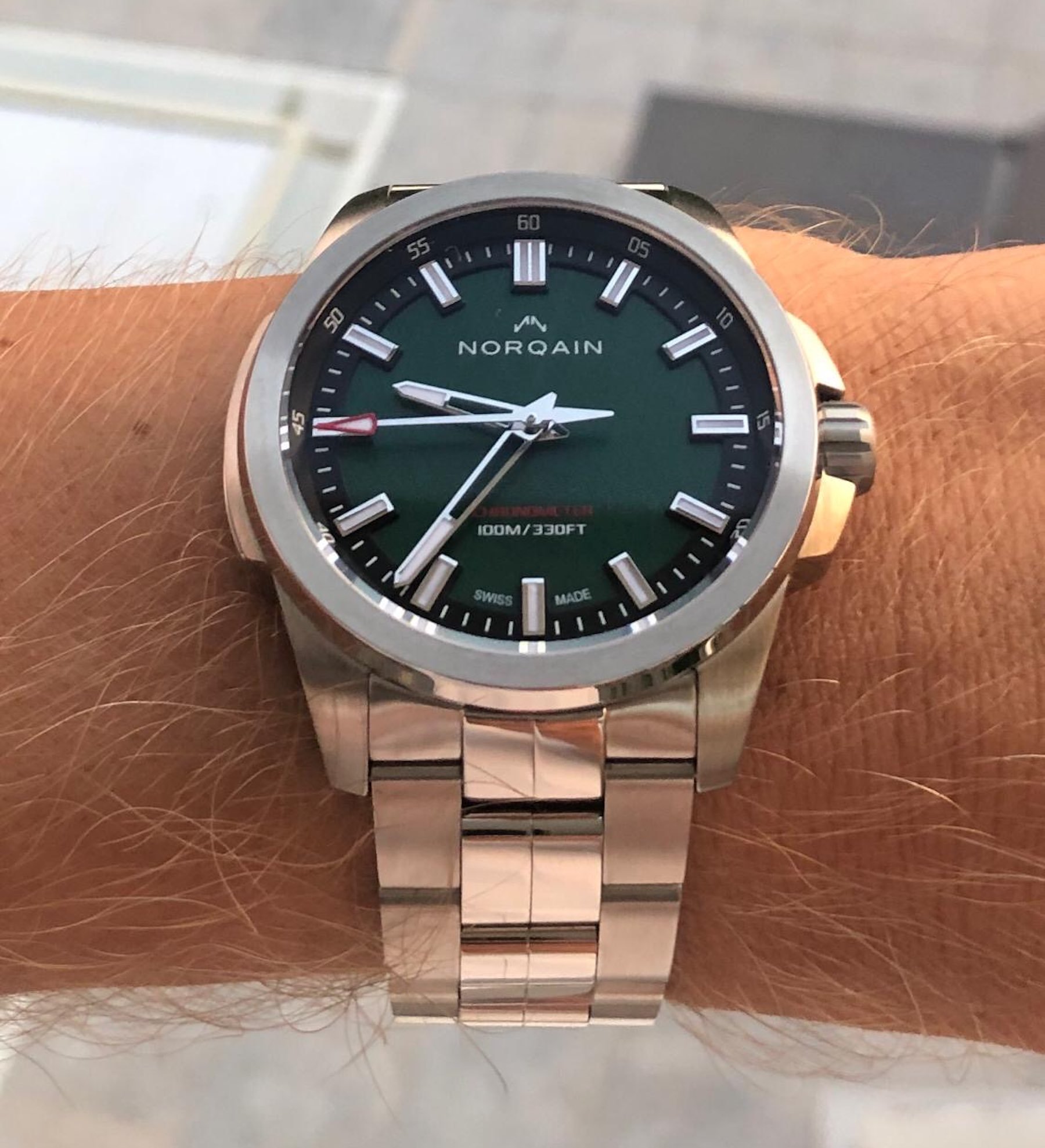 The crown is a strong design with thick, graspable grooves and a pleasing length that ends with a slimming chamfer. The flat-topped bezel with a polished chamfer is the kind of element that keeps me up at night, wishing I'd been behind its design. I've loved that style of bezel on previous watches and I love it here.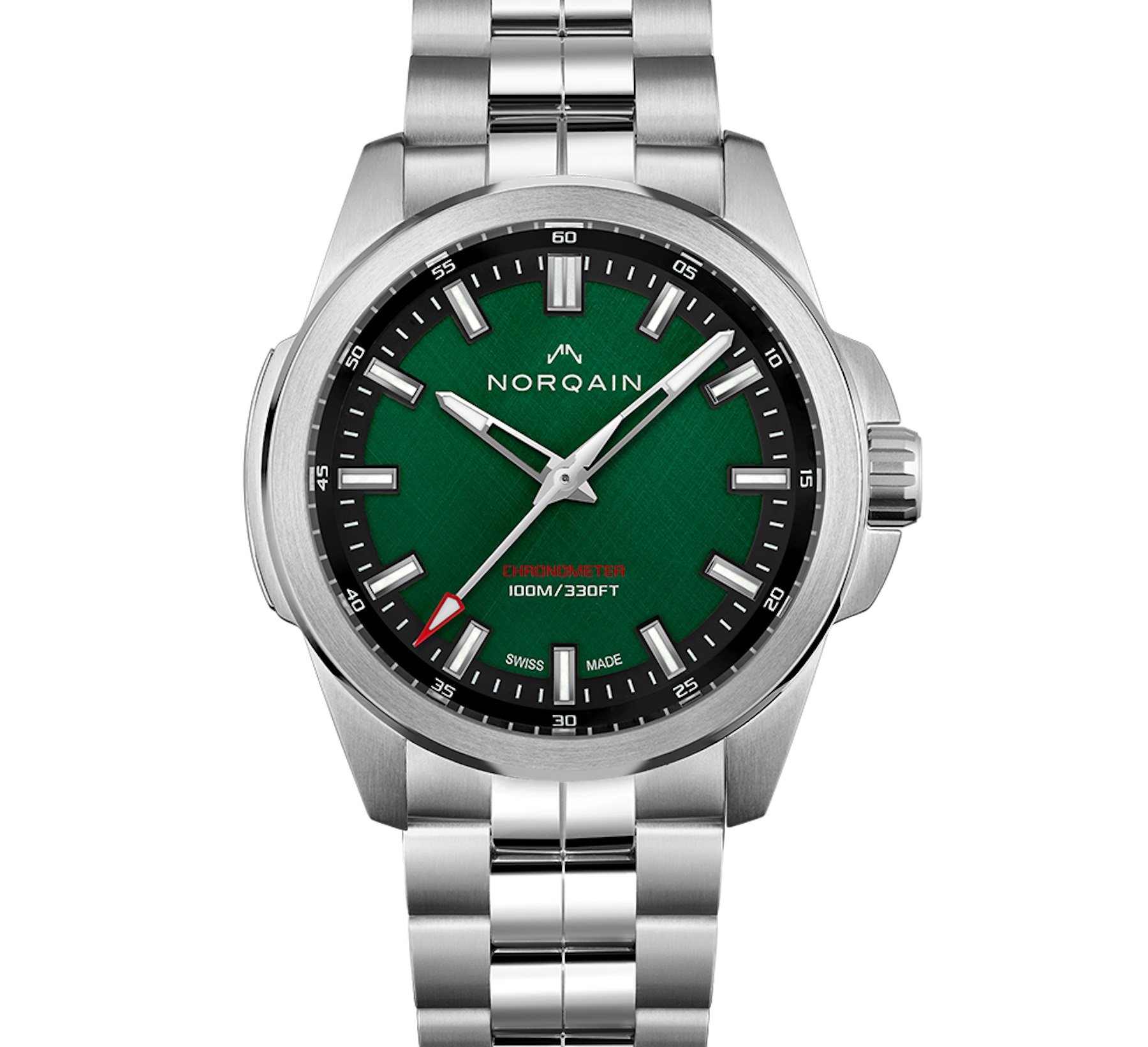 The bracelet and the movement
I've started wearing more bracelets than ever before but this one is not for me. I don't dislike it per se, but this watch, to me, looks far more at home on a strap. A rugged, brown leather strap would be my choice for the Norqain Independence 20.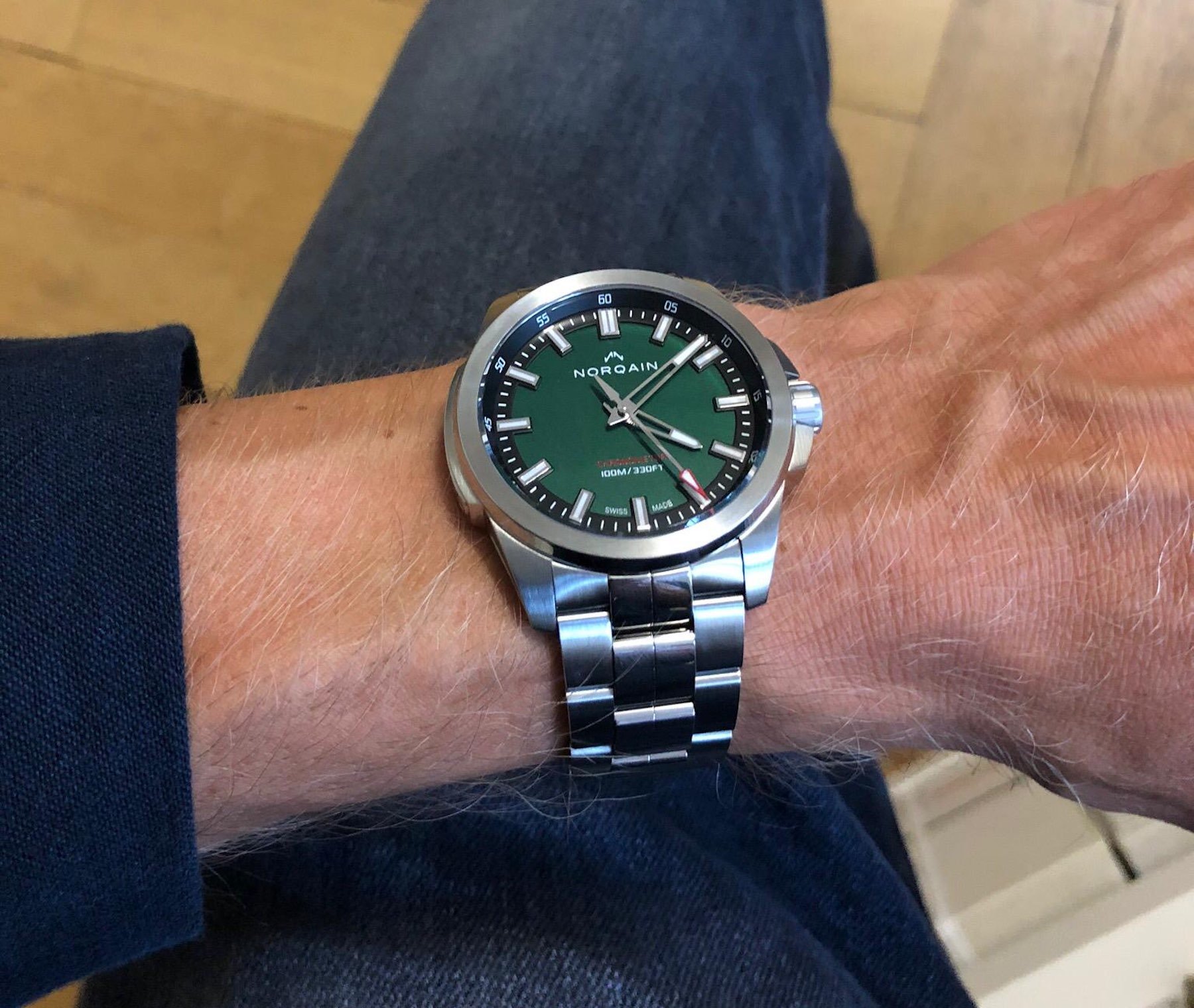 I could imagine taking this watch out on an adventure with me. I could see it on my wrist, chasing sunsets all around the globe. Running with that thought, if this watch ever comes out with a brown or burgundy dial, expect me to be very interested in adding one to my collection…
…it is no surprise that Norqain wanted to work with the manufacture…
And why not? The movement is great! It's no secret that Kenissi has strong ties to Tudor (as well as creating some of Chanel's more exciting calibers). With those kinds of credentials, it is no surprise that Norqain wanted to work with the manufacture; with promising releases like the Norqain Independence 20 watch, it is becoming increasingly obvious why Kenissi decided to green-light the partnership.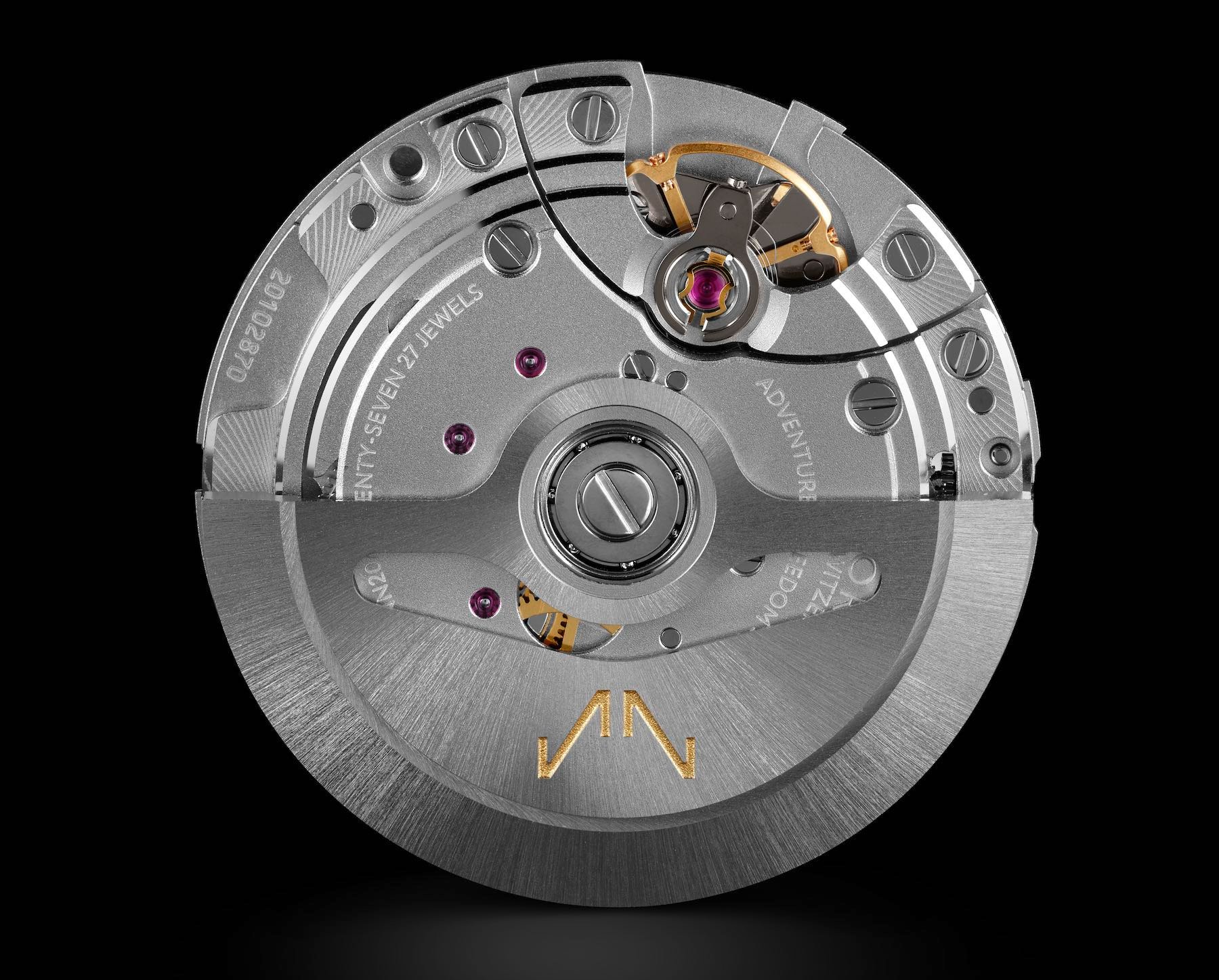 A new road
The Independence 20 marks the start of something. How that something progresses will be interesting for all of us to see. I must say I am pleased to see Norqain refusing to play it safe in pursuit of a visual identity for the brand that is strong enough to make the very most of the intriguing caliber NN20/1 within. Just 200 of this model will be available, priced at either CHF 2,990 on the bracelet or CHF 2,840 on the black leather. Pricing, with this release, was always going to be crucial. I think its retail price is competitive, but it will have to fight tooth and nail in such a competitive bracket.
…a serious contender…
That price puts it in the Tudor Black Bay range, which, given the shared movement manufacture, will be a serious contender on the Independence 20's journey to success. But I think it is sufficiently different from a lot of the models around it to stand a real chance of success. And with so few pieces available, expect this model to sell out by the end of the year. A standard four-year warranty (which is increased to five when the owner joins the NORQAINER club within a month of purchasing the watch) is another string to this offering's bow. Learn more about it and the brand here.