OMEGA 1957 Trilogy Limited Editions – Railmaster, Seamaster 300, Speedmaster'57
In 1957, Omega introduced three watches for professional use: the Railmaster for scientists and engineers, the Seamaster 300 for divers and the Speedmaster for sports, race car drivers and engineers as well. Now, 60 years later, Omega felt the time was right to bring hommage to these watches. Let us introduce you to the 60th anniversary limited editions of the Railmaster, Seamaster 300 and Speedmaster.
Holy Trinity of Omega
The rumor machine started a while ago already, will there be a re-edition of the Speedmaster CK2915? What about the Seamaster 300 and Railmaster? Those are also 60 years old. Very true, and of course Omega did not forget about that. You don't need to be psychic to see what was coming from the manufacture from Bienne. In 1997, they already released a relaunch model of the Speedmaster CK2915, but using the regular Speedmaster Professional case. There was also a Railmaster re-introduced (and discontinued) a while ago, Michael Stockton wrote about it here. The Seamaster 300 was re-introduced in 2014, but designed based on modern standards.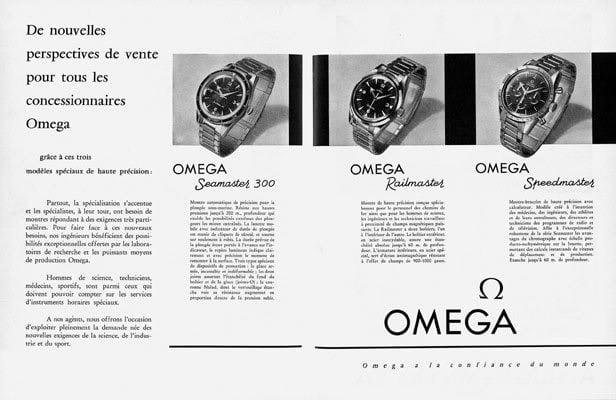 Two Series – 557 Pieces and 3557 Pieces
Omega introduces a special box with all three watches inside, limited to 557 pieces in total. But don't worry, these watches will also be available separately, limited to 3557 pieces in total. The trilogy box as well as the separate boxes will be in the same style as the original packaging from 1957. There is the Seahorse on the lid of the box, a retro Omega logo and red corduroy lining. The larger box for the trilogy limited editions contains two spare straps; leather and NATO, as well as a tool to change them.
Railmaster Reference 220.10.38.20.01.002
Let's start with the Railmaster. The watch for engineers that required a watch that was anti-magnetic and very readable in all circumstances. Although originally this watch came with a hand-wound movement, the new Railmaster refernece 220.10.38.20.01.002 is equipped with the latest caliber 8806 movement that is certified as Master Chronometer which means it will still perform well within chronometer standards even when exposed to magnetic fields up to 15,000 gauss. We did a write-up on the Master Chronometer standards (certified by METAS) in this article a while ago.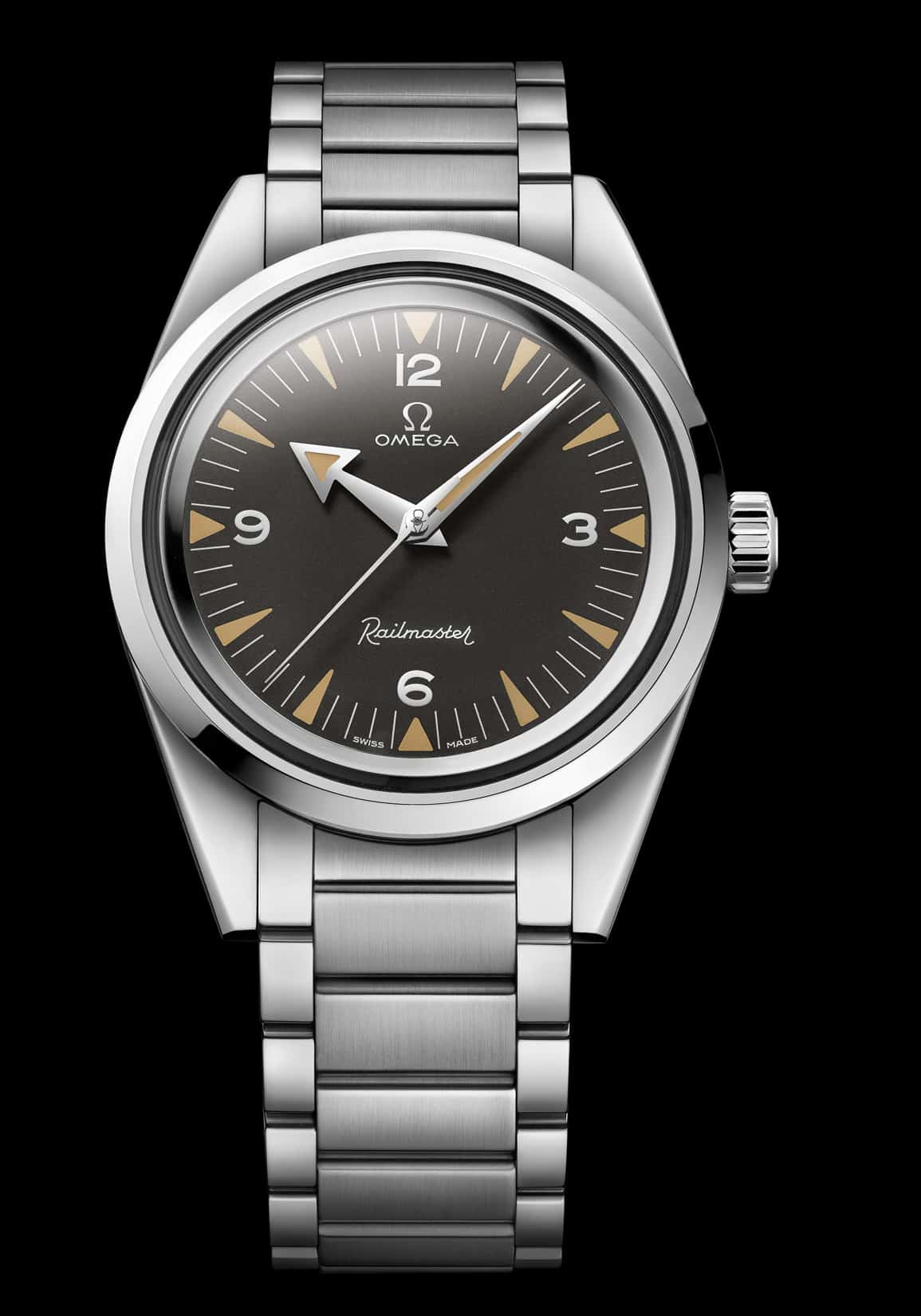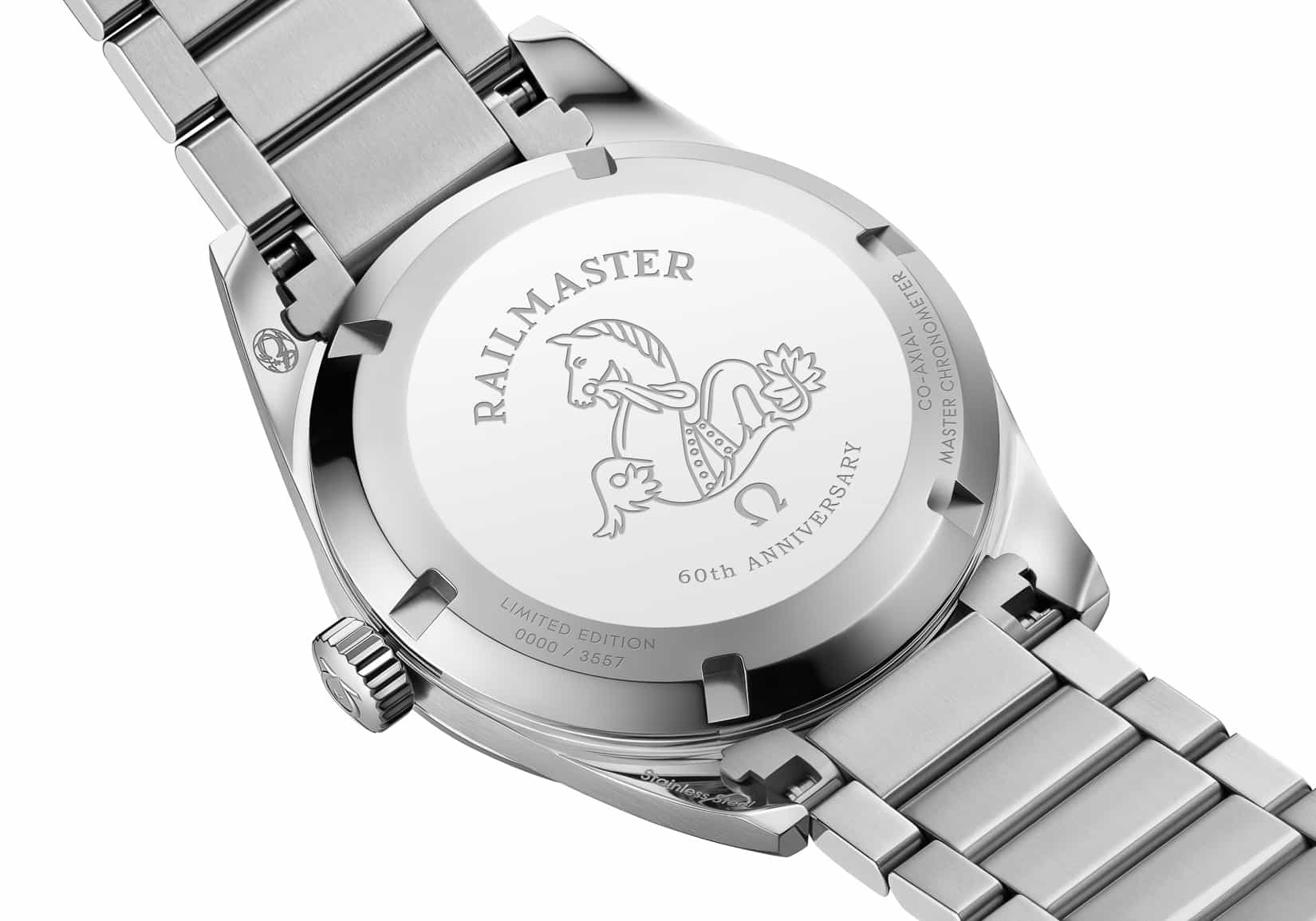 This 38mm re-edition of the original Railmaster CK2914 comes very close to the original. A lot of details have been respected by Omega. Of course, the new movement, a sapphire crystal and use of Super-LumiNova make it a 2017 watch that comes with 4 years of warranty.
The retail price of the new Omega Railmaster is set to 6300 Swiss Francs (excluding sales taxes).
Seamaster 300 Reference 234.10.39.20.01.001
The Seamaster was already there in 1948, but in 1957 it was time to make it a professional divers watch. The Seamaster 300 (water resistant to 200 meters, but that was mainly because the testing equipment didn't go any further) was their answer for professional divers who were looking for something reliable and usable in great depths. The original Seamaster 300 had reference CK2913 and the same case design as the railmaster, be it a tad bit larger, 39mm. This new 2017 Seamaster 300 limited edition also measures 39mm and uses the Master Chronometer caliber 8806 movement as well. Again, this watch respects the original design elements, including a re-interpretation of the original reference 7077 bracelet but has been fitted with a sapphire crystal and uses Super-LumiNova of course.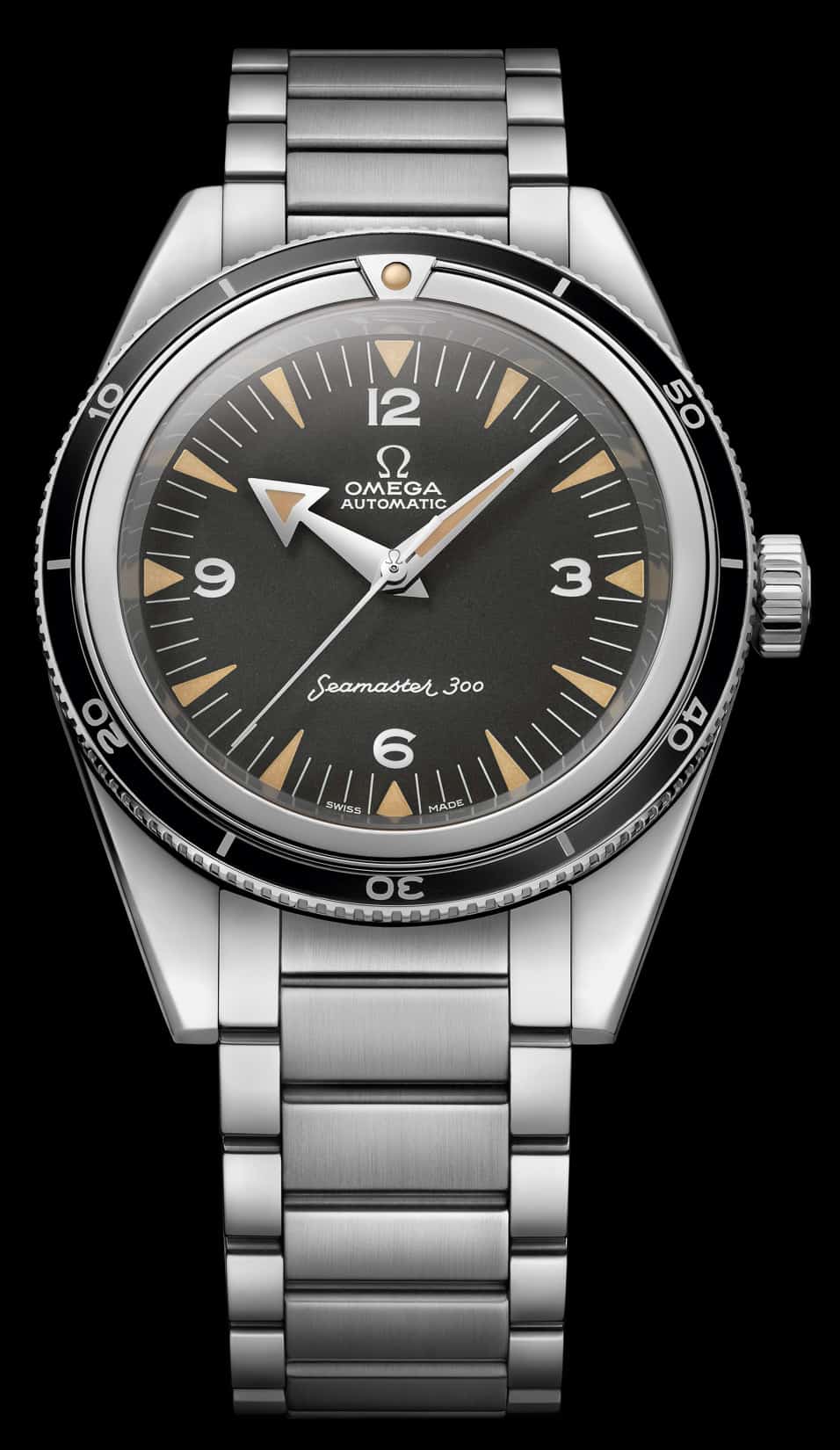 The retail price of the new Omega Seamaster 300 is set to 6500 Swiss Francs (excluding sales taxes).
Speedmaster'57 Reference 311.10.39.30.01.001
Last but certainly not least, the re-edition of the holy grail to many Speedmaster enthusiast, the Speedmaster reference 311.10.39.30.01.001. Don't worry, Omega got it right and put a Hesalite on it and the trusty caliber 1861 inside (a relief eh?). You will have to look twice next time you see an original CK2915 or this new reference to identify which is which. Some might have hoped for the caliber 321 movement, but as far as we know the rights for this movements are still with Breguet. Never stop hoping though. This Speedmaster has the straight lug case, 7077 style bracelet and a diameter of 38(.6)mm. So, you could say a better interpretation of the CK2915 than the 42mm Speedmaster'57 they did in 1997 (or the later caliber 9300 model that we discussed here).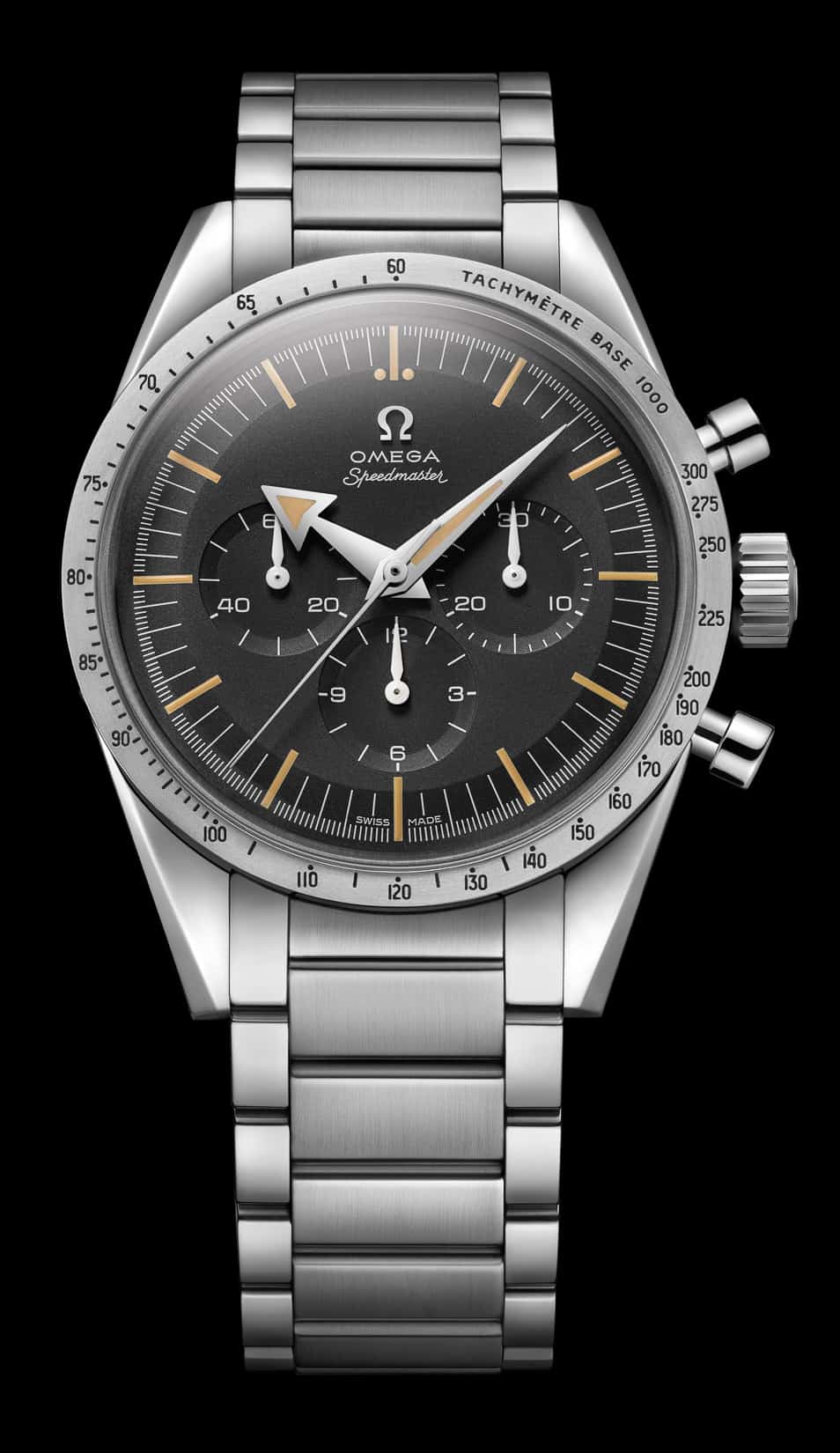 A Dot-Over-Ninety bezel, broad arrow hands, no crown-guards, the typography etc. It all matches to be that awesome anniversary piece of the Speedmaster.
The retail price of the new Omega Speedmaster 311.10.39.30.01.001 is 6700 Swiss Francs (excluding sales taxes).
Some Thoughts
We will have a look at the watches in the flesh tomorrow. As always, Omega has us first thing in the morning on the first day of BaselWorld, for which we are thankful. The price of the total set has not been officially communicated yet, but we are pretty sure it is around the 20.000 Swiss Francs mark due to the extras you will be receiving with these watches.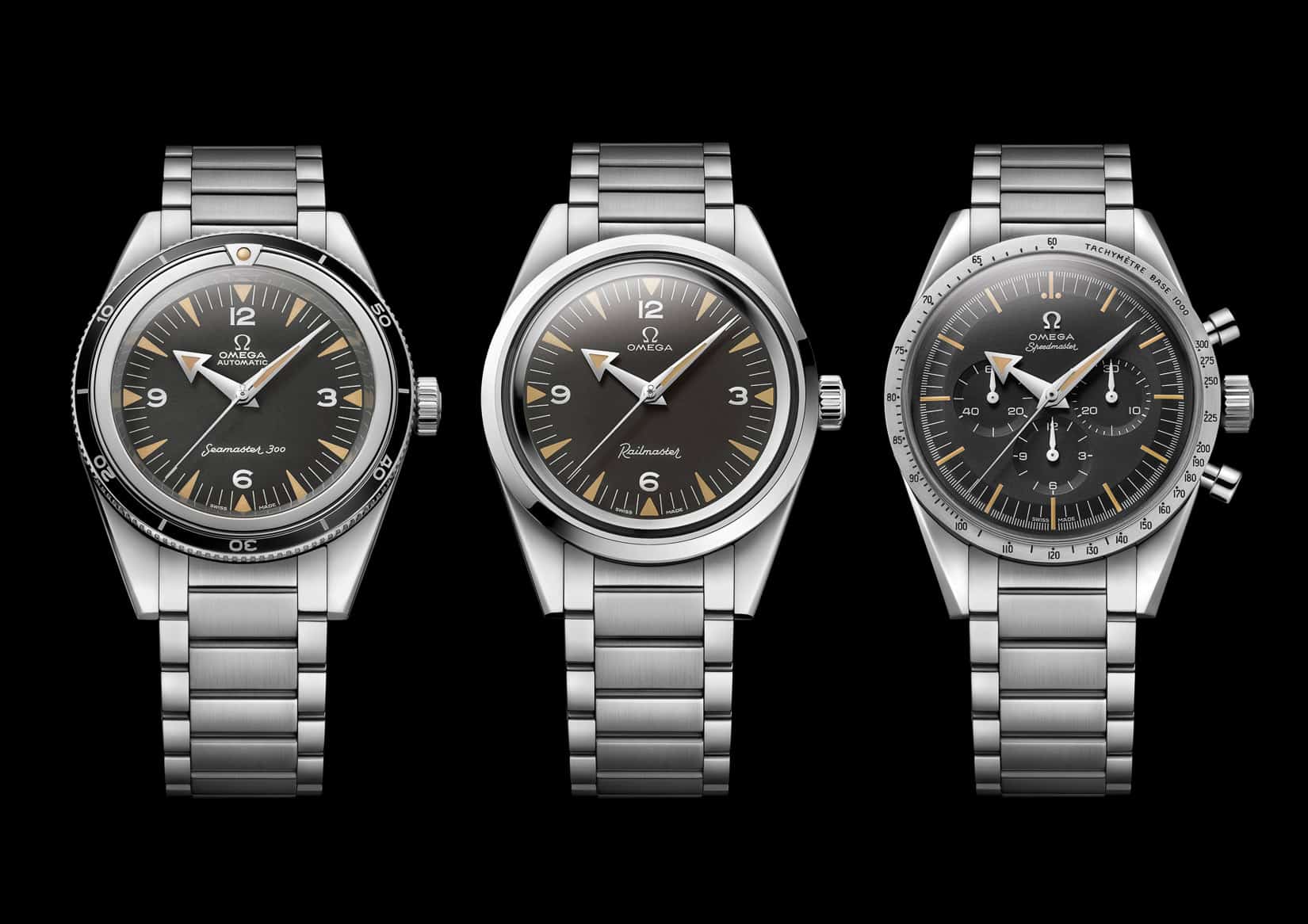 These watches are a dream come true for many Omega enthusiasts and collectors. They are nicely done and have the spirit of the very first references CK2913, CK2914 and CK2915 with their broad arrows hands, straight-lug cases and flat 7077-style bracelets. There's little we can criticize based on these images, although some might rather have seen the Hesalite on all three watches. However, it would not be a deal-breaker for us 🙂 We are curious how the bracelet is in the flesh, if it has the same feel to it as the original 7077 and perhaps whether it also comes with flex-links.
We will make sure to have an article and some live images ready for you tomorrow.