Omega Geneve – A Rare Chronometer
When watch lovers look at the Omega Geneve collection most of them think about the lower valued so called entry-level vintage Omegas. It is wide known among Omega collectors that back in the day when Omega introduced the Geneve collection it was meant to be one of the flagship lines of the brand though. By the mid- to late 1960s Omega shifted their attention.
The Speedmaster collection was very successful (and we all know why). The Seamaster collection with its diver watches was also doing great and with the introduction of a few new Seamaster chronographs the brand was getting to a wider audience than ever before. Older collections like the Omega Geneve was re-positioned and put in the market as a entry-level watch.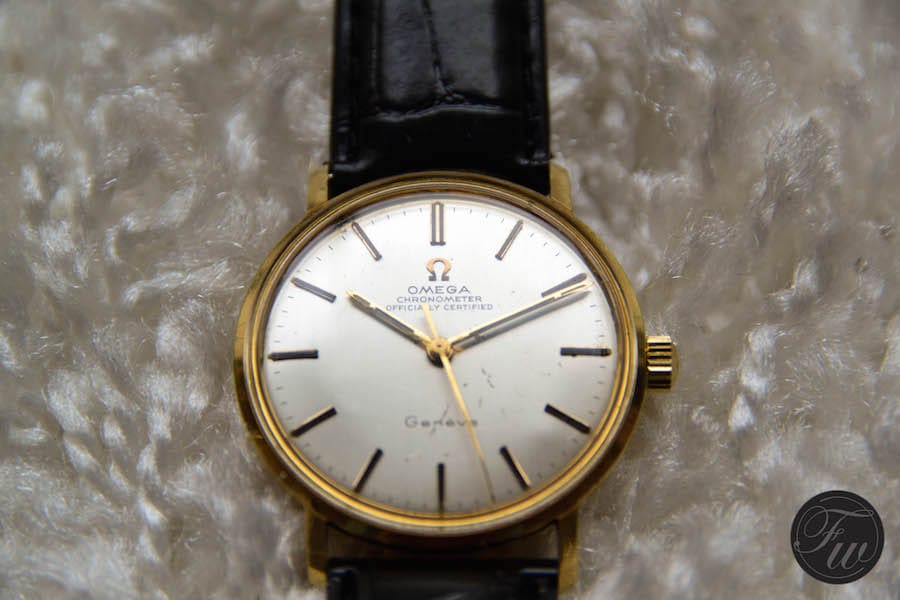 Omega Geneve
The designs of the 1970s Omega Geneve watches were outstanding nonetheless. So many different shapes and colors hardly any other Omega collection could compete with that. The watch we are about to explore is a bit different in a way that at first look it's just another "regular" Omega Geneve. Upon closer inspection however, we realize how wrong we were. Meet the Omega Geneve manual wind Chronometer.
First, let's have a look at the specifications: 33 mm diameter, round, Unicoc (or monocoqe), 18k solid gold case. Inside beats Omega's caliber 602, based on caliber 601 with an added bonus of being Chronometer certified.
To understand the significance of this watch we have to understand the movement that's in it. The caliber 602 – as said before – is a variation on Omega's base caliber 601 that was used for probably thousands of watches at the time. However, the caliber 602 was only used in this Omega Geneve with reference number 137.0001. If you happen to have Omega's a Journey Through Time book, it clearly mentions the watch with this movement as being "rare".
According to various sources, only 4000 pieces were produced of this Omega Geneve watch. That is not all, as the caliber 602 is a manual wind and not an automatic movement. Until recently – when Omega released the Seamaster Railmaster Chronometer – this Omega Geneva ref. 137.0001 was the last manual wind movement produced by Omega.
What is a Chronometer? You can find answer to that on COSC's website:"A chronometer is a high-precision watch capable of displaying the seconds and housing a movement that has been tested over several days, in different positions and at different temperatures, by an official neutral body (COSC). Each chronometer is unique, identified by a number engraved on its movement and a certification number given by the COSC. Each movement is individually tested for several consecutive days, in 5 positions and at 3 temperatures. Each movement is individually measured. Any watch with the denomination "chronometer" is provided with a certified movement."
The case is also pretty special. I have mentioned before that it is housed in a Unicoc – or monocoqe – case. This is the so called front-loader case used by many Seamaster models as well for instance. Access to the movement has to be made through the dial side by removing the crystal and crown with a special tool – Tool 105. These cases were used to provide water resistance to the watch yet I do not think anybody ever thought about taking it under water even when it was new.
The watch came with 3 case variations; 18K yellow, pink and white gold as well as 14K yellow gold. You can check whether yours is 18 or 14 Carat gold by finding the hallmark on the lug of the watch. Compared to modern standards this is a relatively small and thin dress watch.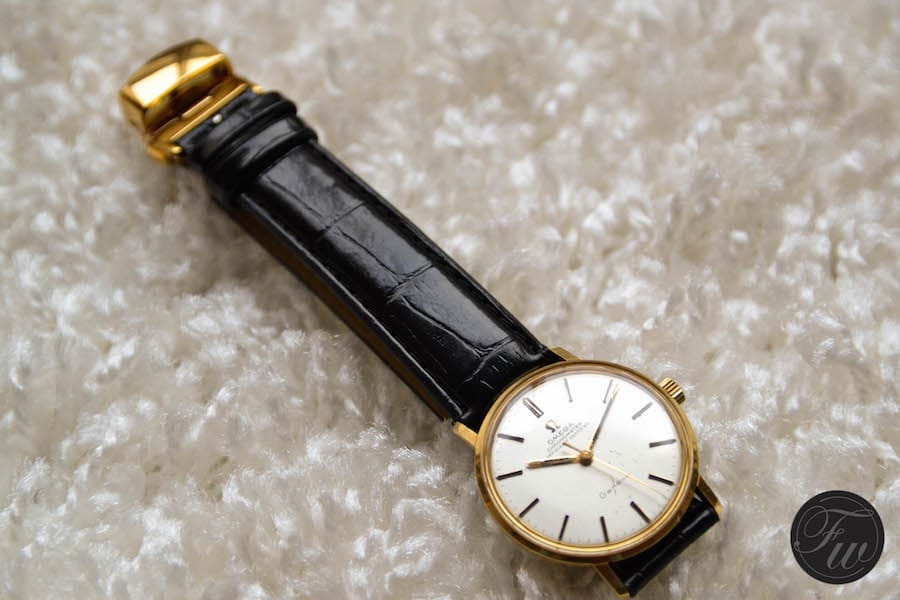 The dial is very plain, simple and classy with some added "spice". Journey Through Time has the following description of it:
"…sun-brushed silver dial, minute circle with strokes, polished and riveted baquette hour markers, gold baton hands with a black line…"
Under 12 o'clock you see the applied Omega logo, same logo you would find on the early Speedmaster dials for example. Under the logo it says "Omega" and then comes the spice. Under Omega you can read: "Chronometer Officially Certified". The name "Genéve"is above the 6 o'clock as you would find with most the basic models. Pretty decent looking dial if you ask me. Not too busy but still interesting.
This watch flies under the radar for most watch guys unless they really know what they are dealing with. The monetary value might never reach the price of an Ed White Speedy much less a vintage Rolex Submariner for that matter but it is a very important piece in the history of Omega, a rare find and a great conversation starter. I have only come across one for sale recently and not many articles cover the topic either.