Omega Seamaster Professional Automatic Chronometer 300M Diver Midsize Watch In White Gold
A sporty white gold gentleman from the early 2000s surfaces on Zeitauktion
It will be difficult to not use the name Yacht-Master in this write-up. One glance at the midsize Omega Seamaster Professional Automatic Chronometer 300M Diver watch is enough to show you very clearly what I mean. Doesn't that bezel ring a bell? It does, doesn't it? The edgy shape of the uni-directional white gold bezel is distinctly Seamaster and the same goes for the wave pattern on the deep black dial. This dressy Seamaster is quite the sophisticated yachtsman. Or noble diver, if you prefer.
With its 36.25×11.5mm white gold case, the midsize Omega Seamaster Professional Automatic Chronometer 300M Diver watch (ref. 2652.50.91) is a very versatile creature. Because of its modest size, it slides under the cuff with ease, and because of its 300m water resistance, this noble Seamaster slides into the water just as naturally. Inside the white gold case from the early 2000s (spotted on Zeitauktion) beats the 23-jewel, rhodium-plated Calibre 1120. An ETA-based, COSC-certified automatic chronometer movement with a 44-hour power reserve. Why do I, and most of the others at Fratello HQ, like it? Let's try to explain that without using the name mentioned in the first sentence of this article.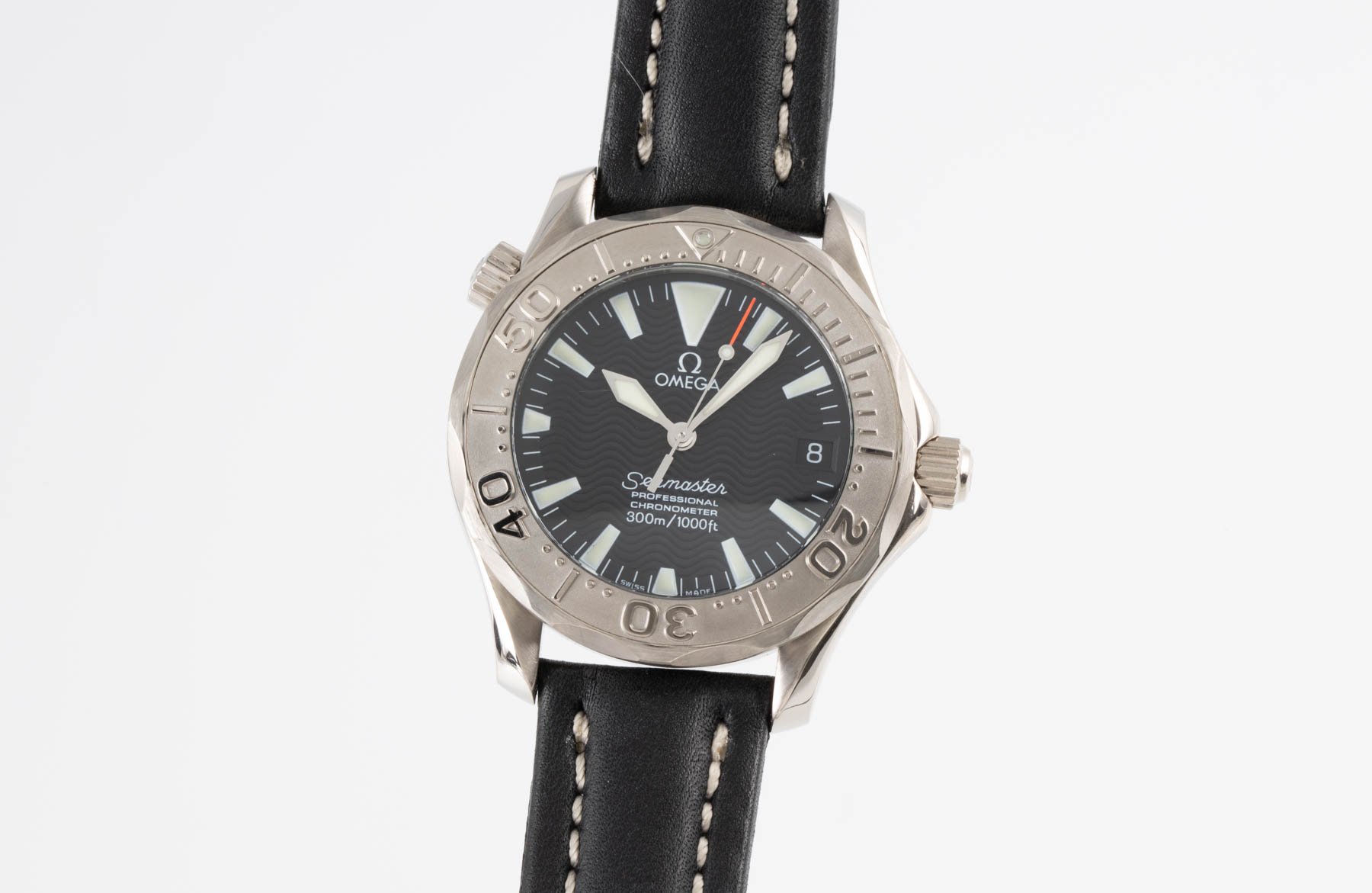 Omega Seamaster Professional Automatic Chronometer 300M Diver Watch
In 1993, Omega brought a new watch into its Seamaster family: the Seamaster 300M Diver. All model variations were water-resistant up to 300 meters and featured a proud helium valve at ten o'clock. That look has been tweaked over the years but basically never changed. And that's probably why the midsize Omega Seamaster Professional Automatic Chronometer 300M Diver from about twenty years ago still looks fresh. It's an unusual and exclusive version in an 18k white gold case.
To separate the steel boys from the gold men, Omega didn't put a contrasting aluminum inlay in the bezel on top of the case. Instead, it opted for a white gold version with raised numerals and indexes that blends in. It's this subtle touch that softens the look of the watch ever so slightly. The result is a classy, luxurious, even sporty, but also slightly understated look. Just like the…
Not your typical tool watch
We can talk about the functionality of this particular Omega Seamaster Professional Automatic Chronometer 300M Diver and bring up the ISO 6425 standards for diver's watches. That standard states that the bezel needs to be protected from turning in the wrong direction. But this white gold version is not your archetypical no-frills tool watch. So let's focus on the more romantic aspects.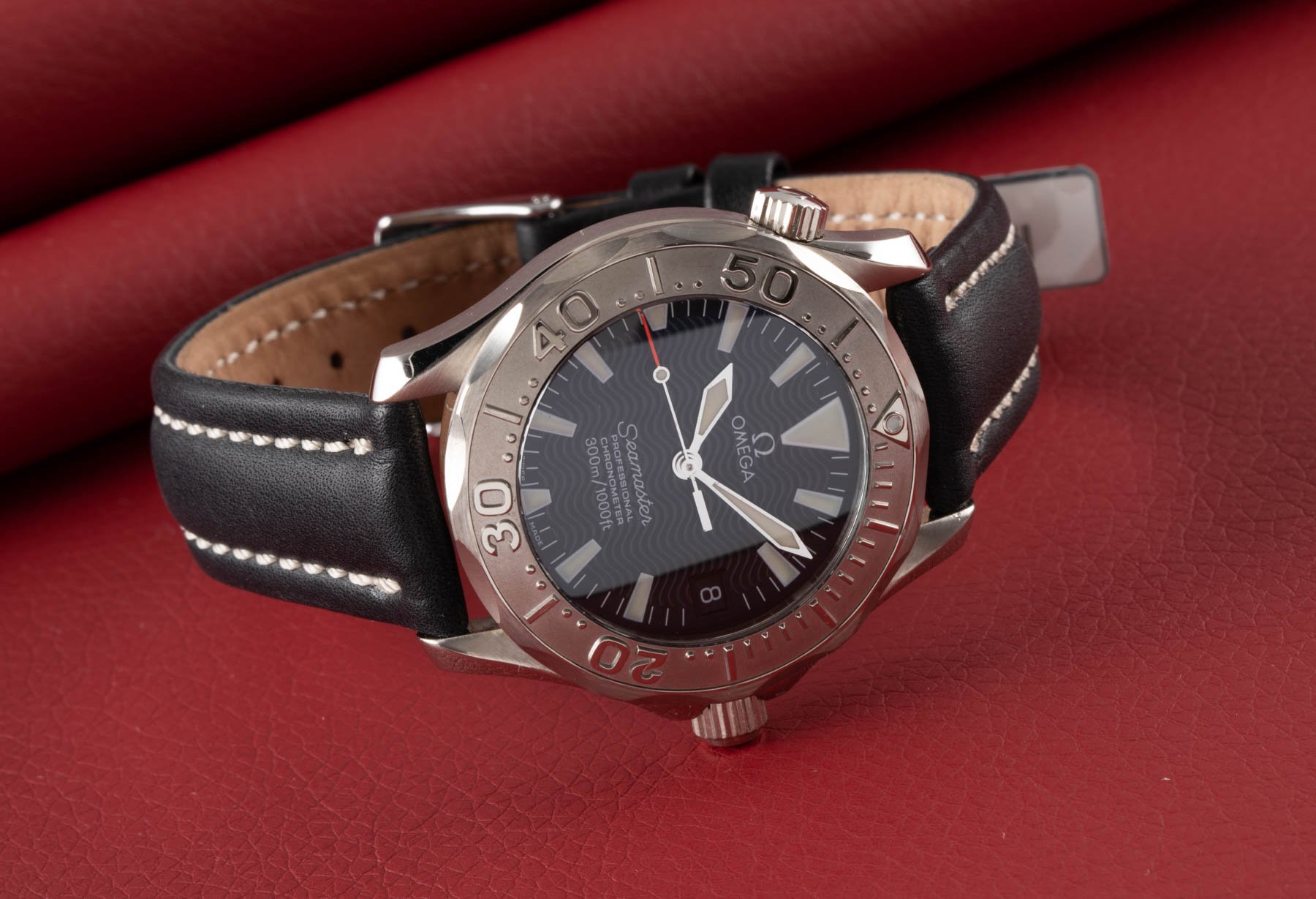 Just like the watch of a legend
The Omega Seamaster Professional Automatic Chronometer 300M Diver that's up for grabs on the Zeitauktion website, makes the well-informed Seamaster fan think of one model in particular: the America's Cup edition from 2000. This ref. 2533.50.00, a 41.5mm steel Seamaster 300M Diver with a white gold bezel, was presented as the official America's Cup watch. It's also the watch connected to Sir Peter Blake (1948–2001).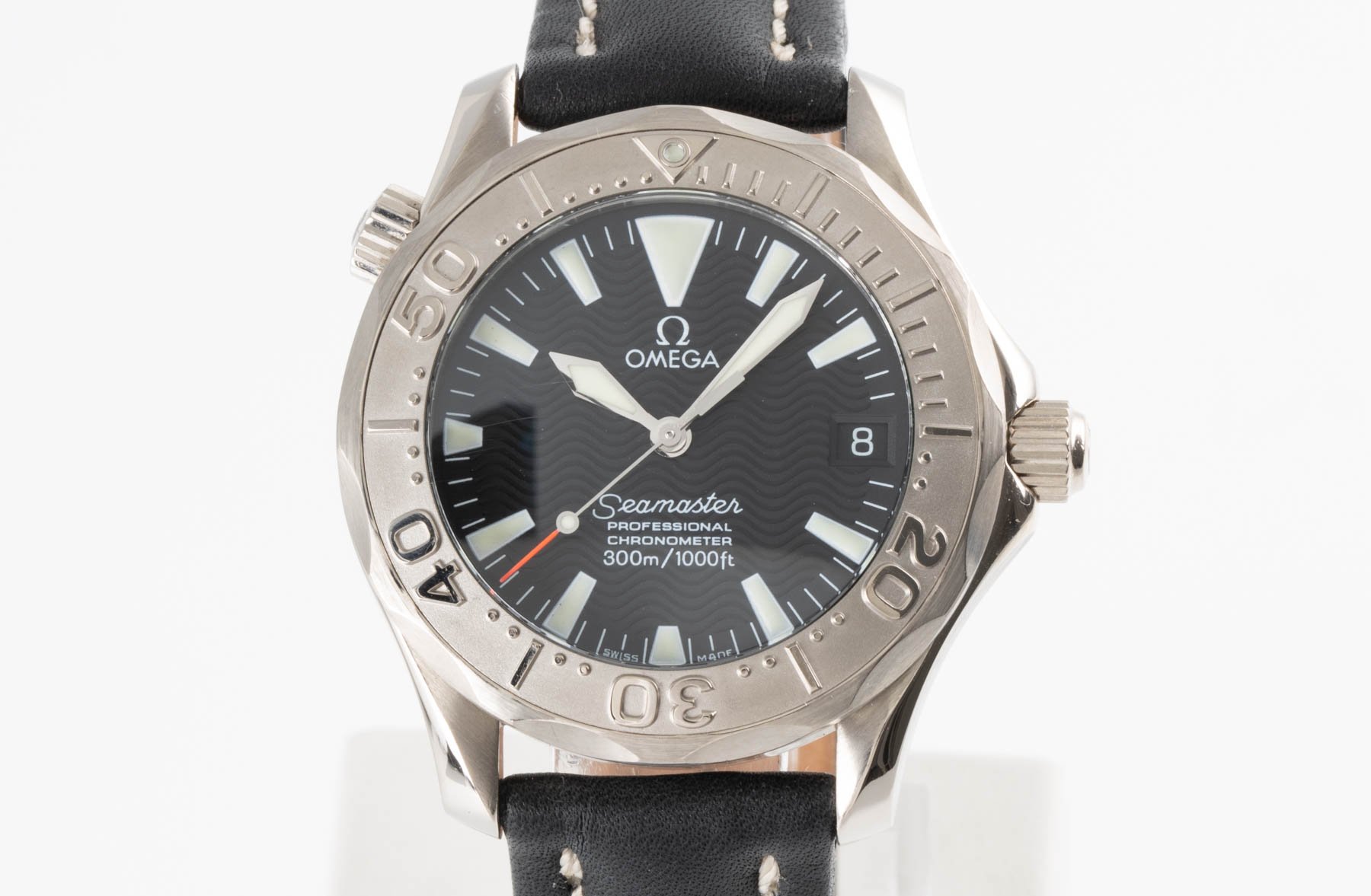 New-Zealand-born Blake won everything there is to win in sailing including the America's Cup (twice). No one in the world wore the Seamaster with the "America's Cup" logo on the black dial better. His achievements as a sailor and later as an environmentalist made him the ideal brand ambassador for Omega, and he was seen in many advertising campaigns.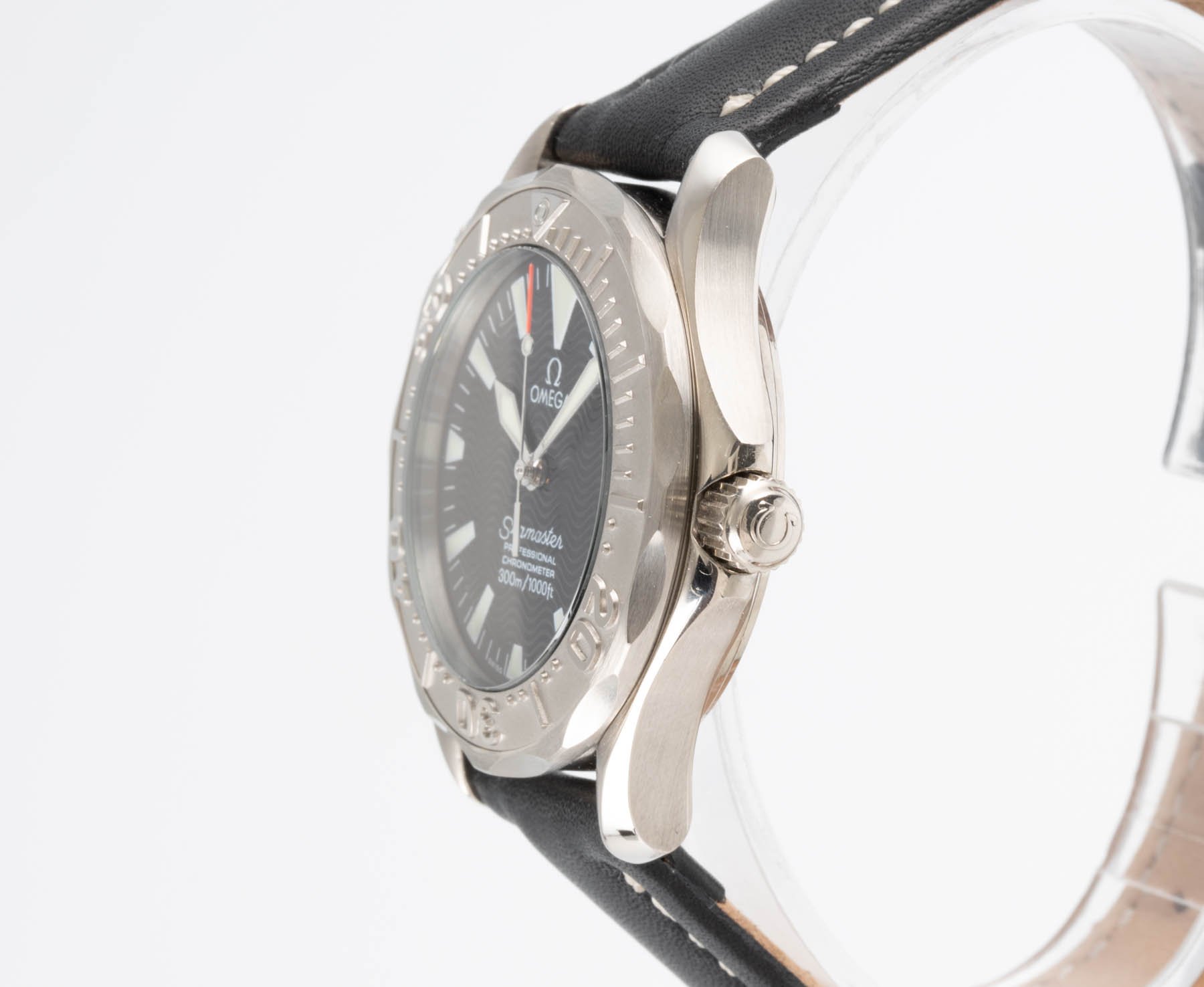 Stylish and introverted
The full white gold 36.25mm Seamaster is the ultra-luxurious brother of the more or less official "SMP Peter Blake". It has the same looks but forgoes the AC logo on the dial — an eye-catching element that appeals at first but could become a reason to not wear the watch anymore after a while. That certainly won't happen to the midsize ref. 2652.50.91. It's a stylish and introverted diver's watch but definitely not bland (definitely not).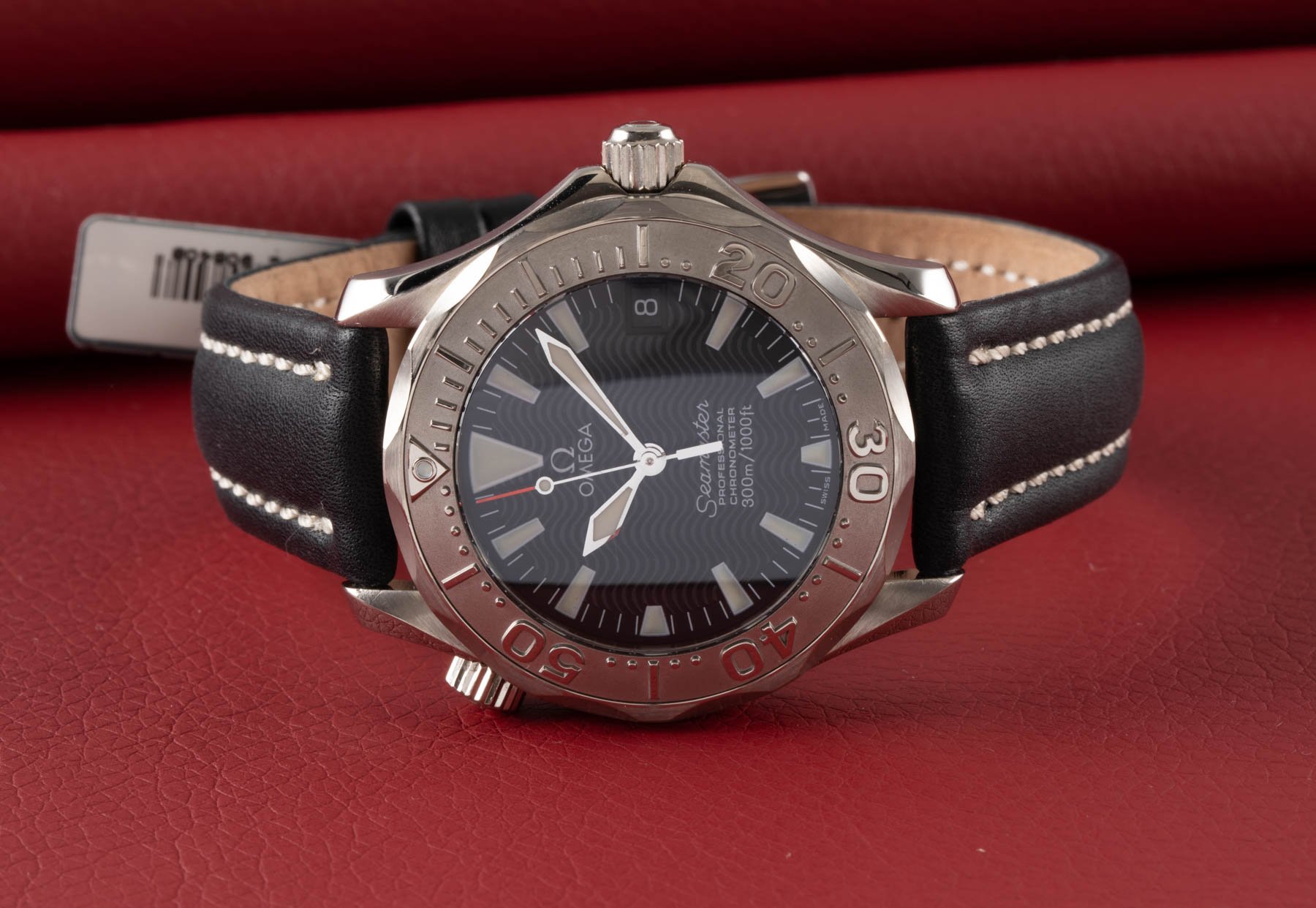 The monochromatic design of the Omega Seamaster Professional Automatic Chronometer 300M Diver is lit up with a dash of red on the seconds hand. It's a watch that simply won't go out of style. The idea of wearing a white gold watch that looks like a steel version is also enjoyable. Especially since gold is quite a bit heavier than steel. This midsize Seamaster definitely has wrist presence. Also, because it's instantly recognizable as a Seamaster. But this one handles its exclusivity very discretely — only the trained eye will spot there's something going on with this particular Seamaster. The price of this full gold sports watch is €6,850. You won't get a steel and (a bit of) platinum Yacht-Master for that amount of money. There, I said it.