The Speedmaster "Ralph Ellison" Ref. 145.012-67SP — Acquired By The Omega Museum
The watch Ellison wore for over 25 years
Phillips auctioned off the Omega Speedmaster Professional ref. 145.012-67SP that belonged to American author Ralph Ellison. He wore it from 1968 till his death in 1994. Now it has sold for a whopping $667,800 including buyer's premium.
The new owner of Ralph Ellison's Speedmaster 145.012-067SP is the Omega Museum in Biel. The museum will display it beside an impressive line-up of special Speedmaster from noteworthy owners.
Its first owner, author Ralph Ellison, wrote the Invisible Man novel of 1952. It received the prestigious National Book Award in 1953. In 1998, the Modern Library ranked Invisible Man #19 on its list of 100 best English-language novels of the 20th century.
Ralph Ellison's Speedmaster 145.012-67SP
No one knows exactly how Ralph Ellison obtained the Omega Speedmaster Professional 145.012-67. Whether he purchased it himself or received it as a gift remains a mystery. Omega's Extract of the Archives indicates that the watch had been produced on March 15th, 1968. That still doesn't indicate when Ellison acquired the watch, as there can be quite some time between production and sale. However, Phillips indicates in the listing that Ralph Ellison can be seen wearing the watch in a picture from the summer of 1968.
Reference 145.012-67SP
Omega's Speedmaster reference 145.012 was the watch on the wrists of some of the NASA astronauts during the Apollo program in the 1960s and '70s. Together with the Speedmaster reference 105.003 and Speedmaster Professional reference 105.012, Omega sent these watches to NASA for Apollo astronauts to use. The 145.012 is the successor to the 105.012. The only difference between the models is the pusher construction (screwed into the case and having taller caps) and a case back with a single bevel instead of two.
Generally speaking, there's a little bit more demand for the 105.012. This is mainly because it is the reference that was on the wrist of Edwin "Buzz" Aldrin. The Ellison 145.012-67 is the 'SP' version of this reference, which stands for "special pushers" (Special Poussoirs). According to Omega, it had better water resistance, but of course, this distinction is a relative one. Of the Speedmaster models with caliber 321, reference 145.012 is the easiest to find on the market. However, finding one in good condition has become tough in recent years.
With a little help
Ellison wore this watch for approximately 25 years until he passed away in 1994 at age 81. Various photographs spanning those years show him wearing the Omega Speedmaster Professional 145.012-67SP. In some, it was evident that the upper pusher was missing. After his wife passed away in 2005, the watch was offered in an estate sale. Before the Phillips auction, it ended up with a collector who was just looking for a Speedmaster Professional 145.012 in original condition. The sale indicated it came from the "Ralph and Fanny Ellison Charitable Trust", but there was no further indication that either of them wore it. The buyer spent quite some time searching for definitive proof but for a long time was unable to find indisputable evidence. His watch also had the upper pusher missing when he received it, but that could have been just a weird coincidence.
Earlier this year, however, the owner — with the help of watch journalist and author Michael Clerizo — received paperwork that belonged to the Ellisons. It included an insurance policy listing all sorts of items. Among them was the Omega Speedmaster Professional watch with a serial number. This number corresponded with the one on the movement of the 145.012-67 in his possession, and of course with the Extract of the Archives he had previously received.
Lot 138 with a low estimate
The Omega Speedmaster Professional 145.012-67SP that once belonged to Ralph Ellison was offered as Lot 138 on the Phillips auction on December 12th. Interestingly, it had an estimate of just $10,000 to $20,000. Now, I never understand these estimates or the purpose of them. A regular 145.012 in good condition would already fetch that amount. But this watch both belonged to and sat on the wrist of a renowned and influential American writer. Not only that, but it also had provenance to back it up. Before the watch went to auction, and even before the former owner had certainty about the previous life of this particular Speedmaster, it was serviced and received new (period-correct) pushers.
Why did it sell for such a high price?
For me, it is difficult to grasp why this watch fetched the amount of $667,800. I do get that the author was very famous and that his novel was one of great literary importance. But it is still difficult to comprehend how far someone is willing to go to actually own such a timepiece. I completely blame myself for not fully understanding this, as I'm also unaware of the effect of this novel on people, or just how much praise Ellison received for it. So, who better to ask than Petros Protopapas, the Head of Brand Heritage at Omega in Switzerland?
Let's ask Omega's Head of Brand Heritage
Fratello: Omega won the Phillips auction of the Ralph Ellison Speedmaster 145.012-67SP last week. Why are you so keen to have this watch for the museum in Biel?
Petros Protopapas: This watch, with caliber 321, is a sought-after Speedmaster by collectors around the globe. But what makes this one incredibly special, is the connection with Invisible Man author Ralph Ellison. In his 1952 novel, watches, clocks and time are recurring motifs, so it is safe to assume that he had a thing for these themes. It has become clear to us that he cherished his Omega Speedmaster, given the photographs showing him wearing the watch on many occasions.
As you can imagine, this watch doesn't only attract watch collectors, or Speedmaster collectors specifically, but also a wider audience. An audience with a different interest than watches, like literature buffs or those who are interested in social and cultural topics that Ralph Ellison wrote about in Invisible Man.
Fratello: The watch appears to be in good condition, especially given the fact it was worn for such a long time by one owner, assumably daily. What do you think of its condition?
Petros Protopapas: "Well loved" is how I would classify its condition. This Speedmaster 145.012-67SP had been on the wrist of Ralph Ellison for over 25 years, and I believe that today's condition matches how it was on Ellison's wrist. Except for the pusher that came off a long time ago, that Ellison did not replace. To conserve this watch in the best way possible, the Speedmaster has received new gaskets and a new crystal. That said, the original crystal does come with the watch, just for the sake of having it as complete as possible.
Fratello: Thank you, sir.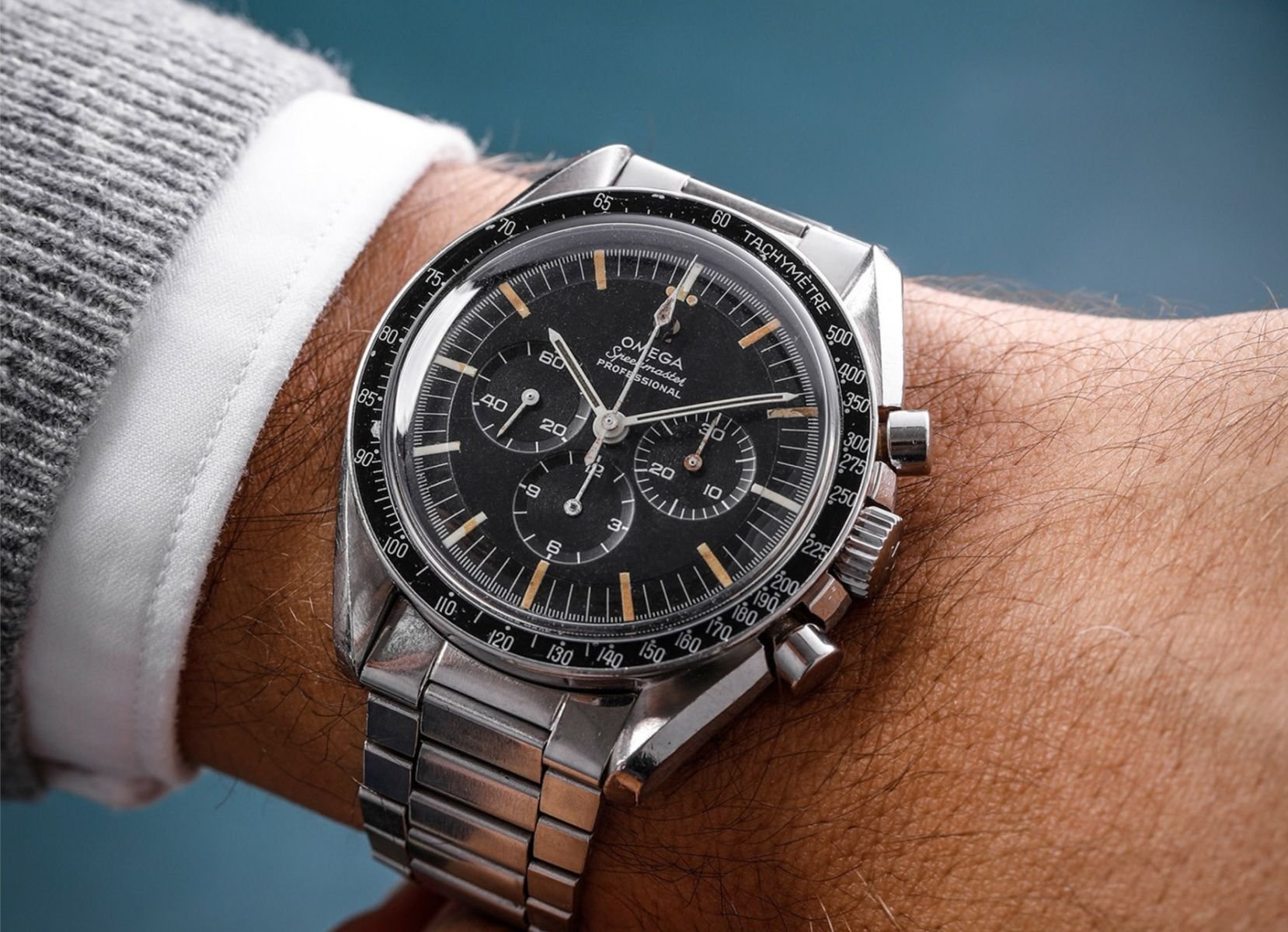 Completing the puzzle
The sale of this special Omega Speedmaster Pro 145.012-67 that was worn by Ralph Ellison shows once more that heritage and storytelling are very valuable. Real stories, that is. I can imagine how satisfying it must have been to complete the story around this watch and its previous ownership. It's a puzzle that was completed with the help of other watch enthusiasts and collectors. In this case, the definitive answer came from insurance papers that were stored in a box filled with documents and photos at the Library of Congress (LOC) Photo Archives.
More about the Speedmaster 145.012 reference can be found here.
Find and follow me @rjbroer.