Omega Speedmasters With Additional Complications
For when one time zone and a chronograph just don't cut it
A watchmaker once told me that designing a chronograph movement is more challenging than other complications or mechanisms (including a tourbillon). We often take a chronograph movement for granted, but it is a beautiful example of microengineering. The Omega Speedmaster chronograph (not all Speedmasters are chronographs, by the way) is already an exciting watch, but some variations come with an additional complication.
Speedmasters with additional complications
In this article, I will touch upon several Speedmasters that had complications on top of the chronograph mechanism. I will leave out the Speedmaster X-33 as the complications on that watch are mainly digital and a matter of programming.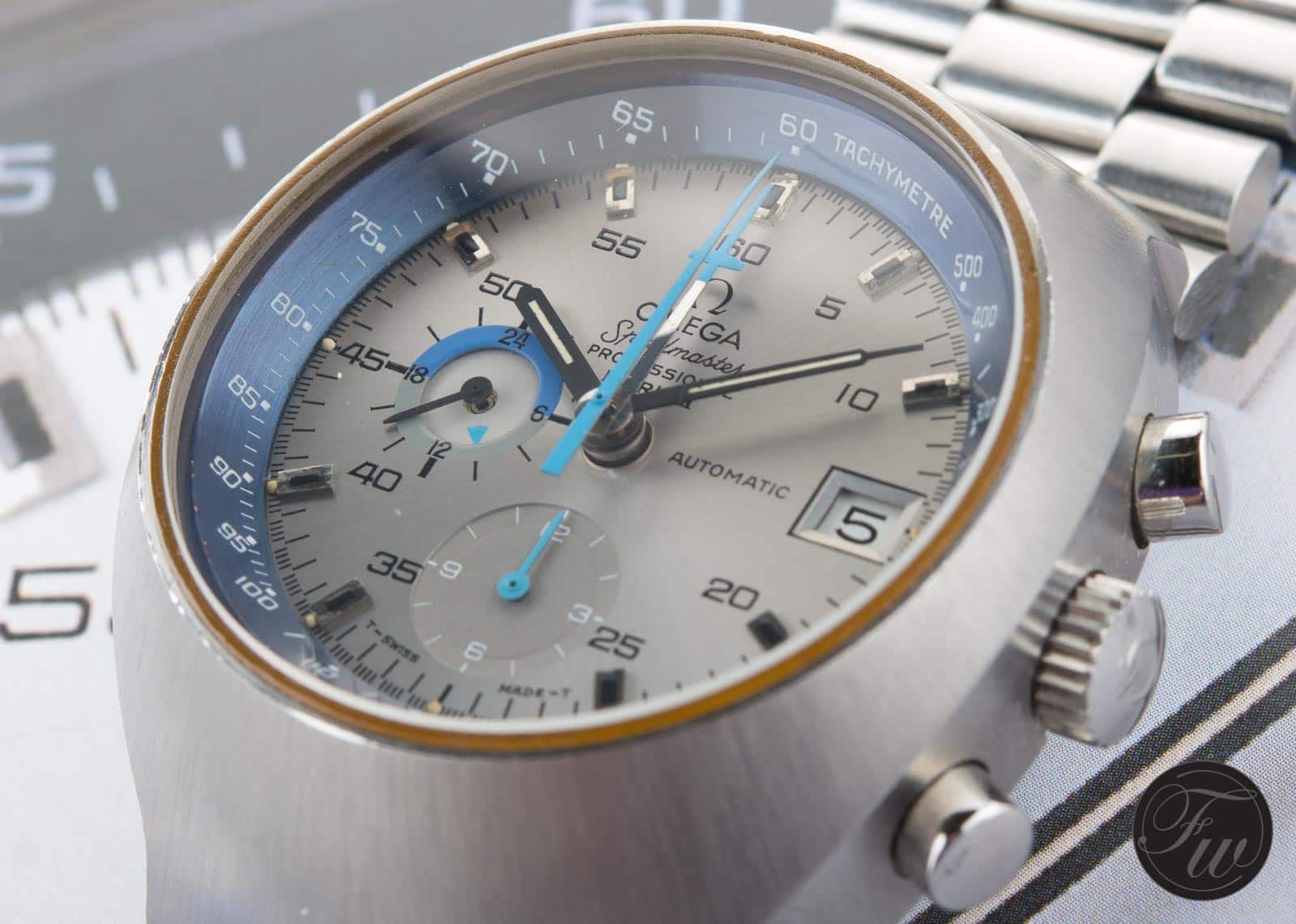 A 24-hour hand
The first Omega Speedmaster with an extra complication on top of the chronograph was the Mark III.  It was introduced in 1971, and inside was the Lemania-based Omega 1040 movement featuring a date and a 24-hour hand. The 1973 Speedmaster 125 used Omega's caliber 1041, which was a chronometer-certified version. In 1974, Omega added another complication on top of the 24-hour hand and date. The caliber 1045-based Speedmasters (Mark 4.5 and Mark V) have a day indicator as well as the complications from caliber 1040/1041. The later Speedmaster "Mark 40" models also have these complications based on an ETA/Valjoux movement.
Moonphase indicator and calendar
Connected to the date is the moonphase complication that can be found on certain Speedmasters. The first Speedmasters to feature a moonphase indicator was introduced in 1985, including a Teutonic model with this complication. The 1985 models used Omega's caliber 866, which was based on the Lemania movement with a moonphase and date module on top. Then, from 1999 onwards, Omega reintroduced the moonphase complication in the Speedmaster Professional series. First was a white gold model and, later, two different steel Speedmaster Broad Arrow watches based on the "Replica" 3594.50. The 1985 moonphase-equipped Speedmaster Professional, also dubbed "SpeedyMoon," was reintroduced in 2003 and stayed in production in 2017. Since 1999, all these models used the caliber 1866, a modernized caliber 866.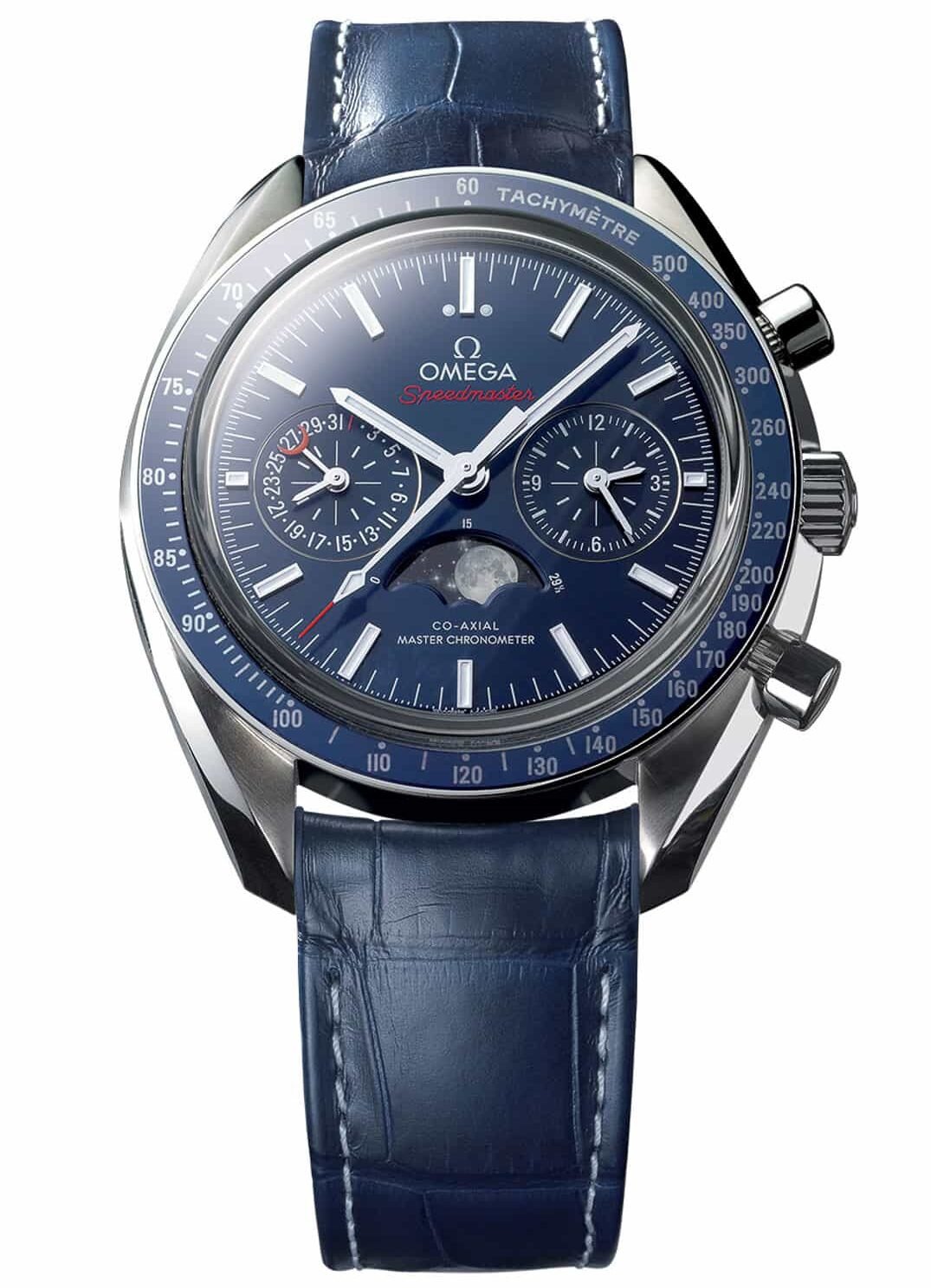 Besides the 42mm Professional-based models, Omega also used the moonphase complication in the 1990s Reduced-based watches (reference 3330.20, for example) in both steel/gold and full gold. Then, in 2016, Omega also started to produce a series of 44.25mm Speedmaster watches with the in-house-developed caliber 9904 featuring a calendar and moonphase complication. In today's Speedmaster catalog, you will still find several 44.25mm models (referred to as the Speedmaster Two Counters) with a moonphase complication. These Speedmaster moonphase watches start at €12,400.
Speedmaster with a GMT hand
Another complication we don't often come across in a Speedmaster (except the X-33) is an extra time zone. The Omega Speedmaster Solar Impulse (reference 321.90.44.52.01.001) debuted in 2008 and featured a GMT hand and date at four-thirty. This watch used an F. Piguet 1285 movement with a column-wheel chronograph, dubbed caliber 3603 by Omega. The brand also added a Co-Axial escapement and had the movement chronometer certified. It was quite an advanced watch for the time, but it never got much traction. The same movement also powered the Omega Speedmaster Broad Arrow GMT (reference 3581.30 and 3581.50) that came out around the same time.
Speedmaster Split-Seconds
We will get to the bigger complications later, but another one that appeared in 1999 is the Omega Speedmaster Split-Seconds (reference 3540.50). You probably recognize the case as it is based on the X-33 model. This model used the ETA/Valjoux 7750-based Omega caliber 3600, which featured an additional split-seconds mechanism. A wearer can measure multiple events with a split-seconds complication, also known as a rattrapante. The two central second hands will run simultaneously, and one can be stopped while the other one continues to run. Then, with a push of the button, the stopped seconds hand will instantly catch up with the other chronograph seconds hand.
Omega also used this complication in one of the Speedmaster Broad Arrow models (ref. 3582.51) as well as in the 2015 Speedmaster ref. 311.30.44.51.01.001 that looks more like a Professional but uses a larger 44.25mm case. The latter two models use Omega caliber 3612, based on the F. Piguet chronograph caliber 1286 with a column wheel.
Speedmaster Perpetual Calendar
For a long time, though, the most complicated Omega Speedmaster watch was the 1991 reference 3650.10. This was a gold Speedmaster with a perpetual calendar and limited to just 50 pieces. For those who don't know, a perpetual calendar is programmed in advance to ensure that the date displays correctly on every first day of the month, including in leap years. In the case of this Speedmaster 3650.10, it will do so until the year 2100. The movement inside is Omega's caliber 1160, developed by ETA and Kelek and housed in a 39mm gold case.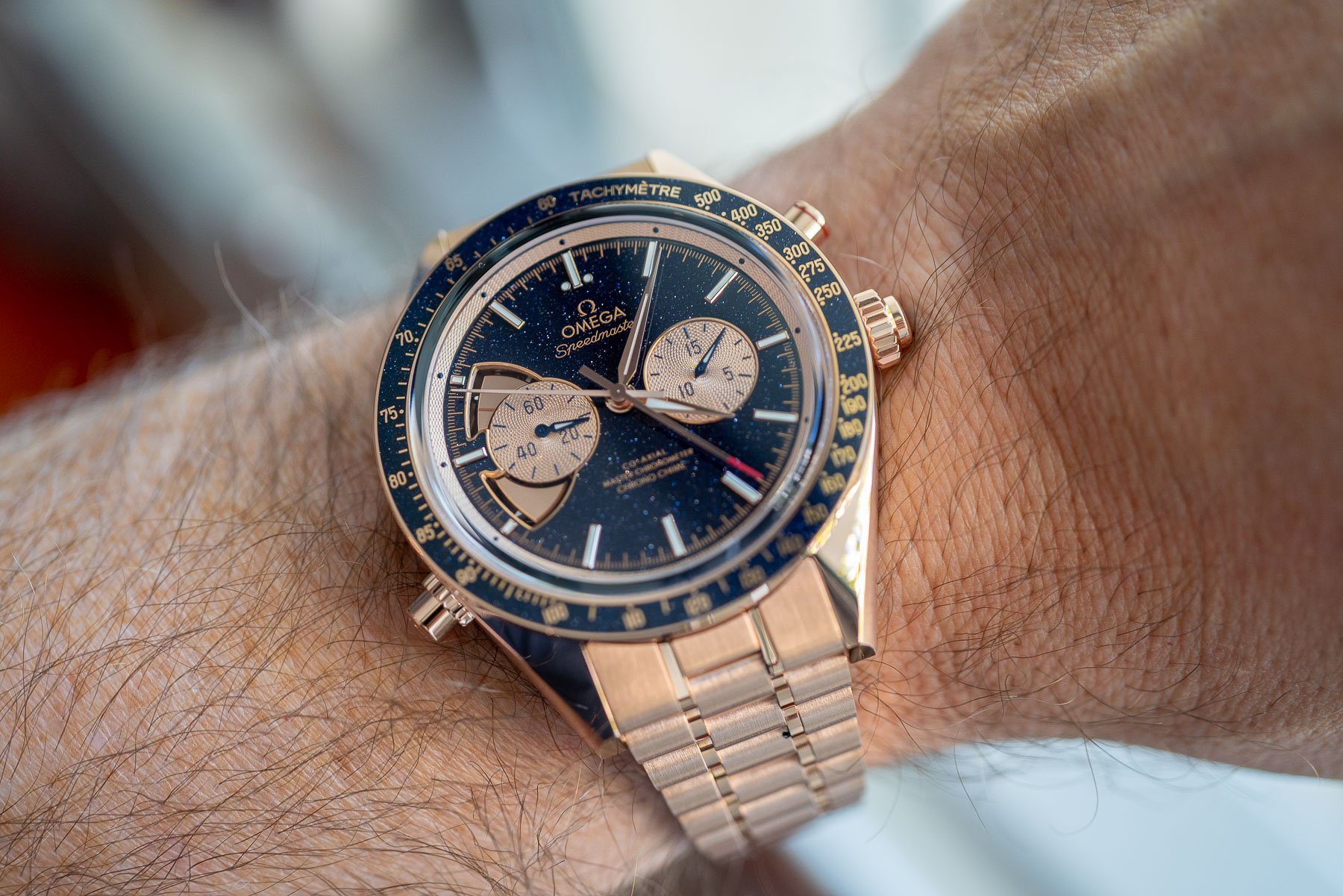 The most complicated one: the Speedmaster Chrono Chime
Last year, Omega introduced the most complicated Speedmaster ever, the Chrono Chime Co-Axial Master Chronometer. This 45.5mm Sedna Gold Speedmaster has an integrated chronograph and minute repeater, so it can chime the elapsed time. Omega and Blancpain developed the caliber 1932 for this watch. Besides the highly complicated movement, the blue aventurine Grand Feu enamel dial, Sedna Gold sub-dials with guilloché pattern, and visible Sedna Gold hammers are a feast for the eyes.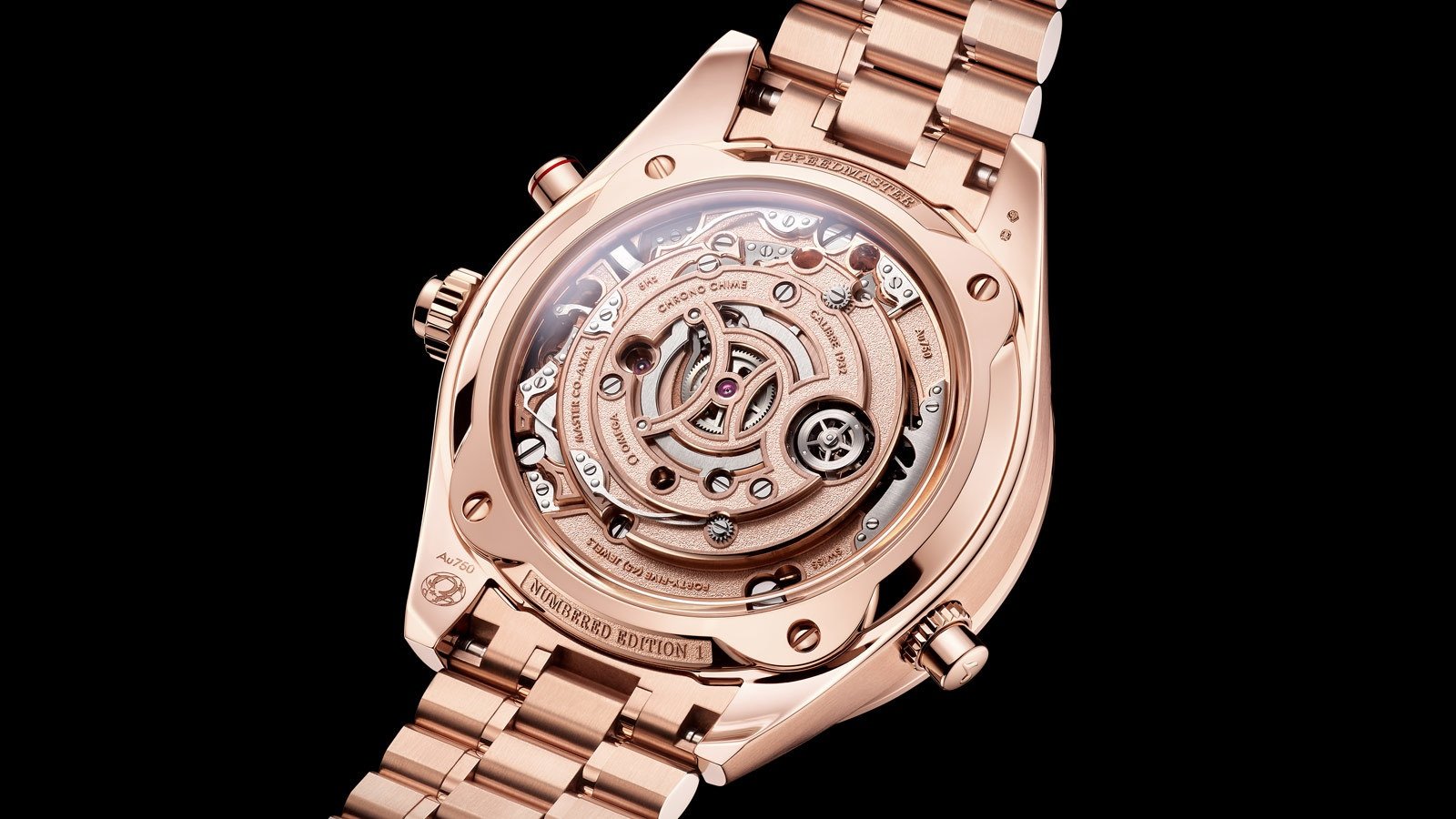 The Speedmaster Chrono Chime watch, weighing no less than 326 grams, shows what Omega is capable of in watchmaking. The complication of the Chrono Chime is a first, resulting in 17 patents by Omega for the movement. This Speedmaster Chrono Chime (ref. 522.50.45.52.03.001) watch is only available in Omega boutiques (on order) and has a retail price of €569,000.
Future Speedmasters with additional complications
Omega has created many Speedmaster variations in the past +65 years, some with very interesting additional complications, as you can read above. For the new Omega Speedmaster Professional with caliber 3861, we haven't seen any additional complications yet (aside from the automaton on the Silver Snoopy Award edition). I wouldn't mind another Speedmaster Professional Moonphase version with, assumably, a caliber 3866. Especially if Omega made a gold version, a moon in Moonshine Gold on the dial would be awesome.
What do you think of these Speedmasters with complications? Are they more exciting than those with "just" the time and a chronograph, and if so, what would you like to see in the future? Share your thoughts in the comments.