Only Watch 2021 — An Impressive Final Auction Result Of CHF 29,740,000
And how did my favorites perform?
Only Watch auctions have seen impressive growth in results ever since the start in 2005. The first edition offered 34 lots that fetched € 1,907,000 in total. This year's 2021 edition brought us 53 lots totaling €28,210,000. Adding up, the Only Watch initiative, in nine editions, raised almost €100,000,000 for research against Duchenne muscular dystrophy. An extraordinary achievement indeed!

Only Watch 9th edition Auction Results
Of course, Patek Philippe didn't disappoint; they've been the star of almost every Only Watch auction so far. This year's entry, lot #41, a complicated desk clock, outclassed its – rather misplaced – estimate of max CHF 500,000 by CHF 9,000,000 and fetched CHF 9,500,000.
99% of the proceeds of the biennial Only Watch auction go directly to muscular dystrophy research projects.
So, now we got that out of the way, and probably lost most of the money-driven readers here, let's see what else was of interest. Let me leave the financial approach behind and guide you through some exciting results based on my personal favorites. This year's Only Watch lots were presented in brand-alphabetic order and I'll stick to that. But first a word on how the Only Watch auction works. All 53 timepieces have been donated free of charge by their brands and or suppliers and 99% of the proceeds of the biennial Only Watch auction go directly to muscular dystrophy research projects. And in this auction, the hammer prices are equal to the final prices as no buyer's premium is added.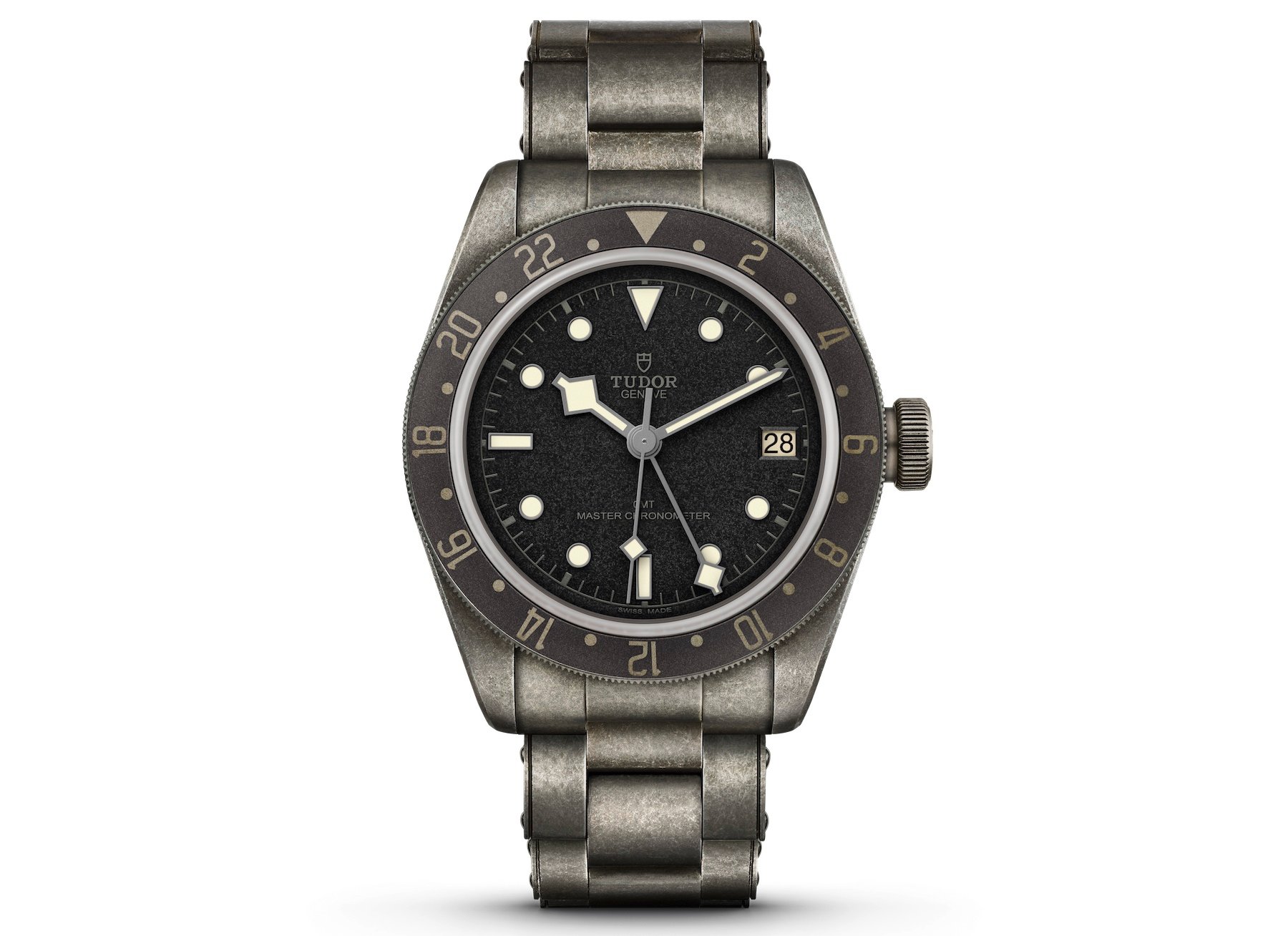 A word on estimates
Before moving on to the results, a quick word on estimates. Is there anyone who understands how these come about? I honestly don't understand how and why auction houses are so far off with their estimates. What is the reason behind this? One would think that selling, or auctioning, objects is their job in which they have decades of experience. But all too often we see estimates that don't even come close to the actual fetched price. Or estimates like CHF 160,000 – CHF 320,000 (Lot #36); I mean, €160k or €320k, that's 100% apart. Plus, it was sold for ten times as much, CHF 3,100,000; do they really not have a clue? Beats me, and that's why I won't judge the success of the results by their estimates. Although I might mention them from time to time, just to make fun of the auction house's competence…
How did my favorites perform?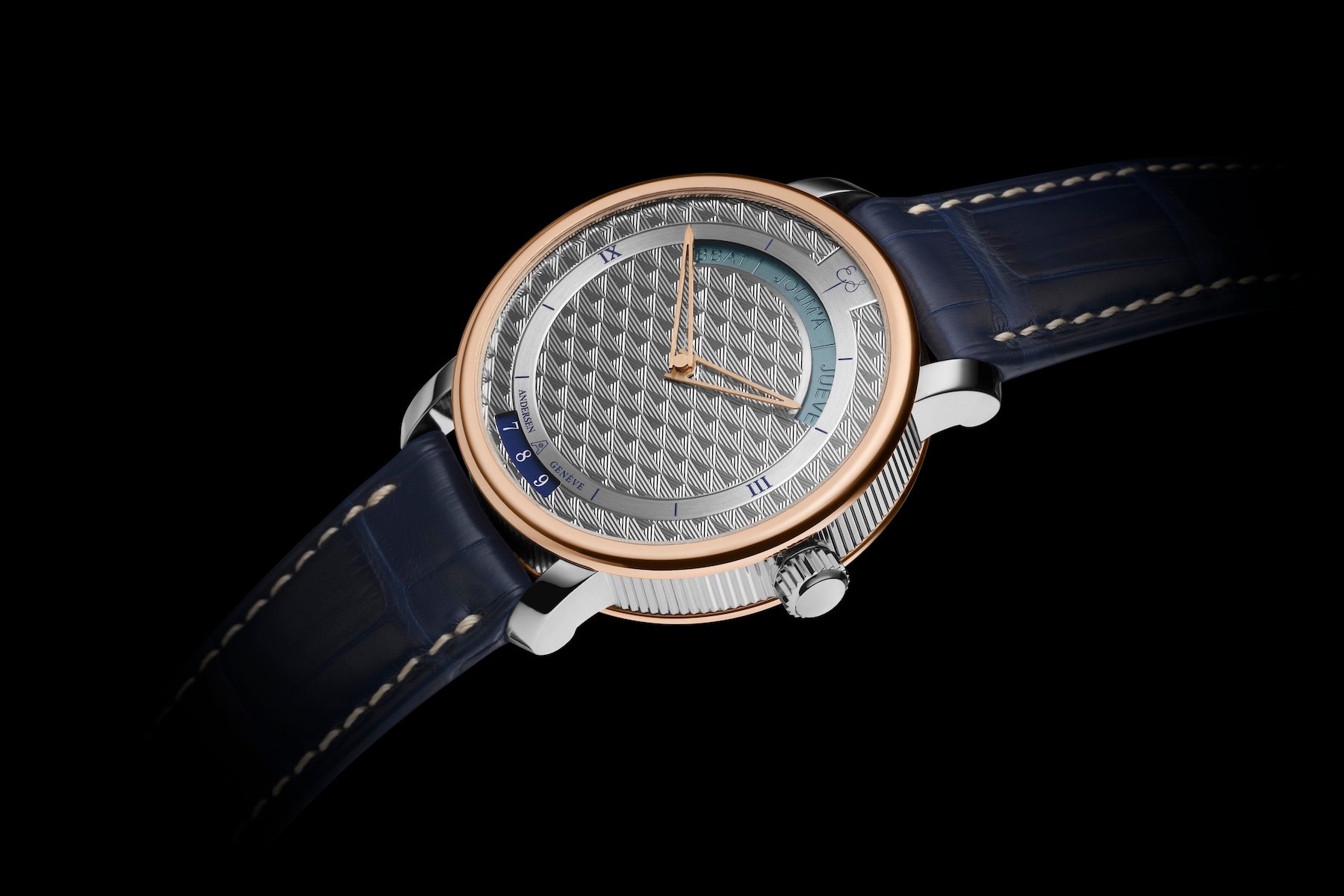 Lot #2, Andersen Genève × Edward Sexton Quotidiana
This definitely was one of my favorites. The watch is the outcome of a collaboration between two world-class masters of the art of bespoke: Andersen Genève, makers of exquisite timepieces, and Edward Sexton, a celebrated London tailor. I'm not that much into bespoke tailoring, but I just absolutely love this watch. Besides Edward Sexton's logo in the dial at 12, I wasn't able to find much that related to the tailor. What struck me specifically was the white gold magic lozenge hand-guillochéd dial. Another nice detail is the blue gold day disc that indicates the days of the week in different languages (Dimanche, Montag, Tuesday, Mercoledi, Jueves, Joum'a, Shabbat).
The Andersen Genève x Edward Sexton Quotidiana was hammered off for CHF 100,000. Andersen watches rarely sell for over CHF 40,000 at auction, so that'll indicate that the result for this piece unique isn't a bad one at all.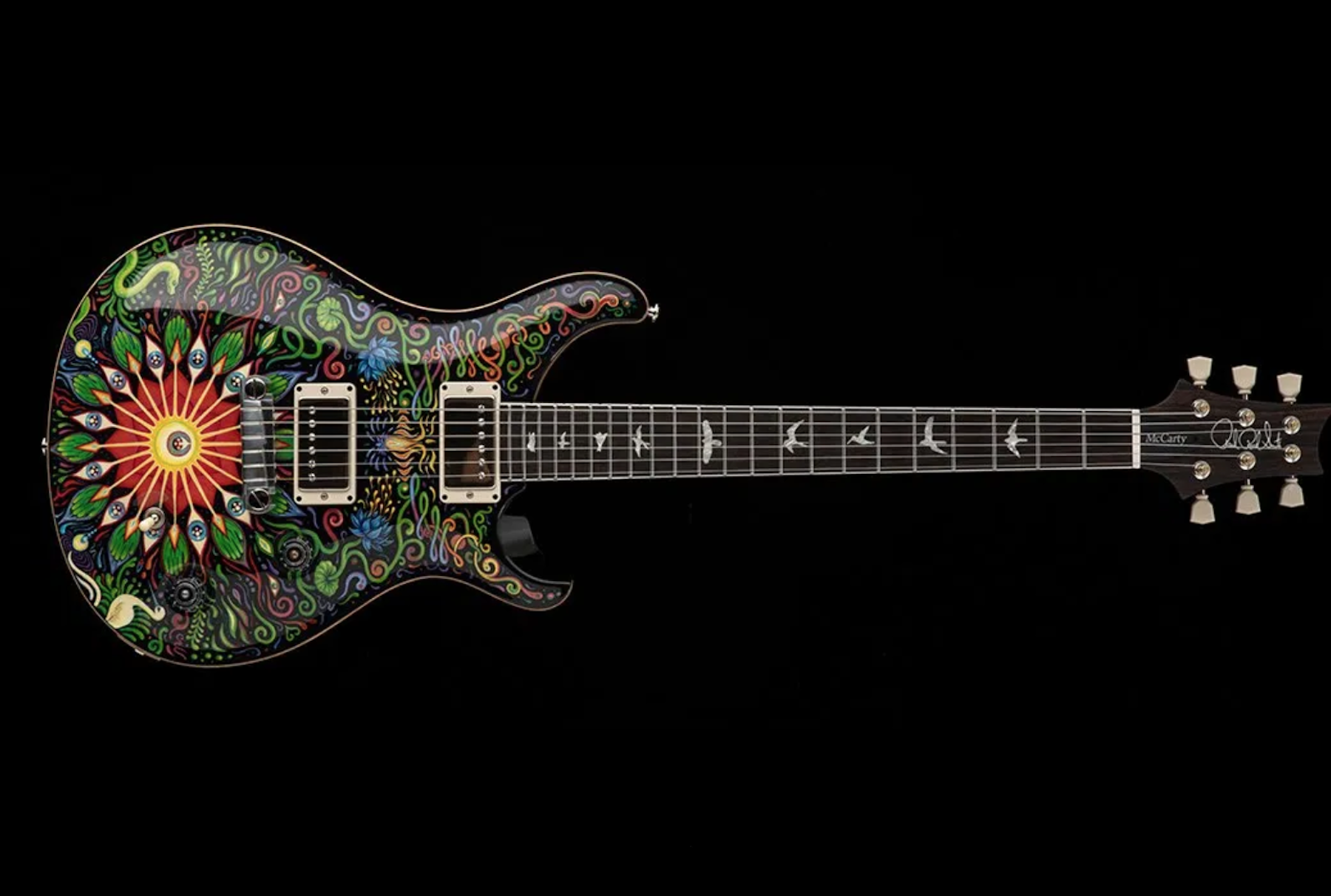 Lot #4, Artya Is That So? × John Mc Laughlin
Wait. Is that a guitar? Yes, it is! John McLaughlin's personal McCarty guitar, built by world-renowned luthier Paul Reed Smith. Of course, there's a watch involved here as well, that I even kinda like, but I love the guitar. Sorry, Artya. The artwork on the watch face and the guitar was created by Marq Spusta, a San Francisco-based artist whose art is collected worldwide and features on numerous record albums and posters. This type of PRS guitar can sell for up to CHF 10,000, which is true for this type of Artya watch as well.
Seen in that light, CHF 55,000 was an adequate result for this unique lot. The artwork — both on the Artya watch's dial, and on the guitar — plus the fact that it was John Mc Laughlin's personal guitar helped as well, of course.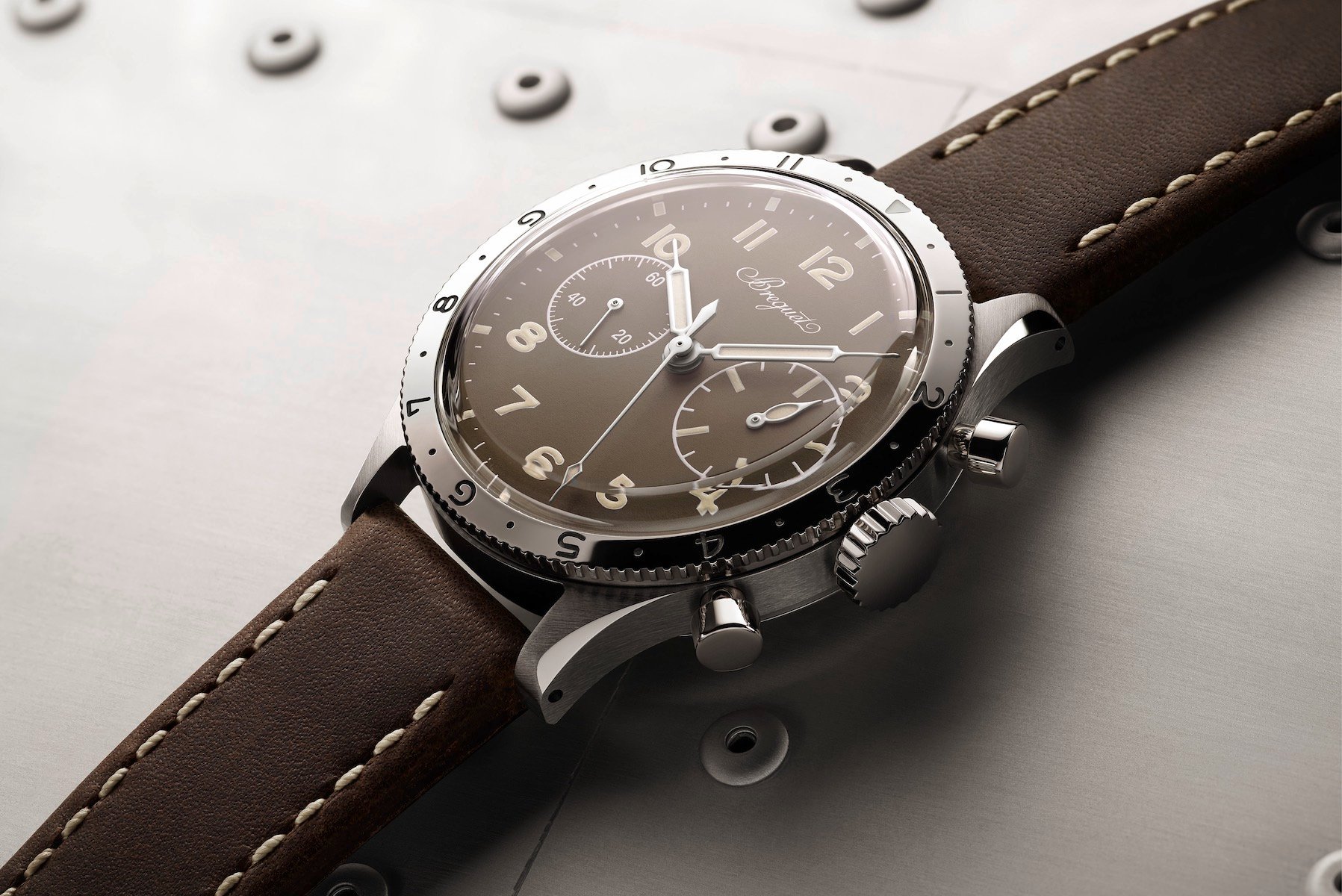 Lot #12, Breguet Type XX
There's so much to like about the Breguet Type XX. It can be considered as one of the evergreen chronographs, indicating that something has to be truly good about this watch. I'm not sure if, for me, it should have a brown dial. A black dial — probably a bit faded — would have been fine as well, but on the other hand, the brown doesn't hurt me either. The Type XX Only Watch 2021 flyback chronograph, according to Breguet, is a faithful re-edition and pays tribute to the civilian version of the 1950's Type XX.
I think the CHF 250,000 were well paid for this stainless steel watch, and probably even a bit much. This makes me happy for the Association Monégasque contre les Myopathies. Quick tip! For those who don't want to, or are not able to, spend this kind of money for a Type XX/20 re-edition, have a look at Airain.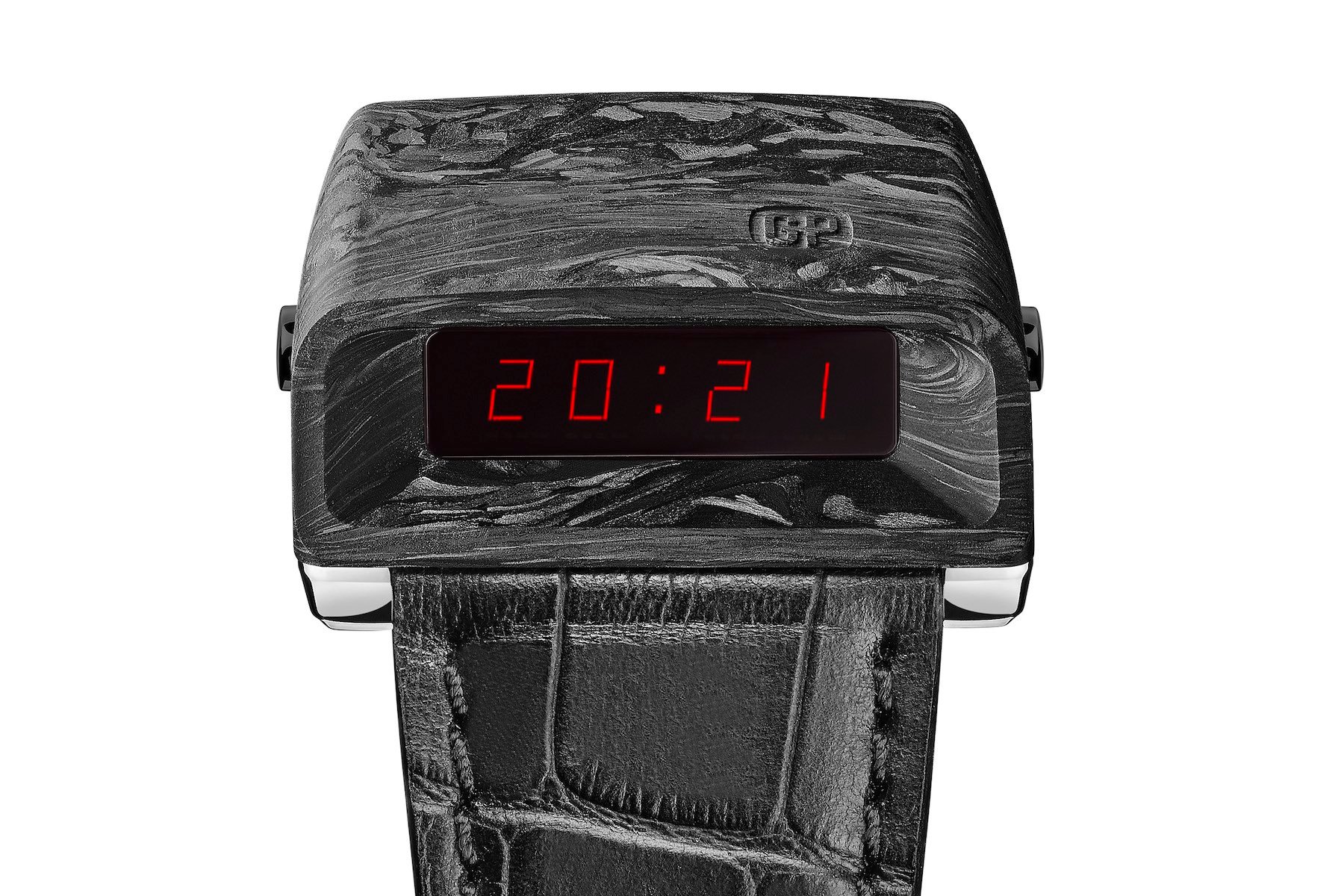 Lot #25, Girard Perregaux Casquette × Bamford
Girard-Perregaux, as a loyal supporter of Only Watch, has dedicated a unique piece for the 2021 auction. The Manufacture, currently celebrating its 230th anniversary, has re-imagined the 70's Casquette. Created in partnership with Bamford Watch Department, the Casquette Only Watch 2021 sports a forged carbon and titanium case with titanium pushers and a tubular LED display.
It fetched no less than CHF 80,000 which in my opinion is a wonderful result. Power to the seventies!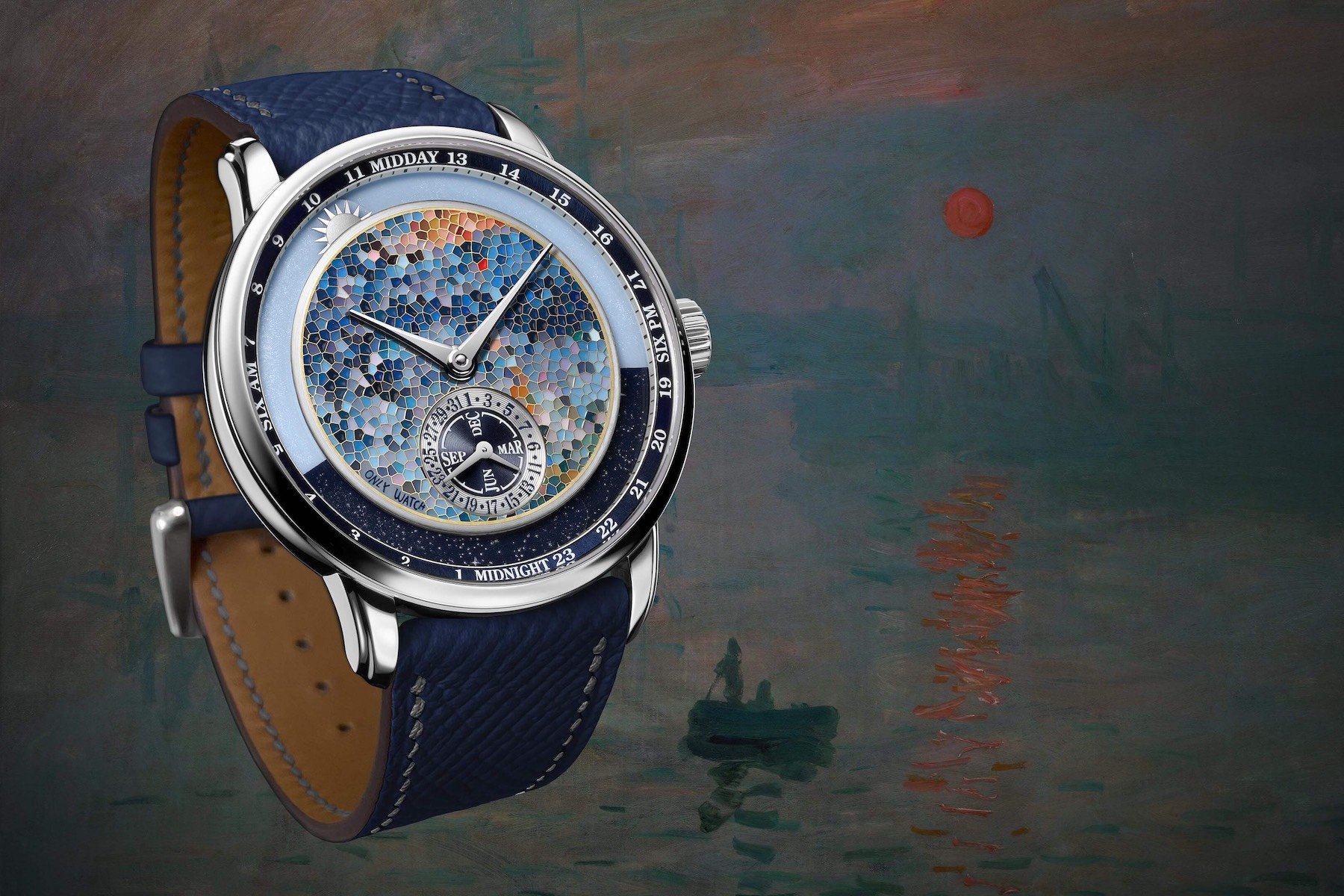 Lot #32, Krayon Anywhere
Krayon might be a brand that you haven't heard a lot about. And that's just a real shame. Rémi Maillat, the founder of Krayon, is a highly skilled watchmaking designer and engineer. After an internship at Vaucher, he worked as a watch movement development engineer for six years at Cartier. In 2017, Rémi presented Everywhere, his first creation. A year later, he followed up with the custom-made, Everywhere Horizon. Then in 2020, Rémi Maillat presents his new watch the Anywhere. The 2021 Only Watch Krayon houses the prototype movement used to develop the Anywhere model, fitted in a steel case that won't be available in the regular collection. For me, the most impressive part of this watch, however, is its métiers d'art dial inspired by Claude Monet's painting "Impression, rising sun".
The Krayon Anywhere changed owners for CHF 320,000 which was more than I expected. I really thought it would be more difficult to do so well as a juvenile brand.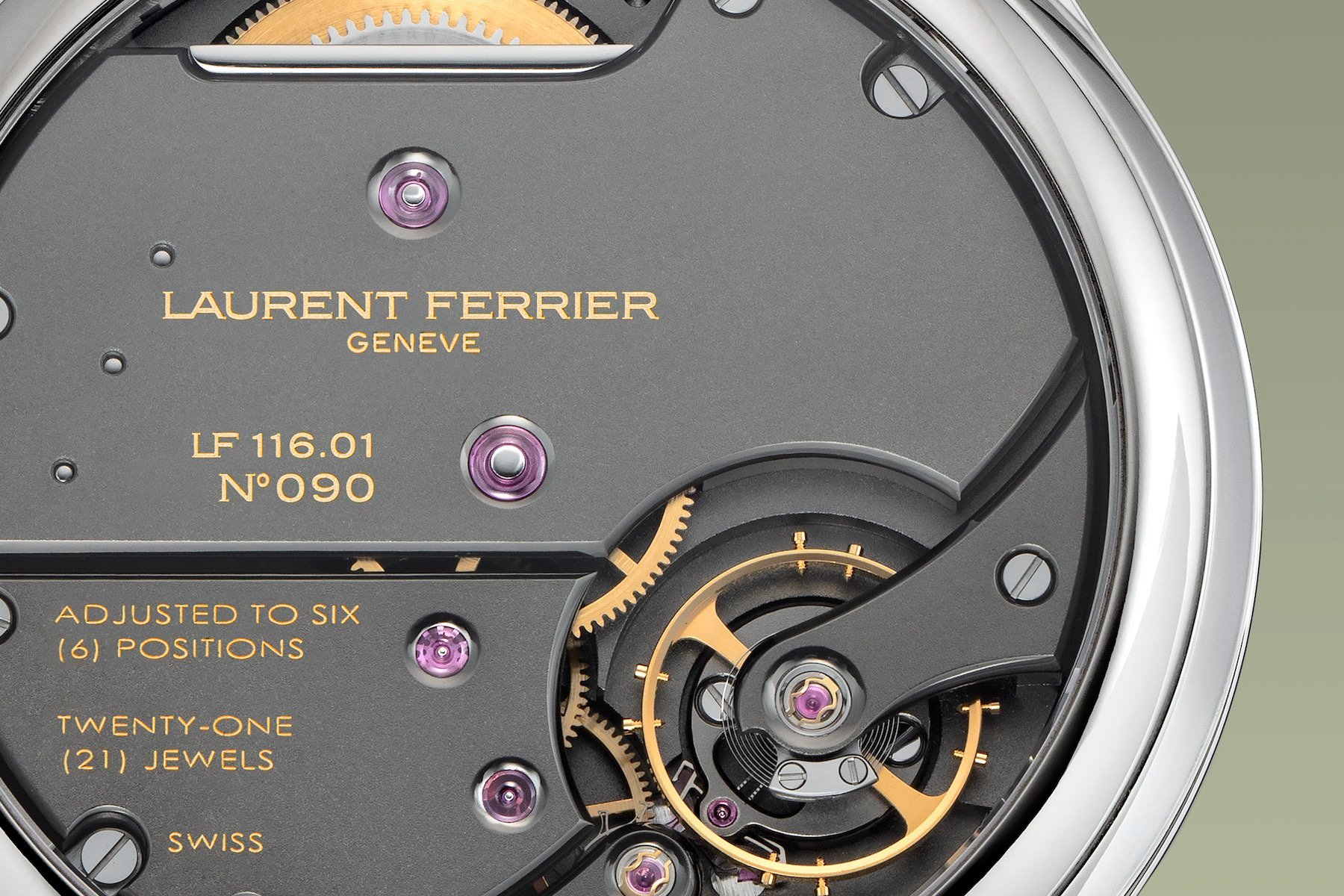 Lot #32, Laurent Ferrier Classic Origin Hope
I'm a fan of the uncluttered and clean designs of Laurent Ferrier. That's not only valid for the dial, but for the design of the movement as well. The Classic Origin Hope sports a unique green aquamarine dial with 18-carat white gold drop-shaped hour markers. Laurent Ferrier used this color to represent youth, renewal, and optimism. A silvery-white opaline small seconds dial is placed at 6 o'clock, by which the entire medical profession, after what has been a troubled year, is honored. As a nice extra, the new owner of this Classic Origin Hope is invited to a complete visit to the LF workshops.
Laurent Ferrier offered 30 pieces of a Classic Origin Opaline — which is a fairly equal watch with the same movement and case, but in titanium —for CHF 28,500. This unique Only Watch 2021 Classic Origin Hope sold at CHF 160,000. I guess the Association Monégasque Contre les Myopathies will be extremely pleased with this result.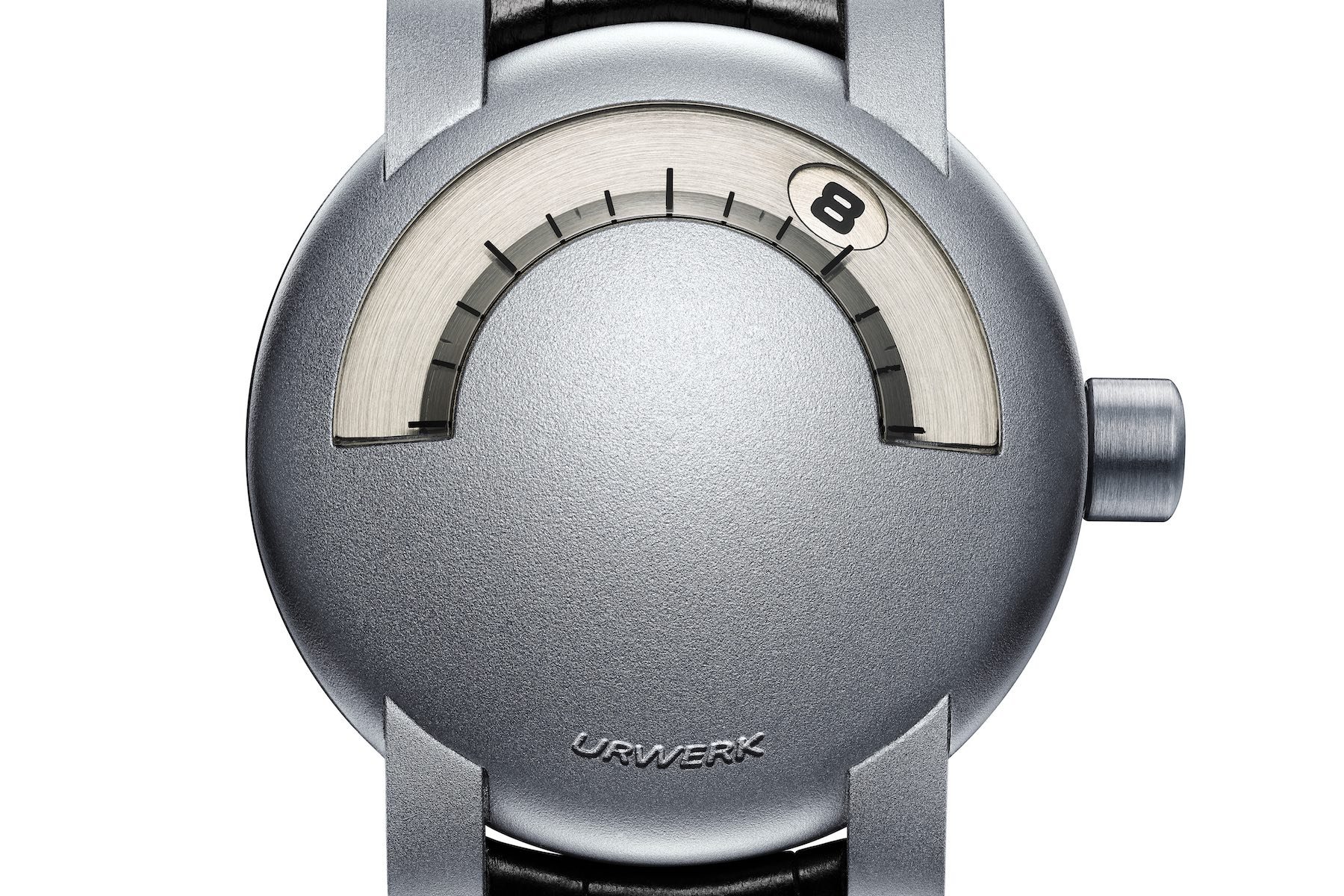 Lot #52, Urwerk UR-102 Gaïa
The last one of my favorites, but definitely not least, is the Urwerk UR-102 Gaïa. My interest in this lot will have been sparked by the same reasons as for the above Laurent Ferrier. The uncluttered and clean design of the round-shaped case, with a wandering hour as its only marker of time, is so smooth. It's made in asphalt-colored anodized aluminum with a platinum case back, inlaid with a midnight blue lacquer. It's said that Urwerk produced this UR-102 Gaïa already in the nineties and can be seen as a cornerstone model. This watch was only to be revealed to the public exclusively for the 2021 Only Watch auction. That makes it pretty special, isn't it?
Such a special watch should not disappoint, and it didn't. With a hammer price of CHF 280,000 it wasn't anything to be ashamed of.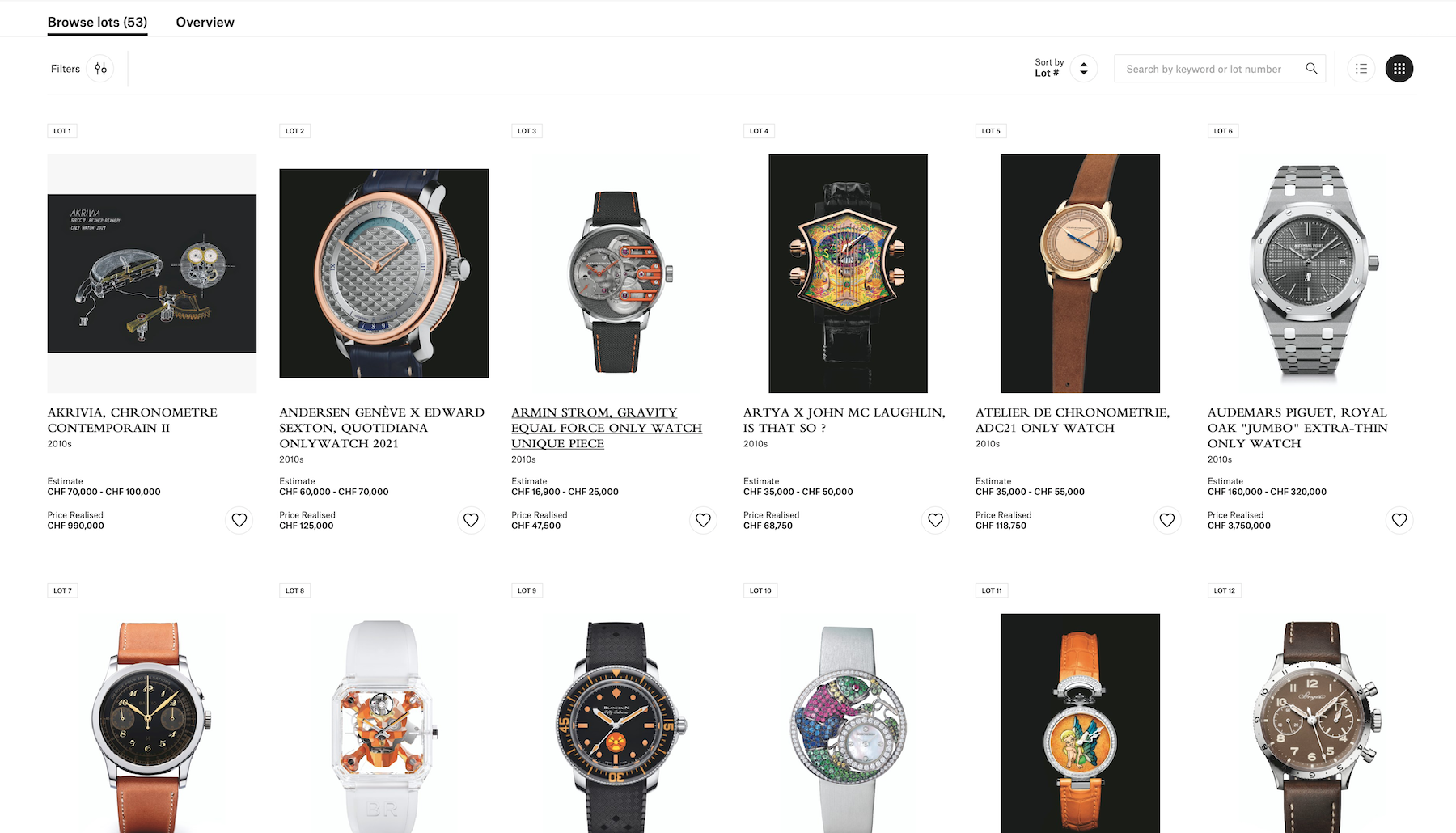 Conclusion and further results
Looking at the results of this Only Watch auction, one might think that we're totally lost from reality. But let me wake you up, this ís reality. People are paying multi-million Swiss Francs for timepieces. And in this case, rather than being annoyed, we should be happy. In this case, it's a generous gesture towards the Association Monégasque Contre les Myopathies, which enables them to do even more research into Duchenne muscular dystrophy.
And I promised to make some jokes about the estimates; well, here they are. I already mentioned the Patek of Lot #41 that sold for 19-times its estimate. But that wasn't even the record. How about Lot #6, the Audemars Piguet Royal Oak Jumbo fetching 10-times its maximum estimate? Or Lot #22 F.P. Journe, 11-times the estimate. And the last one, Lot #50 a distressed Tudor Black Bay GMT that hammered for 80-times its maximum estimate. Only three lots, #16 Charles Girardier, #24 Frederique Constant, and #43 Rebellion, didn't reach their maximum estimate but topped their minimum anyway.
The full list of lots, including the estimates and results, is now available on Christie's website. What were your favorite lots, and how did they perform. What do you think of the amounts that have been spent in this auction? Please let us know in the comments below.