Owner's Perspective: Doxa Sub 200 In Yellow — An Odd But Lovable Splash Of Color
A not-so-perfect yet perfect summer watch
It has been almost a year since I bought my Doxa Sub 200 in yellow. I finally caved after summer upon summer of having this nagging itch for a colorful dive watch. As soon as the sun came out, I felt there was a hole in my collection. I longed for something lighthearted, fun, yet rugged — ideally, a dive watch with a bright dial in an outspoken color. Now have a look at the Doxa Sub 200 in Divingstar yellow. It fits the bill rather well, does it not?
Yes, it does! It is the perfect fun summer watch. Although…perfect? I am afraid it is not actually perfect. In fact, it has some rather odd features that do not serve to make its case. Let's get stuck into it and see if we can grasp what Doxa's entry-level dive watch is all about.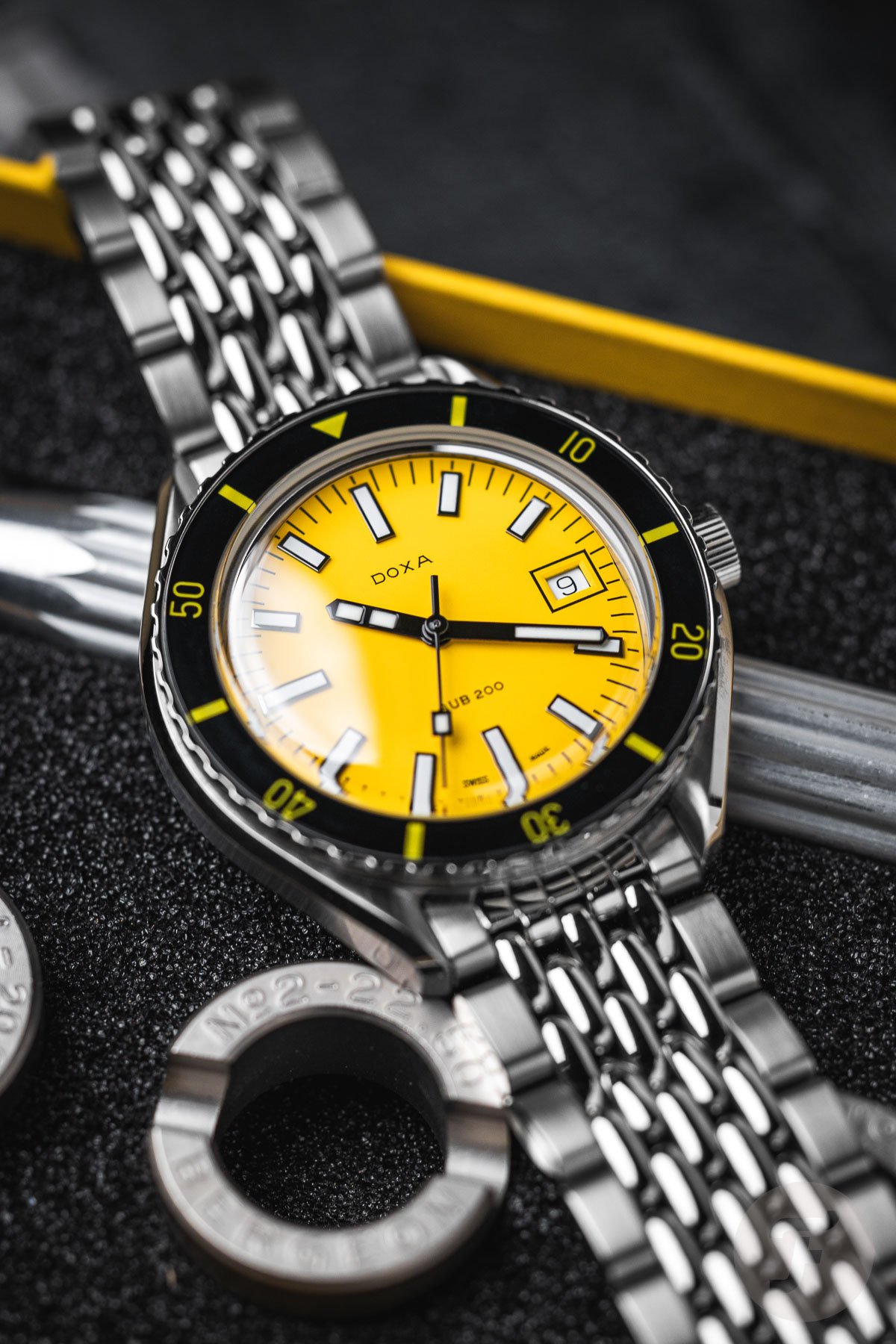 First things first: Doxa Sub 200 history
"That case looks an awful lot like a Speedmaster's!" I hear you think. And you are right. The Sub 200 features the same lyre lugs that made the Speedmaster case iconic. But before you conclude that this is cheap copying behavior, let's take a little detour. A detour to 1963/64, to be precise.
Within just one year, three rather similar dive watches were brought to market. Omega released its Seamaster 300, Eberhard introduced the Scafograf 300 M, and Doxa launched its reference 11804-4. The trio shared a distinct new lyre-lugged case sourced from case makers Huguenin Frères. Yes, that very case would later be used for the Speedmaster, albeit in a modified form. The Doxa Sub 200 you see here is a direct reissue of the Doxa 11804-4. Considering the above, I think Doxa has every right to proudly bring back this case, even if it may be more strongly associated with Speedies nowadays.
Looking at Doxa's current lineup, the Sub 300 is probably the brand hero today. In fact, it is often referred to as a turning point for the brand. Today, we know Doxa for its dive watches, but it was not always like that. The Sub 300 marked its shift in focus, but the 11804-4 predates it by four years. It is safe to say, then, that it is a rather significant watch in the brand's history — one that would turn out to be an omen of great things to come.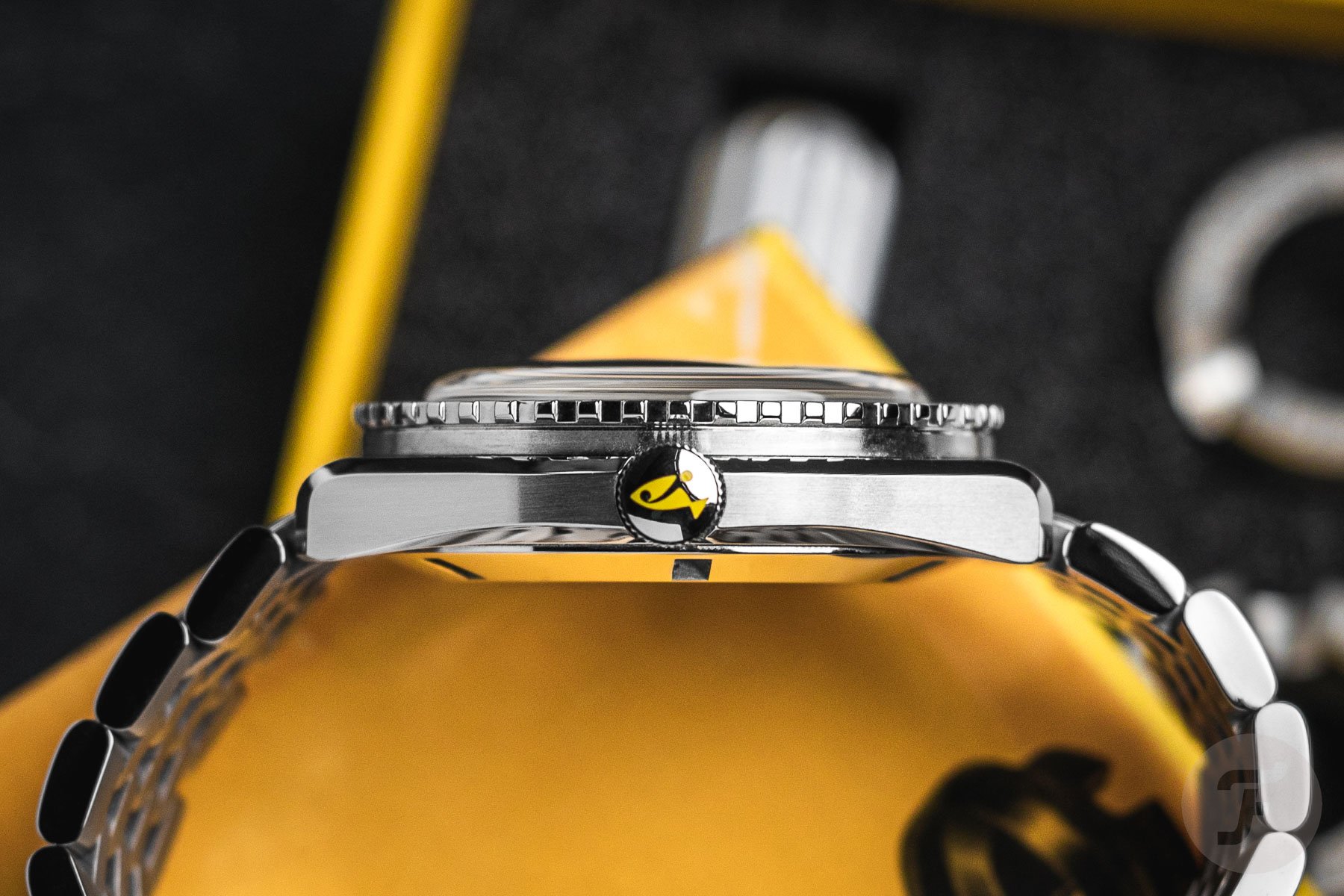 Doxa Sub 200 specifications
The 2019 reissue is called the Sub 200, which, as is often (but not always) the case with Doxa nomenclature, tells you it has a water resistance rating of 200 meters. It measures 42mm across, but its lug-to-lug of only 46mm means it wears a lot smaller. The thickness of 13.8mm is really not as bad as it sounds. Much of it is down to the box-type sapphire crystal and the protruding case back, which nestles into the wrist. I would say this wears like a rather elegant 40mm diver. This is one of those watches that is quite poorly represented by its cold numbers.
My Sub 200 is powered by an ETA 2824-2 automatic movement, although it is no longer specifically mentioned on the website. I assume Doxa has now switched to a drop-in equivalent, like a Sellita SW200-1. The specs list a Swiss 4Hz caliber with a 38-hour power reserve. We have a date at 3 o'clock, executed in white to match the white lume of the indices.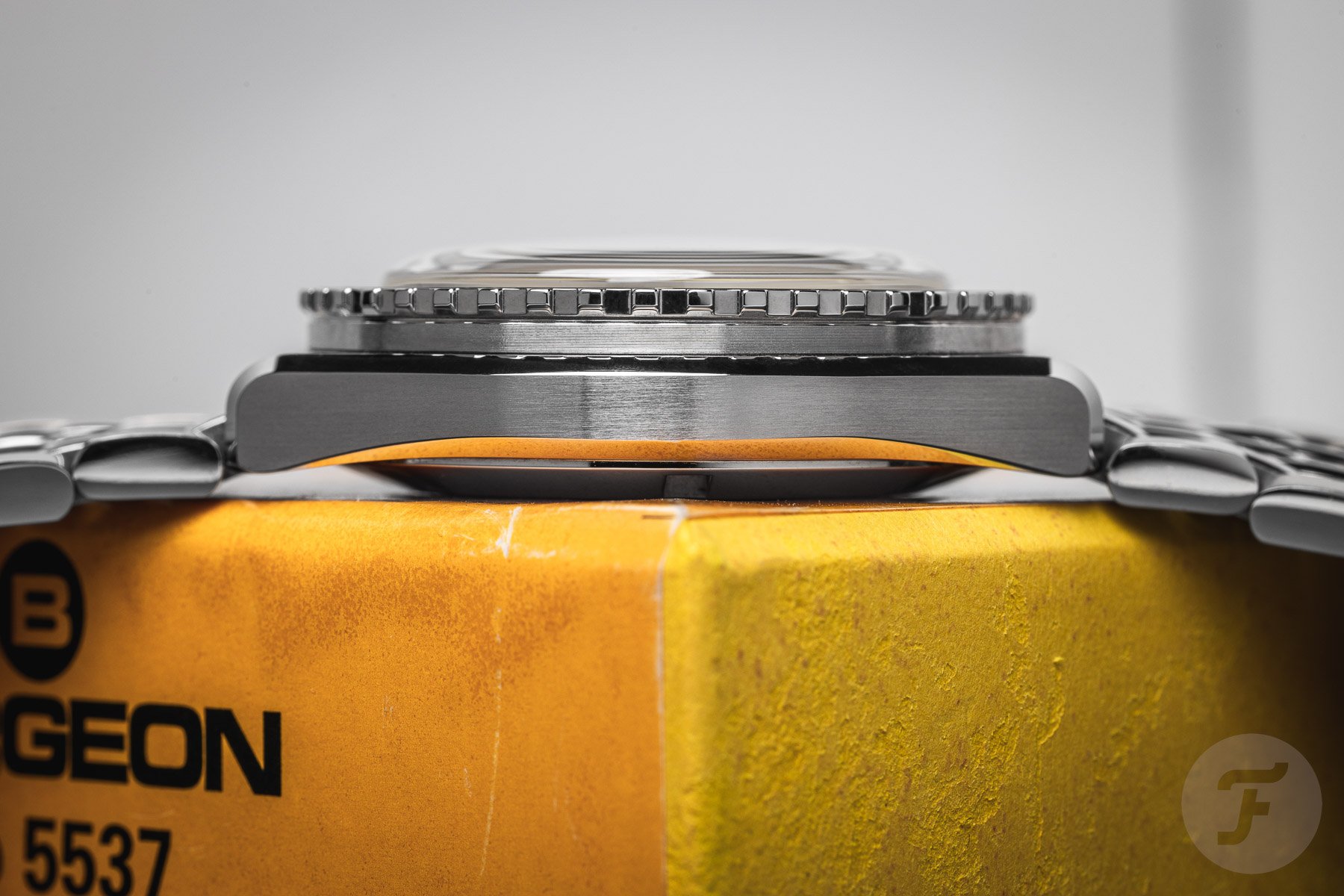 The Sub 200 is fitted with a sapphire bezel inlay with markings matched to the dial color. It is indeed lumed but extremely faintly. You can have your pick from seven colors for the dial, which is executed in a nicely textured matte finish. Mine is very obviously yellow, which Doxa refers to as "Divingstar." The watch comes on either a very supple beads-of-rice bracelet or a color-matching FKM rubber strap.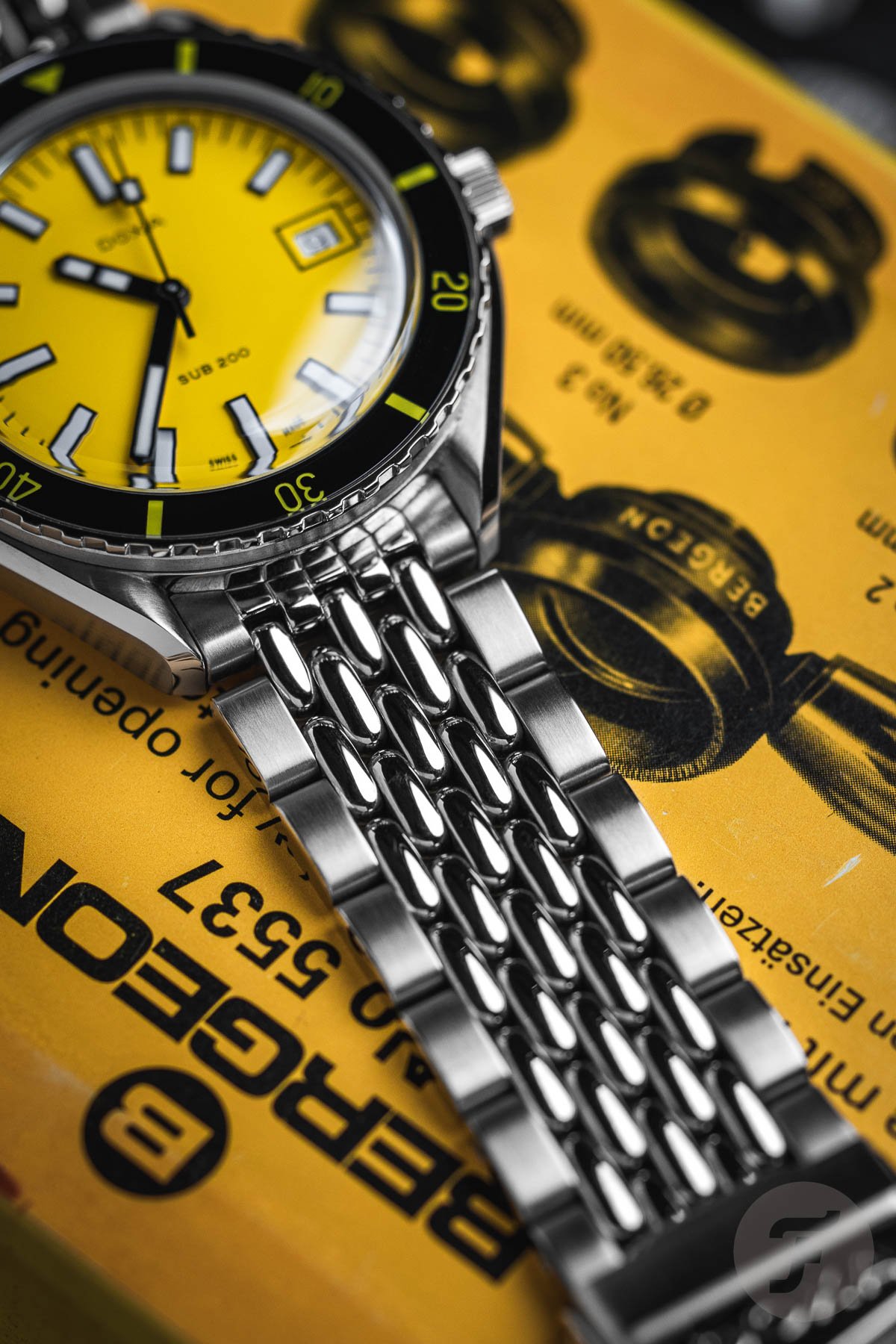 Some odd features
So far, so good! But I mentioned that this Doxa has some rather odd features too. Let's get those out of the way before I get into why I like this watch so much. For starters, the case has a 19mm lug spacing. That is not great in any case, but it is particularly odd since the bracelet is 20mm wide. If you look closely, you can see a jump in width from the end link to the bracelet. I can only assume some sort of compromise has been made during the development of the watch. I cannot think of any sensible reason to do this on purpose.
There is one thing that bugs me more, which is the dial. I think it is incredibly close to perfection. The color, the texture, and the layout are all pretty much on. I love the sparse printing and the vintage fonts too. But then the hands are black, while the applied indices are silver in color. This is a mismatch that ruins an otherwise absolute home run. If those indices also had a black coating, this would easily be one of my favorite dials for a dive watch.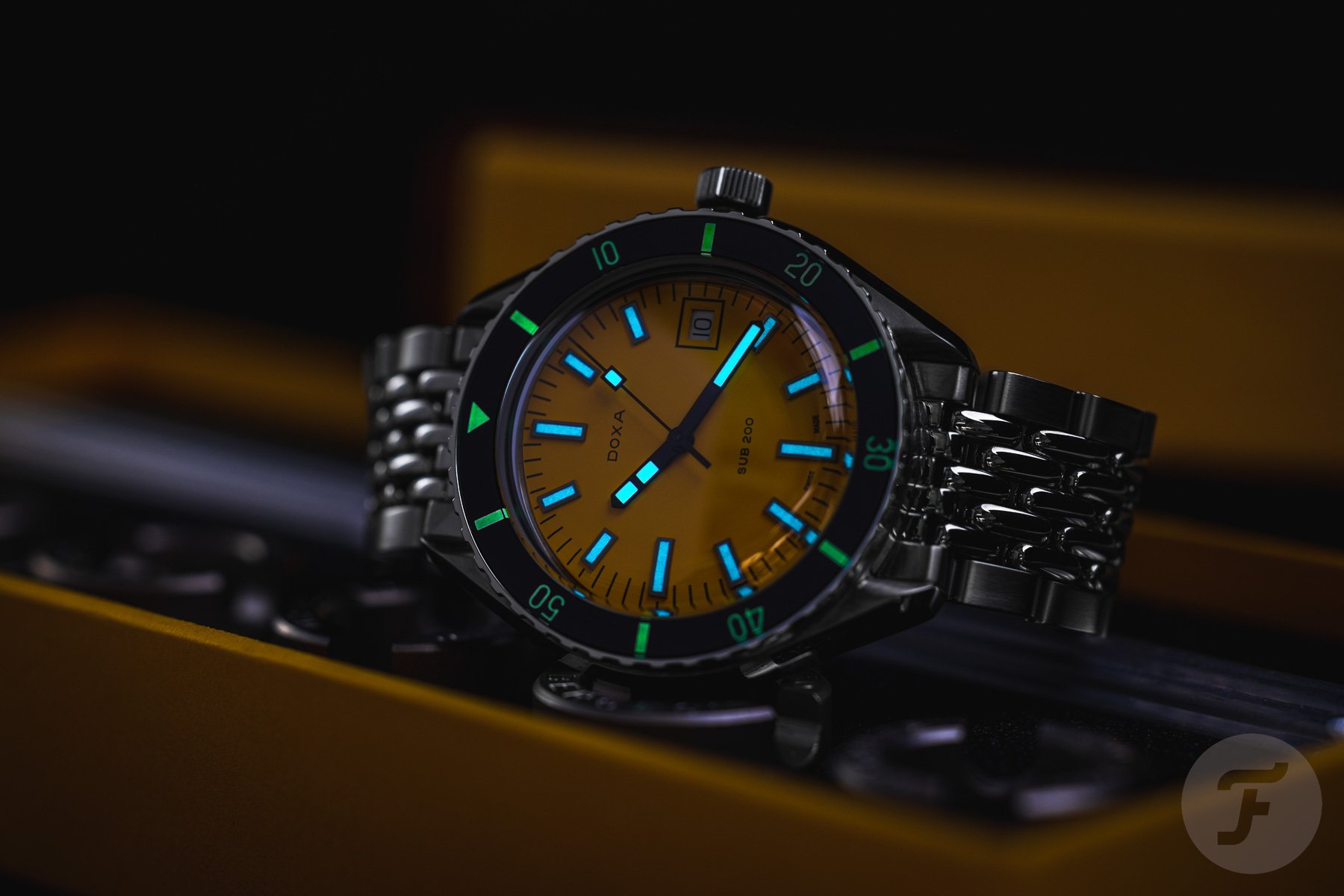 Lastly, the lume is very disappointing. I am unsure whether it is the compound used or that it has been overly diluted during application. But from its looks, I would have expected the Doxa to light up like a Christmas tree. I am sorry to report that it does not. If you are a lume fanatic, I think you are better off with a Seiko diver.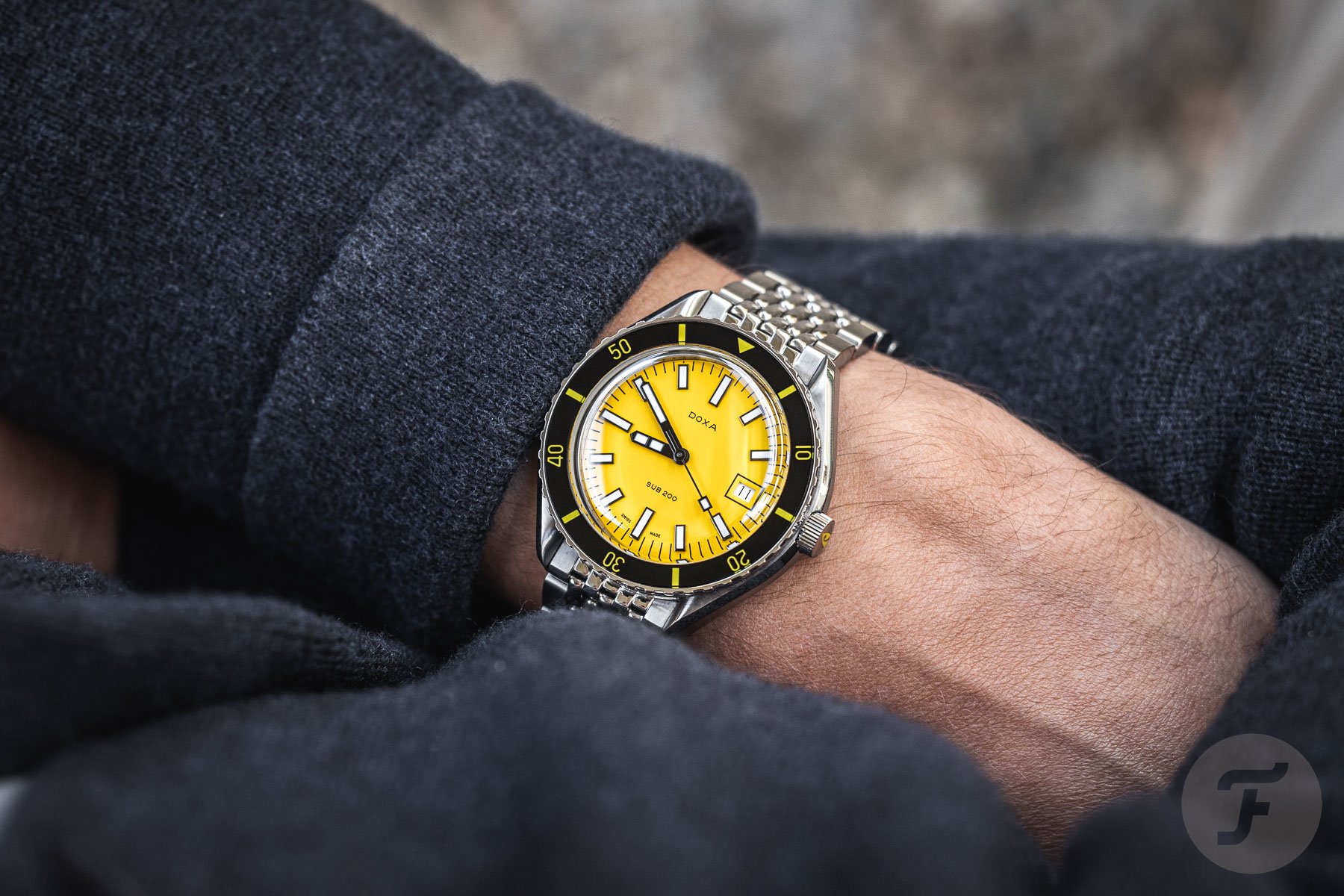 What I love about the Doxa Sub 200
I knew all of the above in advance, yet I bought it anyway. So what is it that made me forgive the Doxa Sub 200 for its flaws? Well, for starters, that bright yellow dial helps a lot! The color is just spot on. It has the punch of lemon yellow and the warmth of pineapple yellow. It is precisely that splash of color that I long for in summer. I tend to lean towards subtle, subdued watches. This is a nice departure from the sea of silver and black that is my watch box.
I also love how this is a vintage reissue that does not look like one. It is perfectly contemporary and fresh-looking, even though it is a rather faithful reincarnation of a 1963 design. This is in part due to the color I chose. The black and blue versions feature beige lume, which gives them more of a vintage look. This is why I would opt for the yellow, turquoise, or white versions. The iconic Doxa orange model also features yellowed lume, but it looks less like faux patina there. So my advice: go bright!
The bracelet is another big plus for me. The beads-of-rice look suits the style of the watch so well. It is also easily one of the most comfortable bracelets I have ever worn. It is supremely supple, and its short links make for a perfect drape. The almost non-existent end links also help. Contrary to what the 42mm size might suggest, the Sub 200 is great for small wrists. Don't fret that it lacks wrist presence for larger forearms, though; it will not disappoint there either. I would go so far as to say that this is probably a perfectly sized modern dive watch for 95% of the watch-buying population.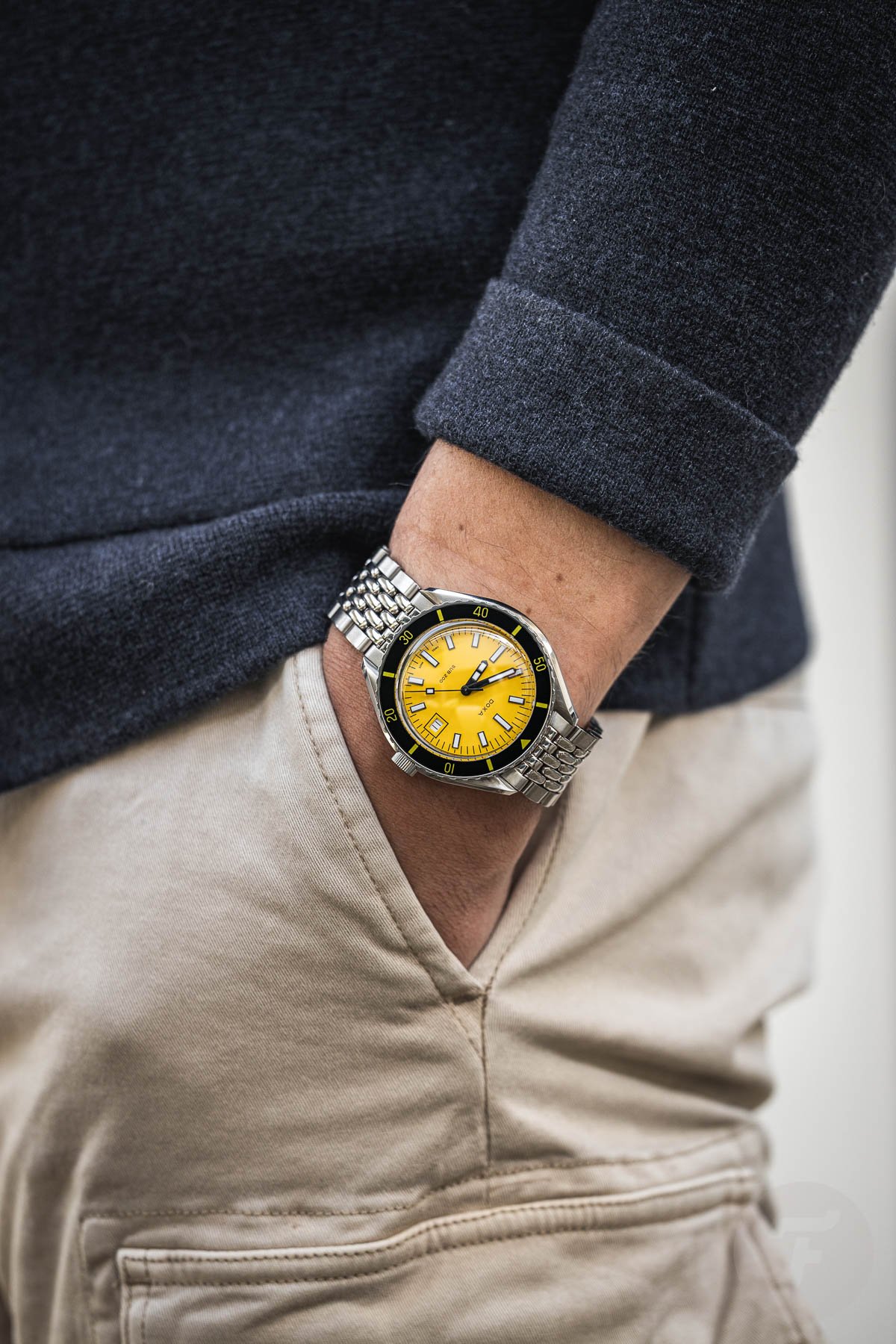 Closing thoughts
Obviously, the Doxa Sub 200 has a couple of flaws. If this were my primary watch, I would be much more bothered by its quirks. But I use this exclusively as a lighthearted summer watch, making it quite easy to look past its shortcomings.
The quality, generally, is quite high for the money. The Doxa Sub 200 comes in at €1,090. I would say the finishing quality is better than that of most similarly priced Seikos. The surfaces are nicely finished, and overall, the watch feels very solid. I might just wear it occasionally during summer and on holidays, but I'm sure it will last all my summers.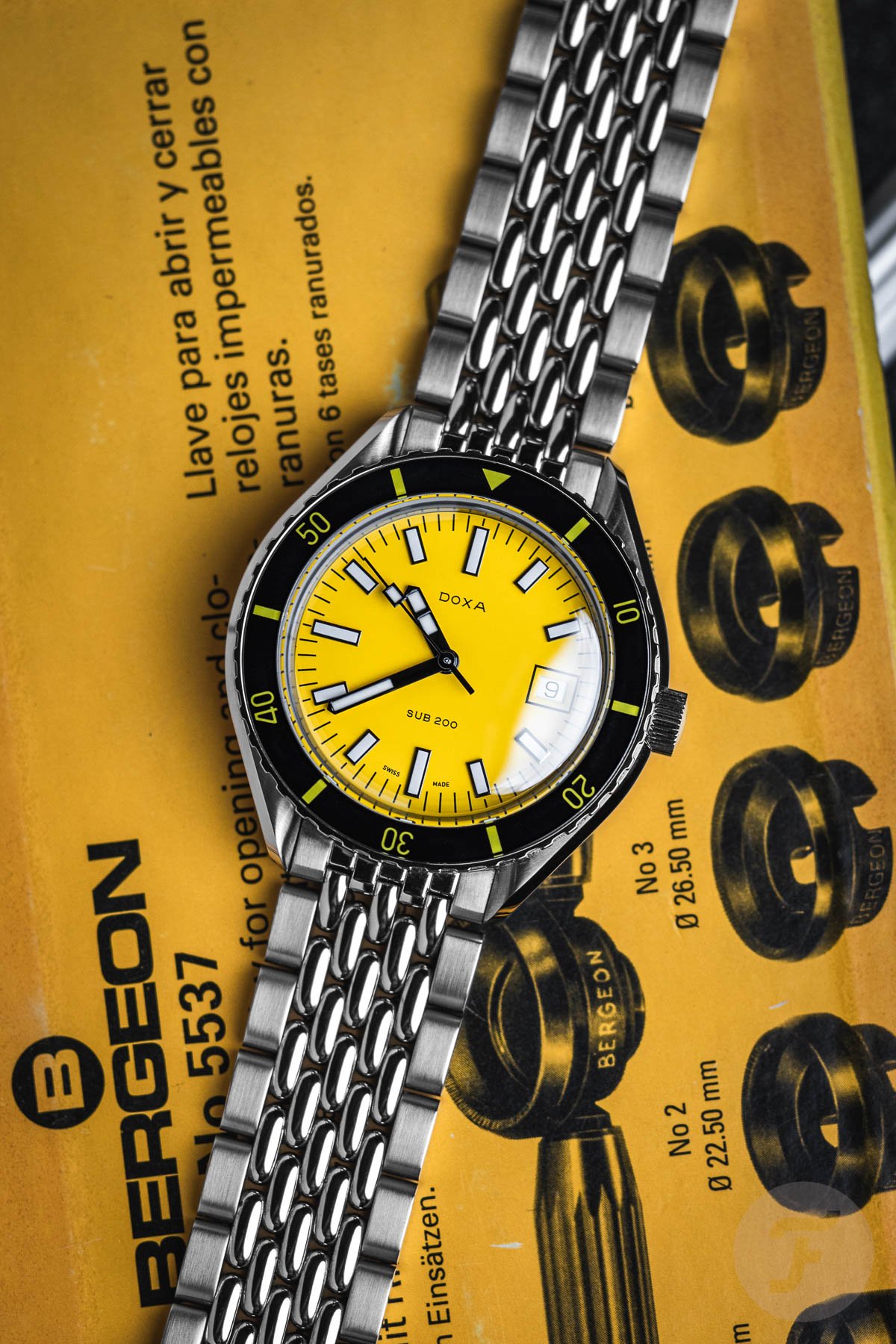 And then there is that intangible charm. For me, it triggers visions of azure blue waters off the southern coast of France. I see myself enjoying a cool cocktail after a dive off the back of a Riva, wearing my yellow Doxa. And when I am sitting in our dark, window-less Fratello office, typing an article on a hot summer's day, that is precisely the vibe I need! And that, my lovely Fratelli, makes it a perfect summer watch for me!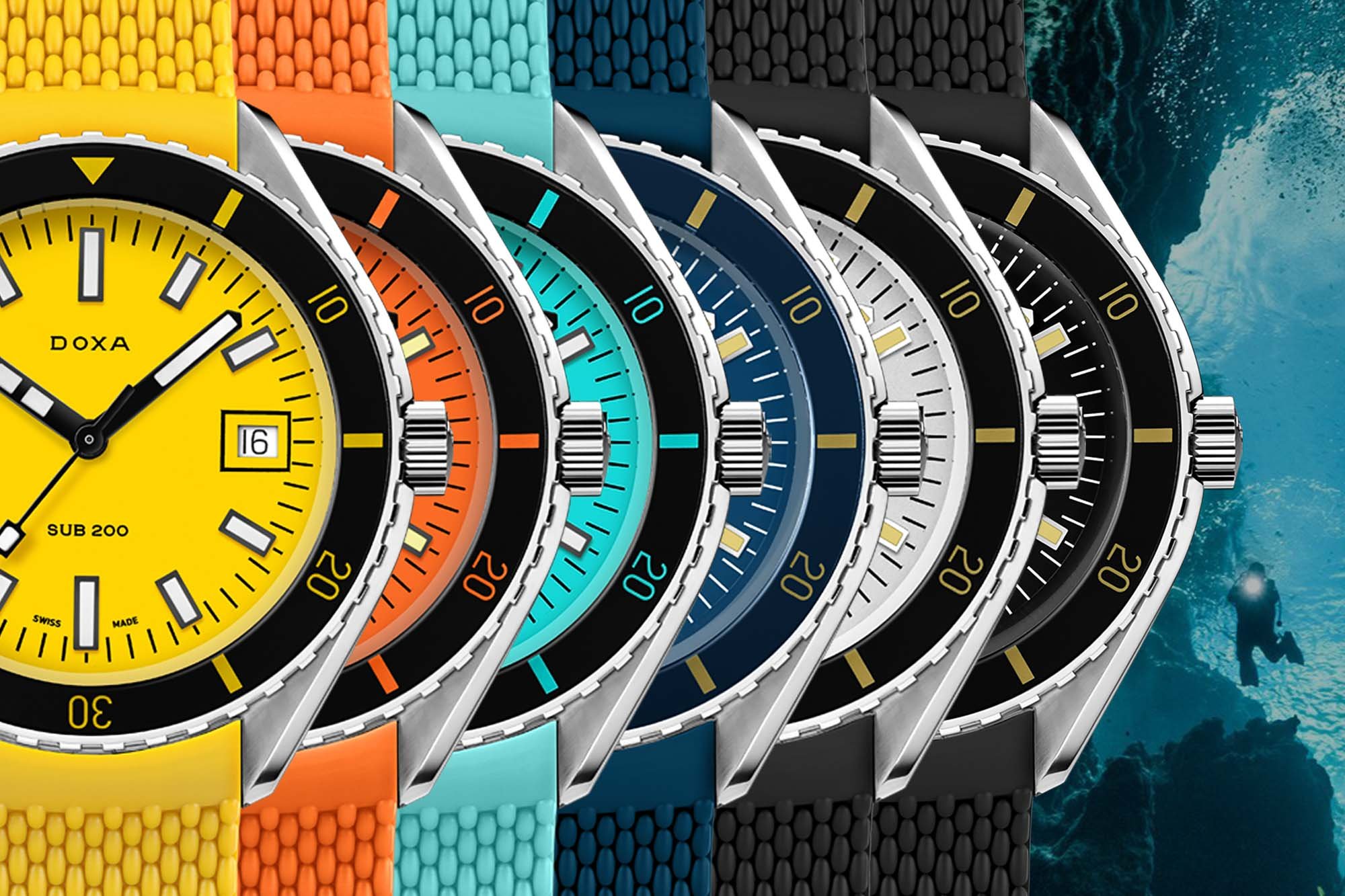 What is your perfect summer watch? And which Sub 200 would you pick if you had the choice? Let us know in the comments below!
You can also find and follow me on Instagram: @time_travelers_journal