Hands-On Panerai Submersible BMG-Tech PAM00692 Review
Between the introduction of a new watch and the actual delivery to the market can be quite some time. Weeks, months and sometimes even over a year. It is one of the biggest frustrations of watch consumers.
In some cases, it is understandable that it might take a little longer, when specific materials are used or when a watch is completely hand-built and hand-finished. The Panerai Submersible BMG-Tech PAM00692 I have here today is a watch that belongs to the first category. It uses BMG technology, a new light-weight metal that consists of different alloys. After this watch was introduced in 2017, it took a while before it hit the market. We recently received the Panerai Submersible BMG-Tech PAM00692 for review, so without further ado, let's have a closer look.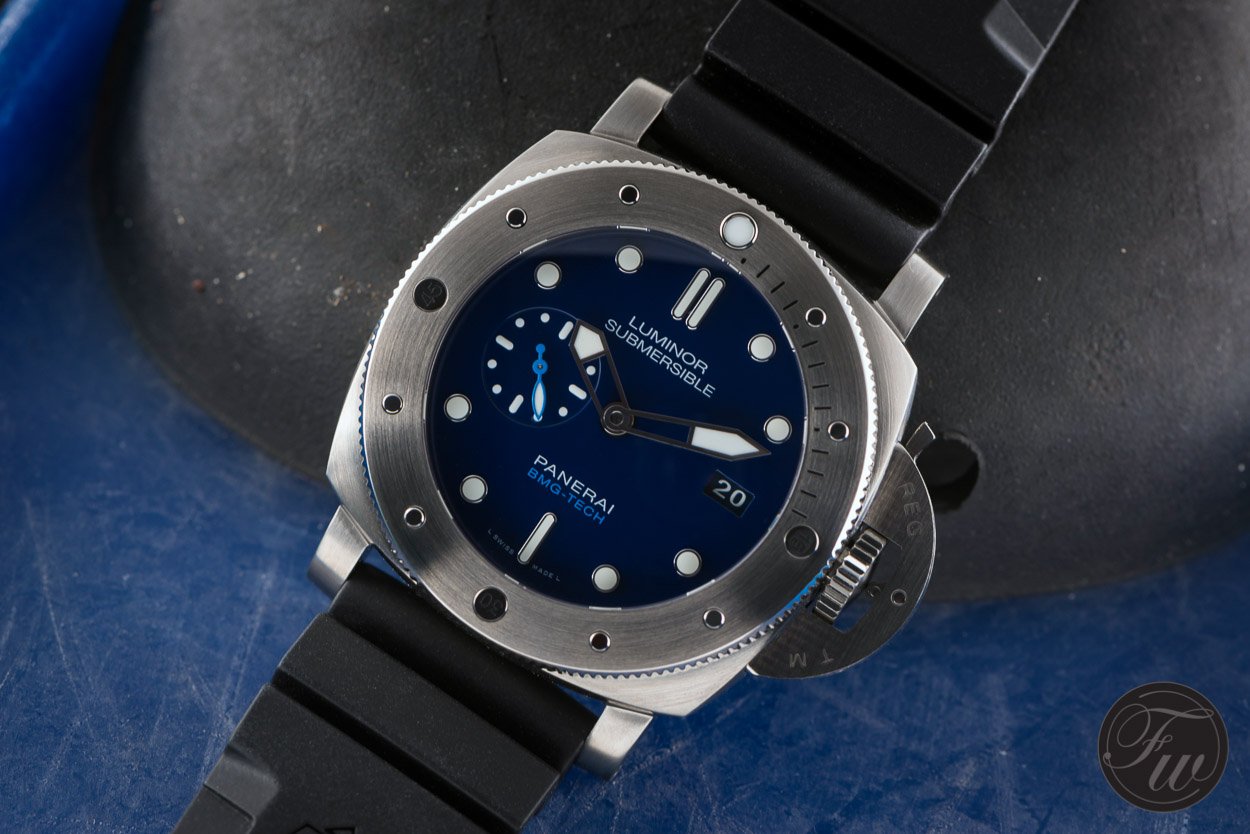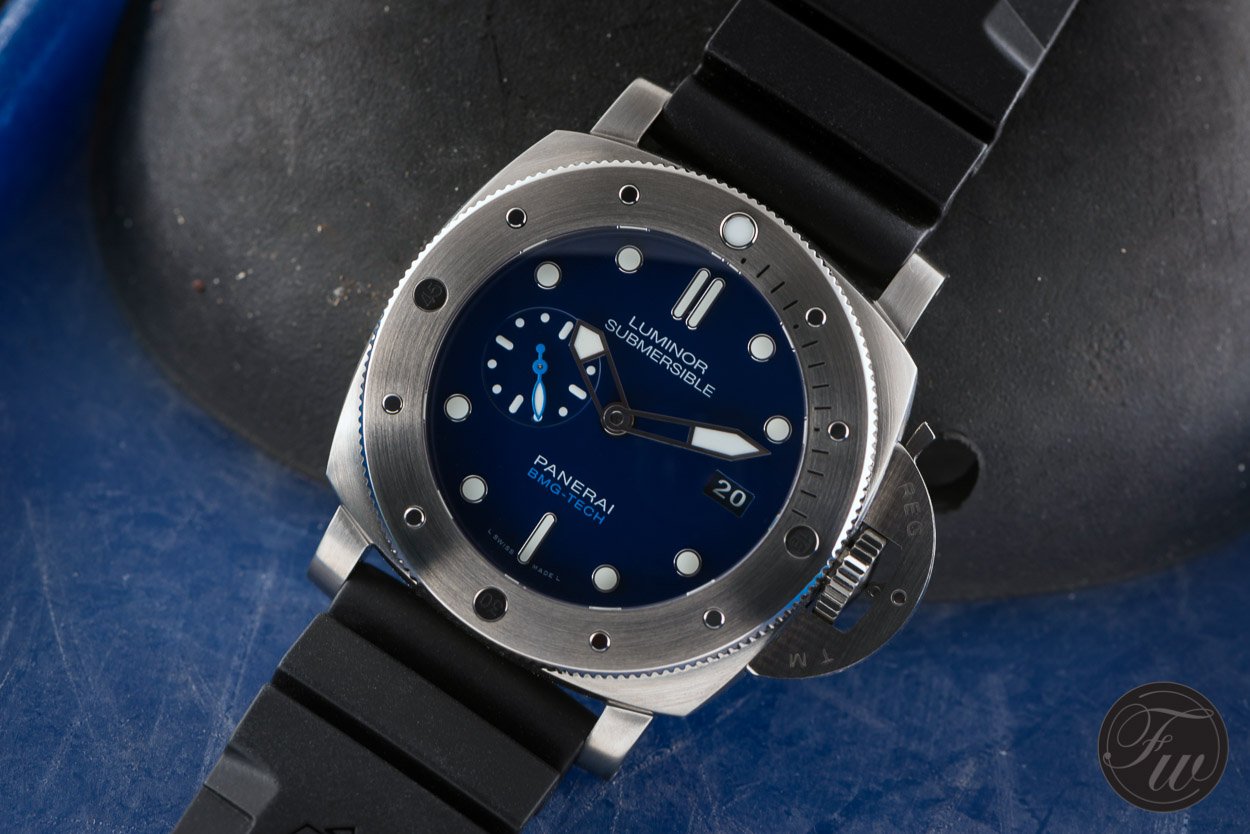 Panerai Submersible BMG-Tech PAM00692
I've always been more of a Luminor guy, including the Luminor Marina. The Submersible I found too big, perhaps just a bit too exaggerated in general. That said, I can't always just review those watches I fancy myself. So, with a healthy dose of scepticism, I agreed to have this Panerai Submersible BMG-Tech PAM0092 on loan for a hands-on review.  Now, I have this strange habit of thinking that I am actually smaller than I am. Meaning that I always tend to think that everything over 44mm doesn't suit me. But the truth is that I am 1.90m tall and the weight scale points at about 90 kilograms. A 47mm watch should therefore not be a problem, you'd say. And indeed, when I received a box from Richemont Group with this PAM00692 inside, I actually was amazed that the Submersible in 47mm doesn't look bad on my wrist. It shows that you can't always trust specifications, you need to see it live on the wrist. An issue that needs to be solved once we are all ordering online instead of buying from physical stores.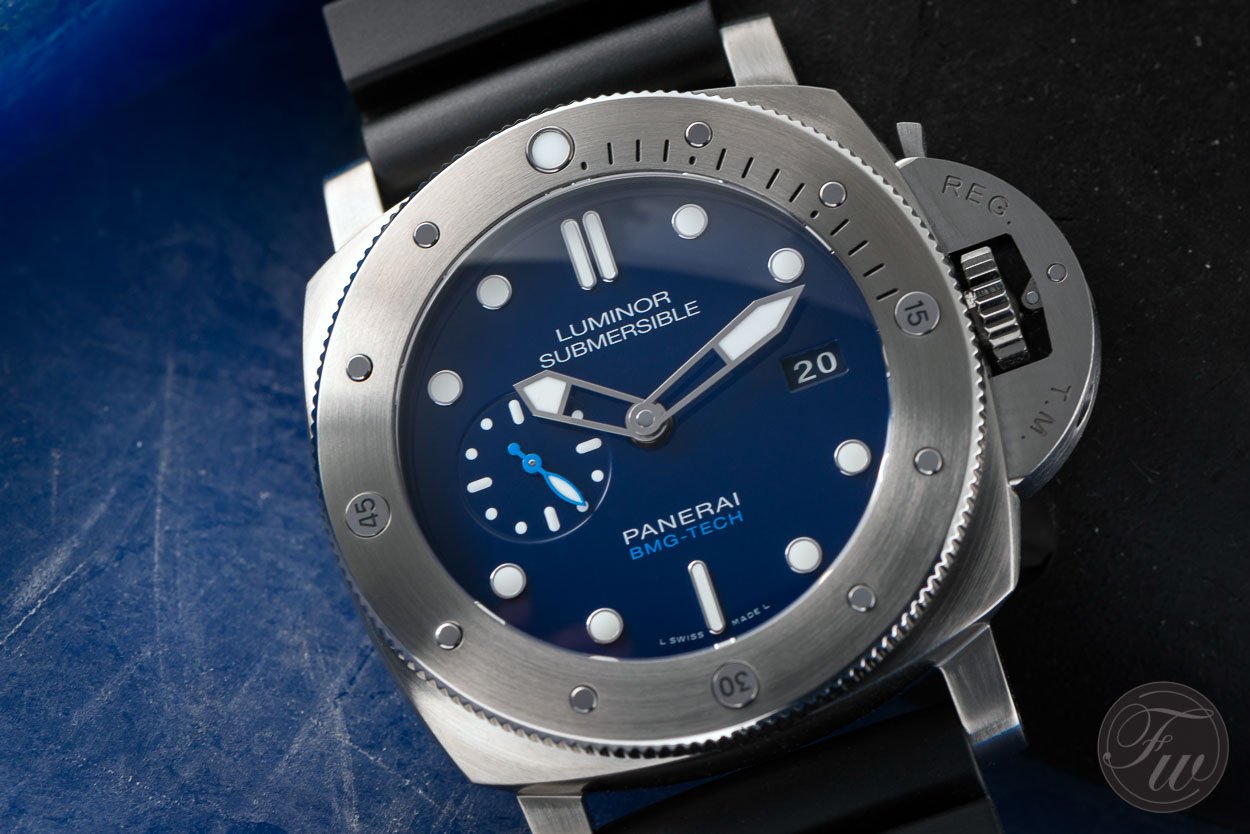 BMG-Tech
At least in the past, Panerai had the habit to advertise with their heritage, having a history with the Italian navy. Although story-telling is important for most brands these days, more important than ever it seems based on our recent SIHH visit, I feel that Panerai should communicate a bit more on their technical achievements. When I visited the – then – new manufacture in 2016, I was amazed by the amount of work that Panerai puts into developing new materials. You can read that manufacture visit report here.
The BMG-Tech material is based on "Bulk Metallic Glass" that has a certain structure that makes it extremely resistant to corrosion, shocks and magnetic fields. This structure is achieved by using a high-pressure injection process at a certain (high) temperature, followed by a cooling down process for a specific (short) duration. According to Panerai, this results in a material that has a disordered atomic structure. It is this structure that gives the Panerai PAM00692 made of BMG-Tech material this robustness and protection against magnetism. It also ensures that the watch will keep its appearance over time. Our review period of a few weeks with the Panerai Submersible BMT-Tech was a bit too short to test this, of course. But indeed, the watch looks good for sure and is light-weight, especially for such a big 47mm piece. The case back of the PAM00692 Submersible BMG-Tech is made of titanium. Titanium is also one of the materials that are part of the BMG-Tech alloy (consisting of zirconium, copper, aluminium, titanium and nickel).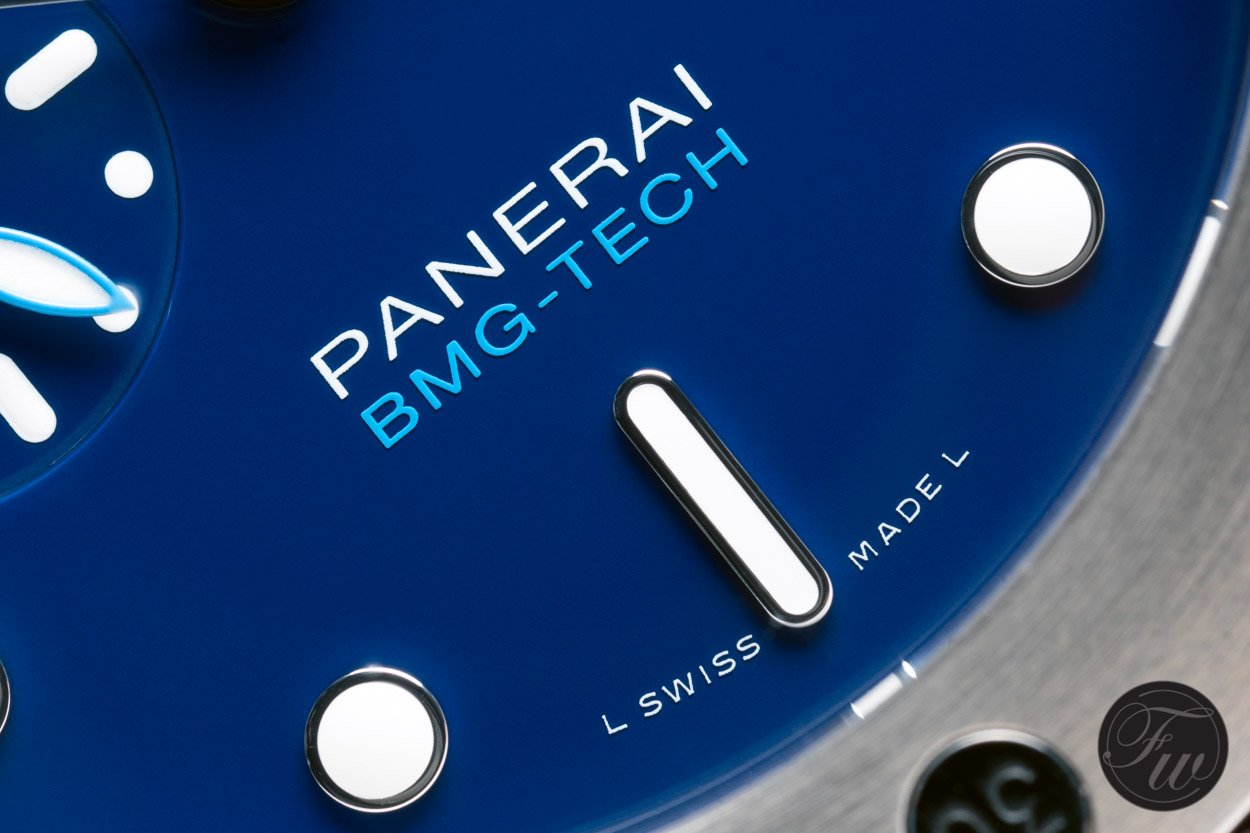 P.9010
Inside the PAM00692 we find the Officine Panerai caliber P.9010 movement. Thinner than the P.9000 that was previously used and comes with a double bridge for its balance-wheel, offering more stability. Of course, the P.9010 inside this Panerai Submersible BMG-Tech offers 72 hours of power reserve. It features hours, minutes, seconds and date. The date is located at 3 o'clock on the dial and the seconds on the 9 o'clock subdial. What I personally like about this new generation movement is that the hour can be separately set, without moving the minute hand. Very convenient for those of you who travel often to different time zones. This movement has been developed in-house and manufactured in the (impressive) Panerai production facility in Neuchâtel. To set and wind the watch, you just need to unlock the patented Panerai crown protector and pull the crown.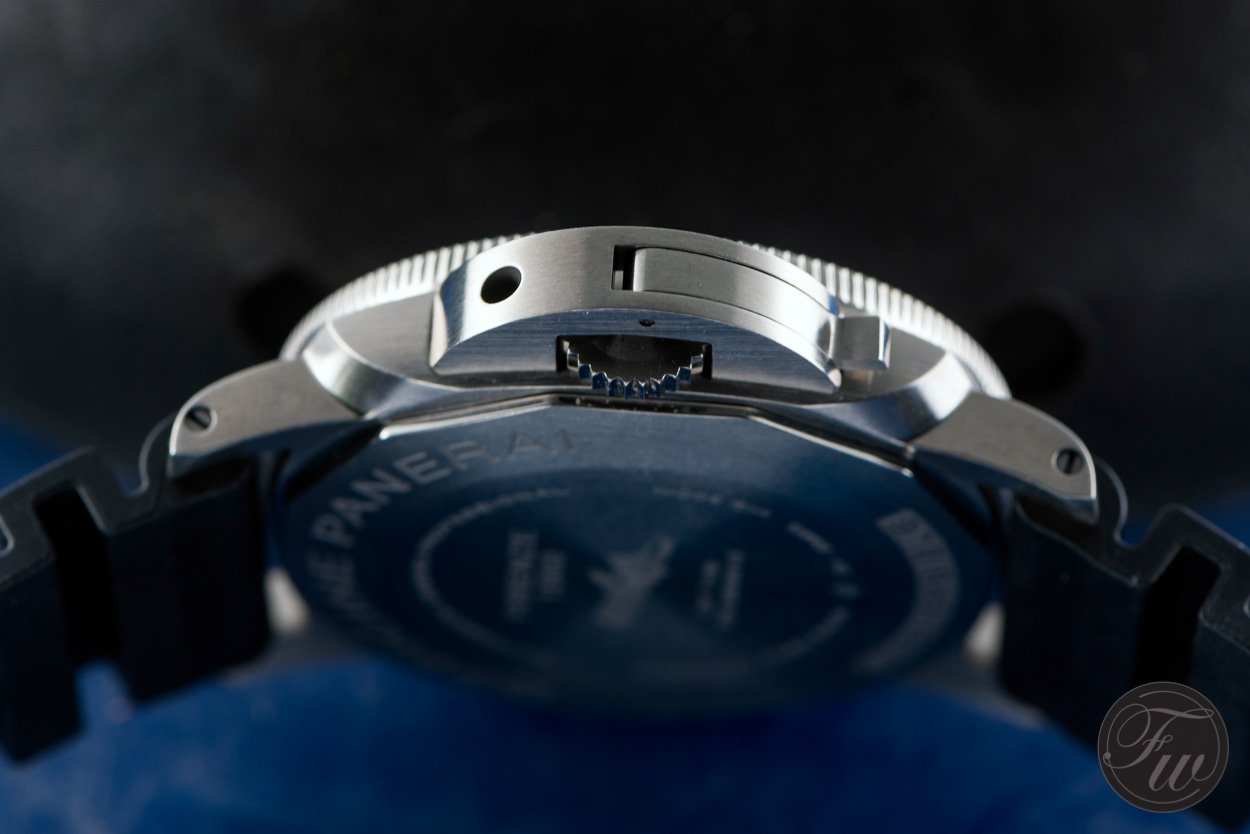 Blue Dial
What I like about this Panerai Submersible BMG-Tech is the fancy looking dark blue dial.  It also uses some lighter tones of blue, for the small seconds hand and the BMG-Tech indication on the dial. The hour markers are white and filled with Super-LumiNova. Being a proper divers' watch, the PAM00692 uses a different colour Super-LumiNova for the dot on the uni-direction diving bezel and the minute hand. This way, divers can easily identify their remaining diving time. The quality of the printing on the dial is amazing and holds up even under a macro lens without showing any flaws. On the image below, you can see the contours of the applied luminova on the rectangular/oval indicators on the small seconds subdial. With the naked eye, it is hardly visible.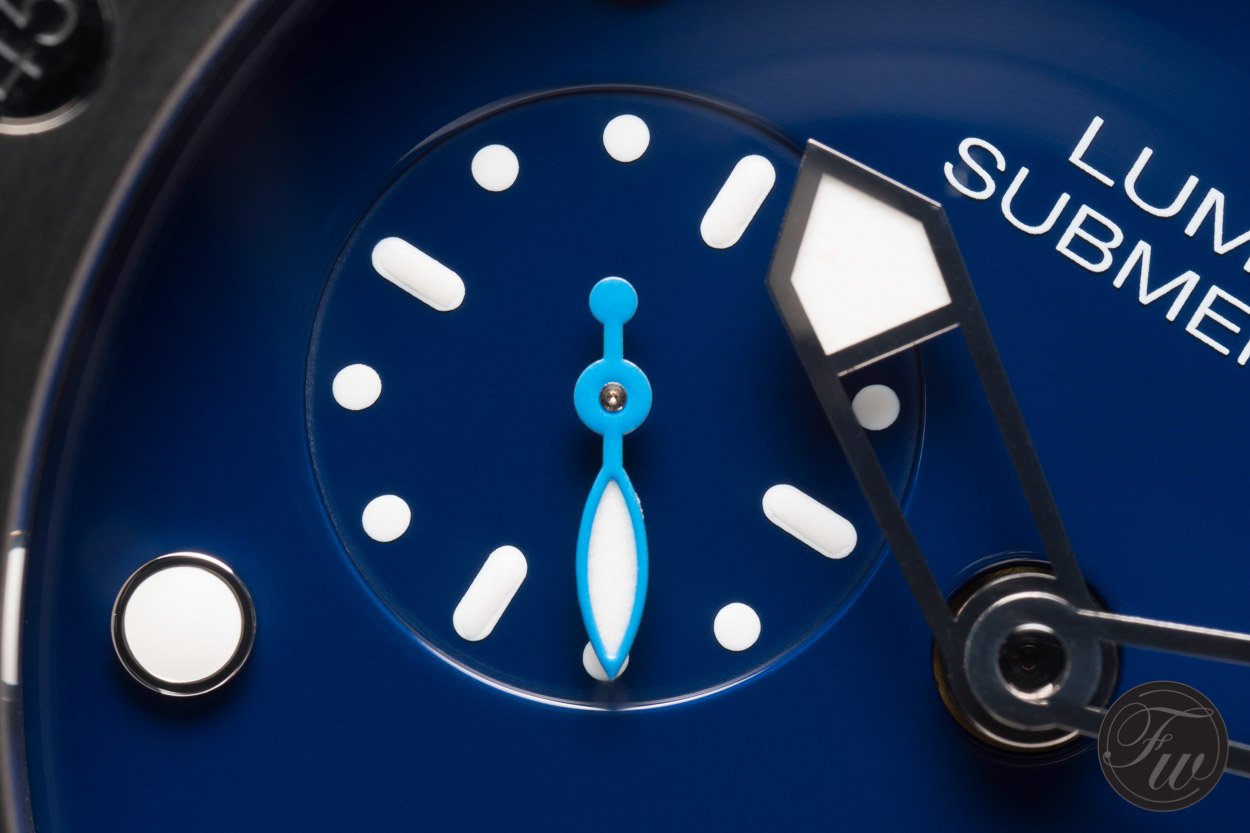 Case and Uni-directional bezel
On the bezel you will find markers for the first 15 minutes of the scale, and the '15', '30' and '45' are indicated with a circle with the number inside. All other 5-minute markers are engraved circles. As you can see, the bezel and case have an amazingly nice brushed finish. The engraving on the titanium caseback is nicely done and contains all the information you want to know about your PAM00692, as well as the Firenze 1860 logo with the human torpedo, also referred to as Maiale. A three feet high and 23 feet long manned submersible, with 2hp and able to carry a 300kg warhead. Although I don't want to sound politically correct, it always does strike me as weird that Panerai focuses on these types of things, while the Italian Navy wasn't exactly fighting for the good cause during WW2. Anyway, it is part of history and so are the Panerai watches that were used by the Italian navy. It is a way to show how durable and reliable these watches were, for sure.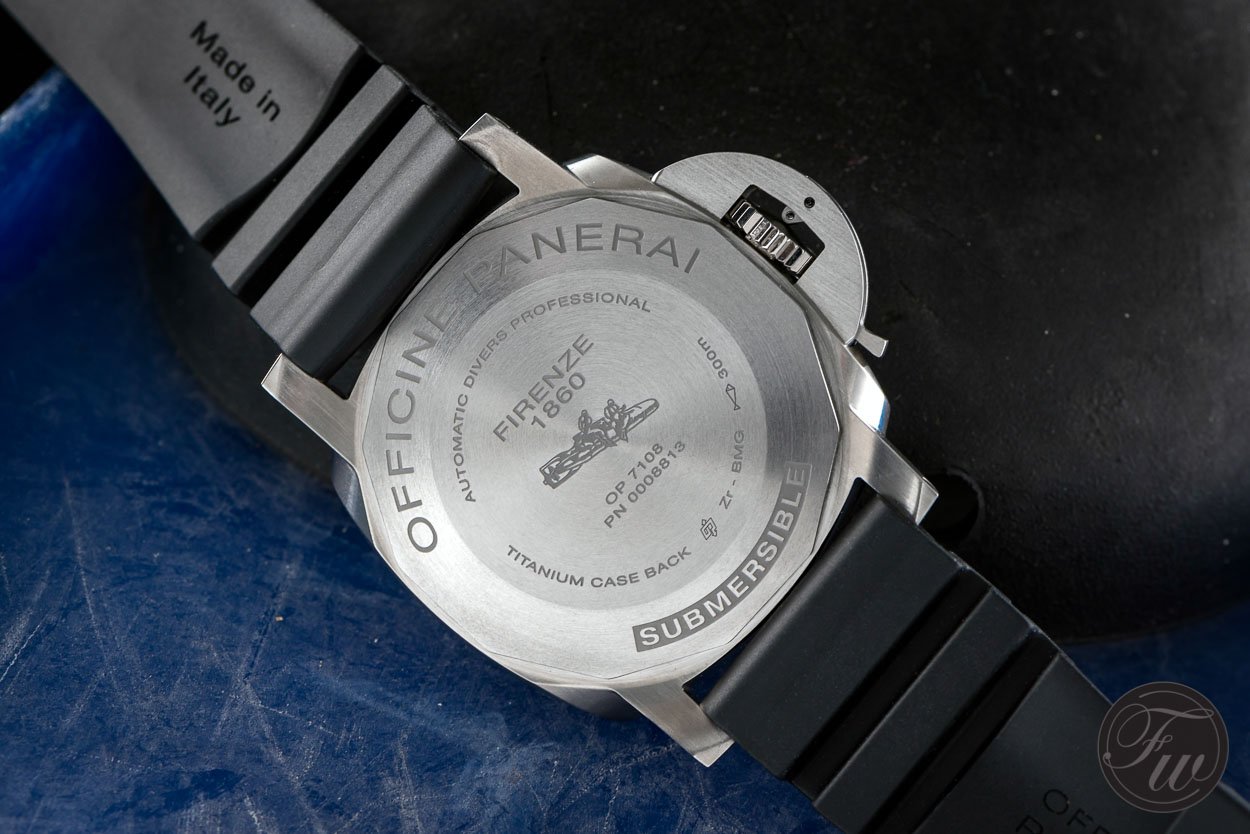 Anyway, back to the watch itself. The 47mm case sits relatively comfortable on the wrist. I say relatively, because even though I can get away with a 47mm case, it is still big. That's also the concept of these watches, but for comfort, I would probably settle for the 42mm version of the Submersible. The thing is, that the 42mm is not available made of BMG-Tech material. There's one in Carbotech (PAM00960), but the looks of that watch don't match the PAM00692. So unless you are into that, or into red gold, you're left with the regular steel Submersible in 42mm. On the positive side, the price of a steel Submersible is friendlier than the retail price of the BMG-Tech model. After wearing the Panerai Submersible BMG-Tech for a while, I noticed that during the day I am totally fine with the 47mm case. It improves the readability, for example. However, I did notice that after a working day the first thing I would do was taking off this watch. That's not my normal habit or behaviour, so somehow the 47mm size has its limits. I am sure it is also a matter of getting used to it, perhaps I didn't have the watch long enough, but especially when you have a new watch, it should not be the case that you're eager to take it off.
The strap on this Panerai Submersible BMG-Tech PAM00692 is very comfortable, and definitely helps wearing a large watch like this in the best possible way. The size between the lugs is 26mm and tapers to 22mm at the beautifully engraved buckle.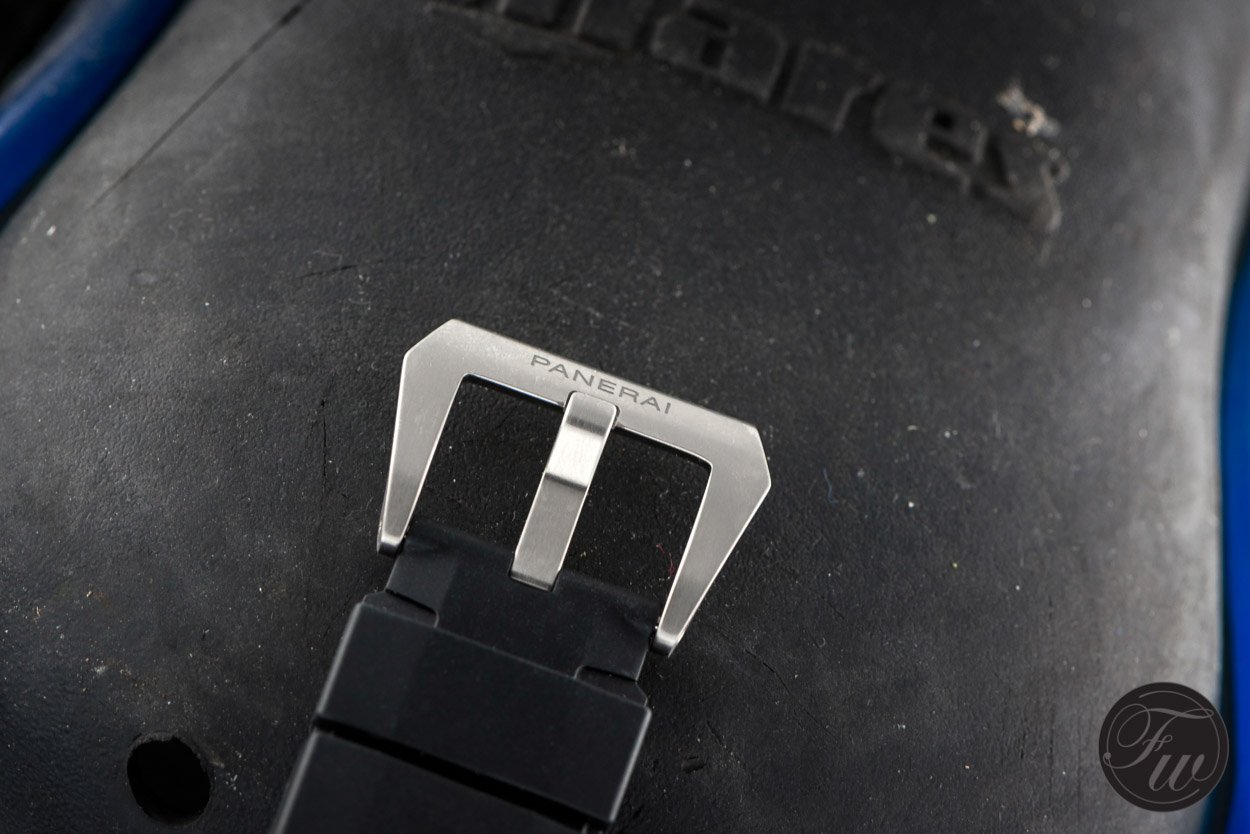 Conclusion – PAM00692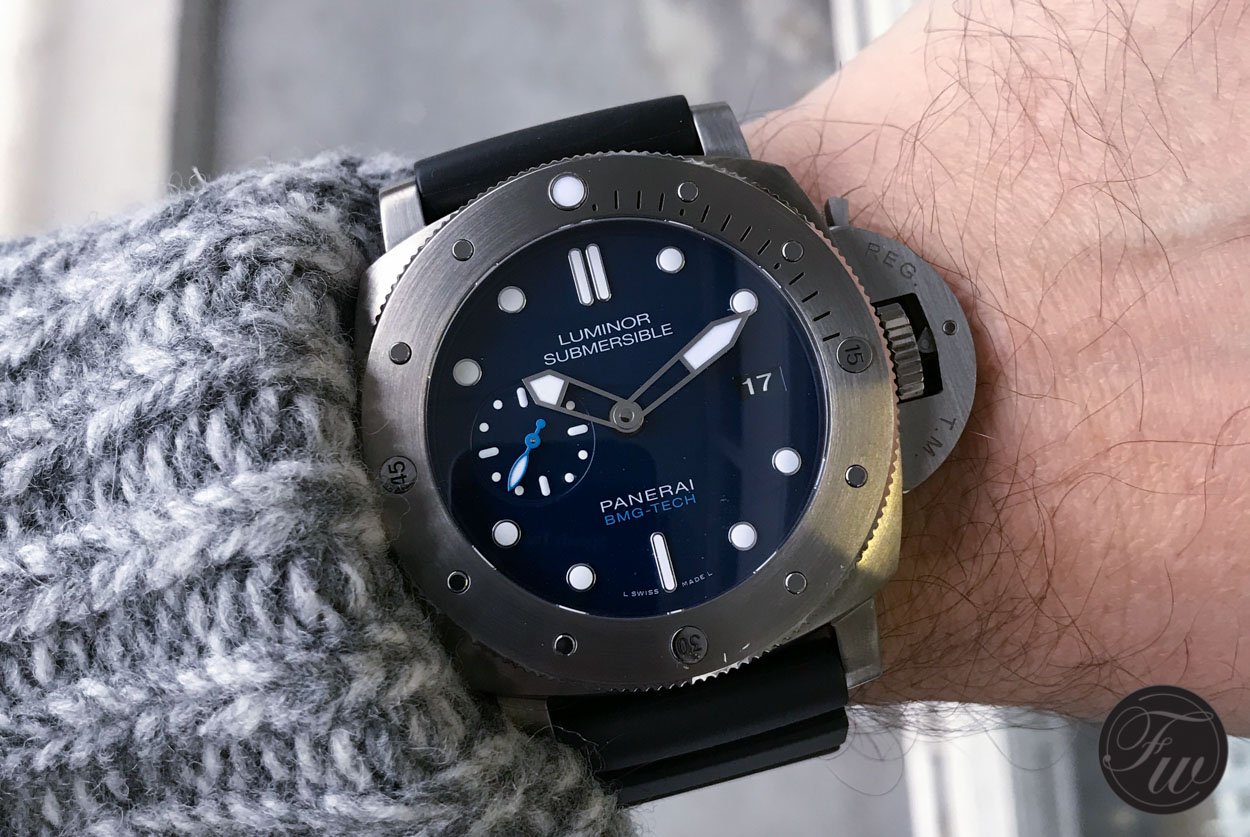 After wearing the Submersible, I had to adjust my opinion on this model a bit. Actually, it changed a lot for me. I think that if I would be in the market to purchase a Panerai watch (and I used to own a couple of Luminor models), I would go after a Submersible. I've have tried the new 42mm models during the last SIHH which make – to me – more sense to wear as a daily watch, but if you have – like me – a modest collection of watches you will rotate anyways. The price of €12.900 is quite steep, but you do get a watch that has been crafted from an interesting and innovative alloy that will ensure your watch will be in (or close to) the same condition the day you bought it. This year, in 2019, the Submersible BMT-Tech (PAM00799) was also presented with a bezel made of Carbotech. Another material that Panerai has been boosting since a while. This increase the price to €14.900. The steel (316L) version of this watch, is reference PAM01305 with a retail price of €8.900.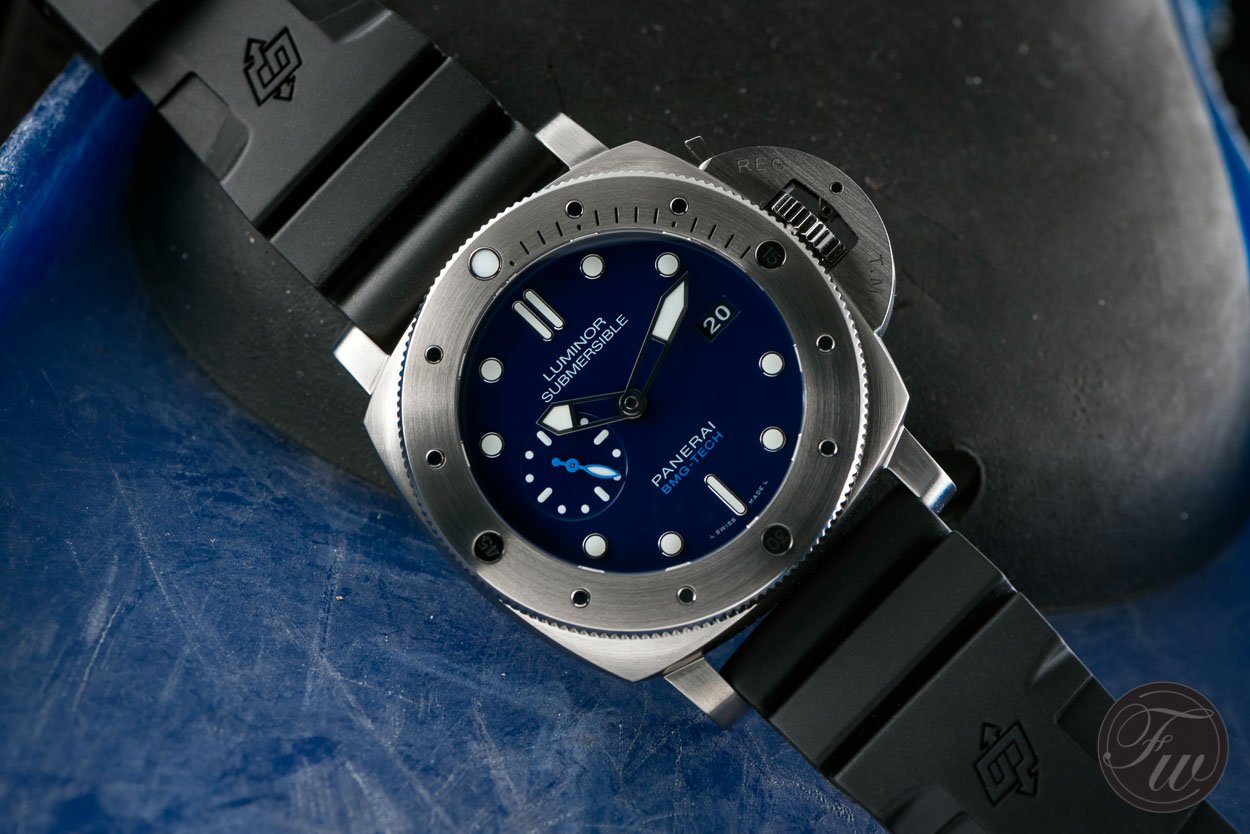 More information via Panerai online.
All mentioned prices are including 21% sales tax and based on the information for the Dutch market. Prices for your own market can be found on the official Panerai website.