Patek Philippe 5164a Aquanaut Travel Time Watch
Guest post by Thor Svaboe
Crisis. A Patek Philippe butterfly clasp is covered with hairline scratches. Was it my doing? Incredulously, I realize that it was handed to me in this condition. I find myself torn between a feeling of shock and happiness. The same clasp is worth more than a top piece or two in my own collection, and yet it is scratched. But why does this fill me with happiness? Have I lost my marbles? Is it schadenfreude? Or is it something else…
This is the first time I've handled this enigma of a sports watch on a rubber strap that goes for €50-60,000 Euros pre-owned, or new after a 5 year wait for your local AD to get one in stock, and, for me, it's a momentous occasion.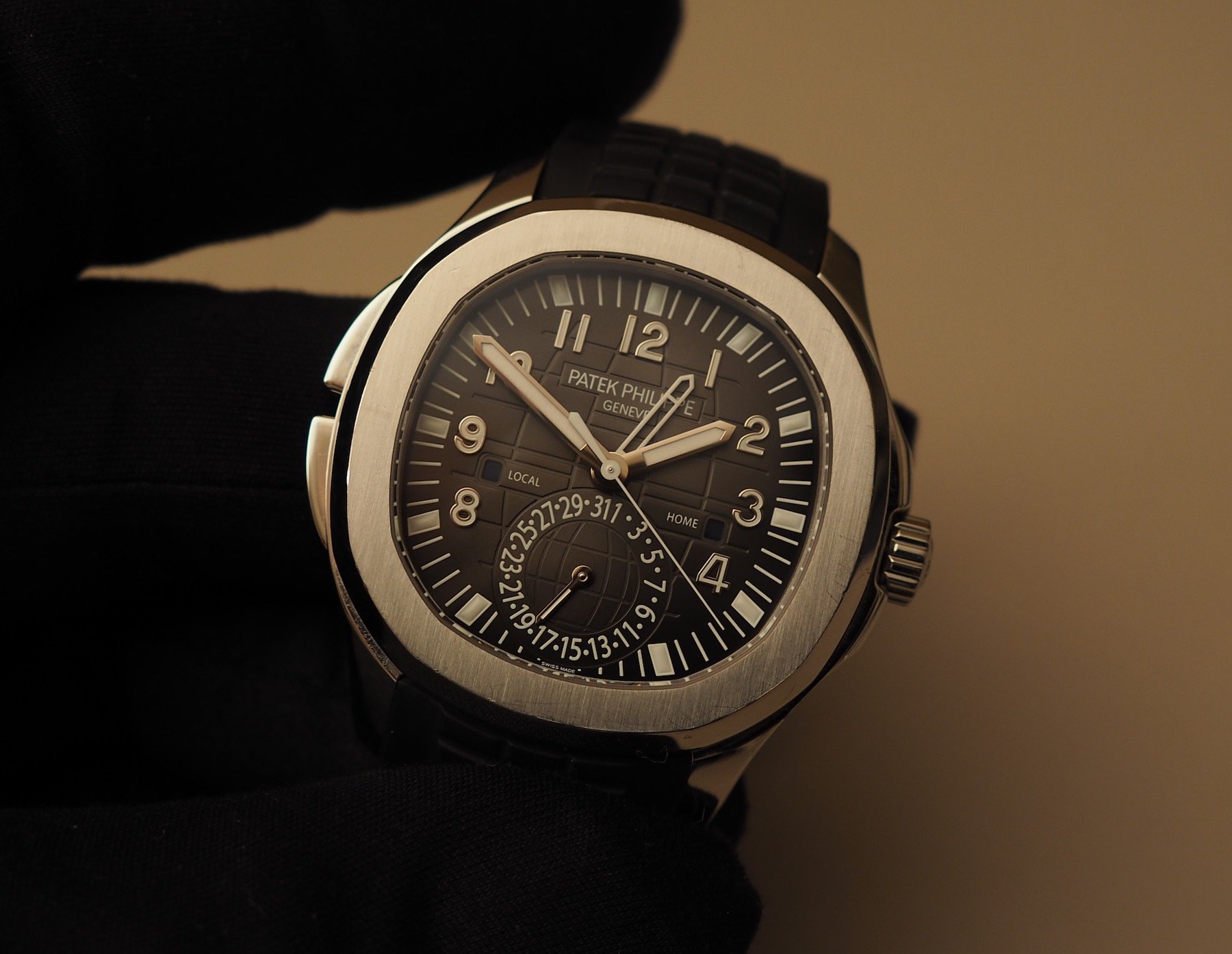 The occasion was made all the more momentous by the unexpected realization that accompanied it. The raison d`être for a sports travel watch is the same whether it's a Seiko or a Patek. Function. Not investment, but function.
I'm scared to take out my Grand Seiko without shirt sleeve protection…
Honesty first. I, like many of you, enjoy articles on watches appreciated and used as tools and love the scratched-to-hell vintage Subs achieving astronomical prices under the Sothebys gavel. Simultaneously, however, I'm scared to take out my Grand Seiko without shirt sleeve protection and a dust cloth in my breast pocket…
That uncomfortable contradiction is no more.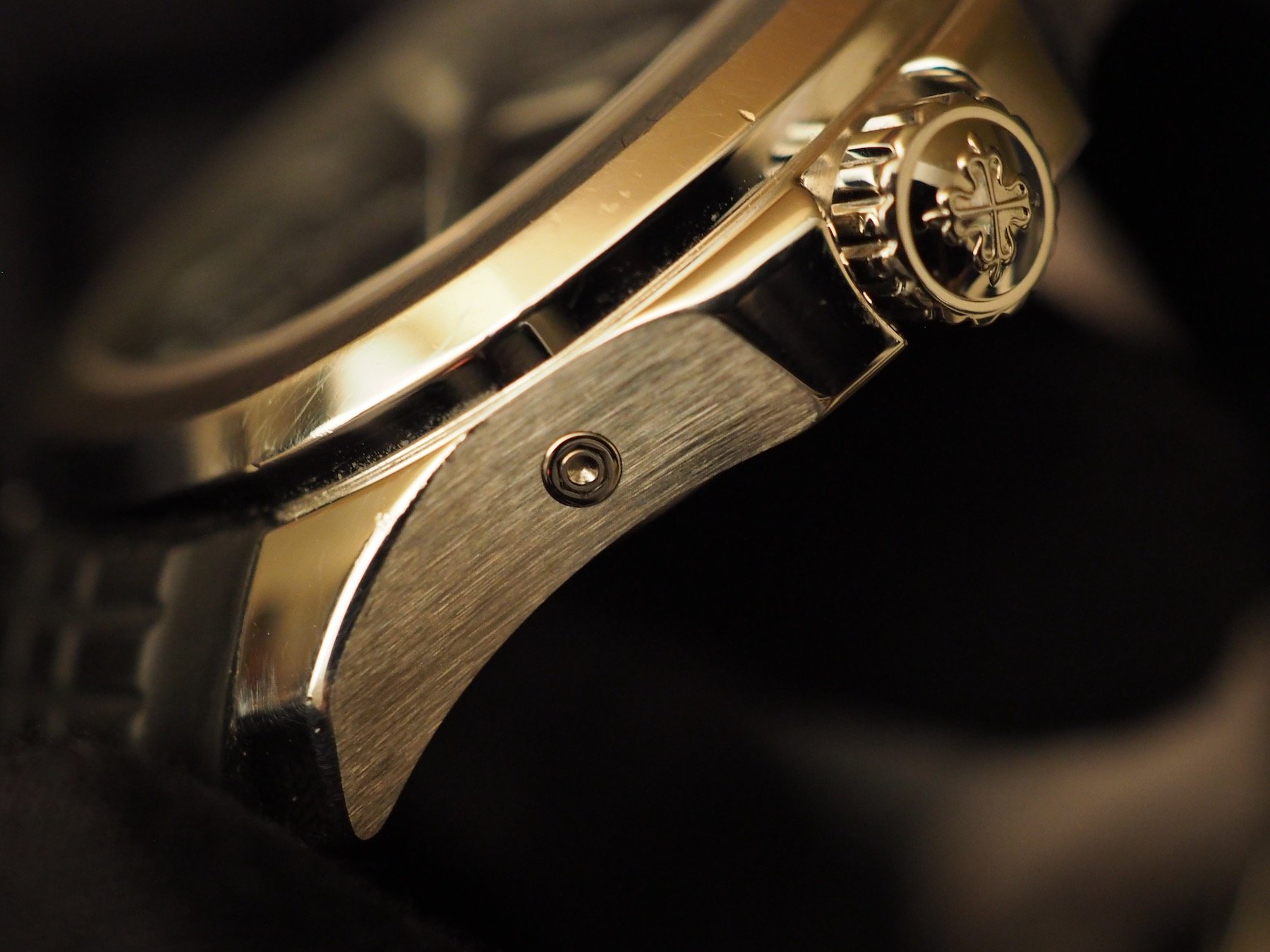 A watch
This scratched Patek Philippe 5164a changed my perception. A huge number of Patek Philippe watches never see wrist time. Safe queens, investment pieces, family heirlooms… You name it. It's a travesty. Timekeeping is the purpose of a Patek Philippe. And these watches deserve to be worn.
…a very useful tool.
It is not an artwork or a holy talisman. It is but a watch — a purely functional object. Stop shaking your head. It's true. You may have been conditioned through years of marketing that it is something more — something removed from real life. But it isn't. It is, in fact, a very useful tool.
The Aquanaut tells the time in two time zones. That, in itself, is nothing new. The method employed, however, is rather special. More special still is the comfort of this thing on the wrist.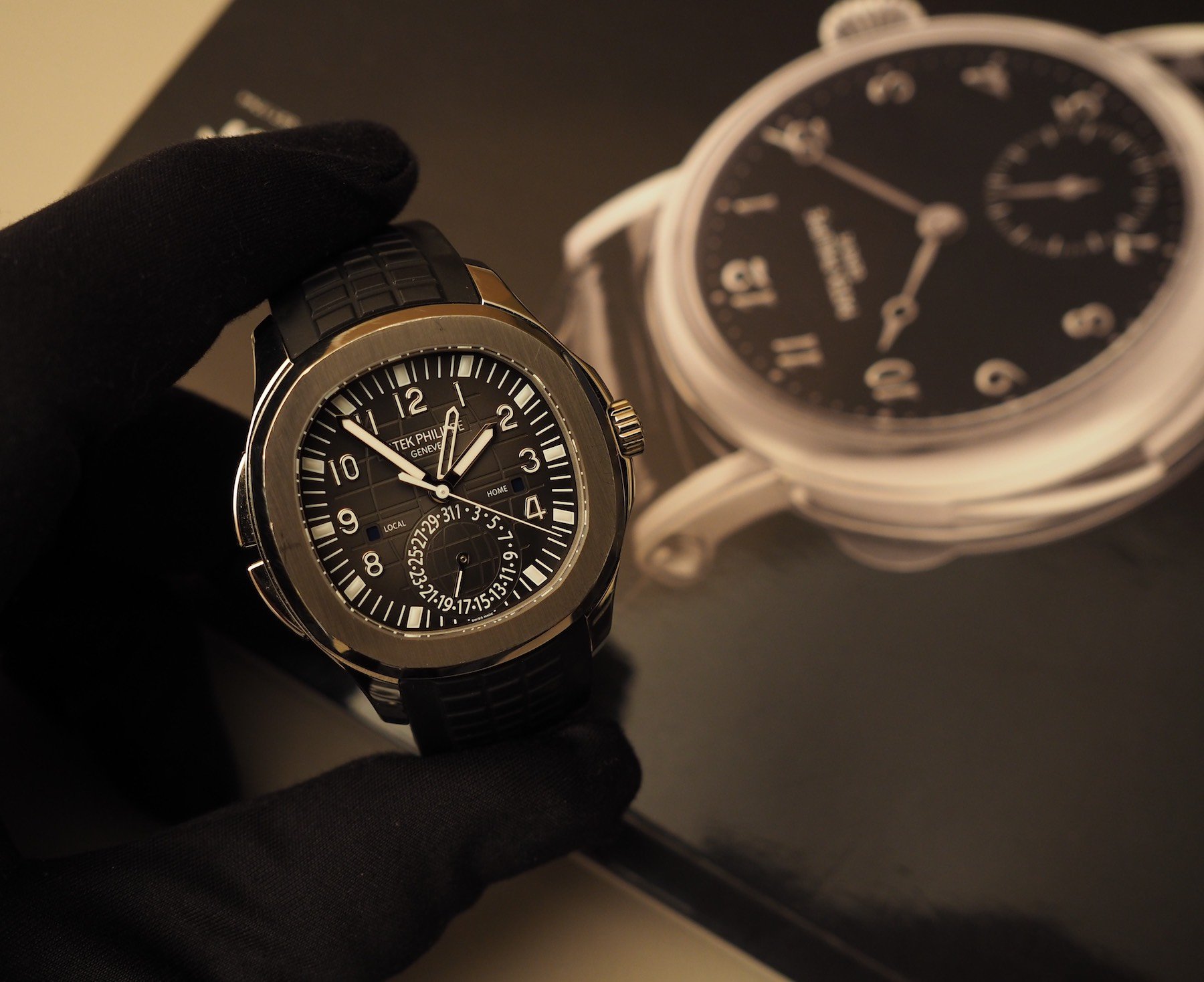 The owner is a successful businessman and frequent traveler with a goal of finishing all the important marathon runs of the world from Chicago to Berlin. The Aquanaut regularly accompanies him on his trips. Consequently, the easy-to-use timezone function finds itself called upon often. This watch is used as it was intended to be used. Understandably, then, it shows signs of wear. And, for some very visceral reason, that makes me happy.
I contemplated this as I fumbled with a rubber strap that costs the same as my BMW…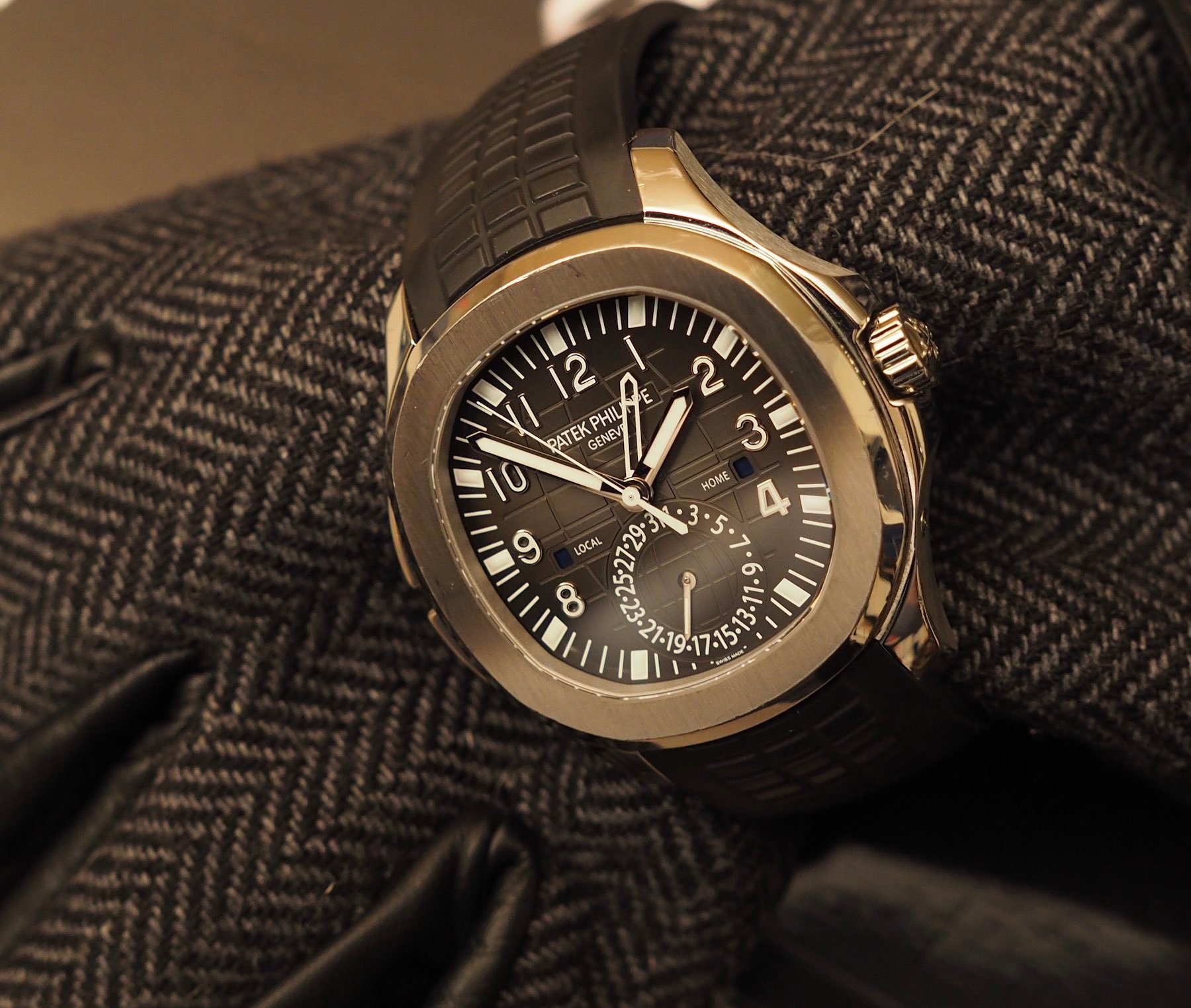 Comfort
The first thing that strikes me is the comfort of this Patek. It measures a near-perfect 40.8mm across. It weighs less than 100 grams. And, surprisingly given the movement, stands less than 11mm tall on the wrist. Moreover, it is sharply detailed, strangely comfortable, and, dare I say it, tough sports watch. The rubber strap — or Composite as Patek calls it — is pleasantly pliant. Once it has been cut to the appropriate length it is easy to slip on and off the wrist.
The clasp is beautifully made.
It would be even more comfortable without the complex butterfly clasp. But this is a Patek Philippe after all. It wouldn't be right without one. And, as far as clasps of this type go, it is quite flat. This strap is easily one of the best rubber straps I've had on my arm. It is imprinted with a similar blocky geometric pattern as the dial and semi scalloped on the back to improve comfort and airflow. The clasp is beautifully made. A spring-loaded release gives the impression of strength and reliability. That's exactly what you want from a clasp charged with keeping half-a-hundred-k on your wrist throughout the day… The case shape of the 5164a is key to its comfort. But it is its finishing that really sets it apart from other brands…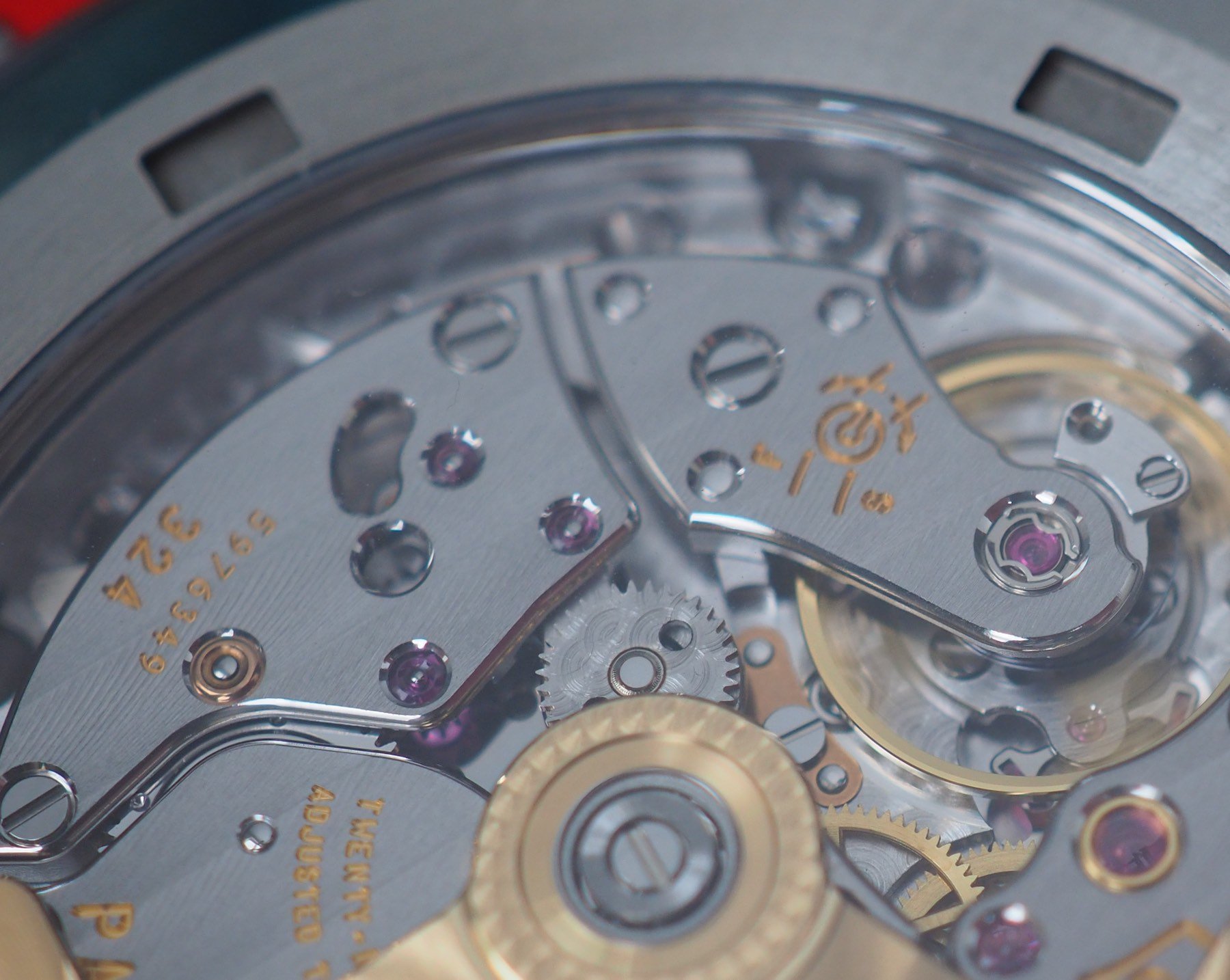 Finishing
The Patek Philippe Aquanaut flips the normal language of sports watch design around with brushed case sides and the polished lug-tops. With a few nicks and marks, it has clearly been used for its intended purpose yet still plays with the light beautifully. Never have I seen straighter more perfect horizontal brushing on a case side. The Aquanaut has a razor-sharp polished bevel on the bezel. This kind of finishing is only possible after years of dedicated training. Next to the polished and well-guarded screw-in Crown with the symmetrically entwined logo sits a recessed button to set the date (indicated via the 6 o'clock sub-dial. On the left-hand side there is an attractive contrast between the polished and rounded pushers used to control the timezone function. So how do they work?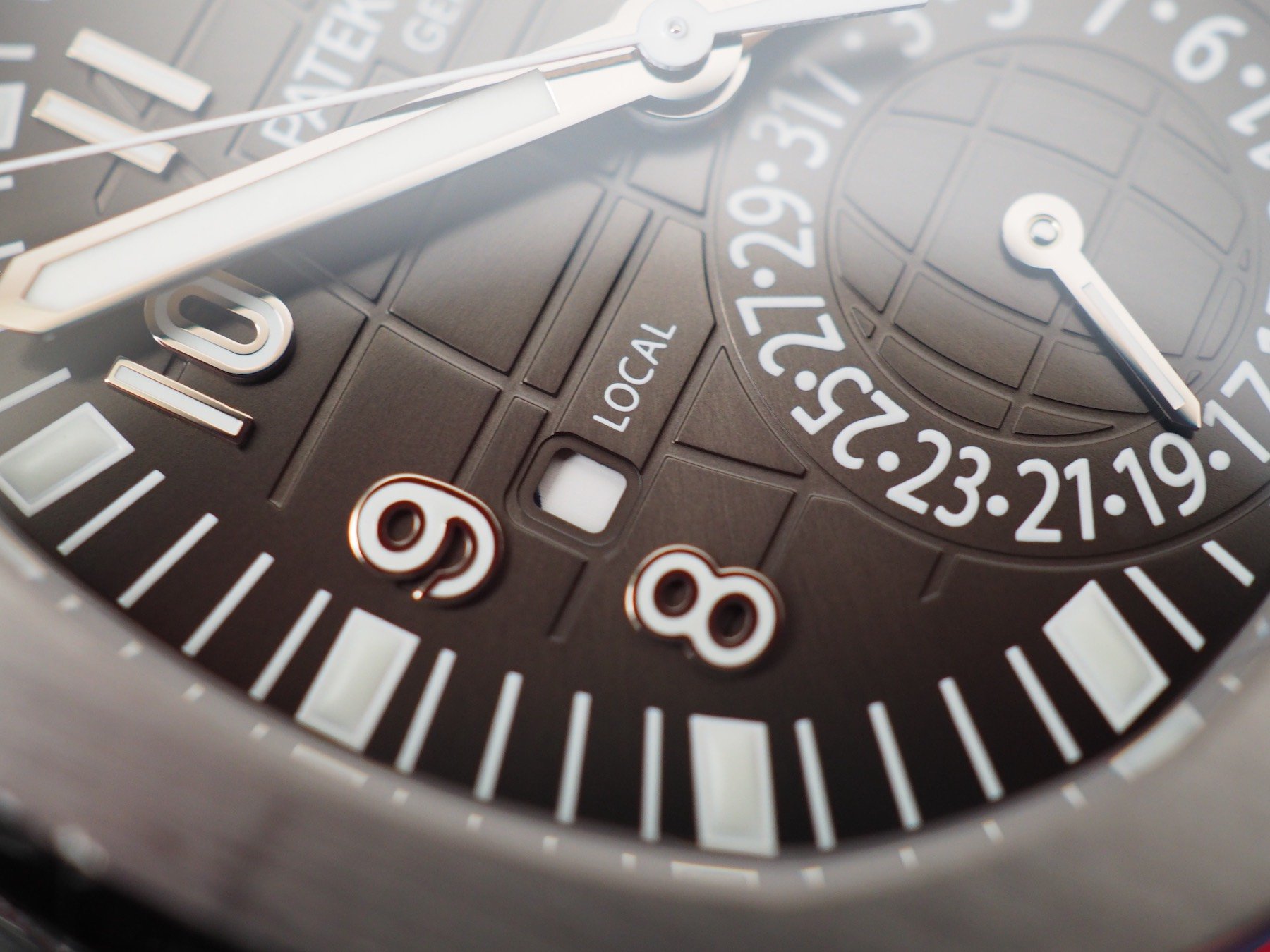 24-Hour Traveler
Imagine flying across a time zone or two from, say, Paris to London. Upon landing, keep your eyes fixed onto the hour hand and push the top or bottom left side pusher. Voilà ! the hour hand jumps an hour back or ahead — revealing a ghostly skeletonized extra hour hand that remains still at your home time. Simple, yet brilliant. The now visible home time hand is fitted a hair's breadth beneath the hour hand, so the dial remains uncluttered when not traveling. And that's not all.
This effectively gives both the travel and home time indication full 24-hour legibility at a glance.
Next to 9 and 3, there are delicately cut-out windows with the sharp markings of LOCAL and HOME. These are day/night indicators that, with deceptive simplicity, rotate from a dark navy blue to white through the 24-hour cycle, indicating day or night. This effectively gives both the travel and home time indication full 24-hour legibility at a glance. Yes, the price of this simplicity is still a substantial investment for mere mortals, and you can argue that a solar G-Shock has travel time (and even lighting) for a few euros fewer. But this is something special. Actually having the chance to feel it working on your wrist makes all the difference…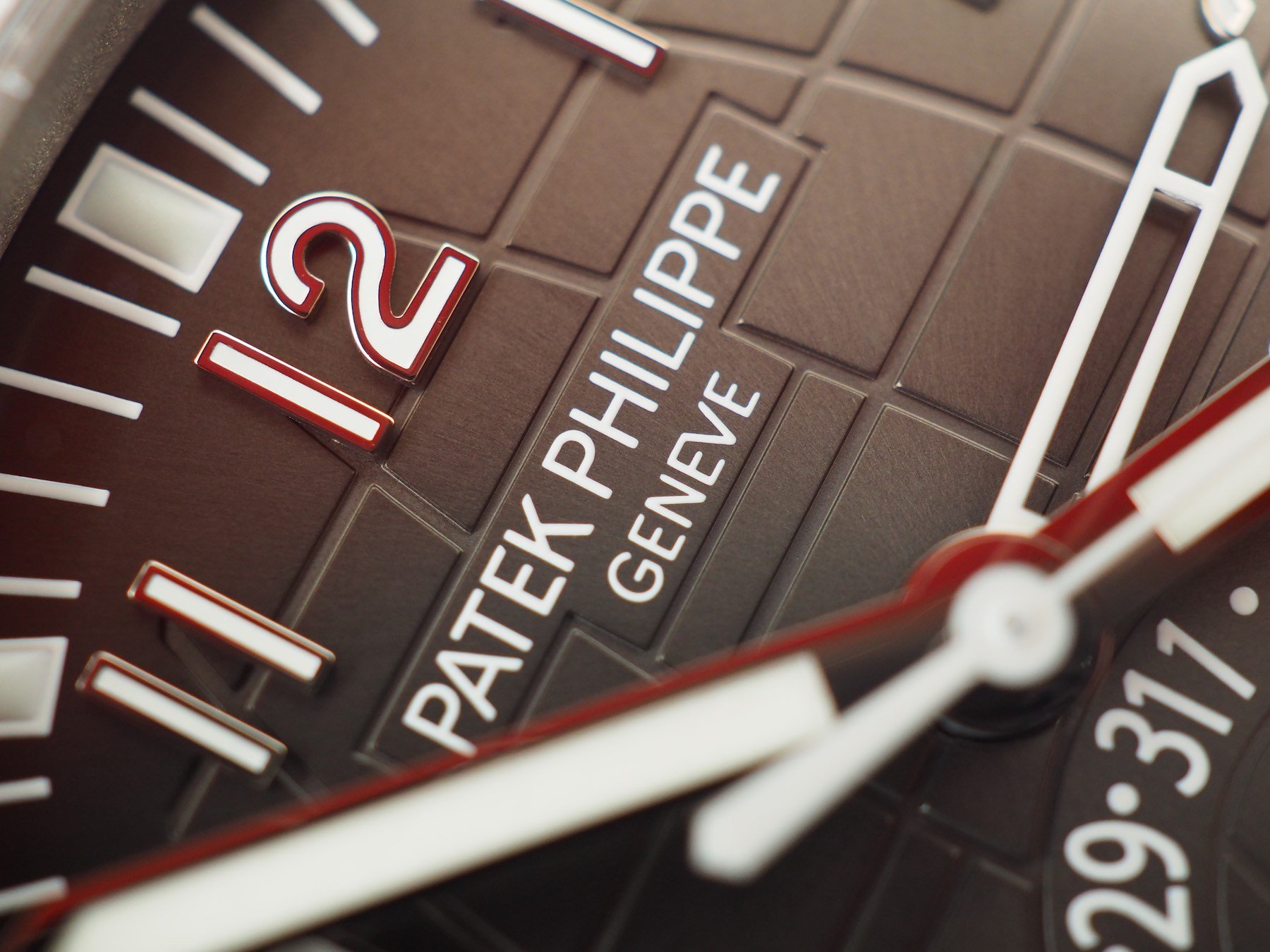 Dial color
The dial is a delicate grey-brown color that changes with the light. An arresting geosphere pattern takes center stage. It is repeated again on the 6 o'clock sub-dial. While we frequently discuss the aesthetic need for date windows, here almost a third of the dial real estate is set aside for the date.
…a highly legible dial with soul.
The indices are white gold. They are filled with a generous amount of Super-Luminova. The same goes for the white gold Arabic numerals. Although the skeletonized hand is lacquered white the white gold hour and minute hands are two sharp swords filled with bright lume underlining the emphasis on legibility and a sporty vibe. A sharp needle hand takes care of the seconds, while a polished sub-dial pointer handles the date indication. It is busy. but it is beautifully crisp. It all adds up to a highly legible dial with soul.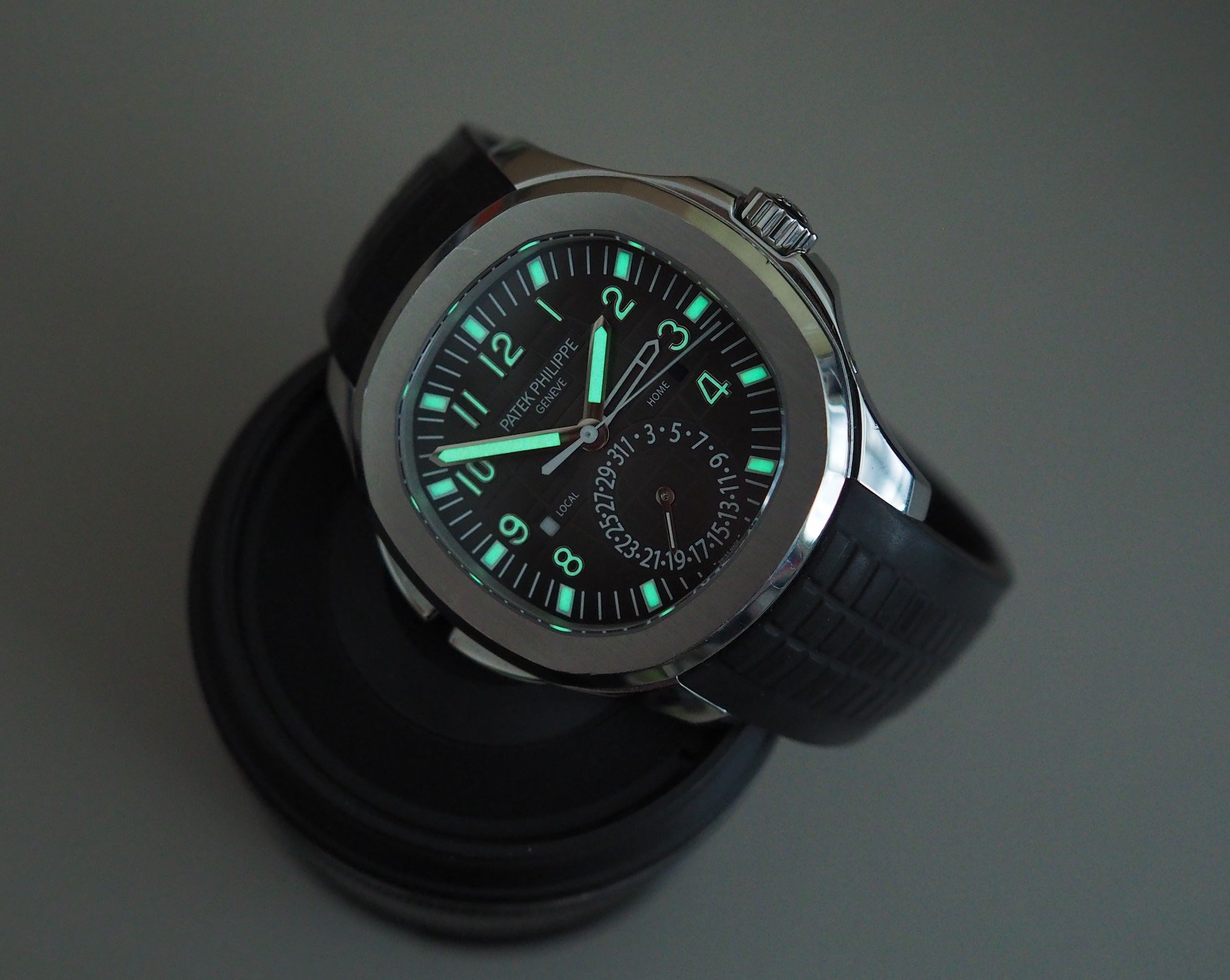 A reason to be
Raison d`être firmly established it is hard to ignore the fact that a fair few of these reside in glass-fronted cabinets akin to museum pieces and do nothing more than drive up prices, or, worse, spend their time locked away in a dark safe behind a painting never being used. That cuts me deep.
…it feels great on the wrist.
This is a tough rubber strapped tool watch, and a superb companion while traveling the globe for business or pleasure. It has a remarkable wrist presence. Furthermore, it feels great on the wrist. I had already fallen in love before I made a fateful error. I turned it over…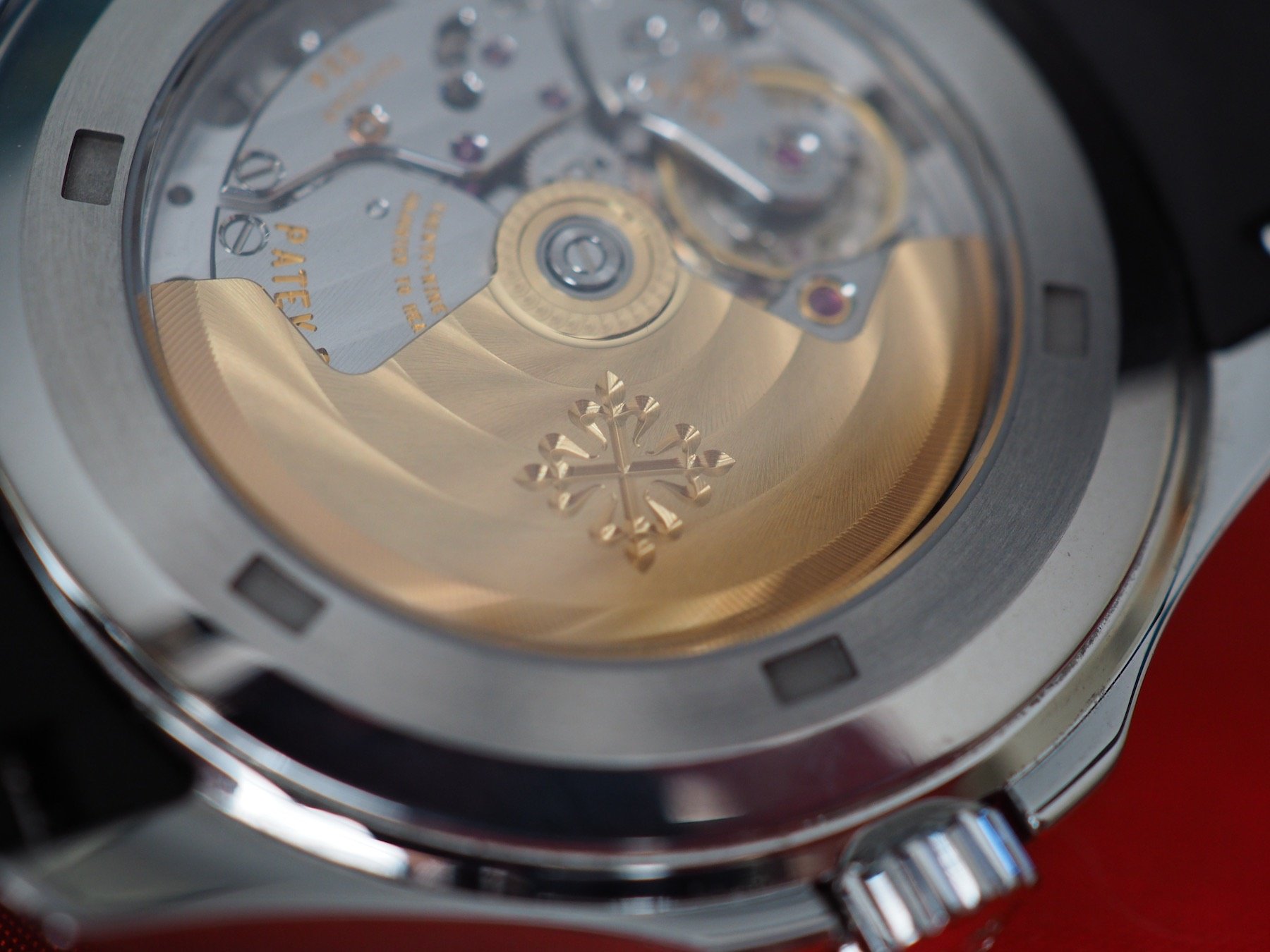 The movement
This movement is the automatic caliber 324 S C FUS. The finishing is as sharp as you would expect in this 294 part 29 jewel caliber, which somehow manages to exceed expectations. Côtes de Genève, anglage, and beautifully recessed blued screws provide a feast for the eyes. And while the 324 appears purely traditional, it has modern elements. Patek Philippe's own Gyromax balance and Spiromax balance spring are employed to make this escapement highly efficient and reliable.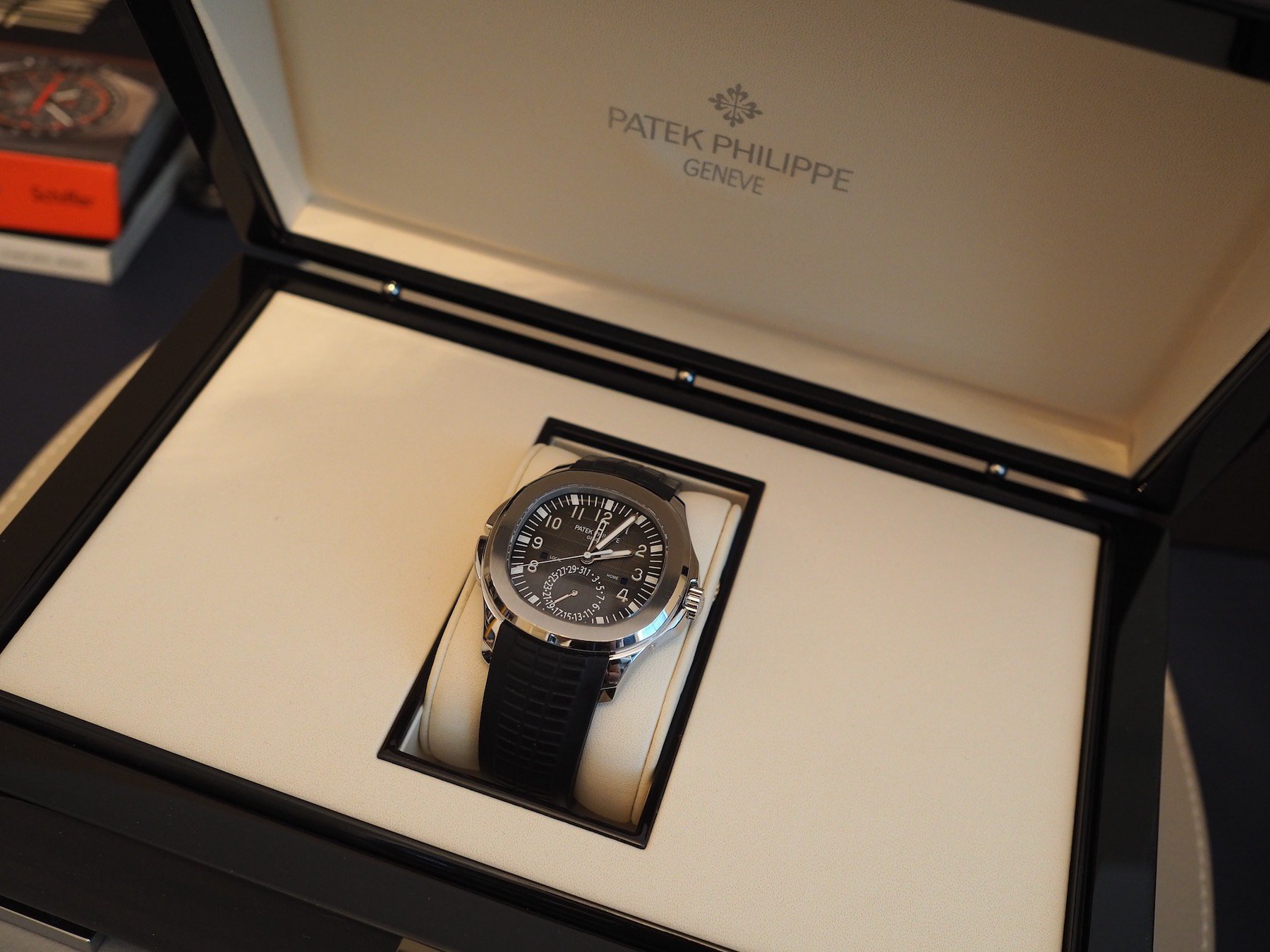 Conclusion
If you happen to have the budget, travel extensively, and have a good relationship with your local Patek dealer, I would certainly recommend checking out the Aquanaut 5164a.
If you love the design language of the Nautilus but feel that it is a bit too dressy and perhaps a tad overhyped, this is a Patek speaking the same language but in an altogether quieter voice. For around €50,000, it could be yours… Learn more about the brand here.
Watch specifications
Dial
Dial Grey-brown dial with a geodesic pattern, applied white gold Arabic numerals filled with Super-Luminova.
Case Material
Stainless steel
Case Dimensions
40.8mm wide, 10.8mm thick
Case Back
Sapphire display back
Movement
In-house caliber 324 S C FUS
Water Resistance
120 meters
Strap
Rubber strap with a butterfly clasp
Functions
Two time zones with a 24 hour indication for both
Special Note(s)
Power reserve 45 hours