Patek Philippe Calatrava 5127: When I am old and wise
One of the best designed watches – in my opinion – is the Patek Philippe Calatrava ref.5127. I don't know what the idea is behind Patek's reference numbers, as they don't seem to be logical, but if you want to order one at your nearest (un)authorized Patek dealer it might come in handy. Anyway, I will call it 'Calatrava' in this post, without mentioning the reference all the time. Patek has a lot of Calatrava models in their collection, but the one below is the one in particular when I addressed 'one of the best designed watches'. It has no sharp edges or hard lines in terms of design, the lugs have only this slight bend towards the strap (or bracelet for the /1 models) and the dial is perfectly clean.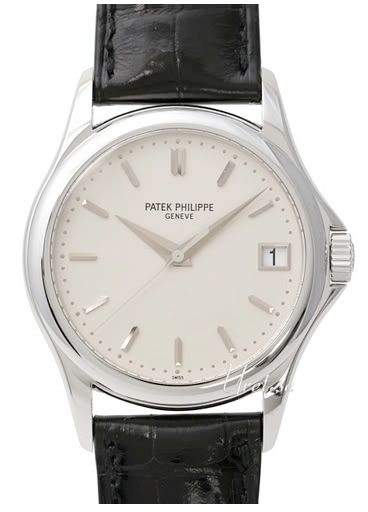 Patek introduced the Calatrava-line in 1932. A small round elegant watch with a fine mechanical movement. The Calatrava-line still represents elegance, but a bit more styled towards the current standards. However, only slight adjustments were required. If you take a look at chrono24.com for example, and search for a 1960s Calatrava, only the dial will reveal that it is from that era. Below is the ref.2484 from the 1960s. The dial shows it is that old, but the case could be one of the current Calatravas as well. Patek Philippe holds on to classic design with their Calatrava models. This particular model is for sale over at PP Times Square in Tokyo for just over 6600 Euro and comes with 1 year warranty.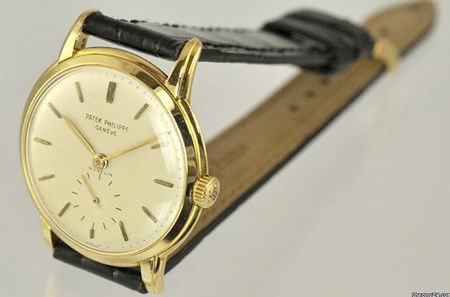 Back to the one I picked as having the best design for a wristwatch. Everytime I am looking into one of the annual watch guides/catalogues, I am constantly looking for that one watch, that could be my exit-watch. An exit-watch is a watch that makes your hunger for more stop. Or the watch that will be on your wrist for ever and keep all the others in the safe or ending up on Chrono24. This Calatrava has a lot of the ingredients to be that exit-watch.
The only downside on this Calatrava – and this goes for every Calatrava model- is that it is too friggin small. Only a 37mm in diameter, which is still considered to be big for a Patek Philippe Calatrava. Other models are 36mm or smaller. The vintage model pictured above, is just about 33mm. Although I am in favor of the new trend for smaller watches, I wonder if watches this size will look acceptable on my wrist. Perhaps it will suit me better when I am old and wise…
Price of the 5127 models are around 13K Euro, available in yellow, white and red gold. When they are slightly used, expect a price drop to 9-10K Euro.