The 88 Rarest Royal Oak Models — Up For Sale At "The Royal Oak 50th" Auction By Phillips
Don't miss ref. 5402, the original 1972 Royal Oak!
The Royal Oak just turned 50. Yes, 50! But hey, if there is any field in which getting old is revered, it's horology. At the Basel watch fair in 1972, Audemars Piguet's Royal Oak marked the beginning of a new genre for the watch market. It was the birth of an integrated-bracelet luxury sports watch in steel that nowadays cost as much or more than its gold contemporaries.
Audemars Piguet did not miss a beat in celebrating this big year, having launched a whole slew of new Royal Oaks. Our editors enthusiastically shared their thoughts on the releases last week in celebration of the 50th anniversary. Check out our series of articles on the topic right here. And you know who else has joined in the fun to throw a themed party?
Phillips has!
For this golden jubilee, Phillips has curated a tight selection of the finest, rarest, and best-preserved Royal Oak wristwatches in the world. The auction house is offering 88 examples at "The Royal Oak 50th", a themed sale dedicated to Audemars Piguet's iconic model on May 6th, 2022 in Geneva. The team says, "To our knowledge, we have never seen or heard of such assembly of so many historically significant, rare and, in some cases, unique Royal Oak models brought together in one place or shown to the public."
At Fratello, we don't regurgitate press releases. I literally looked through the whole catalog to bring you my personal highlights. And boy, did I fall into a rabbit hole… I warn you, you don't need to be a watch nerd for the catalog to suck you in. Once you start reading about each piece's provenance, you form a labyrinth of life stories in your head, and you get (wonderfully) lost. It is fascinating to have a glimpse of how the Royal Oak has touched so many of us in the world across so many different space-time bubbles.
Starting from one single reference — the 5402 in 1972 — Audemars Piguet created not only a genre but also a design language that it continued to develop liberally, experimenting with sizes, metals, dial treatments, and complications. So it is quite a treat for us to see this ensemble of highly collectible Royal Oak examples. Hats off to Phillips.
The collectability of these watches reflects in the estimates. Out of the 88 lots, 33 of them come with six-figure starting estimates, the rest of them with five-figure expected minimums. The star of the sale is a historically important reference 5402ST bearing number A2. First, let's take a look at that model, and then we'll check out some of my other picks, ordered by lot number.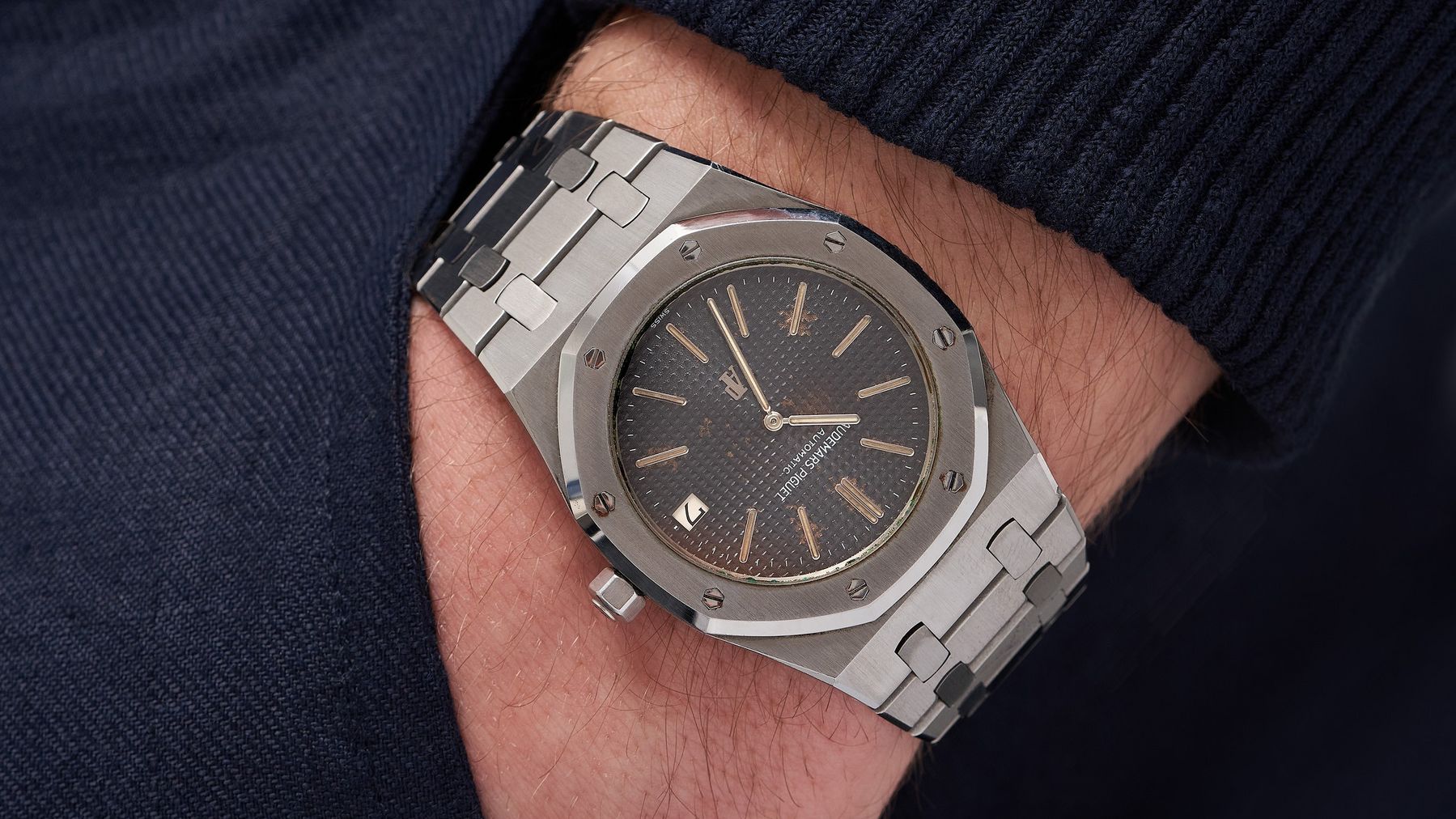 LOT 8: Ref. 5402ST A2
This one blows my mind. It is the earliest-number reference 5402 to ever appear at auction, and it has never been worn other than for photography purposes. It bears the number A2, making it the second Royal Oak ever made. Can you imagine seeing such a historically important timepiece in pristine condition after five decades?
The A2 was one of the four Royal Oak examples that AP presented to the press and public at the opening of the Basel watch fair in 1972. Its journey later continued to the unveiling of the Royal Oak in Sardinia and to its final stopover with its collector. Now, fifty years later, it has resurfaced at this auction. The estimate for this piece is €197,000–394,000.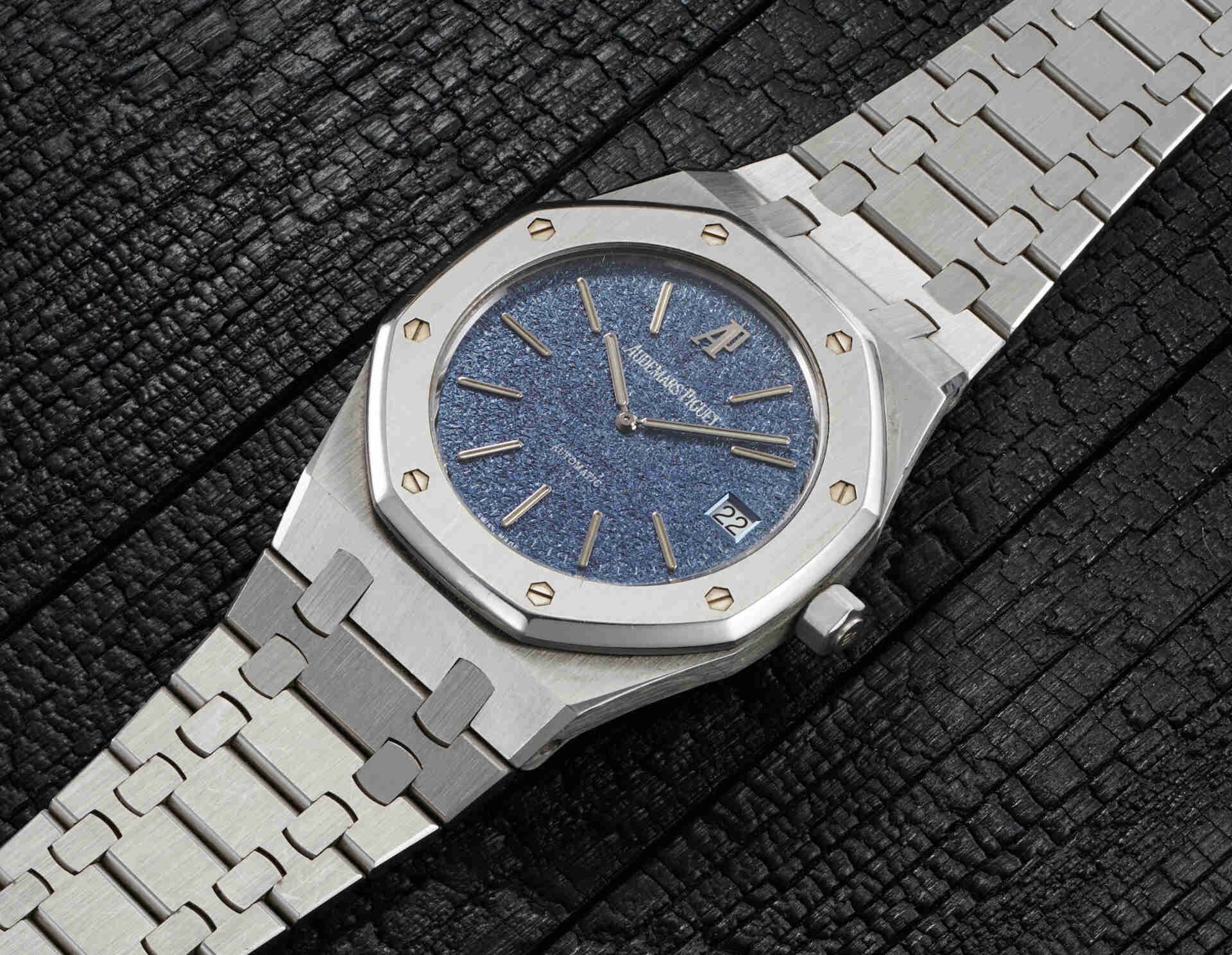 LOT 10: Ref. 14802PT Jubilee Tuscan in platinum
The ref. 14802 debuted for the Royal Oak's 20th anniversary in 1992, presenting the same proportions and profile as the original Royal Oak from 1972. The model was in production until 2002, with Audemars Piguet producing 691 examples in steel, 286 in yellow gold, and 20 in platinum.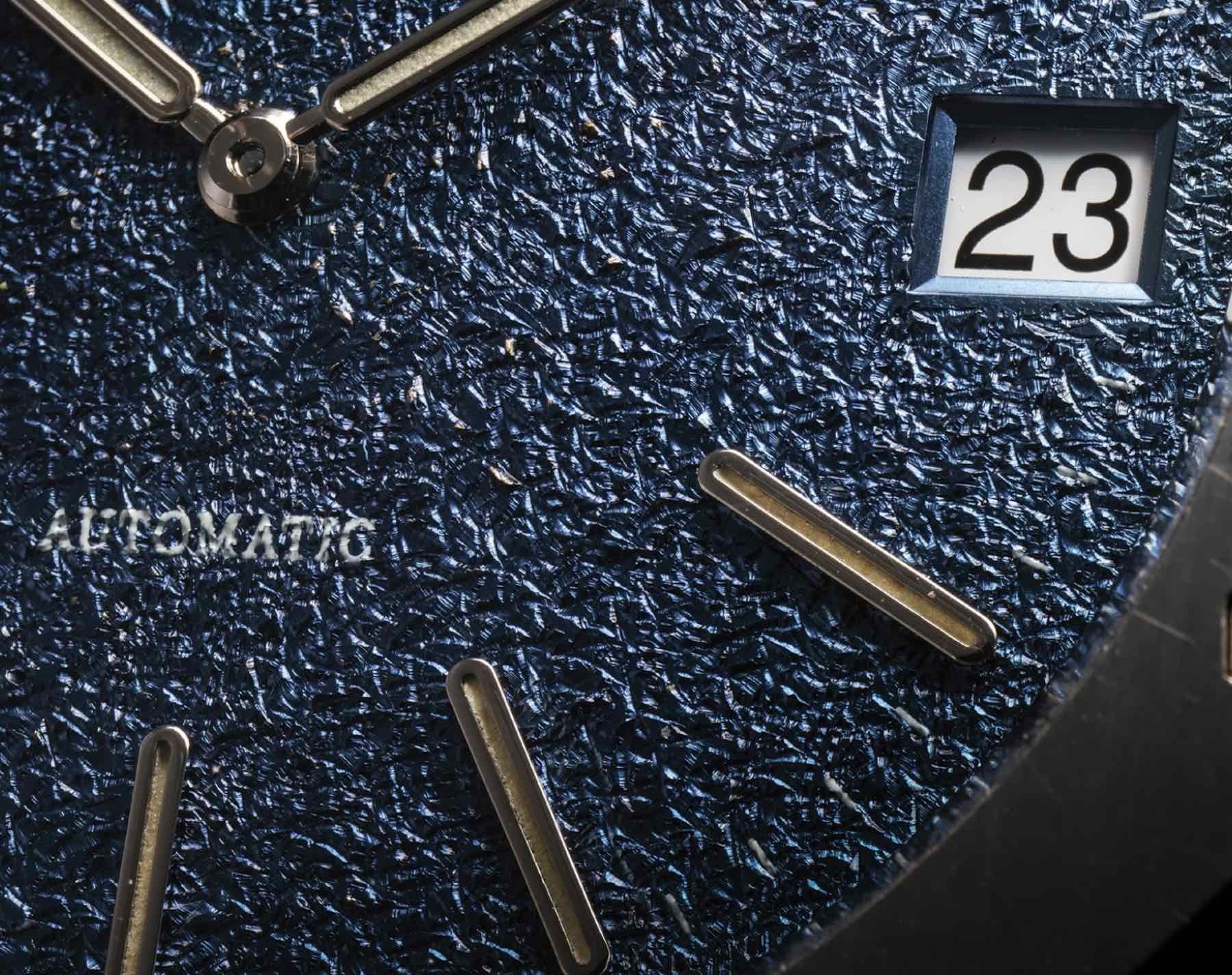 Among the ultra-exclusive run of 20 platinum pieces, a very low number featured the beautiful blue "Tuscan" dial. You can appreciate it in this macro close-up. This dial gives the watch a completely different character from the traditional Royal Oak, which typically features a Tapisserie dial. The estimate for this watch is €246,000–493,000.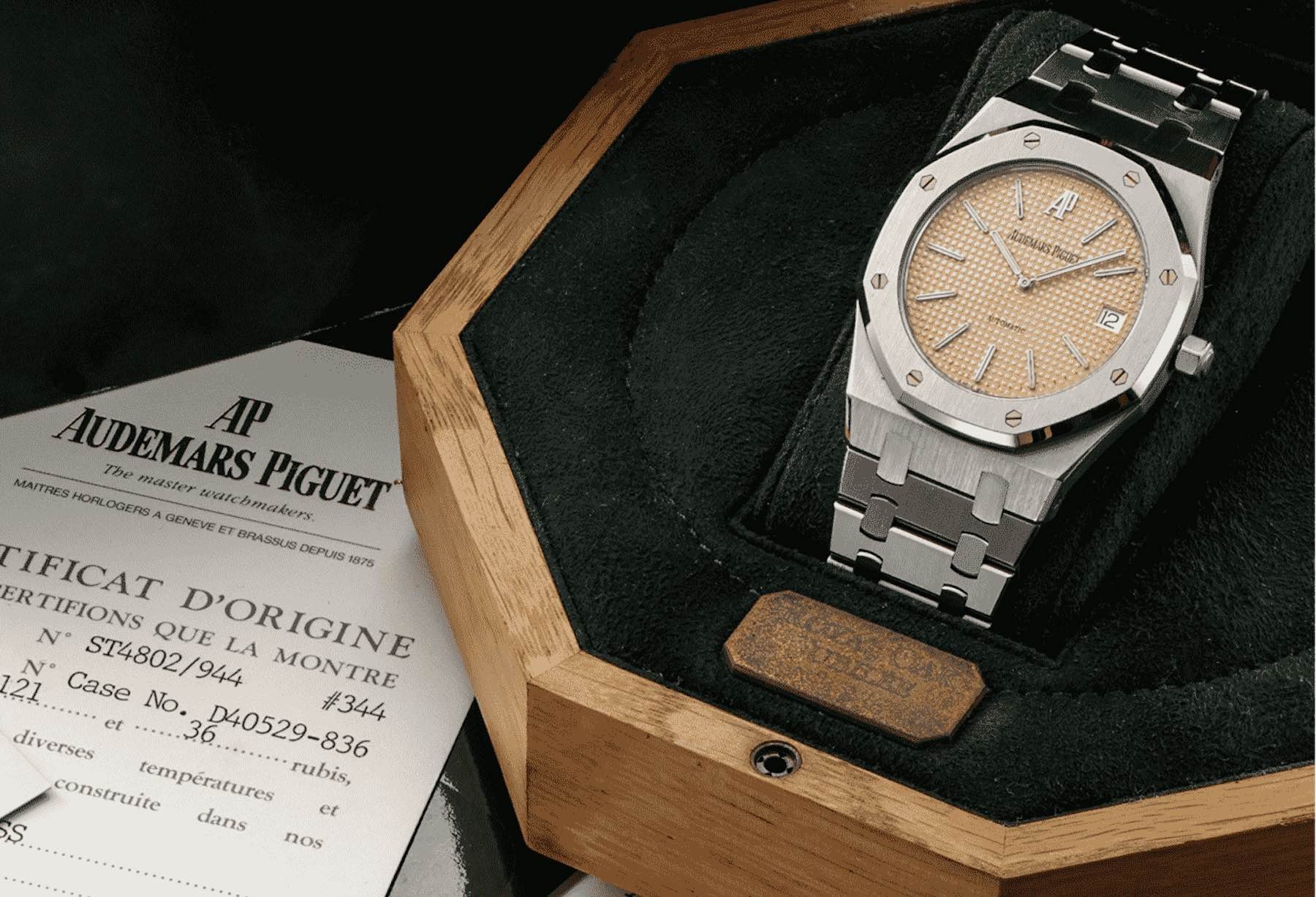 LOT 22: Ref. 14802ST Jubilee Salmon in stainless steel
I am including the 14802ST in stainless steel here because it was the first Royal Oak with a salmon-colored dial. Of the 691 stainless steel examples of this reference, only a few featured this rare beige-salmon dial. This one came out of the 1994 release, and it has an estimate of €98,600–197,000.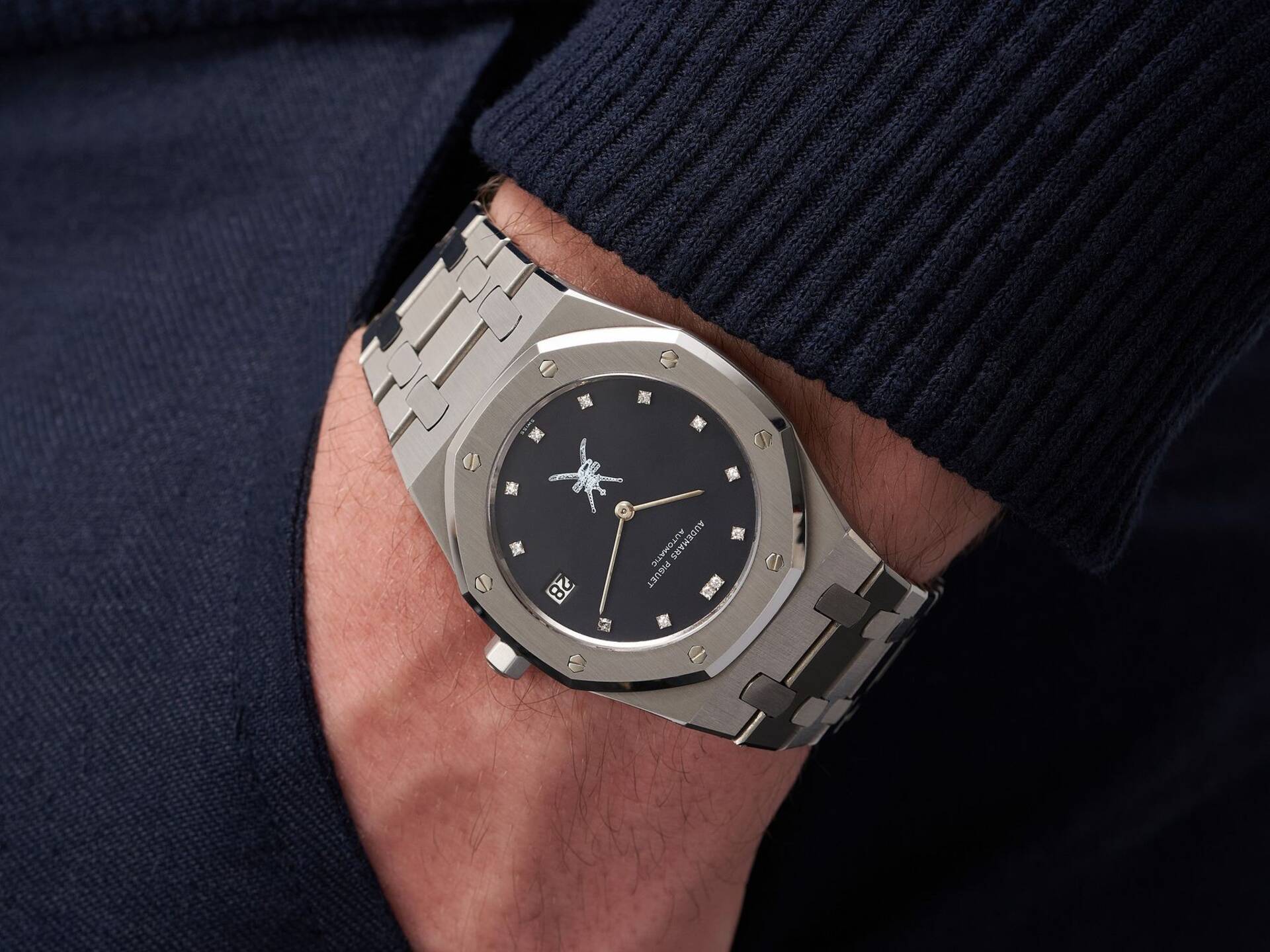 LOT 52: Ref. 5402ST "Khanjar" for the Sultanate of Oman
In my first browse through the sales lots, I instantly spotted something different on the dial of this one. What made it stand out was the "Khanjar" daggers — the emblem of Oman — on the lower part of the dial. This is reference 5402ST, which remained in the Audemars Piguet catalog for 25 years. The brand produced 6,050 examples over four different series — A, B, C, and D. With each series, small design details changed, distinguishing each generation from the others.
This bespoke design is from a batch of six A-series pieces commissioned in the spring of 1973 by The Sultan of Oman, His Majesty Sultan Qaboos bin Said al Said. The dial is different from the regular production models. It is black with elegant diamond markers, as opposed to the standard blue/gray Tapisserie dial. This lot carries an estimate of €147,000–295,000.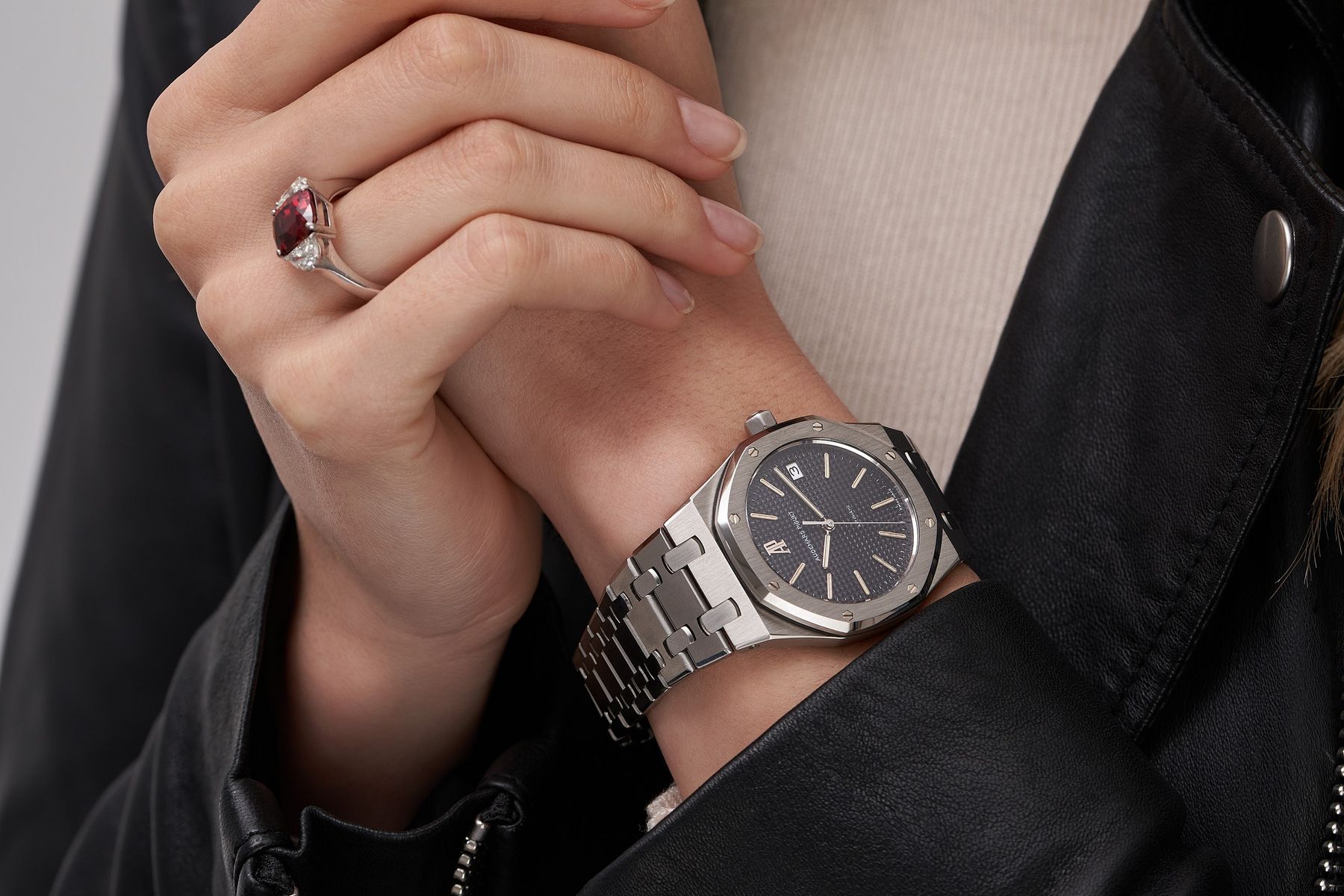 LOT 70: Ref. 14700ST No.1
This is reference 14700ST from 1990. It is a 36mm example that Audemars Piguet presented when continuing to test new case sizes for the Royal Oak. As you see in the heading, this timepiece is not just any 14700ST, but the very first example to see the light of day. Discontinued in 1998, the model was in production for less than a decade, adding to its overall implied scarcity and collectability. Remaining in sublime condition, this particular example seems to have come out of a time capsule. Phillips has given this watch an estimate of  €29,500–58,900.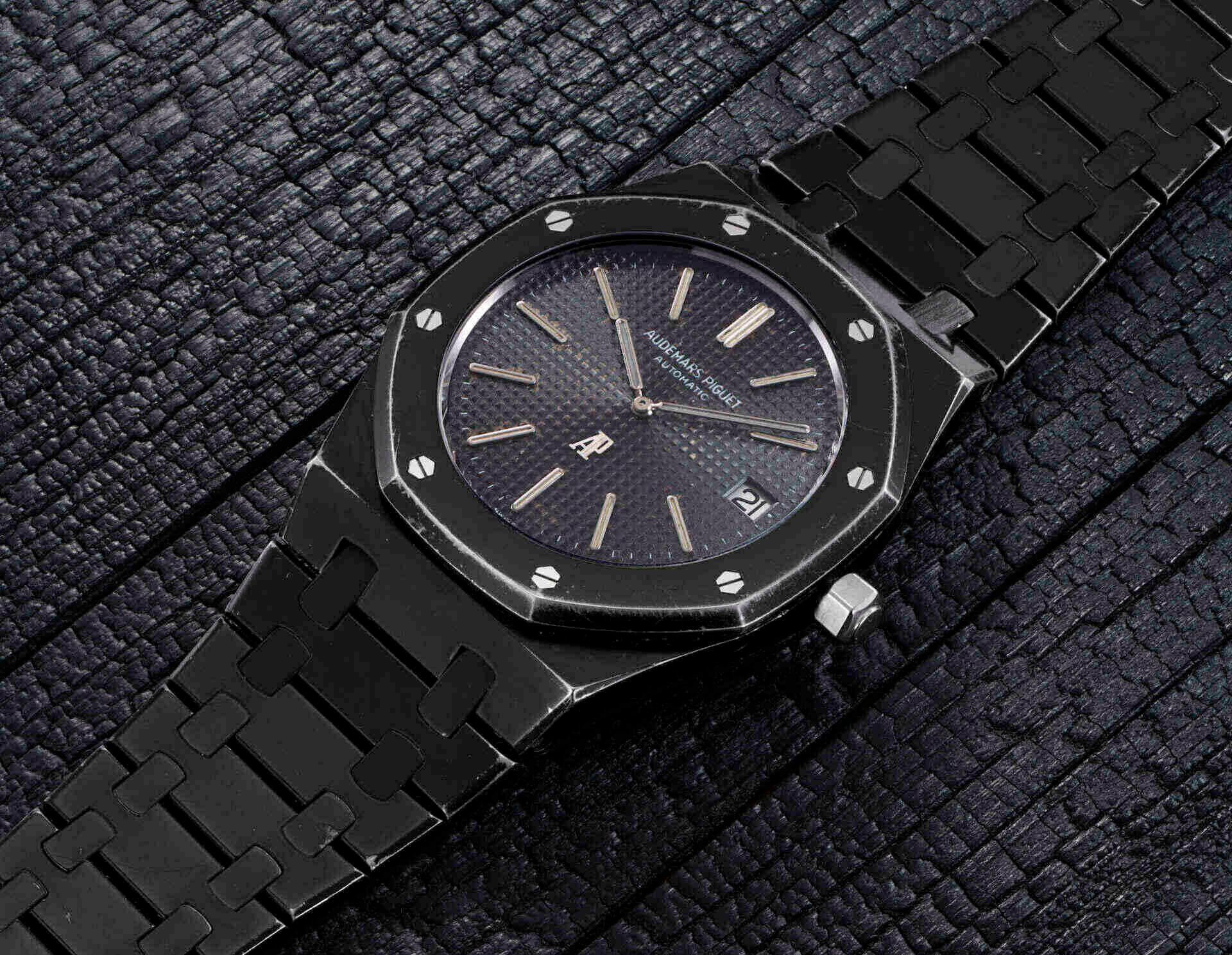 LOT 88: Ref. 5402ST – Karl Lagerfeld black PVD-coated A-series
Last but not least, this black PVD-coated reference 5402ST is believed to have been worn by the late fashion icon Karl Lagerfeld. He was a legend for his work as creative director at the helm of fashion powerhouses Chanel and Fendi. Lagerfeld was often seen wearing black PVD-coated Royal Oak models of different sizes, which he would then gift to friends and collaborators. He likely bought this piece in Italy while living there in early 1974. It came back to the market in 1995 and remained in the same collection for over two decades. There are period photos showing Lagerfeld wearing a black PVD ref. 5402. The place of delivery of this watch and the amount of wear lead Phillips' watch specialists to believe that it watch belonged to Lagerfeld himself. It has an estimate of €98,200–196,000.
The Royal Oak 50th
From just a few examples, you get a sense of how diverse and far-reaching the Royal Oak's footprints are. Today, these pieces represent the epitome of luxury stainless steel sports watches. To think that the Royal Oak was not well-received upon its release is almost ludicrous. The fact is, it took Audemars Piguet three years to sell the first 1,000 pieces (it has been well-documented, and we've also written about it here). It's anyone's guess how these pieces will perform in the upcoming auction. I think it's fair to say, however, that the audience is now far more receptive.
"The Royal Oak 50th" auction will be hosted by Phillips in Geneva on May 6th, 2022. The auctions will also be live-streamed online. On the day of the sale, a box will appear in the upper-right corner of the Phillips homepage with a link to watch the auctions. You can also watch live via the Phillips app.
Feel free to delve into the sales lots, and tell us what you think in the comments below. And again, you can also read our coverage on the Royal Oak's 50th anniversary here.