Photo Report: Manufacture Visit To Breguet
A peek inside one of the most respected manufactures
We visited the Breguet Manufacture recently and witnessed how modern watchmaking can be combined with old watchmaking skills performed by artisans.
Breguet overcoil, Breguet hands and of course, the tourbillon. We often use the name Breguet when talking about design elements or movements. Even when it is not about a Breguet watch. Breguet is a very old watch manufacture, that dates back to 1775 when founder Abraham-Louis Breguet opened his first workshop in Paris. Responsible for many horological inventions in the history of watchmaking that are still being used today. In this article, I don't want to sum up those inventions (you can read about them here), but show you what Breguet is doing today.
Breguet Manufacture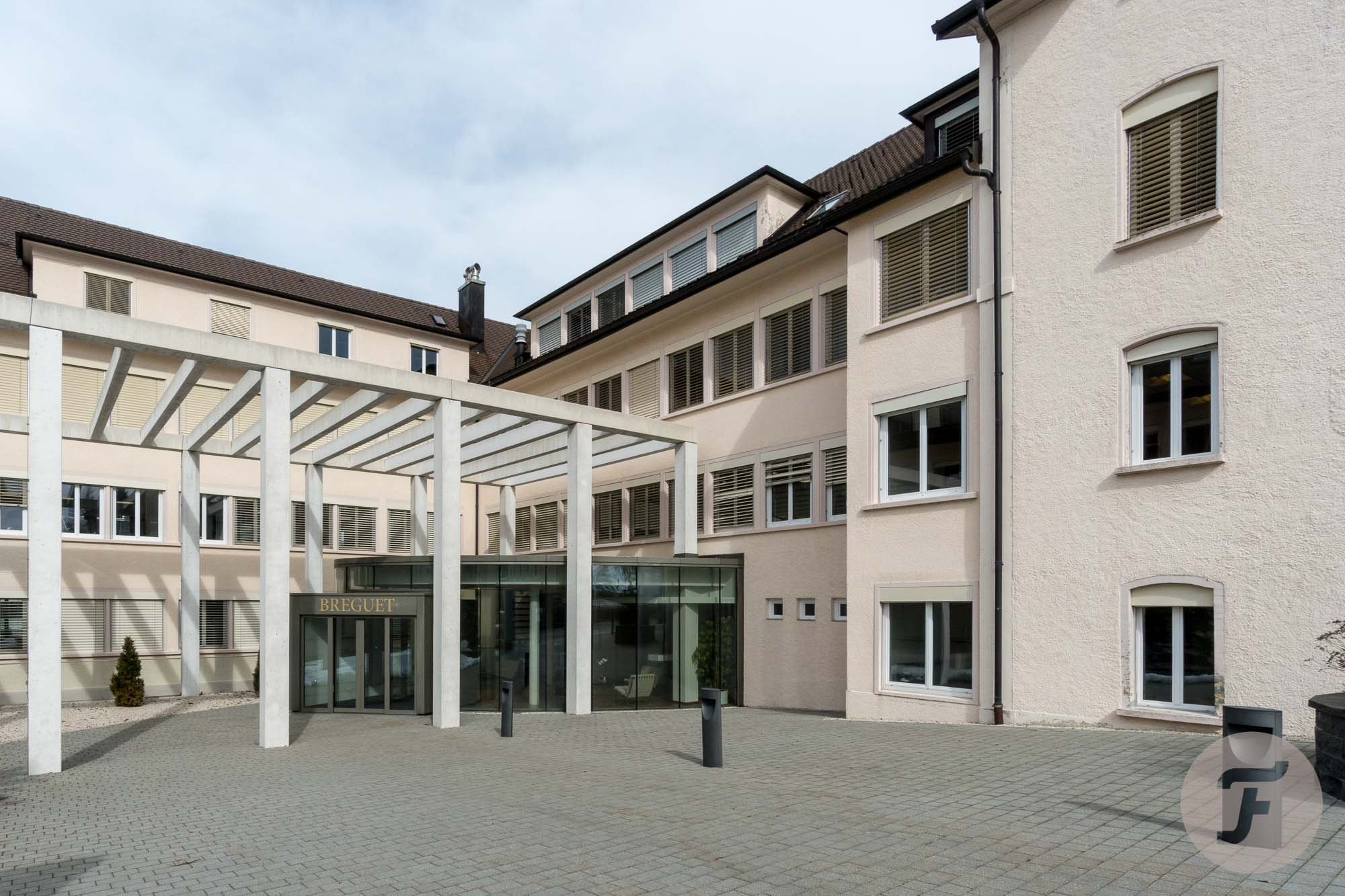 Today, Breguet is located in the Vallée de Joux, in a small village called Le Chenit. We were invited to visit the manufacture and we gladly accepted it. For us, Le Chenit is not that far away. A flight from Amsterdam to Geneva is what it takes and from there, by car to the famous watchmaking valley. Bert brought his photo equipment, as you will see in this report and I was happy to talk to the watchmakers and even tried some of the métiers (crafts) myself. Without much success, I have to admit. The Breguet manufacture is a beautiful building, that actually is much larger than you would think when you're standing in front of it. There are a couple of 'wings' to the building that can't be seen from the front, but host all of its watchmaking departments (and staff).
..creating beautiful high-end watches by combining innovation with traditional craftsmanship.
Breguet was never on my radar. I felt that they made watches that weren't for me, I actually always felt a bit too young for them. With the exception of their Type XX and Type XXI watches of course and more recently, their La Marine collection.  And it might be my age (just turned 42), but today, I actually prefer the Classique models over their sportier (or 'younger') watches like the La Marine and Type XX/XXI/XXII models.
But this has to do with personal taste, of course, and nothing with the quality or beauty of these watches. I believe that another reason why it wasn't on my radar as it should be, is that Breguet is too low profile at the moment. There's little exposure of the brand, no clear advertising as they did in the past (their ads in magazines were awesome in my opinion) and in the past, they haven't exactly reached out to magazines like ours to get coverage. The competition (other high-end brands like Patek Philippe, A. Lange & Söhne, Audemars Piguet and Vacheron Constantin) has been putting in more effort in the past, resulting in these brands being on every watch enthusiasts' radar. During the visit to Breguet, I've seen and learned things I never knew about them, and which has certainly increased my respect for them even more.
Breguet deserves a lot of respect, not only for their important role in the history of watchmaking in general but also for what they are doing today: creating beautiful high-end watches by combining innovation with traditional craftsmanship. During our manufacture visit to Breguet, this became very clear.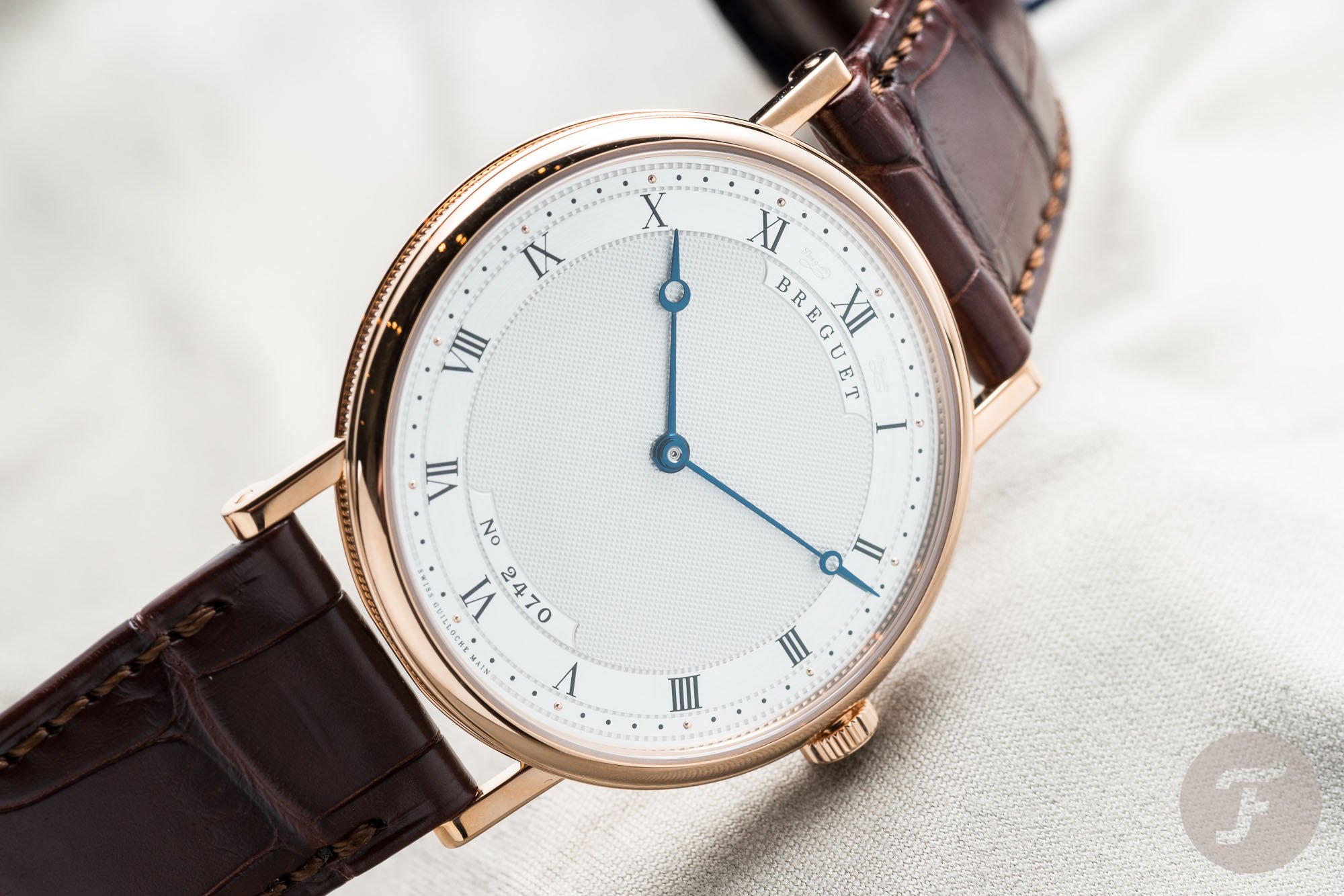 Traditional watchmaking
Looking at the Breguet Classique for example, you would say that this brand is about traditional watchmaking. Artisans and watchmakers that perform painstakingly tasks all day every day and this is certainly the case at Breguet. However, we were amazed to see that Breguet also has this completely different side, where they are using high-tech machines for the creation of parts and are keen on using silicium spirals for example. In short, you could say that they use technology where it matters most, so for the durability and accuracy (performance) of their movements and traditional craftsmanship for the aesthetics. This goes for both the movements and parts like the case and dial.
For example below, the Breguet Classique Tourbillon Extra-Plat 5367, with caliber 531 movement. A hand-finished and engraved movement (with platinum rotor), but also having a silicon balance spring and silicon horns on the escapement.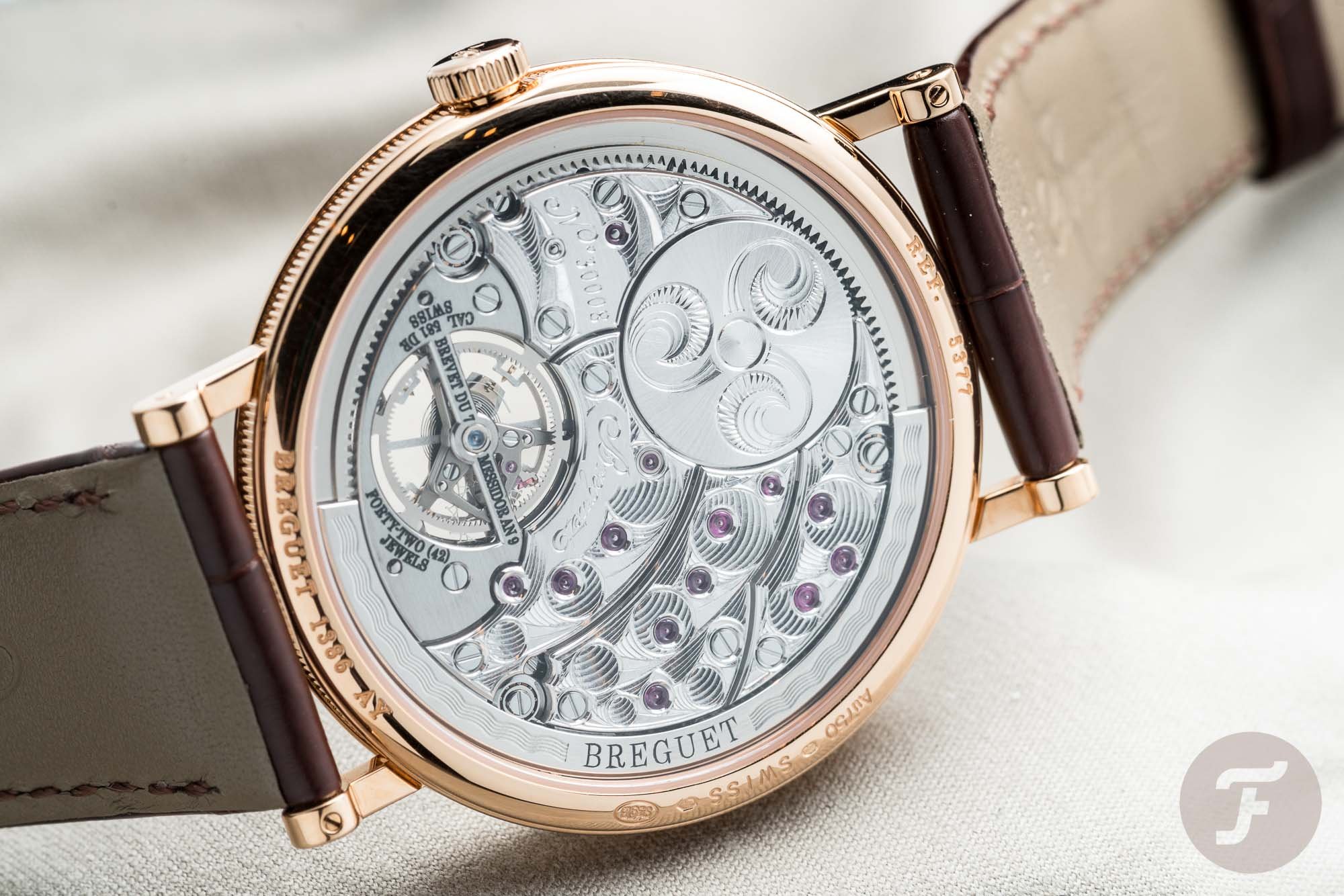 Dial Making
Our journey through the manufacture starts at the dial making department though, where we see a number of historical looking tools and machinery that are still in use today. All artisans in this department are trained at Breguet internally. Turning dials is not easy, as Bert and I experienced ourselves. You need to have incredible eye-hand coordination, and able to use the same amount of force all the time. Modern equipment is only used for the magnification as well as the quality control at the end of the process, to see if the engraved dial motif matches the blueprint.
I have to say that it also further developed my interest in the Breguet Classique collection, as they are truly a work of art.
Movement Engraving and Finishing
After leaving the dial making department, we move on to a room where we see people using carving tools, small hammers and other (sharp looking) tools on movements. There's complete silence in this room, where they are clearly highly focused on what they're doing. Upon closer inspection, we see that there's a tiny movement part in front of them, under their microscope. On their desks, drawings of the 'to be' situation. I find it hard to believe that they can engrave parts (like a bridge for example) exactly the way it is on the blueprint.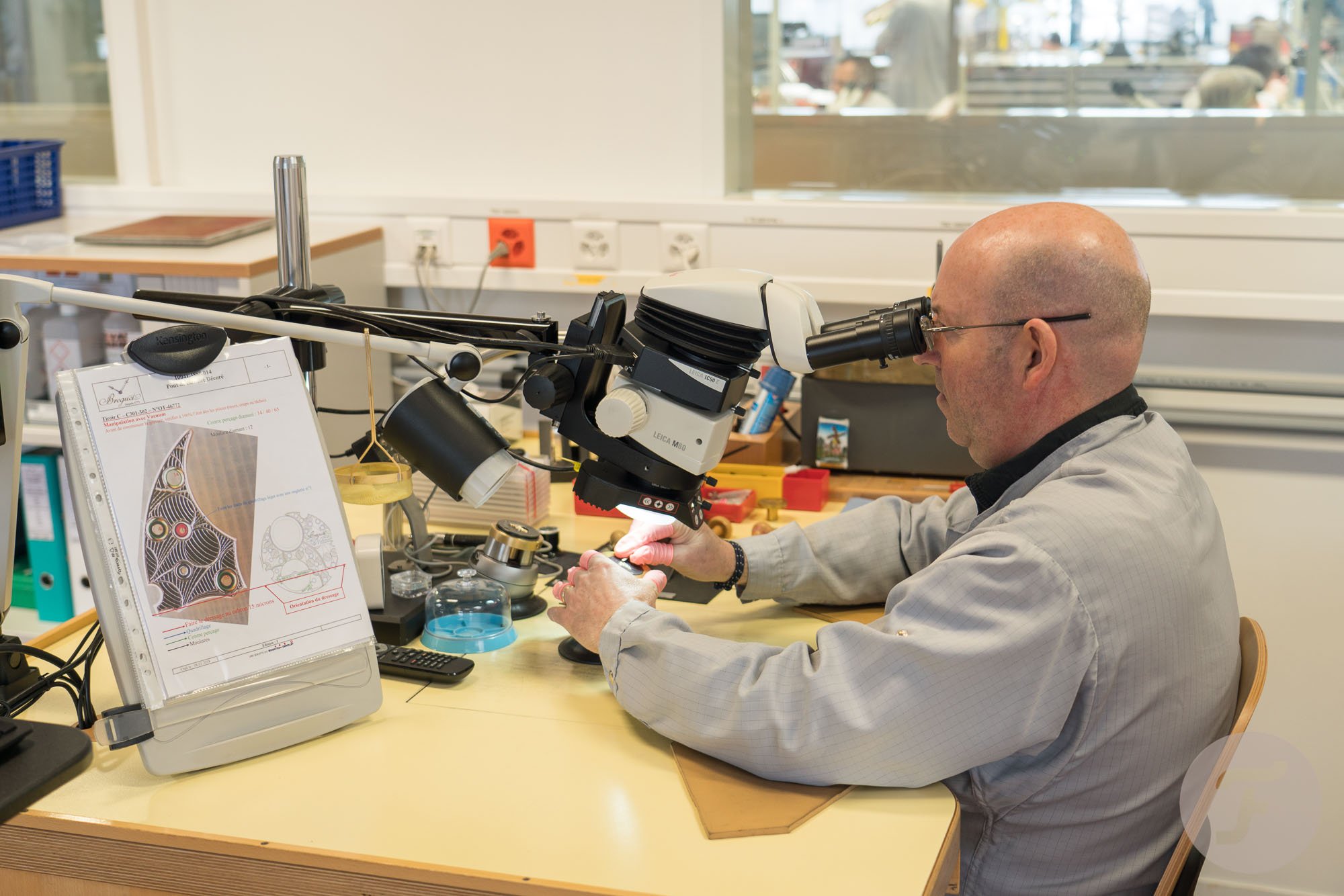 Using tools that look actually a bit too big to be used on small parts of a movement, the results are super impressive. The skills of the engraver are something that takes years, we've been told (and we can imagine). They use different techniques for this, and a distinction is being made between engraving ("gravure") and "ciselage". The latter requires a small hammer to push the carving tool forwards. With the "gravure" technique, this is done by hand. It is a mighty difficult thing to do – we have it a try – as the amount of pressure needs to be very precise, and also differs from time to time (starting a line requires more pressure than once you made a little start in the material).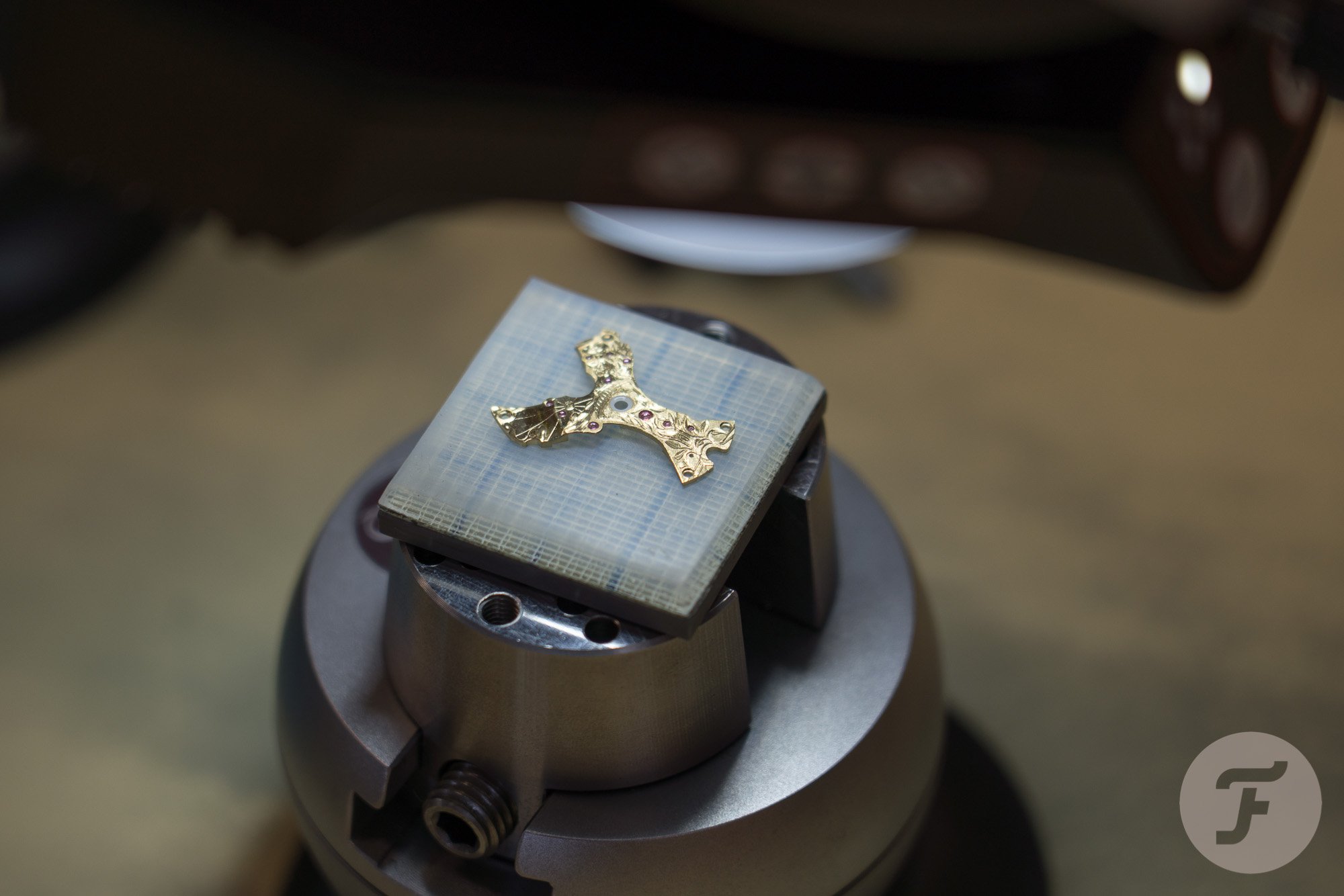 Aside from the modern microscopes, it could have been somewhere in the 19th century where we're standing. The tools look like something you'd seen in musea, or on pictures of old workshops, but it is the equipment used by these artisans today.
We did not witness the actual assembly of the movements, as our schedule did not permit. But we've seen those departments more often. We were especially curious about the artisan crafts that Breguet has in-house. And talking about in-house, Breguet is a true manufacture, meaning they also create all the movement parts themselves.
After walking through a few corridors, we left the older part of the building and entered a more modernized department.
Modern Machinery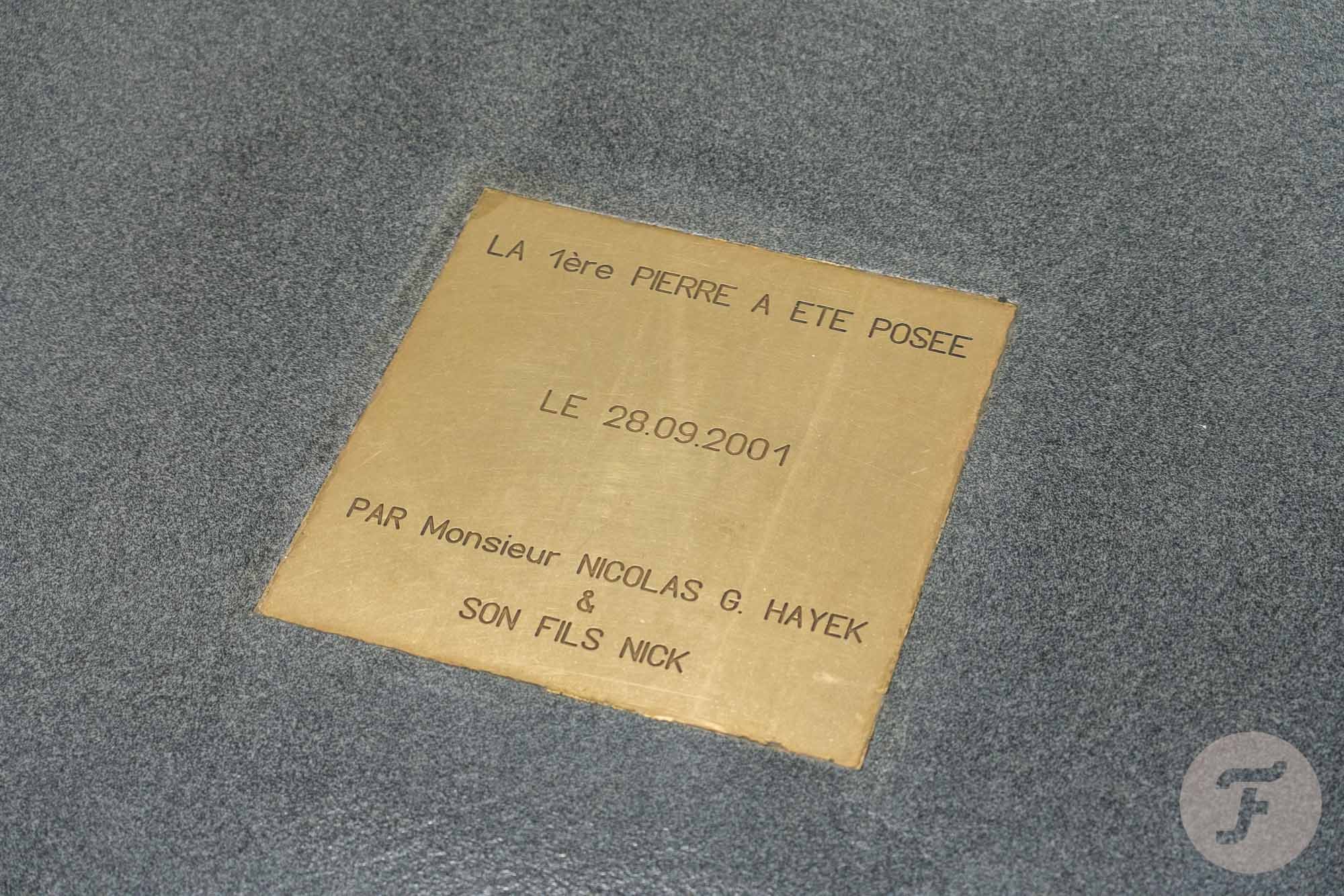 Where you can't speak of 'machinery' or 'machines' in the departments where they create the dials or finish and engrave the movements by hand (everything in there is called 'equipment' and 'tools'), the rooms we are now about to enter are packed with machinery. Both machines that look quite dated, but also machines that are state-of-the-art. In this room, we are not allowed to take images of everything, but we can take some close-ups. Here's where the brass material comes in and is being processed to become movement parts.
Workshop
Then, there's a small workshop inside the Breguet building where watchmakers work on the restoration of vintage watches and antique clocks made by Breguet. They operate almost independently from the other departments, and if there's a part that isn't around anymore, they will reproduce it. Using the Breguet archives, they have all detailed information on most of the watches that the manufacture created in its history. When clients come in with their (pocket) watch or clock, they get an estimate on the costs first, as this might sometimes be higher than the actual market value. However, it is often about the emotional value with such pieces and projects.
We ended our little tour with a presentation of many of the current Breguet novelties and can't wait to see what's new in two weeks from now, during their Time to Move program (for press). We will certainly keep you posted.
More information about Breguet via their official website.