Pre-Owned Picks – A Panerai, Audemars Piguet, IWC and Omega
Our preferred pre-owned picks for week 48
In this weekly Pre-Owned Picks series, a Fratello editor will select some watches from the pre-owned market and explain why it is an exciting offer (or watch).
The pre-owned watch market is very significant. People who don't want to pay the full price for a watch, seek for a discontinued model or collect (vintage) watches rely on the offers in the pre-owned watch market. Unlike car manufacturers, watch manufacturers neglected the pre-owned watch market for a long time. Incredible, as it is an important and profitable part of the car industry. Some watch manufacturers also slowly trying to get a grip on the pre-owned business by introducing their Certified Pre-Owned program. However, brands (f.i. Audemars Piguet and Breitling) who communicated their Certified Pre-Owned program almost two years ago, are still not ready. Implementing a proper strategy isn't easy, aside from the logistical nightmare that comes with it, as most of these brands want to keep everything under one roof. Let's see what 2020 brings us with regards to the Certified Pre-Owned programs.
Pre-Owned Picks
Anyway. The most important market place for pre-owned watches in the world is Chrono24. Based in Karlsruhe, Germany, and with offices in Berlin, Hong Kong, and New York. With over 200 full-time employees and over 400,000 watches on offer (in 2018, they sold watches worth 1.3 billion Euros through their platform), they run an amazing business. A large part of their offers is pre-owned watches, offered from all over the world.
Every week and in collaboration with Chrono24, we will select our pre-owned watches and explain why we picked these watches. This can be a personal interest, but also because something is a great or exciting offer, in our opinion. In this week's Pre-Owned Picks, I will kick it off with 4 watches that I selected for various reasons. Without further ado.
Officine Panerai Luminor Base Logo (€3895)
I purchased my first Panerai in 2004, a white dial Luminor Marina PAM00113. A great watch and massive part of the fun was swapping straps (and find yourself coming back to the original strap in the end anyway), that you can easily do yourself using the supplied screwdriver. Then, a few years later, I bought the Luminor Base Logo PAM00000. Just like the one in this Pre-Owned Picks selection basically. I am surprised that this reference is still relatively affordable because, in my opinion, it is one of the nicer classic looking models. This offer comes from Poland, and the Luminor Base is offered with boxes and papers, so a complete package.
As you can see, it is put on an Ammo strap, but according to the seller, there are some more straps in the package, including the OEM leather and rubber straps. This movement is powered by the hand-wound caliber OP I, which is based on the ETA 6497-1 movement. A strong performing movement that can be serviced by any watchmaker, which is a good thing. You can find over 30 PAM00000 models for sale on Chrono24 in used condition, but this one is a complete set for an honest price. I like the OP logo on the dial, but I also know that some of you don't like it. The good thing is that Panerai has produced so many variations; you will find one that suits you best. Click here to see the offer on this Panerai Luminor Base.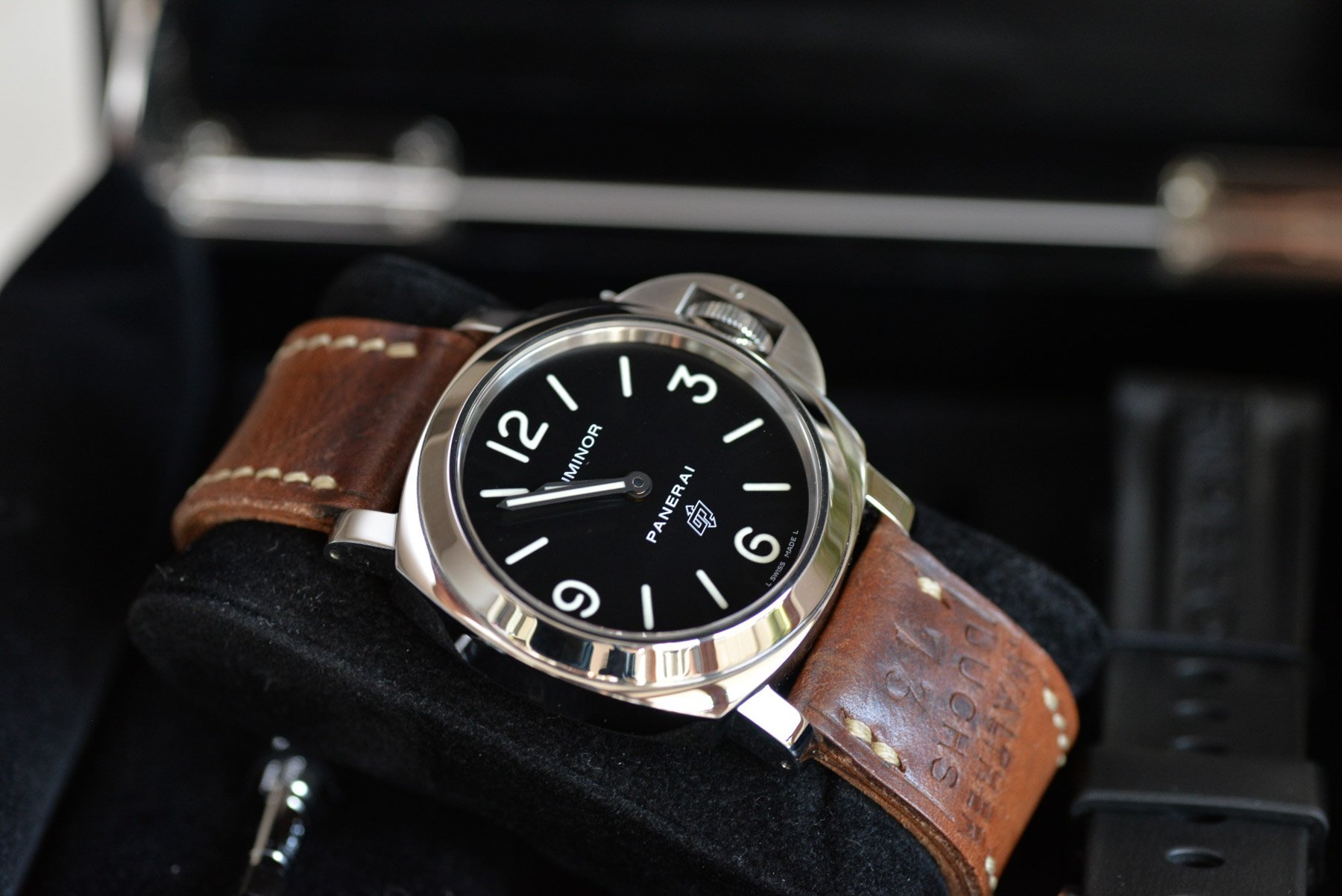 Audemars Piguet Royal Oak 15202 (€37500)
This watch doesn't need much of an introduction here on Fratello. I owned one myself for over a decade, and so did some others on our team. It is a great icon designed by the legendary Gerald Génta. This reference was produced in incredible low quantities, even as little as under 20 per year in the years before 2012 (when the new update was introduced). This is truly rare. People came to realize how incredible this design (and movement) is, how rare it is, and yes, also use it as an investment purchase. I think I paid around 7500 Euro for mine in 2009, and there are hardly any better-performing watches out there when it comes to market value. But, besides all that, it is simply an amazing watch. I prefer it over the Nautilus (I did a Royal Oak 15202 vs Nautilus 5711 comparison here, which is one of our best-read articles of all time on Fratello). Although most people seem to focus on the octagonal design and beautiful finish on the case and bracelet, the movement is just as impressive. I find it to be one of the most incredible looking and designed automatic movements (without complications). Super-thin, mainly because the rotor doesn't work with the common ball-bearings but with a rail over which the mass weight glides. The Gyromax balance is also quite nice, and can only be found on the high-end movements out there. Of course, the dial is something else, as well. The dials of the current Royal Oak 15202ST (with the logo at 6 o'clock) is hand turned, while the dials of this previous version (made till 2011) are machined. Beautiful nevertheless. Click here to see the offer on this Audemars Piguet Royal Oak 15202ST.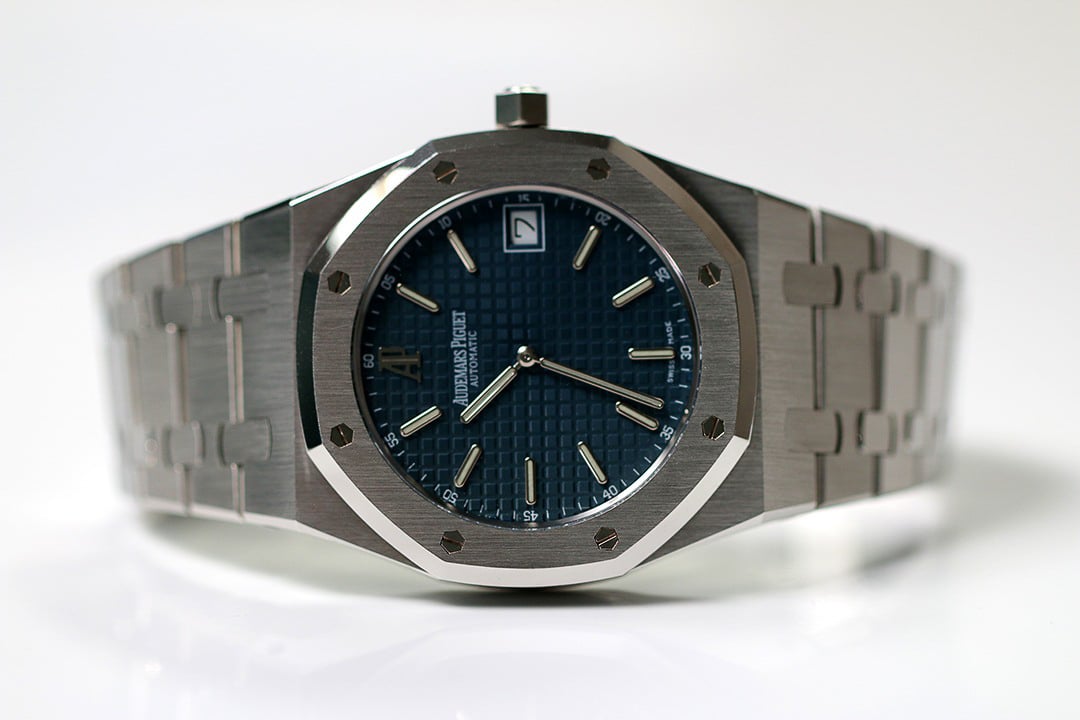 IWC Mark XI British MoD (€8500)
I tend to joke a bit when I see the current IWC line-up with the Spitfire reference. This is because IWC was one of the brands among Lange, Stowa, Wempe, and Laco to deliver watches to the German Luftwaffe in WWII and the only thing they did with Spitfires is shooting at them. But, the truth is, IWC did provide some watches to the MoD (Ministry of Defence) as well, but only at the end of the war and after. Anyway, this 36mm IWC Mark XI dates back to 1952 and was delivered to the British military. You will find all correct engravings on the case back of this Mark IX, and the dial is also original and correctly marked/signed. The Mark XI, or Mark 11, was introduced in 1948 and had a 36-year life span in the IWC collection until it was replaced by the JLC powered IWC Mark XII in 1984. Inside the Mark XI is the famous IWC caliber 89, a hand-wound movement that was also used for many other of their watches. On the dial, you will find the arrow-head Pheon symbol, and very important, it is also engraved on the caliber 89 movement. Hands are tritium filled pencil shape, and correct for this model. My interest in military watches recently sparked again, and I think there aren't many Post-WWII models out there that can beat the IWC Mark XI, hence my selection for this Pre-Owned Picks installment. Click here to see the offer on this IWC Mark XI British MoD watch.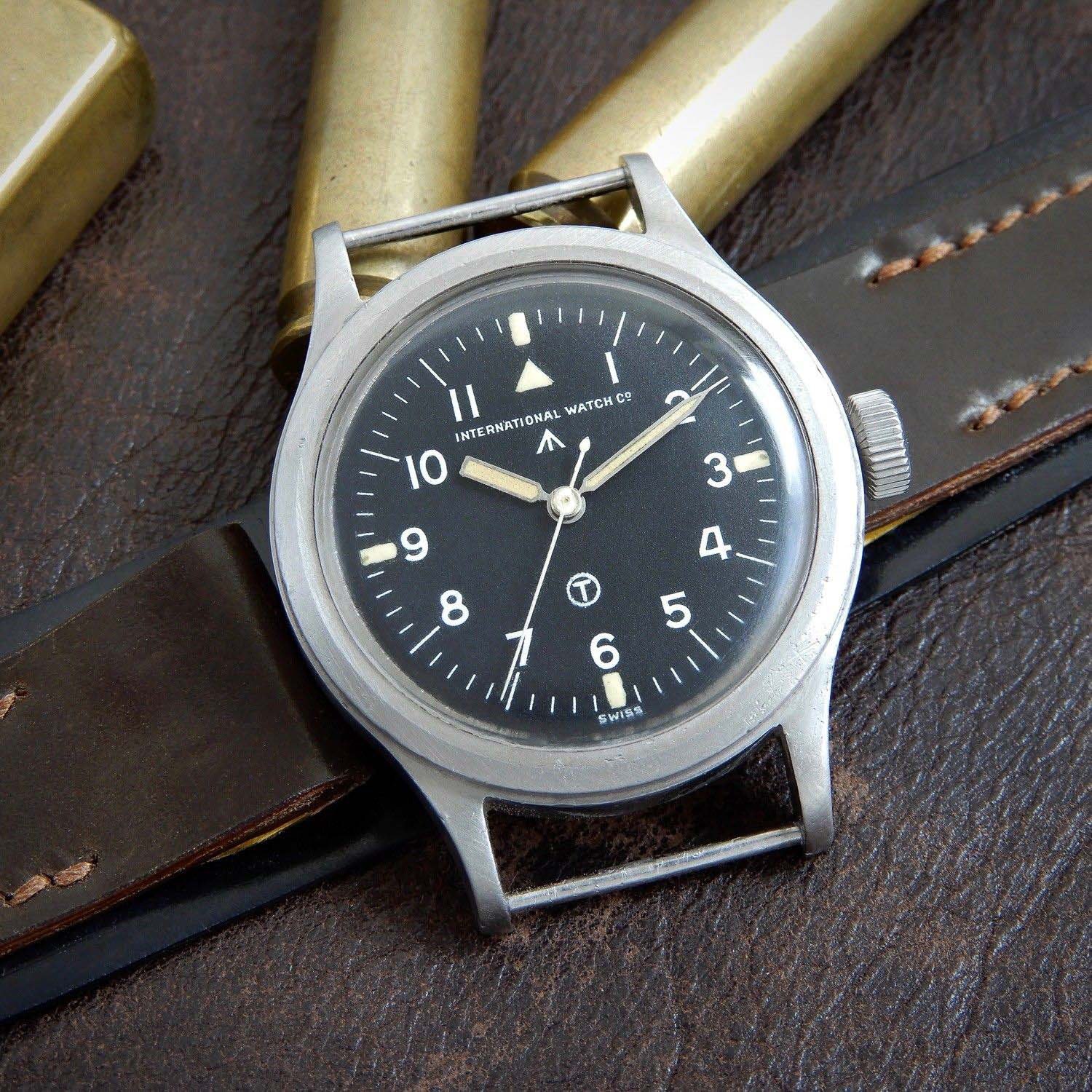 Omega Constellation 14393 SC (€1159)
The last watch for the Pre-Owned Picks of this week is this little fellow, an Omega Constellation reference 14393 SC from the early 1960s. It is a Constellation with a date, which means it will have caliber 561 inside. These copper-colored movements are pretty awesome, even for today's standards. Pick them up, and they run. How do I know? One of my guilty pleasures is collecting these Omega Constellations. I don't have as many Constellation watches as I have Speedmasters, but I have my fair share, and although I hardly wear them, I do love them (here's an in-depth article I did on vintage Constellations). These watches don't break the bank and are of fantastic quality. These are fun to collect, and sure, you can wear them every day if you want. The problem is that there are so many variations that sometimes it is a bit difficult to have enough confidence to pull the trigger on one. This Constellation with reference 14393 is a confusing piece, as there are several iterations of this exact reference that you will find many different dial and case configurations with the 14393 number. You will also find similar-looking models that have different dials or different hour markers. Omega went all out on these Constellations in the 1950s and 1960s (and still does today in all honesty). Many variations are available. I like this one because it is all steel, but with nice gold markers to give a bit of contrast. My personal belief is that every Constellation should have at least a touch of gold. This particular model has a nice cross-hair dial, beautiful lugs, not very worn out (often easy to recognize by the sharpness of the lugs, but also by the gold Observatory medallion on the case back. All 8 stars are perfectly visible after all these years and aren't 'worn off'. Click here to see the offer on this Omega Constellation 14393.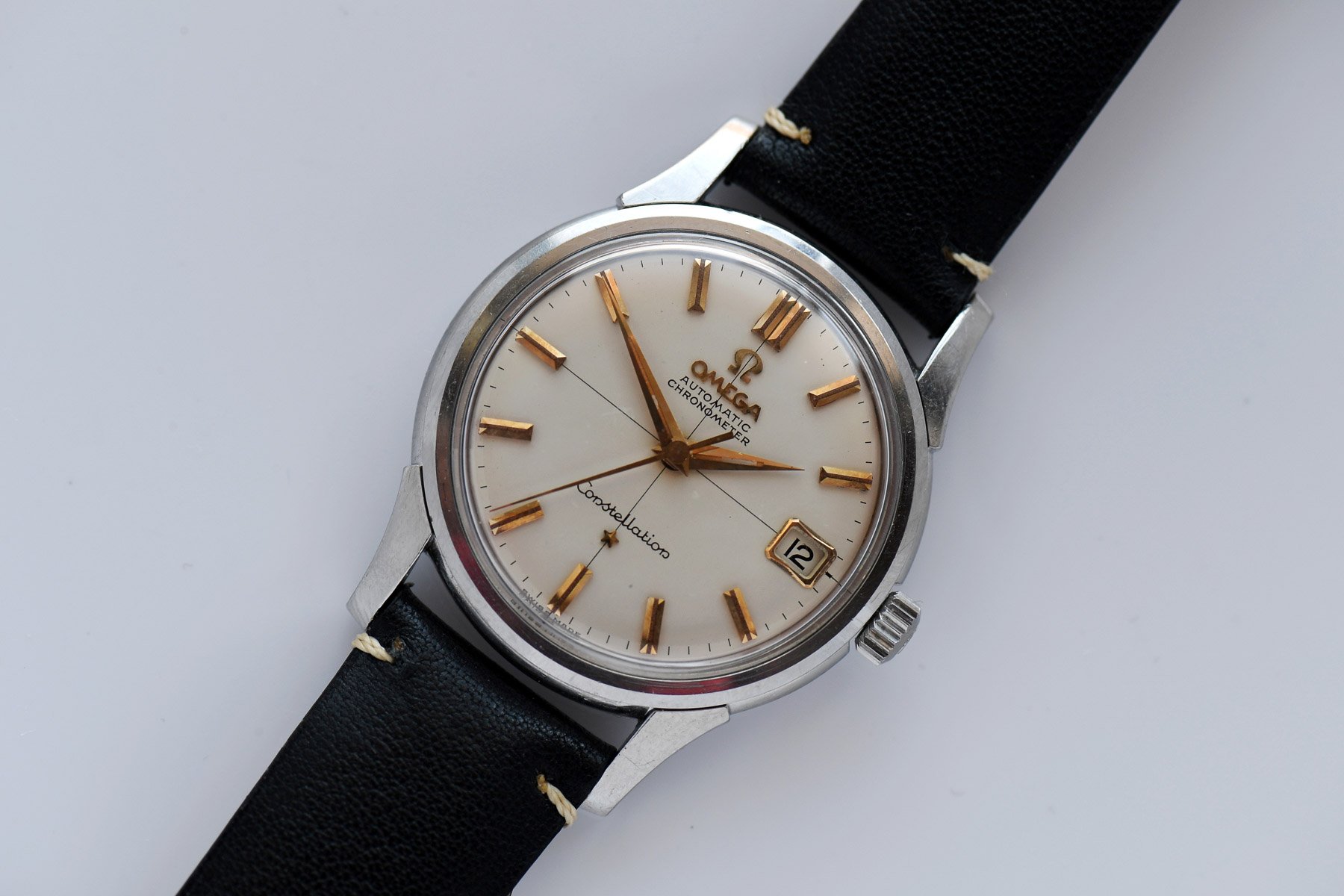 As always, with pre-owned watches, make sure to do your (own) homework. Also, feel free to make an offer on these watches (remember: these are asking prices) and discuss the warranty the seller can provide. Chrono24 offers its Trusted Checkout system, so you have proper buyer protection (more here). That said, always do your homework nevertheless. It can prevent you from a lot of frustration and 'stuff' you don't want to have to deal with.