In-Depth – Vintage Omega Constellation Watches
The vintage Omega Constellation is the watch that basically started it all for me. The passion for watches that is. A number of relatives of mine had (and have) an Omega Constellation and it were these timepieces that got me interested in watches in the first place. I inherited a nice vintage Omega Constellation from 1968 which I truly cherish as it has been on the wrist of my grandfather for over 40 years (on a daily basis). I also bought some Constellation watches myself as well through the years.
So, it is about time I give the vintage Omega Constellation a bit of well-deserved attention here on Fratello Watches. A few months ago, we (Bert Buijsrogge and I) visited a collector of rare and vintage Omega Constellation and Longines Conquest watches and decided to do a photo shoot on both collections. All of the vintage Omega Constellation models you will see in this article are made out of gold and have this Milanese gold woven bracelets. Just because the owners love them by the way. Although some Omega Constellation watches were delivered this way, they also came on gold rice grain bracelets and leather straps.
Omega Constellation History
The Omega Constellation watch was once the flagship in the Omega collection. This particular family within their collection dates back to 1952 and according to Omega's Journey Through Time publication (2007) it was because their limited produced Centenary collection was so high in demand by customers. This 1948 Omega Centenary commemorated the 100th birthday of the Omega company and was their first automatic chronometer watch. It wasn't made in series production but the demand for them was so high, that Omega decided to create a new family of automatic chronometer watches in 1952: The Constellation.
The first Omega Constellation models had bumper movements and distinctive diamond shaped hour markers. The watches in the photo above also feature the diamond shaped hour markers on their pie-pan shaped dials. The Dauphin hands were used until the late 1960s.
After a few years, around 1955, the Omega calibre 354 bumper movement with chronometer rating was replaced by the calibre 50x series. This movement had a normal rotor and came in several versions (date/no-date). In 1959 this range of movements was succeeded by the calibre 55x (no date) and 56x (date) movement families. Note that some of these movements were also used in Seamaster models, but only in very rare cases they were chronometer certified. One of the best online resources on this topic is the Omega Constellation Collectors blog by Desmond. He also features a nice overview of the different dials and cases that were used in the Constellation collection.
Rich Dials, Fancy Lugs
One of the things that make the Constellation stand out – in my opinion – from the other Omega families of that time, is that the dials on these Constellation models were richly decorated. The use of gold dials, gold hour markers, onyx hour markers, gold hands and gold applied logos and wording is something that wasn't seen on any of their other collections to this extent. Some of the gold dials had a satin-brushed finish, others had a sun-guilloché pattern or a cross-hatched dial. There were many different dials available for the Omega Constellation in the 1950s and 1960s.
The pie-pan dials (see photo below) were commonly used in the vintage Omega Constellation watches. The use of the gold diamond-shaped hour markers is less common and only seen on the earlier models. In the 1960s Omega added the use of the Onyx stick markers on some of the Constellation models. Better said, these are gold hour markers with an Onyx inlay.
Another thing that makes the Constellation attractive to a lot of collectors are those nice fancy lugs. Those early Omega Constellations have rounded lugs and were later a bit more restyled to the 1960s. A bit more rectangular, sharp edges but still very elegant (2nd photo below).
Constellation Deluxe, Constellation Grand Luxe, Constellation II Deluxe Calendar
Omega also used Deluxe, Grand Luxe and Deluxe Calendar to indicate some of there Constellation models. It gets a bit unclear whether these watches had a more refined finish, more expensive dials or gold bracelet. The vintage Omega Constellation 168.010 I inherited came originally on a gold Milanese mesh bracelet for example and was also dubbed 'Constellation II Deluxe Calendar'.  It has a quickset calendar (calibre 564) and was the successor of the Constellation reference 168.004. I also happen to own a vintage Omega Constellation 168.004 which has a calibre 561 movement and a very similar dial. This model was indicated as the 'Constellation II'. I wonder what the 'Deluxe Calendar' of the 168.010 adds to it in terms of finish and execution.
For some models, it is quite clear why they call it the Constellation Grand Luxe, as they came with a beautiful gold Reinhor brick bracelet and a silver box. However, these models – despite their indication of Deluxe, Grand Luxe or whatever – used the exact same movements with the same finish. Then there are some white gold and even platinum models, which are very rare and indicated Deluxe and Grand Luxe. Confusing.
Observatory of Geneva
All gold Constellation models have the observatory of Geneva hand-engraved on the back. The stainless steel models and gold/steel models have a (gold) medallion on the back with the observatory of Geneva. Where the dial features this gold star highlighting the model name 'Constellation', the case back has the observatory engraved under a starry sky. The eight stars on the case back stand for the many exploits of Omega in the world chronometer competition. As I wrote above, the Constellation is always a chronometer watch. A certification that proofs the high accuracy of a movement. Besides the Constellation, some other families of the Omega collection also included watches that had a chronometer rating. However, the vintage Omega Constellation being the flagship of the brand at that time were all rated chronometer.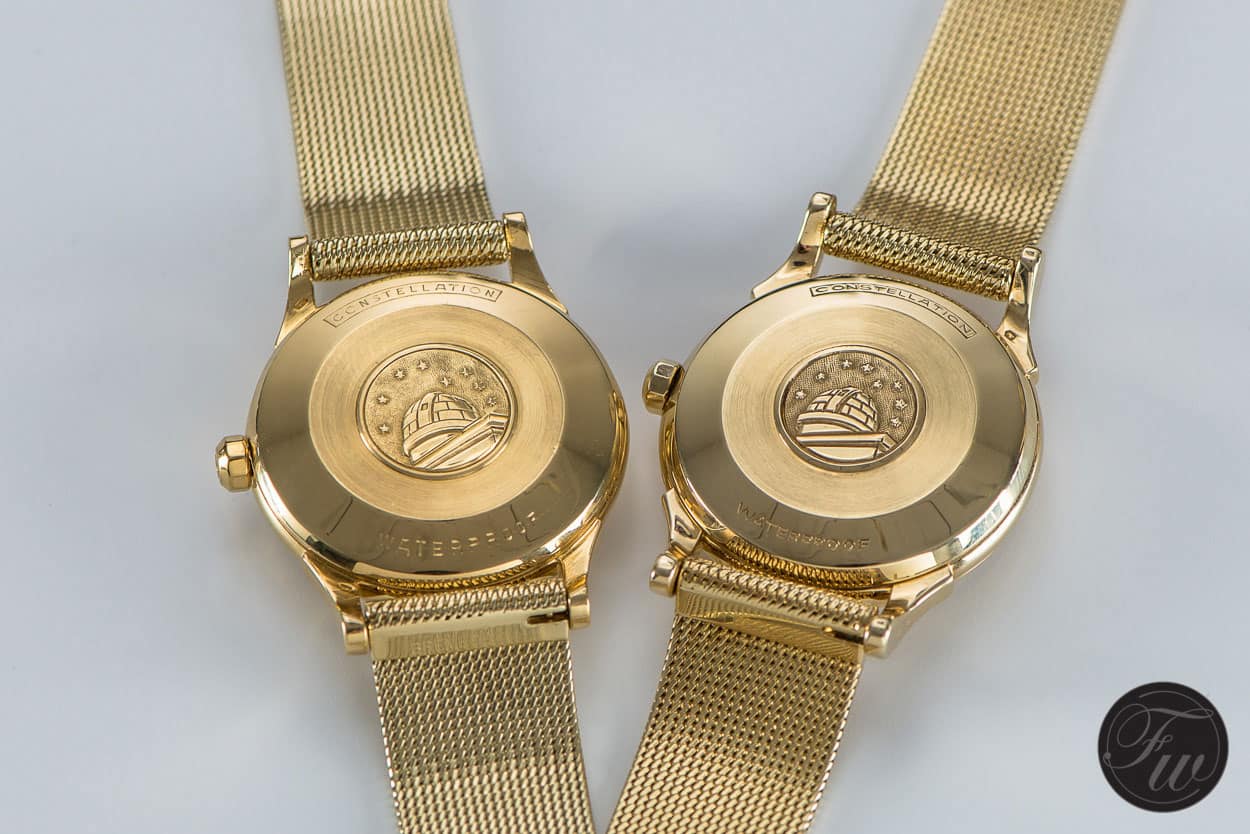 1970s and later..
In my opinion,  the vintage Omega Constellation watch is most interesting between 1952 and 1970. The elegantly shaped cases, fancy lugs, 10-sided crowns, beautiful copper-coloured movements and rich dials of those early vintage Omega Constellation watches were replaced by clunky shaped 1970s models. There are some beautiful 'iconic' models in there such as the rectangular Constellation Marine Stardust with a dial made of aventurine quartz. But in general, you could say that they don't breathe the same class as those earlier models.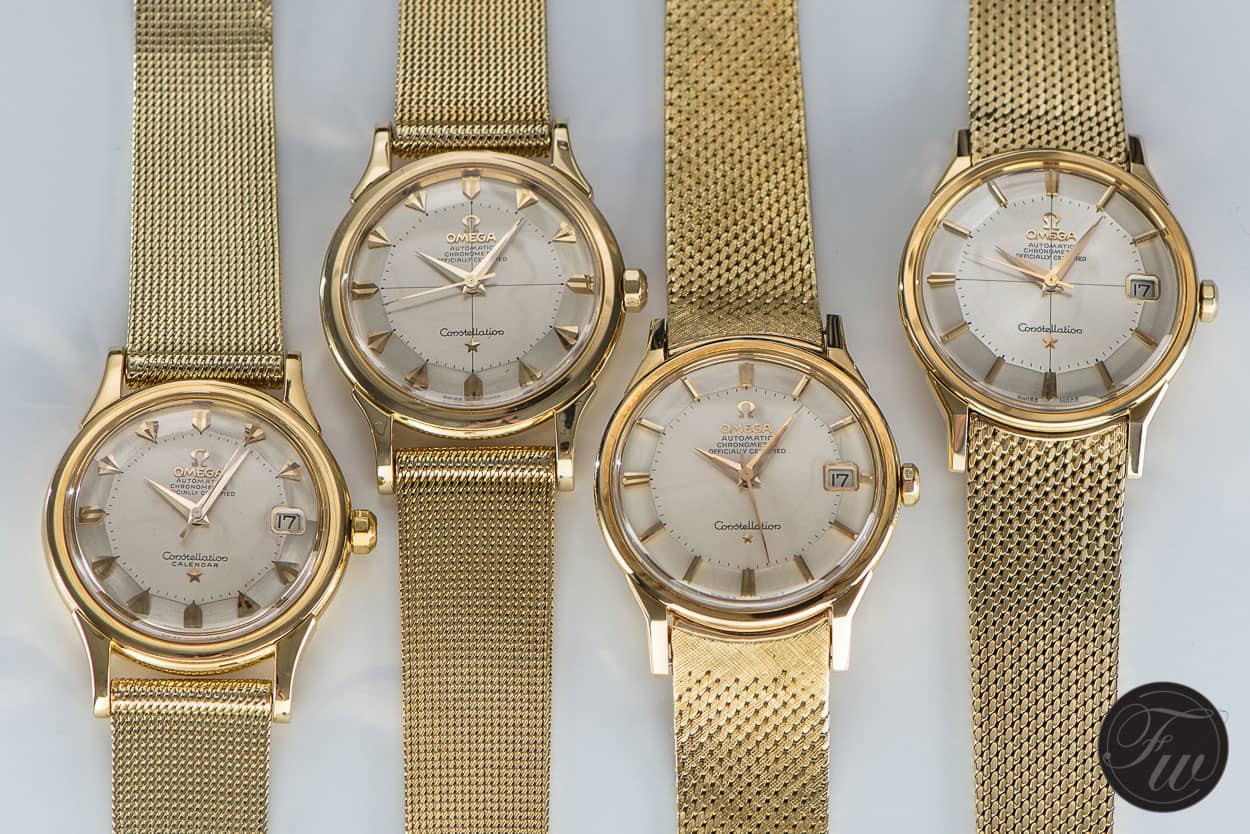 You actually could say that the Omega Constellation collection lost a bit of direction in those years. Dozens of different models, case shapes and so on. It wasn't until 1982 where the former flagship of the brand was reinvented. In that year, the Omega Constellation 'Manhattan' was introduced. This new design with its four claws that pressed on the crystal, an integrated bracelet and chronometer movement (also for the quartz models, which have a different standard for their chronometer certification of course) was designed by Carol Didisheim and is still in the collection. Although the design was updated during the years, the initial 1982 design is still clearly being followed. The current Omega Constellation family is not considered to be their flagship anymore, it is a very popular watch in certain countries (e.g. China and India). Recently Omega even reintroduced the pie-pan dial to a Constellation limited edition.
Collecting Vintage Omega Constellation
If you are in the market to buy a vintage Omega Constellation, there are a number of things you have to take into account. One of them is that it is a small watch for today's standards. With a diameter of approx. 34mm it is quite small. In retrospect, it was quite smart of Rolex to create their Oyster Perpetual Day-Date (ref.1803) in 36mm, as that was considered normal for a long time while 34mm is considered small for 10-15 years now. Since I mentioned the Rolex Day-Date anyway, it is interesting to know that a full gold vintage Omega Constellation with gold bracelet was a bit more expensive in those days than the Rolex Day-Date 1803. Although the Omega Constellation Grand Luxe on a gold Reinhor bracelet fetches more than the average gold Day-Date on President bracelet, most gold Constellations are still cheaper to get than a gold Day-Date.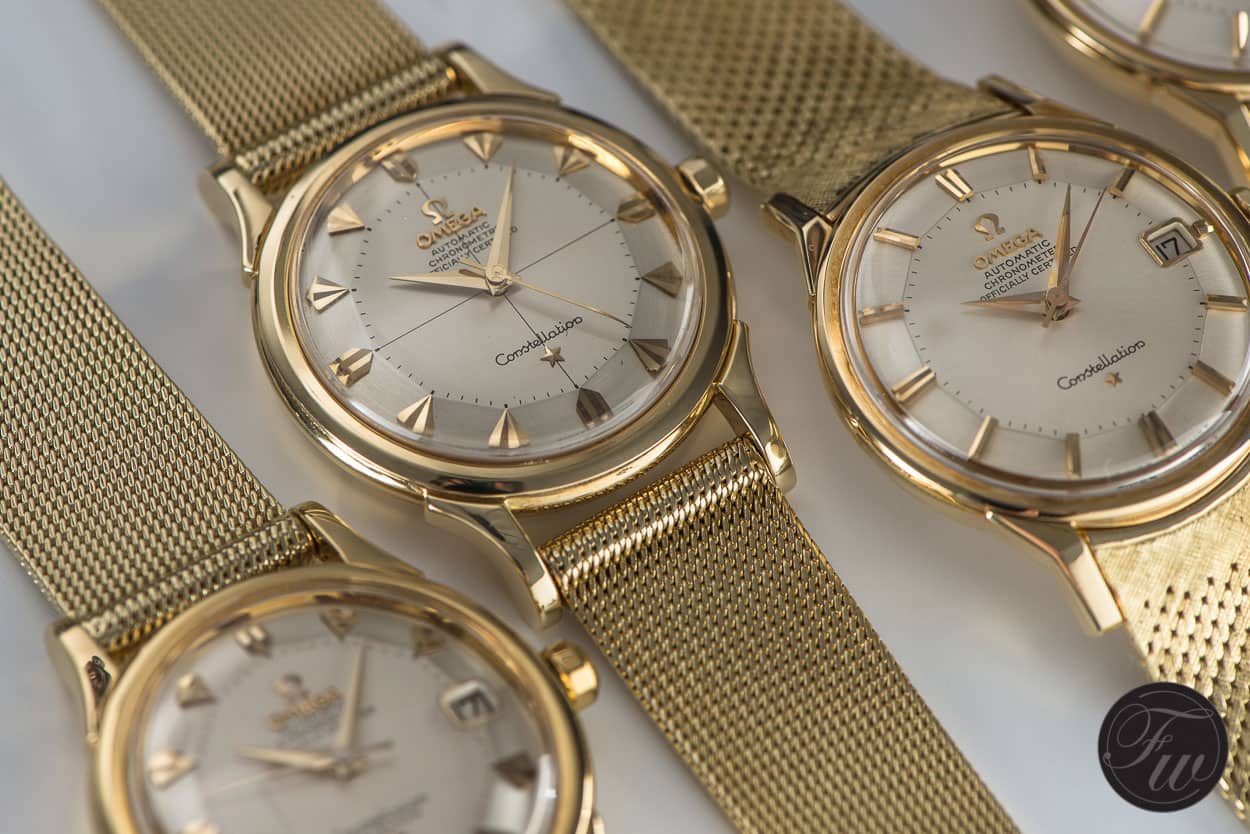 However, the vintage Omega Constellation prices have gone up in the last years. Please ignore the prices you might have seen in the OmegaMania 2007 catalogue, as it seems that there was a lot of 'air' in the prices some of the auctioned watches fetched. A bit of common sense and the help of marketplaces like Watchrecon.com, Chrono24.com and the various sales forums will show you that you can have a nice gold Omega Constellation for around $3000 USD. For a nice early gold Constellation (Deluxe) with those big diamond shaped hour markers the price will be high of course. If you want to have an Omega Constellation on a gold bracelet, like pictured in this article, the price might even double. However, always keep in mind that it is all about condition!
Although Omega is able to service a lot of their vintage watches, having a calibre 354 (bumper), 50x, 55x or 56x serviced will cost you. Omega is transparent in these servicing prices. Look at this complete maintenance service prices on the Omega website and you will have an indication of the costs. The mentioned calibres are in the 4th category (very old calibres). A complete overhaul of the watch is being done on estimate though.
A big thank you to the collector of this beautiful Omega Constellation watches who wish to remain anonymous.
*This article appeared first on June 28th, 2014 and has been updated since.