Preview of Geneva November 2017 Auctions – Antiquorum
I continue to see progress at Antiquorum Geneva. The level of watches has seen a step up in this catalog and they already had some great results in their most recent Hong Kong sale. There is no massive pocket watch collection this time around, which is a relief for me as well. Overall, the outlook has been good ever since their separation with Antiquorum New York and I hope they keep up the good work.
I had an interesting discussion with Julien Schaerer, Managing Director, during my early preview visit in Geneva. I was, again, curious about the massive size of this catalog. Just to clarify, when I say large catalogs I mean they regularly have 500+ lots in their sales and others like Christie's and Phillips have around 200 lots with higher average values. During our discussion, one comment particularly caught my attention: "but where can new buyers find a wide selection of interesting vintage watches within a reasonable budget?"
It was an interesting question and clearly a rhetorical one. I assumed I would just get a 'we have to reach our turnover objective' response, but I felt we skipped that and went directly to 'but that's a good thing for you'. I know auction houses outside of Geneva do offer cool entry-level watches, but they don't have the knowledge and decades of expertise of the AQ team in Geneva. It is true that Antiquorum does continue to deliver the most approachable catalogs and it's fun to dig through the variety of horological items, which range from brand memorabilia to pocket watches, desk clocks, wristwatches and so on. From a professional standpoint, it is a lot of work for us to look through all the catalogs coming up next weekend (over 1,300 lots being auctioned in 3 days), but it ends up being a ton of fun. This also doesn't mean Antiquorum only caters to the entry-level buyer because they have some very important and impressive wristwatches in this auction.
After looking through some of the upcoming watches for sale, and just before leaving, I complimented them on having way less modern watches than ever before. Again, I was surprised by his answer: "It is not that we don't want to take modern watches for sale. There is still big demand for nice second-hand watches. However, owners just don't want to take massive losses on what they paid and prefer to keep their watches rather than take risks and accept our market value estimates.". I hadn't really thought about it that way, but it does totally make sense. Why dump your modern watch if you can just enjoy wearing it a few more years? Unless you really don't like it, desperately need the cash or your current girlfriend found out your ex bought it for you, I guess I really don't see why either. Interesting thoughts from Julien and thank you for taking the time to see me.
IMPORTANT MODERN & VINTAGE TIMEPIECES / THE ART OF CALATRAVA
The Antiquorum watch auction, which takes place on Sunday November 12th in Geneva, is comprised of 598 lots (44 more than last sale) including a section of 40 Patek Calatravas named The Art of Calatrava. There is a pretty impressive collection of Rolex Daytonas in this sale as well and, overall, a wide selection of all our favorite vintage watch brands.
As mentioned previously, Antiquorum presents one of the widest variety among watch auction houses and covers several niche markets, which makes it fun and interesting to view and learn about. They are indeed featuring 40 Patek Philippe Calatravas in this catalog, but I didn't get to see all of them as the majority were traveling when I passed by. I think this was a pretty interesting idea considering that these smaller diameter classic time only watches haven't been the focus of much attention recently. It will be interesting to see where the market is situated today and if we can anticipate a renewed interest for smaller diameters outside of the Asian market.
Here are some of my favorite wristwatches from the catalog:
LOT #140
Wittnauer-Longines "Weems" Second-Setting Pilot's Wristwatch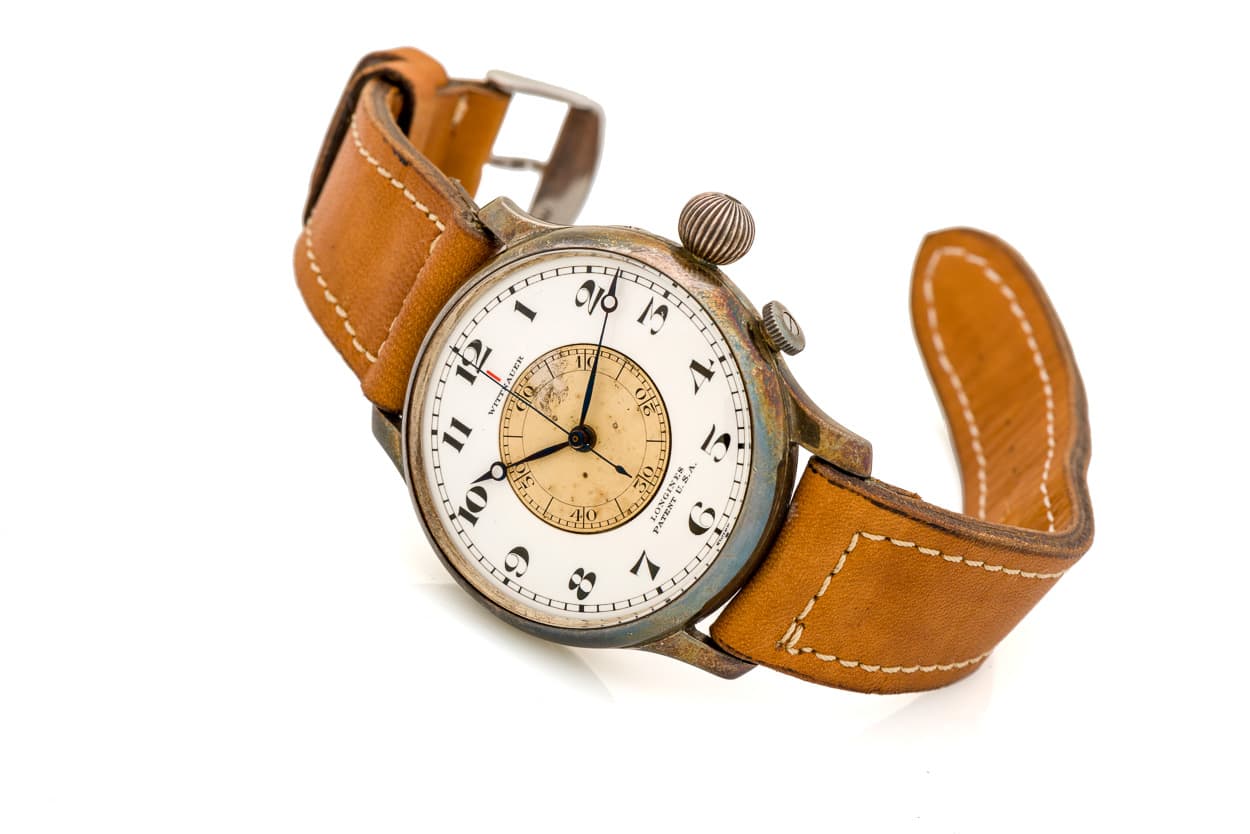 The history of navigation and aviation wristwatches are closely tied together with Longines and Wittnauer, US distributor of Longines watches for 125 years. The most well-known is undoubtedly the Longines "Lindbergh" Hour Angle Watch, a navigational watch developed for and with the American pilot Charles Lindbergh in 1931. He was made famous four years before for his non-stop, solo Atlantic crossing in 1927, and Longines, the Olympic timekeeper back then, timed the event (total was 33 hours and 30 minutes).
What many of us don't know much about is its predecessor: the Longines Weems Second-Setting Watch that was based on the navigation system devised by Captain Philip van Horn Weems. In 1929, Navy Captain Phillip Van Horn Weems in conjunction with Longines (and Wittnauer) developed the Weems Second-Setting watch for nautical navigation. It was later the inspiration for Lindbergh's aviation watch. Weems, and the less familiar Weems watch was the base model of the Lindbergh watch, essentially making Lindbergh's an updated and improved Weems. This 47mm wristwatch's distinguishing characteristic was its rotating seconds dial in the center used to synchronize accuracy while listening to minute beeps over the radio. The rotating inner dial displayed the correct minutes and graphically showed the margin of error from the original set time. The push button on the crown would allow to rotate between functions of winding and setting.
It is truly amazing wristwatch with its impressive 47mm silver case, special dial configuration and function and, of course, heritage.
Estimate CHF 17,000 – 27,000
LOT #173
Breitling Ref. 764 Split-Seconds Chronograph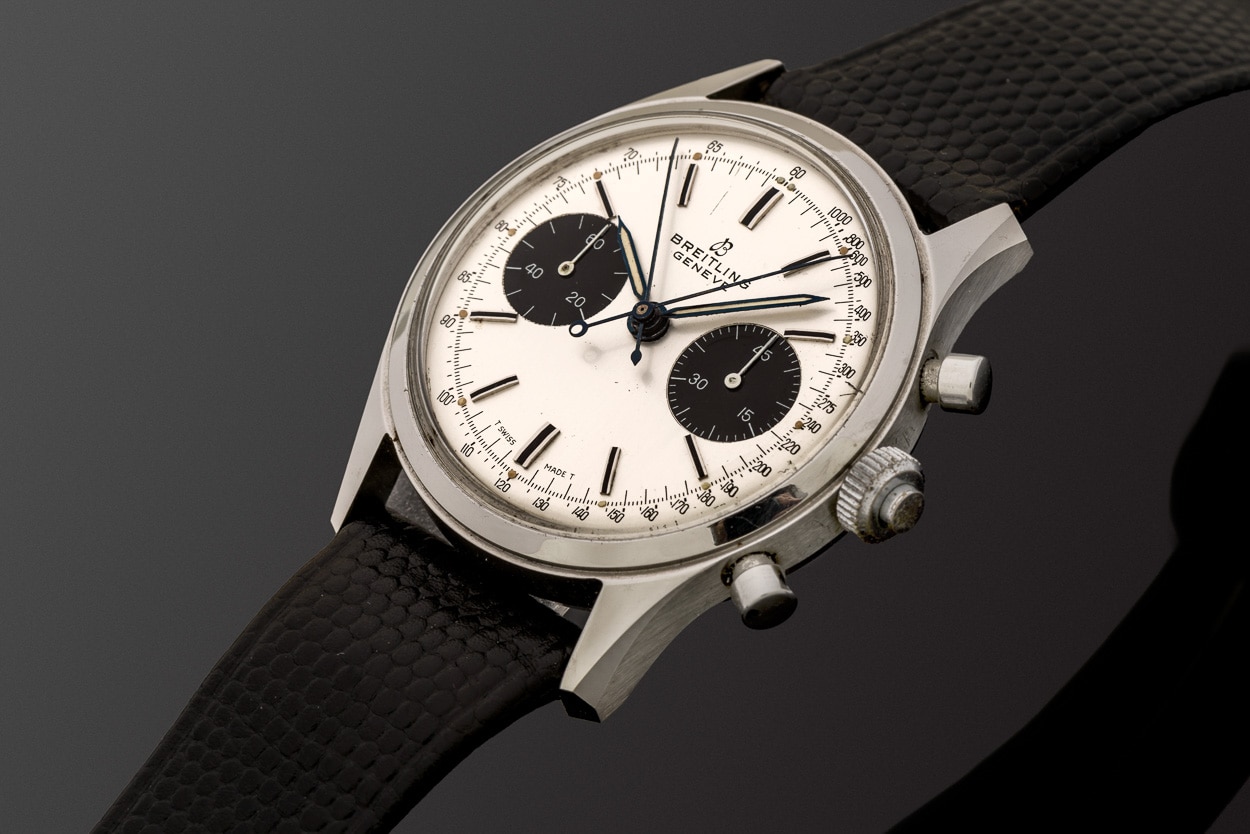 It is no secret or surprise that following the sensational rise in demand for vintage sports models such as Rolex, Omega and, more recently, Heuer, many have been saying that Breitling would be next. The recent move from Richemont Group to Breitling by Georges Kern has drawn quite a bit of attention to the brand and its heritage. They have already reached out the some of the most passionate vintage Breitling collectors to brainstorm together and bring back some of the soul that has faded over time in its current collections. However, according to our sources, they do not plan to go straight into re-editions, but rather re-center the brand with its core DNA. Regarding vintage Breitlings, finding these rare treasures in excellent condition is getting more difficult, but that has not discouraged Breitling collectors. The hunt continues for veteran collectors as well as more mixed collectors, which are now paying closer attention to 1950's, 60's and 70's Breitlings. More competition means higher prices, of course, but there is still a ton of value in these beauties. This Breitling Split-Seconds chronograph is no exception. Although some debate has continued over the non-duograph dials on split-seconds Breitlings, this piece appears to have all its original components, is in overall honest condition and is fitted with a lovely Venus 179 (base 175) movement.
Estimate CHF 20,000 – 30,000
LOT #235
Rolex 6264 "Linz Paul Newman" Daytona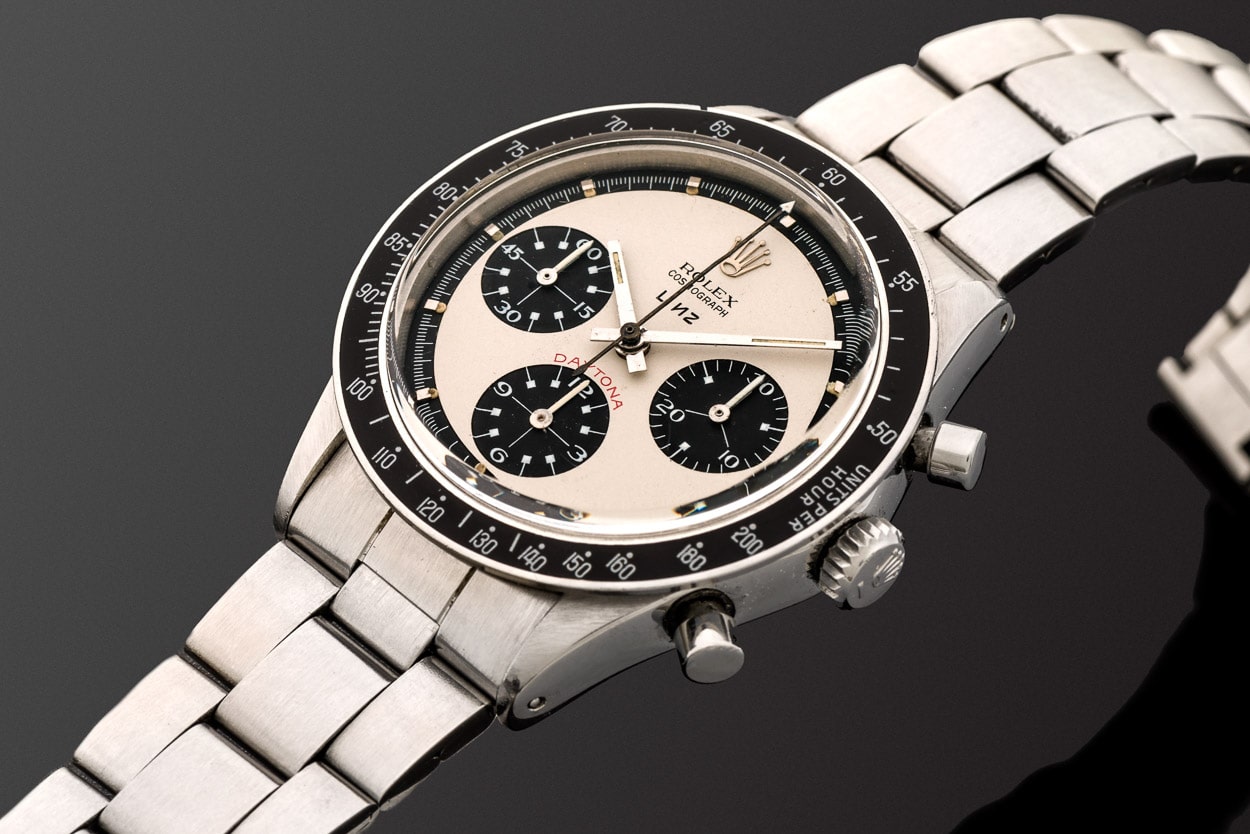 I am a Paul Newman Daytona expert, but as far as panda dials go, I prefer these bakelite bezel configurations on a purely aesthetic level. There is also the added bonus of the rare 6264 reference (replacing the 6241) with the upgraded 727 caliber.
The Linz signature on the dial is where it truly gets interesting. Rolex, headquartered in Geneva, originally sold its watches directly through jewelers like Linz Brothers in Dallas, Texas. Rolex Watch USA ventured into the Texas market in 1945. By 1950, Linz Brothers were selling the largest volume of Rolex in the United States. In 1965, President Lyndon Johnson, a native Texan, was famously seen wearing an 18K gold Rolex Day Date (later nicknamed the Rolex President) during a press conference after his gall bladder surgery. Rolex became an almost immediate must-have for every successful Texan. By 1970, Rolex had 75 authorized retailers in Texas and was its most successful market. As a State it sold more Rolex than most countries were at that time. The signature on the dial represents a fascinating piece of Rolex history, particularly in relation to its rich tradition in the state of Texas. The last time a Linz Paul Newman Daytona was sold at Phillips auction in November 2016, it was a 6239 estimated at CHF 200-400K and it surpassed all expectations selling for a mind-boggling CHF 874,000.
Estimate CHF 250,000 – 450,000
LOT #424
Patek Philippe Ref. 570 "Pink on Pink"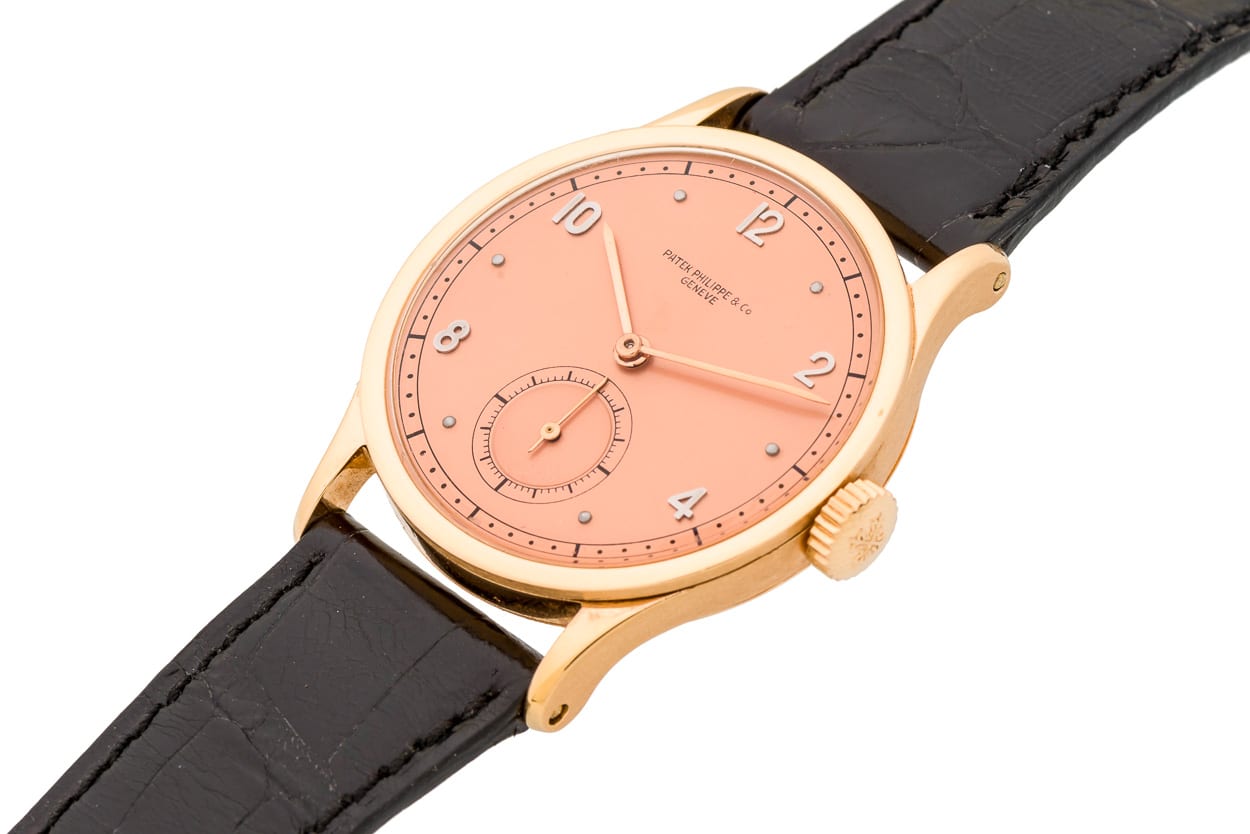 A Patek Philippe Calatrava is a round dress watch that has been a quintessential part of the brand identity since the 1930's. The term Calatrava has even been widened to describe other round dress watches as a general term. In 1932, Patek released the reference 96 dress watch, the first Calatrava. The Bauhaus influence was directly visible in its ultra-simplified forms, prevailing rationality being tied to functionality as well as the underlying guiding principle that industrial production could still showcase a distinctive artistic spirit. As far as Calatravas go, my favorite remains the reference 570, which was released in 1938 with a larger diameter of 35.5mm versus the 31mm of the 96. The design and spirit are the same, however I find a 35.5mm more wearable today as a dress watch versus a 31mm. I rarely wear a gold watch, but I prefer pink gold over yellow gold due to its warmer hue. Finally, when looking at this example, the bold pink dial on this 570 could, when hearing the idea, sound strange. However, when you see it in person there is a harmony of colors and contrast that just makes you go wow! (or me at least)
Estimate CHF 35,000 – 55,000
A big thank you to Sacha Davidoff for this Geneva November 2017 Auctions report on Antiquorum.