Rado Captain Cook Automatic Bronze With Burgundy Dial And NATO Strap
Our new favorite color scheme strikes again...
Who'd have thought Bronze cases and red dials would become an almost mainstream thing here on Fratello? We certainly didn't see this coming, but here we are. Following on from last week's very special limited edition Oris × Fratello Big Crown Pointer Date, we have another autumnal vision in bronze for you to feast your eyes upon. The Rado Captain Cook in bronze with a rich burgundy dial joins the club…
A year ago, that club seemed pretty exclusive. But now, thanks to the Oris and this latest addition to the Captain Cook range, the "Burgundy Bronze Brigade" is gaining new members at an unprecedented rate. And why not? It is a color/material fusion that makes perfect sense. Green dials with bronze cases evoke a sense of British racing prowess. Blue dials in bronze housings cannot help but recall the ocean. But red dials? Well, the result is an earthy, inviting affair that begs to sit alongside thick woolen sweaters and bask before roaring log fires. Not feeling it? Get yourself a Pumpkin Spice Latte from Starbucks and come back to this article when your tastebuds are tingling for more of this seasonal fare. We'll be waiting…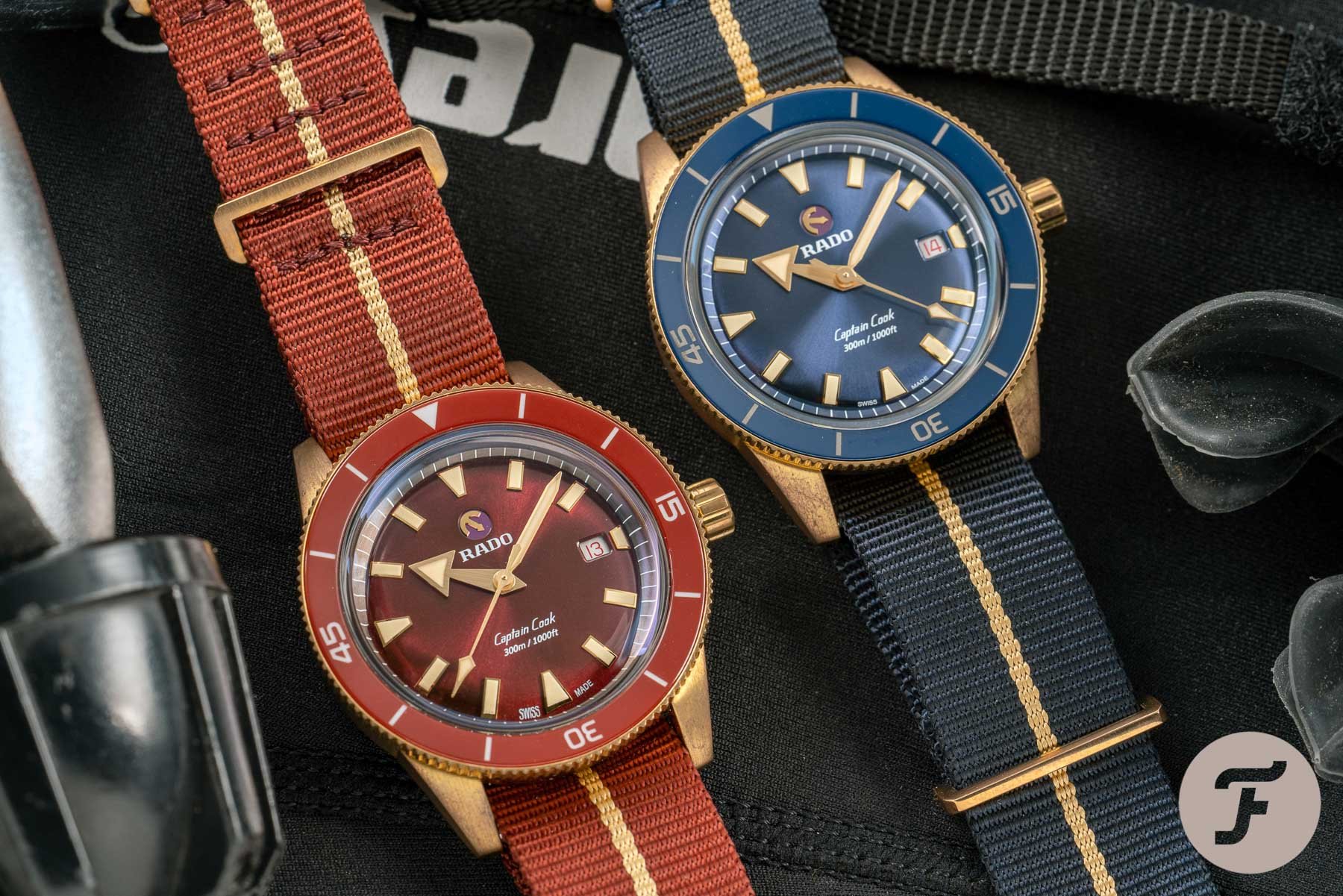 Effective frequency
The "purchase pathway" is a weird thing. Sales experts talk frequently about the number of "exposures and interactions" a would-be consumer must have with a product (or, in this case, a product type) before a sale is made. The name given to the development of a relationship between product and purchaser is "effective frequency". Although there is much disagreement on the exact number of necessary exposures to a product or an advertisement thereof (with general theories ranging from three–20 exposures), the principle remains true. For a potential purchaser to become a paying customer, an idea must be presented to them multiple times.
…how can you hope for your voice to be heard…
Modern advertising is a multi-channel forum. This is true in 2020 like it has never been true before. With more options come more questions. Similarly, with more routes to success, so too arrive more routes to failure. It's kind of the same phenomenon presented to a would-be pop star. Indisputably there are more ways for young artists to get their music out there than ever before. Vexingly, however, there are perhaps exponentially more competitors. In an age when everybody has a voice, how can you hope for your voice to be heard above all others?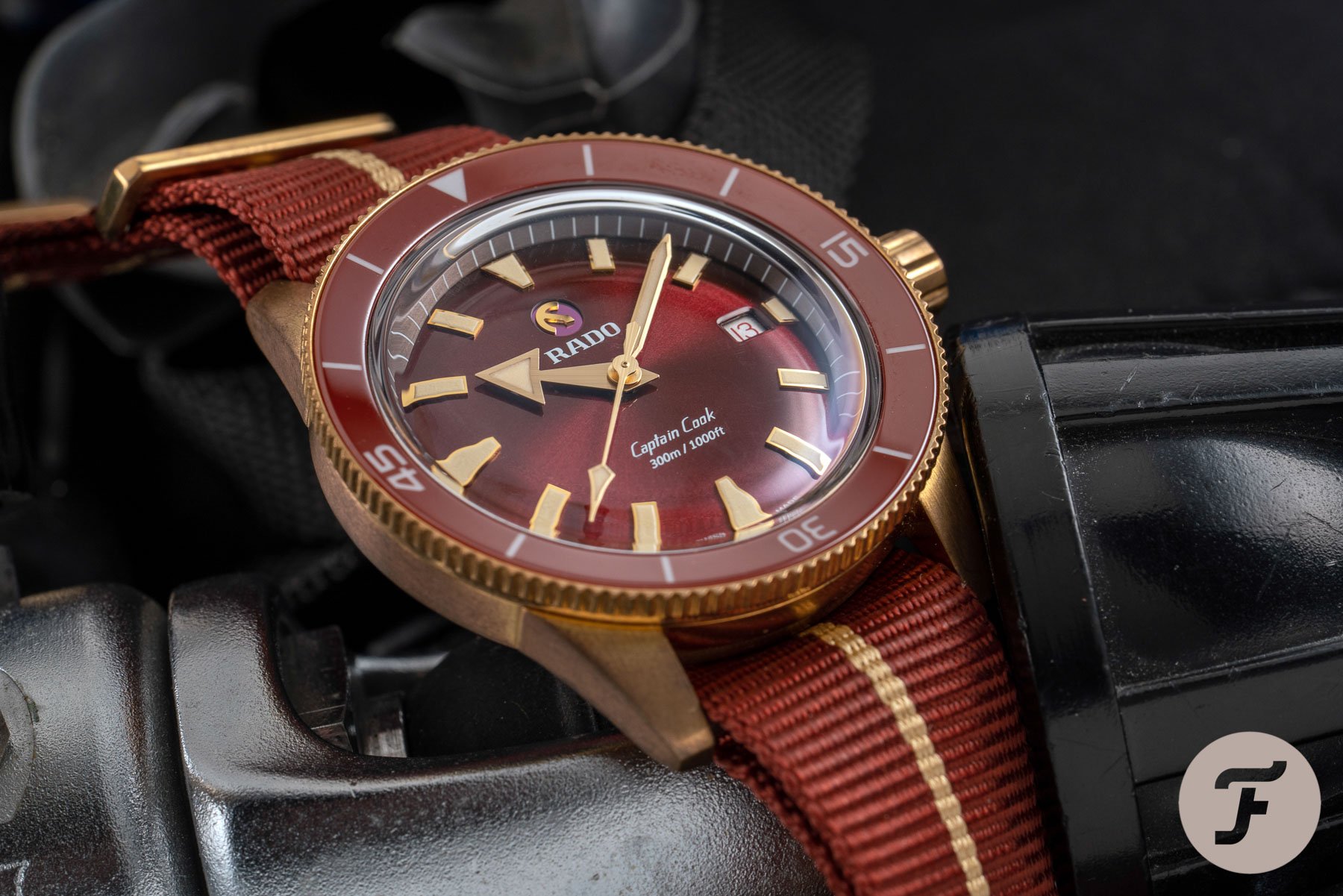 Helping each other out
Here's where releases like the Oris × Fratello Big Crown Pointer Date and this Rado Captain Cook really help one another. When something becomes fashionable (in this instance, the combination of red dials with bronze cases), every product within that definition suddenly benefits from the presence of every single competitor in a more direct way. You might find yourself in love with an idea but not its execution.
For example, one might first be turned on to the idea of bronze/red together in a watch that they do not find attractive itself. Their hunt for such a product that satisfies their aesthetic desires could begin with a rival of the product they ultimately end-up purchasing. This is a rather niche arm of the "effective frequency" principle that should not, especially in the case presented to us today, be roundly ignored by brands.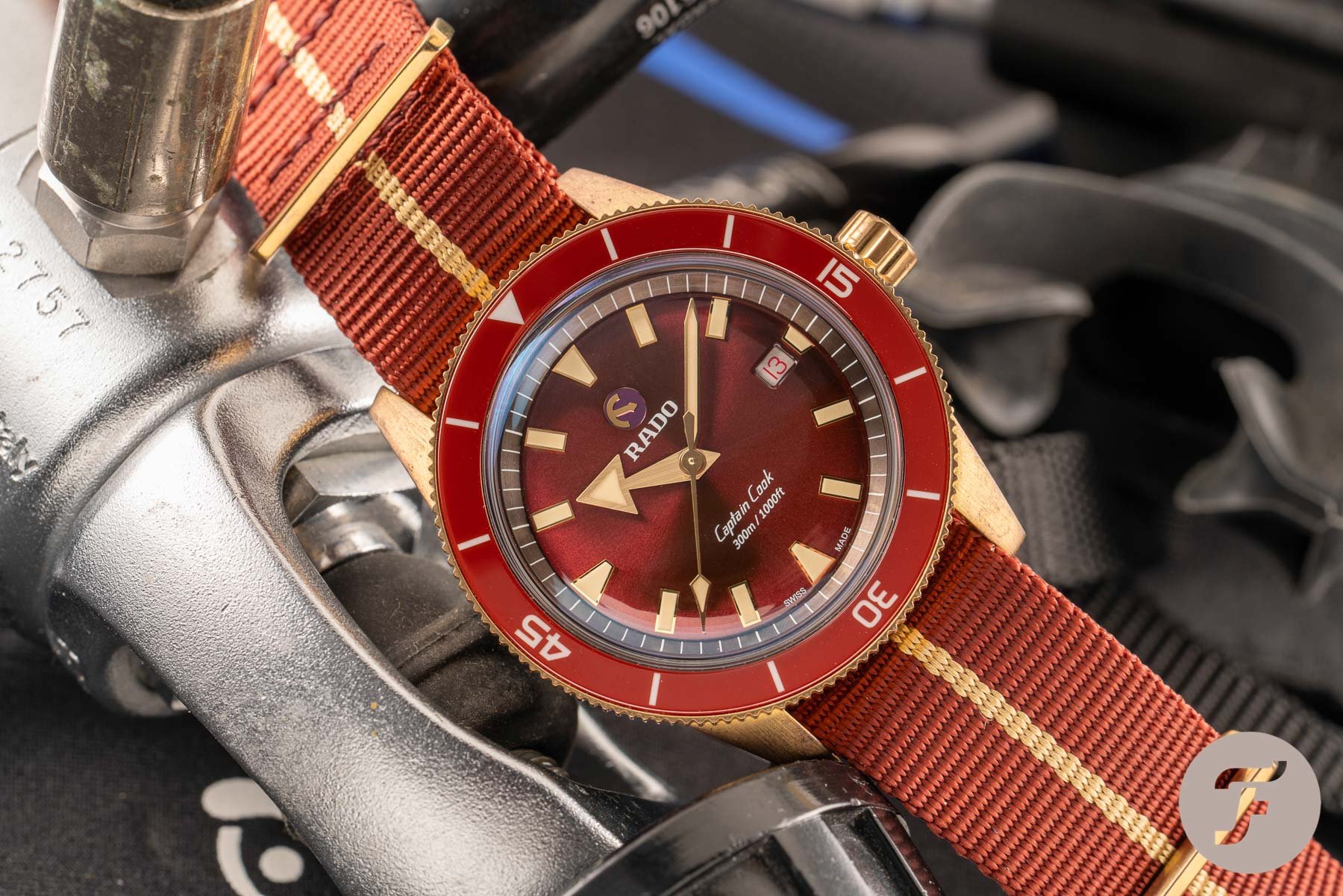 I didn't ask for it, but, thankfully, Rado answered
Onto the watch in question. I had never, until earlier this year, desired a bronze watch with a red/burgundy dial. It had never entered my mind. I was used to bronze cases being presented with blue, green, and black dials. I was happy with that. At no point did I find myself wishing that red would join the fray. After all, red can't possibly be as versatile as black or blue, and maybe not even as versatile as green. Why would I want a watch I could probably get away with wearing with 10% of my wardrobe? And yes, I did just refer to my clothing options as my "wardrobe". So sue me. I always fancied a career in the theatre. I guess that's coming out now…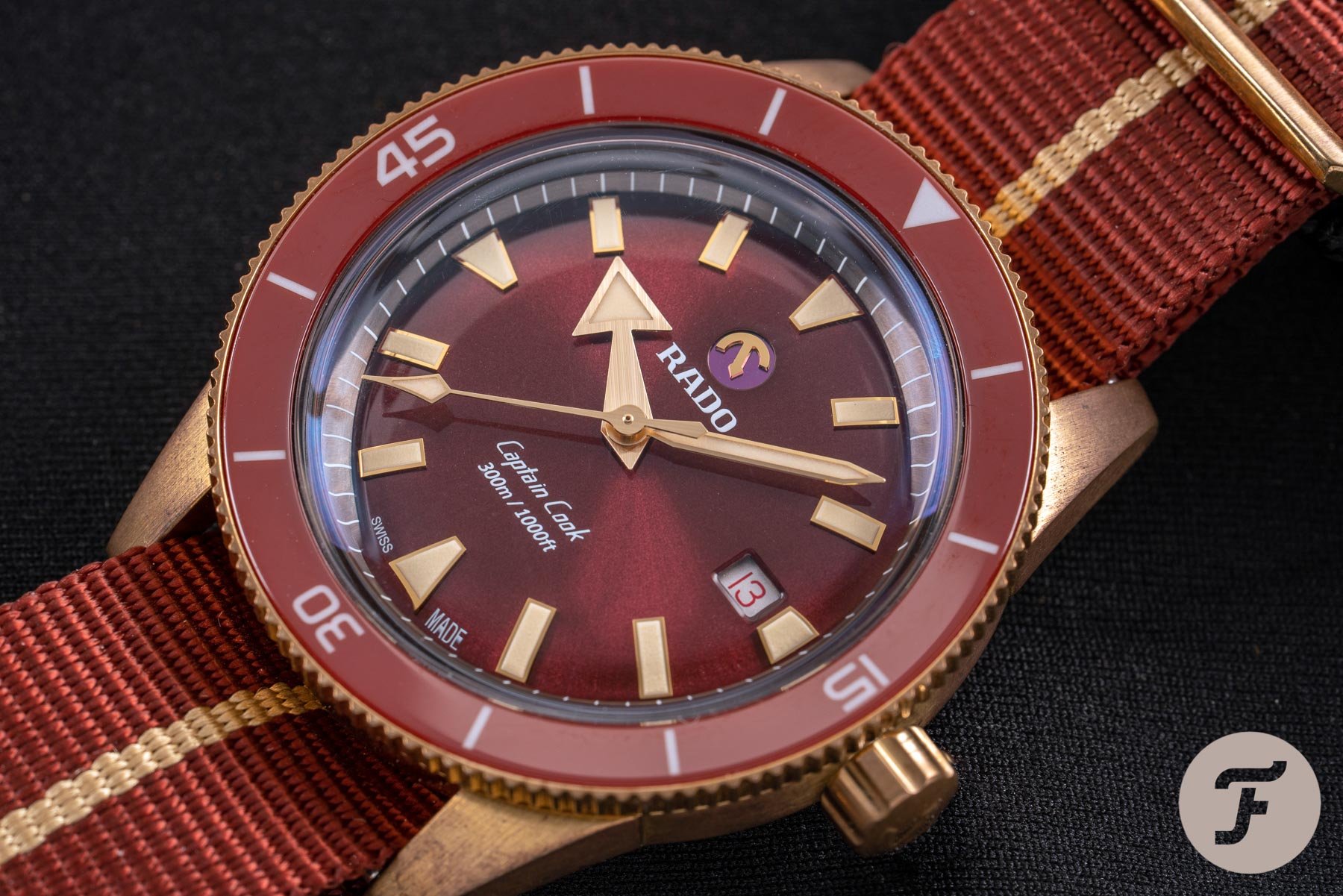 Time for a new wardrobe?
But then I realized something. Was it time for a new wardrobe? No. It was not. It was time, instead, for a new appreciation of what a watch can be. I often look at watches as complements to outfits (yes, outfits, I know — I'm on a roll). I think that has a lot to do with the way men treat "jewelry" and watches. As muted a men's fashion often is, we tend towards the subtle. But it isn't necessary. A watch can be more than a chromatically congruous accessory; it can be the whole outfit.
…a bold visual statement…
No, I'm not advising you go outside naked as the day you were born with naught but this fetching Rado strapped to your wrist. Although, if were arrested by a watch-loving copper it might at least buy you a comfy cell for the night while the forces locate your trousers… What I mean is, when you have a watch teeming with so much character, and something that is congruous within itself, you can make it the focal point of what you're wearing.
I am known for having quite a lot of colorful clothes, but, recently, I find myself preferring more neutral tones. For the first time in my life, I am wearing black and/or grey on a near-daily basis. What that means is that my wrist is free to express itself in any way it pleases. I could think of few better ways to make a bold visual statement than strapping on one of these vibrant pieces in the morning.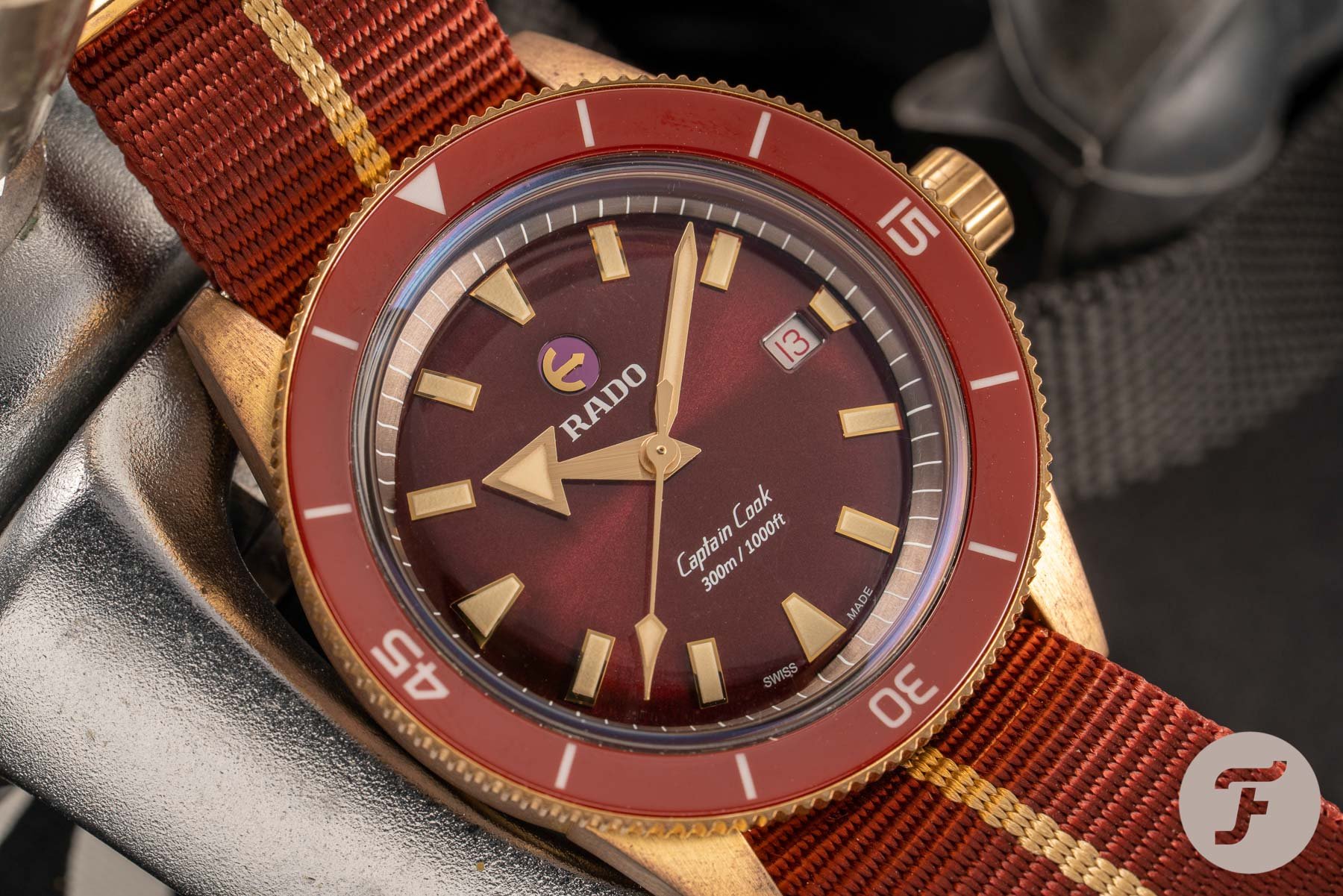 Reaching maturity
I didn't think I would be into this watch but my own experience of the purchase pathway towards buying a Rado Captain Cook is just about reaching maturity. I first saw this model when it burst back into the collection in a retro-inspired 37mm (steel) and modern 45mm (titanium) version. The design (especially the concave bezel) was to my liking, but it wasn't exciting enough for me.
I love the newer 42mm version in steel. I got a chance to wear the green dial that we stock in the Fratello shop when I was visiting HQ in The Hague. It wears brilliantly and is an excellent (and really affordable) alternative to the Breitling SuperOcean Heritage over which so many of our team spent summertime fawning. I was, all of a sudden, interested in adding the Rado Captain Cook to my own collection. But I wasn't quite there yet…
Then came our very own Oris limited edition. Spending time with that watch was a treat. I love the color scheme. I loved the case. Strangely, however, I did not buy one for myself. Several team members did (of course), but I just knew it would have become a safe queen for me. I like dive watches more than anything. I love something I can wear in the wild and beat to high heaven. My most worn pieces are rugged, highly functional tools. But while that Oris didn't get me over the line, it pushed me further towards purchasing this model than I could have anticipated.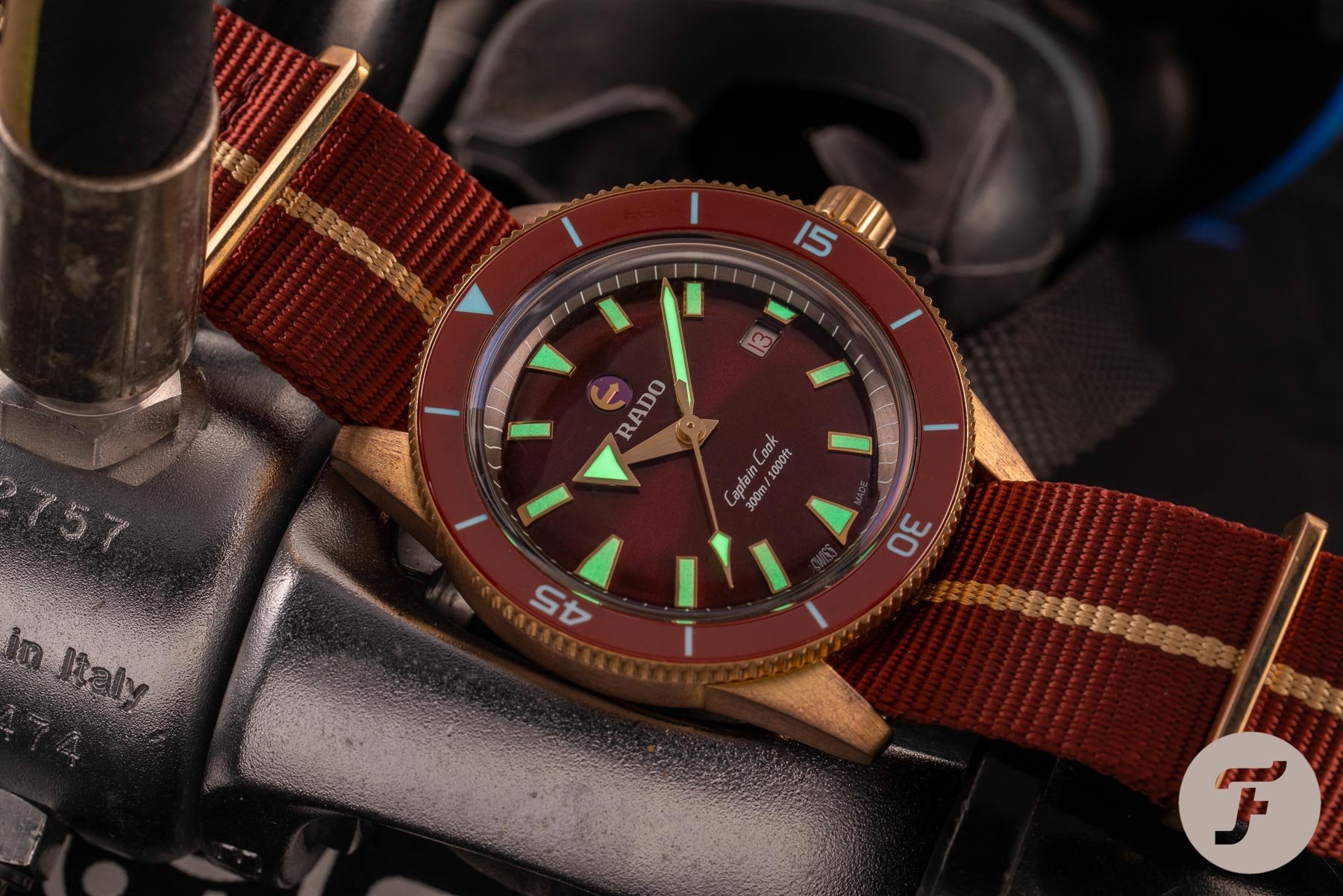 Satisfyingly practical
Talk about effective frequency. My exposure to the Rado Captain Cook line started with two models I respected but had no interest in. Then it moved on to the follow-up, which I encountered online and then in person. The next step was unexpectedly courtesy of another brand. And now this. This release. It ticks all my boxes. It satisfies a desire I hadn't had until recently. And best of all, it falls within my wheelhouse by being satisfyingly practical.
…a chunky cable knit sweater, a chalet in the Swiss Alps, and Claudine Auger…
The Rado Captain Cook Bronze with burgundy dial is water-resistant to 200 meters. Its bronze case and hi-tech ceramic bezel work beautifully together. One of those components will look box-fresh in years to come, while the other will be a muddy mess of fingerprints and reddish patina within the month. The lume on both the dial and bezel is more than sufficient for use in real-world conditions or in water, should you wish to put this thing through its paces.
Additionally, the presence of a color-matched NATO means this thing is incredibly comfortable to wear. If anyone is looking for wardrobe advice (unlikely given that I'm the one about to give it), I would pair this with a chunky cable knit sweater, a chalet in the Swiss Alps, and Claudine Auger (Domino in Thunderball for any non-Bond obsessives). I think those things all look very nice together.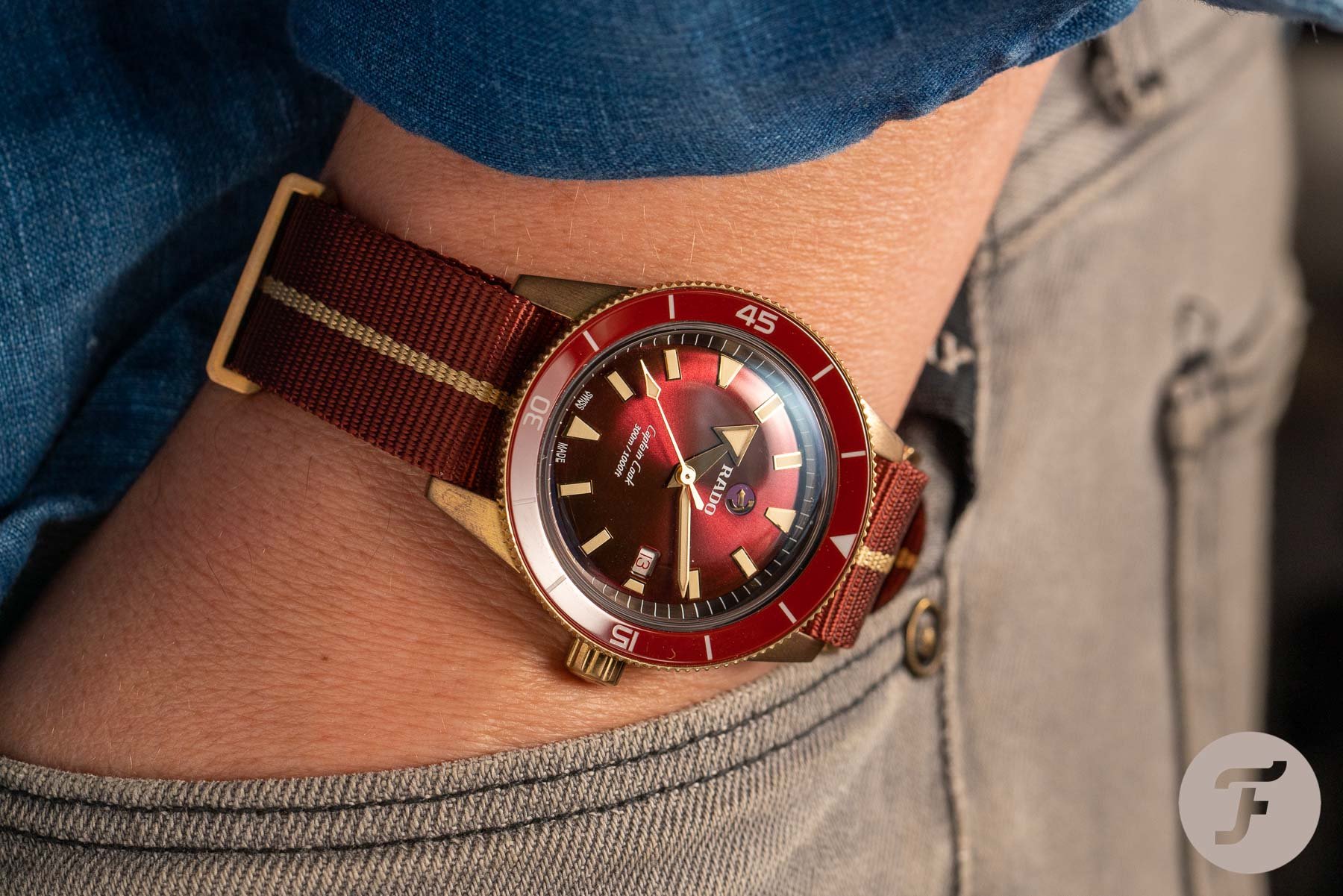 Conclusion
If you're unable to procure your very own Bond girl, are struggling to pull together the funds for an alpine retreat, or if you find chunky knitwear anywhere from passé to just plain itchy, fear not. The Rado is still within your reach. With an attractive retail price of just €2,553, it is a colorful contender for that mountain of loose change you've been keeping down the back of the sofa. For me, it has been a fascinating and unexpected journey to go from relative indifference to genuinely interested in a product that kind of barged its way onto my radar.
Here's a weird fact about the Rado Captain Cook Automatic Bronze Burgundy (and all of the Captain Cook Bronze models for that matter): each of these cases is plated with a super-fine coating of 23-carat gold to protect the cases from patination before they hit the end customer's wrist (truth). This layer of gold is expected to wear off so that an individual patina can develop. Rado does advise customers to keep the watch away from water and dry it with a soft cloth to minimize patina, but I doubt very much that anyone that spends 2.5k on a bronze doesn't know what they're getting and why they're getting it.
It's 42mm diameter and 12.5mm height makes this a comfortable beast on the wrist. Furthermore, the 80-hour power reserve means it's a perfect weekender if you prefer to give your top-grade tickers a rest at the end of a long hard week at the coalface. Learn more by visiting the official Rado site here.