Why I Think Rolex Could (And Should) Produce More Complicated Watches
The Crown has so much potential for horological greatness
Rolex is the king of the luxury watch market today. That is by no means a bold or shocking statement. If anything, it's so undeniable, at this point you're probably checking who wrote this article to make sure his name isn't Captain Obvious. And while some of the brand's hot models, like the Submariner, Explorer, and vividly colored Oyster Perpetuals are on the simpler end of the horological spectrum, others show the range of horological capabilities the brand possesses. Watches like the GMT-Master II, Daytona, and Sky-Dweller are all examples of complications that the brand excels in not just producing, but producing really, really well.
Some complain that Rolex "doesn't make any complicated watches." In the past, I was one of these people. But after I had a really good think about it, I came to the conclusion that the quite opposite is true. The brand produces complications so well, we sometimes forget they even exist! Rolex's complicated watches have become such a gold standard, we now take their horological significance completely in stride. So maybe it's time Rolex made us sit up and pay attention again. I think Rolex hasn't shown us the best complications it could possibly offer just yet. With massive resources at its disposal, I believe Rolex is capable of producing complicated pieces that make watch lovers tingle with childlike excitement. So today, I'll share the reasons why The Crown not only could but should produce more complicated watches.
Historical precedence
Though most non-enthusiasts around the world know Rolex for its more simple models, highly complicated watches have also played an interesting role in the brand's history. For example, in 1942, Rolex produced reference 4113. This watch featured one of horology's "grand complications," the split-seconds (rattrapante) chronograph. The 4113 is extremely rare, with just 12 examples in the world. Tracing known examples back to their original owners, Rolex scholars have found that all of them belonged to people in the world of automotive racing. At a whopping 44mm in diameter, the 4113 was certainly an anomaly in the 1940s. But more importantly, it was the only rattrapante the brand has ever produced. This makes the 4113 insanely desirable among collectors.
Another complicated model from the Rolex archives is reference 8171. Produced for just a few years in the early 1950s, this watch featured a complete calendar, with day, date, month, and moonphase indications. It used a special 18-jewel automatic movement that was the most complex Rolex/Aegler caliber at the time. But besides its classy complication, the reference 8171 was an oddball due to its 38mm non-water-resistant dress watch case. This was quite substantial for a dress watch during that time, leading collectors to nickname it Padellone, the "frying pan" in English. The 8171 was one of only two Rolex complete calendar references ever. And while it was an oddity with its "strange" case, Rolex's other complete calendar watch proved the brand didn't have to change much at all to make a stunning, complicated timepiece.
The Oyster was the perfect canvas
In my humble opinion, Rolex's other complete calendar, reference 6062, was the perfect complicated piece for the brand. Yes, it housed the brand's most complicated movement. But not only that. The 6062 took everything Rolex did well in technology and design and brought it all together in one watch. Debuting in 1950 with a 36mm case and Jubilee bracelet, the 6062 looked almost identical to the Datejust of the time. The only markedly different elements were the smooth bezel and complete calendar indicators. While the movement was complicated, the dial was incredibly clean and easy to read. Unlike the Padellone, the 6062 was a certified chronometer. And also unlike the Padellone, it featured Rolex's water-resistant Oyster case. This proved that Rolex could produce fancy, complicated pieces that didn't betray its reputation for precision and wearability.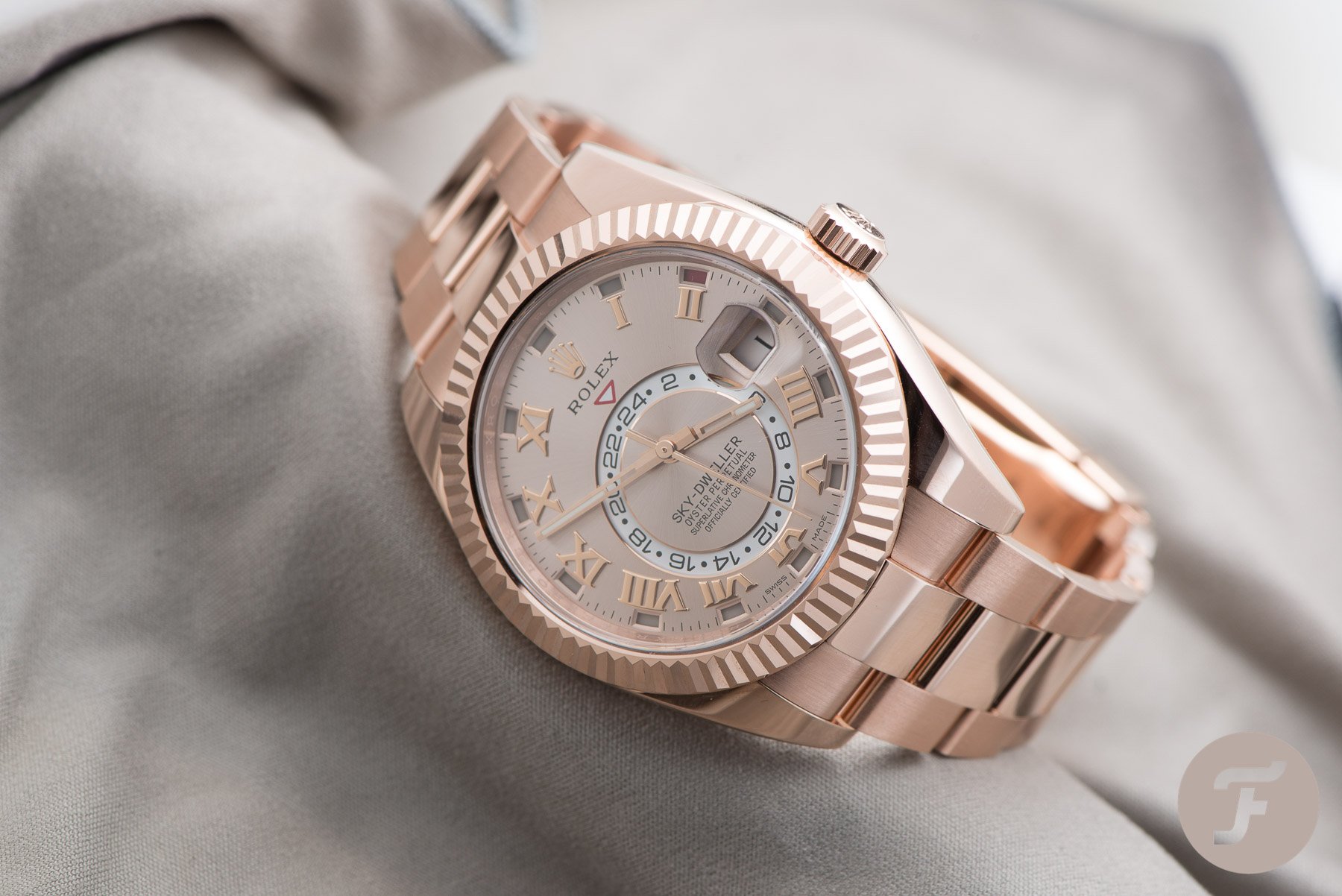 In a way, I feel like the Sky-Dweller is the modern successor to the 6062. No, it's not a triple calendar, and no, it doesn't have a moonphase. But it is the most complicated watch that Rolex currently makes, with both annual calendar and second timezone complications. Even more importantly, there's nothing about the Sky-Dweller's design that inherently contradicts Rolex's design language. While it's large at 42mm, it uses the tried-and-true Datejust design as its base, and it's only 1mm larger than the Datejust 41. The Sky-Dweller also lives up to the same standards that Rolex's more simple models do, with 100m of water resistance and superlative chronometer certification. From its design to its specs, it's clear that the Sky-Dweller is a Rolex through and through. Because of this, I think it's a wonderful example of what The Crown is truly capable of.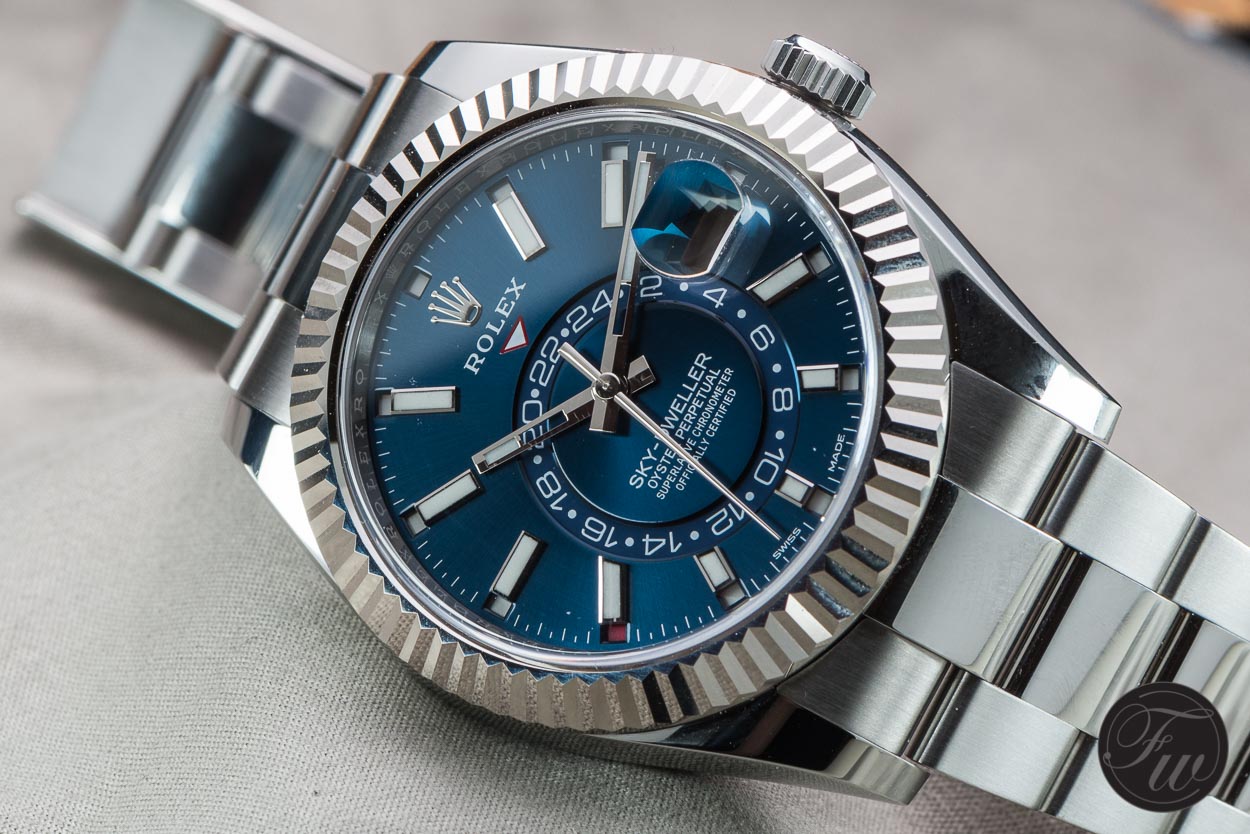 There is demand for complicated models
Like nearly any mens' Rolex model in 2021, the Sky-Dweller is anything but a display case-dweller. In fact, Sky-Dwellers usually don't even make it to the display case. The demand for them, especially in steel, far exceeds production, and many go straight to VIP clients. And just like the simple "no-date" Submariners or Oyster Perpetuals, the Sky-Dweller sells at a massive premium on the gray and secondhand markets. Maybe I'm feeling a bit too optimistic at the moment, but to me, this indicates a real interest in Rolex's watchmaking capabilities. As long as the watch doesn't make too great of a departure from Rolex's winning design, I think literally any new complication the brand could produce could be a winner. Build it and they will come!
If auction results are anything to go by, the complicated historical references I mentioned earlier also show that people will pay obscene amounts of money for complicated Rolex watches. The Padellone has been known to sell for nearly CHF 1,000,000 at auction. Remember the 4113 rattrapante? That particular example I showed sold for just under CHF 2,000,000 at a Phillips auction in 2019. And don't even get me started on the 6062. One particular 6062, the "Bao Dai," has broken auction records time and time again. Most recently, in 2017, it sold for an insane sum of $5,060,427. Let that sink in.
Admittedly, some of the premium these watches command is due to their exclusivity. The "Bao Dai" belonged to the last emperor of Vietnam, no less. But I want to believe that those who pay these prices not only value rarity but also Rolex's true horological capabilities.
If Rolex itself doesn't make them, someone else may
I know for a fact that I'm not the only one who sees potential in Rolex design for more complicated offerings. In fact, in 1987, a year before I even existed on this planet, Franck Muller took it upon himself to modify a Datejust reference 16238 with a full perpetual calendar. The watch was complete with day, date, month, moonphase, and leap year indicators. Its dial, while busier than the ultra-clean 6062s of the past, was nevertheless very readable, and its elegant four-register display lent itself perfectly to the classical 36mm Datejust case and fluted bezel. The perpetual calendar complication was one Rolex had never made before, but somehow, it seemed to fit the timeless design of the Datejust perfectly.
More recently, the company Label Noir took it upon itself to outfit the Rolex Milgauss with a tourbillon. Whether you consider the tourbillon a complication or simply just another type of regulating organ, there's no doubt it indicates some serious watchmaking prowess. Again, Rolex has never produced a watch with this feature before. The clean design of the time-only Milgauss, however, lent itself well to an additional tourbillon aperture at 6:00. Of course, Label Noir also took some artistic liberties with this particular watch. It gave the indices and bezel a colorful treatment in enamel, rubies, and sapphires. But the Milgauss was already known for its orange indices. What's more, the gem-set bezel was an adaptation of a stock Rolex design, the flamboyant "rainbow Daytona." So really, was there anything too crazy about it?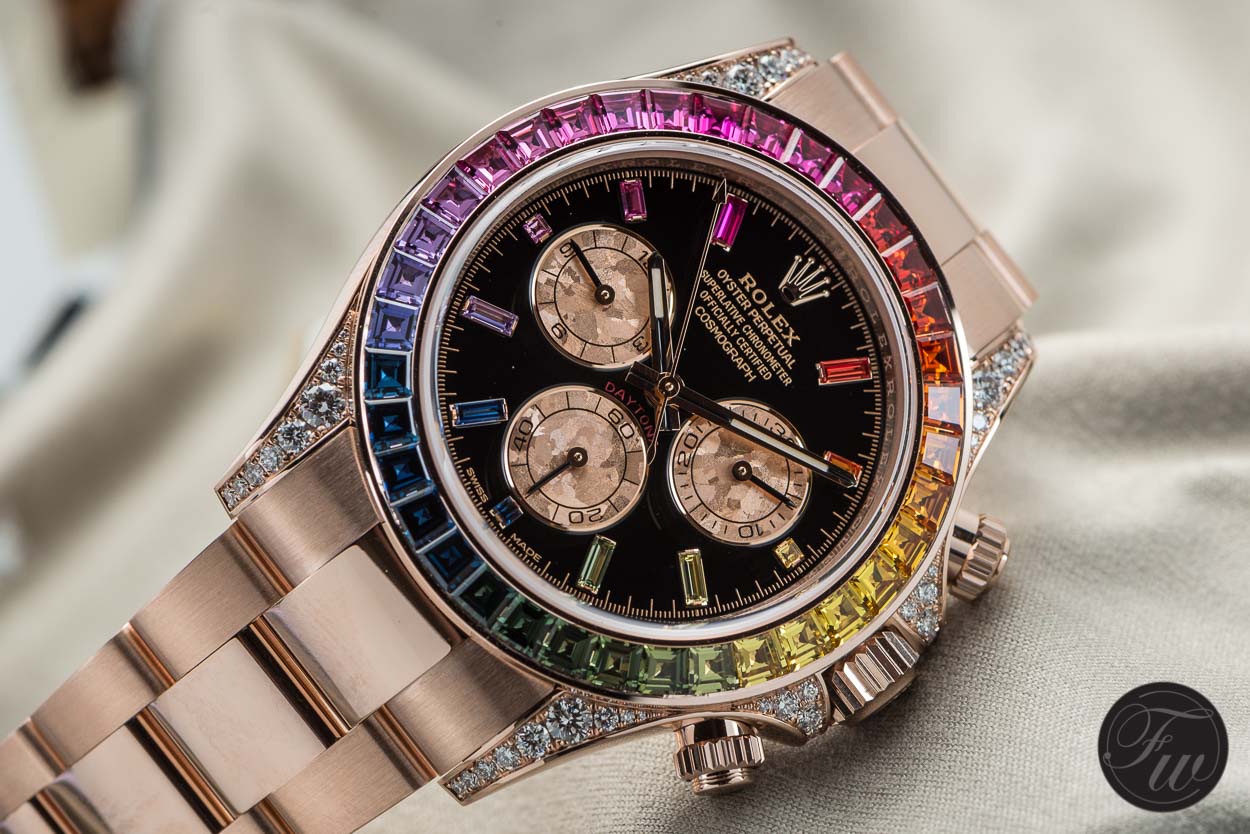 Rolex could make anything it desires
We all know how powerful Rolex is. And we can all certainly guess how much money the brand must have! The completely vertically integrated company sells an estimated 1,000,000 watches a year, none of which most people would consider "low-end". There's simply no doubt in my mind that Rolex definitely has the budget to develop anything it sees fit. It's just a matter of whether the brand wants to or not. Assuming Rolex's offerings are limited only by its will to produce them, I'd like to share a few of the complicated offerings I personally would love to see.
Now, truth be told, I'm about as useless with Photoshop as a snake is with running shoes. Therefore, you'll have to forgive me for the lack of amazing renderings. Nevertheless, in an attempt to keep things more interesting than simply suggesting re-issues, here are my ideas for new, complicated variations to the already successful lineup. I hope you'll see from these side-by-side photos that my ideas for complicated Rolex models might not be been too far out there at all.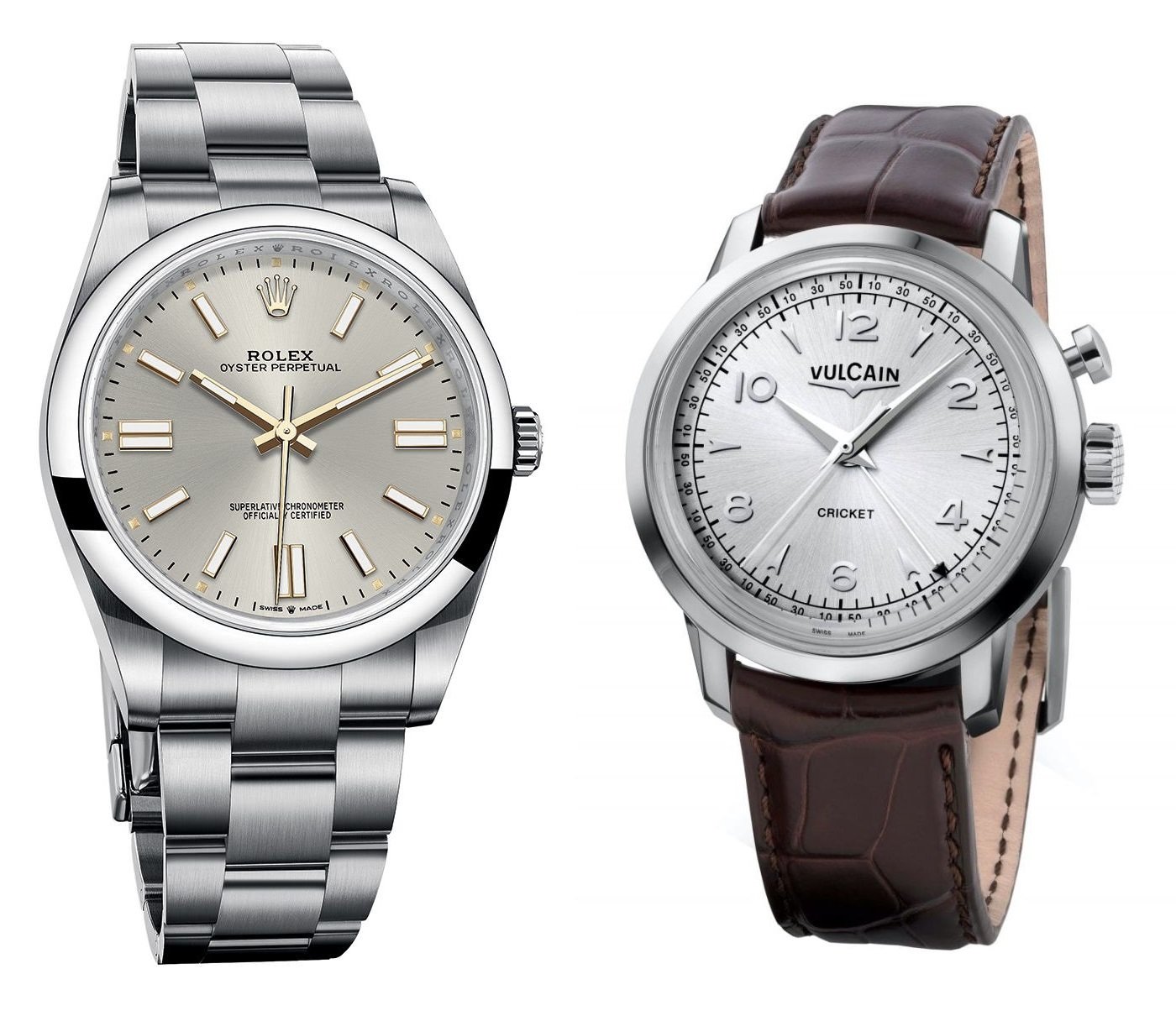 The Oyster Perpetual Alarm
I found inspiration for this idea in the Vulcain Heritage Presidents' Watch, a timepiece I personally own. Like the OP does for Rolex, this variation of the Cricket epitomizes understated elegance in the Vulcain lineup. With a plain bezel, simple dial, faceted hands, and applied hour markers, it shares similar design elements with the Oyster Perpetual. At 39mm, however, the Vulcain is 2mm smaller than the Oyster Perpetual 41 shown here, and it is a true mechanical alarm. Using an unobtrusive track on the perimeter of the dial and a fourth hand to point to it, the alarm complication brings rare but useful functionality to a classical design.
But the Cricket V-10 movement inside of it, though an in-house caliber, is by no means an extravagant example of high horology. And alarms don't need to be, either. As Rolex has never produced an alarm before, yes, it would have to develop either a new movement or a module from scratch. But in my mind, it seems totally possible for Rolex to implement this rare complication, keep it accessibly priced, and still maintain the integrity of the Oyster Perpetual design. The alarm itself is truly special, and one of the rarest complications on the market today. It may even bring the Oyster Perpetual onto a level playing field with the Jaeger-LeCoultre Master Control Memovox. For both Rolex itself and watch enthusiasts worldwide, I feel that could be a very good thing.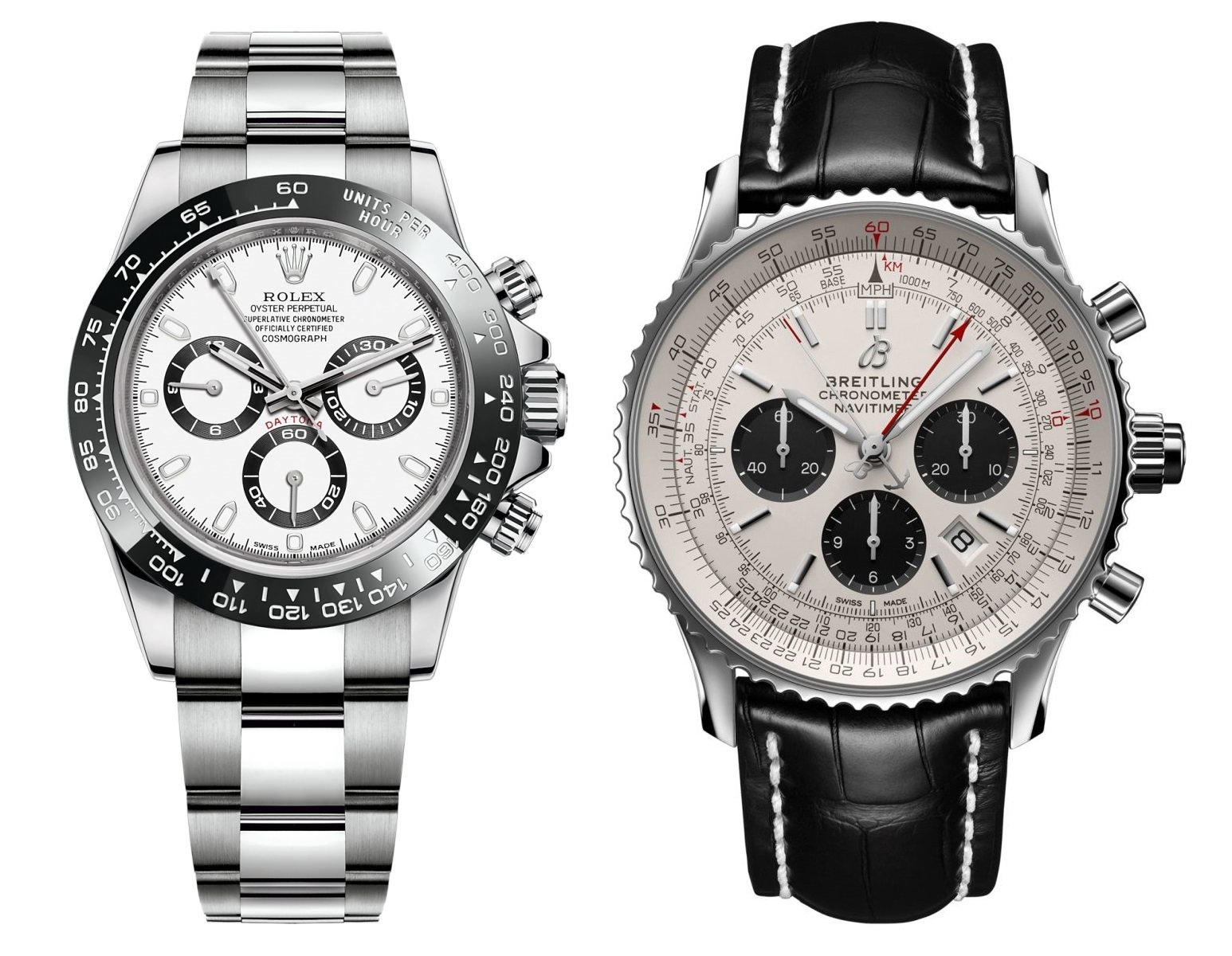 The Daytona Rattrapante
I can't tell you how much I personally love this idea. The rattrapante is one of my favorite complications of all time. It is one that gives any chronograph an additional level of intrigue while barely impacting the aesthetics at all. Other than an additional hand split-seconds hand, all of the upgrades required would be of a mechanical nature. Therefore, Rolex would literally need to change almost nothing about the iconic look of the Daytona to make this happen. Just look at how Breitling did it with the Navitimer Rattrapante. Literally, nothing about the display of the watch changed other than an extra hand. Breitling did, in fact, scale this one up a bit to 45mm. But as evidenced by the 42mm Duograph released this year, the brand could have easily kept the 43mm Navitimer case.
Yes, an in-house rattrapante chronograph is no simple feat to produce. But if Breitling can do it, I firmly believe Rolex can too. Both brands produce fantastic chronograph movements, and I think Rolex stepping its game up to Breitling's level is a fair request. Plus, the Daytona is already the most desirable model the brand makes. Can you imagine how much more people would lose their minds over a more exclusive split-seconds version? Plus, it really is in keeping with the history of the brand. Rolex likely produced the very limited 4113 specifically for racing enthusiasts. So what better modern watch to put a rattrapante complication in than its legendary racing icon?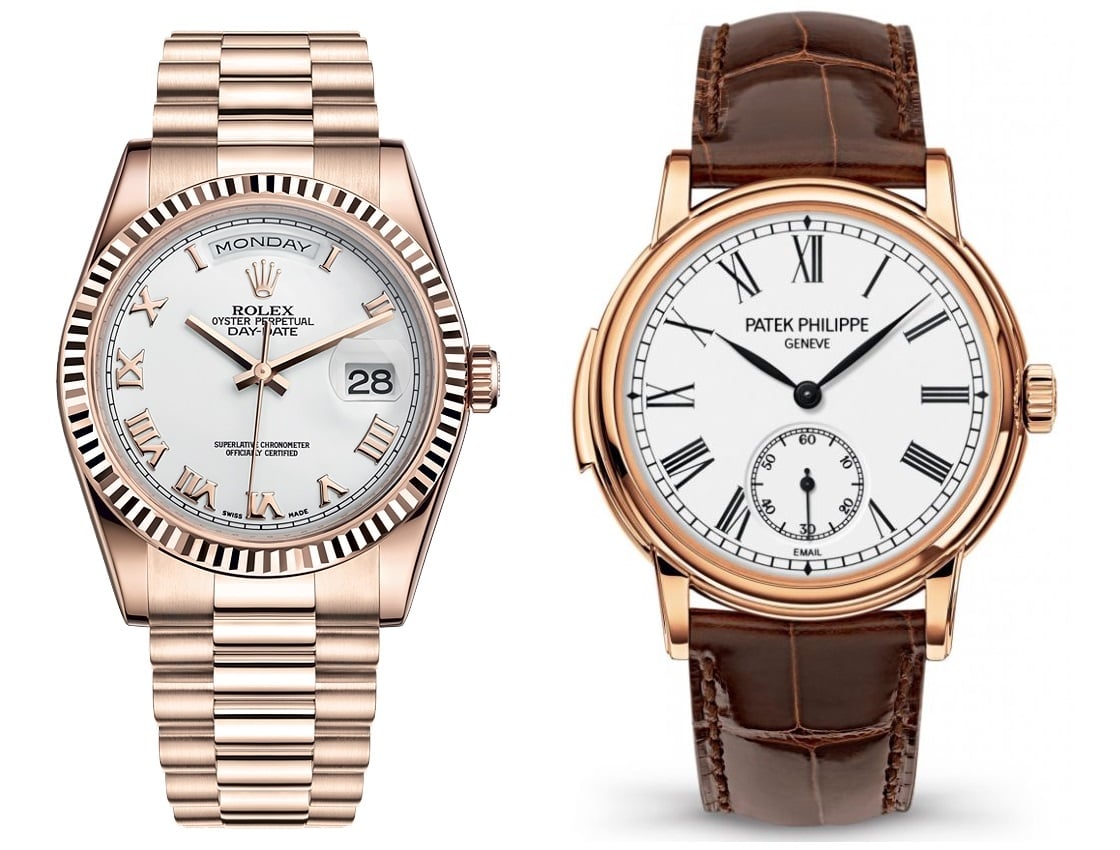 The Day-Date Minute Repeater
And finally, we have a watch that could launch Rolex into the stratosphere of high horology, the Day-Date Minute Repeater. When placed next to the Patek Philippe 5078R here, it's easy to see the differences in their design language. Nevertheless, I feel there is no better model to house such an incredible flex of horological muscle than Rolex's most prestigious watch. The Day-Date has long been the most aspirational offering in the Rolex lineup. Much like the Patek 5078R, it represents timeless, classic elegance. But because a minute repeater is one of the most difficult complications to realize in all of watchmaking, producing one could push Rolex into realms of prestige of which it still falls short.
Aesthetically, it need not break the flow of the Day-Date too much. All it would require would be a slide on the side of the case. Of course, under the dial is where all of the most difficult tasks would lie. How would Rolex produce the clearest tone, the best resonance, and the most perfect pitch? Would the brand take the traditional route, using metal gongs and hammers on the inside of the case? Or would The Crown push the technological limits through alternative materials and reimagining the mechanism's construction? Of course, that's all up to our own imaginations. But even if not produced for the sake of horology itself, the Day-Date Minute Repeater could nonetheless be an incredible display of stealth wealth watchmaking. And that, I think, would be hard for Rolex to pass up.
Keeping my expectations low
Of course, it's fun to dream about watches that don't exist yet. If you've read many of my opinion-based articles, you'll know that it's an exercise I engage in more often than perhaps I should. But at the same time, it's important to be realistic. I realize that Rolex is so big and powerful that it does not need to answer to anyone. These days, if anything, Rolex makes the market, rather than responding to it. Whatever the brand dictates, that's what people get, whether they like it or not. It's an enviable position I'm sure most watch brands wish they could hold.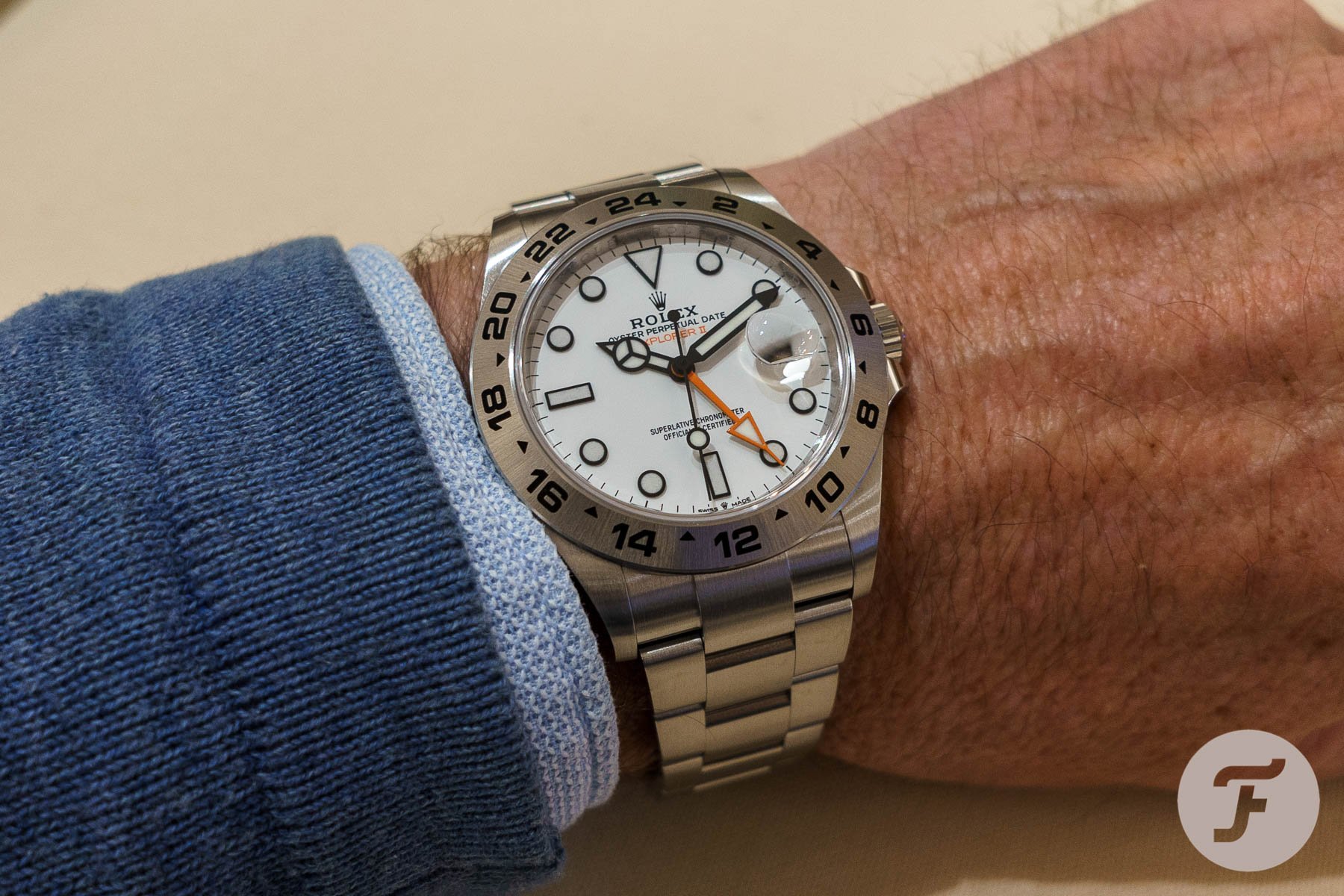 Additionally, the brand does not have a track record of rehashing its distant past. Other than, say, the broad orange 24-hour GMT hand on the Explorer II, or a line of red text on the Sea-Dweller 43, it's rare to see Rolex pull discontinued elements from its history. That's why I think it's very unlikely we'll see direct throwbacks to the complicated models of old. The brand never has, and never will release a watch pulled directly from its back catalog. And even in the rare cases that Rolex does use long-departed design elements, they are always balanced with forward-thinking decisions. When the orange 24-hour hand came back into the Explorer II, Rolex beefed up the case to 42mm. When the line of red text made its return to the Sea-Dweller, Rolex gave the model a cyclops for the first time in history. Rolex always forges ahead.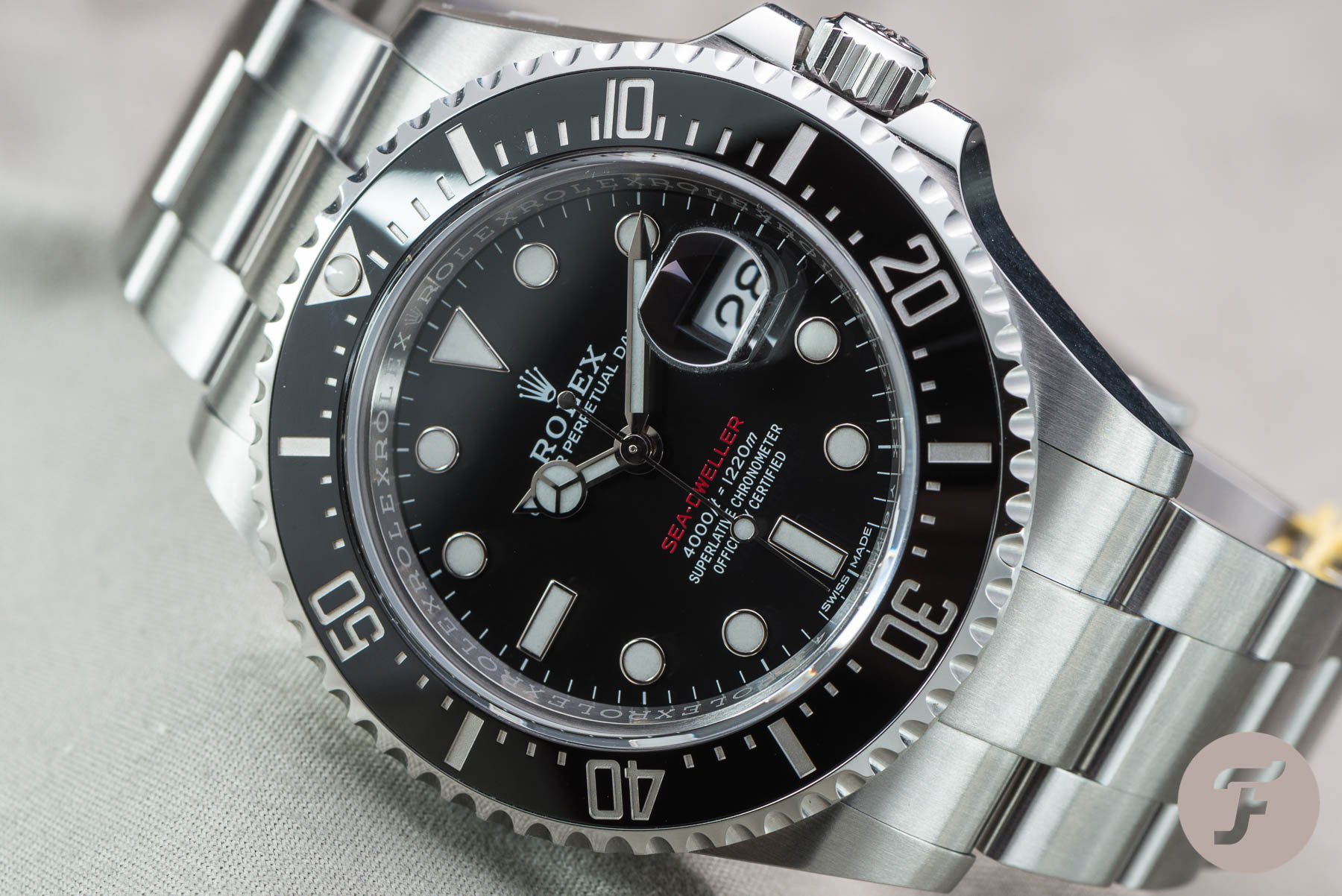 So it's important to realize that if Rolex were to make new complicated models, they would need to propel the brand forward, not backward. It's likely they would both satisfy and frustrate the traditionalists. Whether that be with larger cases, unforeseen design elements, or something else entirely, we must remember one fact — Rolex never gives us exactly what we want.
What do you think?
I'm interested to hear your thoughts on this matter. Do you agree that Rolex could, or even should produce more complicated models? Or do you think the brand should just stick to its current trajectory? What types of new watches, either complicated or not, would you like to see from the brand? Let me know in the comments. While our sentiments might not change the fate of the most powerful watch brand in the world, they may at least stoke the fires of creativity within our watch-loving community. And that, my friends, can only be a good thing.