Rolex Day-Date in White Gold – 52Mondayz, week #51
This is 52Mondayz week #51. The penultimate week of the year already! One way or the other, towards the end of the year I tend to wear more gold watches than in any other period. To get smoothly used to the change in material, I started this year with a Rolex Day-Date in 18-carat white gold.
Rolex Day-Date in white gold on President bracelet
The Rolex Day-Date I'm wearing this week was supplied new in the US in 2001. It bears the reference 18239, which tells us it's a Day-Date with a fluted bezel, made of 18-carat white gold.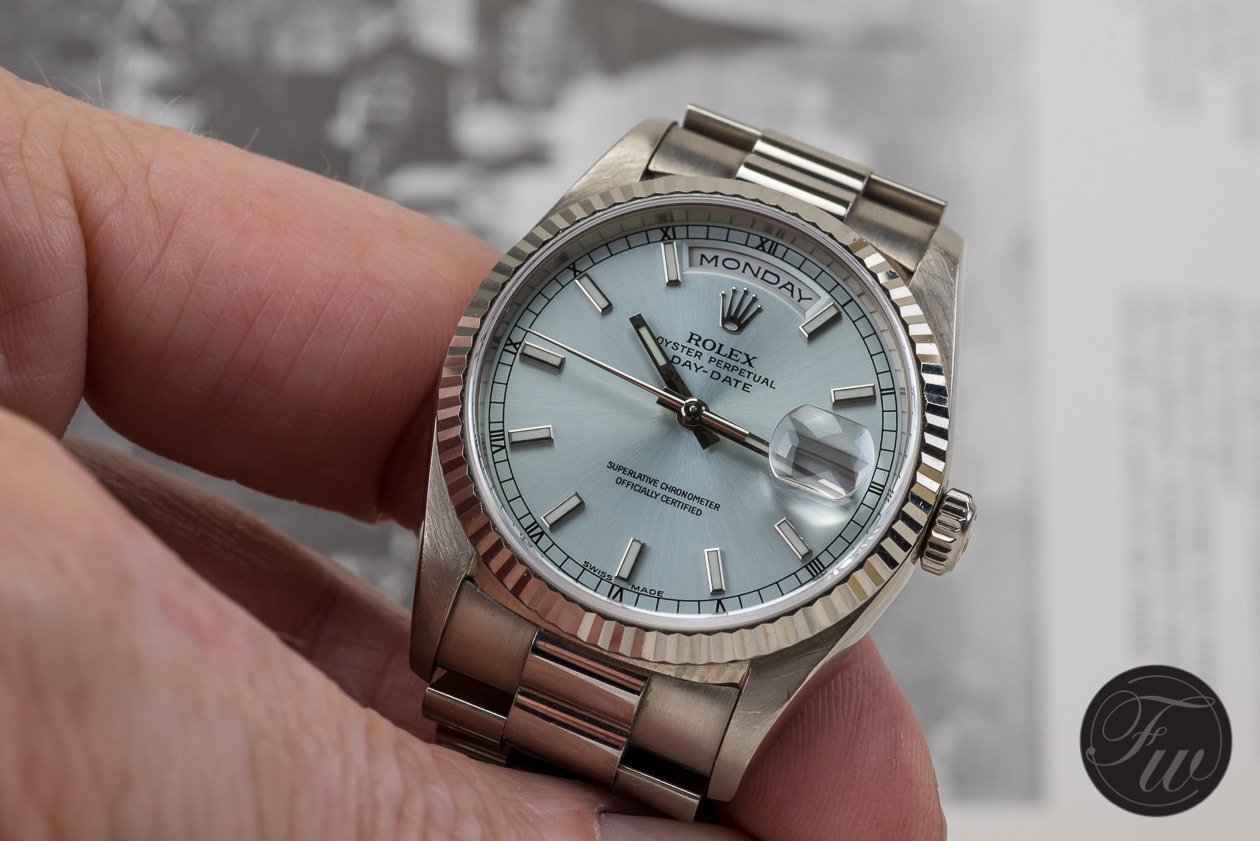 Double Quick-set Caliber 3155
The reference number indicates as well that the movement used in this watch, Rolex caliber 3155, has a double-quick-set feature. I.e. the day and the date can be quickly set by turning the crown, two sides, when pulled out to its second position. The first position winds the watch, the third position changes the hour and minute hands. And in the zero-position, the crown is screwed-down to the case for protection. To get the idea.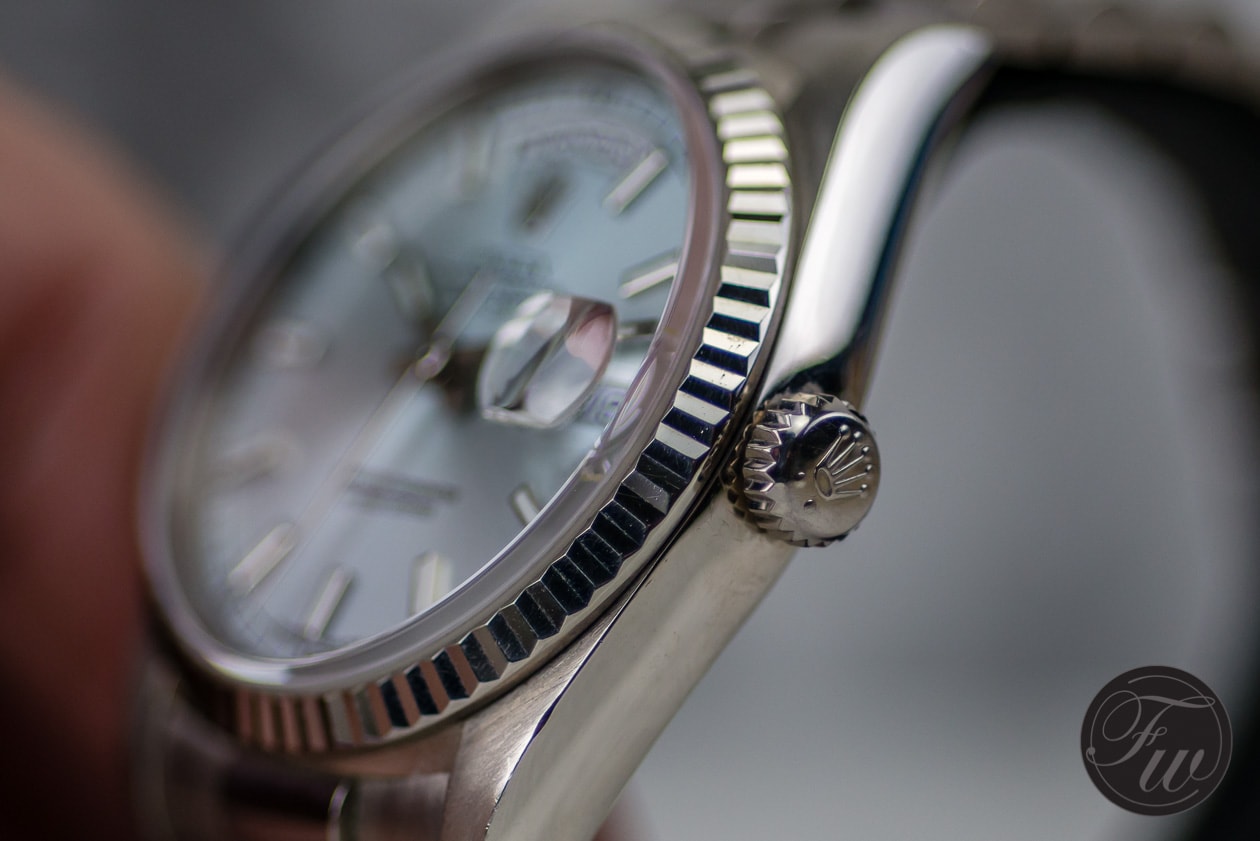 This double-quick-set caliber was used since 1988 already. Before 1988 the reference of this watch was 18039 and the caliber used was the Rolex caliber 3055. The difference is that the caliber 3055 is single-quick-set. It only allows the setting of the date of the month independently from the hands, but not the day of the week. Changing the day displayed at 12 o'clock required moving the time forward past midnight.
President bracelet with solid links
In post-2000 production Rolex improved the President bracelet with solid links. Making it much heavier and less prone to 'bracelet stretch' seen in pre-2000 Day-Date models with hollow link bracelets. So I'm happy to just take advantage of that with this watch from 2001. For me it was more or less a coincidence, however, it's certainly something worth taking note of when buying a pre-owned Rolex Day-Date.
Born with a diamond set silver dial
As you can see from the pictures this watch is equipped with a beautiful ice-blue dial. However, it wasn't born like that. Originally it was supplied with a silver dial set with 8 brilliant-cut diamonds, plus 2 baguettes. In 2009, however, this watch came from the US to The Netherlands, and its first visit was to one of Rolex' major sales representatives. Nothing against diamonds, but the new owner decided that ice-blue would better suit our Dutch taste. And I have to say, I agree. Certainly because of the original dial – mentioned specifically on the accompanying original Rolex certificate as well – is still present with the watch at the moment.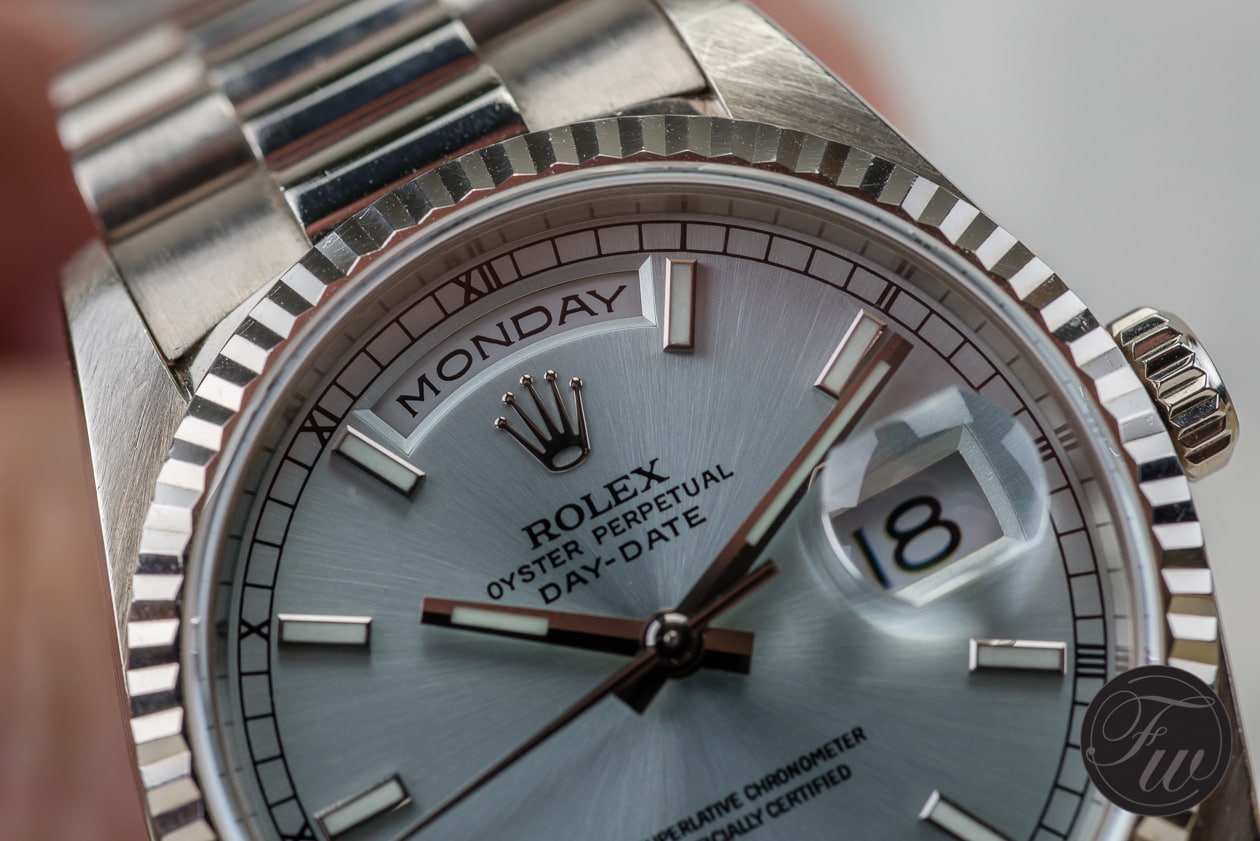 The Mother of all Wristwatches
For me, the Rolex Datejust has always been the 'mother of all wristwatches'. It's always right. You're able to wear it all day, on all occasions. It's chique enough not to be too present or too posh, it's sporty and robust enough not to break down or fill up with water whatever you do. On the other hand, it's enough statement to be a serious watch, to show you got your basics right. You remember the Rolex booklets, don't you? 'I want a good watch!' Spot on, it's just that.
The next step to me, let's say the superlative Datejust, is the Day-Date. As most Datejusts are stainless steel, steel and gold, and only very few probably are in solid gold. A Day-Date just comes in gold. Any gold. Yellow, of course, white gold, pink gold, and even platinum. But not steel (* yes I know of the 6 exceptions).
I don't want to go into any feminist discussions, however, let's pretend – if the Datejust is the mother of all wristwatches – the Day-Date must be the father 🙂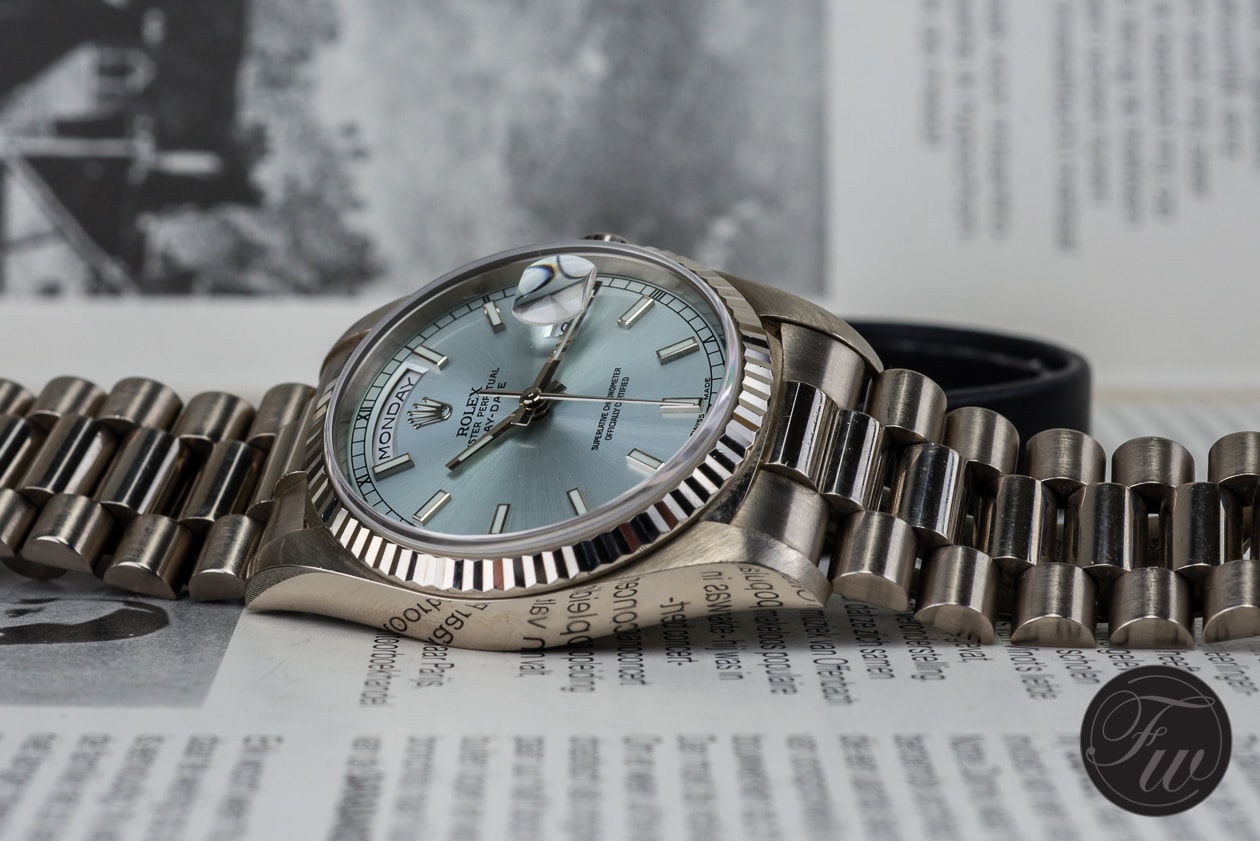 Collectable?
Being such an important watch. Being such an icon. I just can't see any self-respecting watch collector not having a Rolex Day-Date in his or her collection at some point. Impossible! Even if Rolex is not your style, you can't do without a Day-Date. You just can't. You have to experience what it is to ow a Day-Date. Feel how it feels to have it on your wrist. Even if it's just for once. And then, I'm sure, you'll never be without one.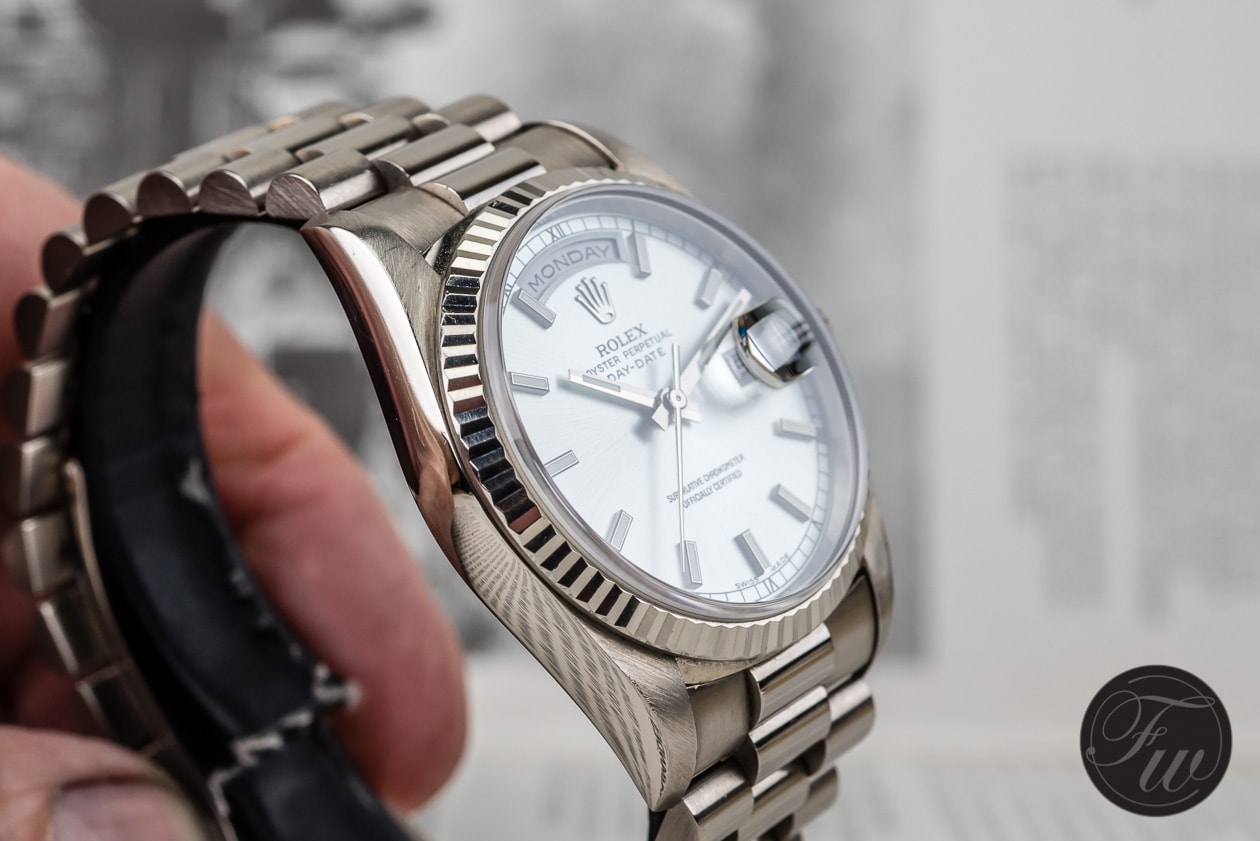 And that won't be too difficult. Rolex produced Day-Dates for ages. Well at least for decades, they started producing them in 1956 (as reference 6511). So meanwhile they're more than 60 years around; you should be able to find one, nothing exclusive here.
To start off, author Michael Stockton did an article on his vintage Rolex Day-Date here, while Robert-Jan did a write-up on more modern models here. For more information on Rolex and today's Day-Date models please visit www.rolex.com.