Celebrating 30 Years Of The Rolex Yacht-Master With A Yellow Gold 42mm Model
Stealing the show below deck
The first Rolex Yacht-Master debuted in 1992. It was a yellow gold watch with a full gold bracelet and a bi-directional bezel with raised numerals. I can't imagine that Rolex intended that watch to be a serious companion for those who were sailing. Rather, it was a watch to show off that you probably owned a boat, even when you weren't actually on the boat itself.
It wasn't until 1999, in fact, that Rolex released the Yacht-Master in Rolesium — a combination of steel and a platinum bezel and dial. That watch, reference 16622, was one of the Rolex models other than the Daytona that had a long waitlist at first. Soon after, it became the model that was always available, more or less.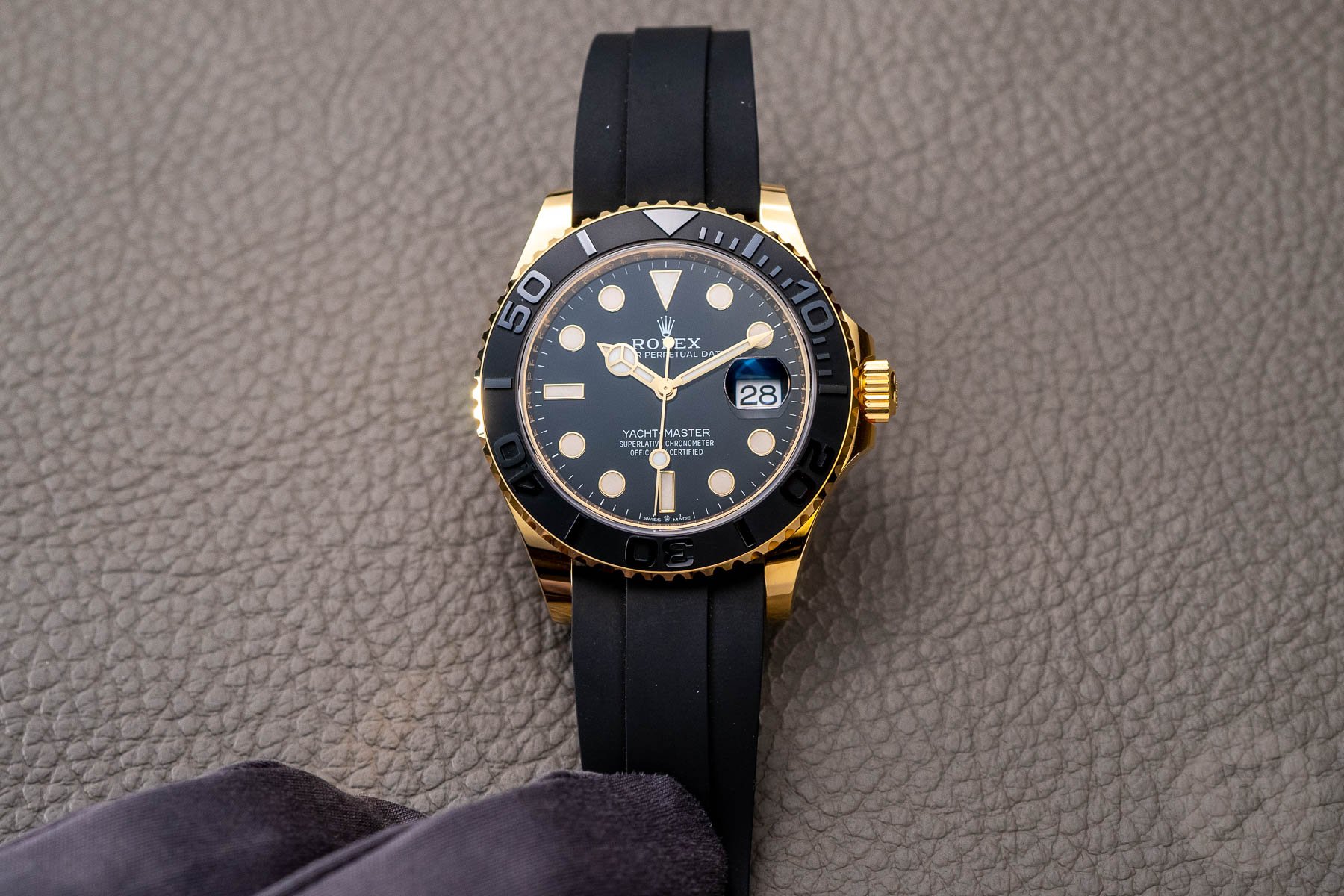 Rolex Yacht-Master 42 ref. 226658
Anyway, the Yacht-Master as we know it today was introduced 30 years ago. Rolex, however, had used the name before. Back in the late 1960s, Rolex used the name Yacht-Master on the dial of a chronograph prototype (based on a reference 6239/6242, according to Jake's Rolex Magazine). Unfortunately, that watch never made it into production. Today, the Yacht-Master is in high demand, just like basically any other Rolex model. It remains an interesting watch in the lineup, though, because it's not actually a diver's watch. Although it may look like one, the bi-directional bezel and water resistance of "only" 100 meters disqualify it as such. These days, the Yacht-Master 42 serves as a platform for combining precious metal cases with rather sporty materials.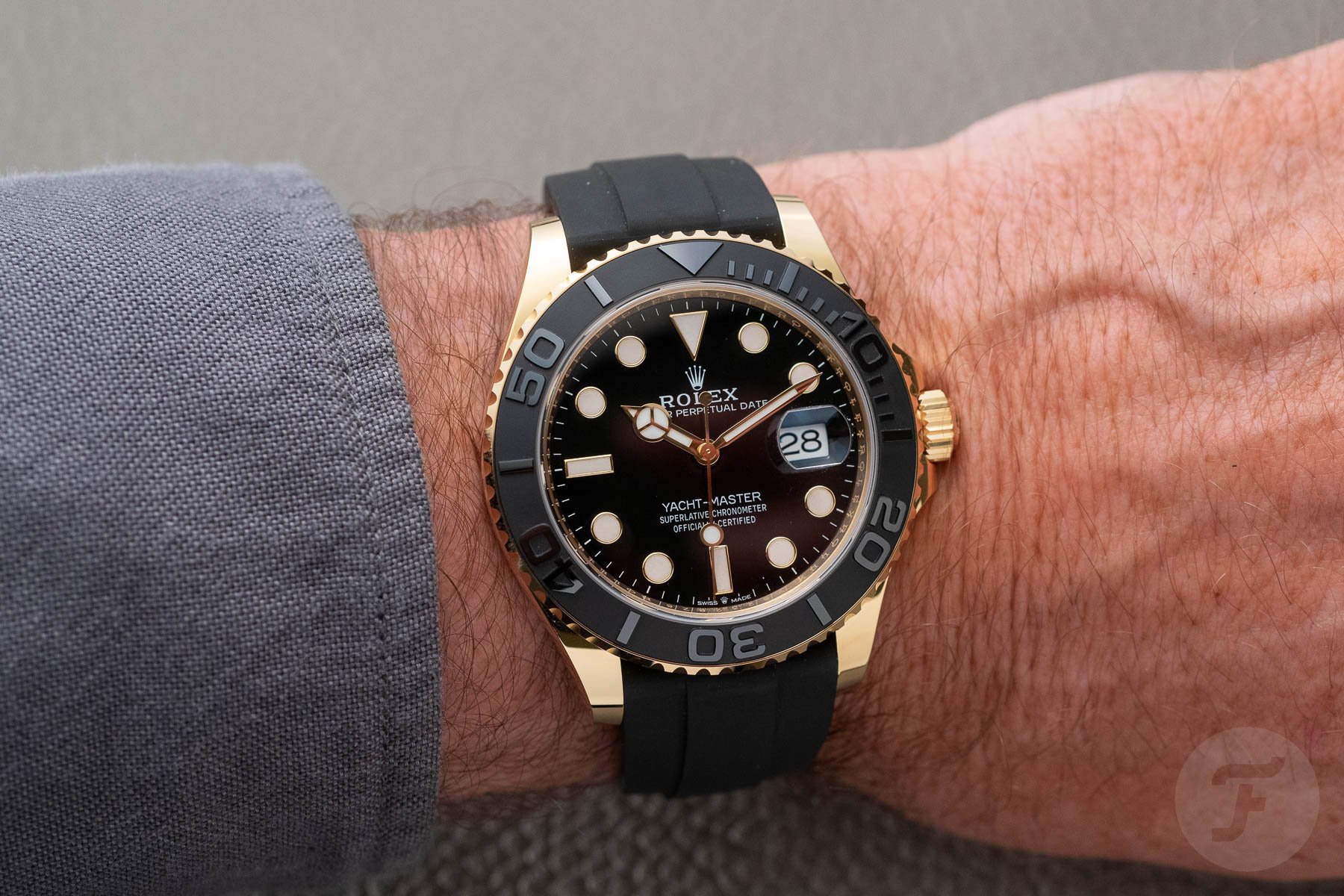 Happy birthday, Yacht-Master — you're a grown-up now
As you know, Rolex doesn't care much about celebrations… Well, at least not officially. But a platinum Rolex Daytona was introduced on its 50th birthday, as well as the green Rolex Submariner (Kermit) back in 2003. So Rolex does care, but the brand just does not officially make a big fuss about it. That's similar to how I celebrate my own birthdays. For the 30th anniversary of the Yacht-Master, Rolex has come up with a 42mm version in yellow gold. It's the same precious metal that we saw on the very first Yacht-Master reference 16628 in 1992. The case size of 42mm isn't new, as Rolex already used it for the white gold edition in 2019. And while we're at it, back in 2015, Rolex introduced the first (Everose) Yacht-Master on an Oysterflex strap.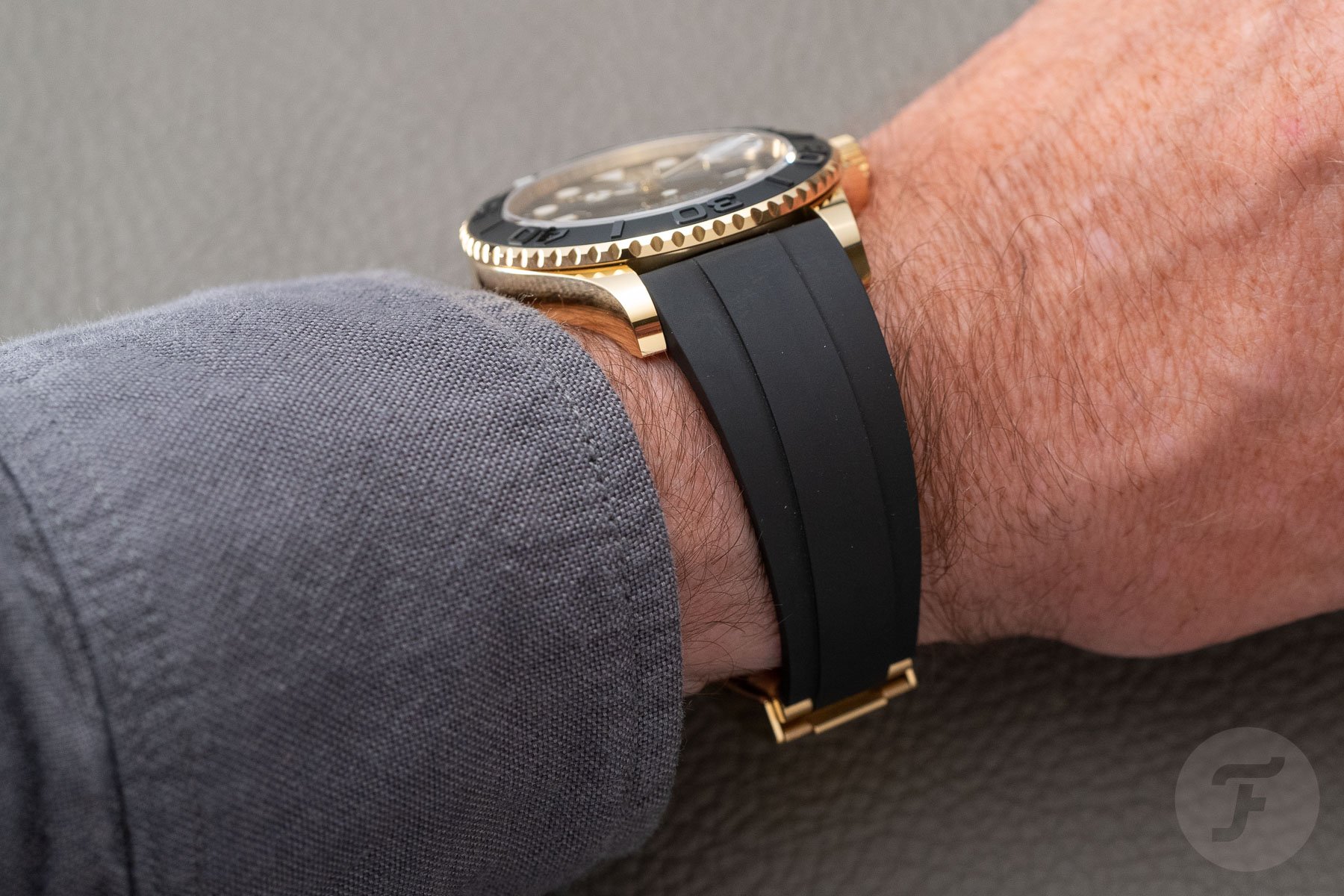 Since I've owned a Yacht-Master 16622 on and off since 2006 (you can read about that here), I thought I'd cover the new yellow gold Yacht-Master 42. I have a soft spot for the Yacht-Master, and that's why I own one. To me, it's simply a quirky watch. The quirky Rolex today is the Air-King, but before the "Bloodhound" Air-King came out in 2016, the Yacht-Master was the oddball.
It doesn't make much sense
Unlike the Yacht-Master II, which has dedicated functionality for skippers, the Yacht-Master is a watch that hardly makes any sense. The Yacht-Master has always been more of a fancy-looking watch than one that's actually useful for masters of yachts. The bi-directional bezel might be interesting to casually time events, but there's no proper locking system or regatta function. Thus, it's just a nice-looking watch with some features of a diver's watch — the Triplock crown can also be found on the Submariner and Sea-Dweller, for example.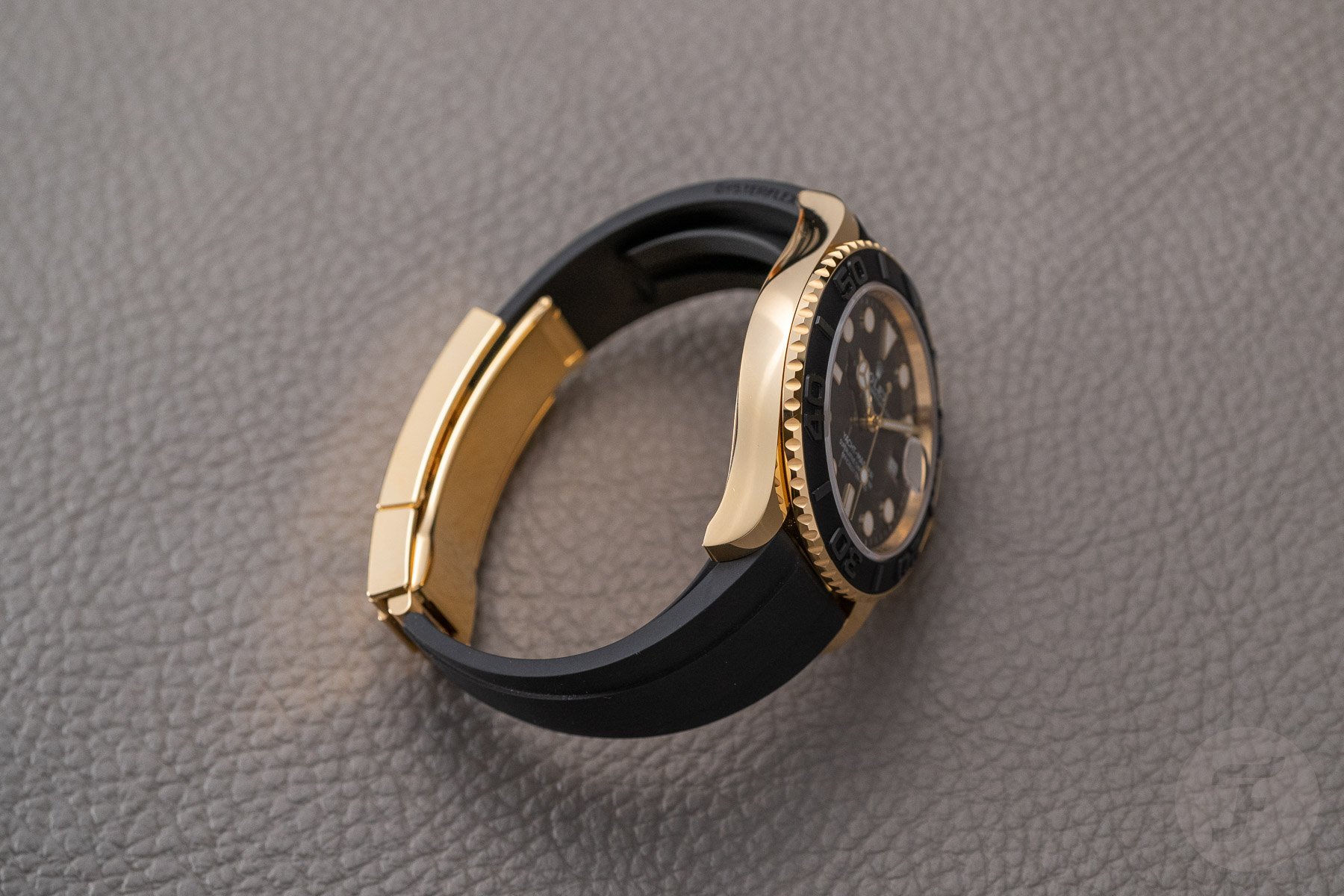 42mm of yellow gold
I know that the 42mm gold case isn't new for the Rolex Yacht-Master with an Oysterflex strap, but I can't ignore that it felt big on the wrist when I put it on. The Yacht-Master in this size is just bulkier, but it still has that rounded case profile that looks more elegant than the GMT-Master II or Explorer II, for example. The Oysterflex strap (or "bracelet", as Rolex refers to it) comes on a yellow gold folding clasp. It's super comfortable, although I know someone who doesn't like the internal cushion system (that makes the strap float on your wrist) and cut it out himself.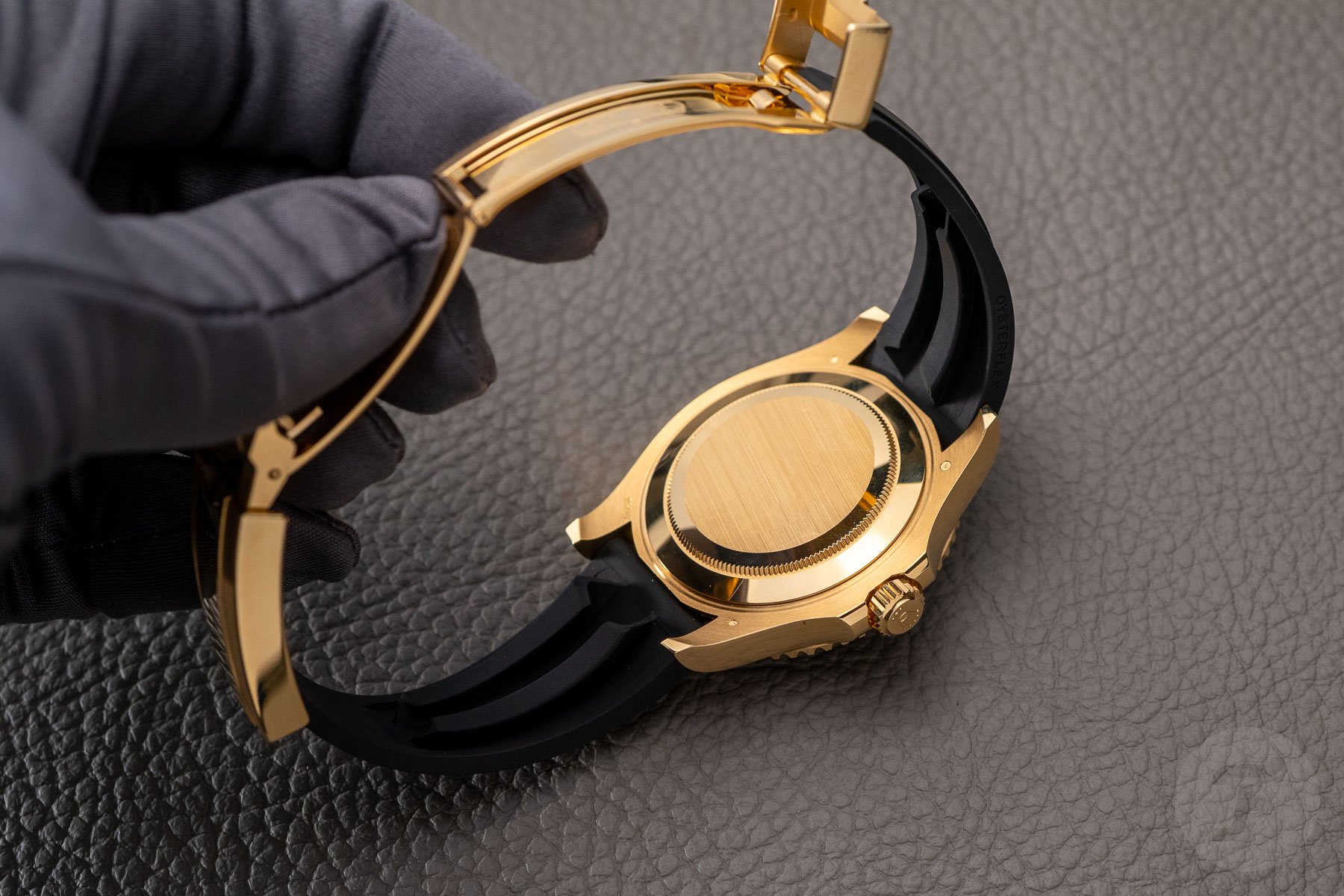 Caliber 3235
Inside the Rolex Yacht-Master 42 ticks caliber 3235, guaranteeing an accuracy of ±2 seconds per day on average. Rolex ensures this average deviation after the movement has been cased (unlike the COSC chronometer standard prescribes). The movement has a power reserve of 70 hours, and it also powers the Submariner, Sea-Dweller, Datejust, and so on. All this is hidden under a solid gold case back with deep brushed finishing in the center.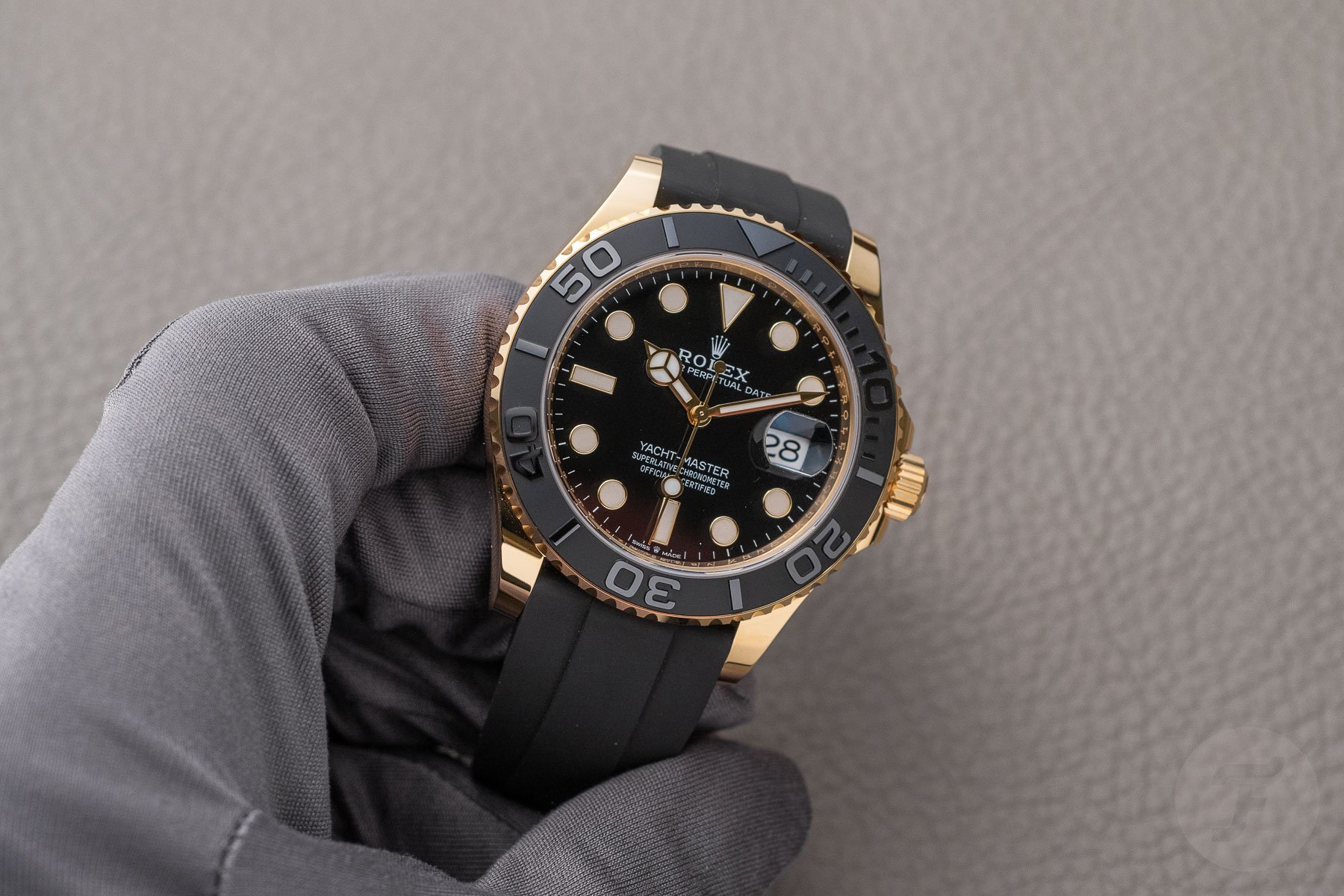 Price and some afterthoughts
While the material is actually the only new thing about this watch, it does somehow look and feel like a new model. Also, the black matte Cerachrom bezel insert isn't new, but it does provide a very nice contrast to the yellow gold. All that being said, I still love the older Yacht-Master Rolesium (steel and platinum) best, and I perhaps even prefer the original 1992 full-gold Yacht-Master with a white dial and onyx hour markers. You can find them for prices that'll surprise you in a positive way. But, I admit that the new Yacht-Master does look good. I might prefer this yellow gold 42mm over the white gold version and perhaps even over the Everose Yacht-Master from 2015.
The retail price on this Rolex Yacht-Master 42 ref. 226658 is €26,900, but we all know that the watch at that price is "for exhibition only". Looking at the white gold 42mm version, expect the market price to be at least €10K more.
Alongside the Yacht-Master 42 in yellow gold, Rolex also introduced the white gold Yacht-Master with the Falcon's Eye dial. We will cover that one at a later stage, for sure. For now, let us know what you think of this one in the comments.