Hot Take: Rolex Yacht-Master 42 Reference 226659
Big, Bold and in White Gold
The Rolex Yacht-Master was introduced in 1992, so only a relatively new member of the Oyster family. Now, 27 years later, they introduce something big, bold and in white gold.
Although a bit underwhelmed at first based on the press images, the new Rolex Yacht-Master 42 with reference 226659 did not disappoint. I feel kinda old realizing that I vividly remember the introduction of the Rolex Yacht-Master reference 16622. When the Yacht-Master was introduced in 1992, it was only in yellow gold. A watch that wasn't meant as a divers watch, with its bi-directional bezel and water resistance of 'just' 100 meters. It was meant and still is, as a lifestyle piece rather than a tool watch.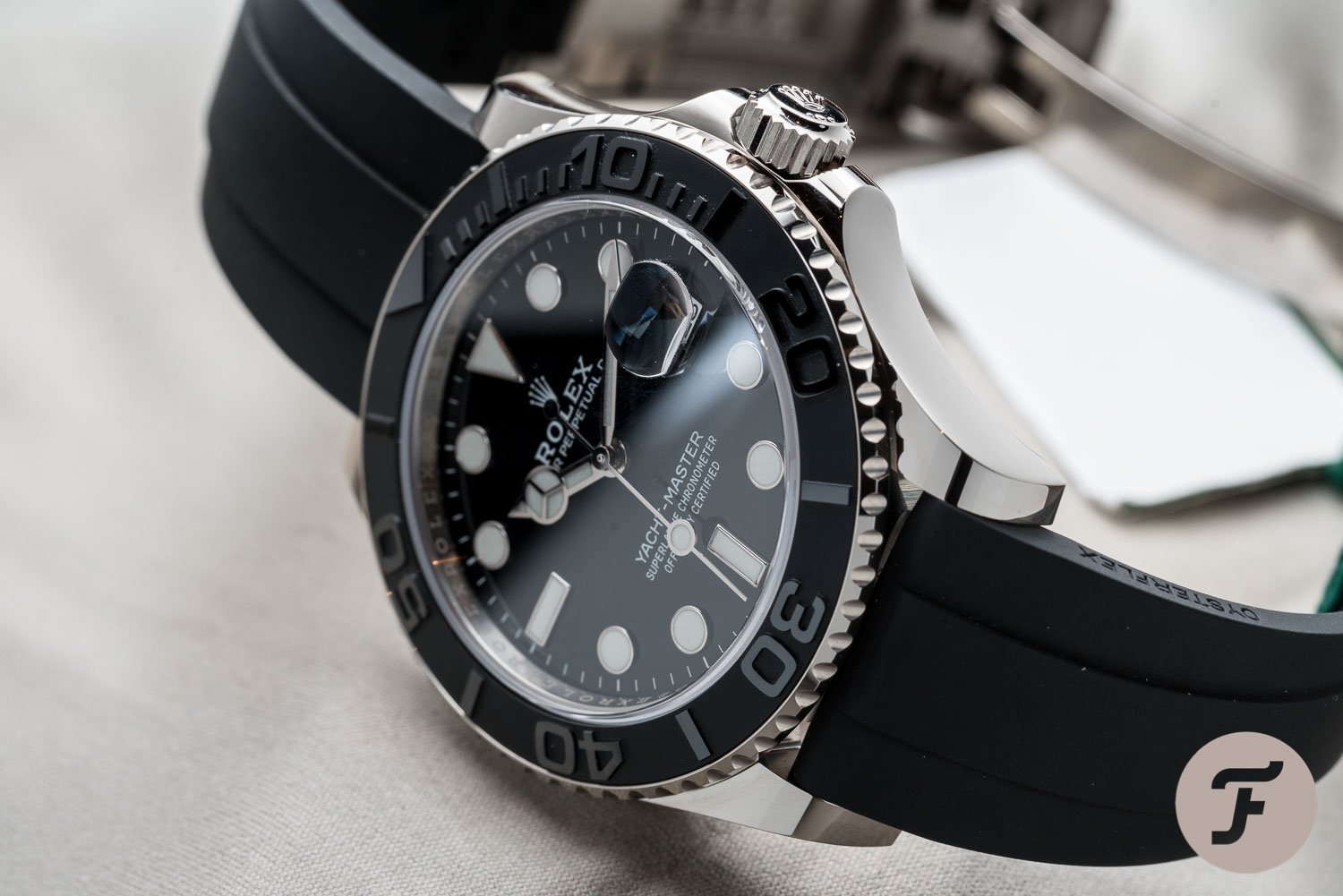 There's also a Yacht-Master II with regatta timer, which is perhaps a bit more functional for those who actually use it on a sailing boat, but the regular Yacht-Master is a luxury timepiece with some elements from their other 'Professional' watches. So anyway, when Rolex introduced the steel and platinum (bezel and dial in solid platinum) with reference 16622, it resulted in a long waiting list (yes, even back then). However, it soon resulted in one of the models you could actually pick up for way less money in the pre-owned market than, let's say, a Submariner or GMT-Master, despite the use of platinum. Below, an image of the Rolex Yacht-Master Rolesor (ref. 116655) from the current collection, introduced in 2016 (click here).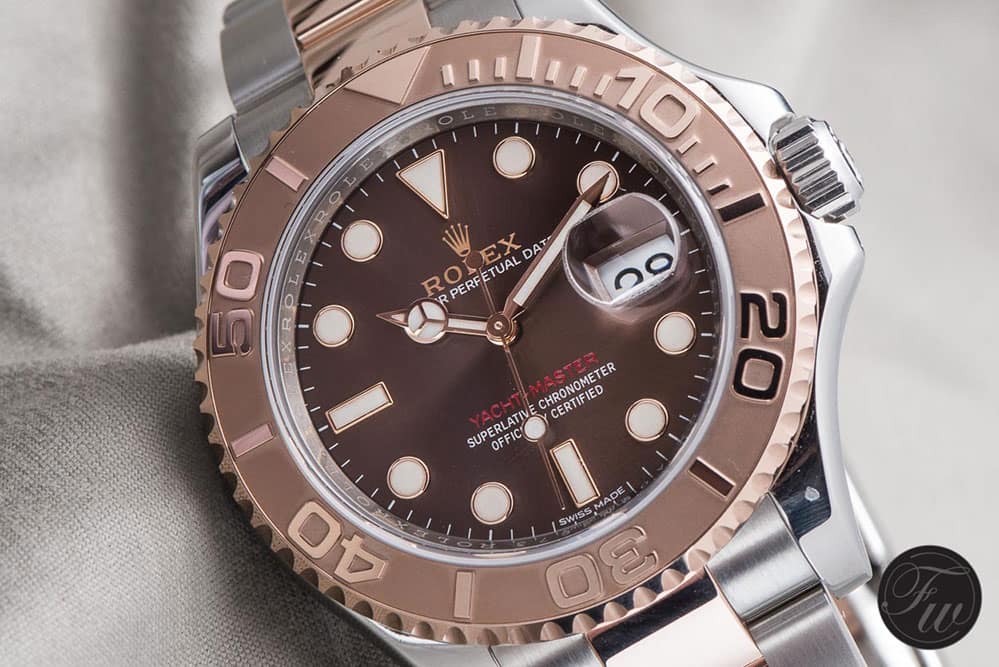 Rolex Yacht-Master 42 Ref. 226659
The popularity recently increased again, with their new models and dial variations. In 2015, Rolex introduced a variation of the Yacht-Master that shows some similarities to the watch we are looking at today. That Rolex Yacht-Master 116655 was also in full gold and with the Oysterflex bracelet (which is actually a strap). If I am not mistaken, it was the first watch to use the Oysterflex.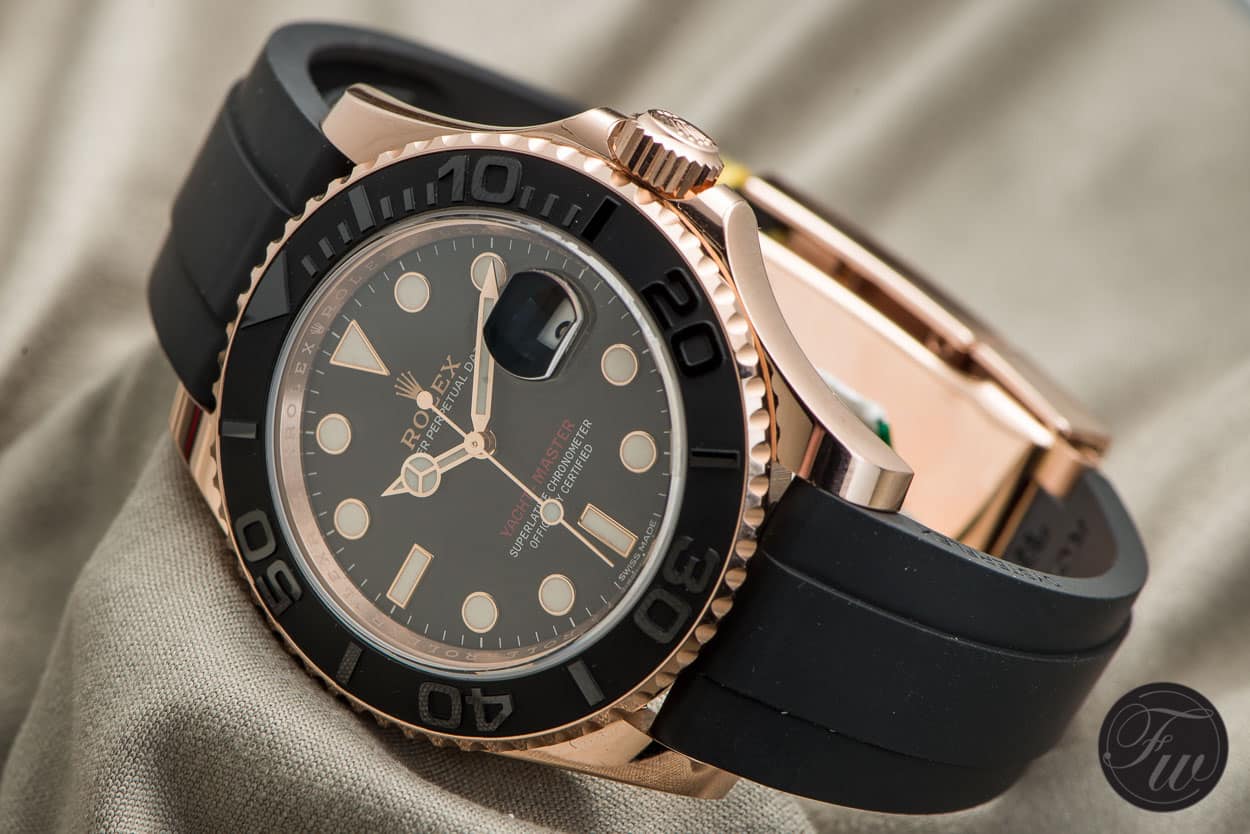 Last week, we saw a new addition to the Yacht-Master family, another version in precious metal on an Oysterflex bracelet. This time, however, Rolex increased the size from 40mm to 42mm. Meet the new Rolex Yacht-Master 42.
Based on the first pictures that I saw, I didn't realize it was in white gold. But during our meeting with Rolex in Baselworld, there couldn't be any misunderstanding. The colour of white gold has a different hue than that of steel, and when you pick up the watch, of course, you will immediately notice that it is a precious metal instead of stainless steel.
The dial of the Rolex Yacht-Master 42 is distinctive due to its black colour with large white hour markers. Unlike the Everose version of 2015, the printing of the 'Yacht-Master' writing is in white instead of red. As always, the hour markers and hands are also made of gold. The distinctive black bezel of the Rolex Yacht-Master 42 is made of ceramic with a black Cerachrom insert. It features raised numerals and graduations with a polished finish. As written above, this bezel is also bi-directional (instead of uni-directional which is the case with Rolex divers watches).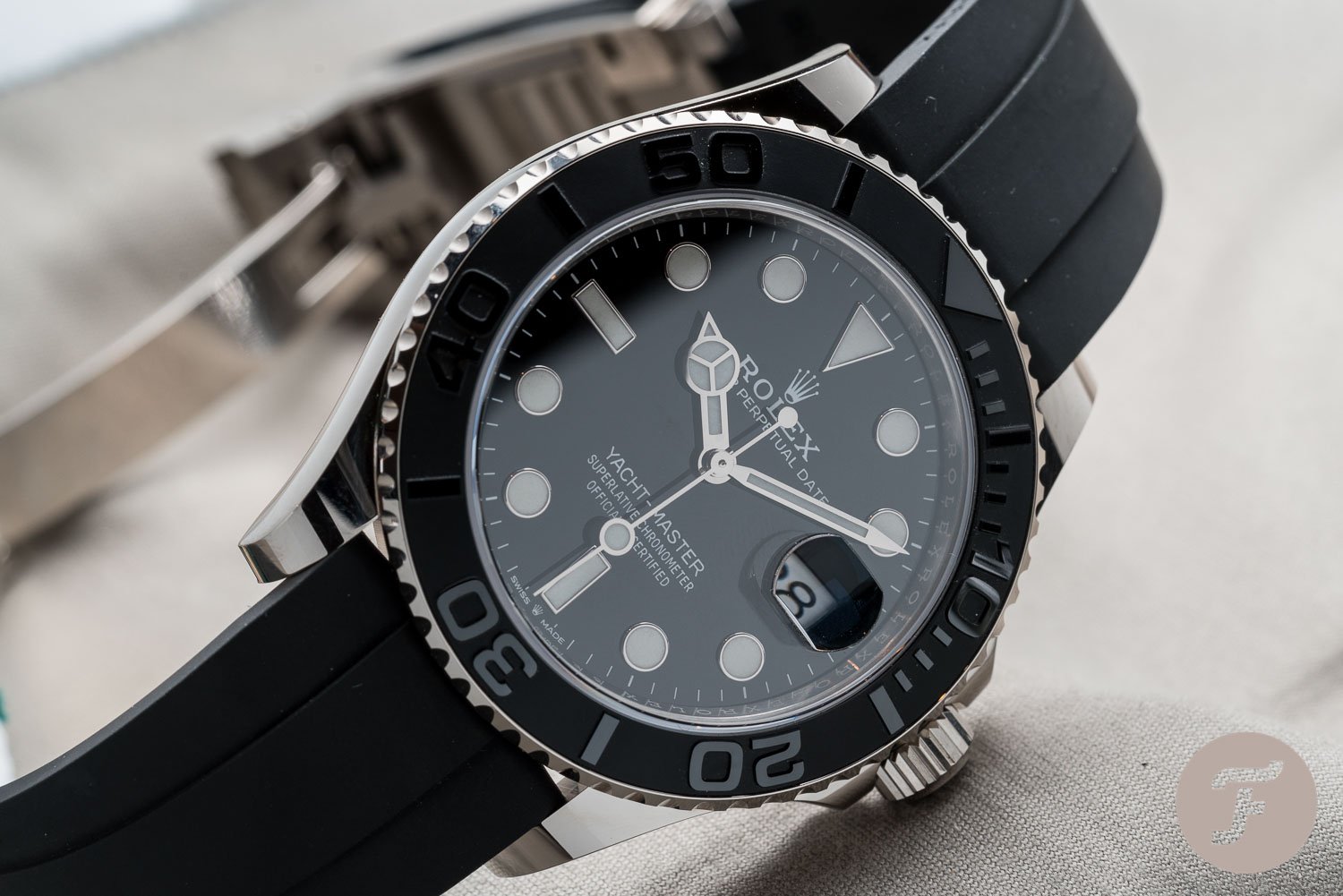 I always find the actual 'wear' of a modern 40mm sports Rolex to be larger than the official diameter. This 42mm Rolex Yacht-Master definitely wears bigger than 40mm, but due to the sleek lugs, it is not that much larger on the wrist than my modern Rolex Submariner for example.
Caliber 3235
Just like the Rolex Datejust and new Sea-Dweller that we talked about here recently, the Rolex Yacht-Master 42 shares the same movement: caliber 3235. Like all other caliber 32xx movements, it has been updated to their latest standards and innovations, meaning it has a power reserve of 70 hours and runs well within chronometer specification (-2/+2 seconds per day deviation on average). A solid case back prevents you from admiring this movement though, something that Rolex never does.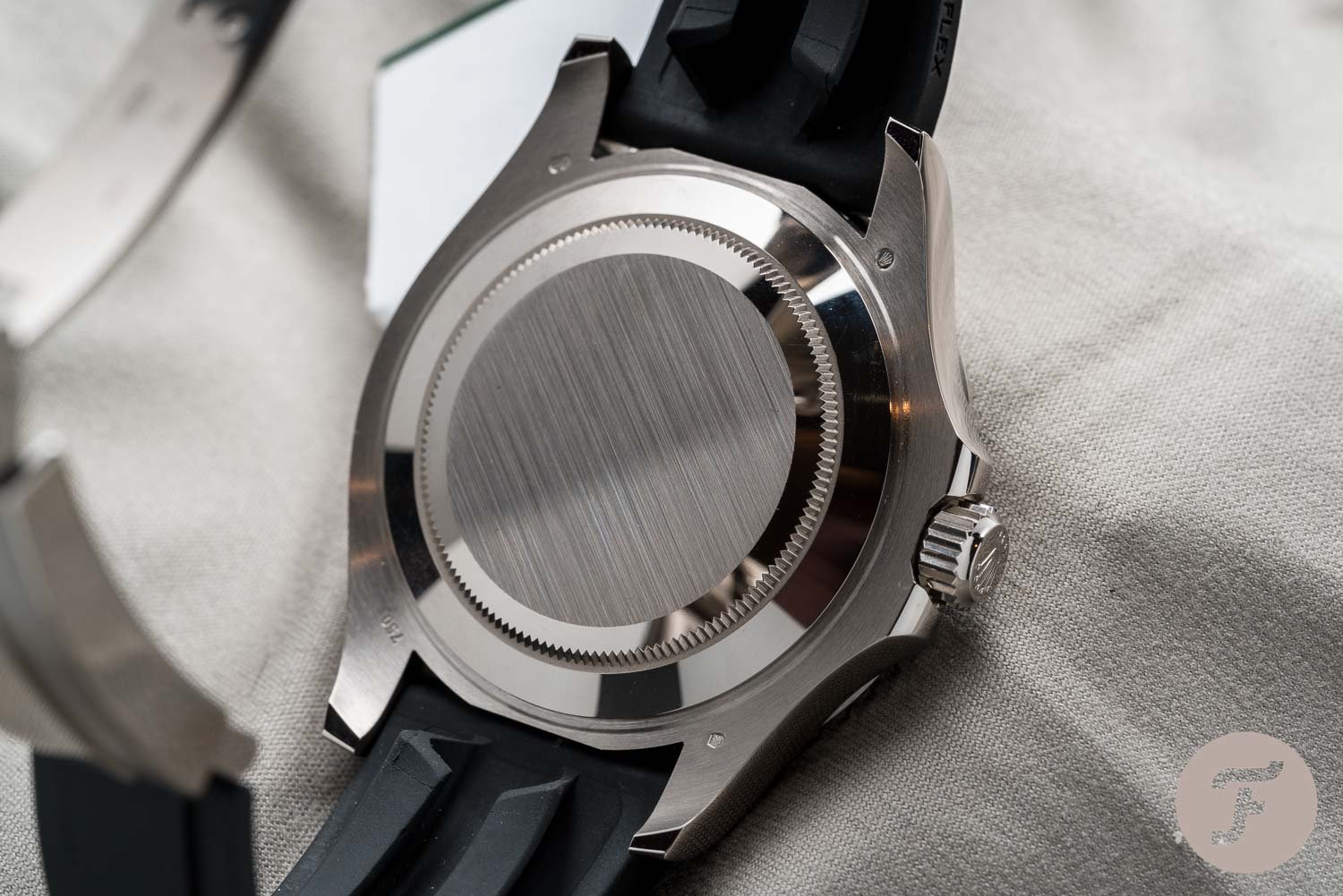 As you can see in the image above, the white gold case has all the necessary gold markings in there.
Attached to the Rolex Yacht-Master 42 case is the Oysterflex bracelet. We covered it before when it came out in 2015 (here), stating that this might be the official answer to some of the 3rd party rubber straps out there for sports Rolex watches. I think we've been wrong with our assumption that time, as Rolex did not really make this strap widely available for their sports models. In the meantime, brands like Everest for example, sell like hotcakes at Rolex ADs for those who want to wear their Rolex on a rubber strap for a change.
The Oysterflex has a patented cushion system. The cushions on the inside of the strap make the watch being very stable on the wrist and you get the idea that the strap isn't really touching your skin. Like a floating strap. The Oysterflex bracelet comes with an 18-carat white gold Oysterlock folding clasp (with Glidelock extension system) that is attached to the strap using flexible titanium and nickel alloy metal blade. The same attachment system is used to connect the strap to the watch itself.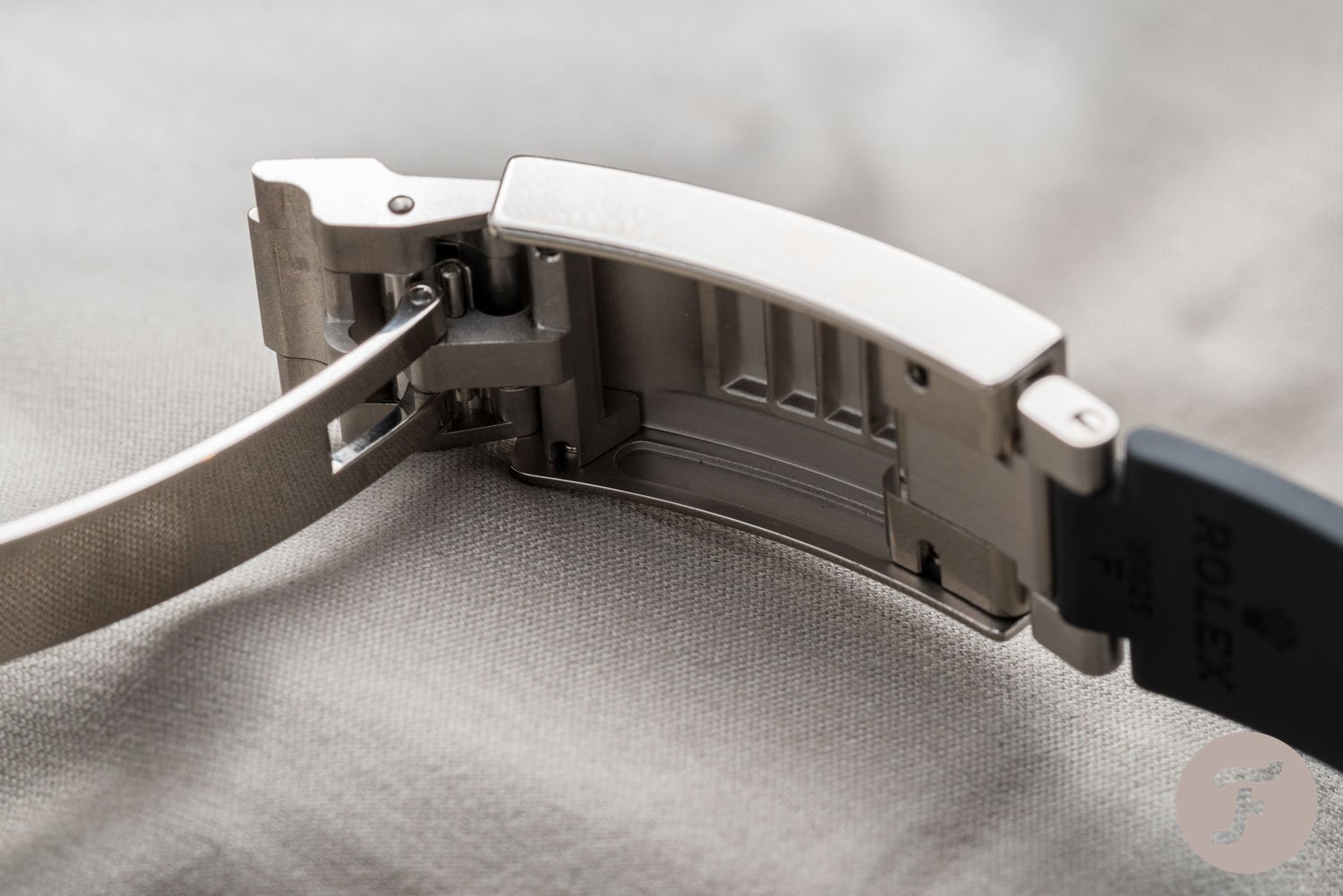 Personally, I think I might be in favour of the Yacht-Master 40 in Everose gold, but the white gold definitely has an edge with its new movement. Not that the 42mm isn't nice or uncomfortable, but the Everose colour is more to my liking when it comes to gold. An Everose version in 42mm though would be perhaps a bit too much.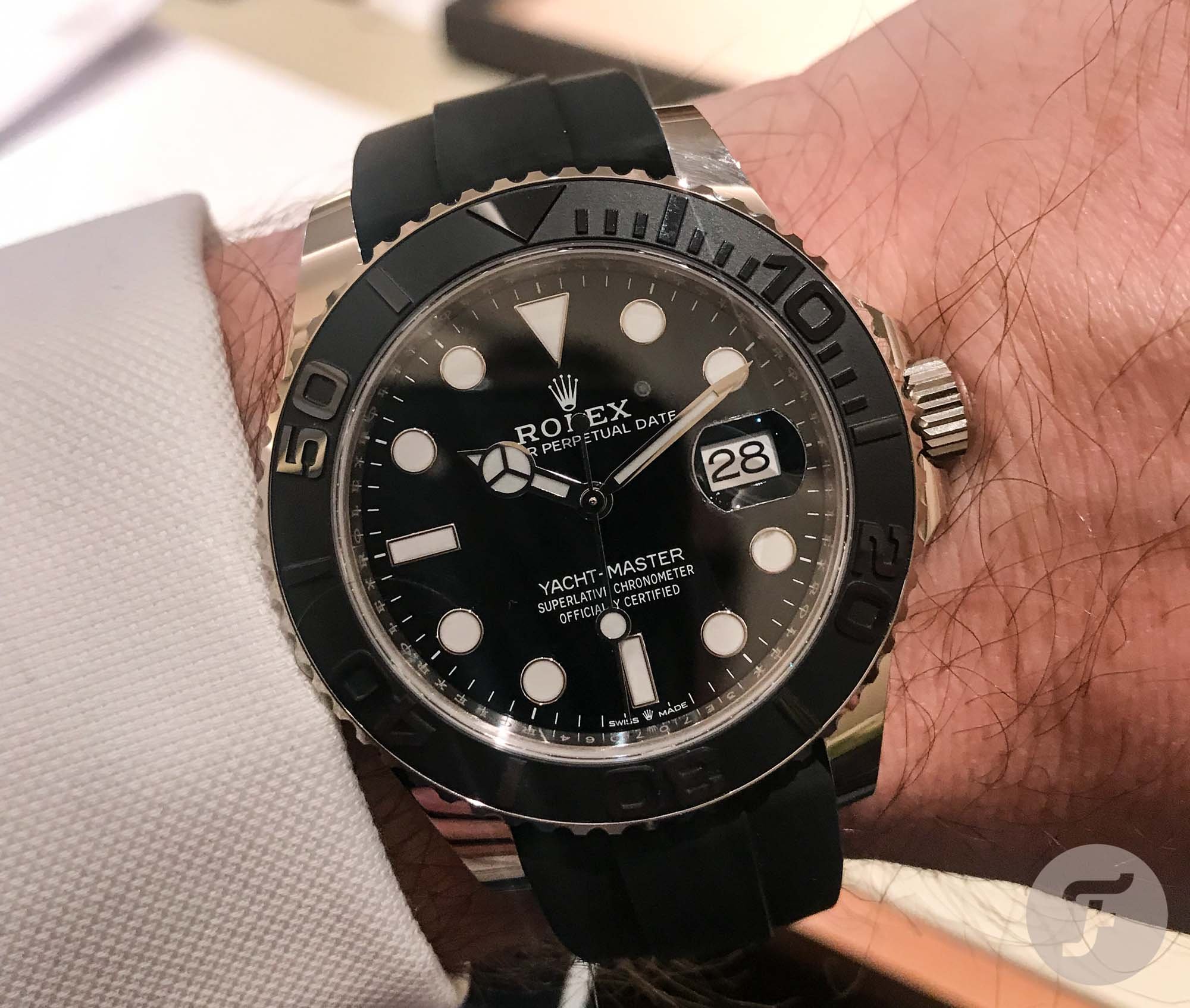 The price of this Rolex Yacht-Master 42 is €25.250,- (the 40mm in Everose is €23.850,-) so it isn't even that much more for a larger watch in white gold with the new Rolex caliber 3235 movement. I wonder whether this watch will also have a waiting list considering the price point, or even a distribution that sucks as much as the stainless steel and bi-color sports models. In the end, this is a cool white gold Yacht-Master variation that is something different from the usual suspects that you see on so many wrists these days (be it in the flesh, on TV or on social media).
I think that the Yacht-Master collection is still a bit undervalued. Although the days are over that you could pick-up a pre-owned Rolex Yacht-Master 16622 for under 4000 Euro, you can still find one for way less than a pre-owned modern Submariner in steel.
More information via Rolex online.
Watch specifications