Romain Gauthier Insight Micro-Rotor Lady Opal – Only Five Pieces
Romain Gauthier produces approximately 60 watches per year, all manufactured in-house and with hand-finished movements. We introduce to you their new Insight Micro-Rotor Lady Opal, with a production of just five pieces in total. That is right, a high-end watch for ladies only, and it is a blessing to see more watch brands introducing ladies watches with a strong focus on the mechanical movement. That said, this watch does come with a beautiful opal dial. The used opal comes from Coober Pedy in South Australia, often described as the opal capital of the world.
Now, this new Romain Gauthier Insight Micro-Rotor Lady Opal might look familiar to you, and that's correct. Two models were previously introduced, but with a black Mother-of-Pearl dial and one with a white Mother-of-Peal dial. Today, we already have a closer look at this new version with an opal dial that will be shown to the public next week in Geneva.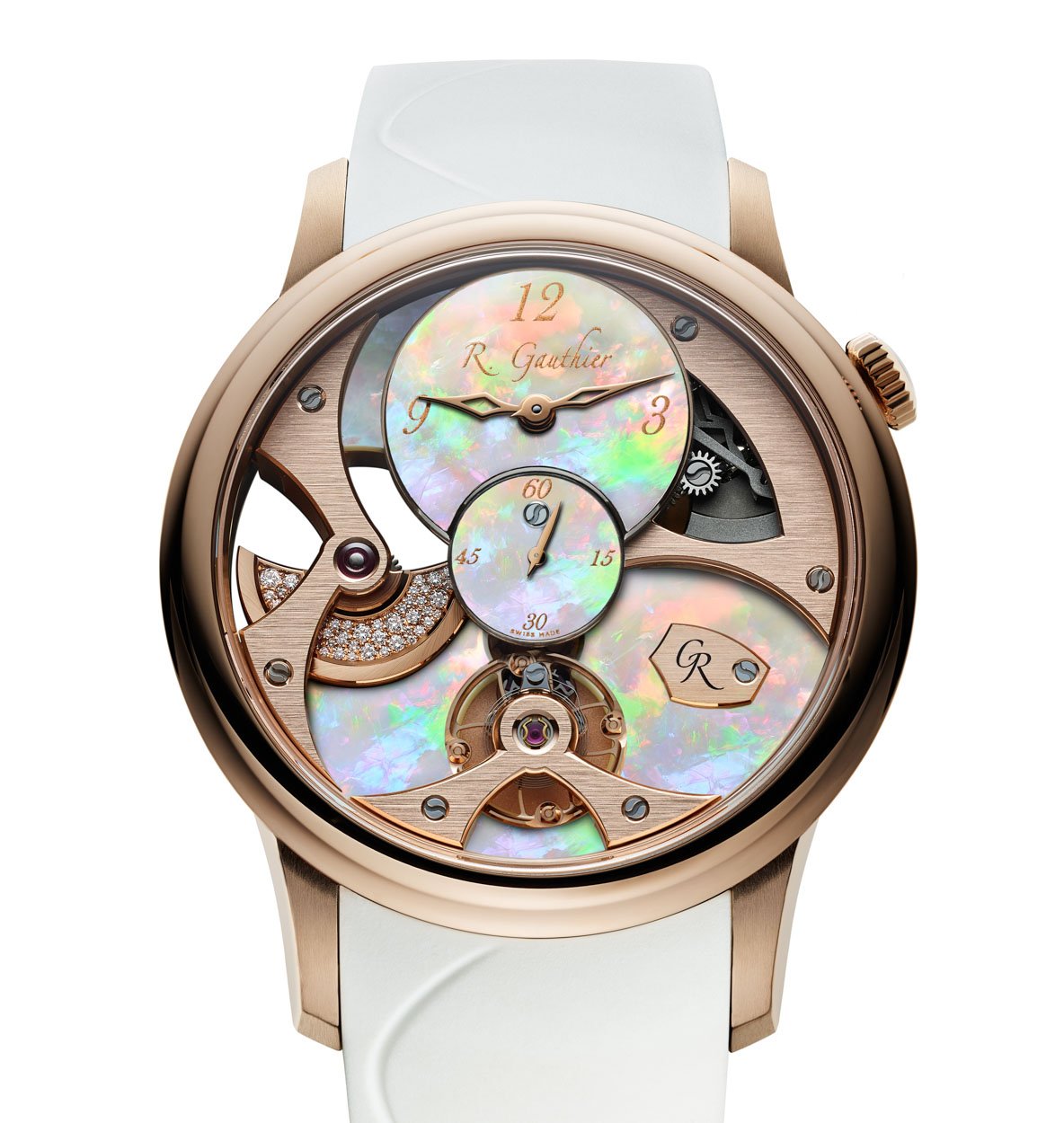 Romain Gauthier Insight Micro-Rotor Lady Opal
In 2017, Gauthier introduced the Insight Micro-Rotor movement (and collection) and one year later, the Insight Micro-Rotor Lady was revealed. Now, in 2019, there's a new version of that watch with an opal dial. And not only the dial is made of opal, but it has also been applied to cover the mainplate of the movement. The opal was collected at source by a connoisseur of rare gemstone almost half a century ago.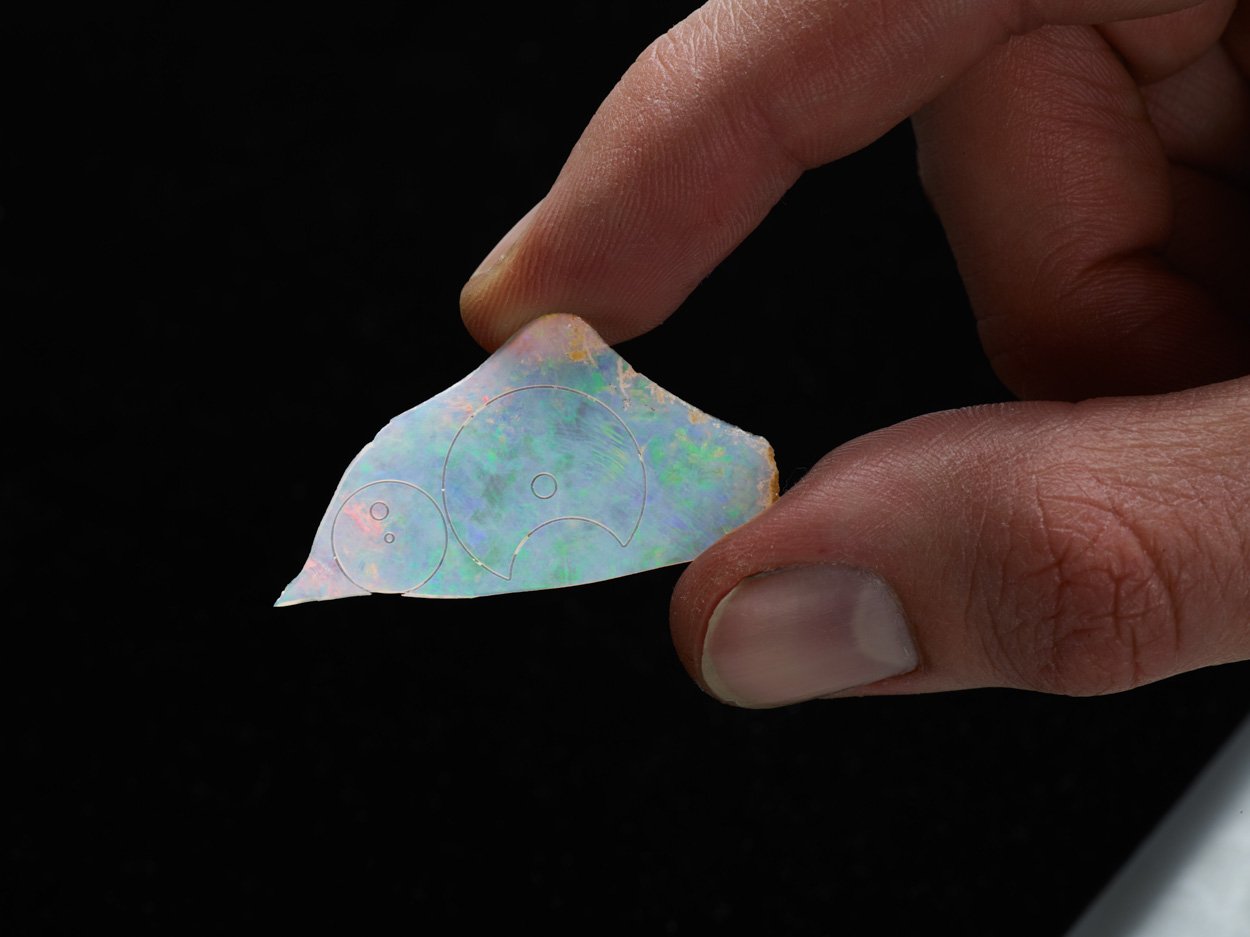 The case is made of 18-carat red gold and has friendly dimensions, 39.5mm x 12.9mm. By no means a small watch, but also not over-sized. Large enough to get a good view at the opal covered parts and the movement. Talking about the movement, this Insight Micro-Rotor has been designed in a way that it does allow the wearer to admire the heart of the movement at 6 o'clock and the 22-carat gold micro-rotor (set with approx. 45 brilliants) at 9 o'clock. The rotor is bi-directional, using a reversing gear. As the weight is relatively heavy, Romain Gauthier chose to use a double bridge to ensure stability. Two barrels that are placed in series offer a power reserve of 80 hours when fully wound.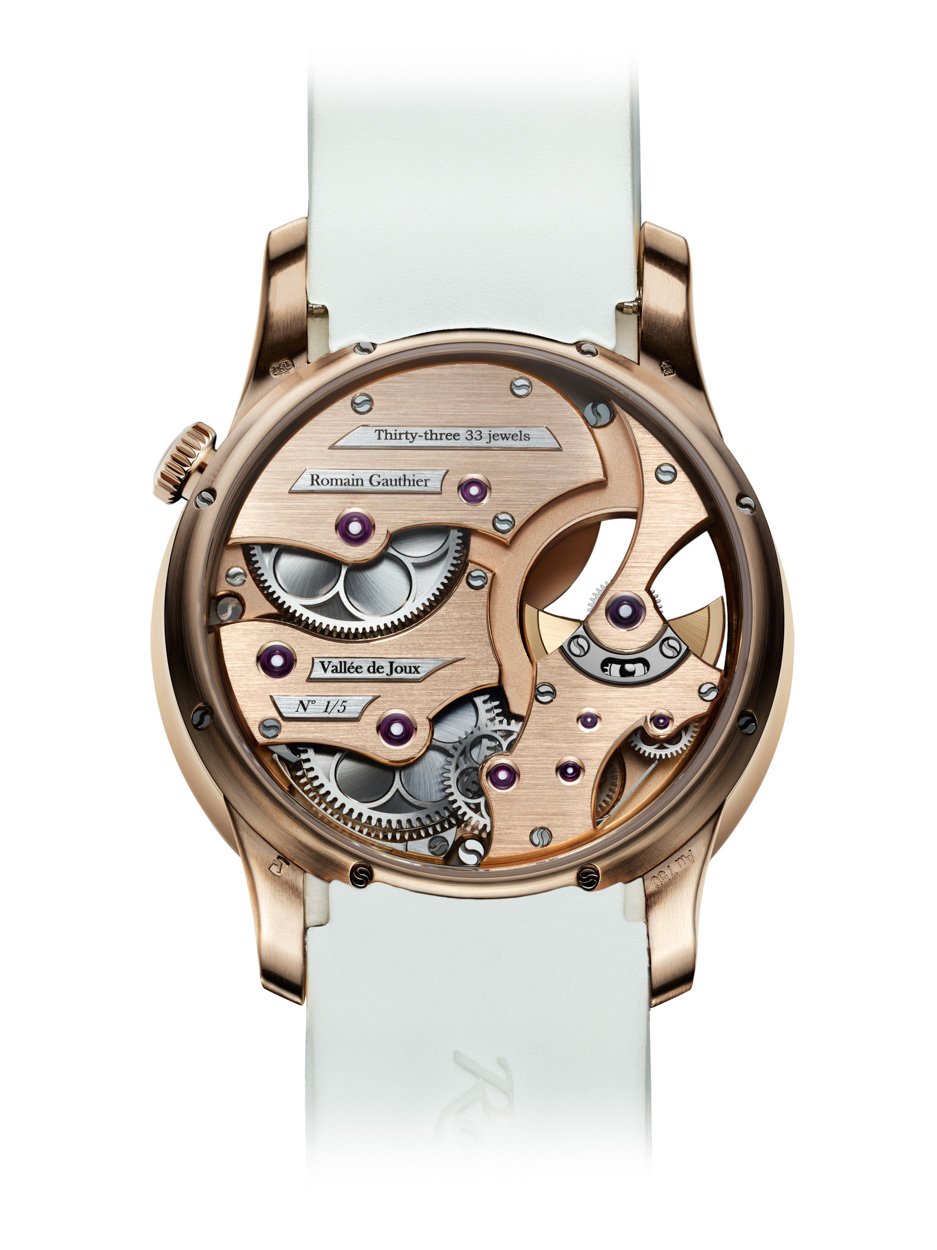 As you can see, the movement is beautifully decorated. Hand-made and hand-polished bevels, hand-frosting, circular-graining, straight-graining and snailing for example. Romain Gauthier's Insight Micro-Rotor movement is 32.1mm in diameter and has a thickness of 6.8mm. It consists of 206 components, of which 33 are jewels. As written above, the micro-rotor is made of 22-carat gold but you will also find parts made of steel, beryllium copper, brass and German silver. The bridges – as you can see – have been treated with 5N red gold to match the case material. The hands are also made of red gold, to match the rest of the ensemble perfectly. A nice detail that I really like, is these (red gold) bridges that are secured using screws with S-slot heads. These are also manufactured in-house by Romain Gauthier.
To set and wind the watch, you can use the gold crown located at 2 o'clock. A bit of an unusual position, but it is actually a very interesting place to put the crown. This way it will not stick into your hand.
The Romain Gauthier Insight Micro-Rotor Opal comes on a white (natural) rubber strap with a red gold pin buckle.
Looking at this watch, it becomes immediately clear that it doesn't come cheap. Looking at the used materials, but also at all the manhours spend on manufacturing and hand-finishing the movement, this beautiful lady's watch must come at a certain price. And it does, as it retails at CHF95,000.= (excluding sales tax).
More information about Romain Gauthier can be found on their official website.