Arnie Is Back! Seiko Releases Three New Hybrid Ani/Digi Divers
Seiko takes the hybrid diver to the next level with some seriously complicated new watches
Seiko's analog/digital hybrids have been fan favorites ever since Arnold Schwarzenegger popularized them in the 1980s. The oversized and unique case shape is quirky in all the right ways. I am known to criticize large watches, but this line of Seikos would not work any other way. Today, Seiko introduces three new variants to the collection, all with some serious tech on board. Let's have a look at these new Seiko Hybrid divers!
Is it upside down?
When Rolex introduced the "Destro" GMT-Master II, we sort of tilted our heads to see whether it was perhaps upside down. If you have been wearing an "Arnie" ani/digi Seiko of any previous generation, you might experience the same here. The digital screen is now at the bottom of the dial rather than the top. The pushers and crown have also switched sides. On these Seikos, however, it does not have nearly the same disorienting effect as it did on the Rolex.
Diving tech on board the Seiko Hybrid divers
These Seiko Hybrid divers are fitted with the brand-new caliber H855. It adds a slurry of diver-specific features to the previous caliber H851, and the original features are still present. This is still a solar-powered ani/digi caliber with an alarm, stopwatch, second timezone, and super-cool battery-saving mode. But this time, there is more.
The H855 adds depth measuring to 80 meters into the mix. It is also equipped with a diving log that can record the dive time and depth of up to 100 dives. When in diving mode, the log automatically starts when you descend past 1.6 meters. As you ascend to less than 1.5 meters, the log ends your dive and automatically stores the data. These Seiko Hybrid divers even warn you when a rapid ascent is detected. Is Seiko trying to bridge the gap between divers' watches and diving computers?
Three variants
Seiko introduces three versions of the new H855 Hybrid divers. First, there is the SNJ033P1 with its black dial and bezel. The entire 46.9mm case is stainless steel and so is the bracelet. Next, we have the PADI special edition SNJ035P1, featuring a blue minute hand and blue markings on the bezel. This version comes with a globe-patterned dial, a partly black case, and a rubber strap. Finally, to celebrate the 40th anniversary of the line, Seiko adds a limited edition of 4,000 pieces to the lineup. This SNJ037P1 is fully blacked out with a red seconds hand. It comes on a black PVD steel bracelet.
All of these versions have Hardlex crystals, Lumibrite luminescence, screw-down crowns and pushers, and 200 meters of water resistance.
Final thoughts on the Seiko Hybrid divers
I have to admit, I am thoroughly impressed by these watches. Even setting the time is a bit of an occasion on these. You set the desired time on the digital display by operating the crown. When you confirm your entry, the analog hands automatically rotate to match the digital time. This is nothing new, but it is forever fascinating to the five-year-old in me.
As I have mentioned before, these watches are just the right size. They are by no means subtle, and they shouldn't be. That does mean, unfortunately, that they look ridiculous on my skinny wrists. However, that might be a good thing, as otherwise, I would probably have a tough time resisting the urge to buy one. Since I am not a diver, I would be happy to go with an older H851 variant. If you enjoy the occasional dip in the ocean, one of these could be your companion.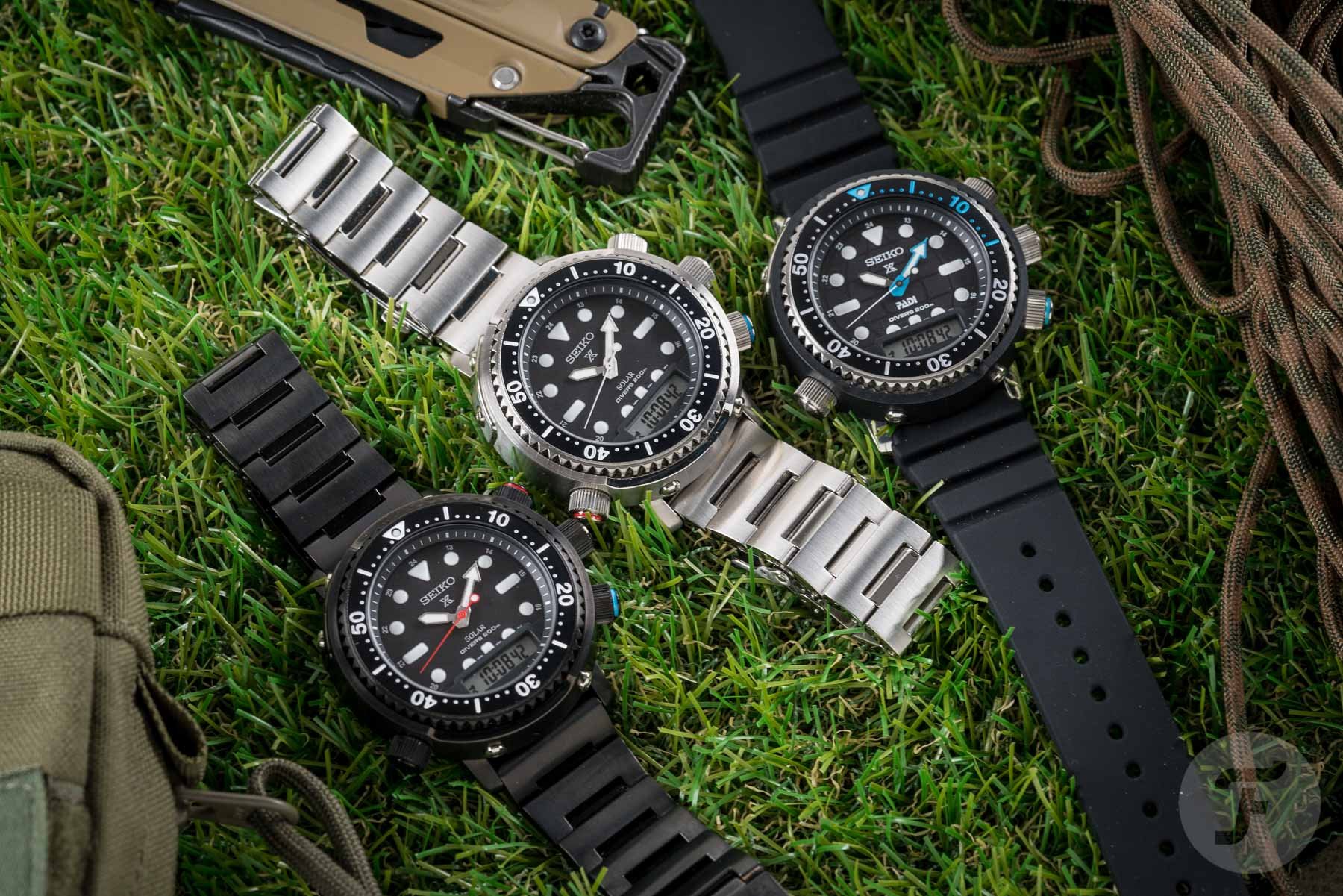 Pricing and availability
The SNJ033P1 retails for €710. The PADI SNJ035P1 comes in at €660. The limited-edition SNJ037P1 has a list price of €760 and is limited to 4,000 pieces. All three models will be available through authorized Seiko dealers in about a month. For more information, visit the official Seiko website.