Seiko SNJ025 Solar Arnie: A Surprise at Baselworld 2019
Seiko revives an Ana-Digi cult classic
In a surprise move, the Seiko SNJ025 Solar Arnie debuted at Baselworld 2019.
Hunting through the massive pile of releases from Seiko at Baselworld 2019 was like any other year.  There were some real frontrunner gems that made a lot of news, such as the SLA033 Re-Edition of the Captain Willard, the litany of incredible new Grand Seiko Spring Drive Dress Watches, or the new Prospex LX Divers, but we like finding the hidden, barely discussed gems.  And, funny enough, some of these gems are updates on immensely popular watches.  We wrote an article on the new Sumo a couple days back and you responded with record traffic on our site.  We're not sure how Seiko chooses to push what it does in the brief hour we get with them in their booth, but we got to touch and feel another (re) release that should truly delight Seiko diehards in the new Seiko SNJ025 Solar Arnie.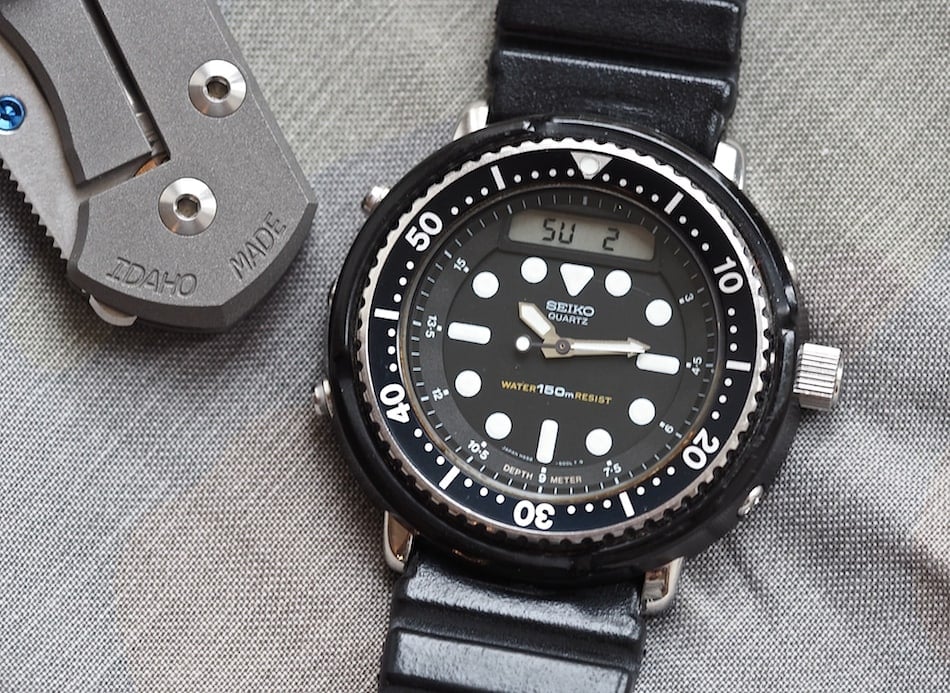 A Little Ancestry History
Before getting into the details of the Seiko SNJ025 Solar Arnie, let's take a brief trip down memory lane.  If you're not familiar with this new release just by looking at it, it happens to be a reissue of a real cult classic called the H558.  Introduced in 1982 and produced until roughly 1990, it was the world's first hybrid diver (meaning analog and digital) and was equipped with an alarm and chronograph.  These innovations alone were significant, but what truly brought the H558 to the forefront was that it was the choice for Arnold Schwarzenegger in many of this 80's movies.  Probably, the most notable movie where the watch made appearances was in The Predator.  We featured an original, JDM, version of the H558 Arnie on a #TBT last year and it's a watch that I've worn with relative frequency since picking it up around that time.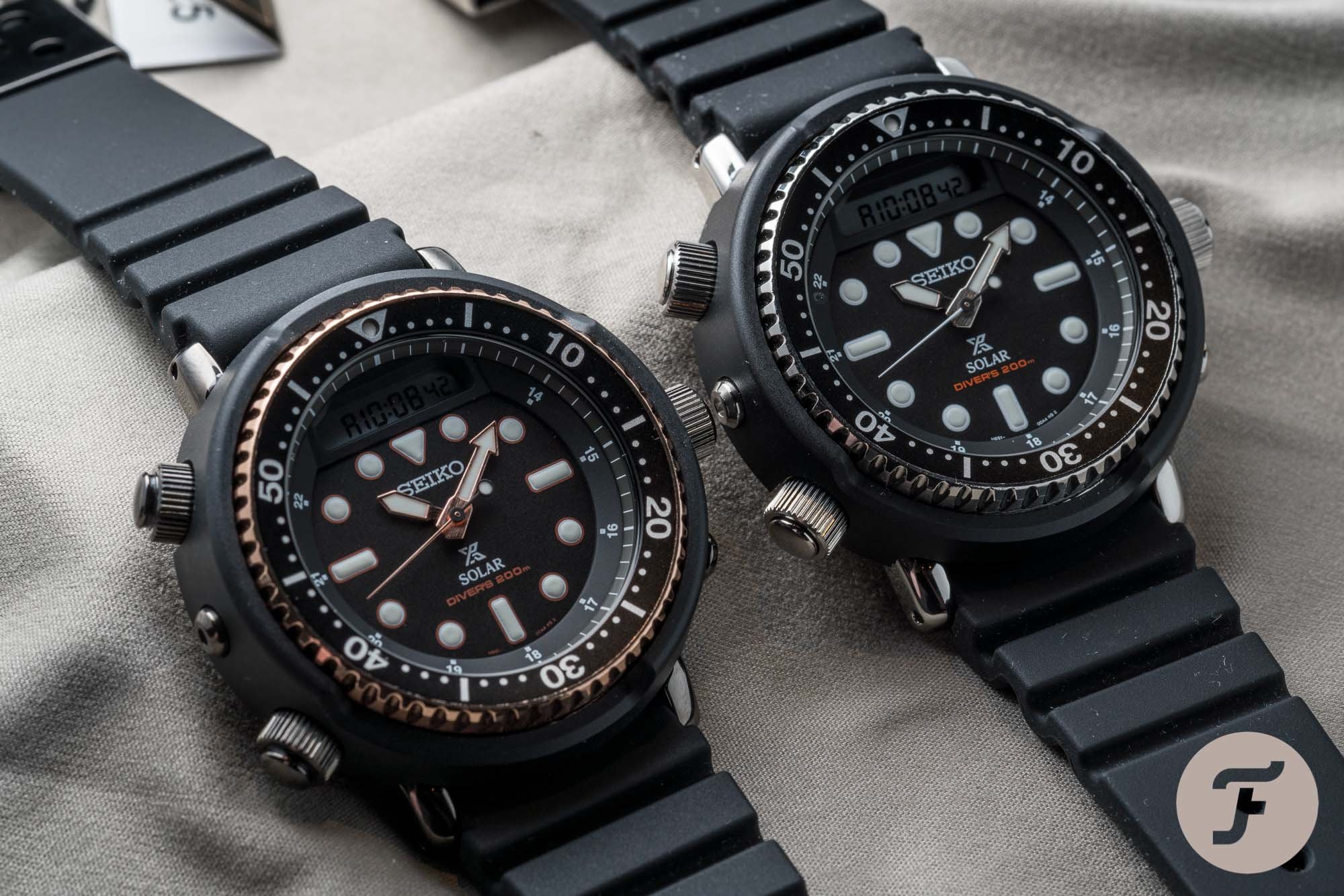 The Seiko SNJ025 Solar Arnie was a Surprise
With the introduction of the new Seiko SNJ025 Solar Arnie, the move came is a real surprise.  Normally, Seiko like to celebrate anniversaries of older models with new releases and they tend towards milestone years that end in "0" – such as 10, 20, or 30 years and so on.   There's no real anniversary with the Arnie that I know of unless you count that it's been roughly 30 years since the model was discontinued, but that's not really a positive thing.  Still, we're damn excited about this because the Arnie configuration is a classic and, like the "Digi Tuna" that we reviewed last year, it shows once again that Seiko is embracing its digital past.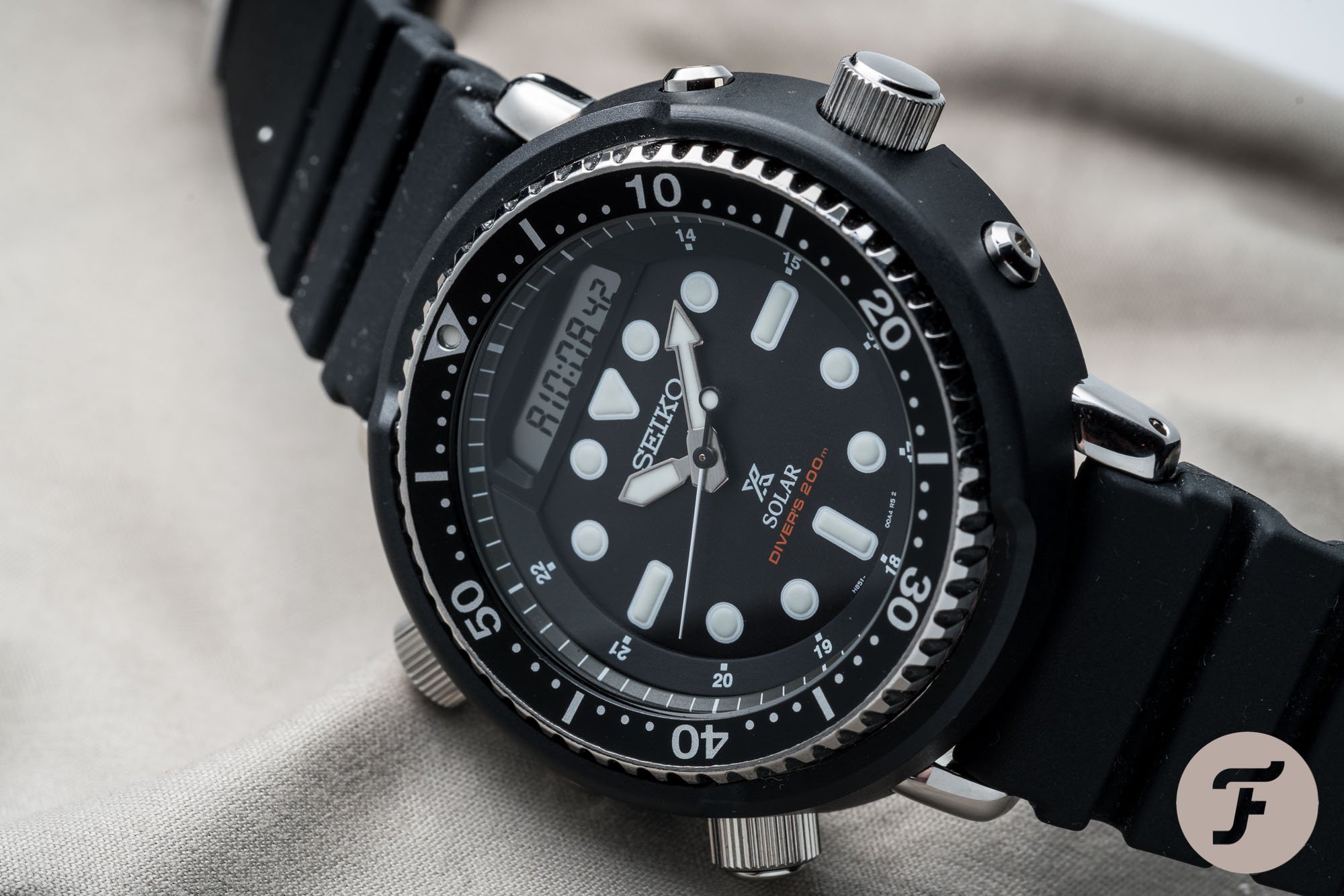 Three New Models
We were lucky enough to sit down with both Seiko Netherlands and USA at Baselworld and while the Seiko collections have become more global, it does seem that there are regional differences.  In some cases, watches are only available in one region or another and in specific instances, a watch will "catch up" and come to other regions at a later date due to production capacity or if there is enough perceived demand.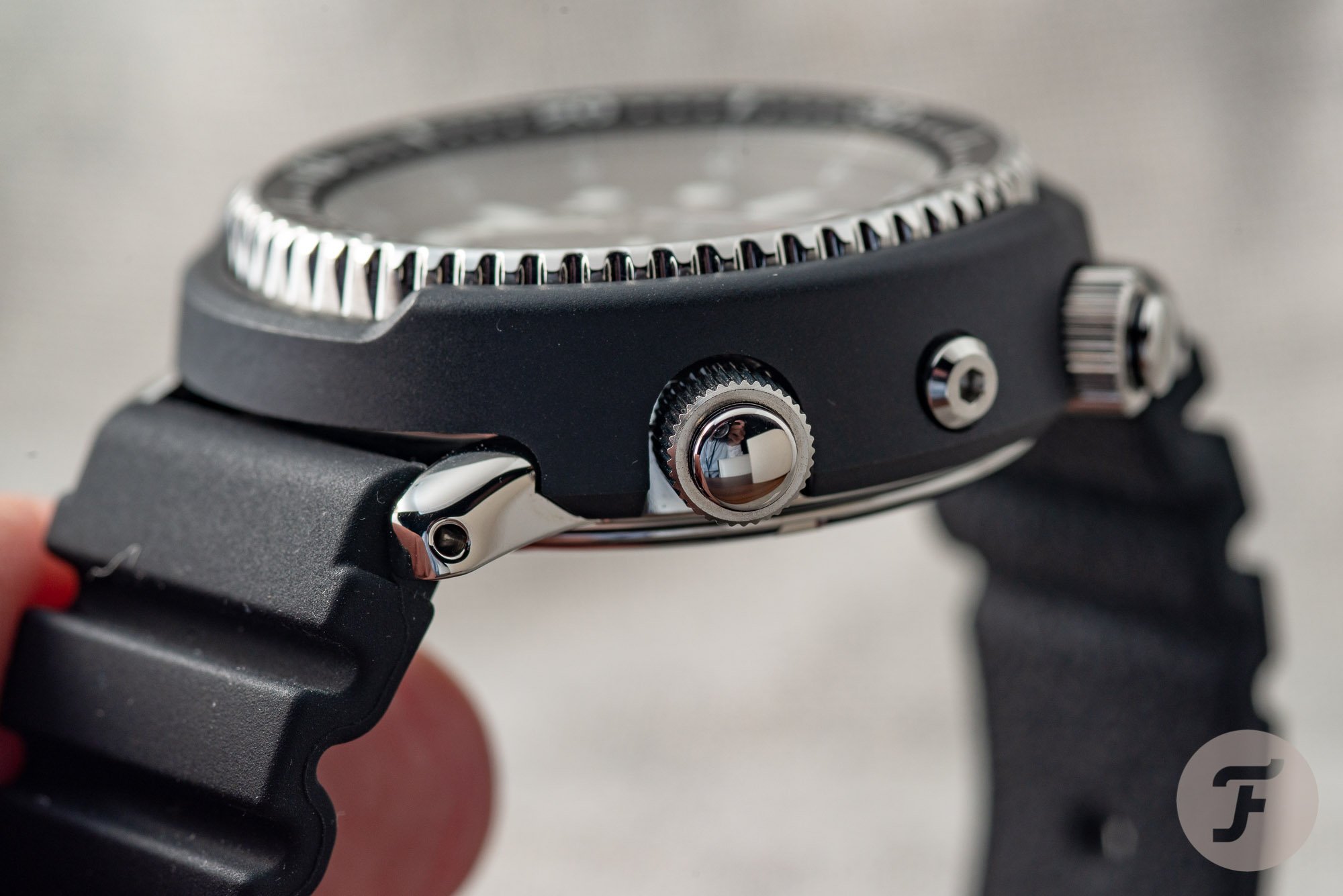 We're not sure what the case is with the Seiko SNJ025 Solar Arnie, but we saw a "PADI" version (ref. SNJ027 – and not pictured) along with the black case and silver bezel SNJ025 at our NL meeting.  We then saw a third reference (not sure on the ref. number yet) with a gold bezel at our USA meeting.  So, three variants were floating around the booth.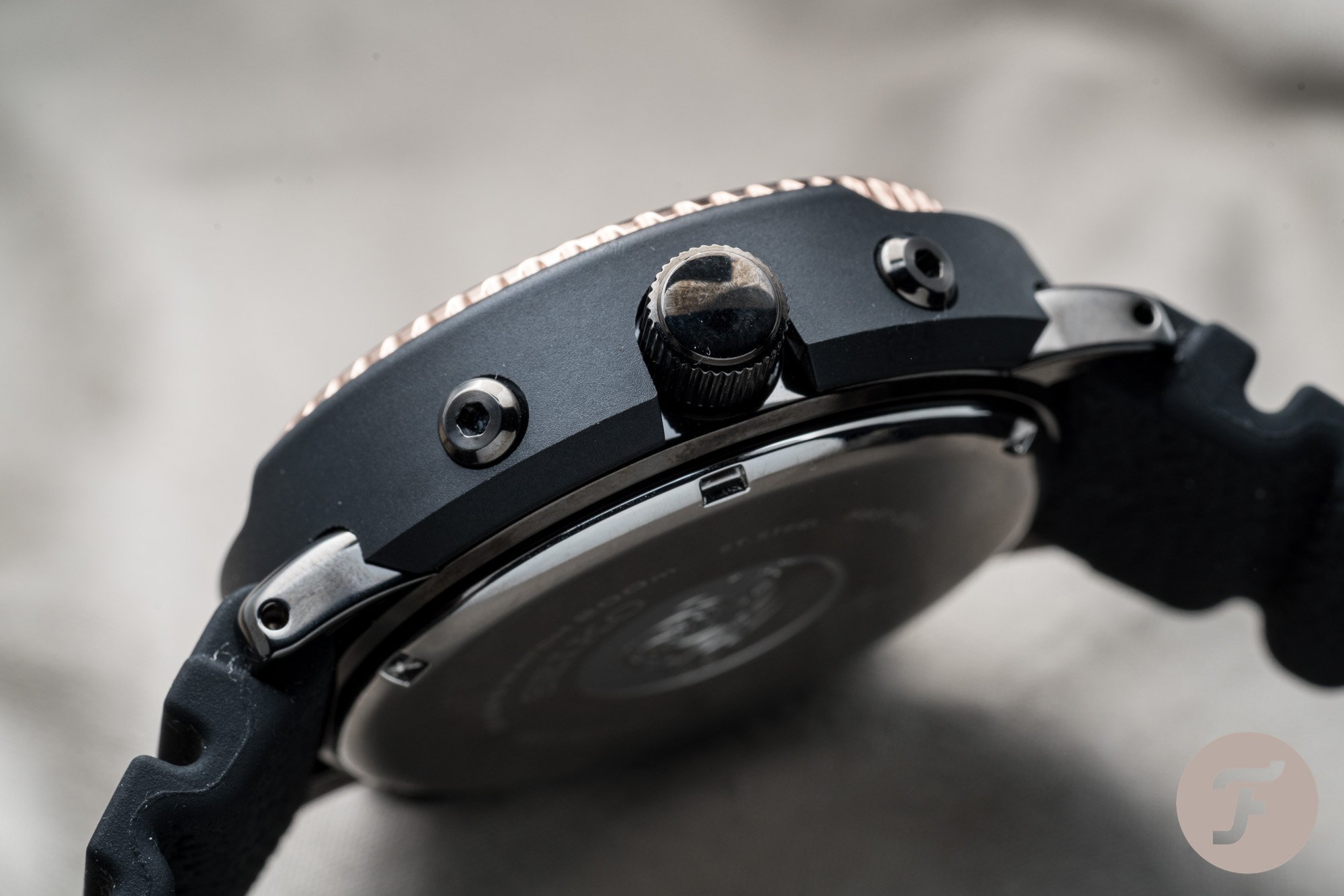 Solar vs Quartz
Perhaps the largest difference between the new Seiko SNJ025 Solar Arnie and the old H558 lies within the powertrain.  Whereas the older movement used a normal quartz, the newly revived model brings in Seiko's Solar technology.  The H851 movement, called the Duo-Display movement, contains a chronograph, alarm, calendar, and dual time.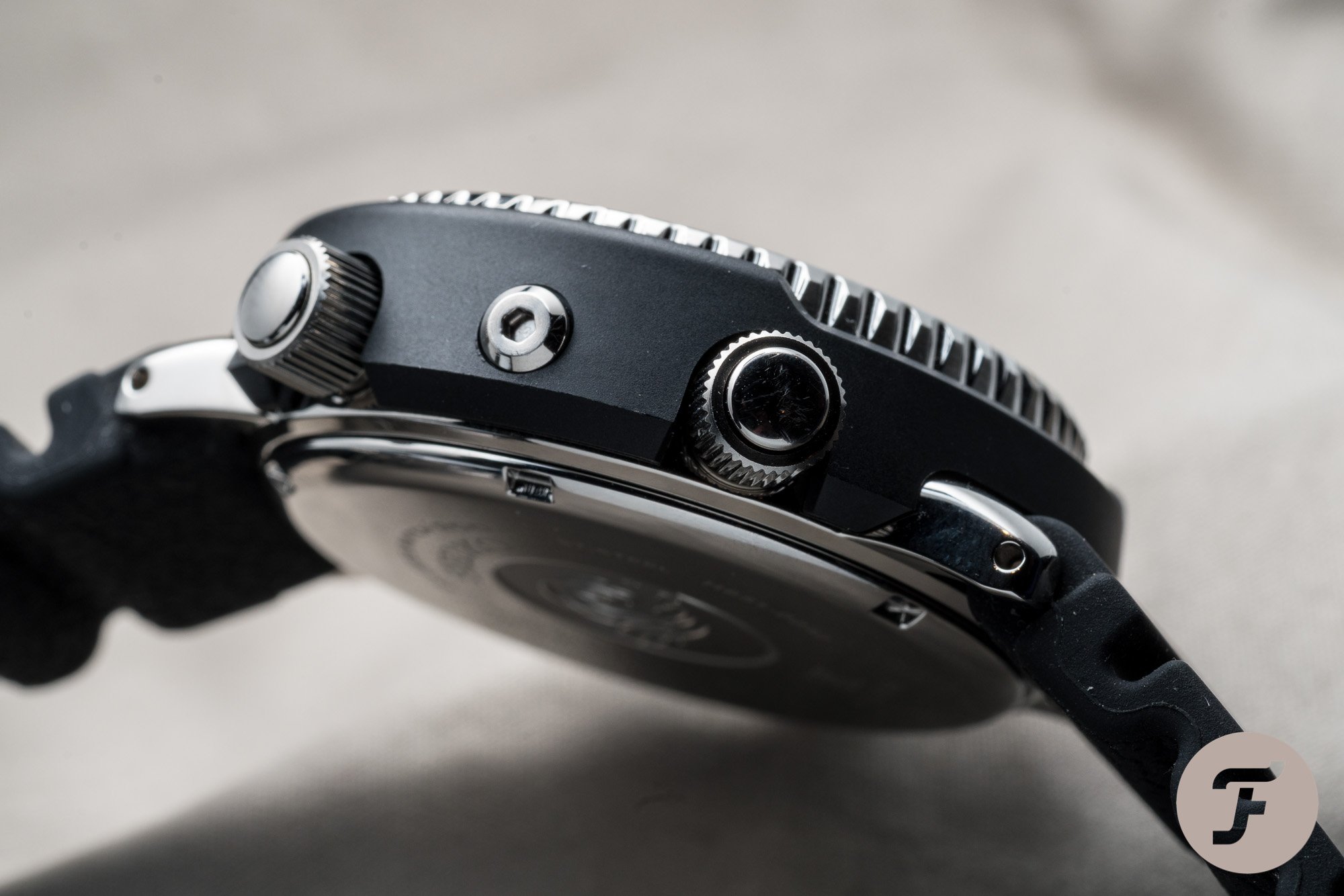 With only a couple buttons on the left side and a typical crown on the right, we're not quite sure how this one works yet as the pieces at Baselworld were non-functional models.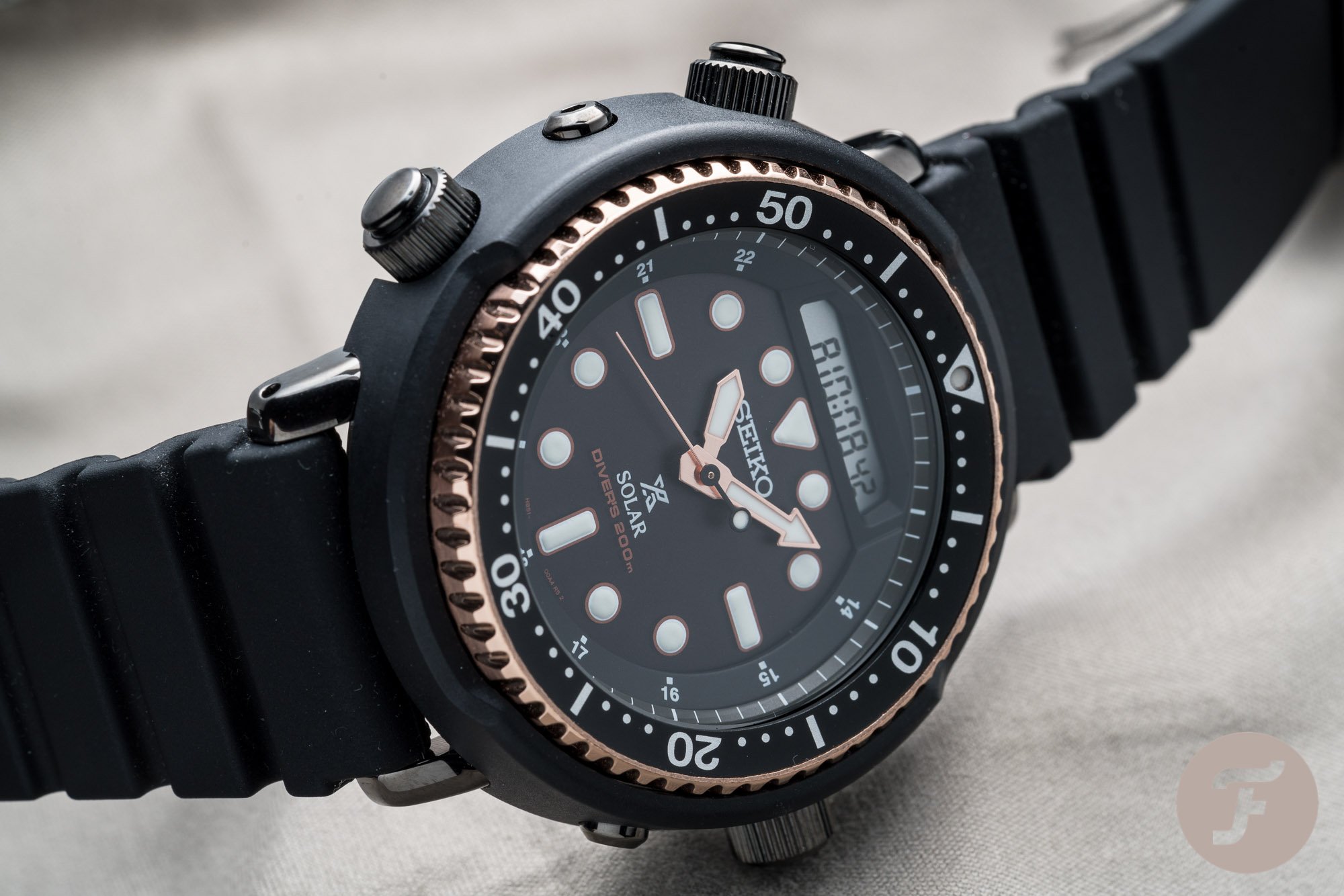 A Great Fit and Up by Less than 3mm in Diameter
Another key characteristic of the Seiko SNJ025 Solar Arnie is its size.  It grows to 47.8mm from an original 45mm and I'd guess that lug to lug is somewhere around 50mm.  The thickness of the shrouded diver was also well over the original's scant 11.3mm.  But – and you'll have to believe me on this, this thing wears beautifully.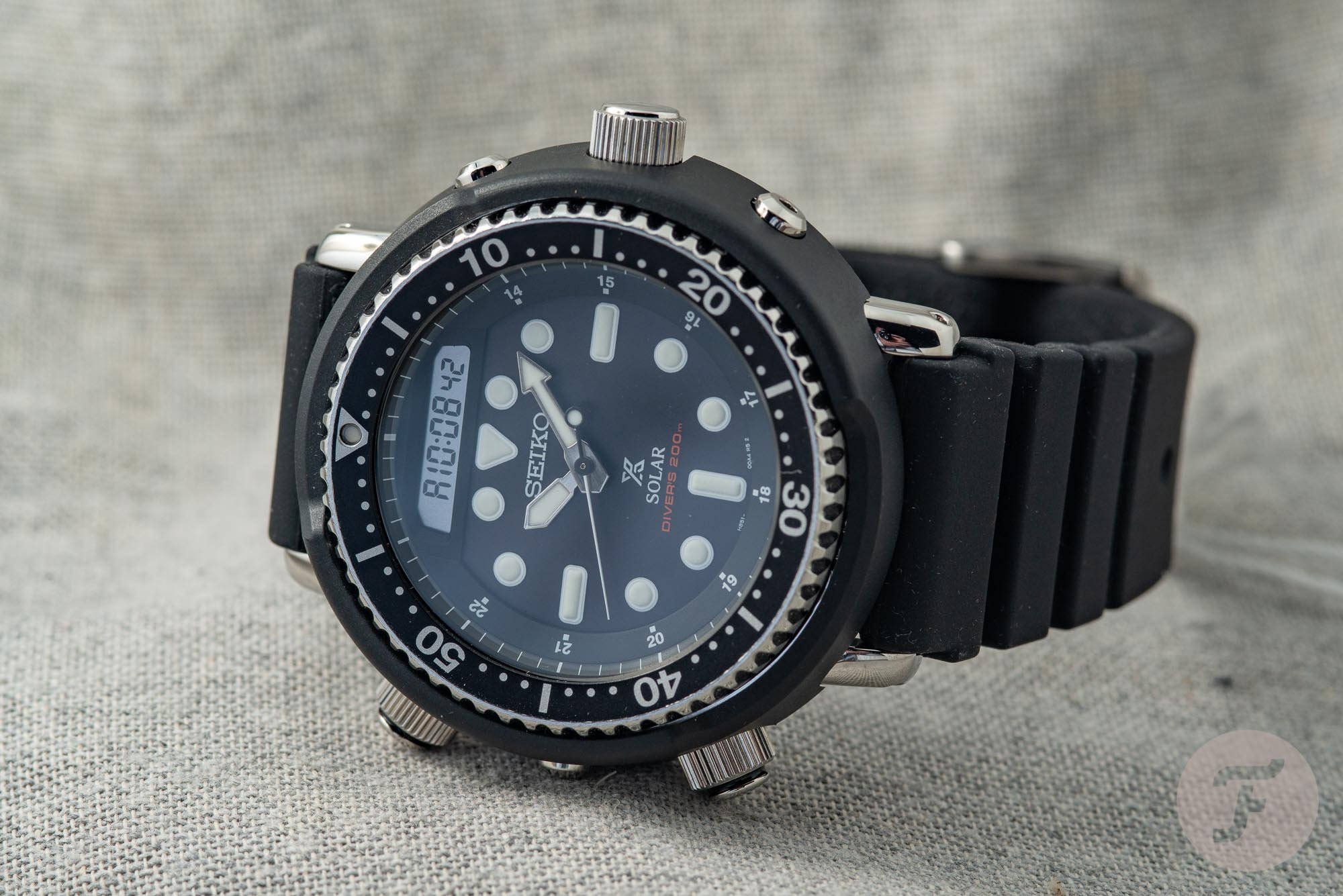 With a plastic shroud, steel case, and Hardlex crystal, the 200M Solar Arnie is fairly light and feels perfect on the wrist.  Consistent with all newer divers over the past couple years, the new Solar Arnie sports a silicone strap and, as you likely know, we're huge fans of these.  They're soft, require no break-in, and the only negative is that they're dust magnets.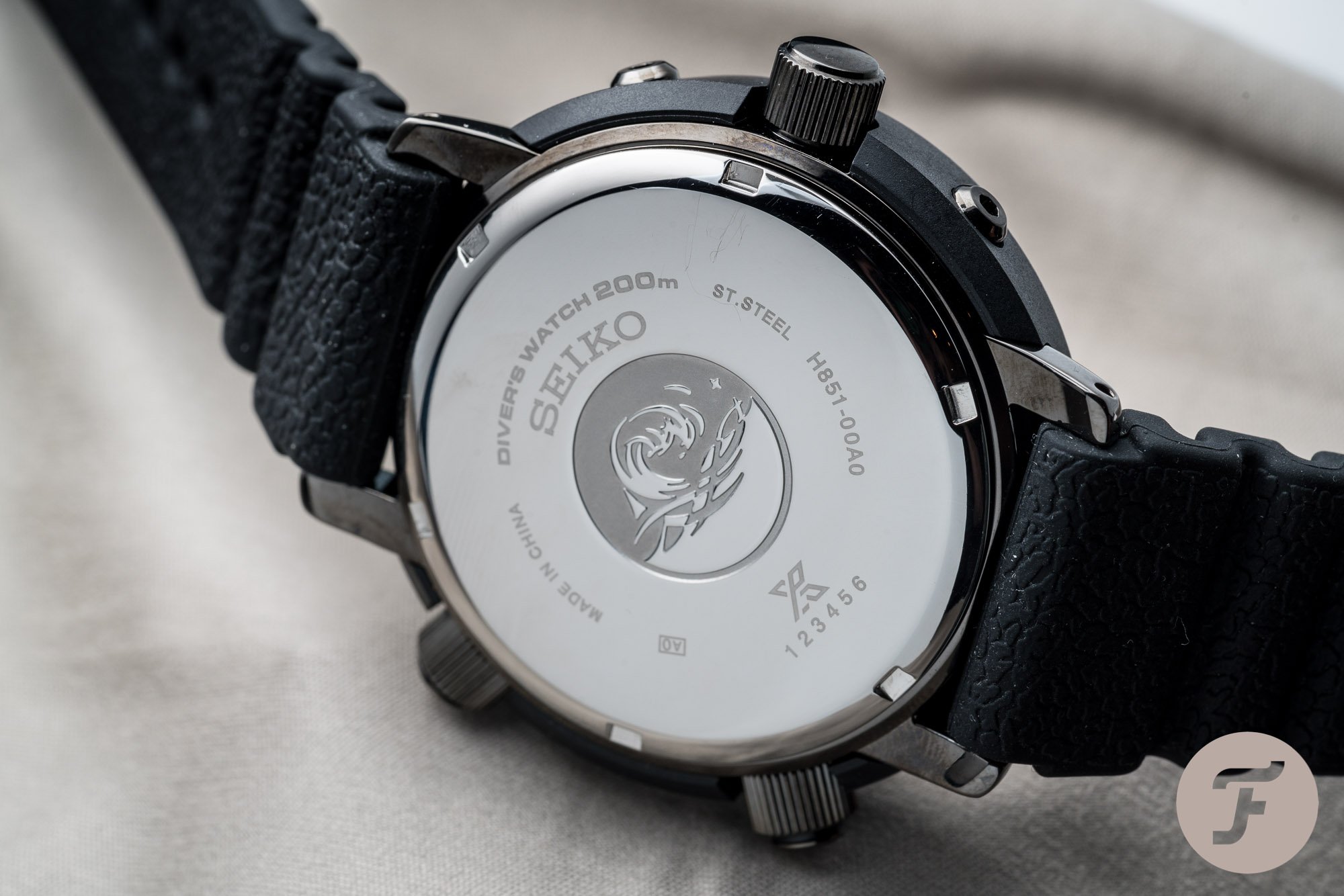 Oh, and let's not forget the signature tsunami case back that's thankfully here.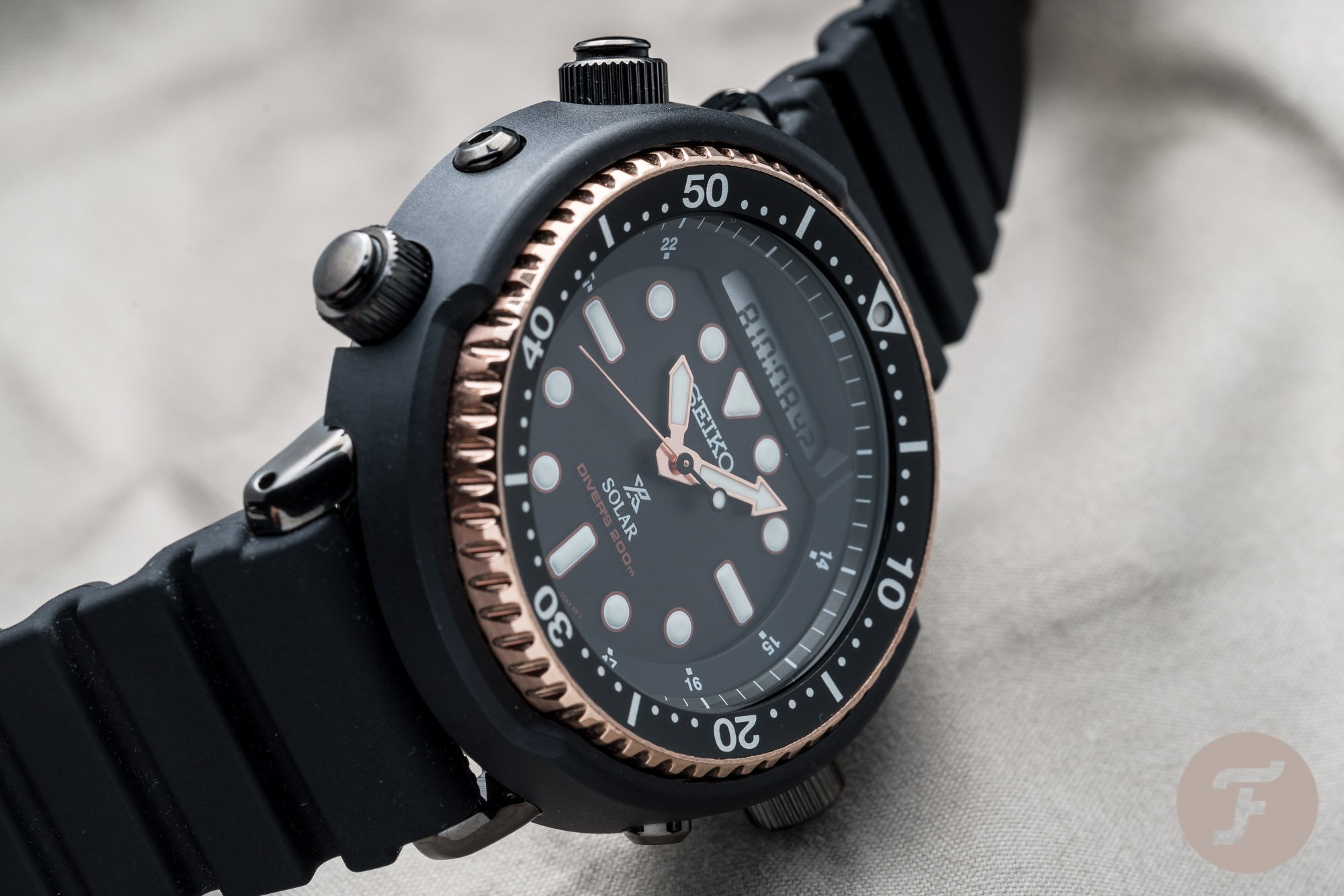 Iconic Dial Design Remains
You can see that the Seiko SNJ025 Solar Arnie checks all the right boxes in the looks department.  Except for the addition of the Prospex "X" and "Solar" below the center of the dial, this new piece would get busted for design infringement all day long if it were made by another brand.  It's that close to the original and that good.  From the inner bezel to the almost humorous little hands to the bezel font or red writing on the dial, it's a dead ringer for the original.  This, we think, is fantastic – now where's our orange dial re-edition?!  🙂 . One thing to note is that the original's odd depth meter on its inner ring has been replaced with a more useful 24-hour track.  It's not a bad addition for those of us who lose track of day and night whilst battling an alien in the jungle!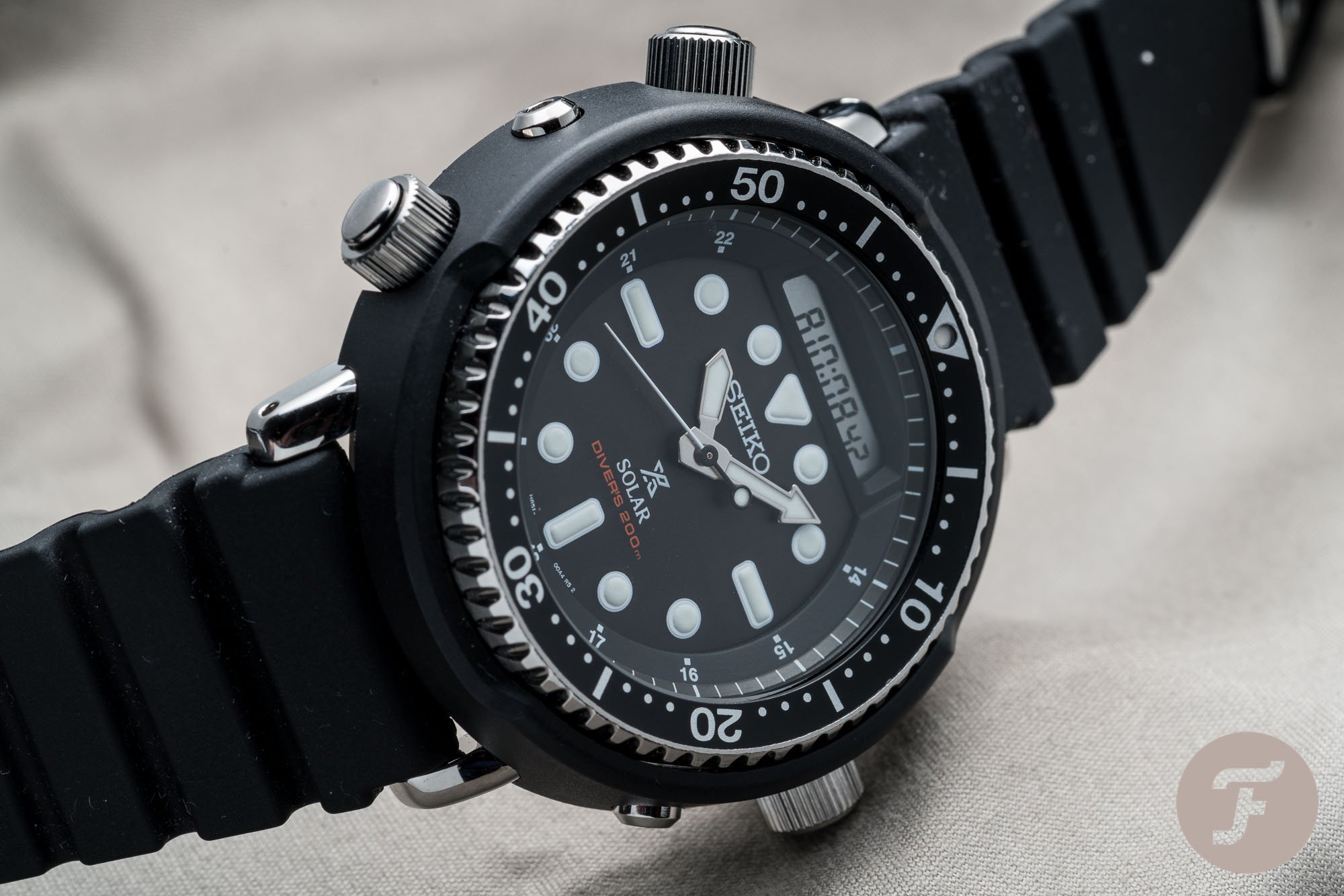 Affordable at Roughly $500
We were told that the new Seiko SNJ025 Solar Arnie will be available in the August/September timeframe.  Pricing is a very approachable price of around 470 Euros in Europe and $520 in the land of the red, white and blue.  That strikes me as decent value on a watch, that if bought in vintage form, is now too expensive (prices are nearly double the new ones) fragile to use daily unless the failure-prone original shroud is replaced.  And, I think the styling is timeless enough to not look retro at all.  Now, Seiko only needs to get these watches out before the end of pool and beach season.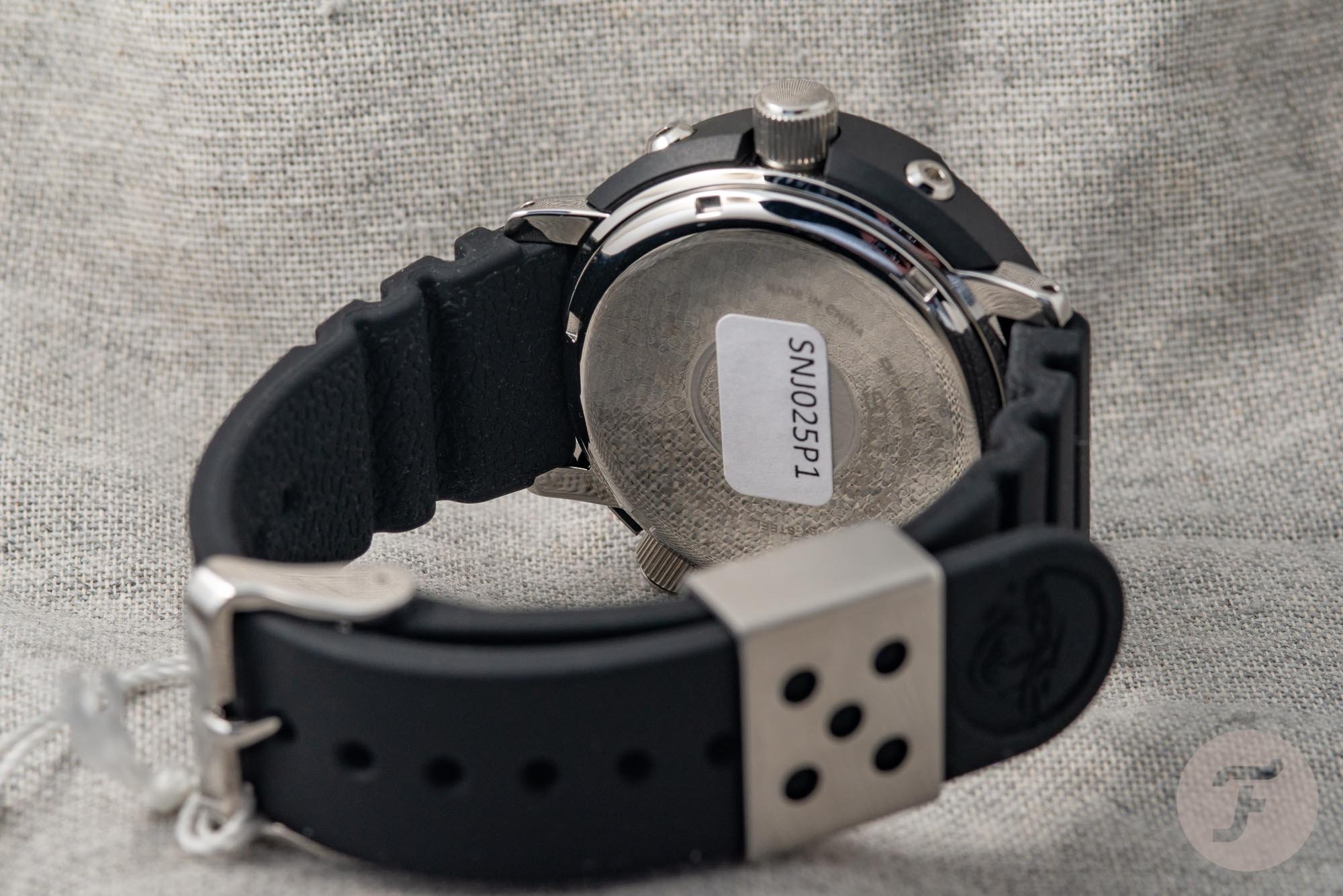 Unfortunately, no information on the Seiko SNJ025 Solar Arnie exists on the official site yet, but keep checking!
Watch specifications
Model
SNJ025 Solar "Arnie"
Case Material
Steel, black coated. Several versions will be available, see text.
Case Dimensions
Diameter: 47.8mm, Thickness: 11.3mm
Movement
Caliber H851, "Duo-Display" movement. Solar powered. See Functions.
Water Resistance
200 Meters
Functions
Time, chronograph, alarm, calendar, and dual time.