Boxing Day: A Longer Look at the Seiko 5 Sports
The Newest Seiko 5's place in Seiko History
Happy Boxing Day! We take another look at the Seiko 5 Sports and give some opinion on where it fits within Seiko's diver lineage.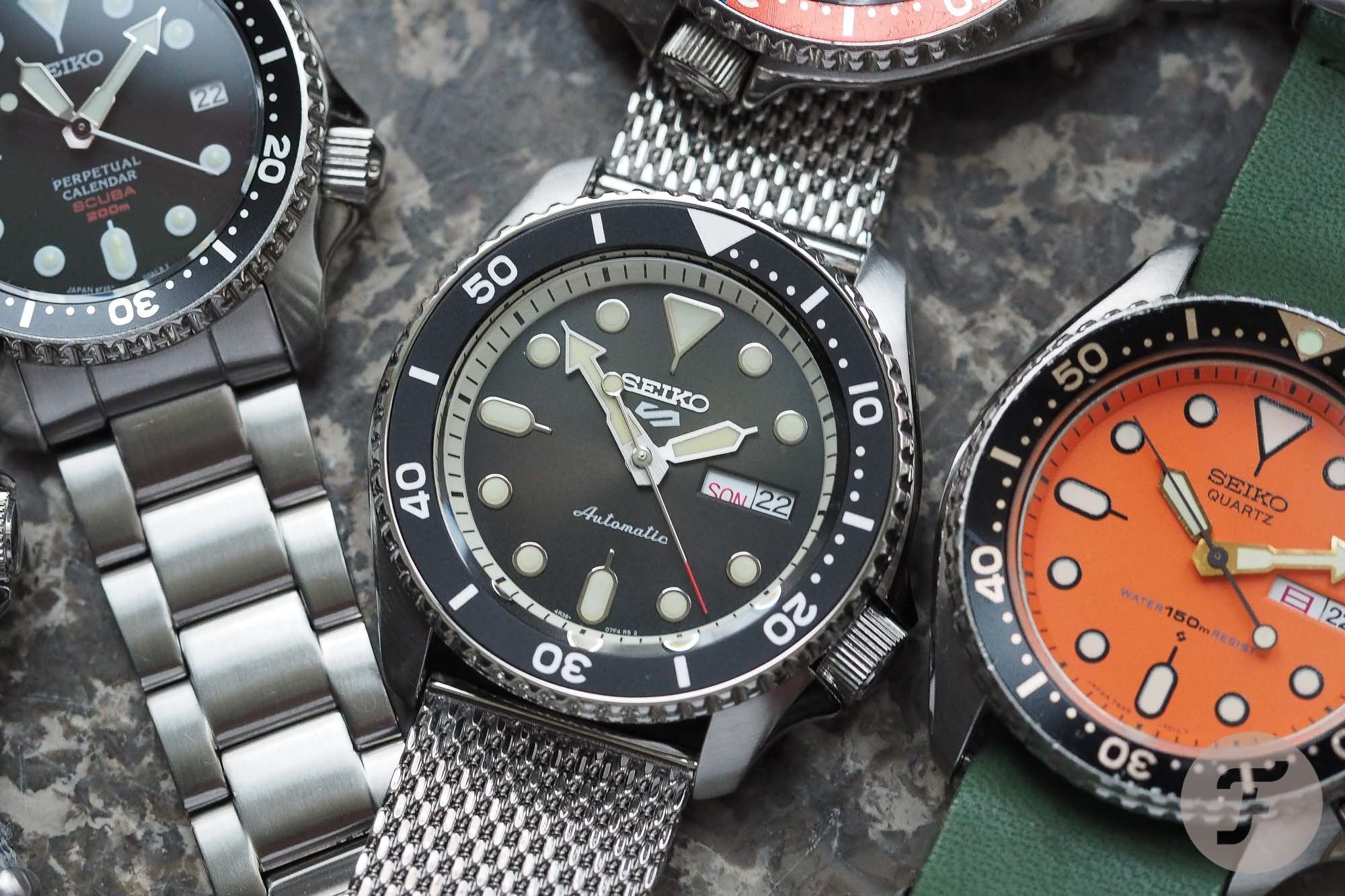 I was admittedly pretty tough on the Seiko 5 Sports line when it debuted this Summer.  I was sitting poolside in Cyprus when the news hit and I decided to pen an article while I sat next to that very same pool.  With 27 different models, it all at once felt like a real chance to satisfy the "modders" out there who love to doctor their Seiko's, but at the same time seemed like a move towards taking on competition from the fashion watch set.  After all, the watches look like real divers, but they lack a screw-down crown and come in with less water resistance (100 meters) than its 200 meter SKX lookalike predecessor.
Thanks to the Seiko Frankfurt Boutique
And therein lies a bit of an argument amongst the Seikophiles – that the Seiko 5 Sports is not, in fact, the successor to the fabled SKX007 diver.  Some say it is and some contend it isn't, but perhaps it really doesn't matter.  Courtesy of the friendly folks at the Seiko Frankfurt Boutique, I've now had the opportunity to wear one of these new pieces day in and day out for over a month and I'm pleased to say that the new watch is actually what it should be – and that's a damn good watch.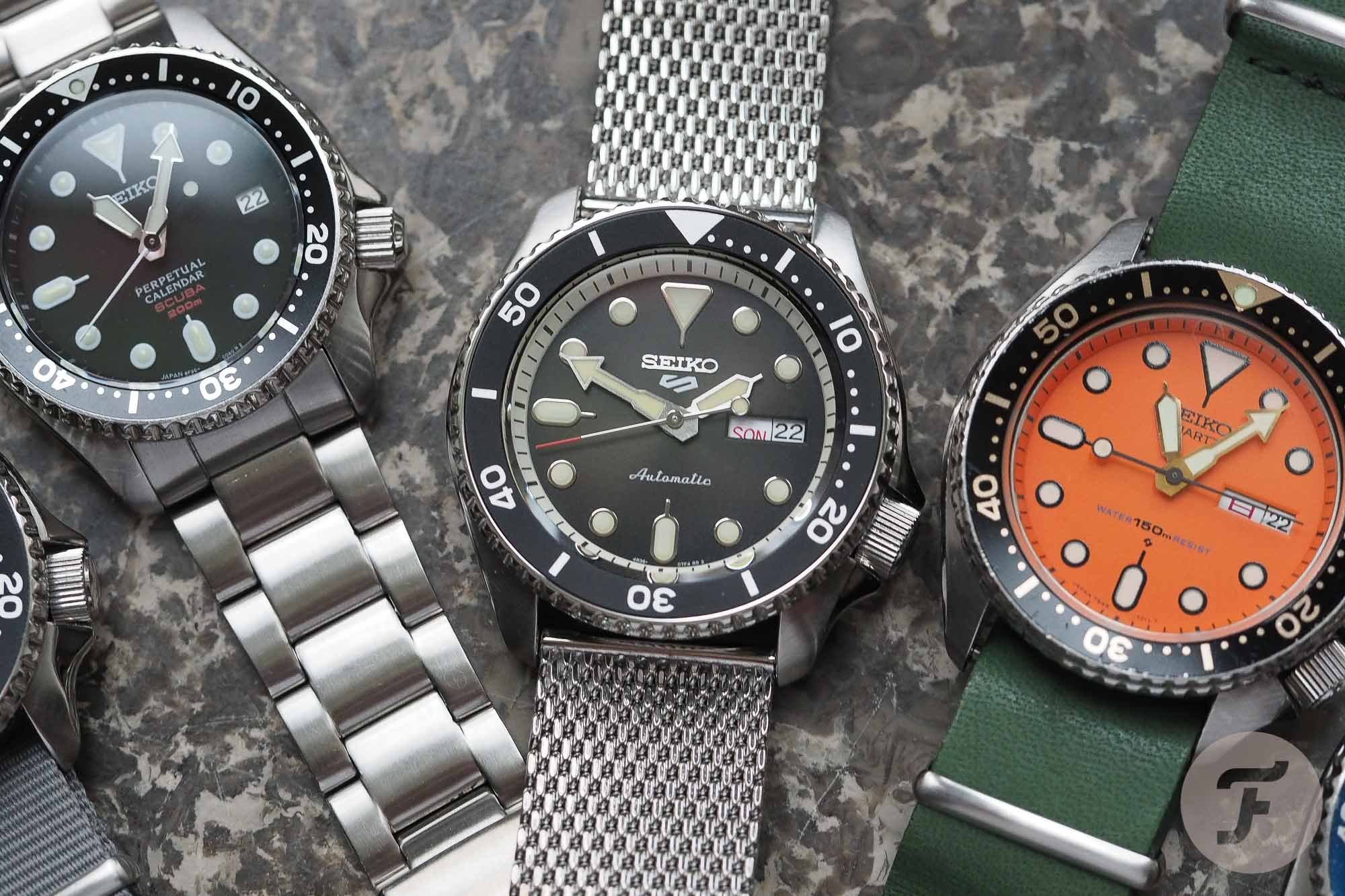 A Mesh Bracelet – A First for Me on a Seiko
I had the opportunity to choose amongst a handful of the new Seiko 5 Sports pieces and ended up with the SRPD73K1 reference you see here.  I wanted to try it due to the use of a 22mm mesh bracelet – a first for me with any type of Seiko – and the white inner bezel.  In talking to the team at the boutique, they informed me that the watches have been consistent sellers since their release with several selling per day on average.  In my opinion, that's good news because at a retail price of 269 – 329 Euros depending on the model chosen, it's a real "gateway drug" that increases foot traffic in the boutiques.  Once inside, it's impossible not to notice the other niceties from the Prospex collection all the way up to Grand Seiko.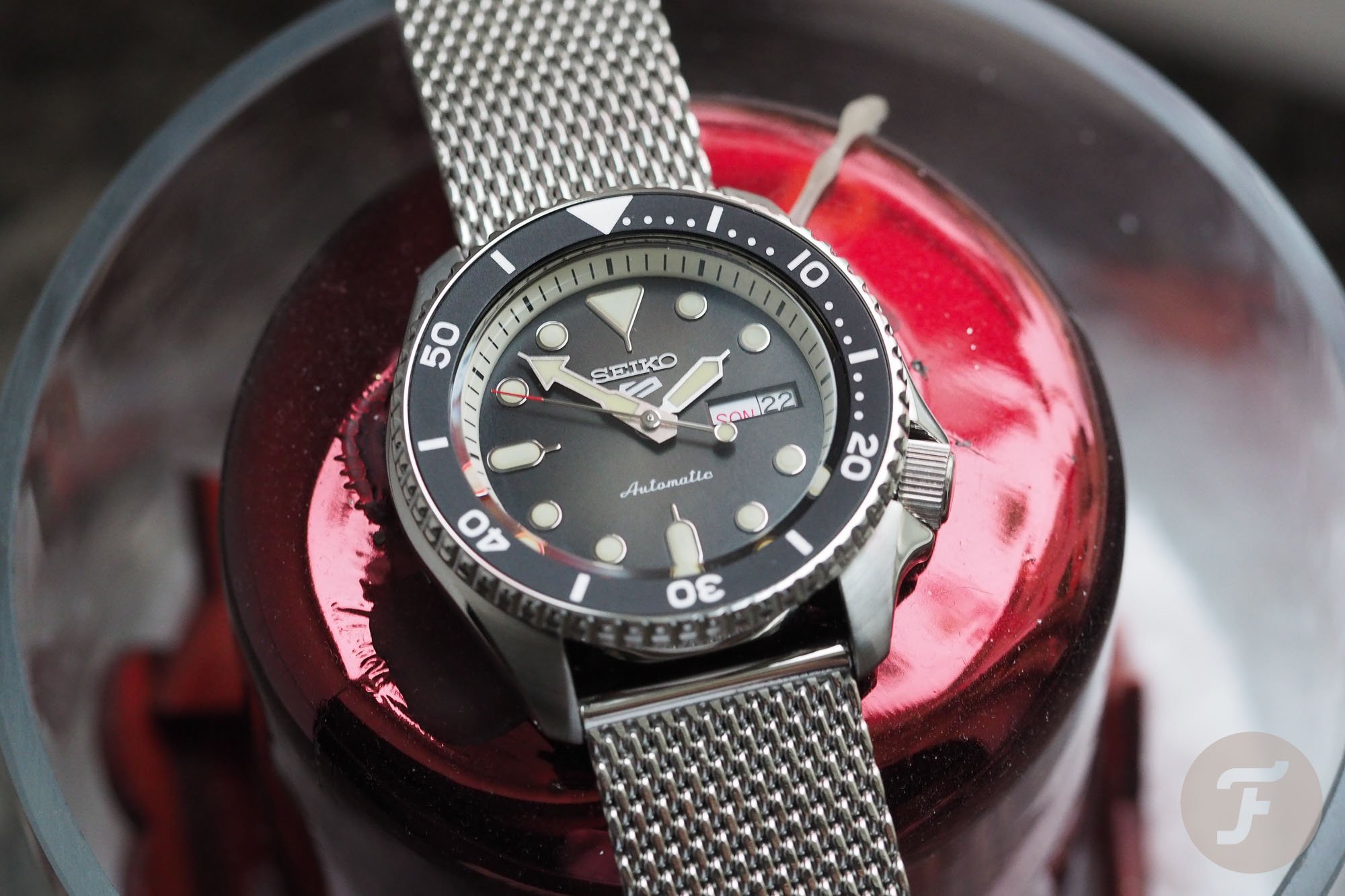 Hard to choose amongst so many variants!
But returning to my selection of this particular Seiko 5 Sports, I was a bit torn and almost went in the direction of the green, SRPD61K1…it's a real looker in the flesh.  I took a look at several of the other models in the non-demo area and it is rather amazing to see the sheer variety that's now available.  I asked which models are most popular and to my surprise it's the black-cased models with corresponding dark dials; the boutique was even sold out of a couple of the references.  So yes, these watches are pretty hot, but how has the watch been so far and how does it rank amongst some very similar looking historic pieces?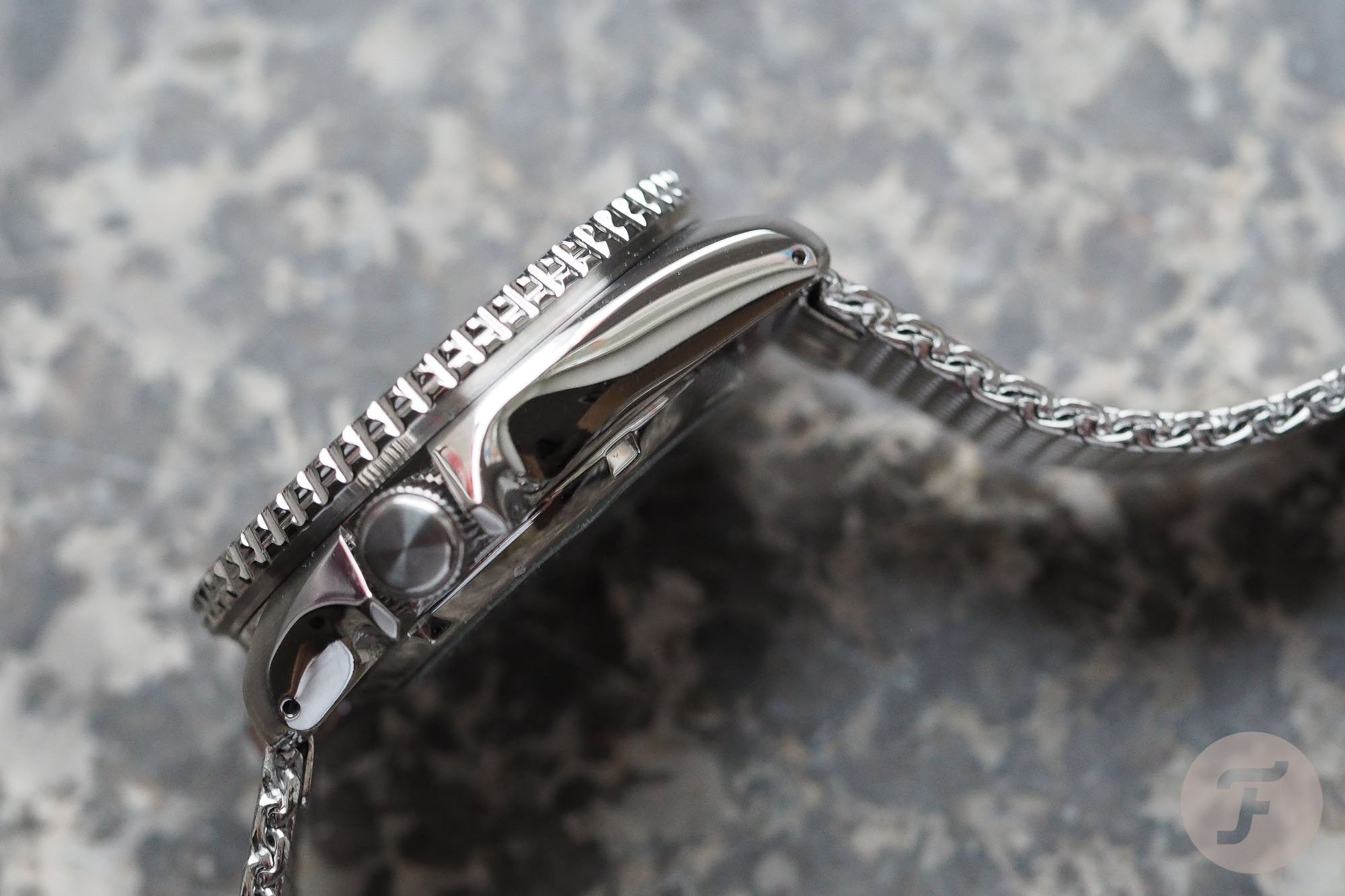 Familiar 42.5mm Case, 13.4mm Thick – 100 Meters of WR
The Seiko 5 Sports collection features stainless watches that come in at a diameter of 42.5mm, are 46mm lug to lug, and are 13.4mm thick.  Those dimensions should feel very familiar to owners of the SKX007 as most measurements are within spitting distance.  And while the watch does trade away some specifications from the SKX such as the aforementioned crown, the extra 100 meters of water resistance and a lumed pip on the uni-directional bezel at 12:00, it's objectively a far better, more modern watch that we're dealing with here.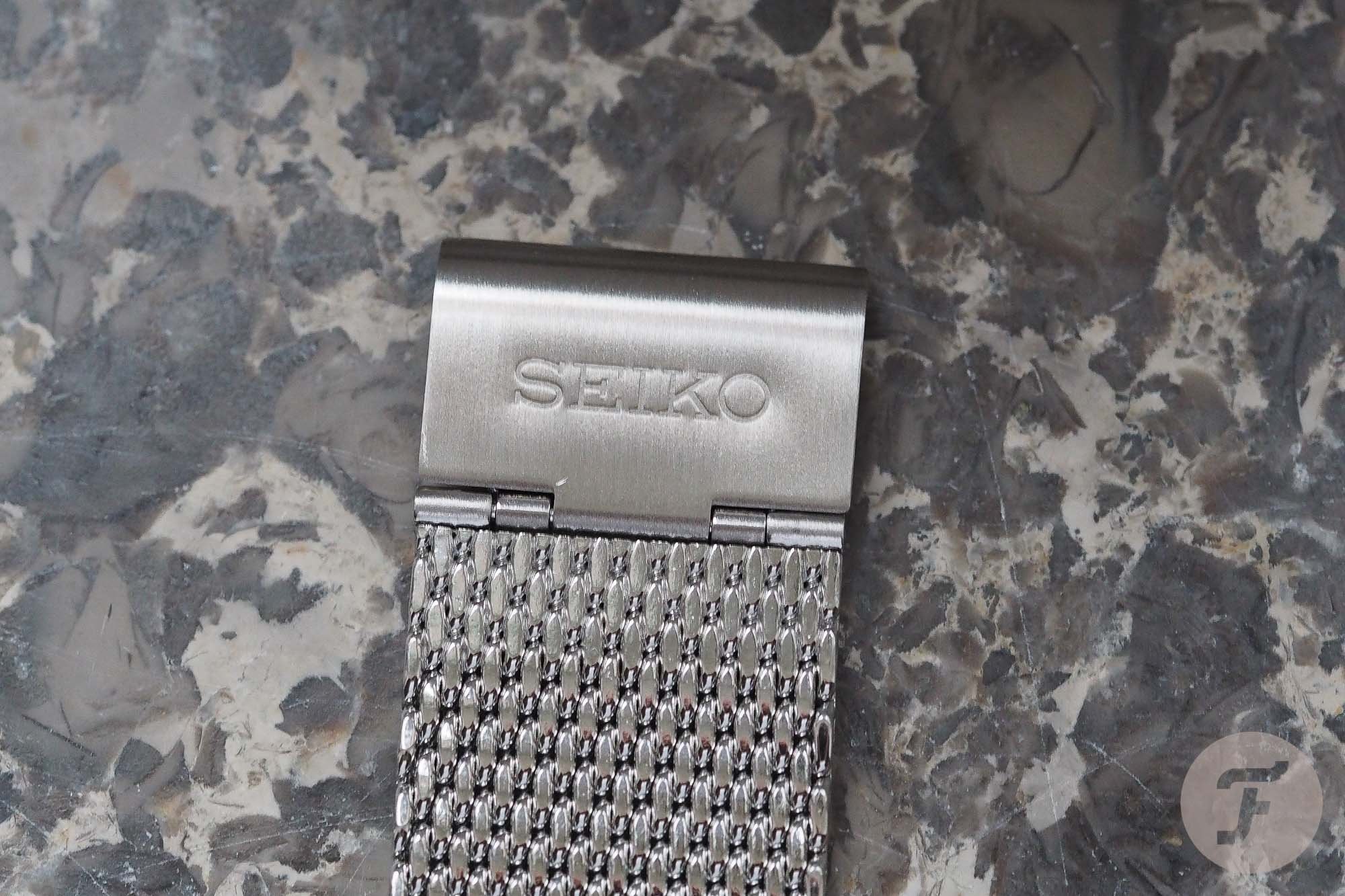 A More Modern Timepiece than the Legendary SKX007
For all the love and affection the SKX007 receives, we're really talking about a bit of an anachronistic piece.  For sure, the SKX works well, looks good and does a good job of keeping water out from its innards.  On the other hand, it's an old watch that doesn't hack, doesn't always keep time particularly well, and can't be handwound.  Again, it's a fun old thing, but it was time for something different.  Whether or not the Seiko 5 Sports line is that "difference" is ultimately up to you, but in almost every respect, this is an improvement.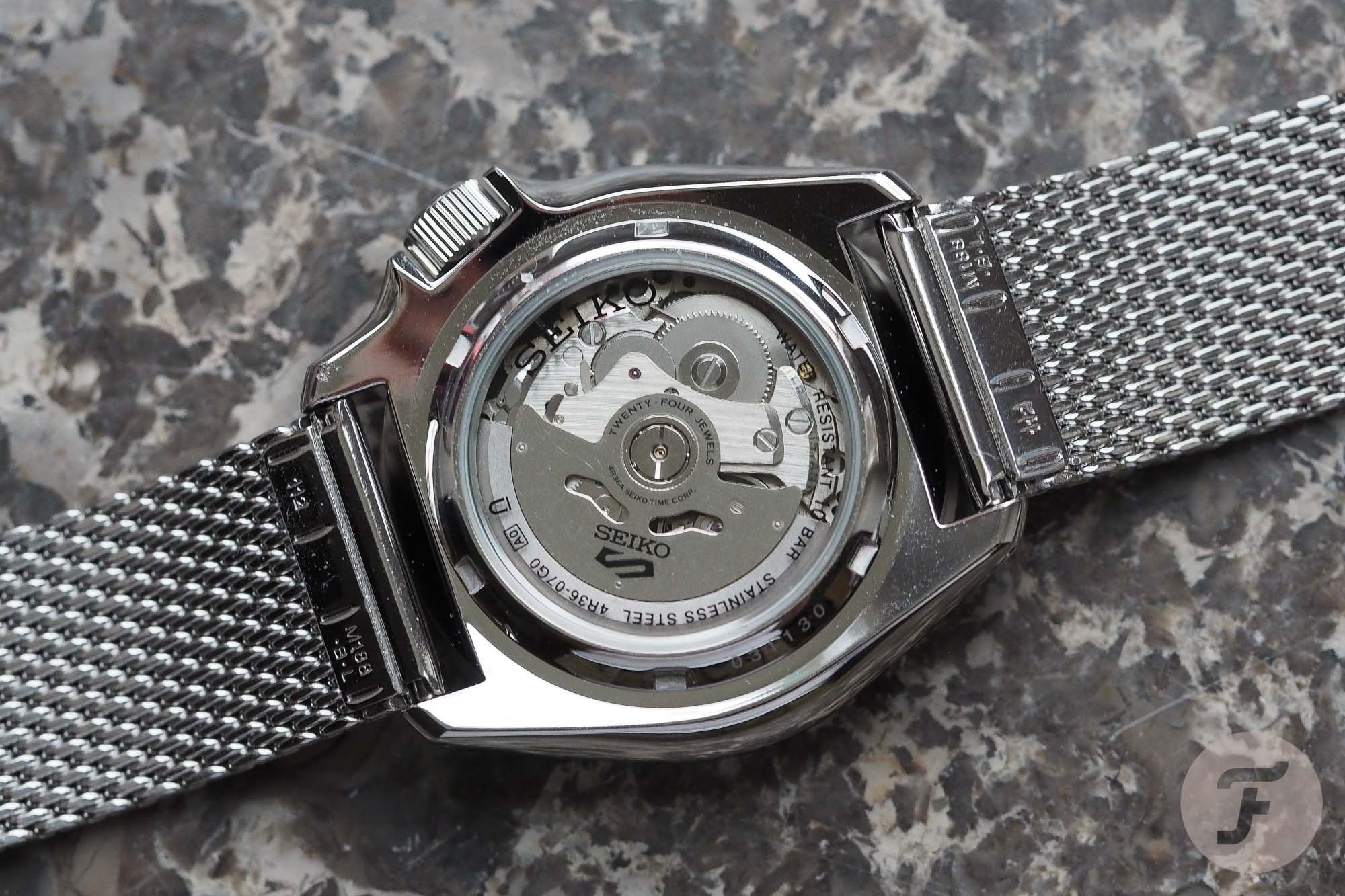 The 4R36 is a Satisfying Movement – And You Can Wind It
The Seiko 5 Sports does receive a similar case and dial style as the old SKX007, but there are some enhancements.  The case has better finishing on the whole and it receives drilled through lugs for easier strap changes: something Seiko wearers are wont to do.  The dial itself is a marked improvement as well.  The lume is seriously bright, but those indexes are no longer painted onto the dial.  I doubt they're truly applied, but they at least give off a classy appearance.  And then there's the 4R36 movement.  It's basically Seiko's workhorse automatic that has 25 jewels, 41 hours of power reserve, hacks and can be hand wound.  Accuracy wise, it's not anything to write home about (-35/+45 seconds per day), but it's nice to be able to wind and hack; it's simply a more competitive movement with those features.  You can also see it through the windowed, screw-down case back.  That probably means little to readers here on Fratello, but I have to imagine that it's a major selling point for first time mechanical watch buyers and it's just another feature for prospective buyers.  It's finished to a utilitarian level, but it's clean looking.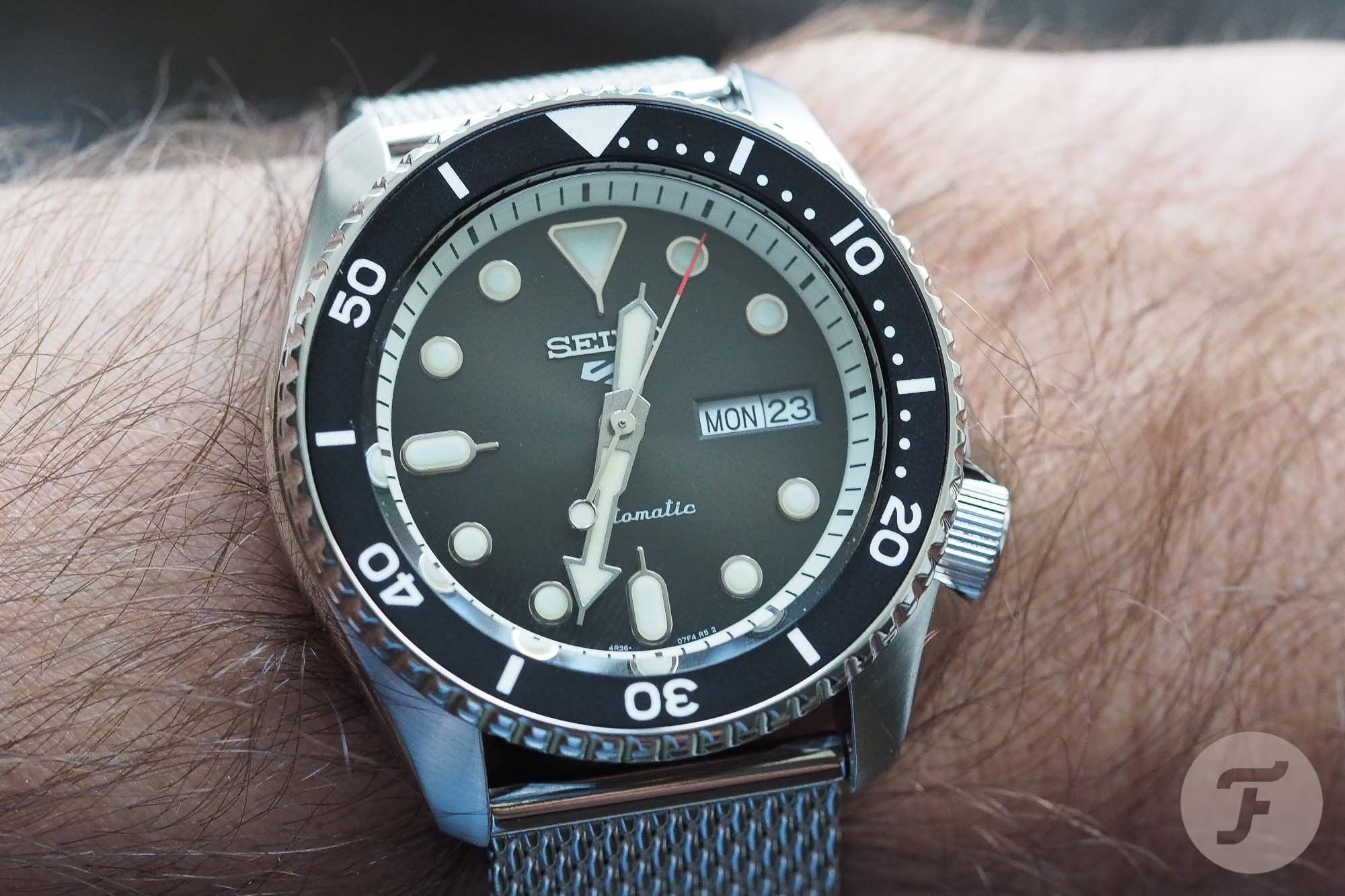 But I think the best thing about the new Seiko 5 Sports line are the fact that buyers aren't limited to just 2 or 3 different colorways.  I definitely don't like all 27 variants on offer (there are even more if you head to Japan in support of some Manga characters), but I like a lot of them.  The pieces in bold colors like green, blue and orange look fantastic in the metal.  And then there's the fact that Seiko shook up its strap and bracelet game with loads of different choices (ok, the choices are tethered to the watch you choose…you cannot mix and match at will).  Most are good too.  The mesh bracelet I chose is nothing special.  In fact, it's identical to a lot of 3rd party mesh aside from the addition of a stamped Seiko name on the flip clasp, but it's a cool choice from a brand that's been historically slow to move towards fun options.  Plus, the bracelet is almost infinitely adjustable, so it works well on my small wrist.  And then there's that dial.  Many people complained about the Superman-like "5" logo, but I think it's cool and I even like it more than the Prospex "X".  It's less invasive and flows pretty well.  I actually find more fault with the script "Automatic".  I would've chosen "100 Meters" in red or something like that.  The dial is a major step up with its radiating finish and it stands out well against a contrasting white inner chapter ring.  Yes, it's a sharp watch and ditto that for a lot of the color choices.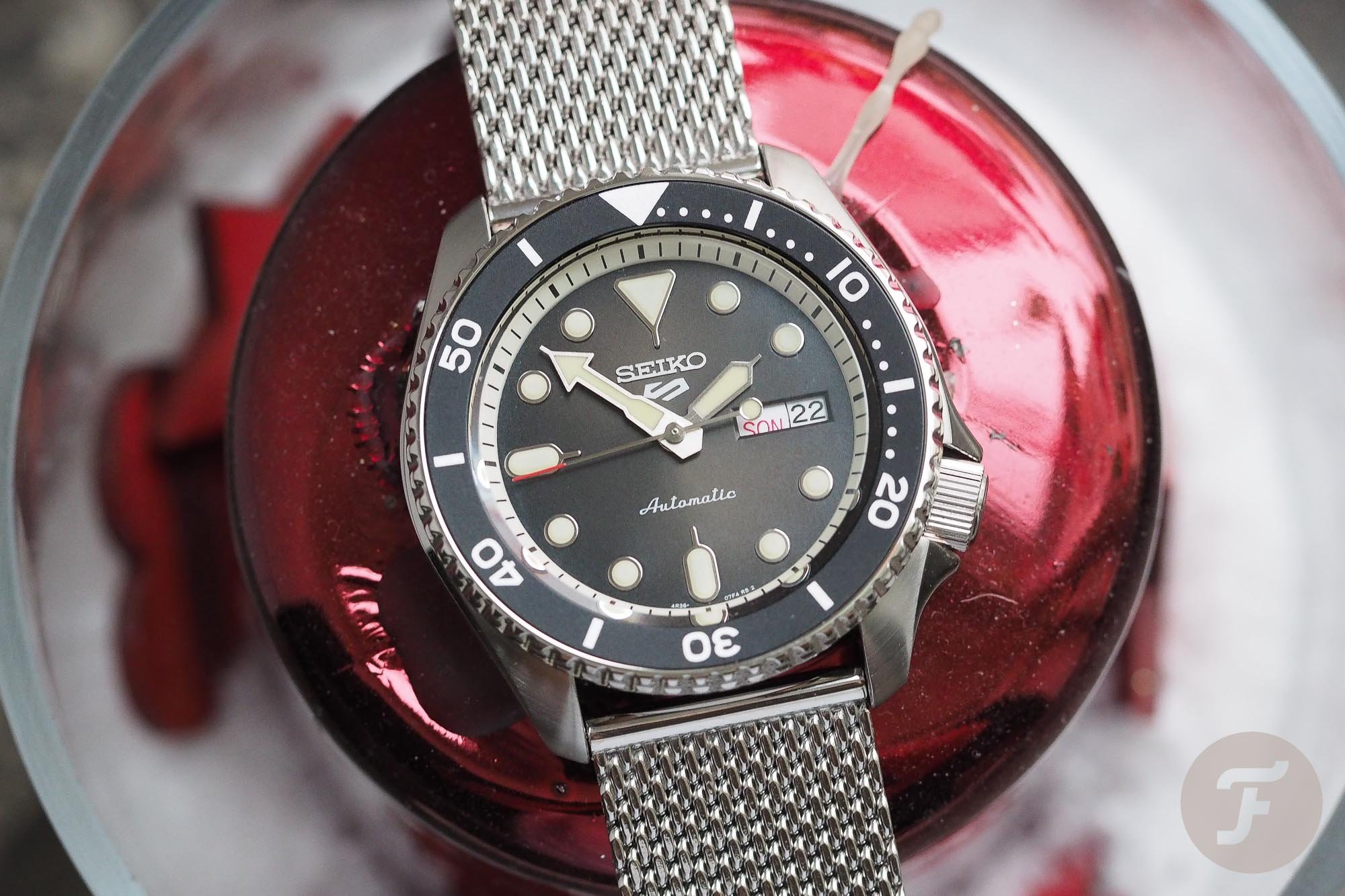 Hard to Argue with 269 – 329 Euro Pricing
For 269 – 329 Euros, there's little out there on the market that can compete with the build quality and reliability found on these Seiko 5 Sports watches.  Gerard and RJ did a nice video review of these pieces and Gerard even wore one during diving without issue.  We have to remember that a screw-down crown is a really nice add (as is a lumed pip), but they're not the end of the world.  Watches like the second-gen DOXA SUB 300 had a push/pull crown and I snorkeled/shallow dove with a Swatch up until the age of 18 without problems.  Are they professional dive watches?  No, but most of us aren't professional divers or even divers for that matter; we're just looking for something functional and aesthetically pleasing that meets our daily needs.  I think these pieces fit the bill well and I'm pleased that we have so many different variants.  If you're looking for a great gift or something fun for yourself, make your way to the nearest Seiko boutique or check out the Seiko 5 official site.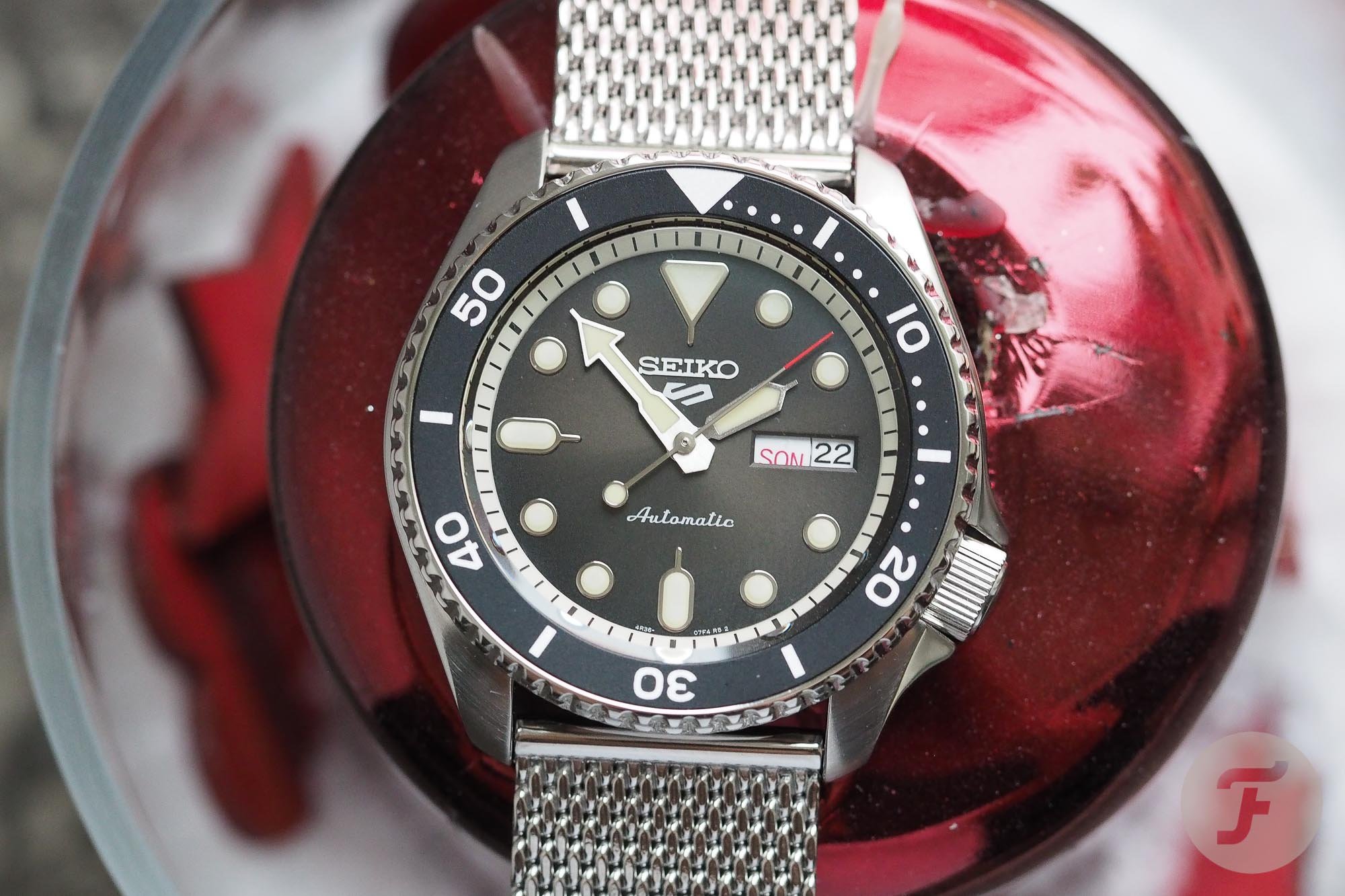 Seiko History – Some Similarly Shaped Pieces
But wait, there's more…  I own several similarly-cased watches as the new Seiko 5 Sports and thought this would be the perfect place to give a little rundown on them.  Then, you can decide how this newest piece fits within Seiko's heritage.  Now, before you remind me that I am missing some models, I did not include any of the mid-sized divers or a so-called 6309 "slim case".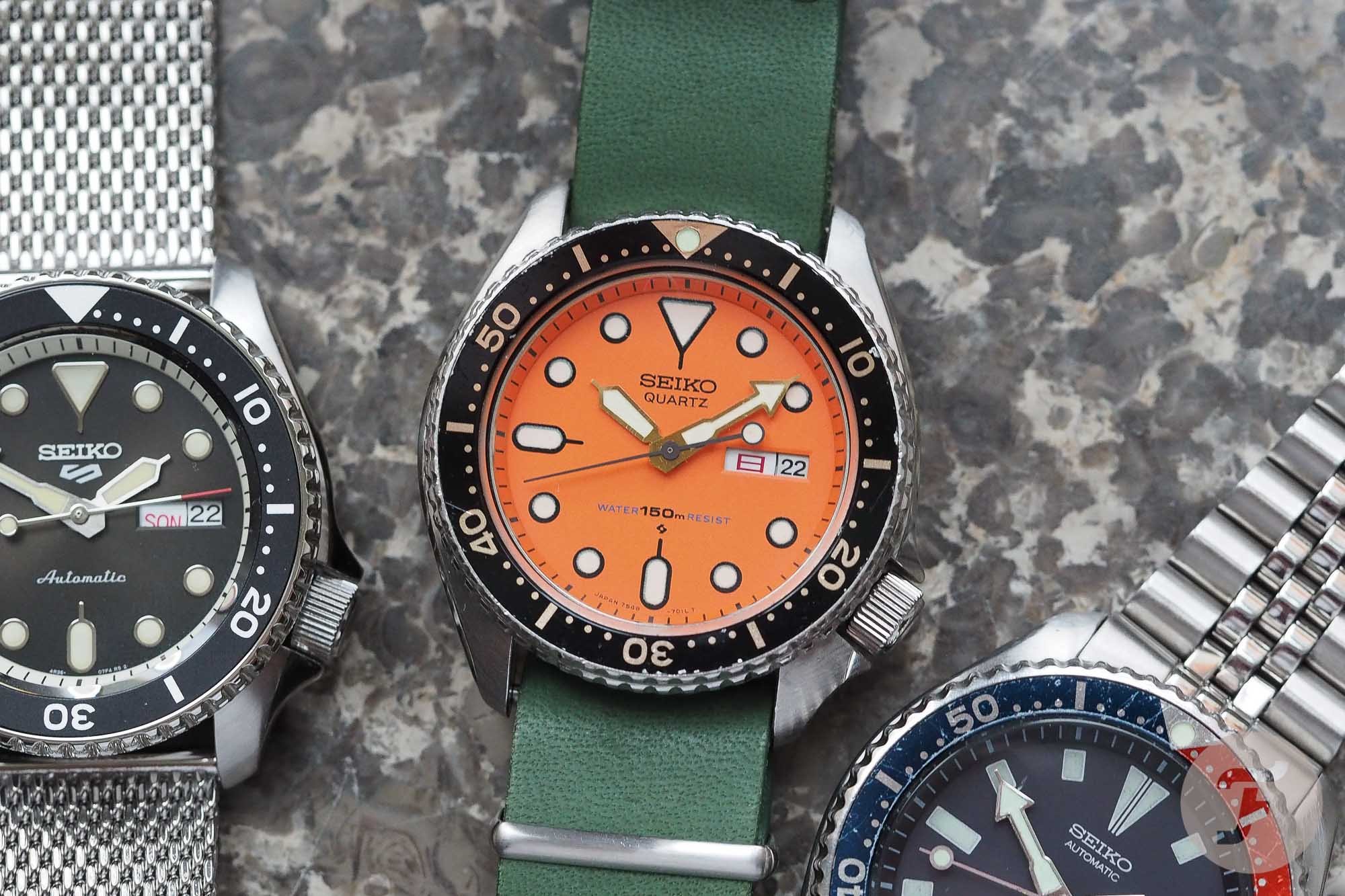 Seiko 7548
It's hard to believe, but over 40 years before the debut of the Seiko 5 Sports divers we reviewed today, Seiko revealed its first dive watch with this legendary case shape.  Oh, and they did it with a quartz watch!  The 7548 debuted in 1978 and ran until 1985 when it was essentially replaced by the 7C43-7010.  This is a bulletproof watch and it's become – here's a cliche – a real "grab and go" piece.  Figure on spending $250 – thousands depending on the version you buy (the rare teal green variant is the truly expensive one – everything else comes down to condition).  The other thing is that this was one of the last dive watches created by the brand in the 70's (here's our article on the 7548 and everything before) and for some, that marks the end of a golden era.  In my opinion, it was only the beginning!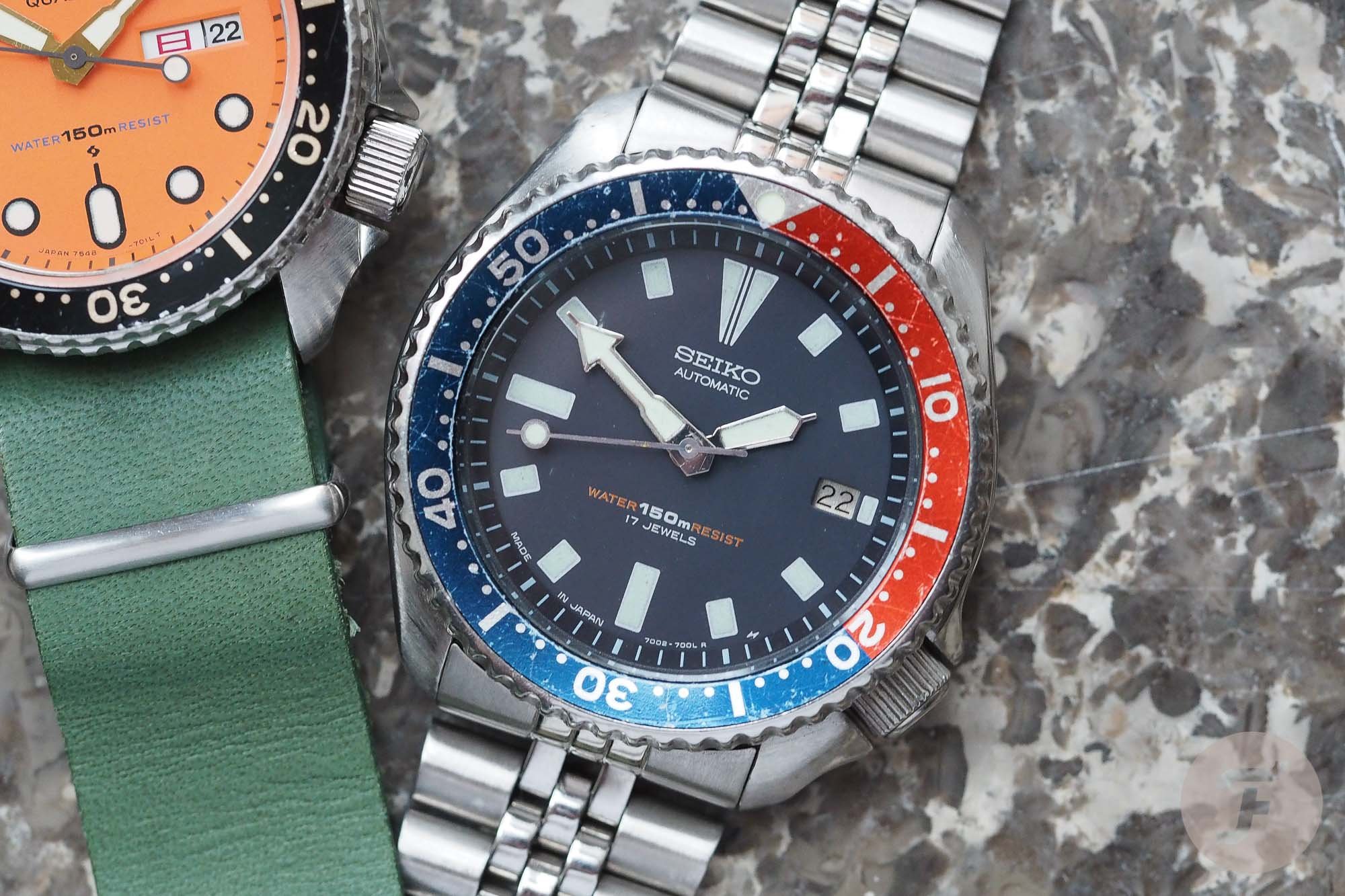 Seiko 7002
From 1988 to 1996, Seiko produced the 7002 series of divers using the same case we now see on the new Seiko 5 Sports watches.  It was different than all that came before and after it, though, because it only contains the date window.  Some collectors like this simplicity along with the slightly different dial indexes that are a bit more stark.  The 7002 has been incredibly popular with modders and that makes finding an unmolested piece far harder than one would think for a watch that was originally made in such quantities.  Of all the watches with this case shape, the 7002 is probably my favorite; you can read more on one here.  Figure on $150 – 300 depending on condition and the model chosen.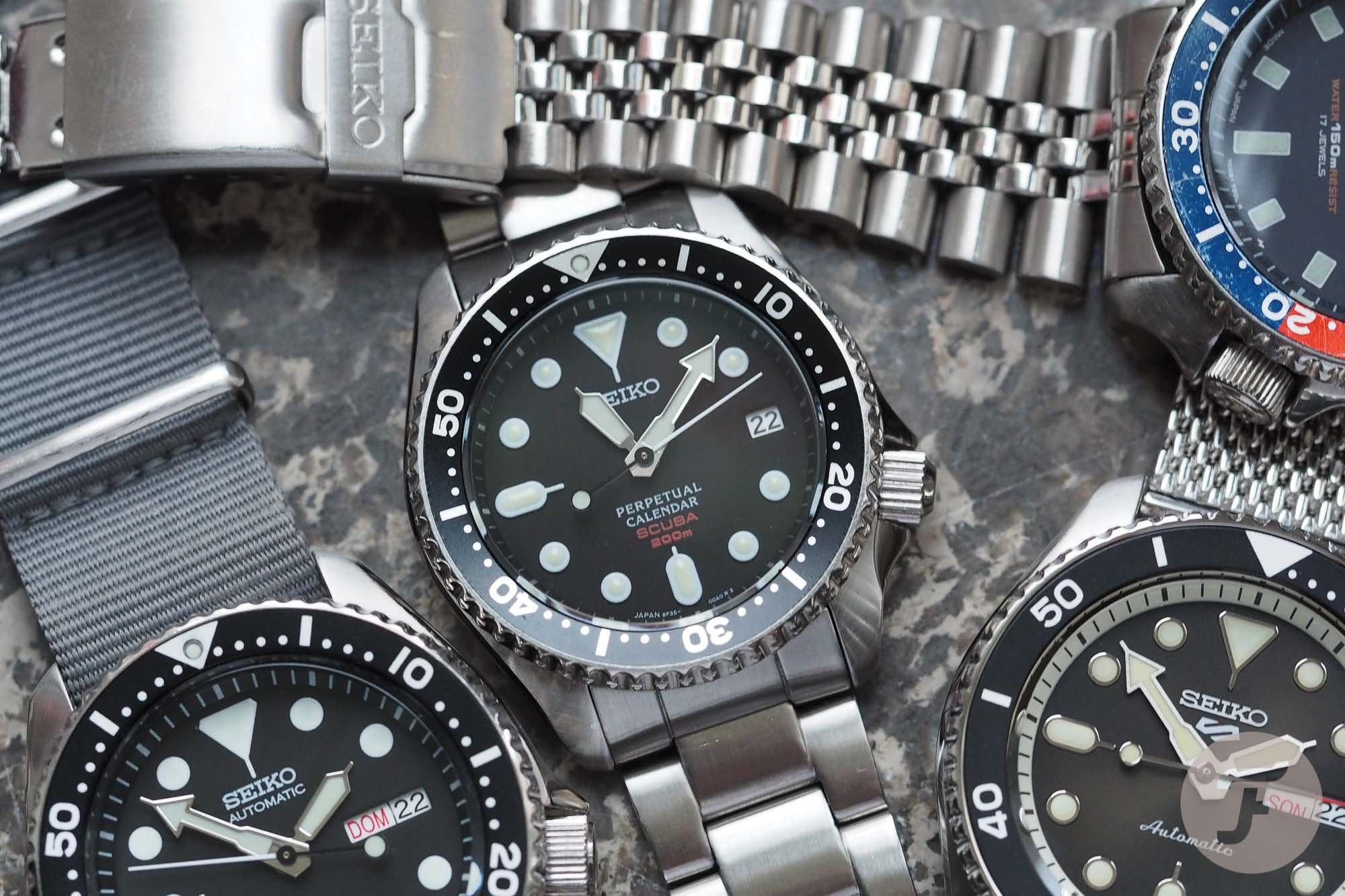 Seiko SBCM023 Perpetual Calendar
Here's an oddity in the bunch of everyman's automatic or quartz pieces using the case shape.  The SBCM023 was produced from roughly 2003 until 2010 and used a 39mm stainless case.  It uses the perpetual calendar 8F35 quartz movement that varies by +/- 20 seconds per year!  Even more than that, the watch uses a lithium battery with 8-10 years of life.  I find the SBCM023 to be an extremely understated technical powerhouse.  Relatively expensive when new, the watches did not sell well and were semi easy to find at the $300 – 400 range up until a couple years back.  Now, consider $500 – 600 for what is one of Seiko's cooler pieces in the last 20 years.  Oh, and orange versions and blue with Pepsi bezel variants exist.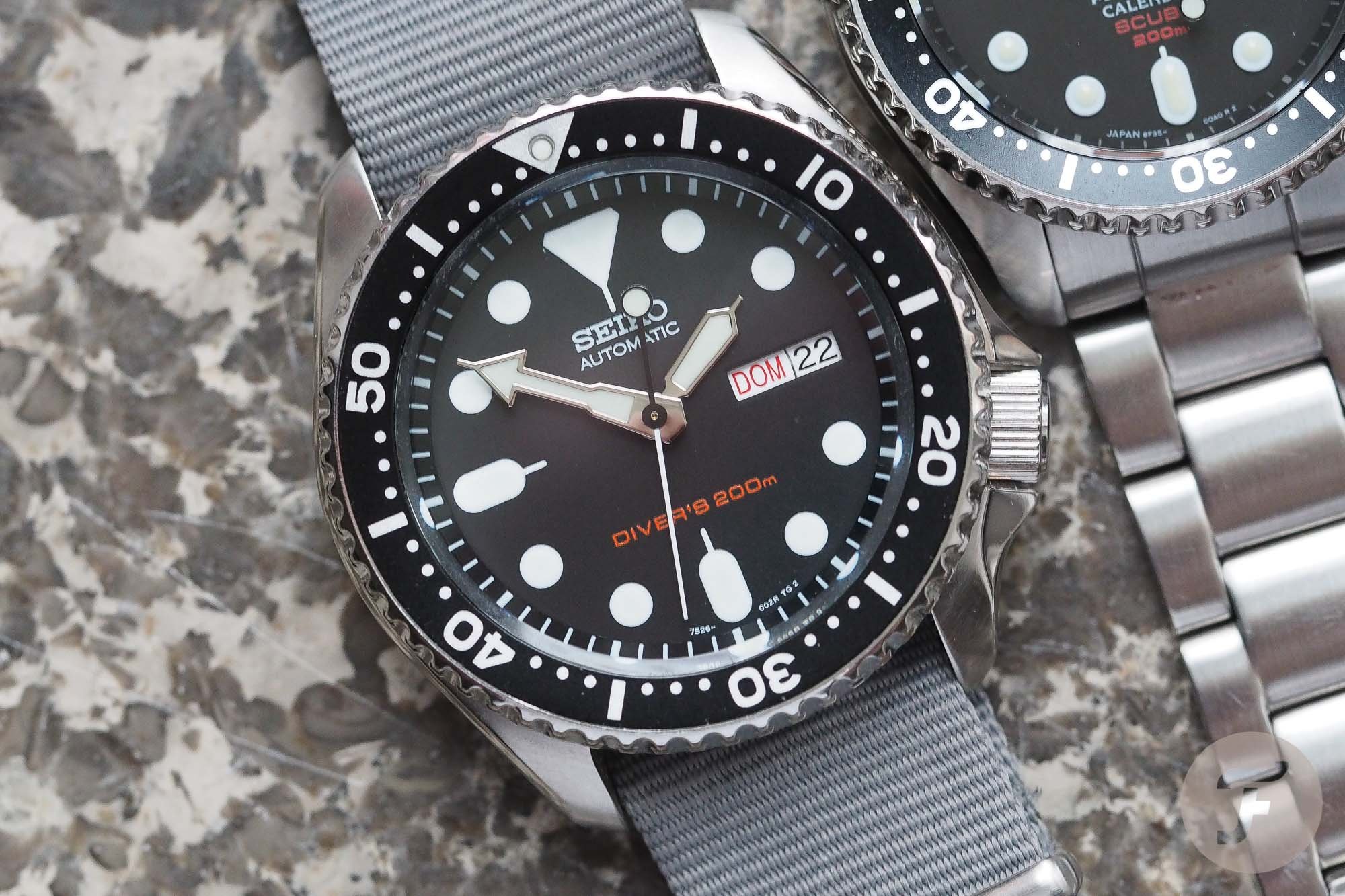 Seiko SKX007
Introduced in roughly 1996 as the replacement for the 7002, the SKX007 is probably one of the most popular watches in watch history – at least amongst watch people.  Like false celebrity obituaries, its demise has been rumored for years.  However, it does seem that with the introduction of the Seiko 5 Sports lineup that the SKX007 has finally been discontinued.  This watch, in its standard form, has soldiered on with essentially no changes during its 25 year lifetime.  Available in a few different variants (black, pepsi bezel, and orange), the watch did have a few local market options, but those are long since gone.  I can recall seeing these on places like Amazon for $110 – 125 5 or 6 years back, but they're now double that price.  The good thing is that they are still available and should be until stocks finally run dry.  It's still a fantastic watch that serves as a go-to vacation piece, first mechanical watch, or even a fine daily wearer.  Just don't expect amazing accuracy, the ability to hand wind, or a sexy strap or bracelet.  Still, it's a legend for a reason due to its no-nonsense good looks and robustness.  You can head back here to see it take on another Japanese classic, the Citizen NY0040.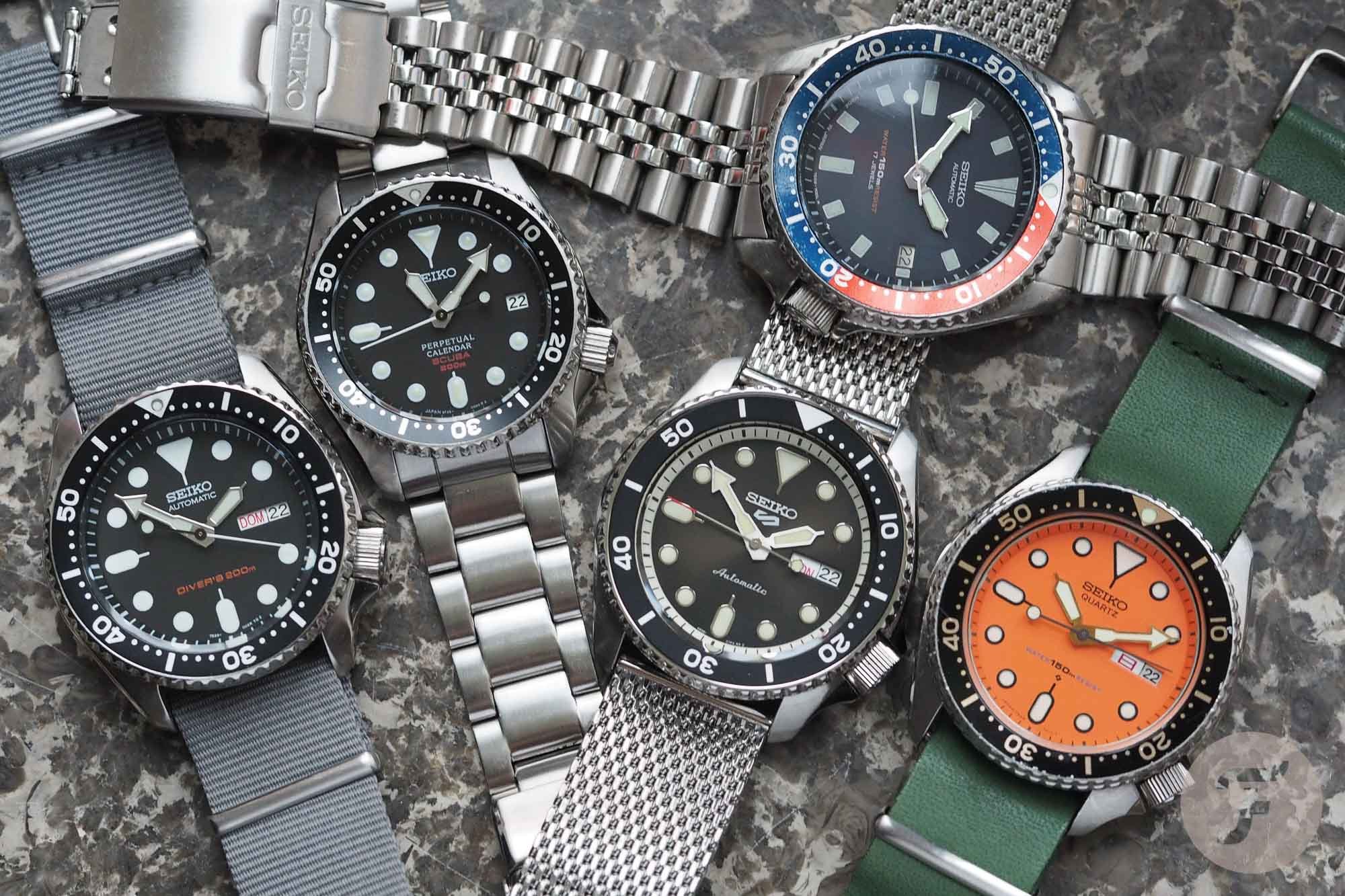 We hope you enjoyed a brief look at some of the predecessors fo the Seiko 5 Sports watches.  While the newest models may trade away some more hard-core specs, they make up for this with a more modern package, better finishing and a plethora of color choices.  Some won't forgive the brand for heading in this direction (I was on the fence!), but most of us (and that now includes me) consider this as progress.