Feeling Intrepid With Seiko's Prospex 1959 Alpinist Modern Re-interpretation
Climbing all over the SPB241J1, SPB243J1, and SPB245J1 watches
Several records were broken on Mount Everest last week. There was a woman from Hong Kong who climbed the world's tallest mountain in less than 26 hours, making her the fastest woman ever. And there was also a Chinese man who became the first blind Asian to climb the 8,849-meter mountain. I really don't want to take anything away from these people, but climbing Mount Everest doesn't seem that mythical anymore. Back in 1959 – just six years after Everest was first summited – Seiko released the first Alpinist. Mountaineering back then was the domain of an elite group of people; intrepid adventurers with deep pockets and big egos. We could be feeling intrepid with Seiko's Prospex 1959 Alpinist Modern Re-interpretation all over again.
Name a sport and there's a watch for it. In 1959 Seiko's first Laurel Alpinist watch catered to the needs of mountain climbers. But in all fairness, the Alpinist is not a mountaineering exclusive. The watch was also intended for more recreational types of sports.
… the Alpinist was the first Seiko watch ever produced with sports in mind.
This watch could be part of the standard equipment of a Himalaya expedition, or could be worn on the wrist during a high-paced walk through a pine forest. Anyway, the Alpinist was the first Seiko watch ever produced with sports in mind. Today, the first Alpinist watch from 1959 is re-born in both the Prospex 1959 Alpinist Re-creation SJE085,  a limited edition of 1,959 pieces with a price of €3,000, AND in a trio of unlimited, more budget-friendly, modern re-interpretations we'll be taking a closer look at.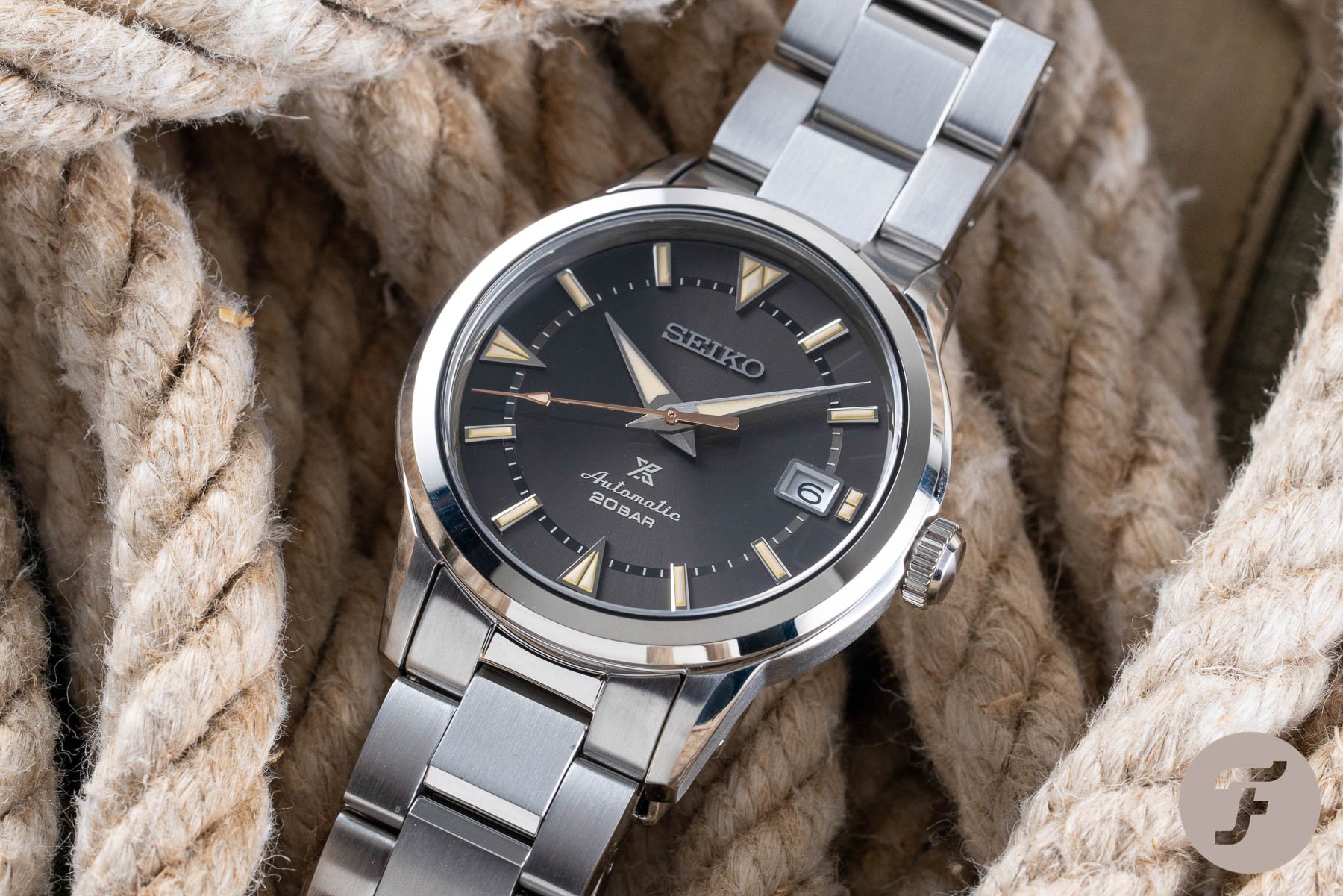 Feeling intrepid with Seiko's Prospex 1959 Alpinist Modern Re-interpretation
The original Laurel Alpinist had a screw-back case to prevent dust or sand from entering the case, and the indexes and the hour and minute hands all had luminous inserts, ensuring high legibility in the dark. The name Alpinist reflected in the mountain-shaped markers at three, six, nine, and twelve 'o clock. They also represent the four main points on a compass and make it very easy to read the time. During a blizzard at breathtaking heights, but also when you're taking a stroll in the forest. Unfortunately, we didn't find the time nor the peaks or a suitable forest near our office to test the readability of the three Prospex Alpinist SPB241J1, SPB243J1, and SPB245J1 modern re-interpretation watches. Instead, we improvised and went to work.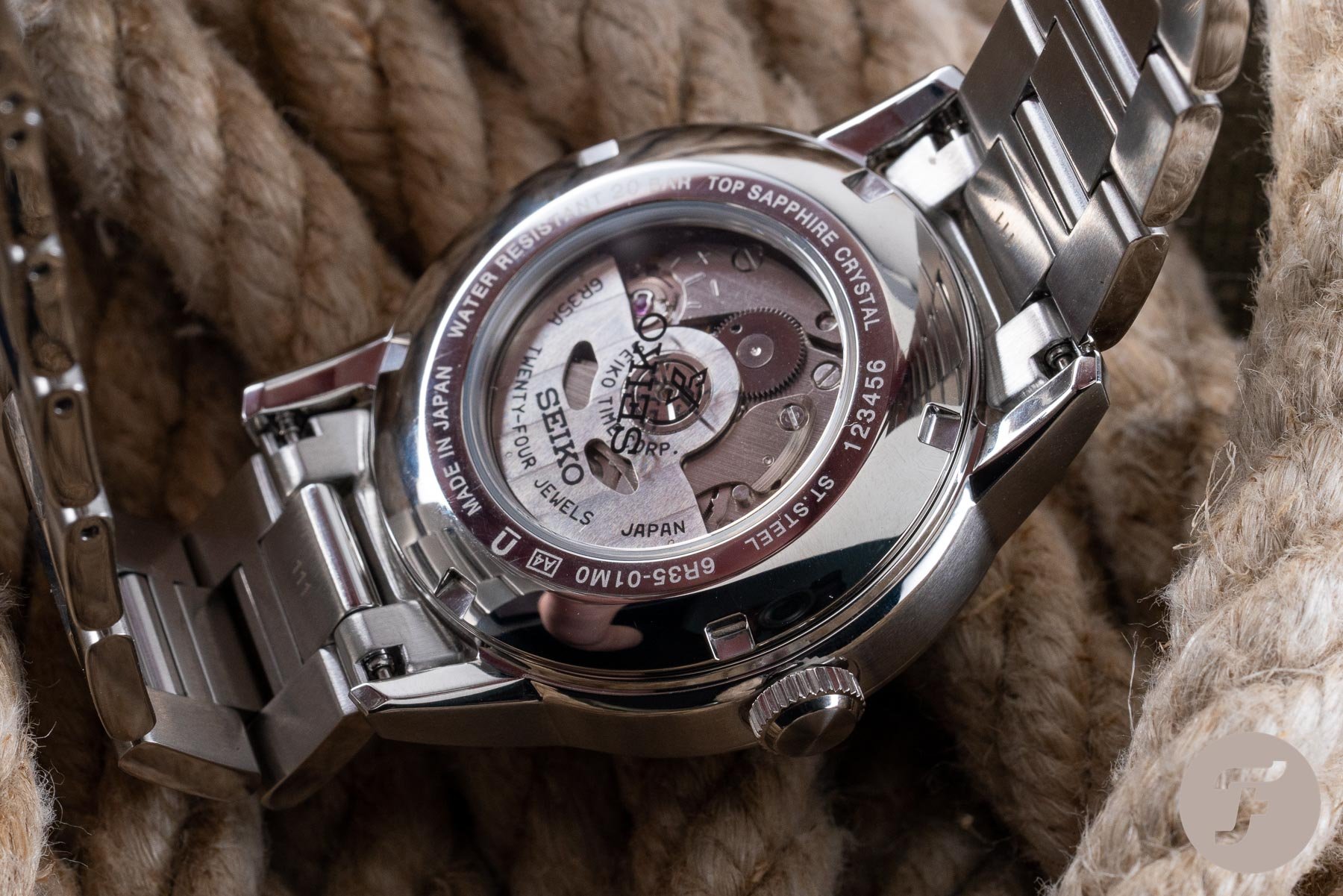 Inside the steel case of all three watches beats the automatic caliber 6R35 that delivers a power reserve of 70 hours. And this movement is visible thanks to a see-through case back. Seiko claims an accuracy for caliber 6R35 of -15/+25 seconds per day in normal temperature conditions between 5 and 35 degrees Celsius. If you are planning to climb Mount Everest any time soon, it might be good to know that the temperature at the summit in summer averages around -19 degrees Celsius.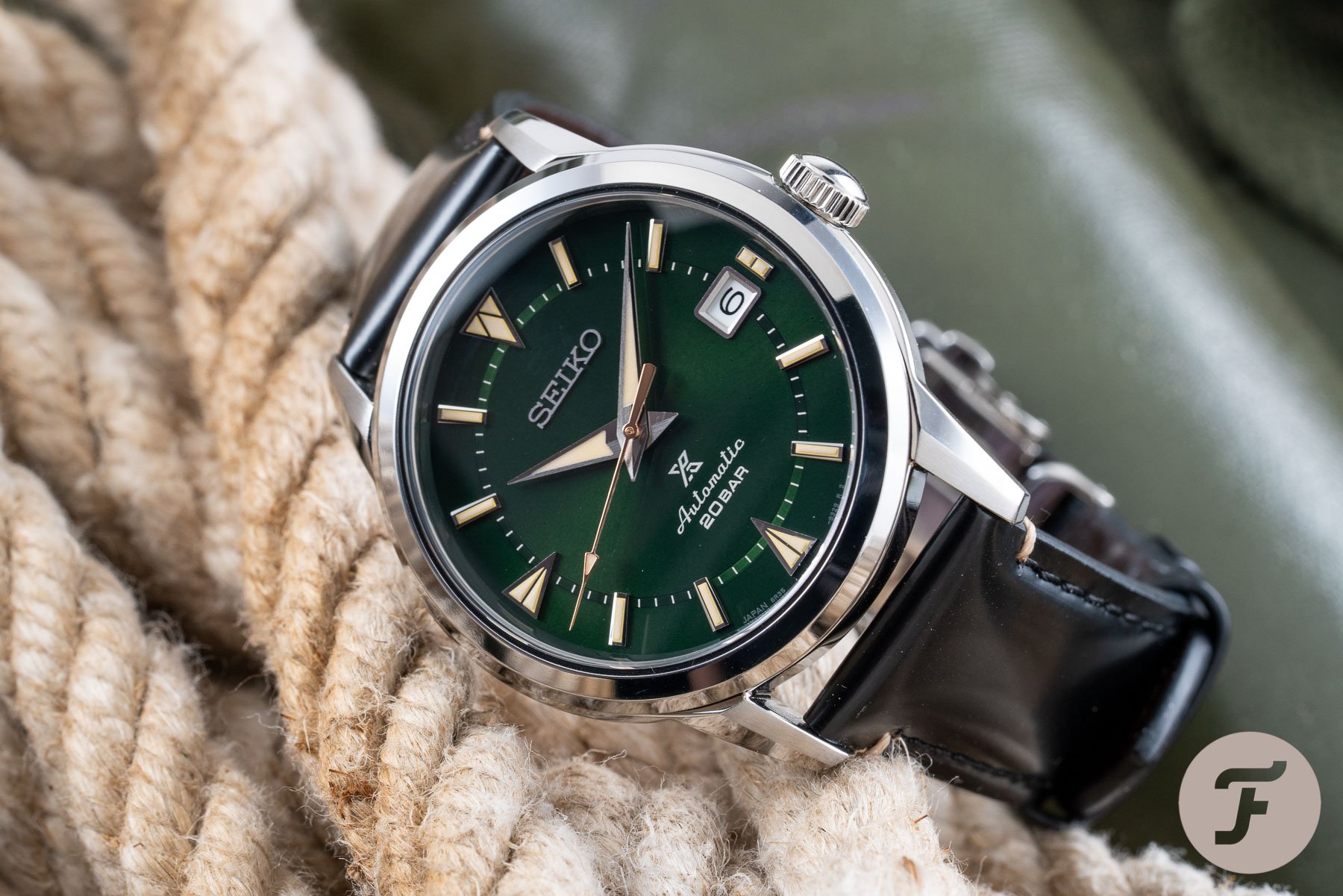 Creamy white, gray-brownish black, and forest green
The Prospex Alpinist SPB241J1, SPB243J1, and SPB245J1 have a lot in common, but there are also some differences. The SPB241J1 has a creamy white dial, the SPB243J1 a black/gray/brown dial, and the SPB245J1 is outfitted with a dark, forest green version. The applied on all models have Lumibrite in eggshell white that borders on beige for that warm and fuzzy retro feeling. And while the SPB241J1, SPB243J1 feature a steel bracelet with a folding clasp, the more imaginative colored SPB245J1 comes with a black leather strap with a folding clasp and a nice touch of retro stitching.
An all-rounder with an adventurous heritage
When these three modern Alpinists came out, Michael took a long hard look at the press pics and wrote, "The dials have a lot going for them and even if they're interrupted by the expected date wheel, it doesn't truly bother me." And I have to agree with him. The date is prominently placed at 3 'o clock, but since this watch needs to be viewed as an all-rounder that can be worn in countless situations and under all kinds of conditions, having a date indication makes sense.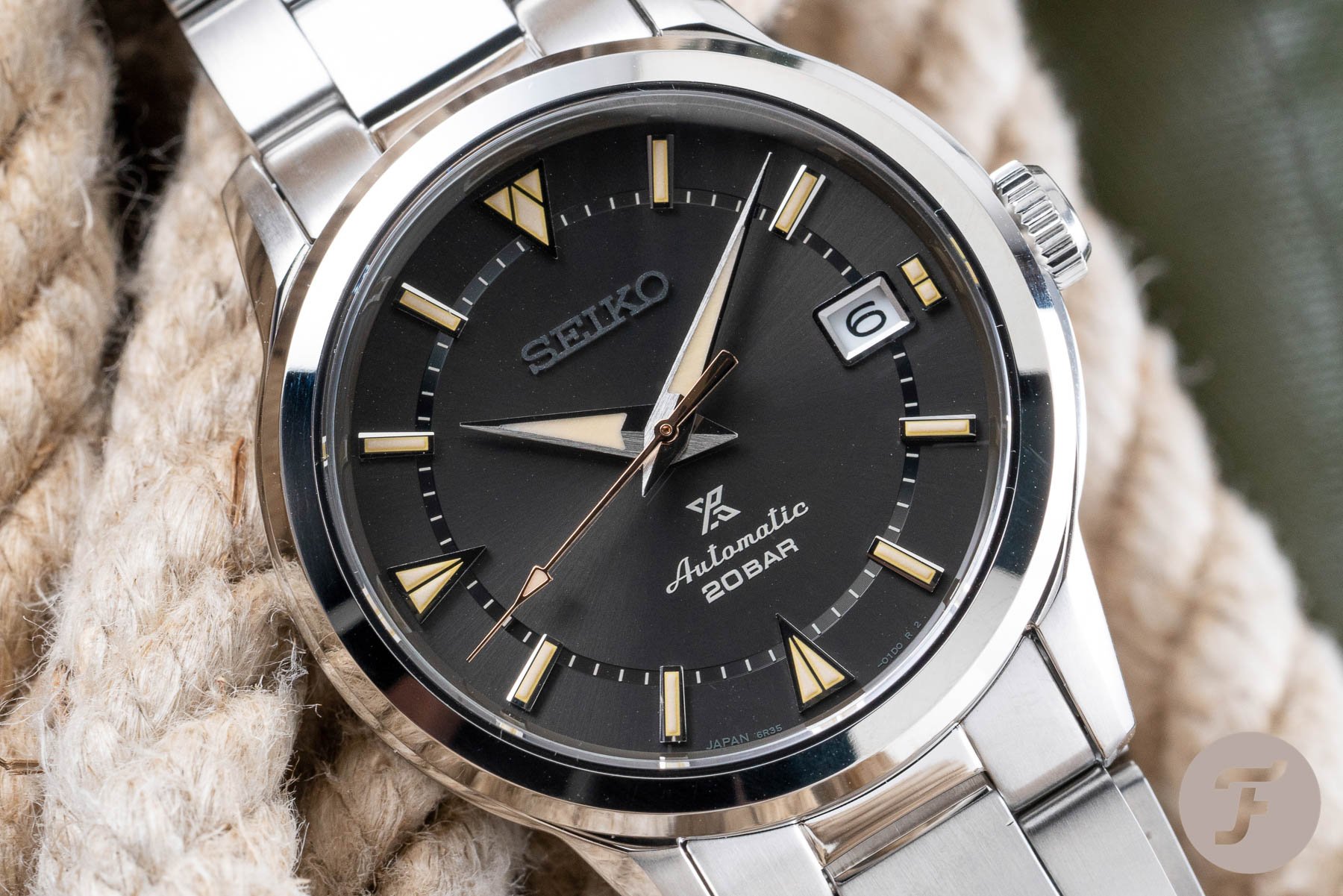 Dare I say, just like a Rolex Explorer? Yes I dare …
Wearing the 38mm new Alpinists is effortless. Don't shy away from the relatively small size. Partly because of its polished and curved lugs and polished bezel, this Alpinist looks bigger than it is. Dare I say, just like a Rolex Explorer? Yes, I dare because of the Alpinist's similar adventurous heritage and purpose. The strong look of the markers is what this Alpinist is all about.
But it's not all about those three big triangles. The minute track that connects the applied indexes play a crucial role to help create a dynamic dial. The large hour and minute Dauphine-style hands are faceted with one side polished and the other brushed. The central seconds hand has a traditional gold color on all three variations. Soft eggshell white Lumibrite ensures all three hands are readable in the dark because of their blue glow.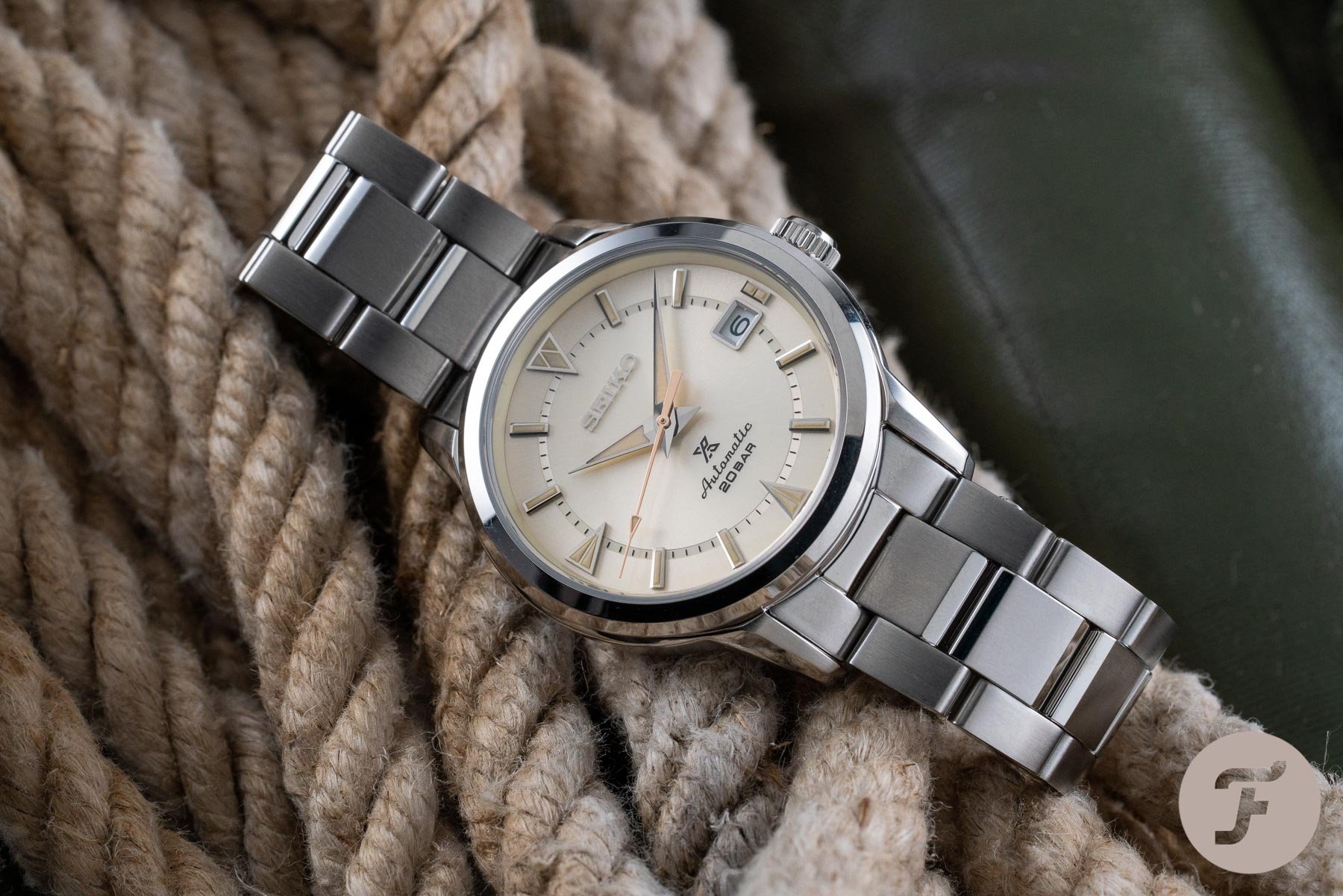 A knitted polo shirt instead of a shiny tracksuit
The creamy white SPB241J1 is the most dressy one (€770), the green SPB245J1 the most fashionable (€770), and the hard-to-place blackish SPB243J1 the most instrumental (€750). You can start feeling intrepid with Seiko's Prospex 1959 Alpinist Modern Re-interpretation as of August of this year, but break-neck adventures are not mandatory. These Alpinists are perfect daily beaters that are more than ready to just take it easy, join you in the office, go for a hike, and a cool drink on a terrace after.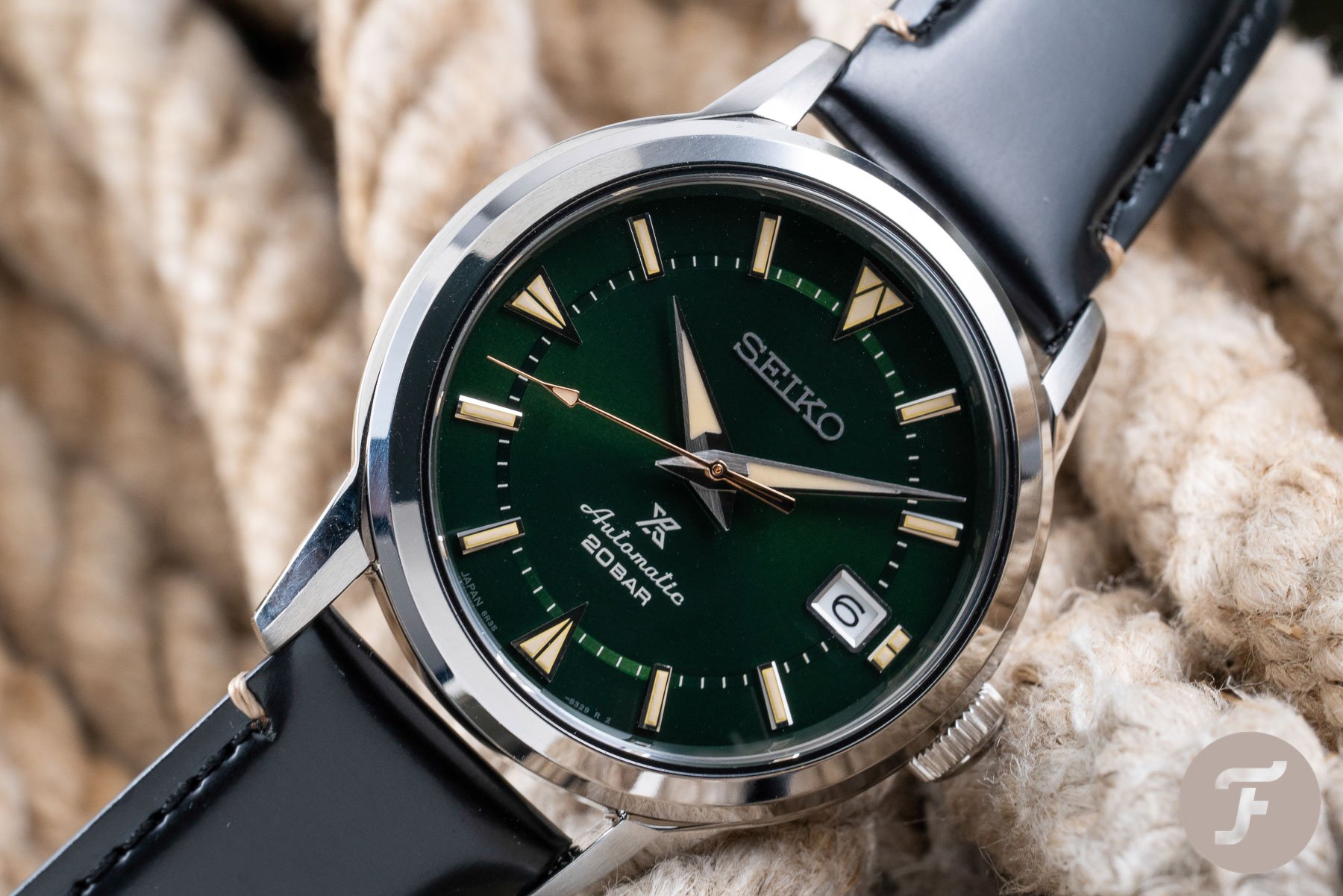 And while being such all-rounders might suggest these Alpinists are bland and boring, they are not. The geometric shapes on the dial make them more dressy and classy than the SPB155J1, SPB157J1, and SPB159J1 with Arabic numerals we wrote about last year. And also more versatile. This is a sportsman that wears a knitted polo shirt, not a shiny tracksuit. You can find more information on the Alpinist collection on Seiko's special website.
Please find and follow me at Lex Stolk • Instagram
Watch specifications
Model
Prospex 1959 Alpinist Modern Re-interpretation
Reference
SPB241J1, SPB243J1, and SPB245J1
Dial
Creamy white (SPB241J1), grayish black (SPB243J1), and green (SPB245J1) with sunray pattern and applied indexes and hands filled with blue-glowing Lumibrite.
Case Dimensions
38 × 12.9mm
Crystal
Box sapphire crystal with anti-reflective coating
Case Back
See-through screwed case back
Movement
Automatic caliber 6R35, 24 jewels, 21,600 vibrations per hour, 70h power reserve, -15/+25 sec/day.
Strap
Steel bracelet with folding clasp (SPB241J1, SPB243J1). Black leather strap with folding clasp (SPB245J1).
Functions
Hours, minutes, seconds (hacking), date.
Price
€770 SPB241J1 and SPB243J1. €750 SPB245J1