Meet The Seiko Prospex Urban Safari Watches
A Safari theme based on the Tuna and Arnie
Seiko is on a roll with its Street Series. For the Seiko Prospex "Tuna" and "Arnie" models, the Japanese brand is adding Urban Safari editions to the lineup.
It is pretty cool to see that the "Tuna" is doing so well. When I tried the 6159-7010 and the SDBX011 back in 2015, it felt like I was wearing something extraordinary. You still don't see them on every wrist, of course, but with the number of variations that Seiko has, it is definitely more common now. The other version is based on the "Arnie" H558 or its more recent references SNJ025 and SNJ028.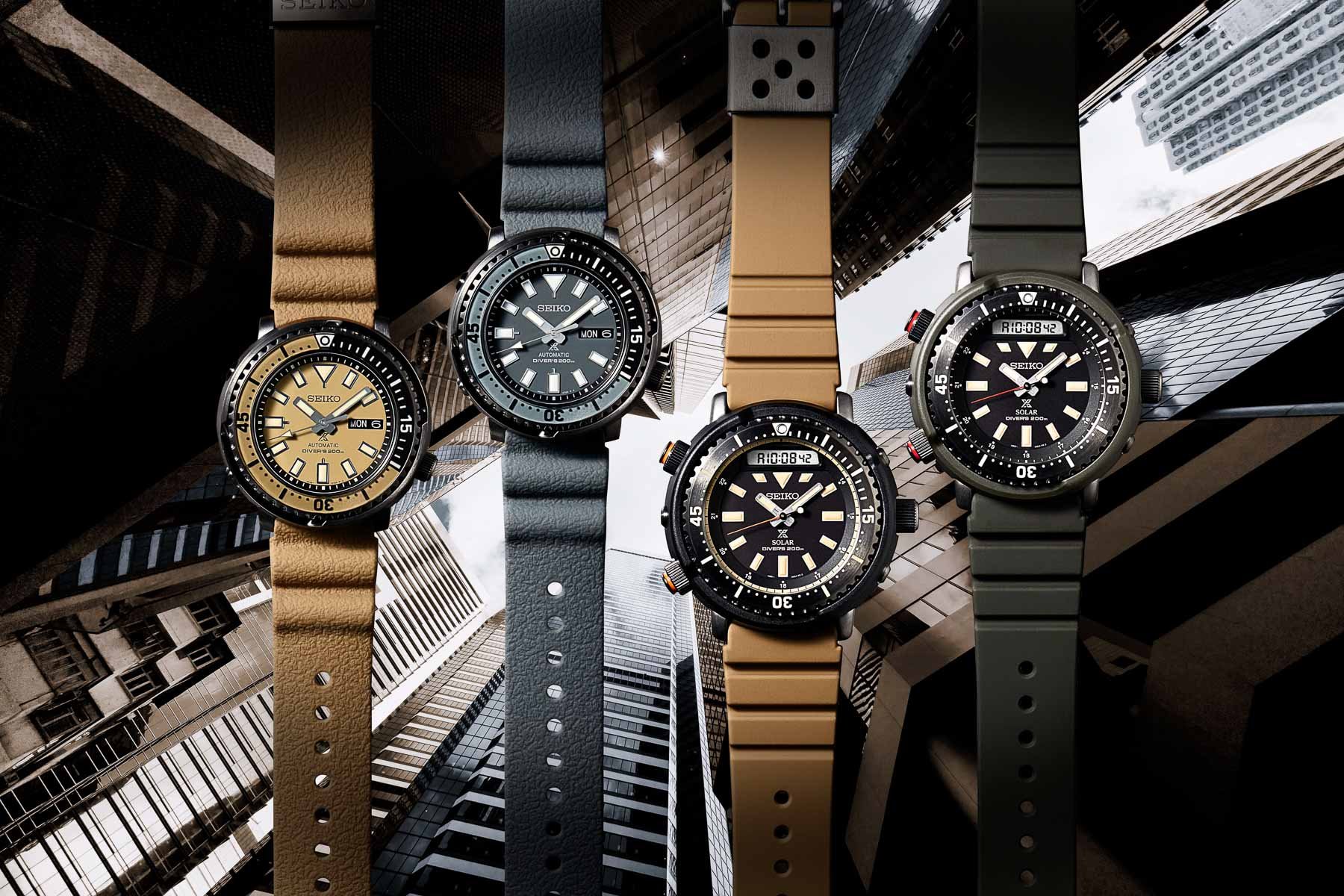 Urban Safari Tuna
The Seiko 6159-7010 "Tuna" was introduced in 1975 and this professional diver's watch is still very much alive in the Seiko Prospex collections. There are so many variations, that it is a bit of a minefield. However, we published an overview that will help you out. Seiko is now offering another addition to this popular watch, the Urban Safari. Two different versions of the Urban Safari will be available, the Seiko Prospex SRPE29 and SRPE31.
SRPE29 and SRPE31
Both the Seiko Prospex Urban Safari SRPE29 and SRPE31 have the 4R36 movement. This movement has a power reserve of approximately 40 hours and ticks at 21,600vph. It is a no-nonsense movement used in a number of Seiko automatics. The Urban Safari Tuna has a diameter of 43.2mm (much smaller than the "Grandfather Tuna's" 50.5mm diameter) and a thickness of 12.67mm. Consequently, it is a very wearable watch.
The stainless steel cases have a hard grey coating. The SRPE31 has an "elephant gray" dial, while the SRPE29 has a real "safari" feel with its khaki color. The uni-directional diving bezels are color-matched. The straps are made of silicon and also coordinate with the dial and bezel. Although the elephant gray version is a looker, it is the khaki version that received most kudos from the team here.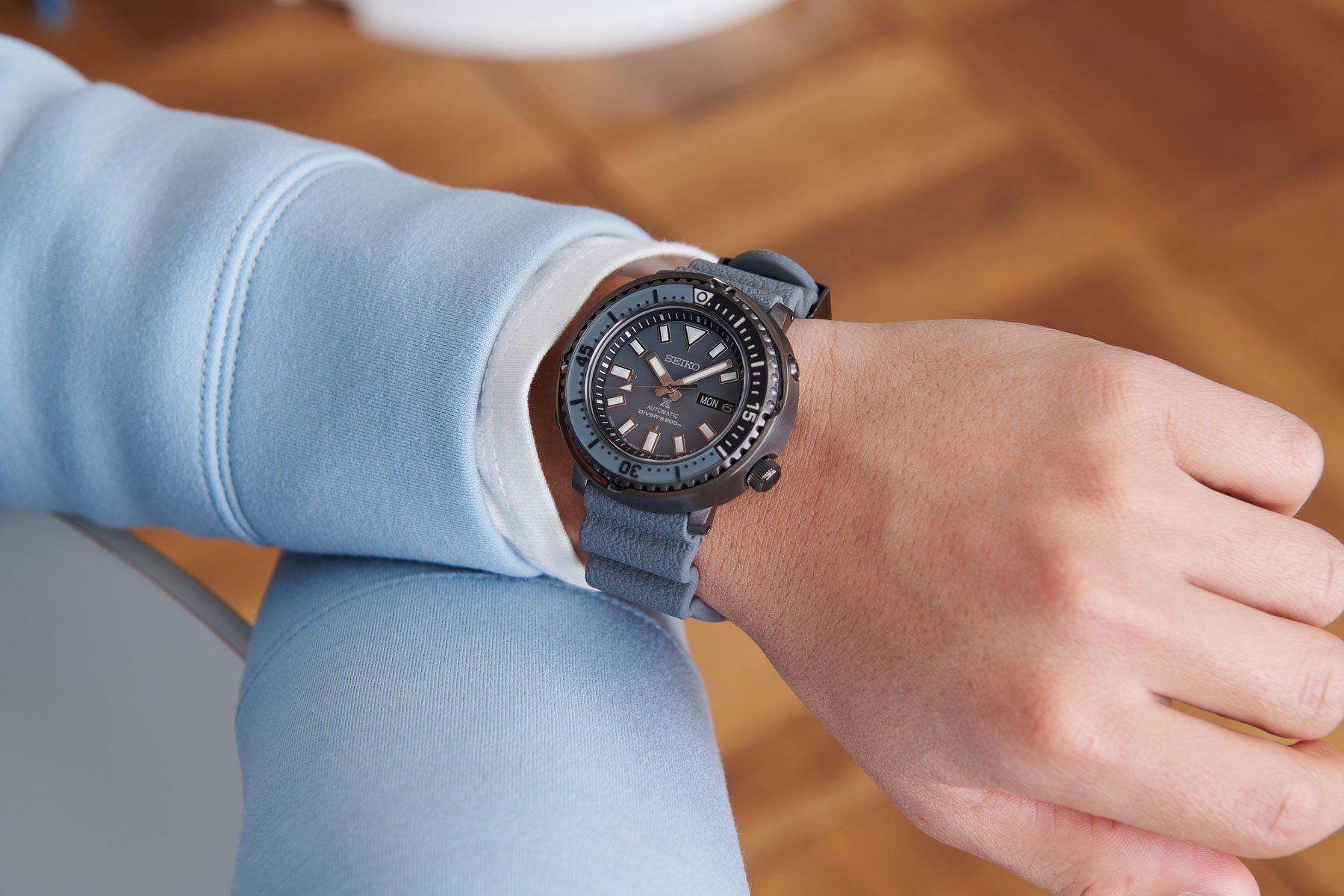 Prices and Availability
These watches are considered professional dive watches ("Prospex") and have a water resistance of 200 meters. The extra-long silicone strap can be worn over your diving suit. These watches also look cool with a t-shirt and jeans. The Seiko Prospex Urban Safari SRPE29 and SRPE31 will retail for €580 (including VAT) and will be available at the end of May or in early June.
Urban Safari "Arnie"
One of my personal purchases last year was the Seiko Prospex SNJ028, "Arnie" re-edition with a touch of gold. I wear it once in a while, and I am always amazed by how comfortable it is. This is despite its (intimidating-on-paper) 47.8mm diameter. The new Urban Safari "Arnies" have similar specifications.
SNJ029 and SNJ031
What sets these SNJ029 and SNJ031 apart from the existing SNJ025 and my SNJ028 is the "Urban Safari" color scheme, of course. The SNJ029 has the khaki-colored silicon strap and khaki-colored indexes and scales. The steel case has a shroud (outer protector) of extra strong plastic. Plastic always has this negative tone, but trust me, it is strong! The SNJ031 has a dark green colored dial, silicon strap, and shroud. I like the touch of red that Seiko used on these models. The second hand is red as well as the pushers on the left side. A very cool feature.
Inside these watches, you will find Seiko's caliber H851. This ana-digi movement goes back to 1982 when the H558 was introduced. As a kid, I had an ana-digi watch (from another brand) that was one of my first watches. It was one of the reasons for me to get the SNJ028 many years later. The thickness of these watches is 14.43, so not for the faint-hearted.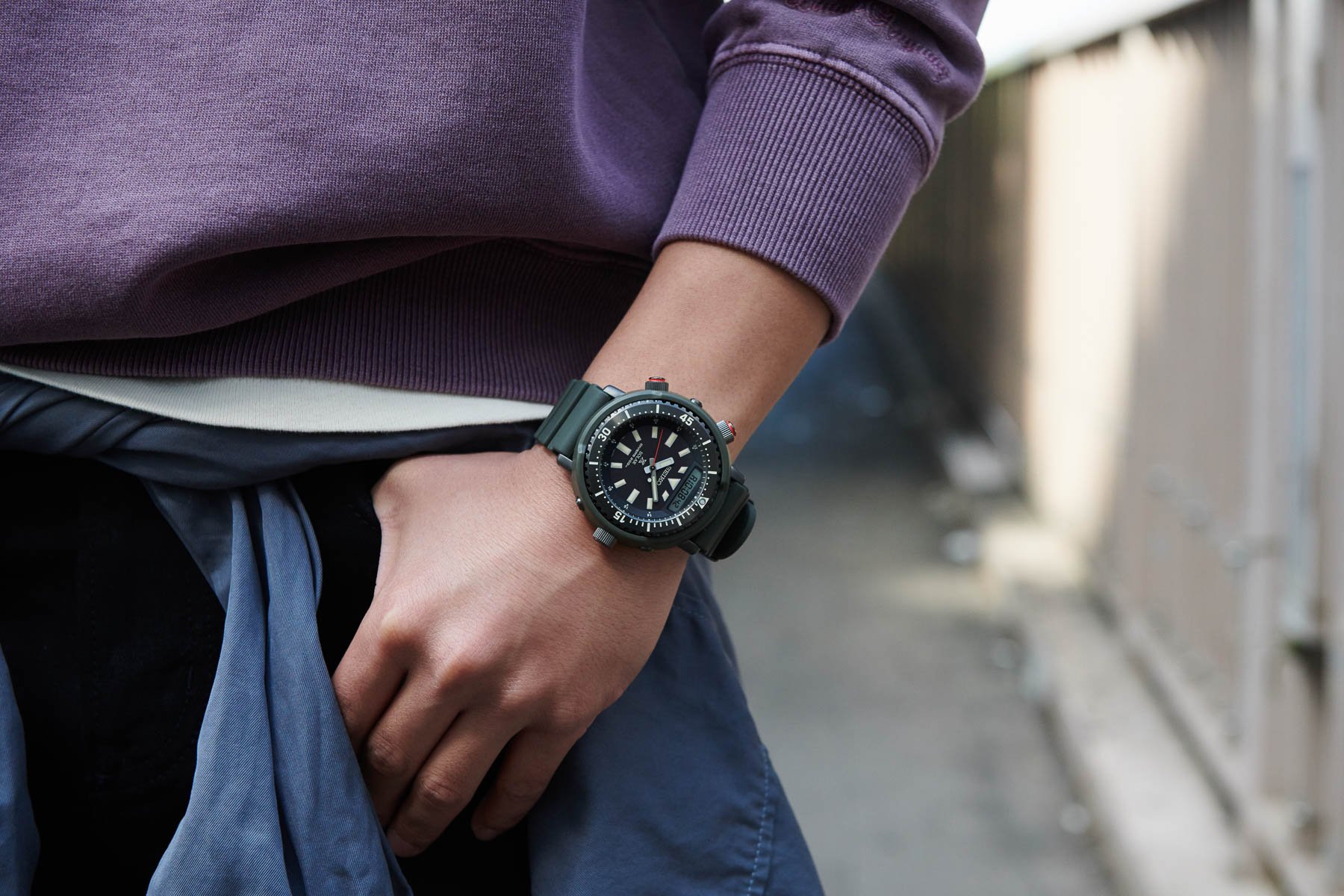 Price and Availability
The Khaki version is my favorite here, although a dark green watch surely is a nice change. Both watches have a water resistance of 200 meters. The price of both Urban Safari "Arnies" is €530 (including VAT). These will be available end of May, early June. More information via Seiko online.