Rise Up For The Seiko Presage Sharp Edged GMT
Are these ambitious watches giving Grand Seiko a run for their money?
I really don't want to, but Seiko doesn't leave me any choice. The Presage SPB217J1, SPB219J1, SPB221J1, and SPB223J1 we had at Fratello HQ beg to be compared to high-end Grand Seiko GMT's. Maybe it's like comparing a Toyota to a Lexus, but if that's the case "GS" has nothing to worry about. The first thing that came to mind while laying my eyes on these four new GMT watches was GS, that's what happened. So let's find out if we have to rise up for the Seiko Presage Sharp Edged GMT and run to the stores because they're worthy GS alternatives, or if I didn't see and think straight when I first laid eyes on them.
Why did I immediately think of Grand Seiko when I first saw the Presage Sharp Edged GMT? Because of a number of things. The sharp lines of the case hint at the famous 44GS design and then there's the design and decoration of the dials. These Presage models show the same ornamental approach to the dial design as GS. And the source of inspiration is also the same, Japanese nature and traditions. For the Presage Sharp Edged GMT the Seiko designers chose a Japanese Asanoha or hemp leaf pattern as dial decoration.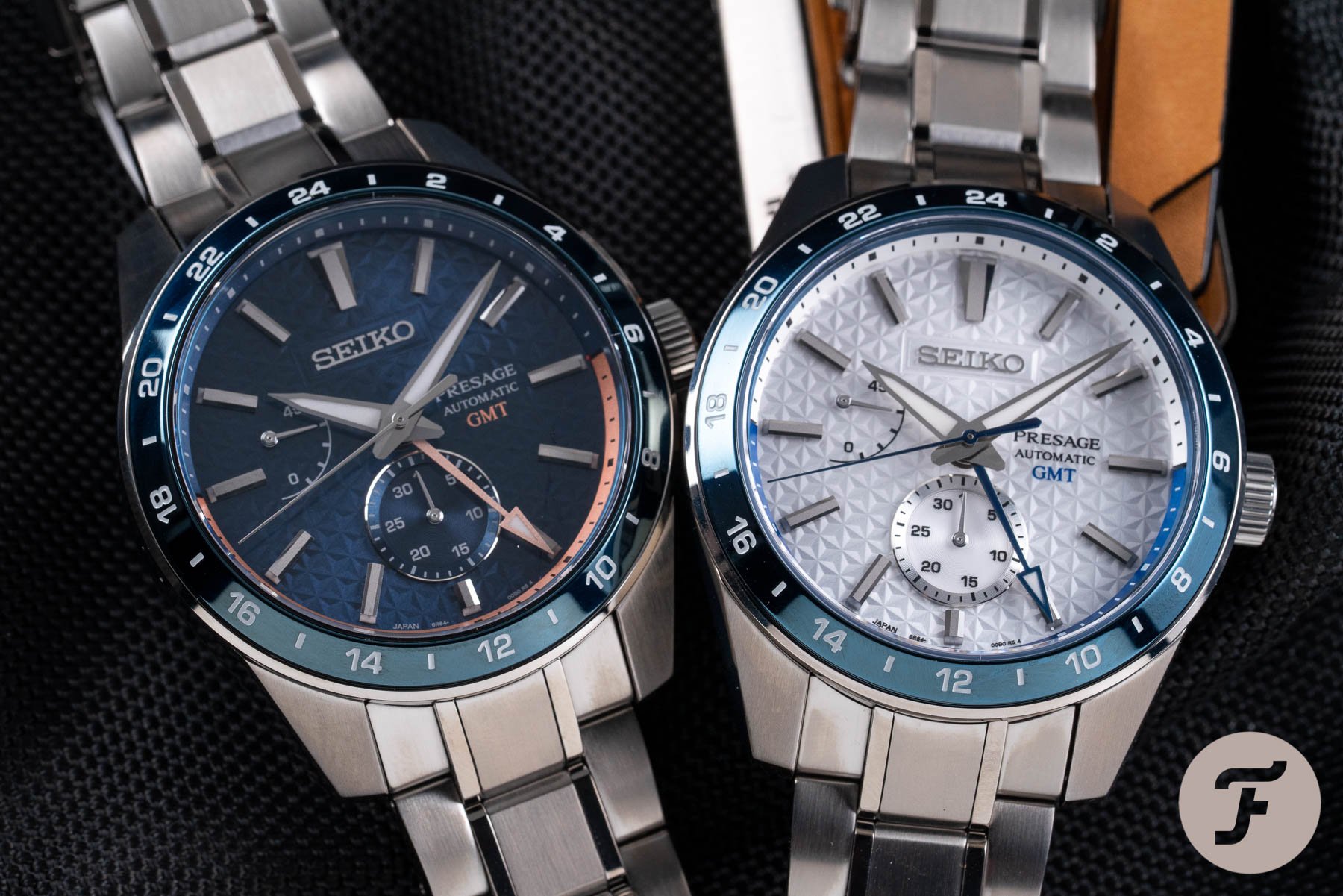 Japanese tradition
And then there are the very specific colors with roots in Japanese tradition. Shironeri, an unbleached silky white is the dial color of the SPB223J1; Aitetsu, or indigo iron, is used for the SPB217J1; Tokiwa, the color of evergreen trees is used for the SPB219J1; the color of a special kind of black ink, Sumiiro, is reserved for the SPB221J1. There's also the SPB225j1, a Seiko Boutique exclusive with the dial color Hihada-iro, a reddish-brown color first derived from the bark of the Japanese cypress tree. That one we didn't see in the metal.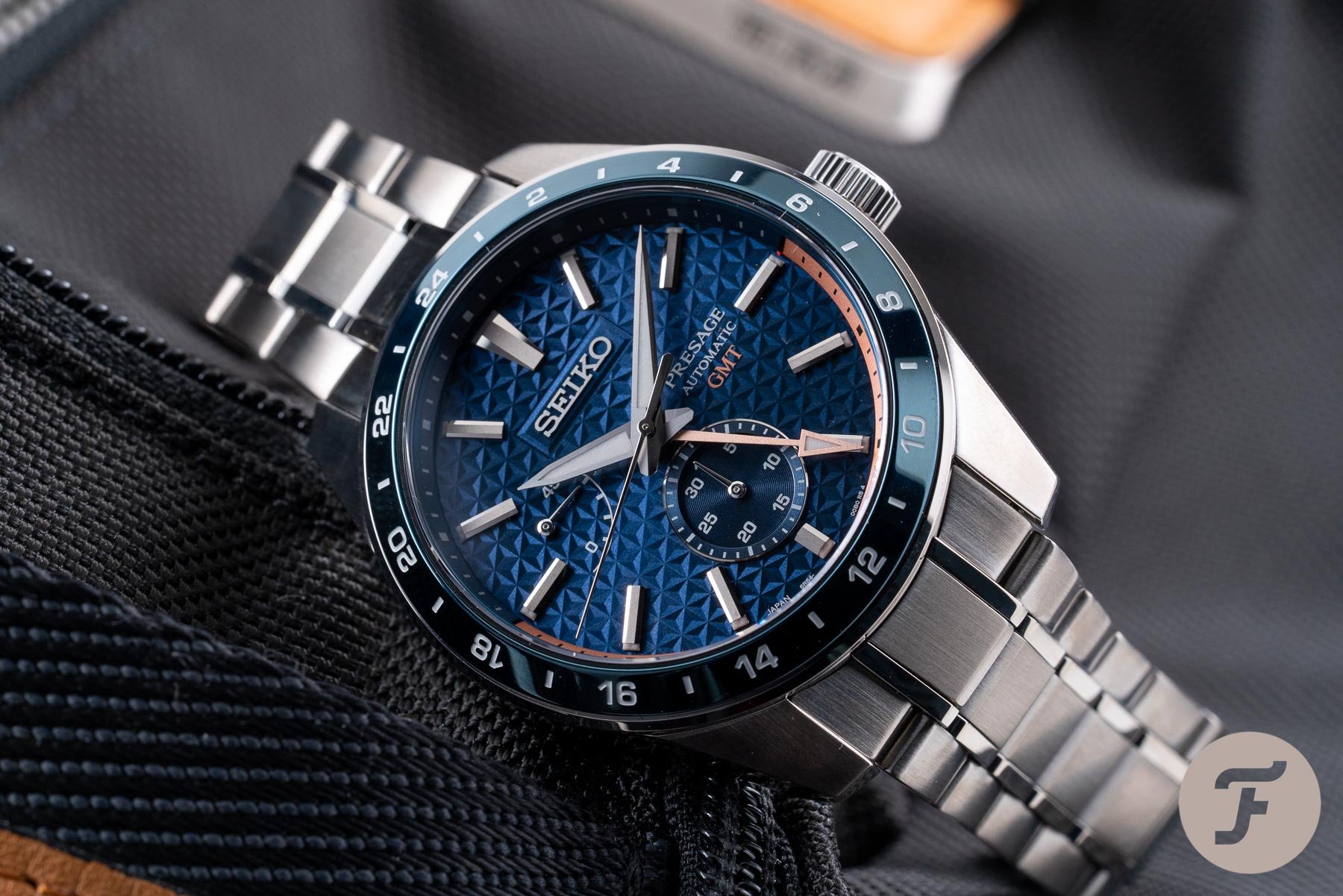 Rise up for the Seiko Presage Sharp Edged GMT
I hope you understand my comparison at first glance. But closer inspection reveals the differences. With Grand Seiko, everything you see is more carefully made; each watch is assembled by hand and receives absolute devotion from highly trained watchmakers. Automated machines play a big role in the manufacturing of Seiko Presage models to keep the costs under control. There's also a little less love involved. And that means that the four mechanical Presage Sharp Edged GMT models you see here cost €1,500 while the Grand Seiko SBGN013 from the Heritage Collection, equipped with a 9F quartz movement, is exactly double that price. Everything should be twice as good in a GS, but does that mean that a Presage is (only) half as good and therefore maybe not good enough?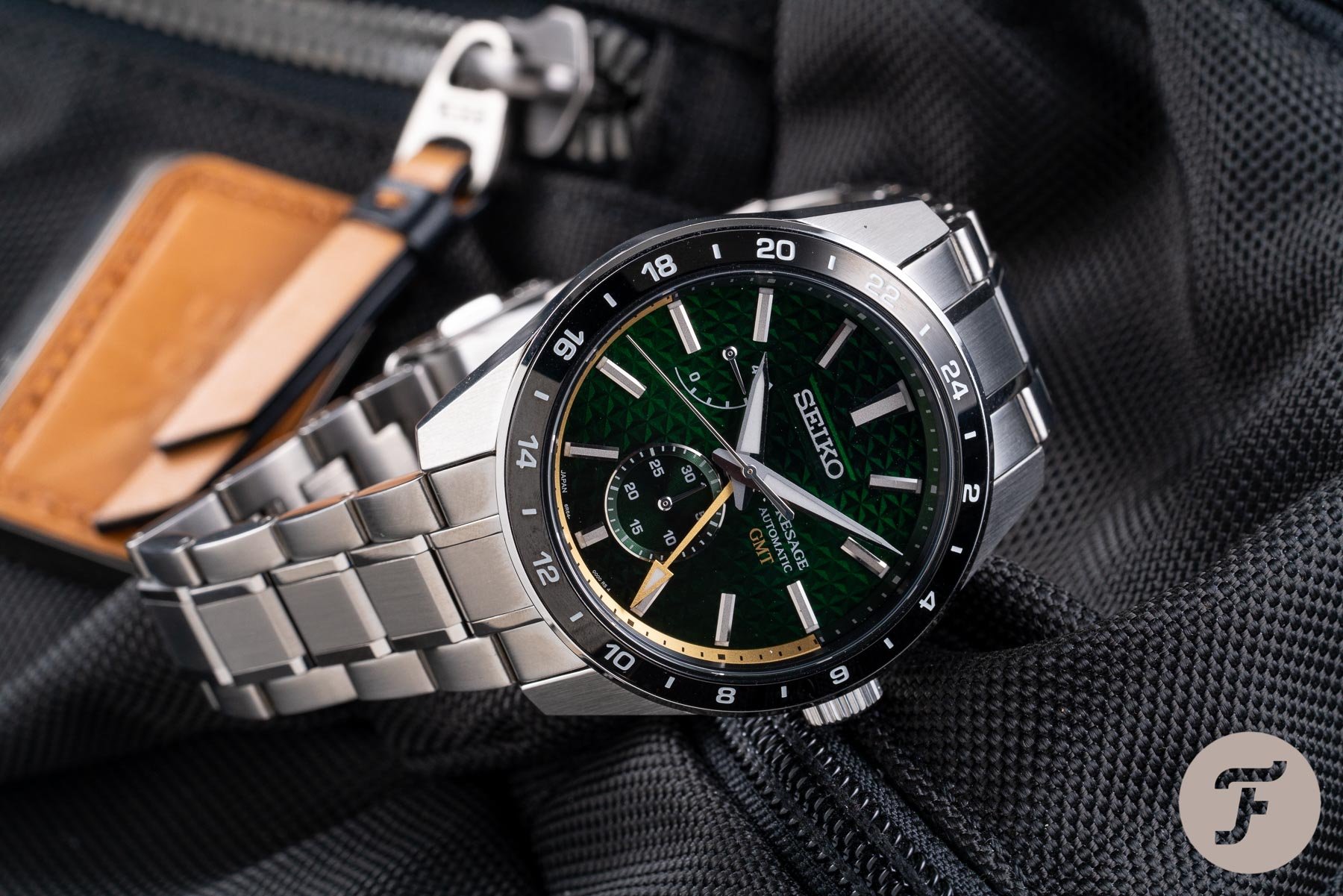 Light, textures, and geometry
Let's start by answering that question right away with a firm "no"! First, comparing watches is not like doing math. Second, the Presage Sharp Edged GMT really is a fine watch with a lot of very nice and original details and decorations. It can hold its own regarding the mentioned decoration and also the high quality of finishing of the angular cases and three-link bracelets. When taking a closer look at the different dials, the way the light bounces of the textures of the geometric Asanoha pattern and plays with the color is pretty spectacular. Adding to this effect are the brushed and polished faceted hour indexes and large Dauphine hands.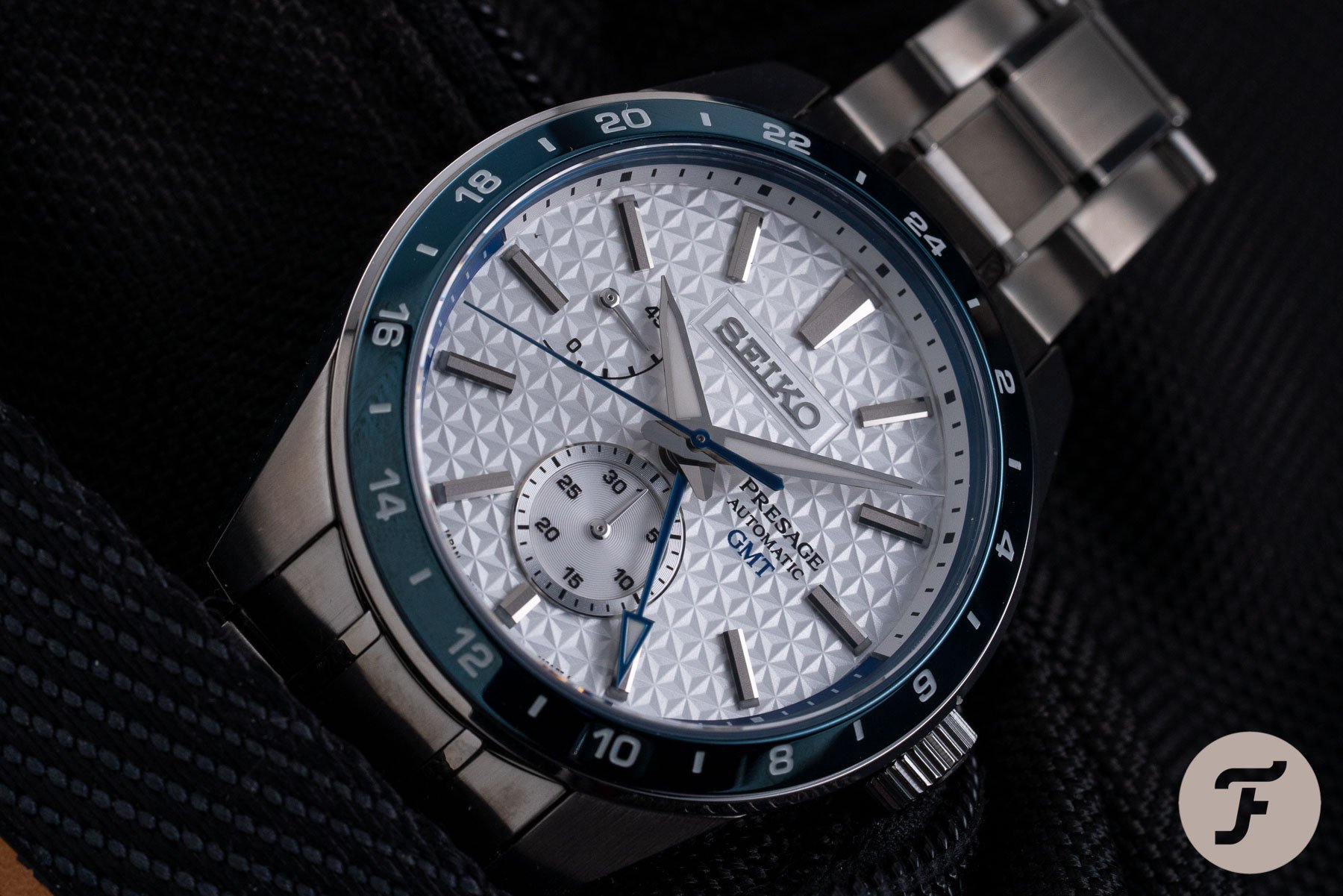 Not enormous, but very prominent indeed
The case of the Presage Sharp Edged GMT is generous. 42.2×13.7mm might not sound enormous, it's not exactly small either. In any case, the shape, proportions, and the contrast of the fine edges and hairline finishing give it a lot of wrist presence. And if that wasn't enough, the prominent bezel with 24-hour indication leaves nothing to the imagination; this is a proud, functional GMT watch. The GMT hand in a contrasting color (are you thinking of a Rolex "Freccione" as I do?) has, just like the hands and indexes, plenty of LumiBrite on it for easy readability. Furthermore, the GMT can also act as a dual time indicator. And when setting the hour hand, the minute and central seconds hands continue their business.
… examples of sophistication that appear once your eyes get past the framing bezel and the striking dial.
The presence of a power reserve indicator between 9 and 10 o'clock, the date in the sub-dial at 6 'o clock, and the two-tone dial to indicate night and day, are examples of sophistication that appear once your eyes get past the framing bezel and the striking dial.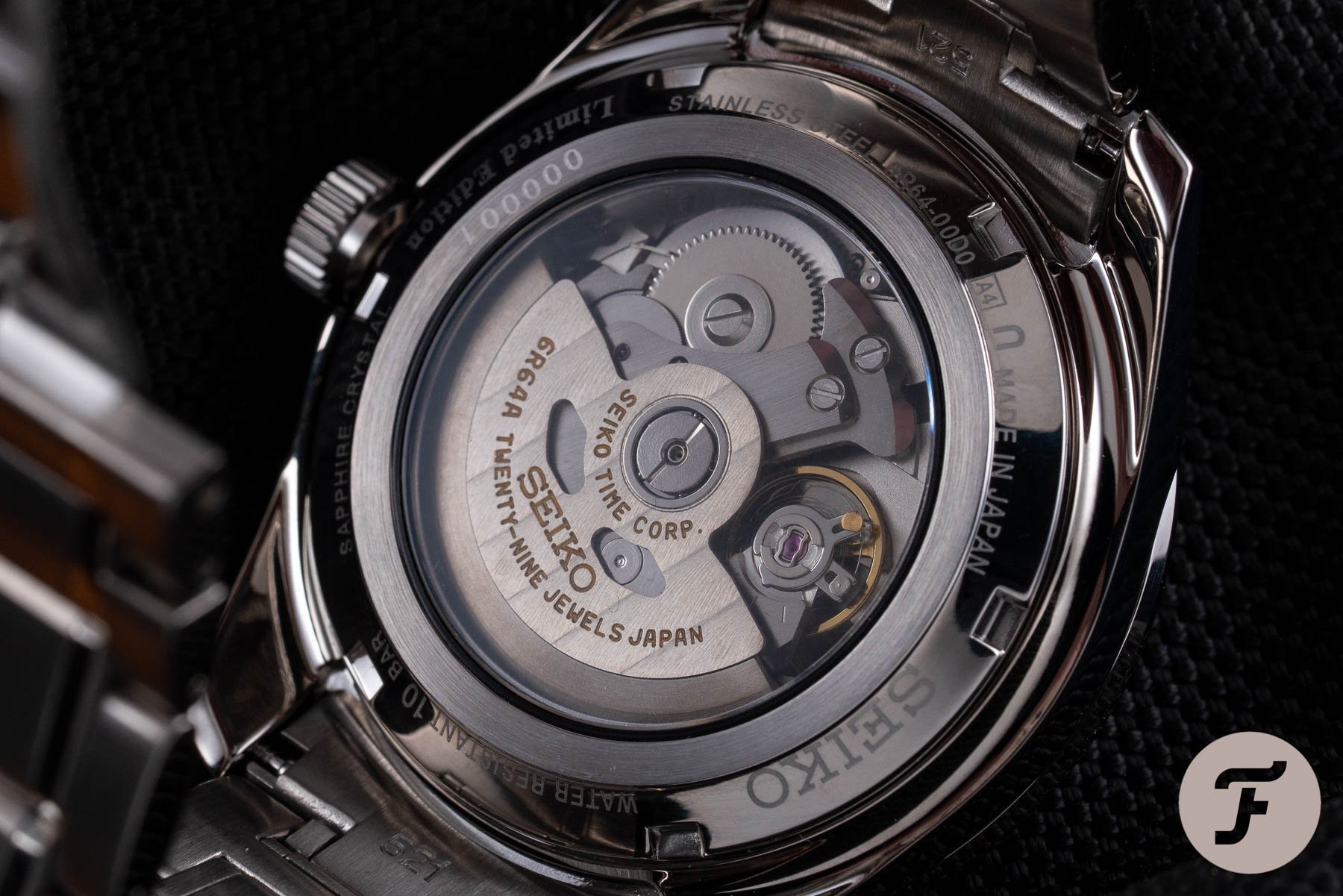 Can you handle 45 hours of power reserve?
To power the Presage Sharp Edged GMT Seiko uses the eight-beat-per-second, automatic GMT caliber 6R64. This 29-jewel movement has 45 hours of power reserve — I don't know if that's sufficient for you regarding a 2021 automatic GMT, but I think I can handle that. The power reserve indicator will help you keep things under control in case you need a reminder. Seiko claims the Caliber 6R64 to be accurate to +25 to -15 seconds per day. Again, you be the judge of whether that is up to your personal standards.
Advocates for high horology
So, are Seiko's Presage Sharp Edged GMT models giving Grand Seiko a run for their money? I really don't think so. But they could very well be the reason a Presage owner starts saving up to get a Grand Seiko in the future. You could call the new Presage Sharp Edged GMT a "GS GMT Light", but that wouldn't do the Seiko justice. I think these Presage Sharp Edged GMT models are advocates for the wonders found in genuine high horology as they offer a "first glance" at the impressive level of detailing you can only expect to get better as you climb the luxury ladder. These watches represent a great entry-point to the hobby (and I mean that both aesthetically and financially).
The Seiko Presage Sharp Edged GMT SPB217J1 (blue) SPB219J1 (green) SPB221J1 (black) SPB223J1 (white) cost €1,500 and for that kind of money you get plenty of watch (181 grams if you must know) and functionality. Better yet, each one is packed full of quality and details you can feast your eyes on for a long time to come.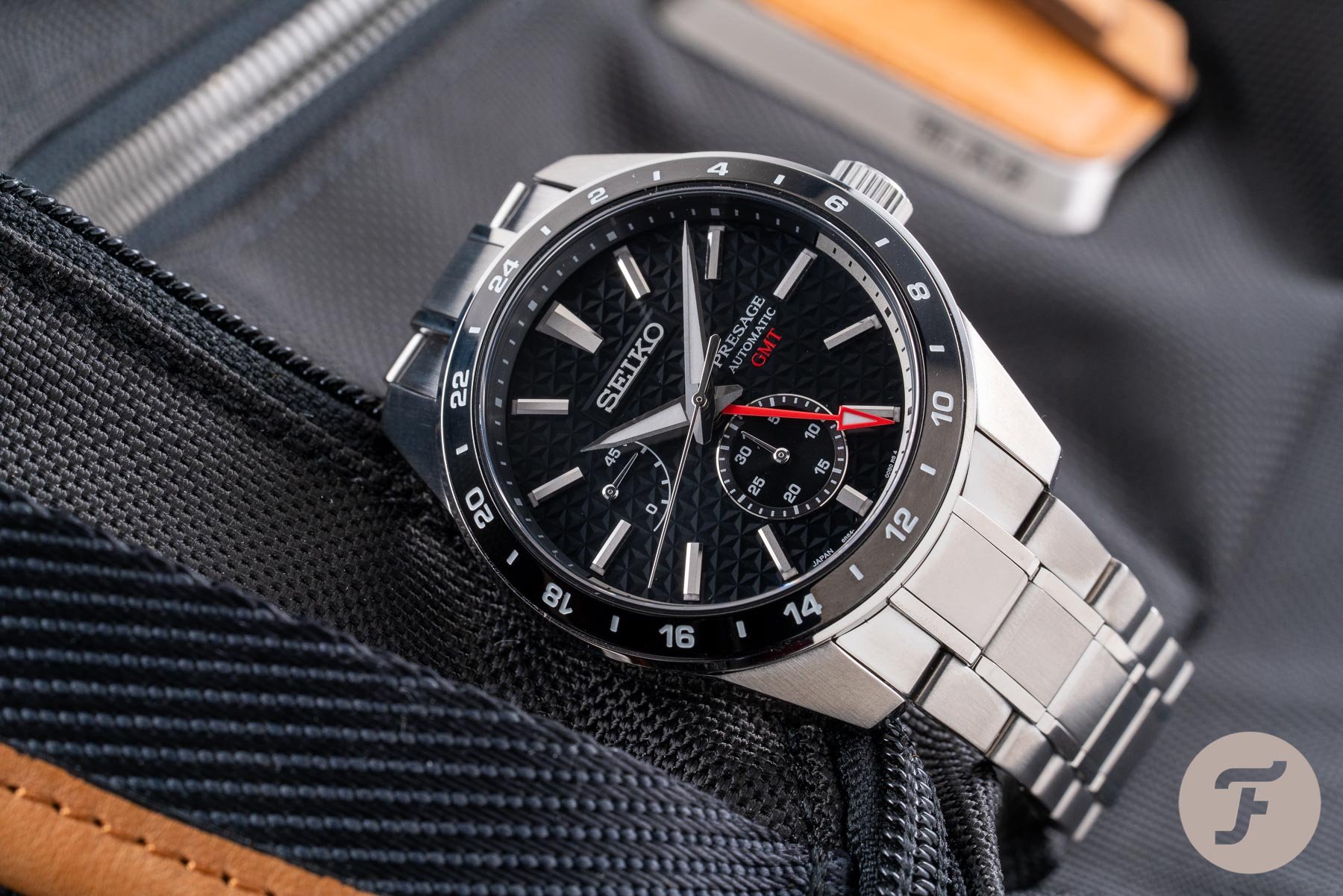 P.S. To come back to the automotive comparison in the intro: if Grand Seiko is the Lexus, and the Presage the Toyota, the latter is definitely the Camry with all the bells and whistles available.
For more information, please visit Seiko's dedicated Presage website.
Please find and follow me at Lex Stolk • Instagram
Watch specifications
Model
Presage Sharp Edged GMT
Reference
SPB217J1 (blue), SPB219J1 (green), SPB221J1 (black), SPB223J1 (white)
Dial
Blue, green, black, and white dials with Japanese Asanoha or hemp leaf pattern.
Case Dimensions
42.2×13.7mm
Crystal
Sapphire crystal with anti-reflective coating on the inside.
Case Back
Screwed see-through case back.
Movement
Automatic caliber 6R64
Strap
Three-link bracelet with three-fold clasp with push button release.
Functions
Hours, minutes, central seconds with stop function, 24-hour hand. Calendar-linked time difference adjustment function. Date hand in subdial. Power reserve display.