#TBT – Seiko 6159-7010 Grandfather Tuna
The First Diving Watches in Ceramic and Titanium
Today we talk about my passion for the Seiko 6159-7010 Grandfather Tuna and its modern interpretation, the Seiko Emperor Tuna.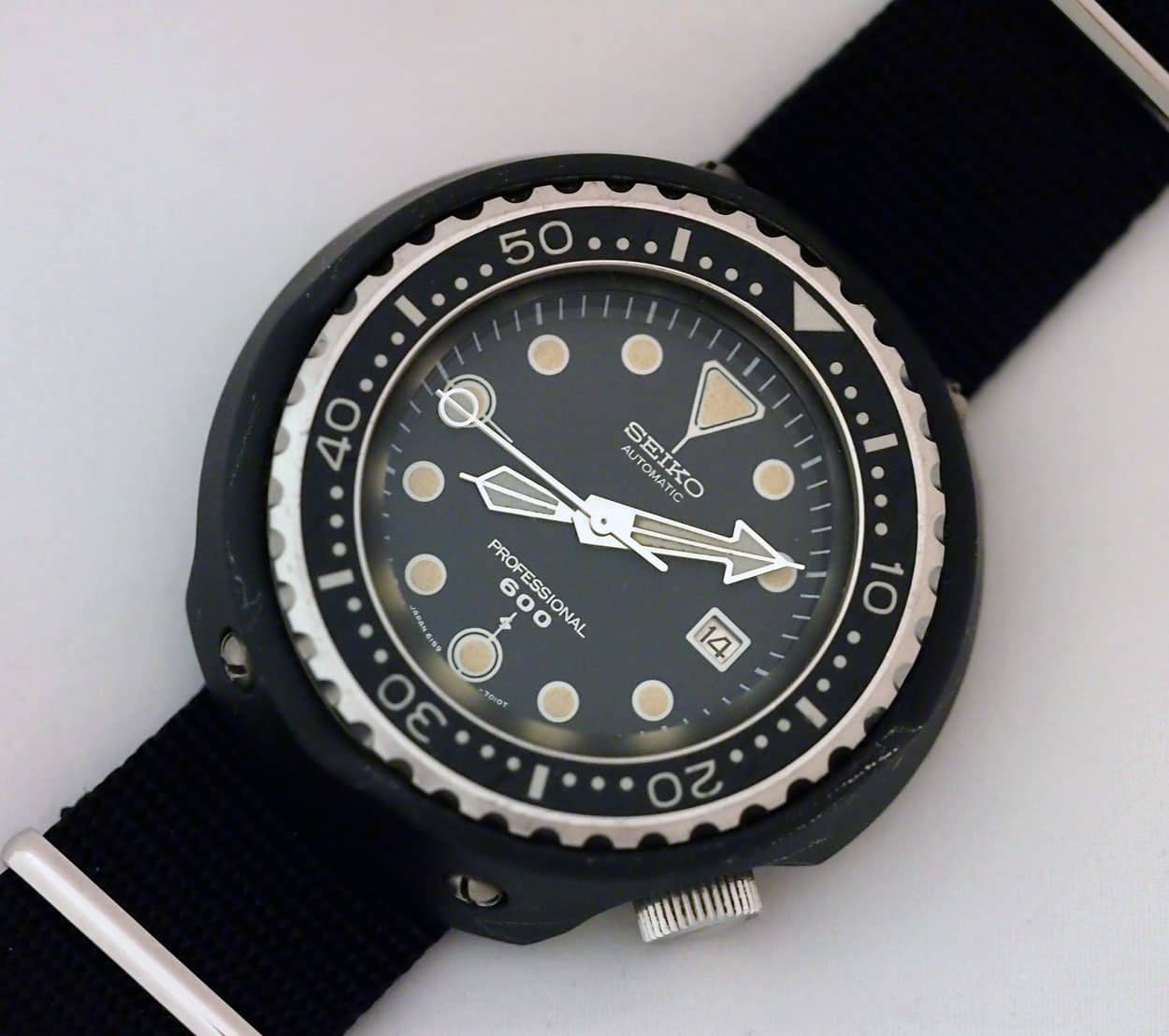 Seiko 6159-7010
So there I was, fighting inescapable jet lag while meandering the halls of the surreal world that is Nakano Broadway. If you've never been to Nakano, it's a haven for the otaku who collect anything (and everything) related to the Japanese world of comic books and their manga characters. So why was I in this people-watching mecca and why are you reading about it on a site devoted to watches? Nakano Broadway houses several pre-owned watch shops including the well-known and worthwhile Jack Road. It is also home to many shops selling consignment items that contain everything from toys, antiques and…more watches. It was on this day, in January, that I entered an overstuffed, messy consignment shop filled mainly with odd display cases of action figures when I spied something that I had long been craving: the Seiko 6159- 7010 "Grandfather" Tuna. After a nearly 3-year search for this watch, I don't think I could have written a more storybook ending.   I'll attempt to shed a little light on why this watch is so unique and desirable. Once I've whet your appetite, I'll endeavor to share some impressions on its modern successor, the Seiko Marinemaster Professional "Emperor" Tuna.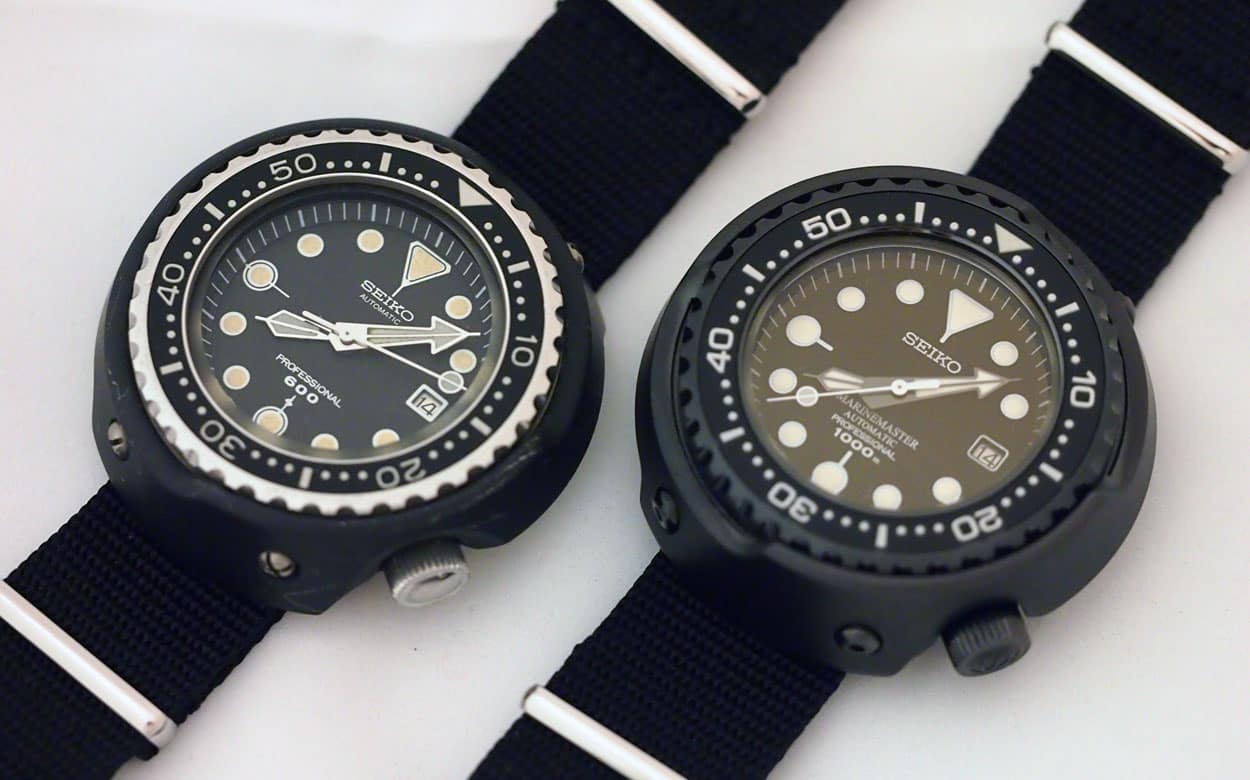 A quick search on the Seiko 6159-7010 will bring up the familiar story of why the original Tuna was created by Seiko. Complaints by Japanese professional divers in the late 1960's about watch failures at working depths led to a serious undertaking by Seiko to design a true, effective tool watch that could withstand all the pressures of working while submersed. The result came in 1975: the Seiko 6159-7010 Professional. Industry firsts included the titanium case, ceramic-coated titanium shroud, L-shaped gasket, and the vented rubber strap. With a 600m depth rating, the 6159 uniquely does without a helium release valve. Visually, the most distinctive element of the Seiko 6159-7010 is it's screwed-on shroud which gives the watch it's "tuna can" profile. The shroud protects the case while also allowing for 2 access points to spin the bidirectional bezel. Of course, this shroud adds a lot of visual mass and creates the 50.5mm case diameter. Inside the watch beats the 6159a, a Grand Seiko-derived 36000 bph hi-beat automatic movement. It hacks and can be hand wound. Date changing is quick set. There's no doubt that Seiko pulled out all the stops for this piece. Incidentally, the Seiko 6159-7010 (also marketed as the 7019 outside of Japan) was made from 1975 until early 1979.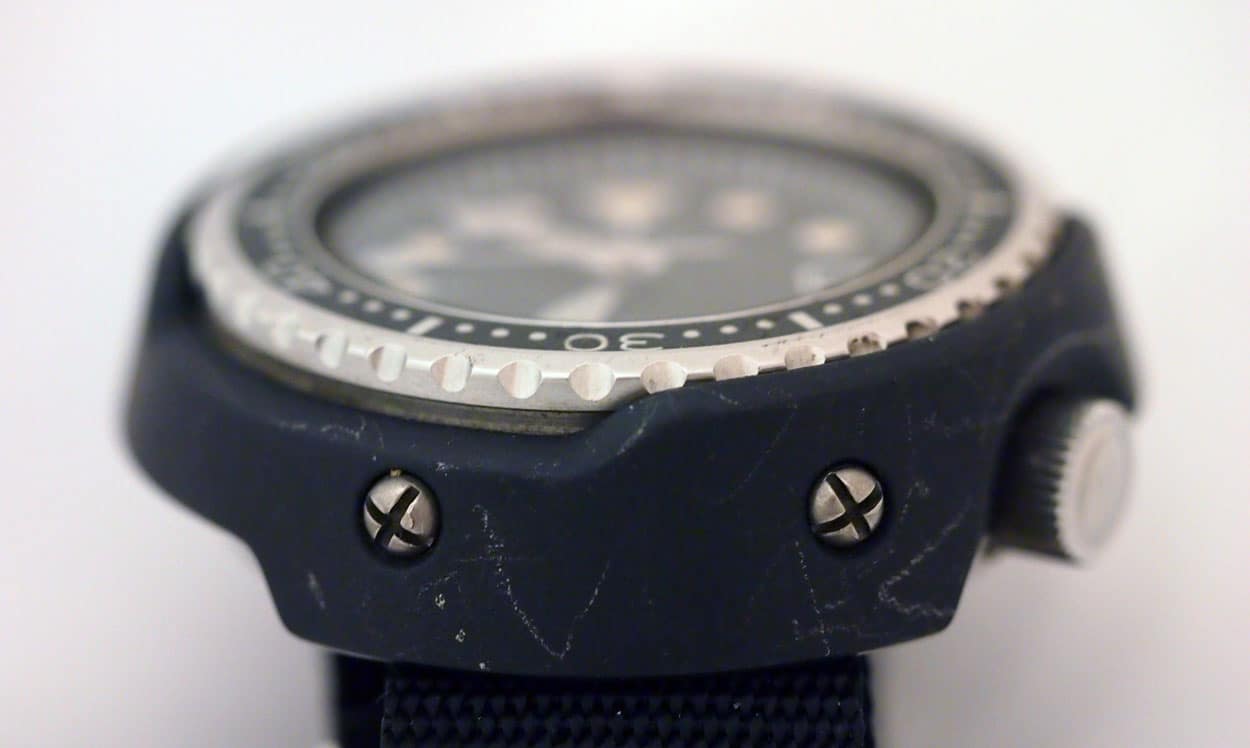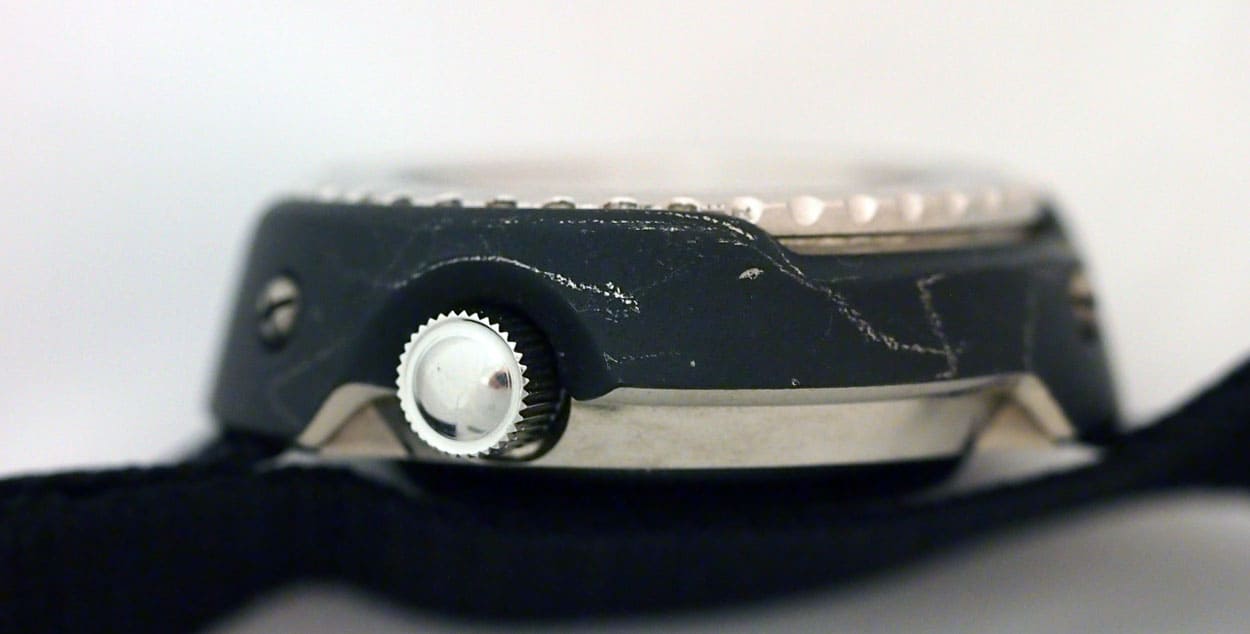 Aside from the technical innovation, what is the Seiko 6159-7010 like to view, handle and, most importantly, wear? The 6159 is not pretty. It is also not going to battle with the Submariner for the title of "tool watch most likely to be worn to a board meeting". Rather, it looks brutally effective for its purpose, think Rambo knife and you're in the right ballpark, and will most likely be worn very casually. The deeply set dial is one of classic simplicity that has stood the test of time as it largely carries forward to today's renditions of the Tuna. The Seiko 6159-7010 dial and case back show the Suwa symbol denoting its place of build. It's extremely clear and everything from the markers, hour/minute hands and the iconic lollipop sweep hand are sized perfectly. Even the date window is nicely detailed yet unobtrusive; perhaps current watch designers should take a lesson.  Seiko chose to outfit this model with its proprietary Hardlex mineral glass. Returning to the case back, the tsunami motif that is used today on Seiko's divers is proudly shown. When strapping this one on, let's be thankful that Seiko decided to use titanium as a medium because this watch is still a heavy little nugget.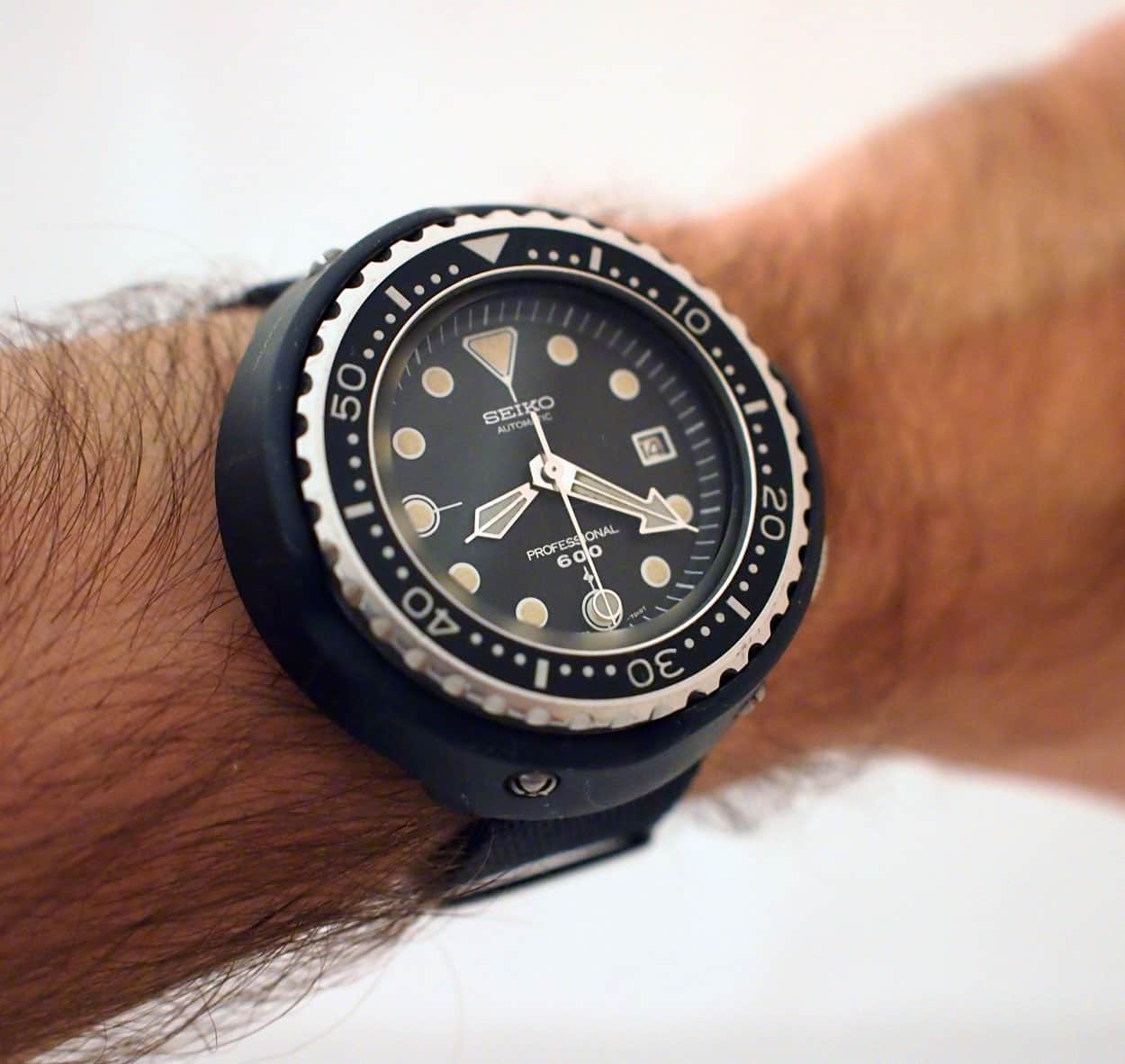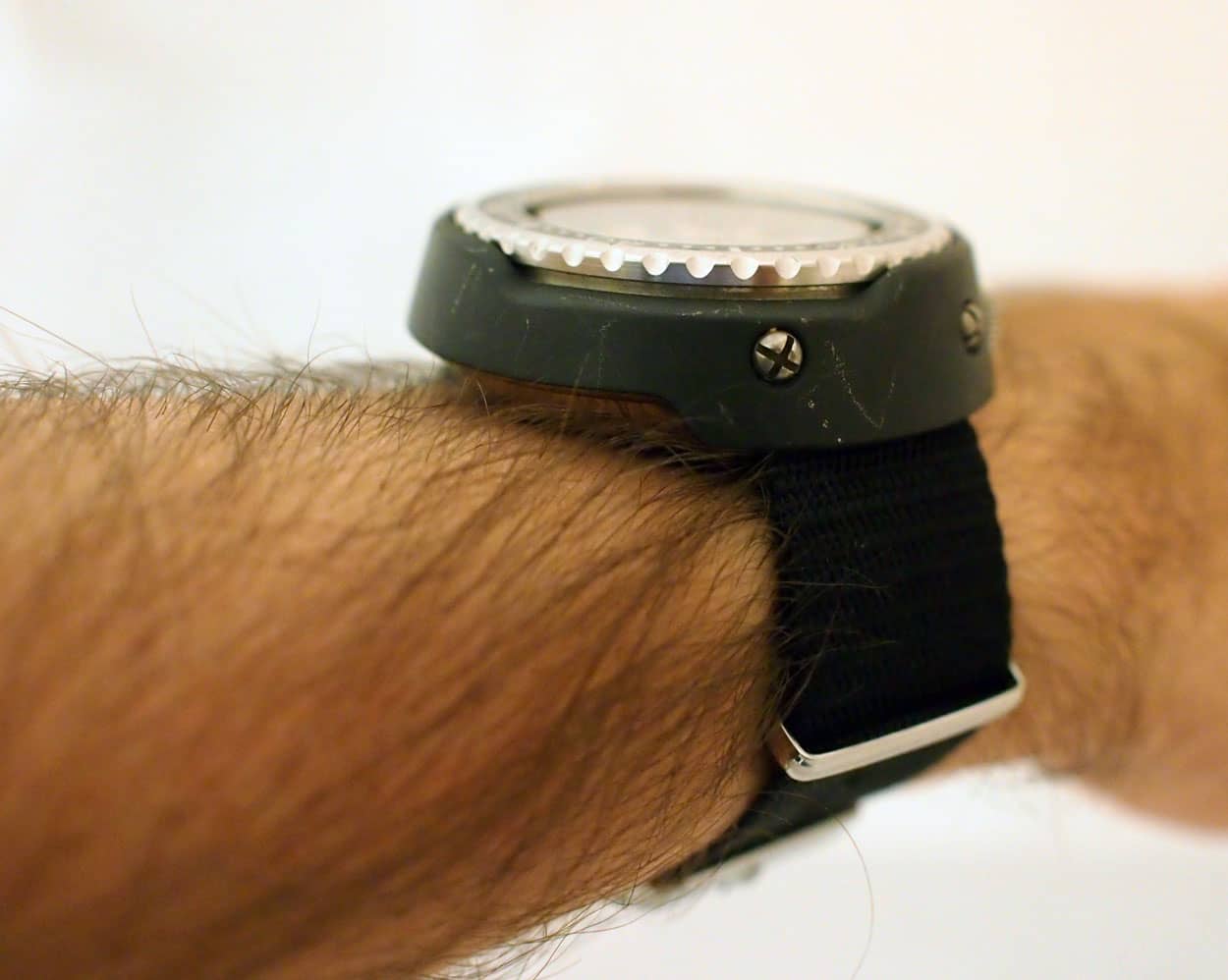 As far as wearability, a lot has been made about the height of the Tunas and the genetic requirement of a big wrist. Well, as a watch lover, I have been cursed with an extremely small wrist and I can tell you that the Seiko 6159-7010, and all other tunas, work for me. The key to such a great fit lies with the integrated lugs. My only modification is to use a thin, 22mm NATO strap as the original Seiko rubber straps are too long for me and prop up the case away from my wrist. Regarding watch height, it is true that you won't likely be sliding this under your slim fit dress shirt and it may end up denting furniture.  Onto the usable parts: the bezel is a slightly clattery bidirectional 60-click affair that has nice click detents and surprisingly good tactile feel. Meanwhile, the crown is a big beast that screws in nicely. Date changes occur with a precision click.
Let's discuss a little about this specific piece and I'll give some topical buying advice. The piece shown here is an early 1975 execution of the Seiko 6159-7010 because it lacks the "m" for "meters" next to the depth rating. It's more rare than the "m" version and some would say more valuable. How much more valuable? Well, that's tricky because I simply have not seen many 6159 tunas for sale before or after I found this one. This was an expensive watch when released and was likely not made in truly massive quantities. Common places to look for 6159's are, of course, eBay and the brand-only forums. Prices seem to range from $1200 for rough examples to over $2000 for better examples, but bidding seems to fluctuate wildly. Popularity for vintage Seikos, and most vintage watches, is on the rise, so assume that values will continue to creep in the upward direction. Look out for chipped shrouds, stripped crown tubes, missing or stripped shroud screws and signs of water entry. Shrouds are scratched easily, but I consider this to be surface character. Parts such as bezels, shrouds, dials are VERY difficult to find, so this is not a watch that I would recommend buying as an incomplete project unless you are highly patient. Thankfully, this is a stout movement, so durability seems to be a hallmark. If you're not one for vintage pieces but like the look of the 6159, Seiko did release a Historical Collection piece called the SBDX005 in a limited edition of 1000 pieces. These rarely show up and prices are normally above the Seiko 6159-7010. The piece is cosmetically very similar to the original save for a different movement, additional 1mm diameter and different sweep hand. Personally, I really enjoy my Seiko 6159-7010 and feel lucky to have found it. It runs with extreme accuracy and is a fantastic conversation piece.
So, let's say that the vintage 6159 market has you frustrated or you simply like buying new; what is the best choice if you're yearning for a purely mechanical Seiko Tuna? The answer is simple: the Emperor Tuna. After the Seiko 6159-7010 production ended, the world turned its eyes to quartz and Seiko created now-legendary quartz Tunas for many years and still does with its 1000m "Darth" Tuna model and its smaller, 300m models. In 2009, however, a new automatic Tuna was released in the Prospex line as the SBDX011 Marinemaster Automatic Professional. Cloaked in PVD titanium with a diameter of almost 52mm, the "Emperor" Tuna, as it is known, is a menacing beast indeed.   It ups the ante on its spiritual predecessor by bringing a 1000m depth rating to the game while continuing to forego any type of helium valve. The movement is Seiko's fantastic hand-winding, hacking 8L35 that is basically an unadjusted Grand Seiko 9S55 movement. A nice upgrade over the Seiko 6159-7010 is the use of an AR-coated sapphire crystal. Like the Seiko 6159-7010, you're getting a top class, although not hi-beat, movement in a workhorse case. The date adjust is quick set but the bezel changes to unidirectional with 120 fine clicks.
Some quick notes on the Emperor; it's a fantastically well-built watch that oozes quality while looking like something that could take on almost anything that comes its way. Lume is simply ridiculous and the finishing is on a par with watches twice its price (or more). Despite being in black, which is supposedly slimming, and only slightly larger than the Seiko 6159-7010, the Emperor does wear a bit bigger than its Grandfather. I suspect it has to do with the slightly thicker case (more than 17mm) and drooping lugs. Here again, I opted for a thin, 22mm NATO due to my still puny wrists. For those who love strap changes, this piece features drilled lugs.
Despite the fact that the piece is still essentially Japan-only, finding an Emperor is easy! Once again, places like eBay or even Chrono24 are good sources and the Seiko boutiques are finally starting to bring these outside of Japan. Also, some of the Japanese retailers, such as Rakuten, are good sources. I am guilty of picking up this piece at one of the ubiquitous "camera shops" that are all over Japan. These shops are official sellers, offer great duty-free prices, and often give additional discounts for using a certain credit card such as Visa. Prices vary with the strength of the Japanese Yen but I've seen pricing less than $2K to well over that amount. Plus, the service in Japan is legendary and, hey, it makes for a great story!
I hope you enjoyed a brief introduction to a couple legendary Seiko Tunas. If you are thinking of adding a high-end, non-Swiss diver to your collection, I'd highly recommend taking a look at one of these. A word of caution, though, once you enter the deep world of Seiko, it's highly unlikely that you'll emerge!
See the gallery below for more photos of the Seiko 6159-7010 and Emperor Tuna.