Seiko Factory Visit – Trip Report Part 1
June 8, 2017: You can now sign-up for the same adventure as described in this article. Sign-up for the Grand Seiko Experience with Fratello Watches.
In July this year, I received a phone call from Seiko whether I'd be interested in the Seiko Media Experience 2015 tour in Japan. I gladly accepted this invitation, as I was very curious about Seiko and their production facilities as well as about Japan itself. Although the program of the Seiko Media Experience was fully packed with visits and traveling within Japan, it would probably gave me a little peek into this fascinating country.
The Seiko Media Experience 2015 tour consisted of:
a couple of seminars on the Astron, Grand Seiko and Prospex watches;
factory visits (main focus on Grand Seiko) and some thoughts to share;
interview with Mr Hattori, CEO of Seiko and a museum visit.
I (tried to) gave it a bit of thought how I can report about my Seiko trip in the best possible way, so I decided to do it like this:
Part 1 – Visit to the (Grand) Seiko and Credor facilities in Morioka and Shiojiri;
Part 3 – Seiko Museum visit and interview with Mr Hattori.
You have to know that Seiko is a complex organization with a lot of different legal entities and physical locations. When it comes to watches, you have to keep in mind three different entities:
Seiko Instruments Inc (SII, the first factory we have visited in Morioka), Seiko Epson Cooperation (the Shiojiri factory we've visited) and Seiko Watch Corporation.  The latter is responsible for sales and marketing of Seiko watches, world wide. So basically, it is also the company that invited me on this trip. The two factories, in Morioka and Shiojiri, are used to develop and manufacture (Grand) Seiko and Credor watches, but have different fields of focus. In Morioka, the production of mechanical Grand Seiko and Credor watches takes place while in Shiojiri, the production of quartz and Spring-Drive Grand Seiko and Credor watches is being done. To make it a bit confusing, in Morioka there is also a huge department where quartz movements are being produced, but these are not meant for Seiko branded watches.
Before we started our journey to Morioka, we received a presentation on Seiko, the history of Seiko and of course the concept of Grand Seiko. I feel that we covered enough on Seiko during the last year that I can skip some history lessons in this first part. However, I will get back to some historical highlights of Seiko in Part 3, when covering the museum visit in Tokyo.
Seiko Instruments Inc – Grand Seiko 9S
On the day of arrival, a Sunday, I had some free time and met with my colleague of Uhren Magazine and WatchStars, Thomas Wanka. We went out to see Ginza (part of Tokyo where our hotel was located) and had a wonderful diner in one of the restaurants in the hotel. Also, because of the 7 hour time difference and +12 hour flight, it gave me the opportunity to try to get adjusted a bit to the new timezone. Which miserably failed, as next morning I woke up at 3.30am. On this day, we left to one of the Seiko offices in Tokyo to get introduced to our traveling party and to the Seiko holding and the – to us – relevant parts of the company and get to learn the difference between SII (Morioka) and Epson (Shiojiri).
We used the famous Japanese bullet train to travel to our first stop, the Seiko Instruments Inc (SII) factory in Morioka. Due to the lack of sleep, I didn't see much on our way there because as soon as the bullet train started its smooth high speed journey, my eyes closed.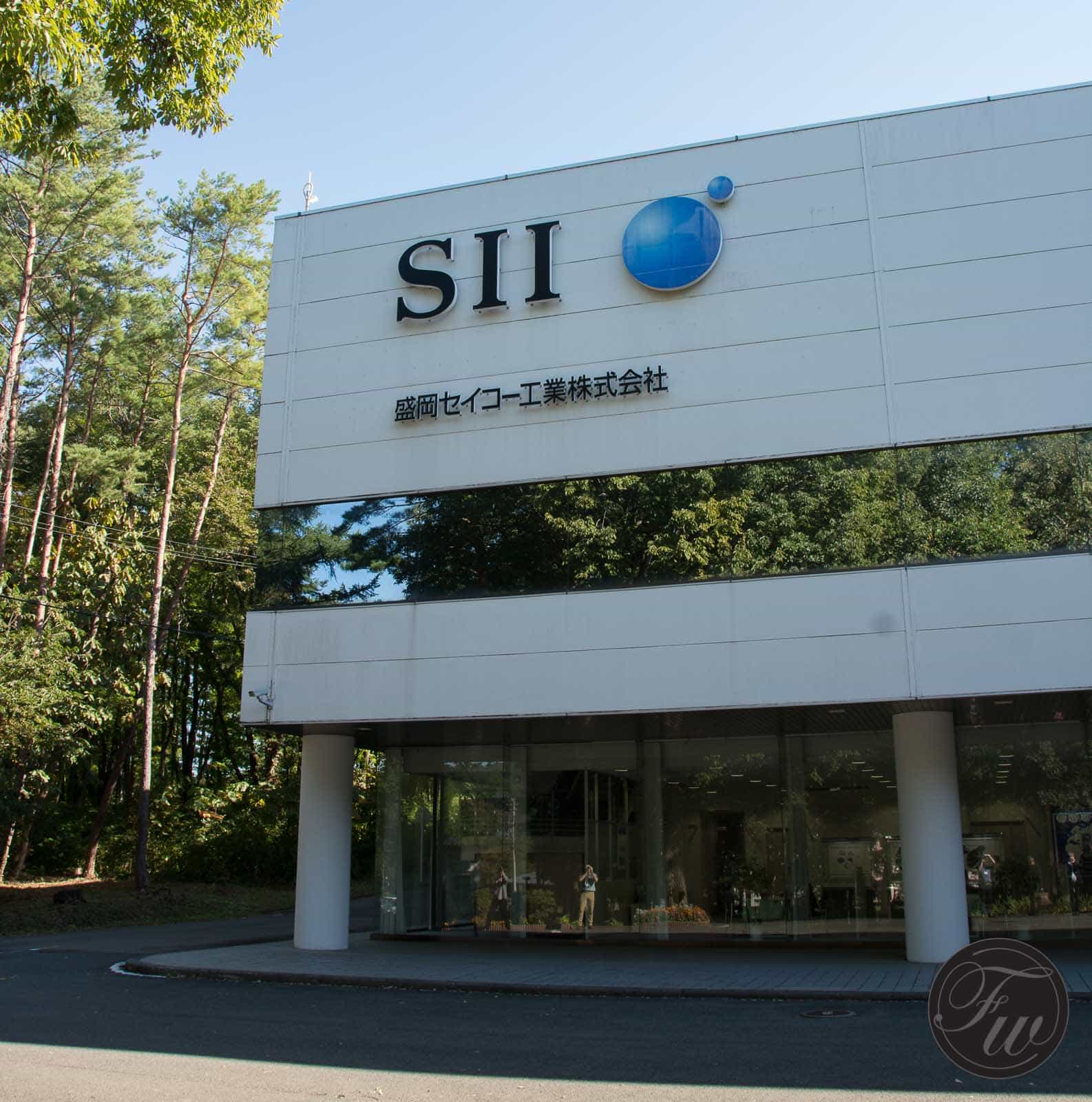 In this facility, we received an introduction to Grand Seiko and its 9S movements. The 9S movements are the mechanical hearts of Grand Seiko, where the 9F are quartz movements and the 9R refer to the Spring-Drive movements. In Morioka, Seiko has a large workshop with highly skilled and experienced watchmakers that work on the mechanical Grand Seiko timepieces. These watchmakers are together in a large room, sitting at their workstations made of wood. Every workbench – or workstations, as Seiko referred to it – are made to fit the watchmaker perfectly. In this area, as dust free as possible, watchmakers assemble the movements of the mechanical Grand Seiko, Credor and some Prospex (those with caliber 8L35) watches. All watches are also cased and tested in this SII building.
The mechanical Grand Seiko movements, the 9S calibers, are available in a number of variations. The base caliber is 9S65, a beautiful finished work horse movement with a 72 hour power reserve. The 9S85 is also a three-hand movement, but as a hi-beat (36,000vph) version. The power reserve of the 9S85 is 55 hours. These two movements also have a GMT version, the 9S66 and the 9S86 (hi-beat). Then, there is the hand-wound caliber 9S64, also with a 72 hour power reserve. The 8L35 movement, used in the Prospex Marinemaster collection (like this Marinemaster 300 and this Marinemaster 1000), is a movement based on the 9S55 (out of production GS movement). Some say it is an unfinished Grand Seiko movement, but I am not sure whether this is the case. It looks amazing (see below).
As said, only highly trained and skilled watchmakers are working on Grand Seiko (and Credor) movements. Besides the high-level of watchmaking, something that probably struck me even more is the pride that the watchmakers (and anyone else at Seiko for that matter) take in making watches. This is of course difficult to reflect in a picture, but I will try to give you some examples later on in these Seiko Factory Trip reports.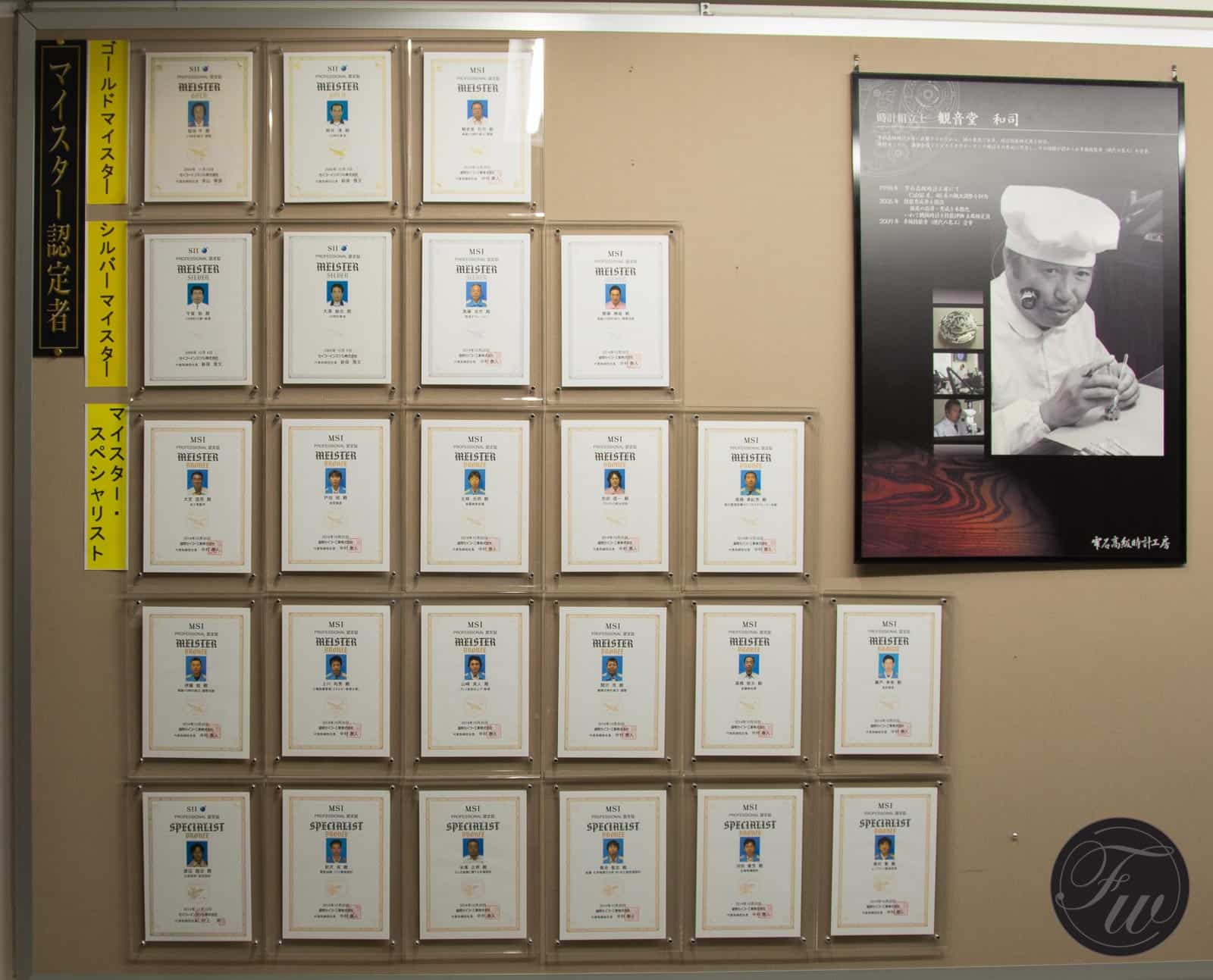 In one of the hallways, there is this wall filled with certificates of the watchmakers at SII in Morioka. Most watchmakers are trained and certified in-house by Seiko. As you can see on the image above, there are gold, silver and bronze certificates for watchmakers.
Seiko is using a Meister and a Specialist system for these three levels. The 'Meister' watchmaker is responsible and specializing in manufacturing operations like assembly of the movement. The Specialist system focuses on the experts working on R&D and engineering.
At SII, there are also a few watchmakers that are trained to work on the extra-thin (caliber 68) movements for Credor. Meet one of them below, where he demonstrates how small and thin these movements actually are.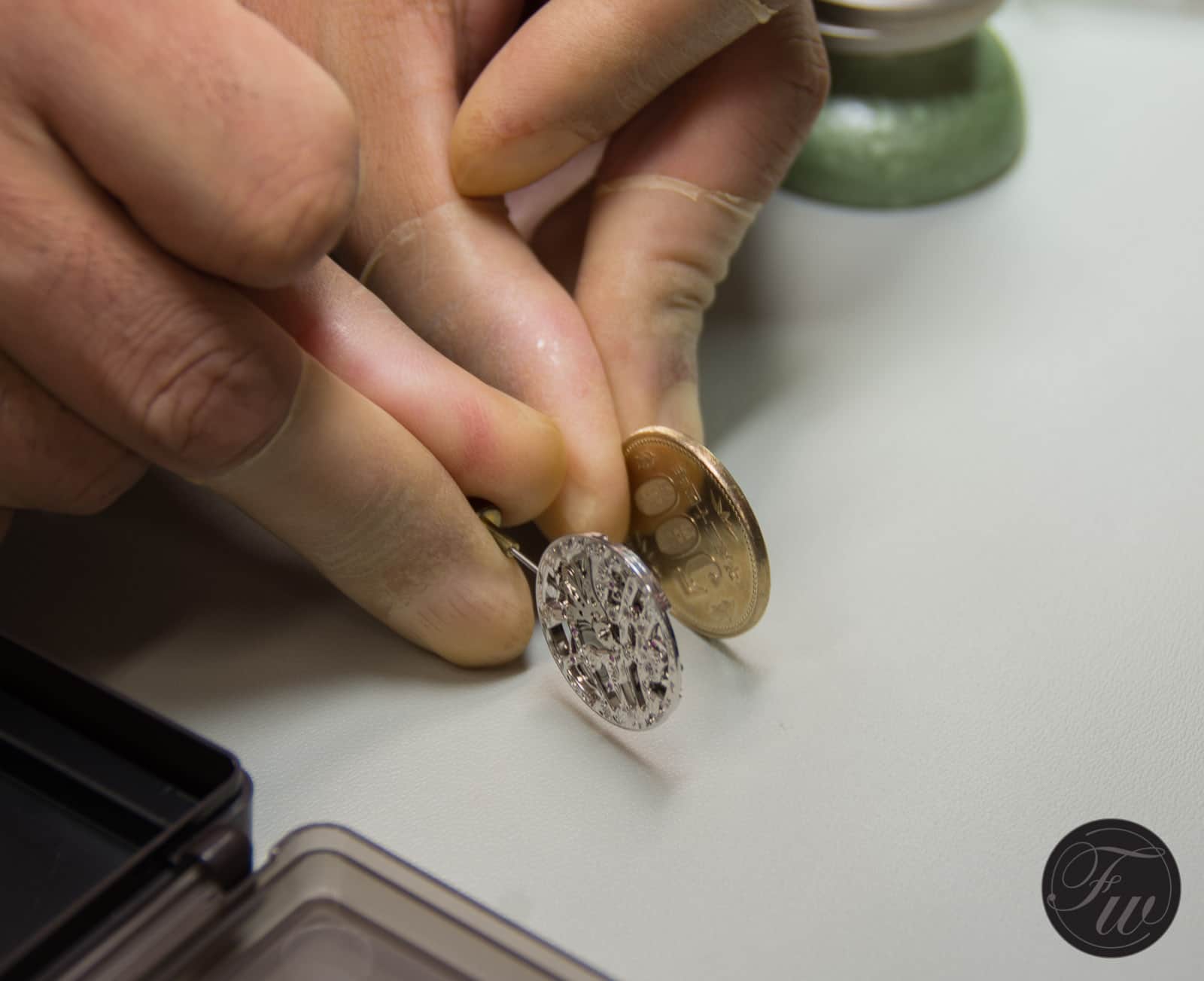 The production of movement parts also takes place in Morioka, but in a different department then the GS movement assembly workshop of course. The movement is being assembled by the watchmakers behind their wooden workstations. Afterwards, the movements are being fitted to the watches and will undergo a couple of tests.
After the movement has been cased, the watches are being tested for water resistance and will get their bracelets. Everything is being done step-by-step and with the utmost attention to details by visual inspection.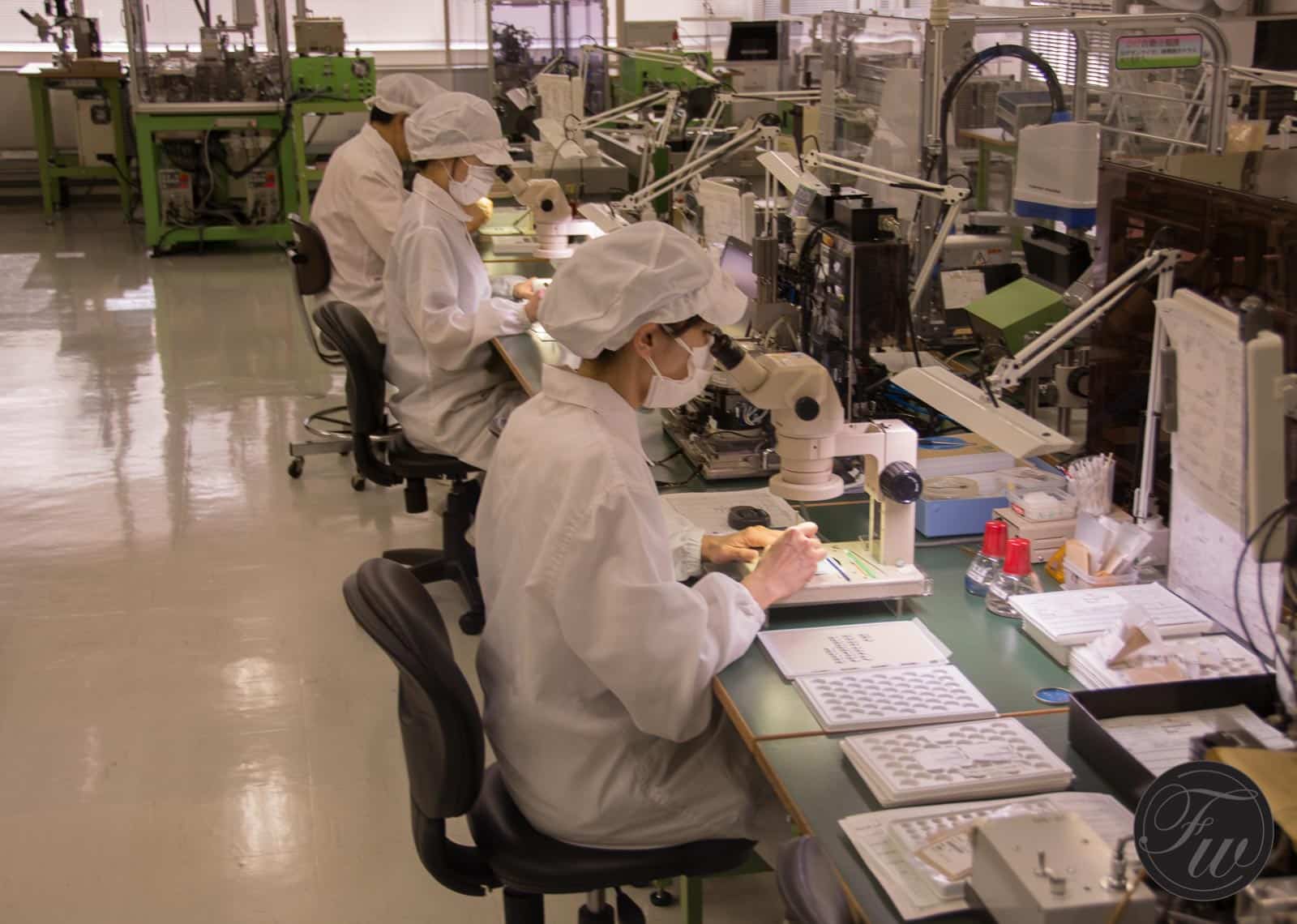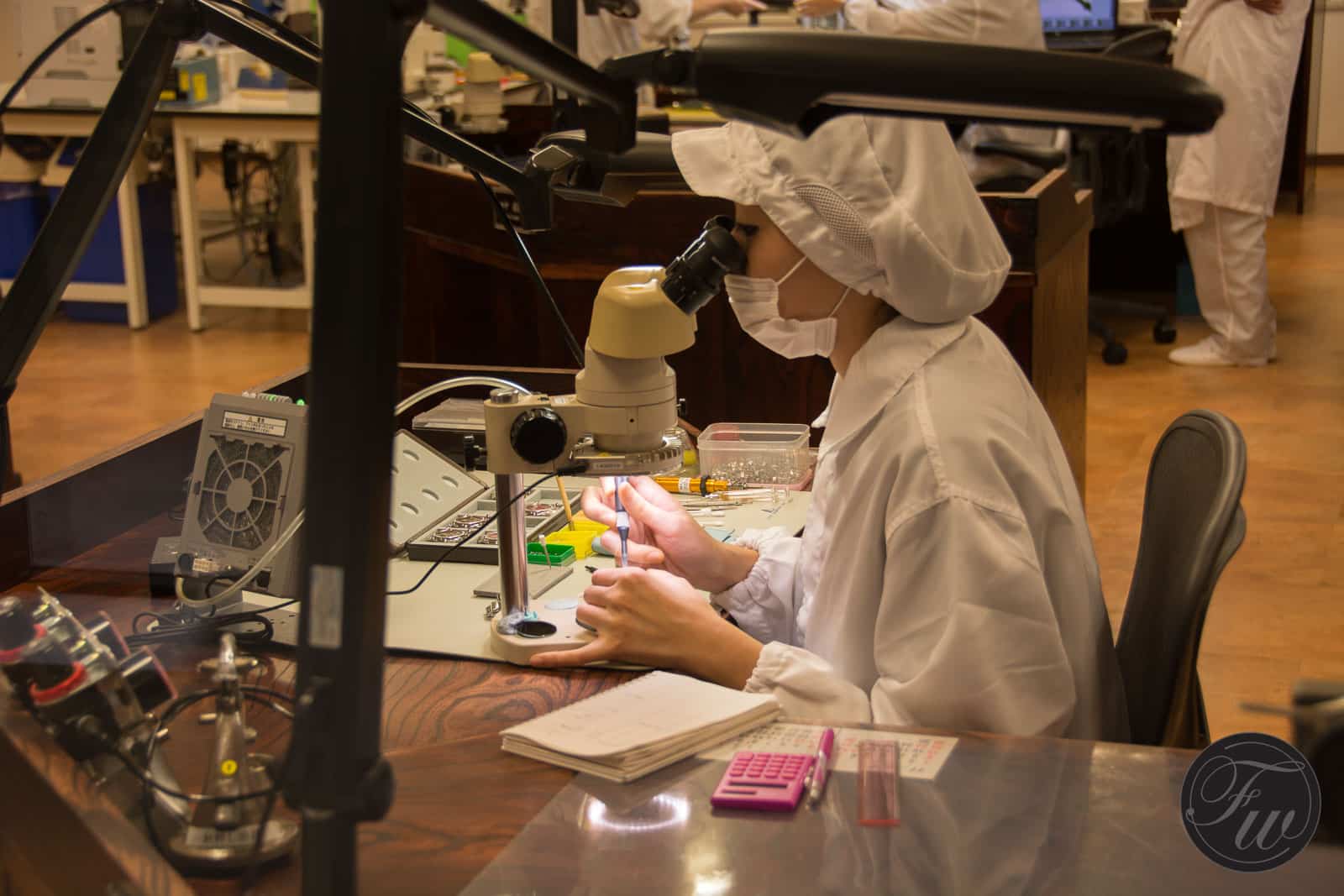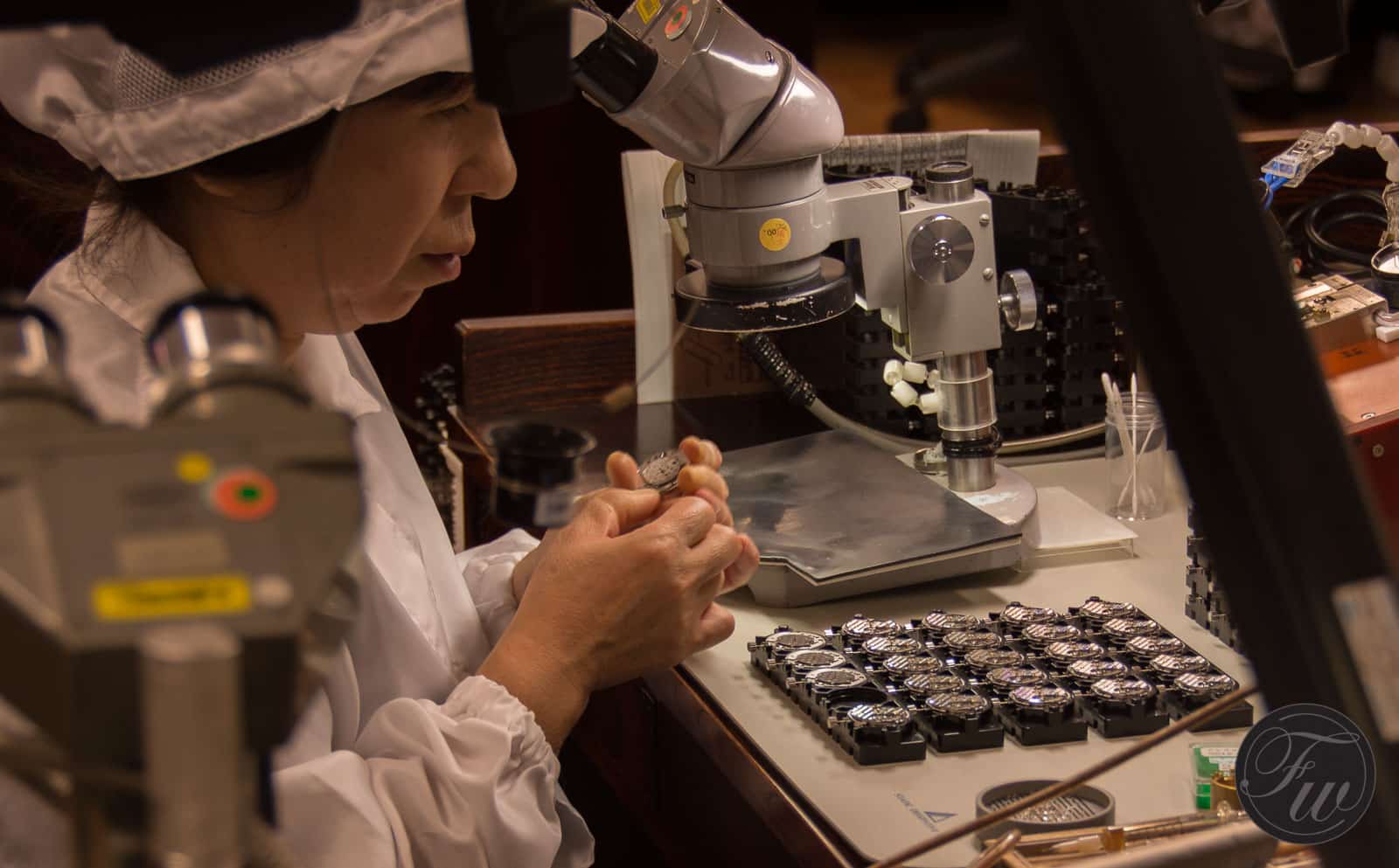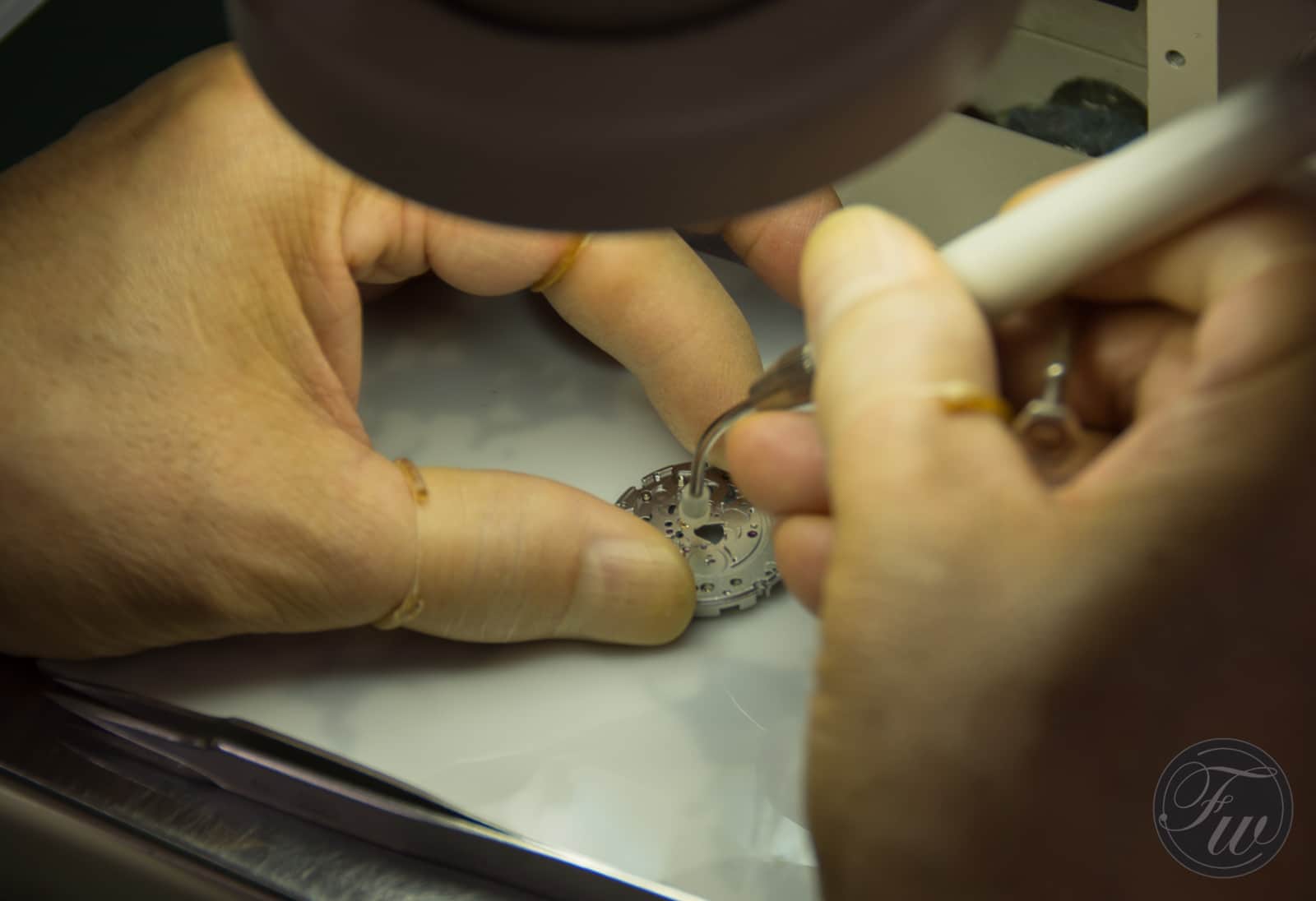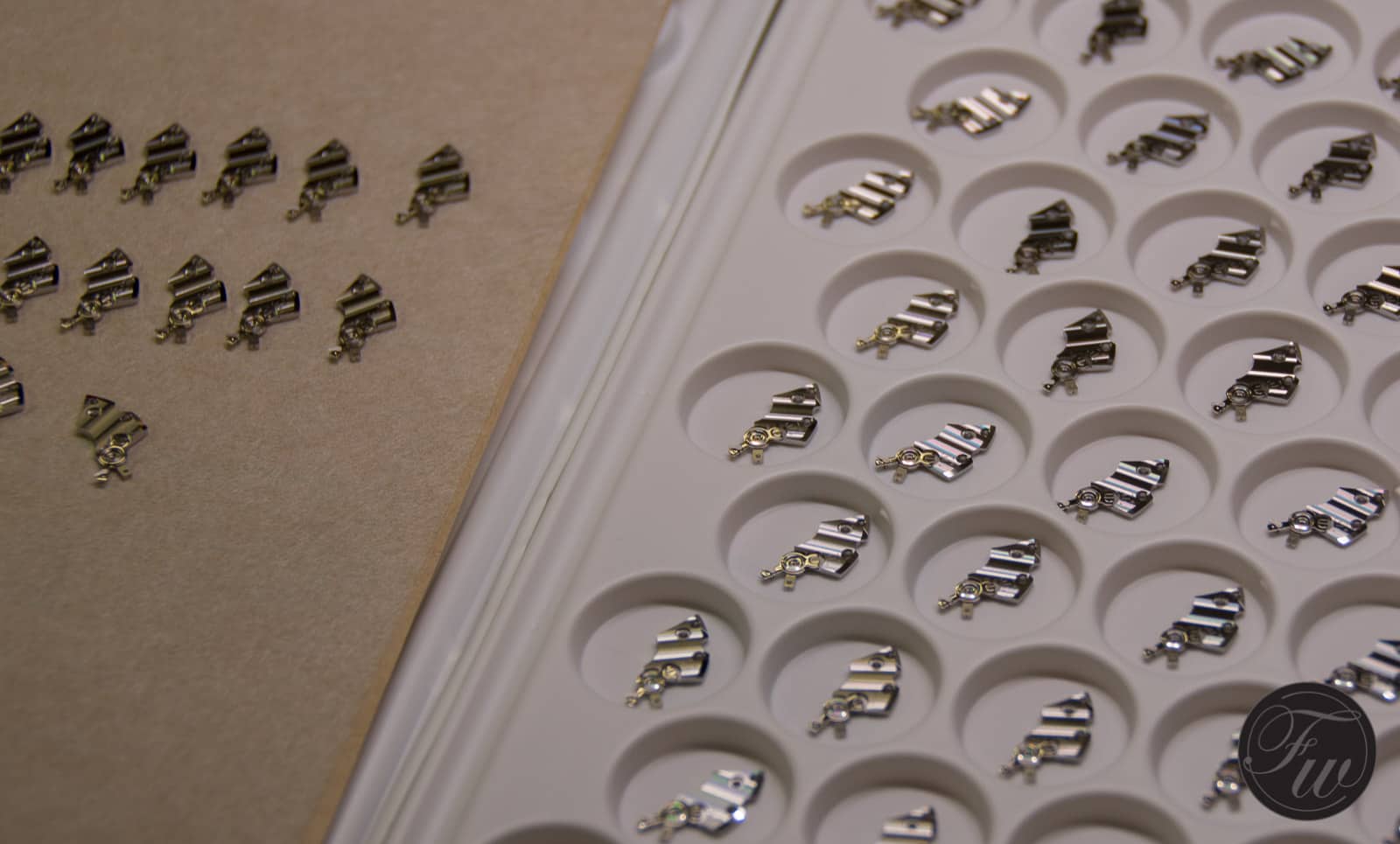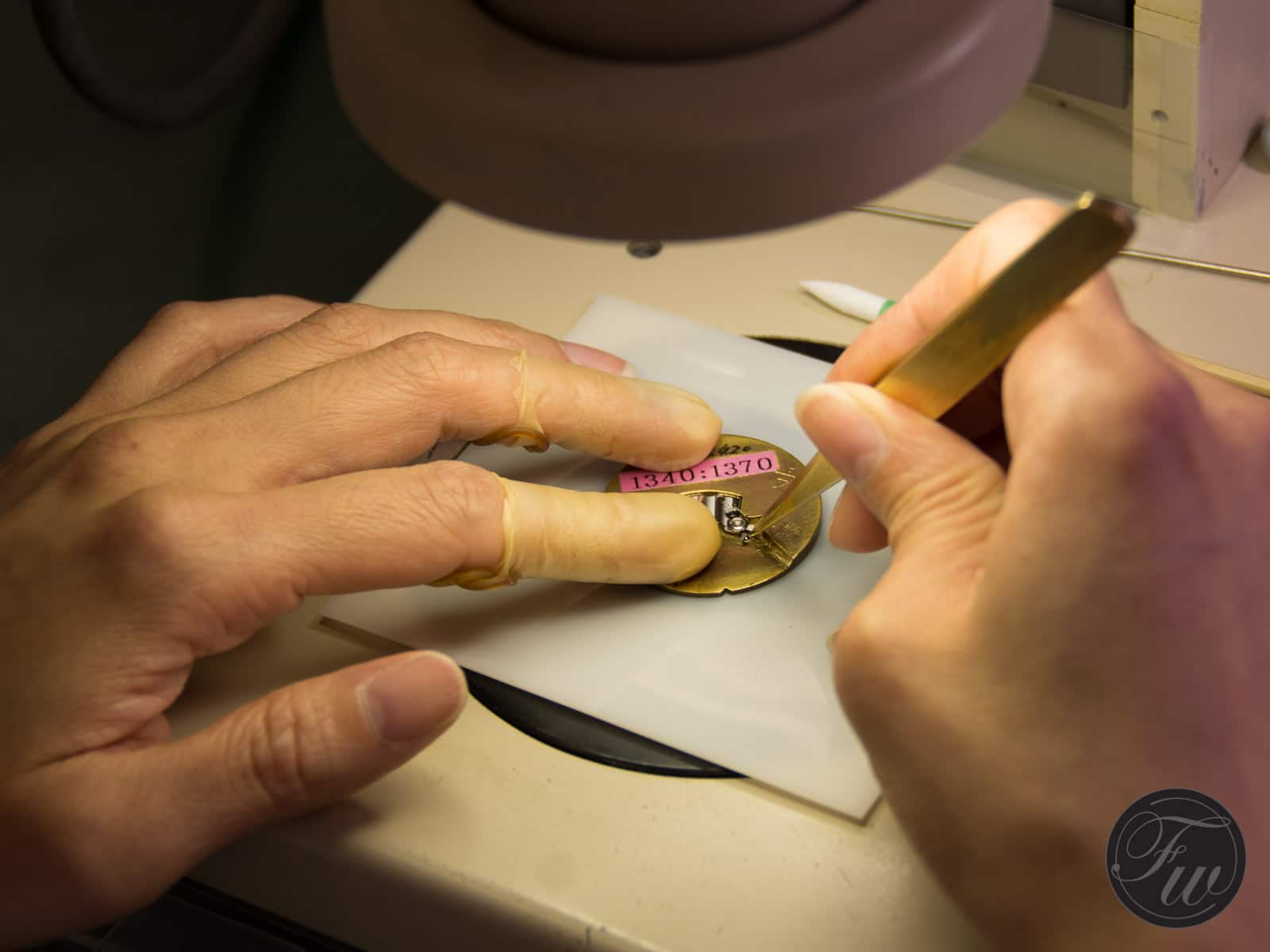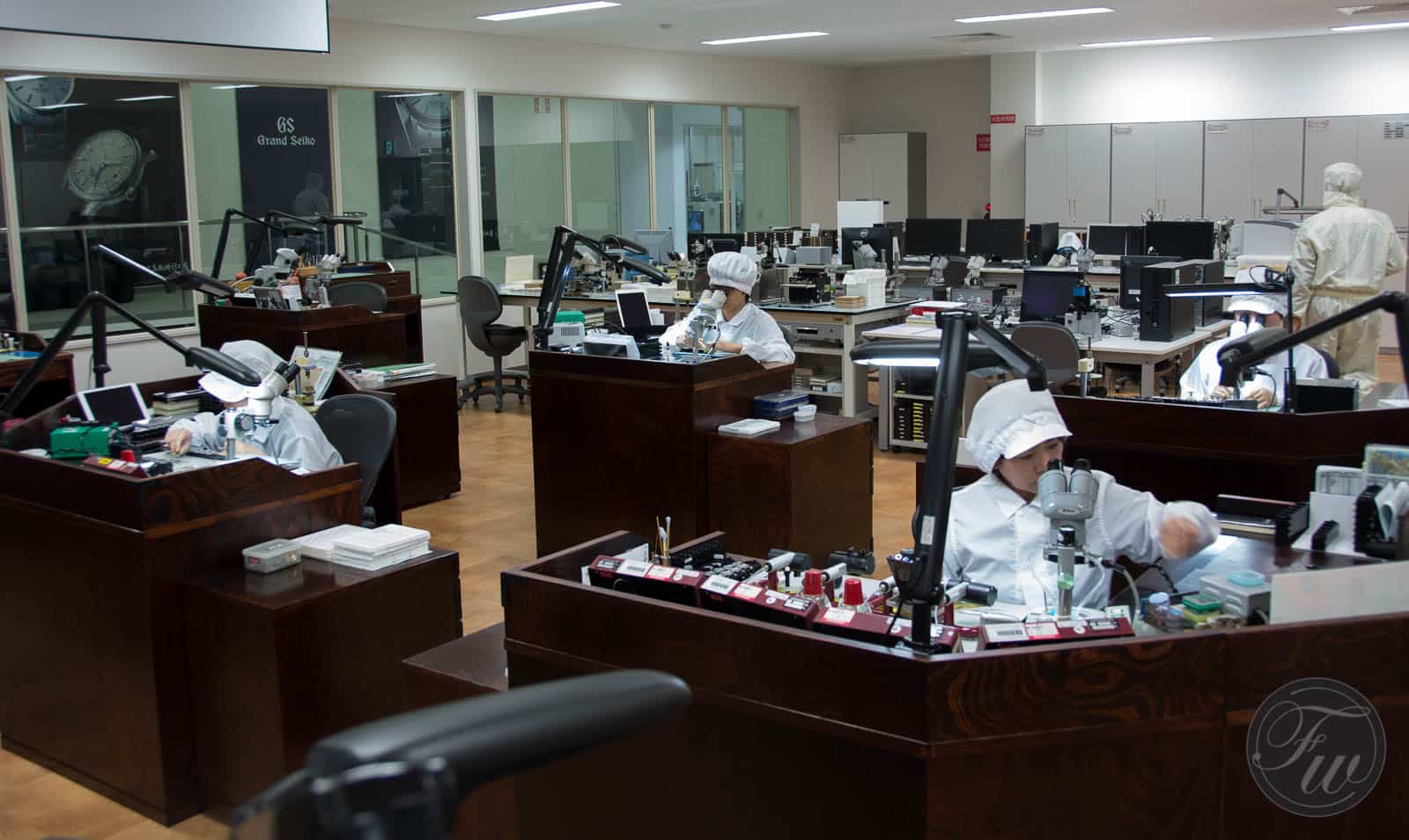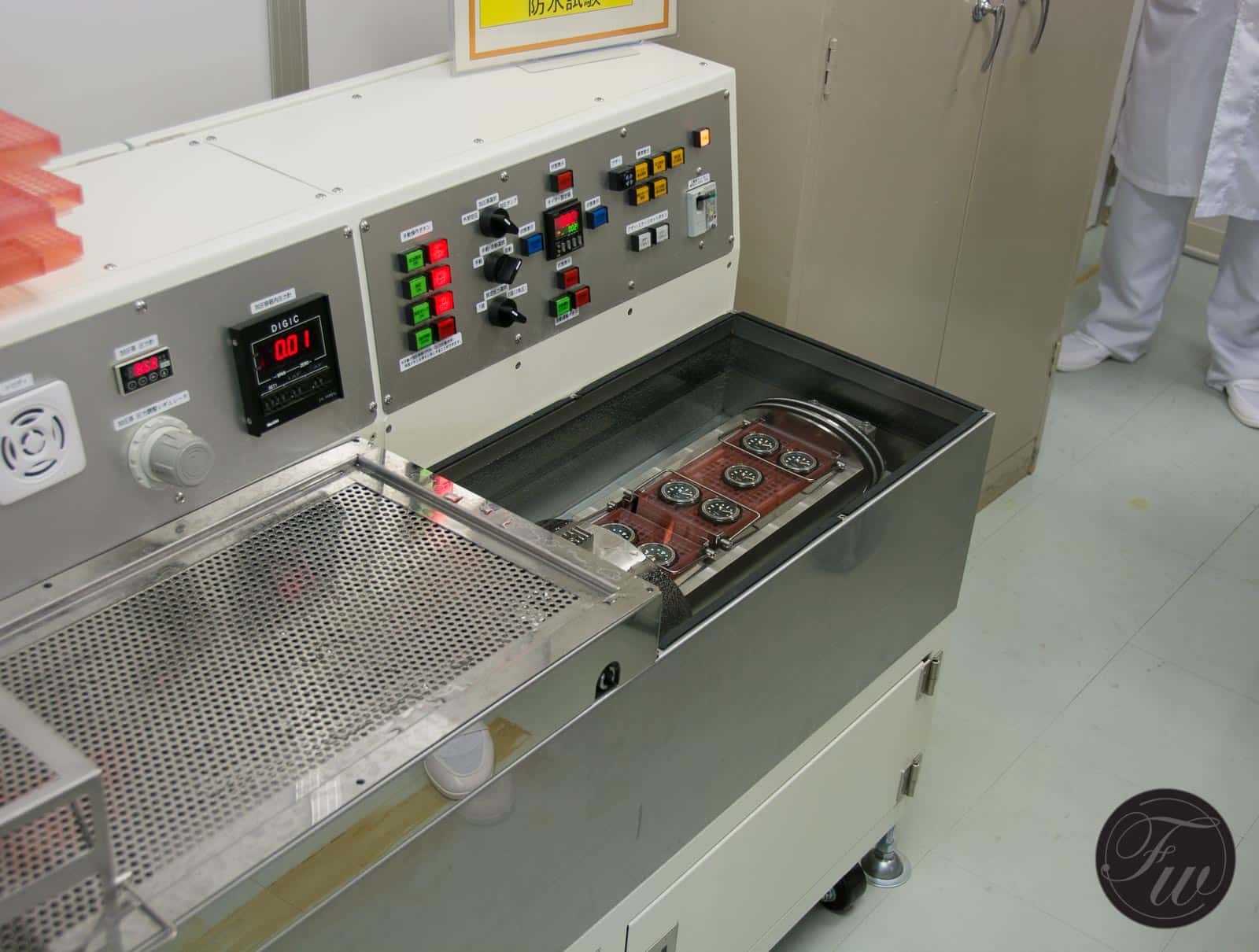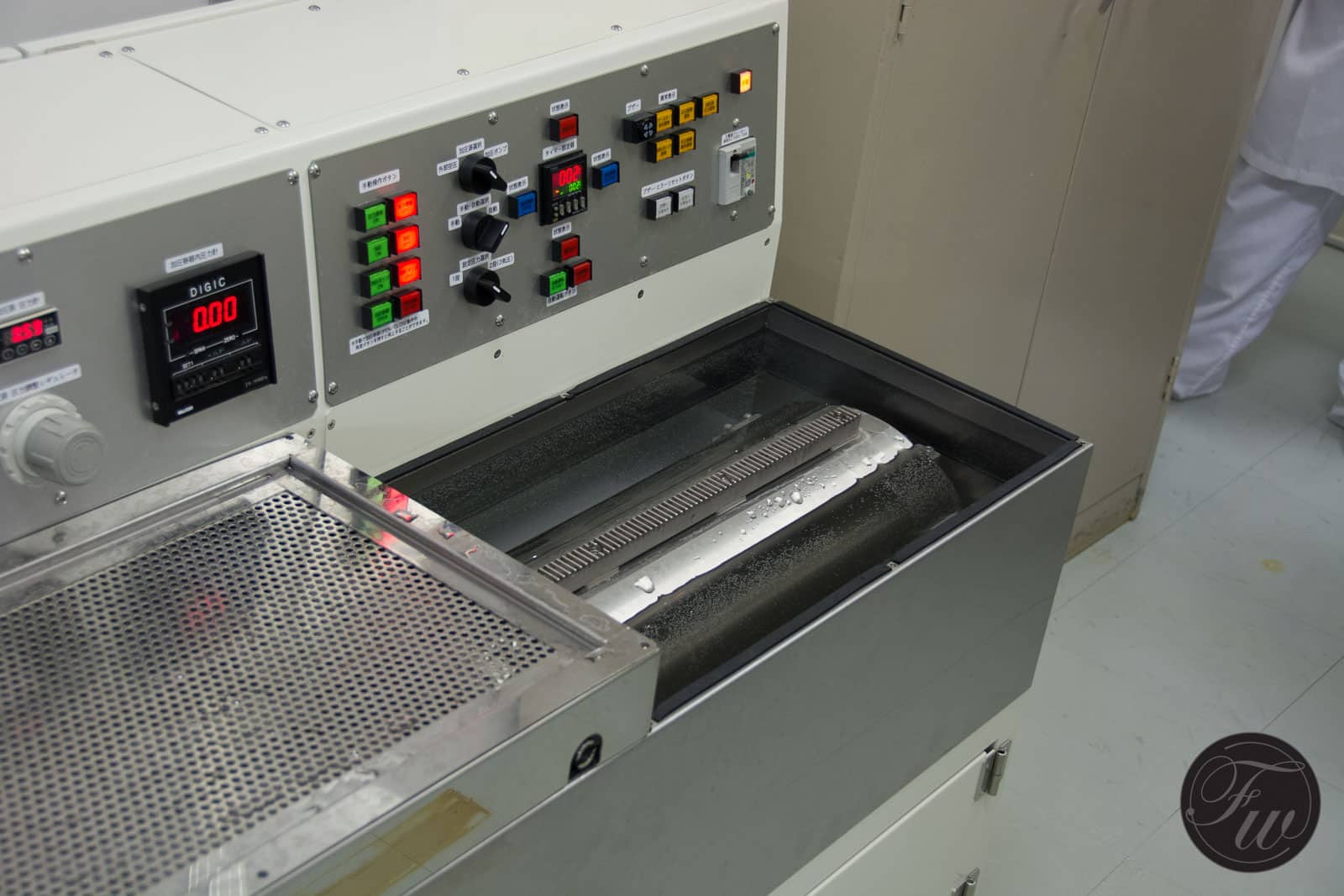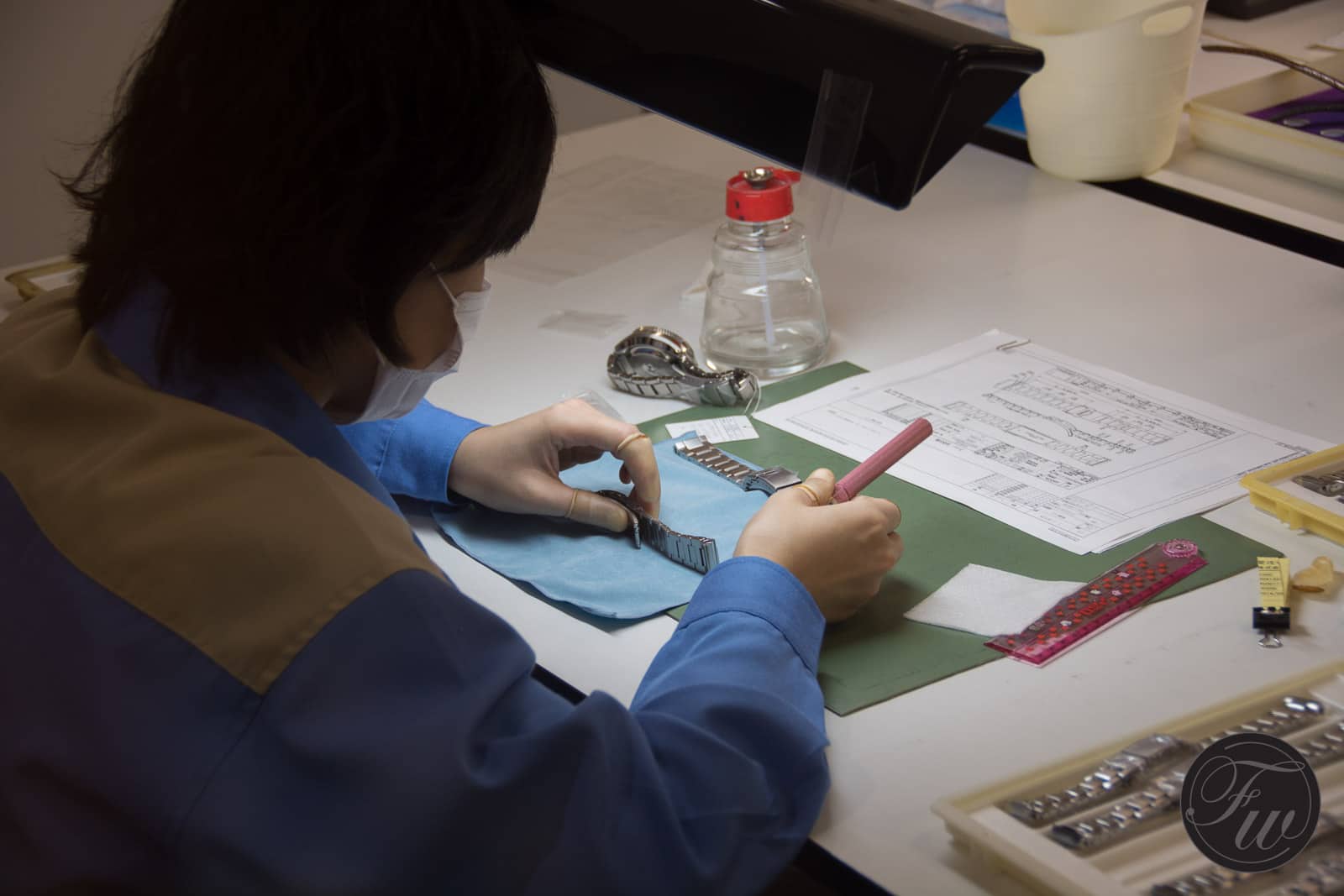 Besides the part productions, movement assembly, casing and fine-tuning, all Grand Seiko watches are subject to their in-house testing program. This testing program is more strict and extensive.
| | | |
| --- | --- | --- |
| Seiko testing program & criteria | | |
| | | |
| | | |
| | | |
| max difference in rate between vertical & horizontal positions | | |
| | | |
| rate variation according to temperature | | |
| | | |
| | | |
| | | |
| | | |
| | | |
All Grand Seiko watches come with a certificate belonging to that specific watch and movement stating that it has passed all tests.
After our visit to Morioka on the first day there was a lot of information to digest. I was amazed by the openness of the Seiko staff and how they dealt with our questions. Every question was answered and when something could not be answered right away, they ran off to the responsible person or department and came back with the answer later on. Compared to my trips to some Swiss and German brands, the Japanese were very transparent. Almost no closed doors and when a door was closed, it had a good reason (future projects), where-as in Germany and Switzerland I get the idea that some times it is about hiding parts of the manufacturing process or the fact that a lot of parts do not come from their own factories (or even from Europe). In my humble opinion, I think Seiko should be doing some more 'showing off', just to tell people how much it is they do themselves. I am very tempted to state that Seiko is the manufacture that really does everything in-house, but I haven't been everywhere in Switzerland and Germany and because of the closed doors, it actually also quite hard to tell.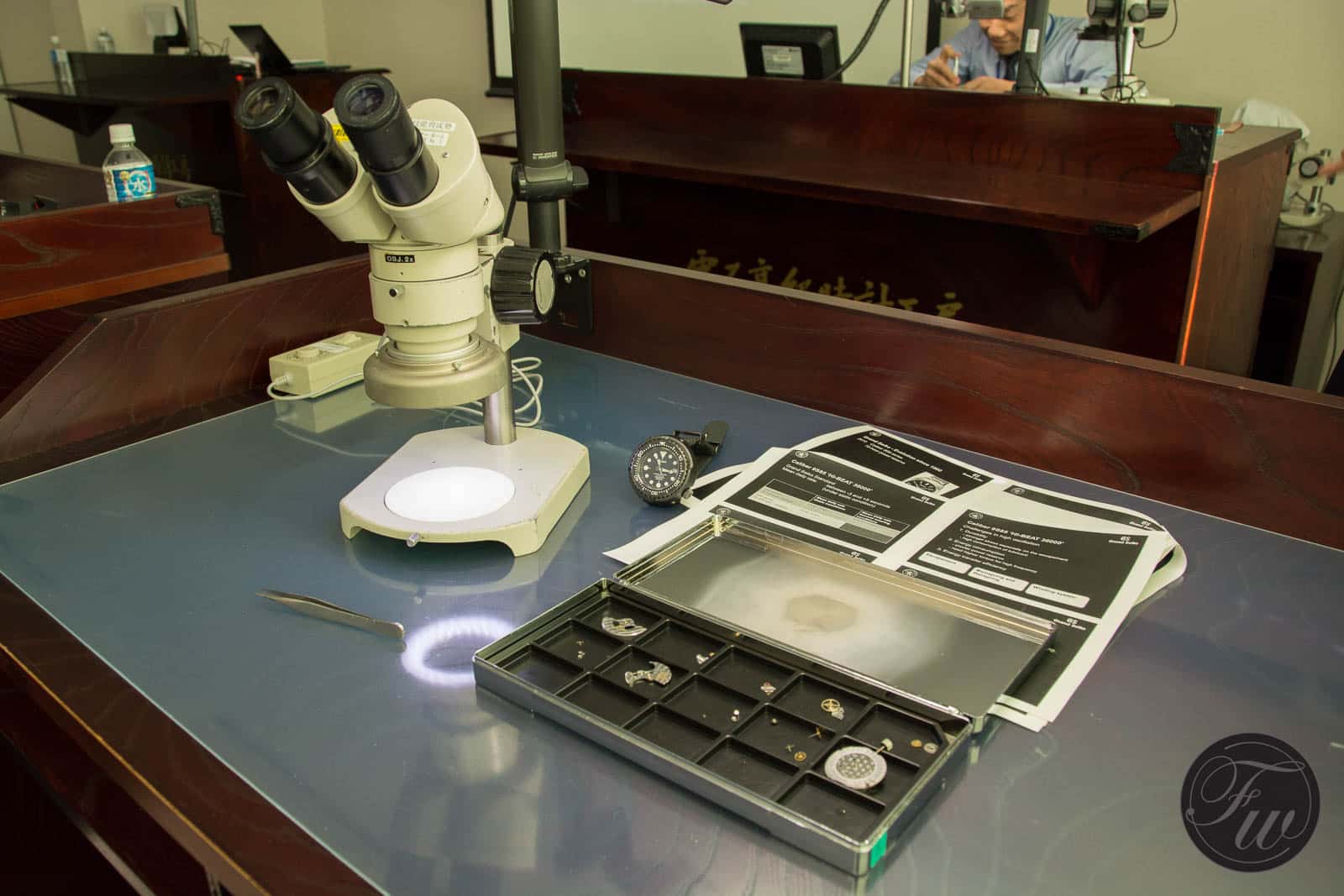 On the second day of our trip, we went to Morioka in the morning to learn more about the Grand Seiko movements and some of Seiko's innovations over the last couple of decades. There was also some time to discover some of the technical solutions by Seiko ourselves, using the microscopes on the watchmaker's benches. Besides the technical aspects of the Grand Seiko, there was also time and room to look at some of the current collection of Grand Seiko. As you know, the Grand Seiko was introduced in 1960 and ever since, the design elements of those first models (e.g. 62GS and 44GS) can still be found in some of the Grand Seiko models of today.
Seiko Epson Visit in Shiojiri – Spring Drive and Quartz
In the afternoon of the second day, we left to Nagano where we spent a night in order to go to the Epson manufactory in Shiojiri the next day (day 3). We left again by bullet train towards Tokyo and at some point make a hop-over to Nagano. We had a wonderful diner in the hotel restaurant in Nagano, but unfortunately no time to have a look around.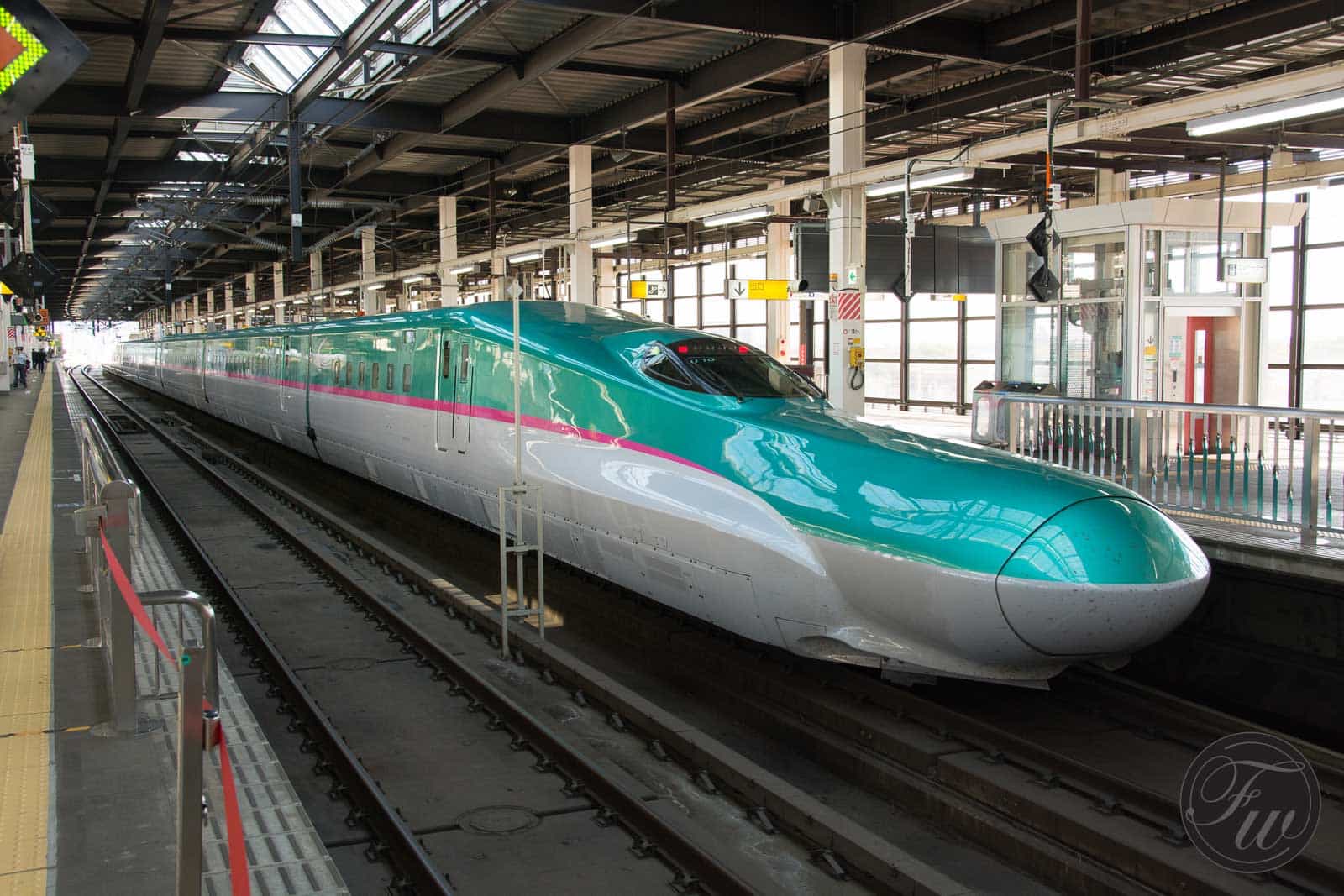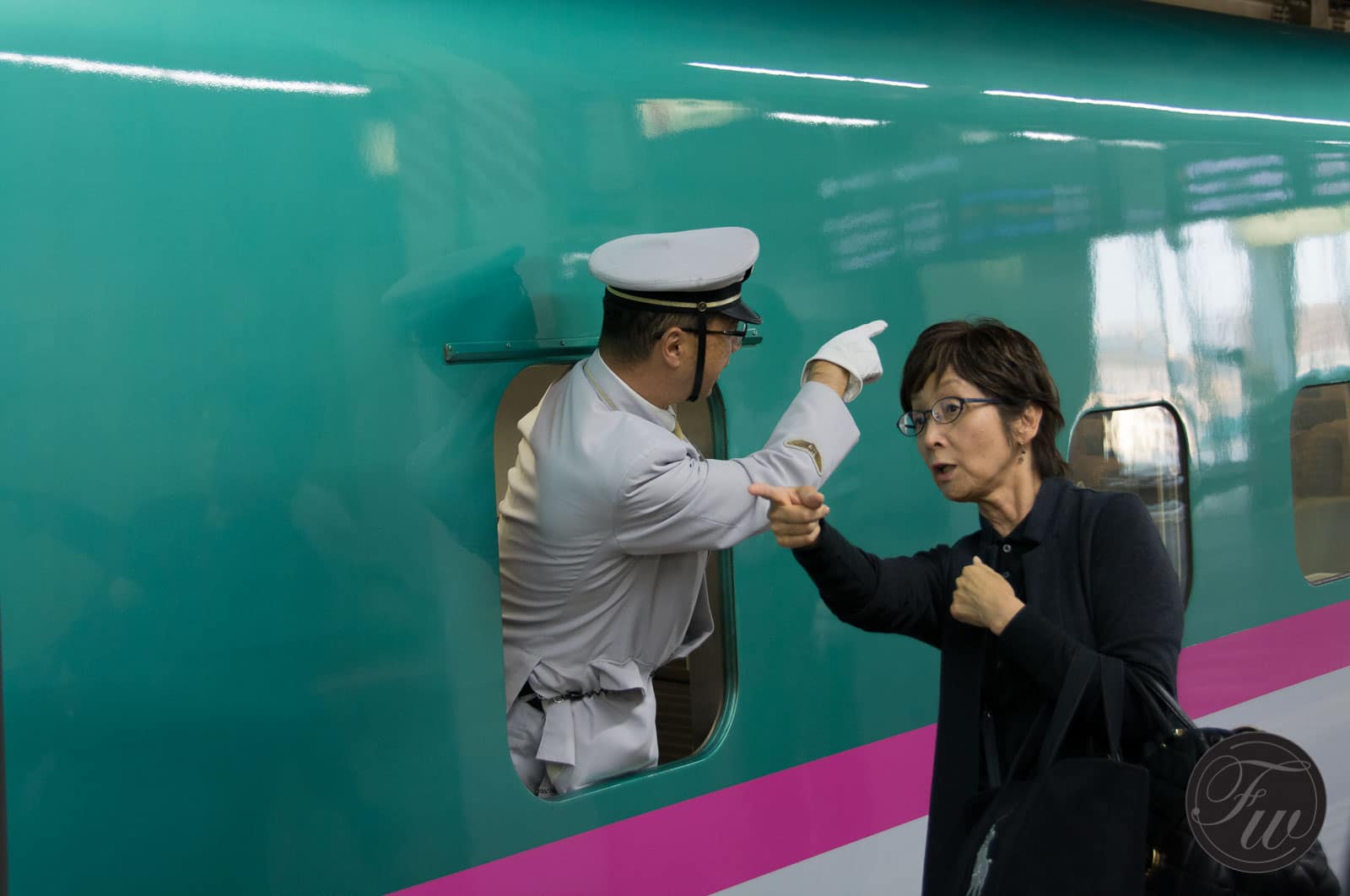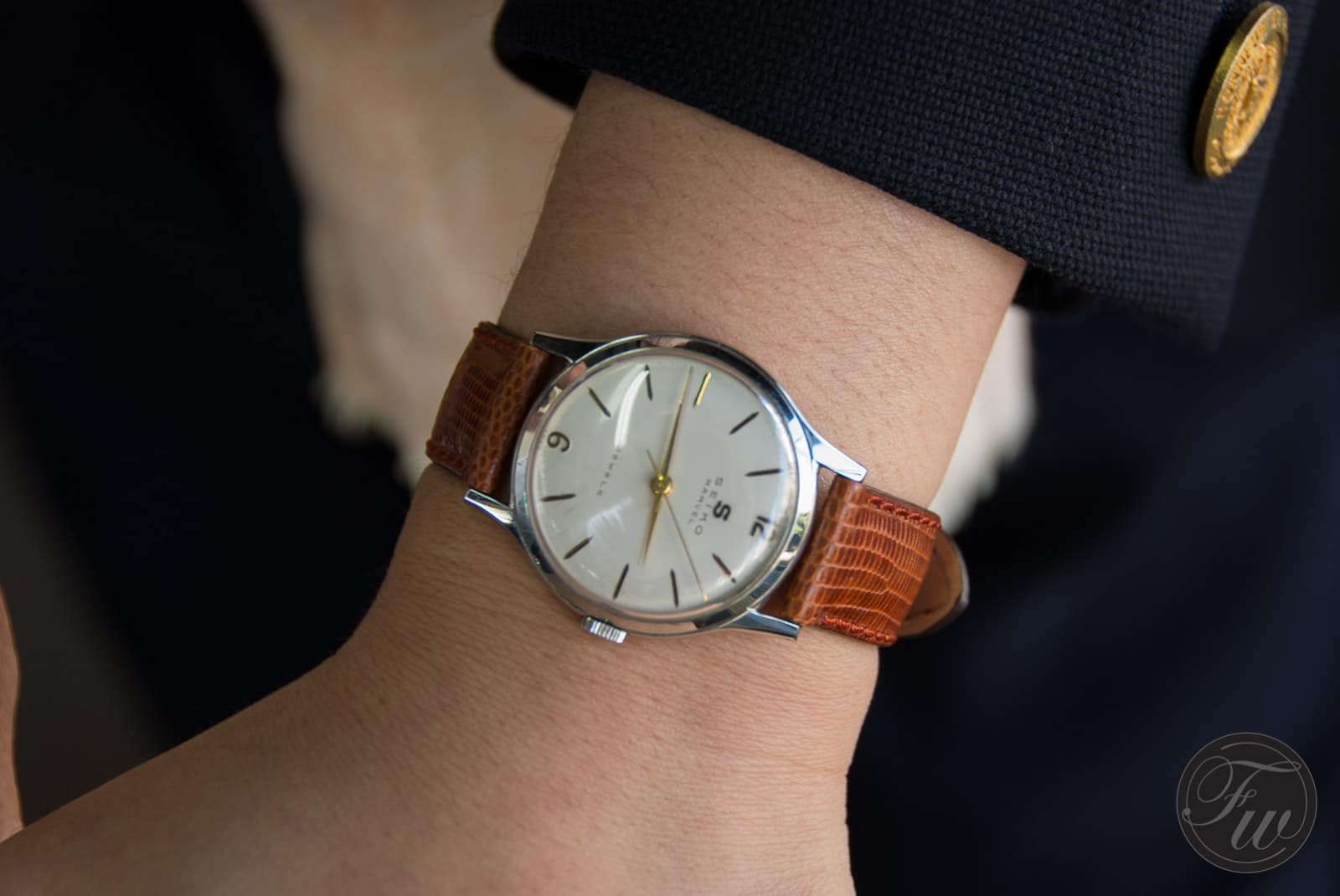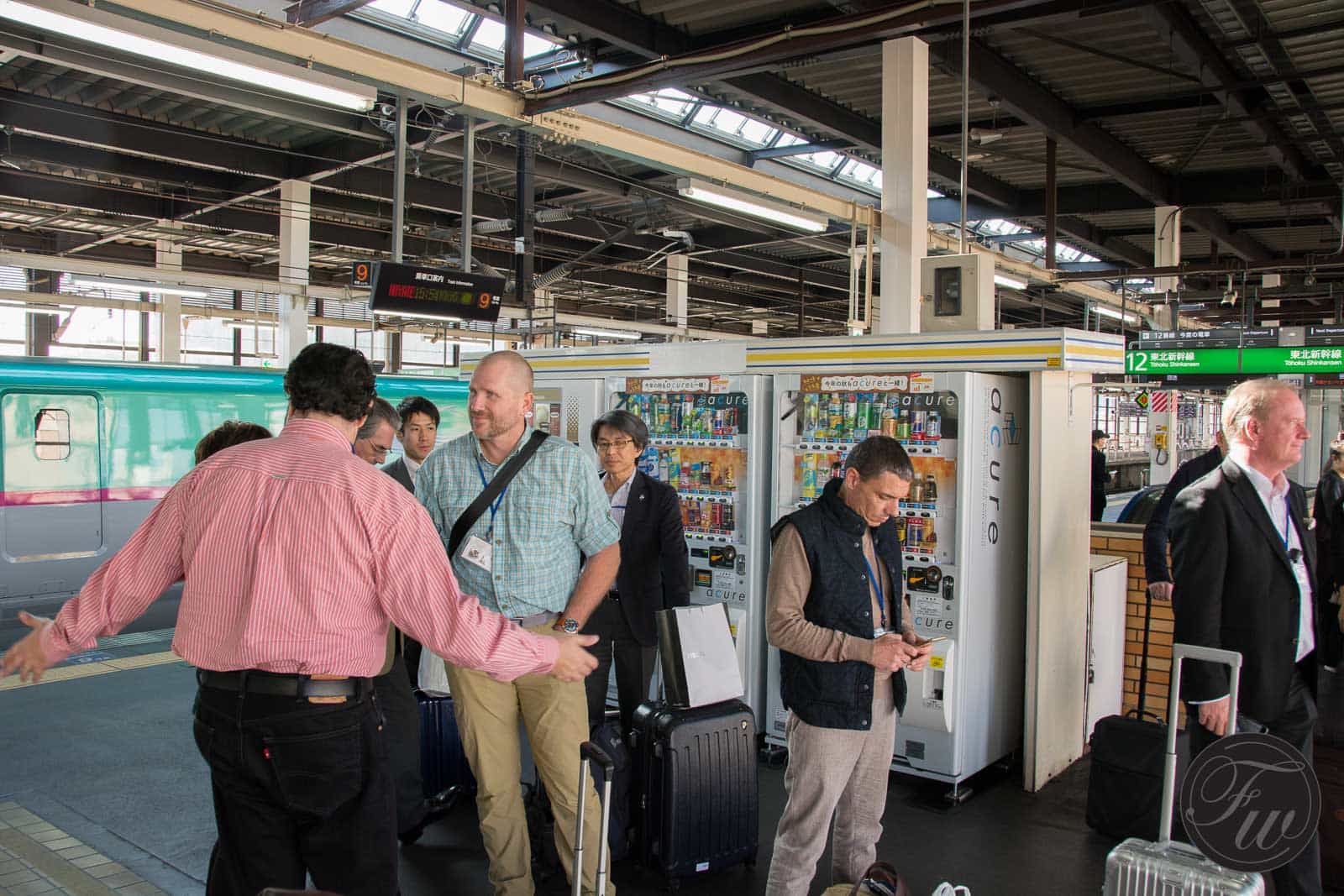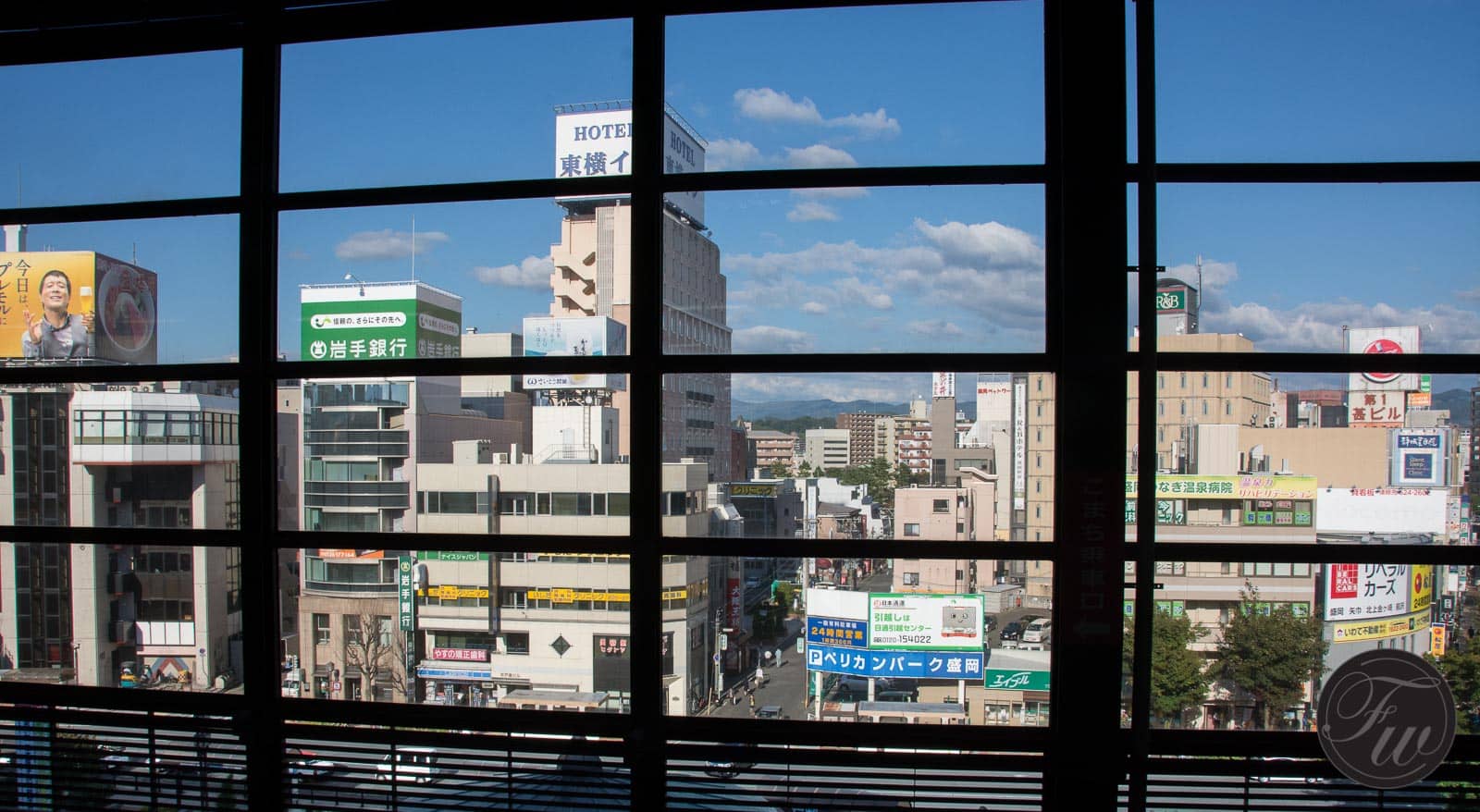 In Shiojiri, we visited the Seiko Epson factory. As written in the introduction of this article, it is where Seiko focuses on their Quartz (9F) and Spring Drive (9R) movements for the Grand Seiko. It is also the location where the Astron GPS watches are being made (see our in-depth review on the Astron here).
In this Epson factory, we received a presentation on the quartz and Spring Drive movements. The Astron watches were explained to us on the next day, which I will cover in part 2 of this Seiko Factory visit report. In this factory, we were introduced to:
Takumi Studio (assembly of movements and watches belonging to the Grand Seiko and Credor collections), the case studio (all processes regarding case manufacturing), Micro Artist Studio (manufacturing, assembly and fine-tuning of high-end movements like the Credor Minute Repeater and Sonnerie etc.) and the dial workshop. I agree that it comes across as a bit confusing some times, but it simply was. They structured their processes for the various collections and seem to keep Grand Seiko, Credor and Astron for example, very separately from each other, even though some of the production steps look quite similar.
However, the day started with a very thorough explanation of Spring Drive and Quartz movements as used in the Grand Seiko collection. I will get back to this later on in this report. After this explanatory session, we were split into two groups and made a tour through the factory to see the four disciplines as described above.
Takumi Studio
In this studio, the production takes place of the Spring Drive and Quartz watches belonging to the Grand Seiko collection. Make no mistakes, the quartz movements have little to do with the quartz movements in the cheaper Seiko watches. To be brutally honest, these 9F quartz movements are so beautifully done and regulated, I actually might prefer them over some of the mechanical movements that are being used by some brands. #truth.
Furthermore, the watchmakers in this Takumi studio take care of the assembly of the watches, visual controls and attachment of the bracelets (or straps) before these watches are shipped to another building for boxing and stocking. The images below should give you some insights into this Takumi studio inside the Epson manufacture.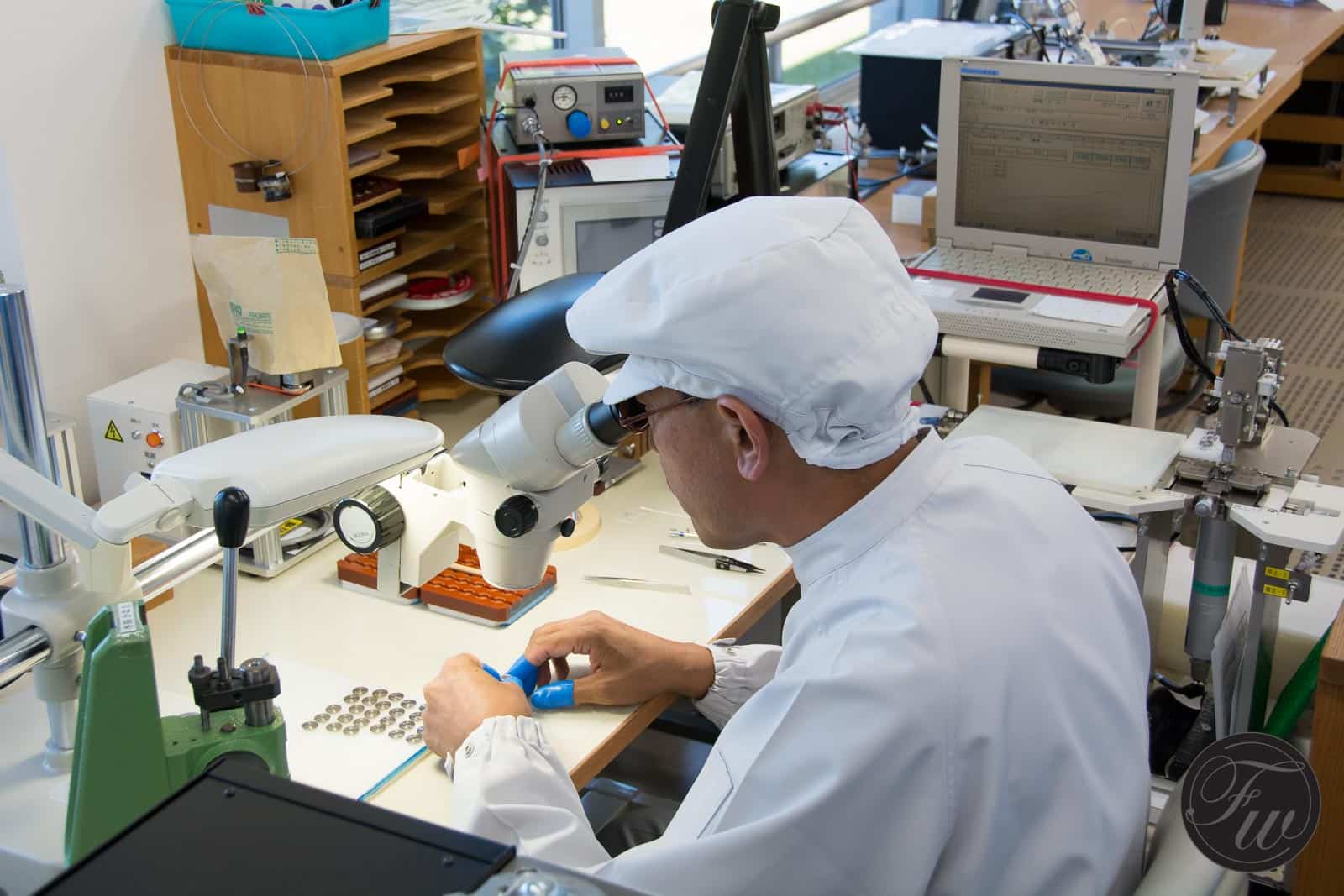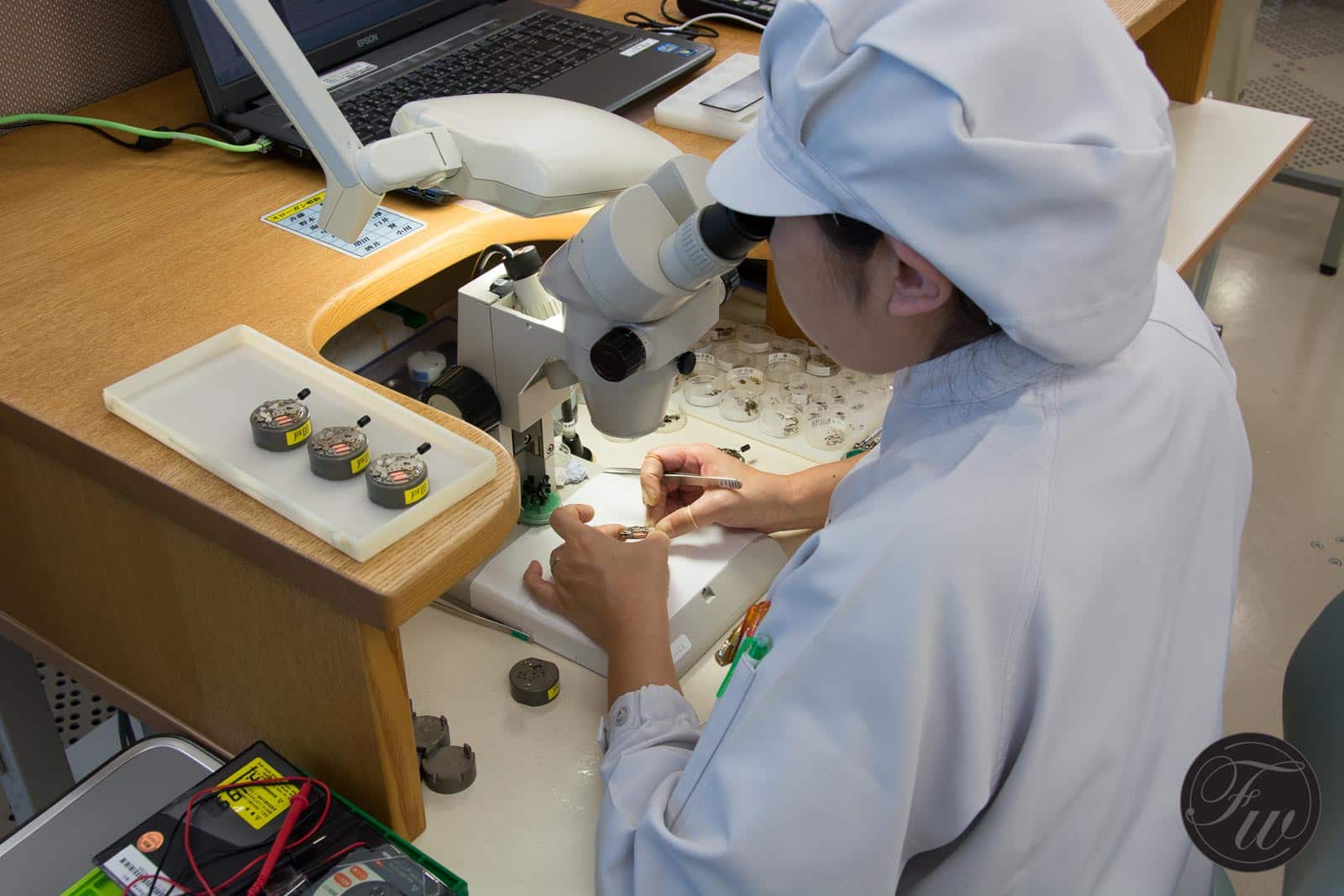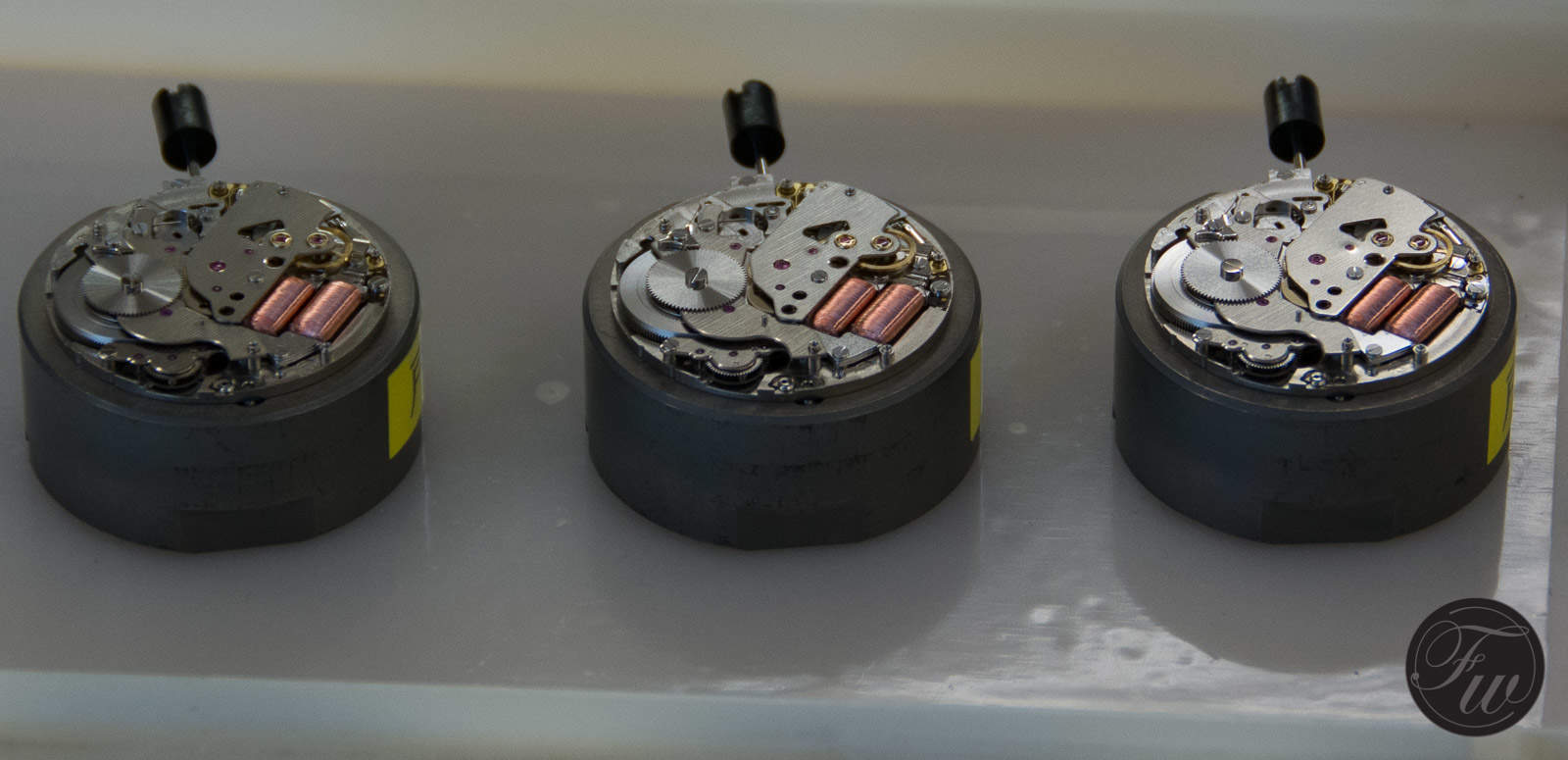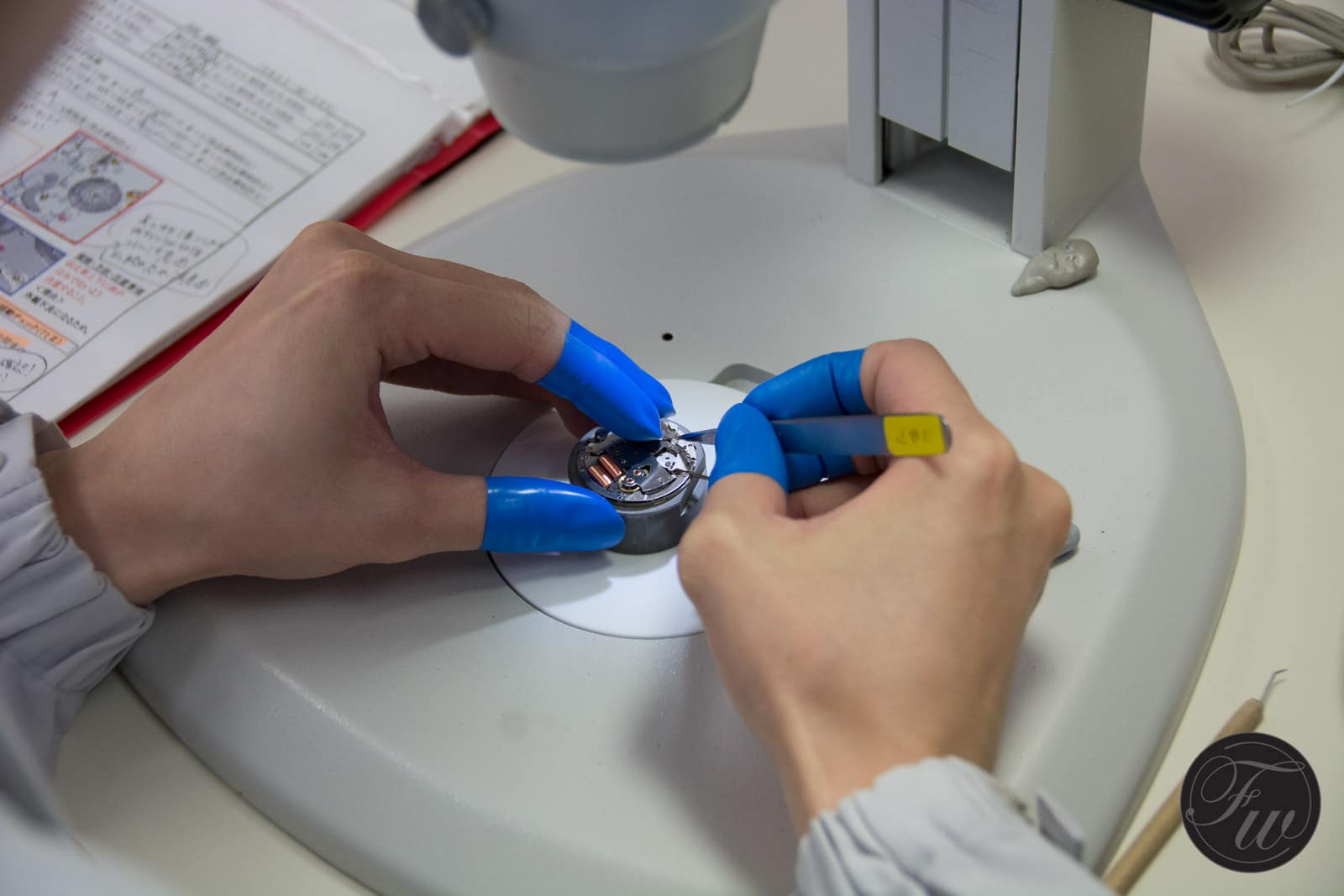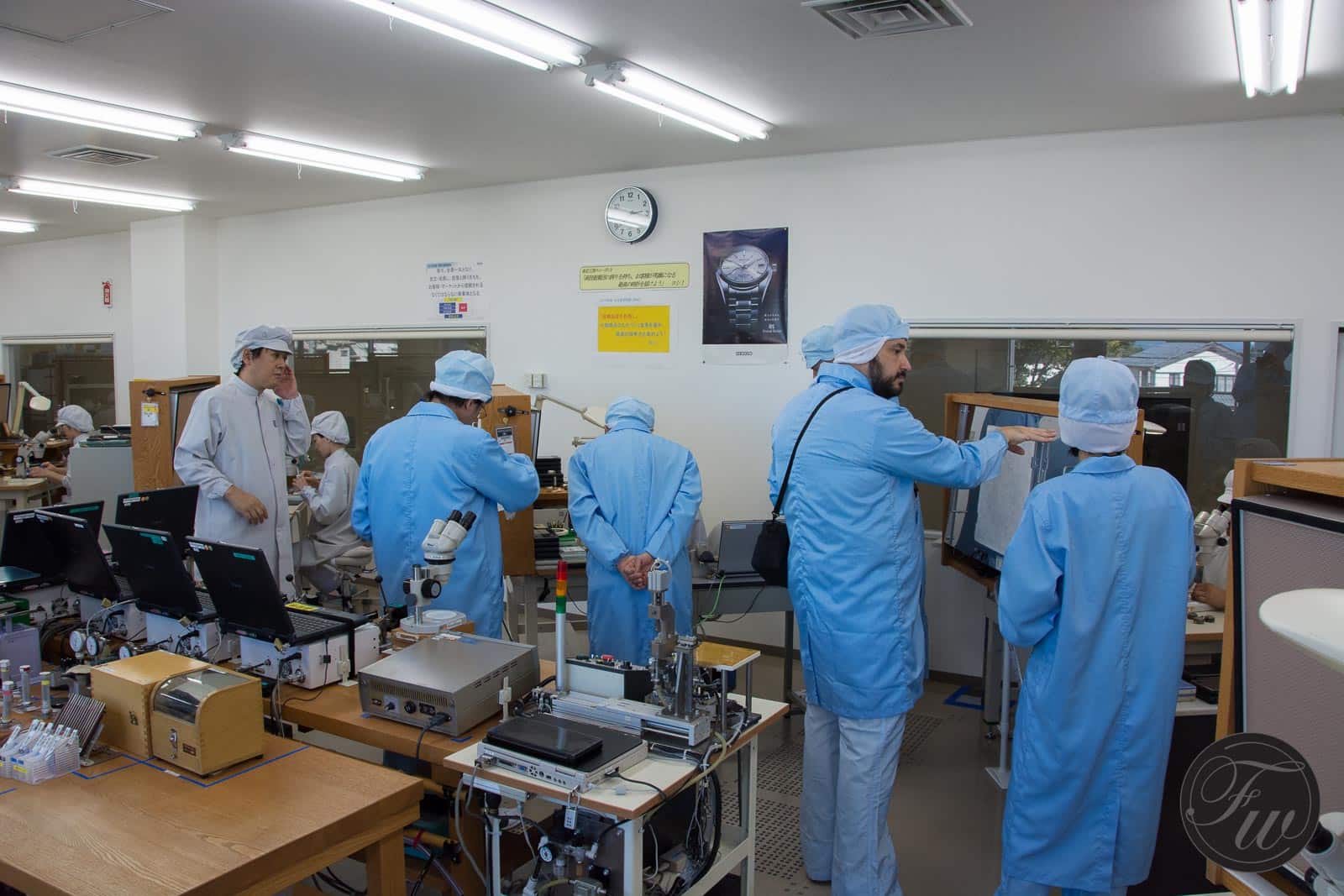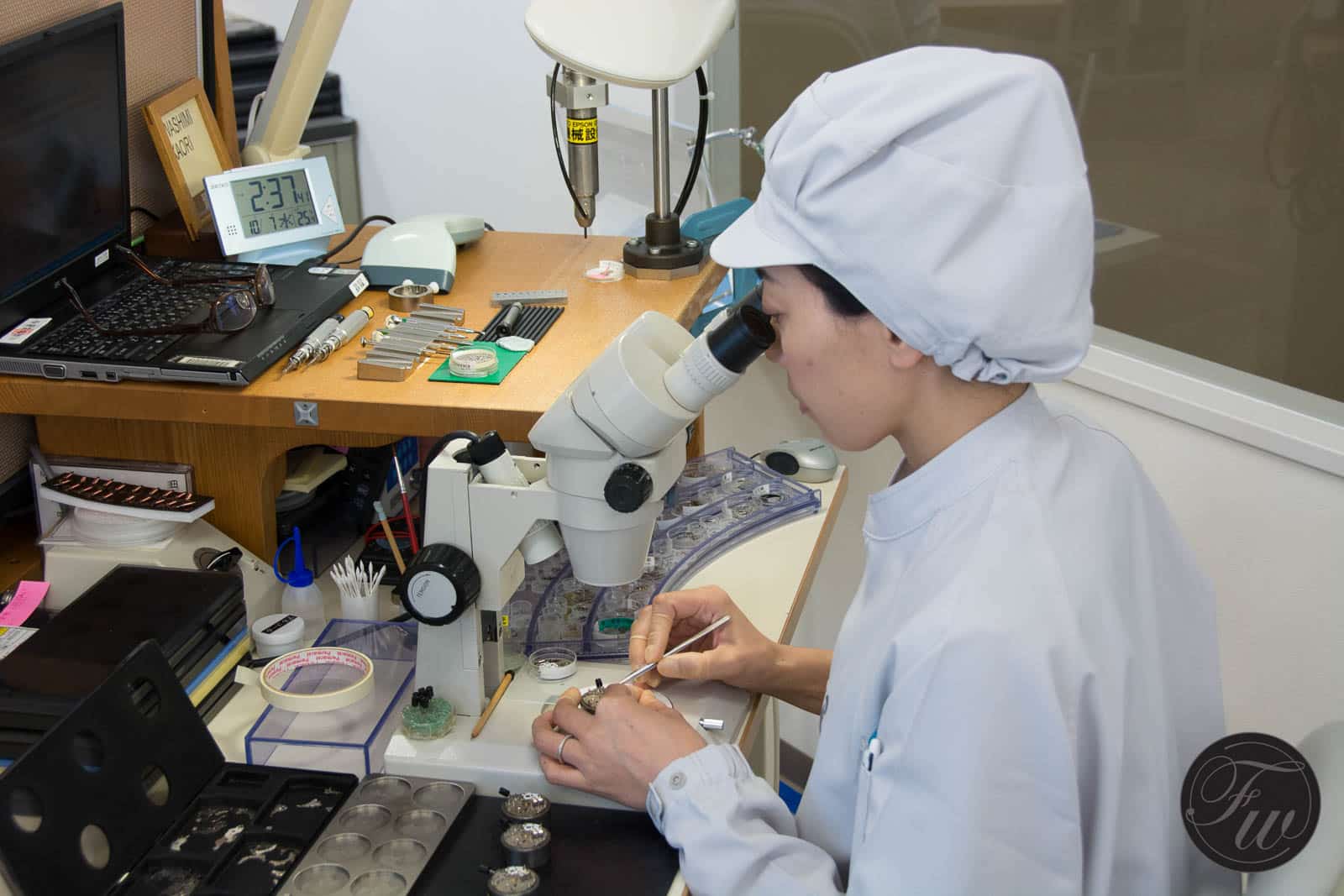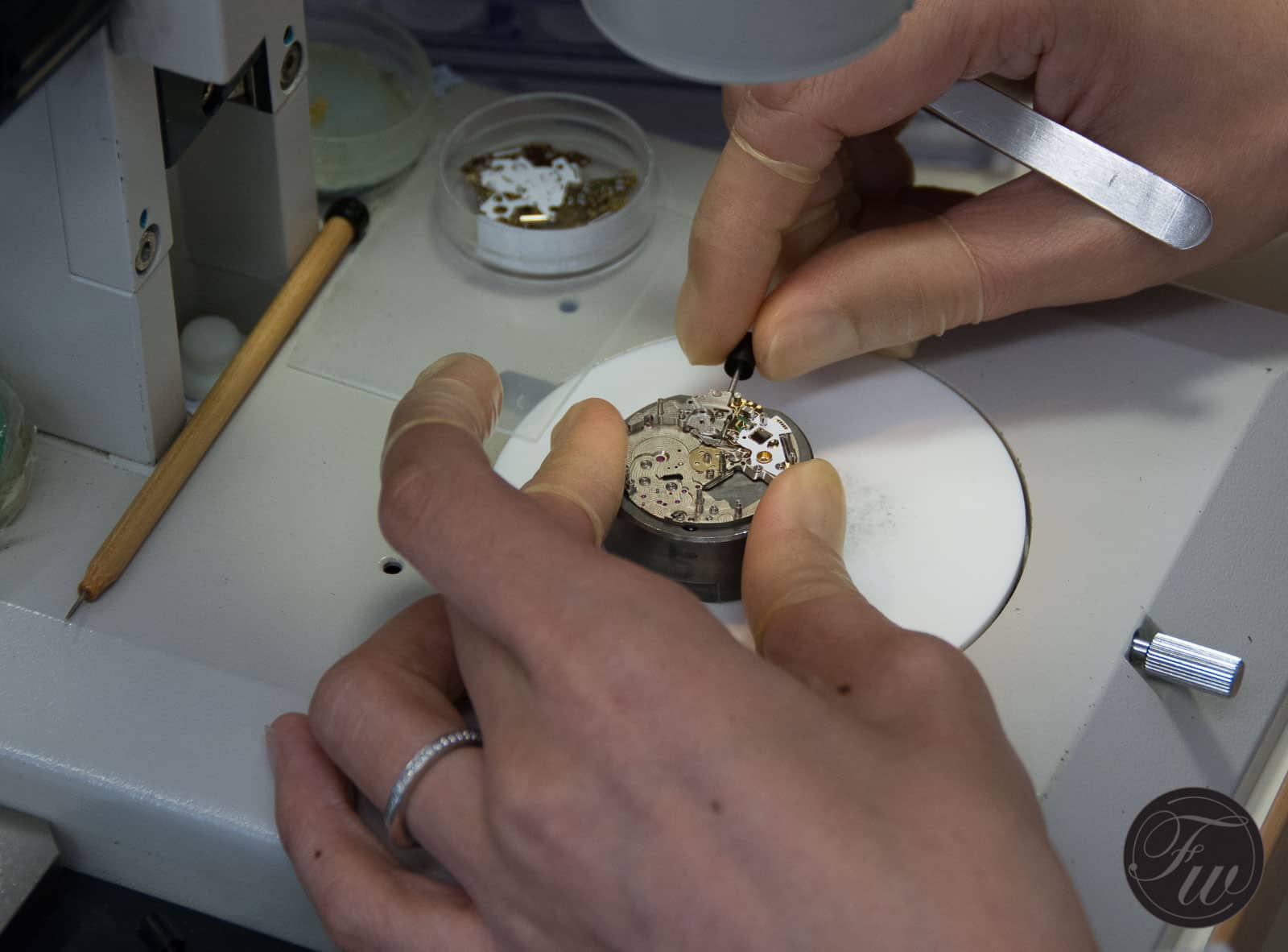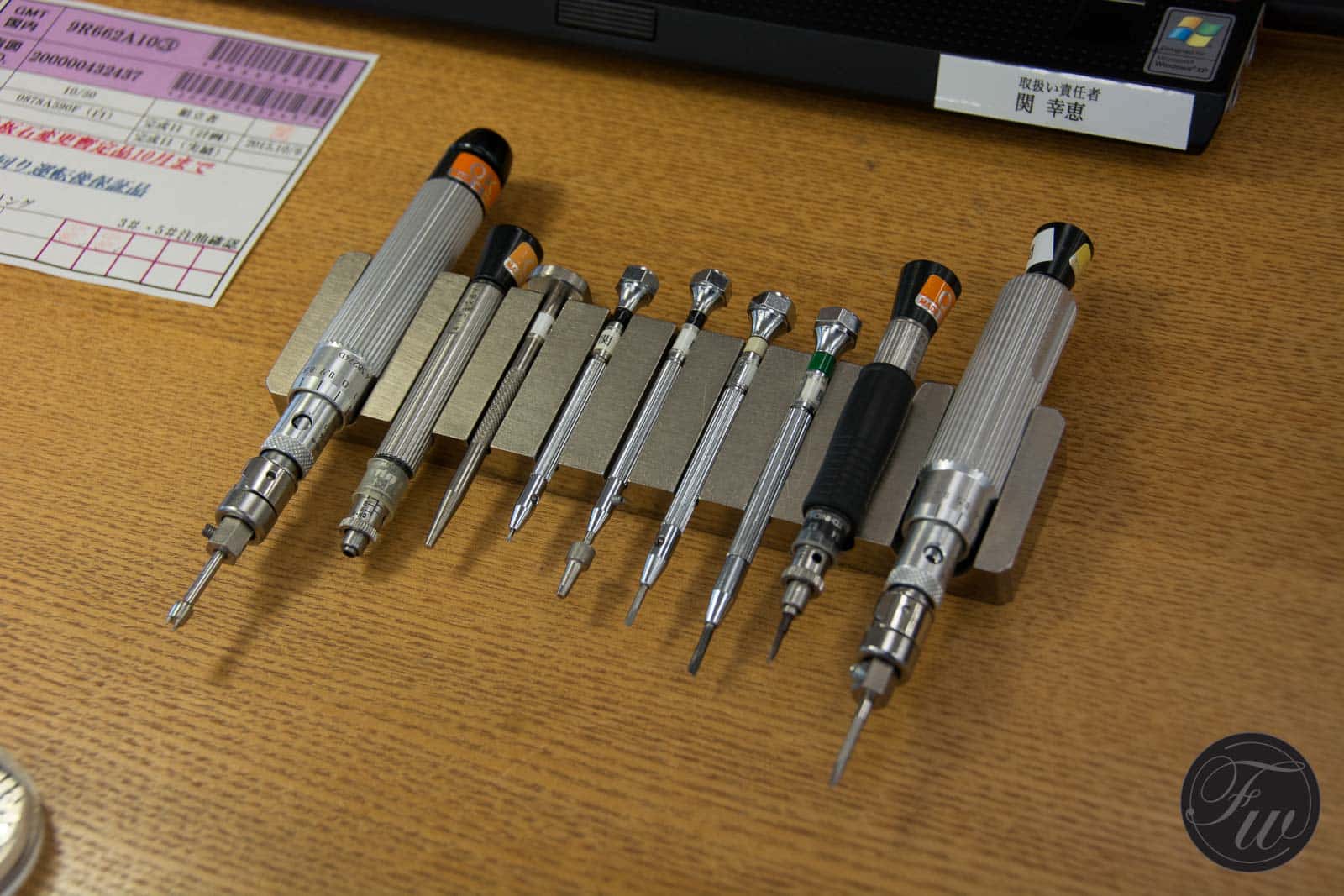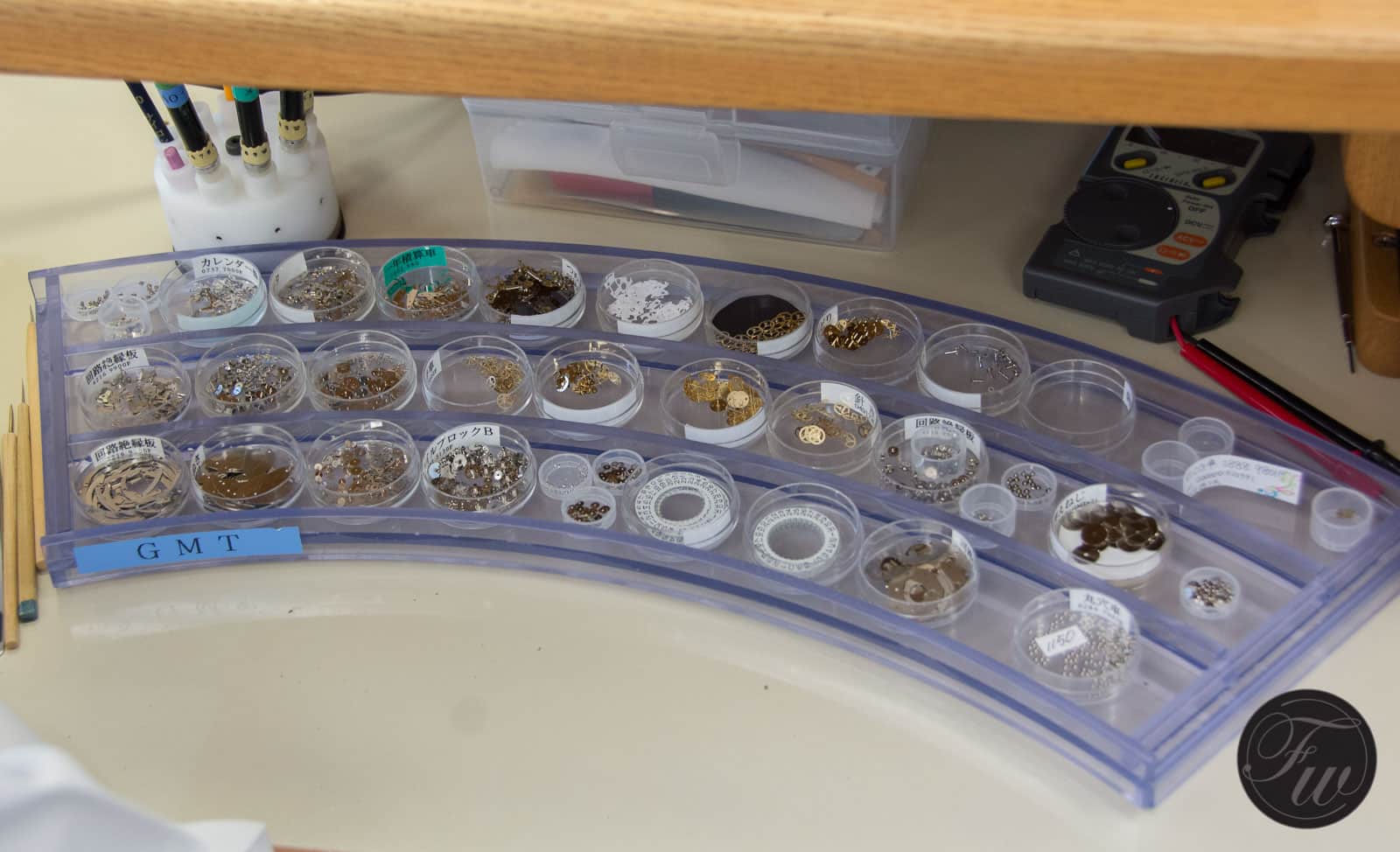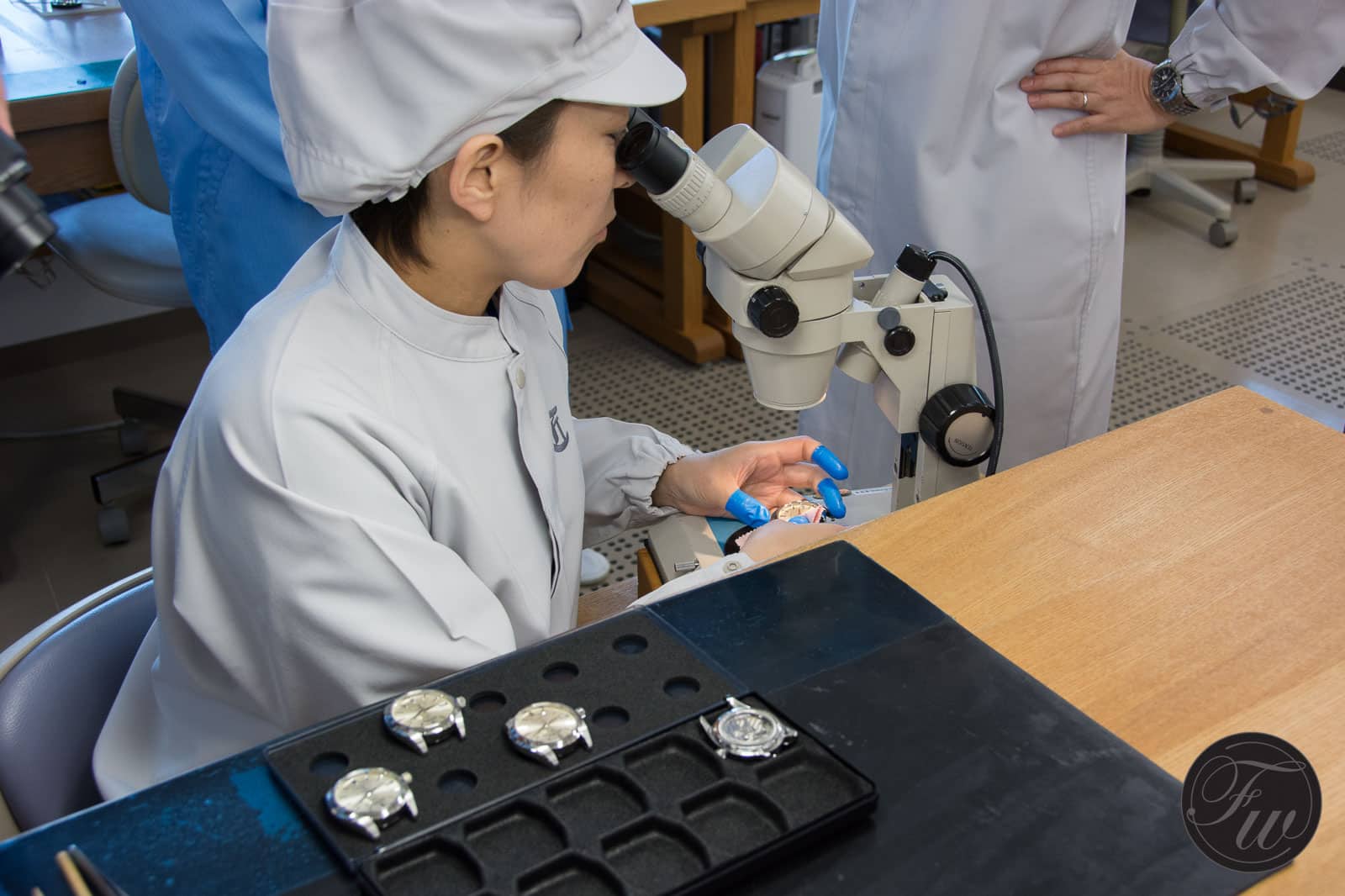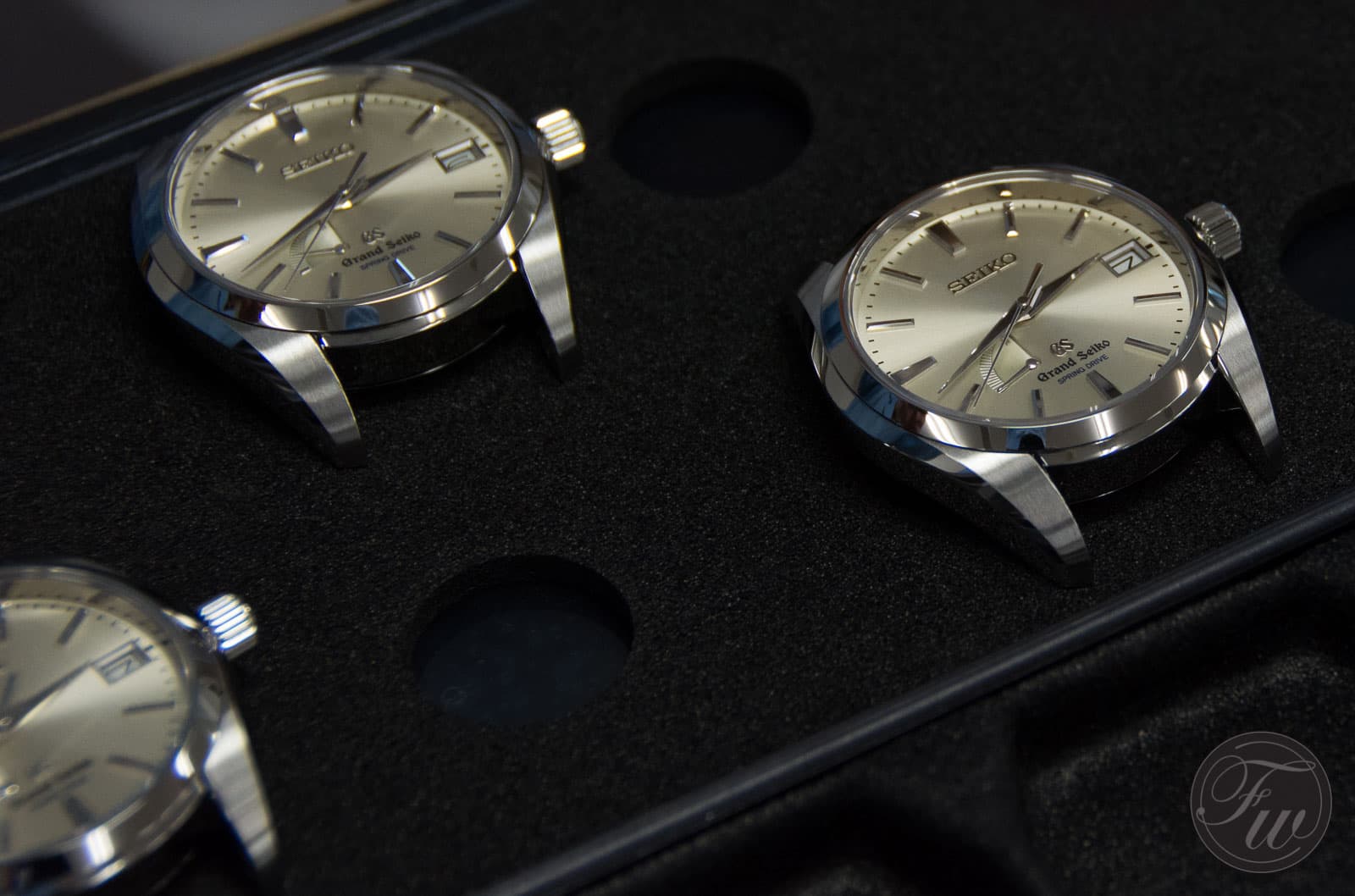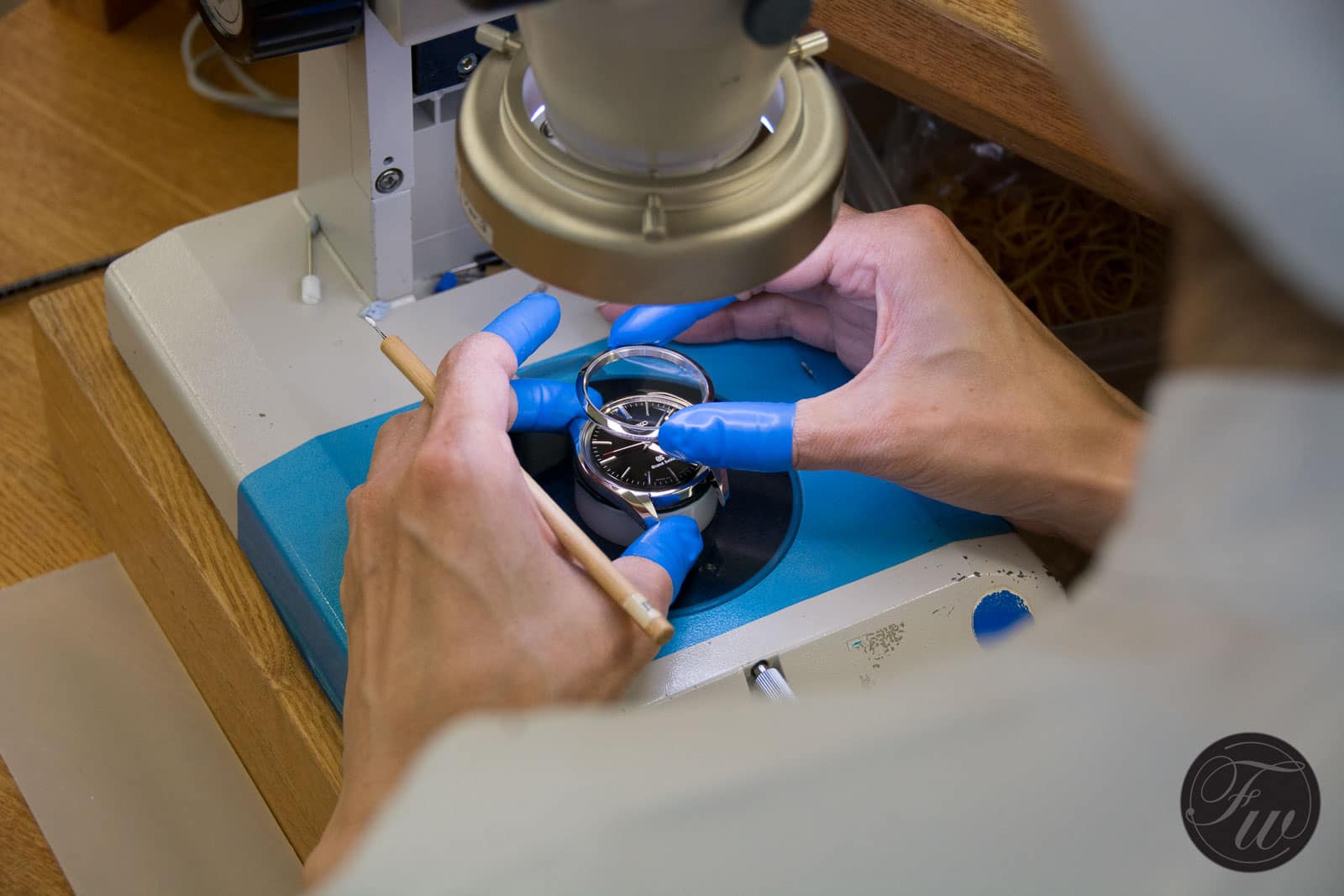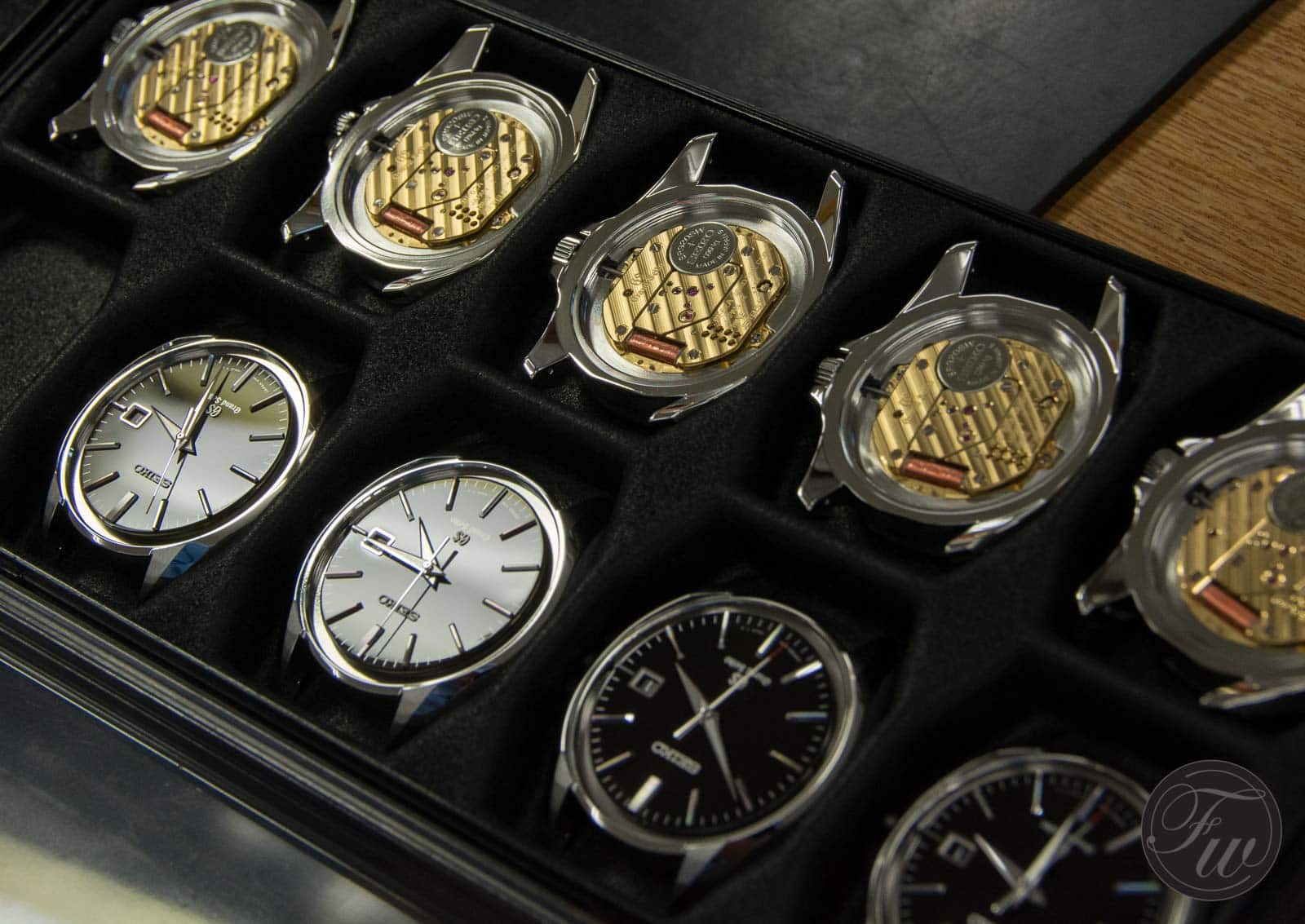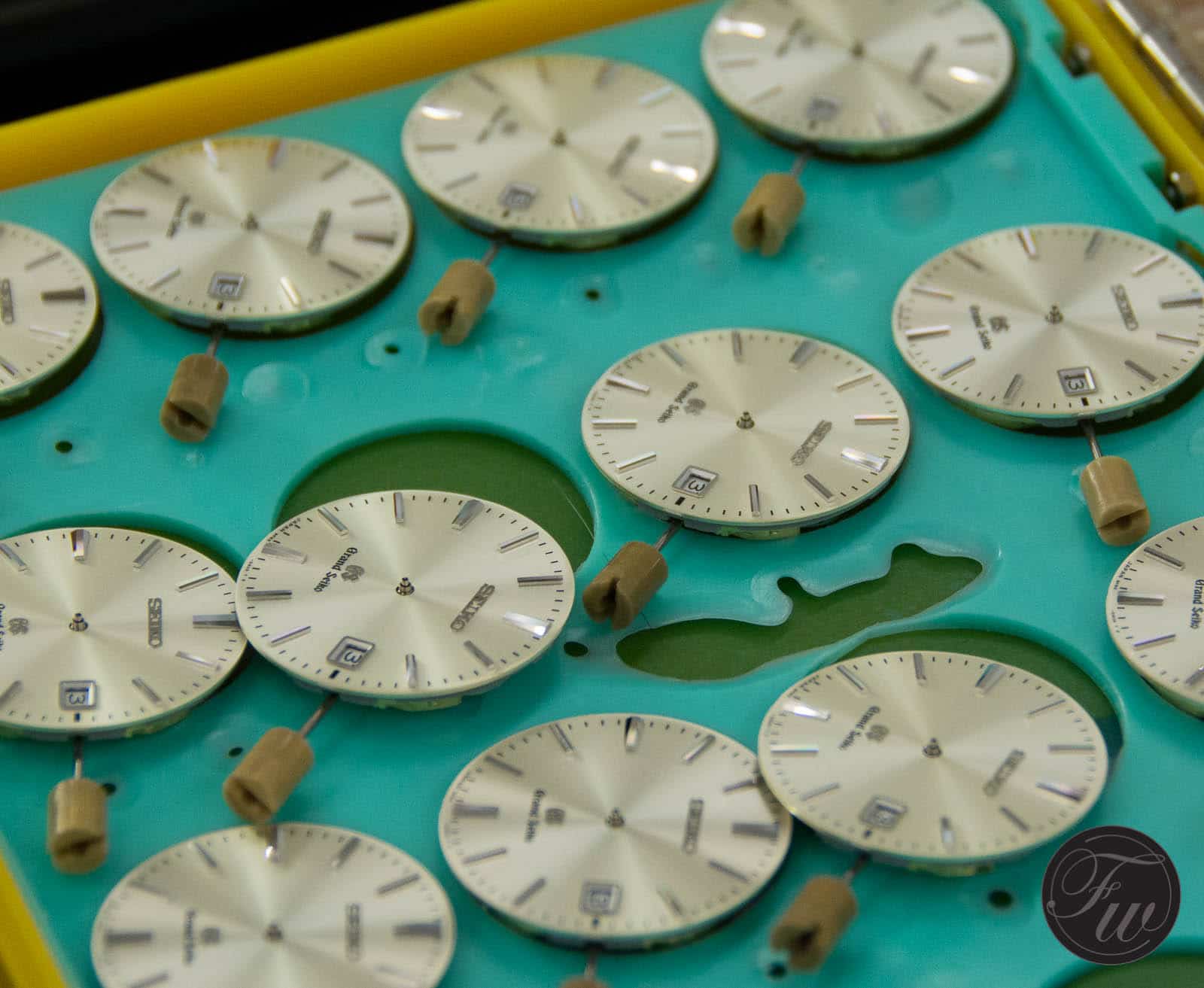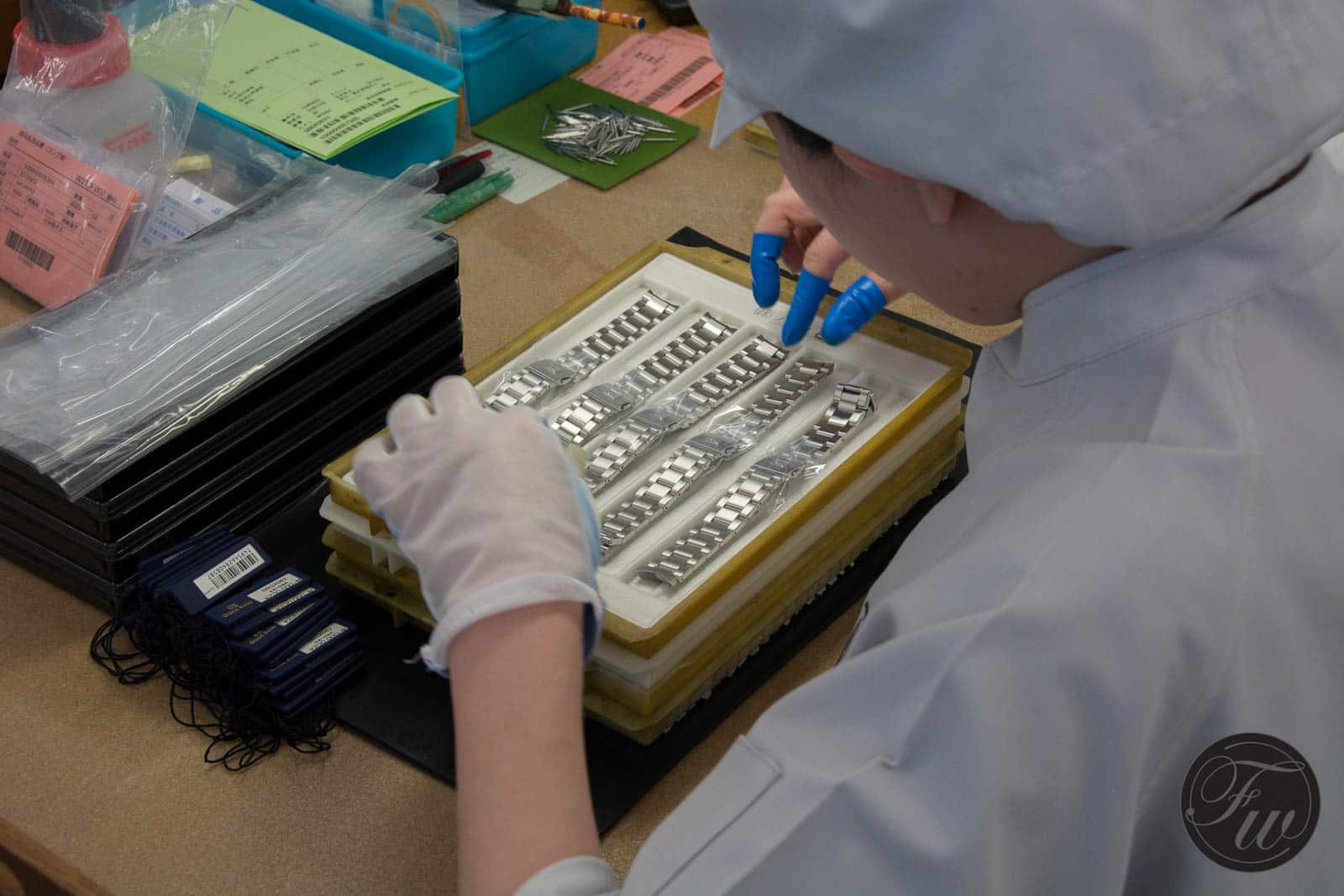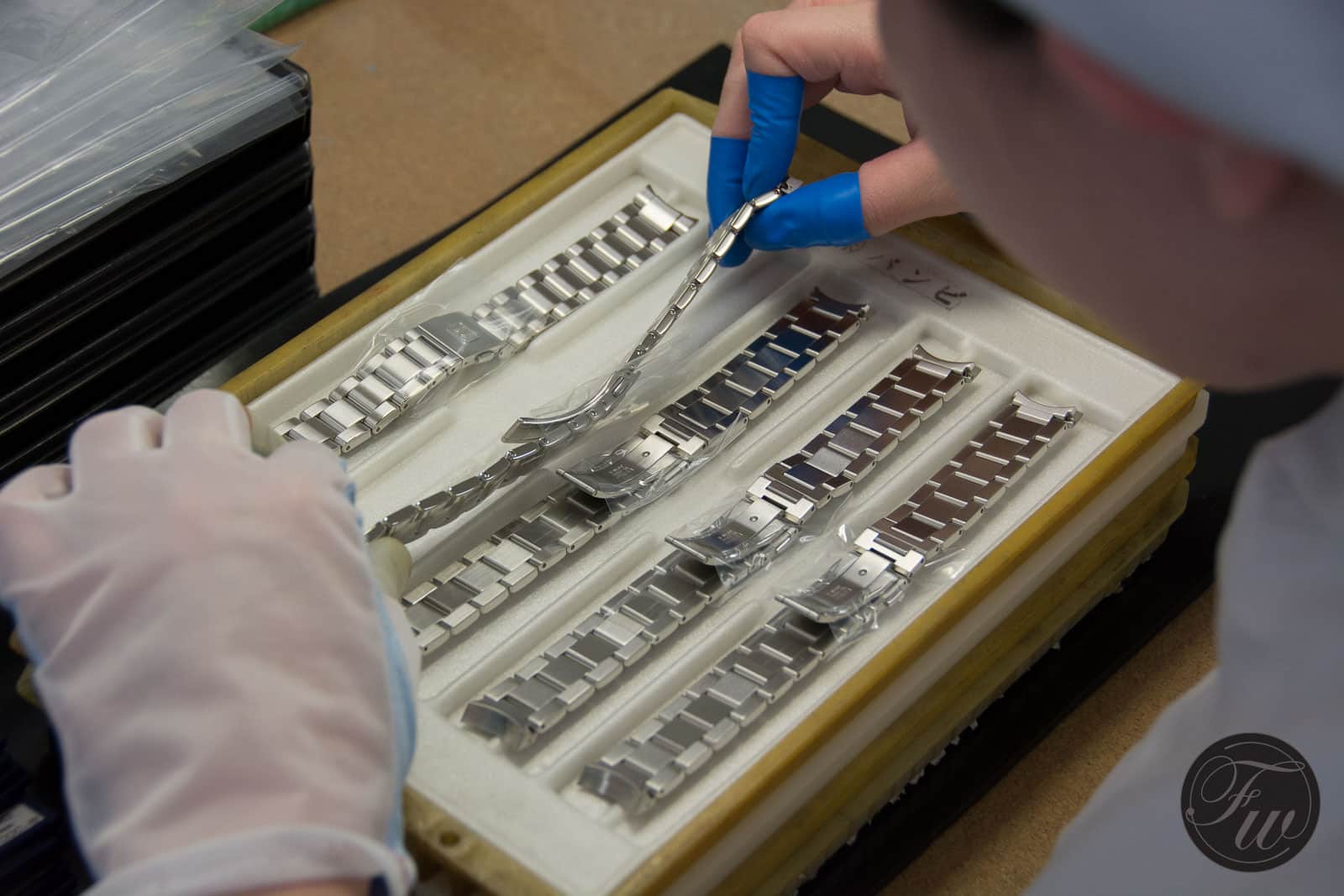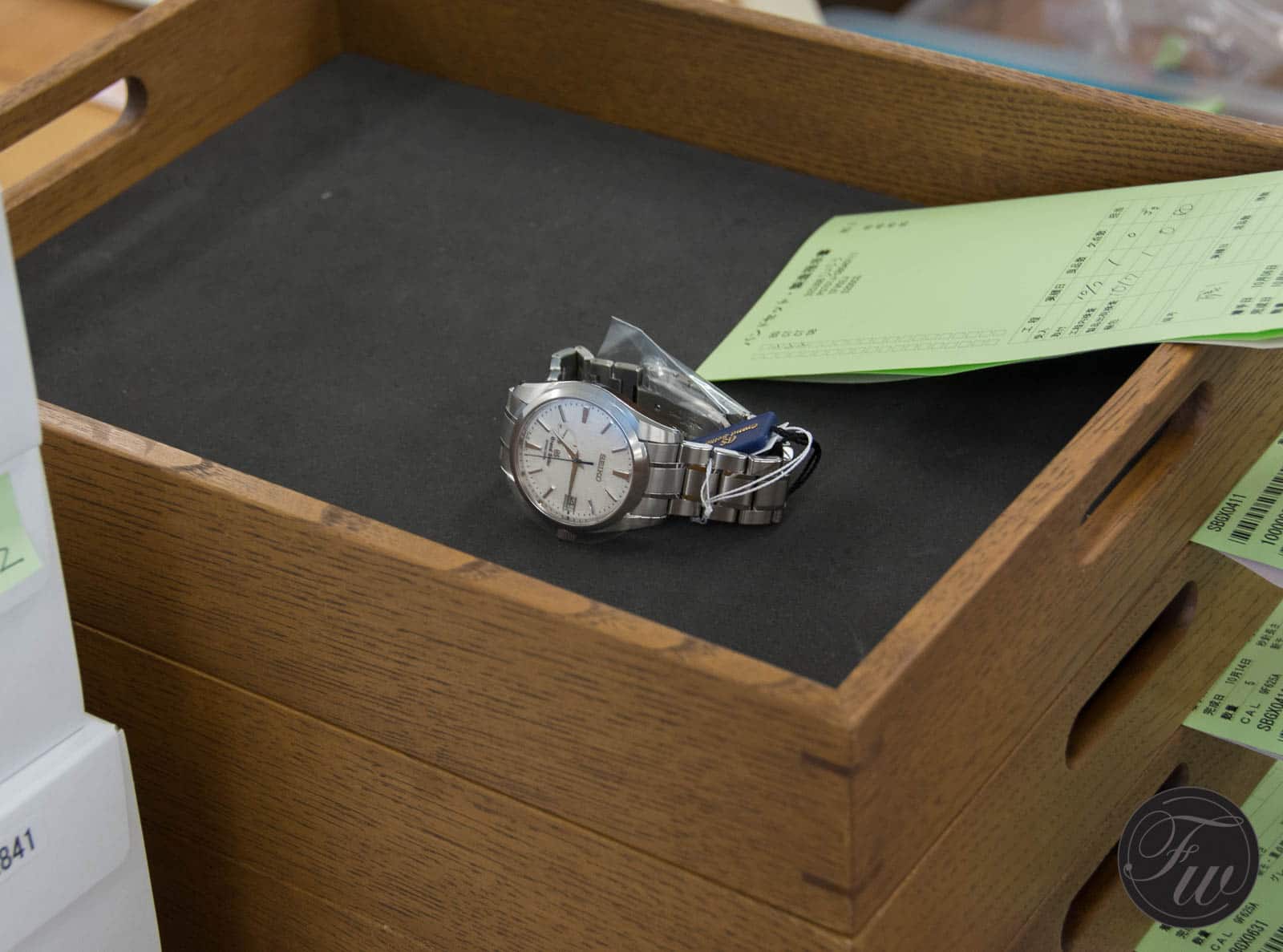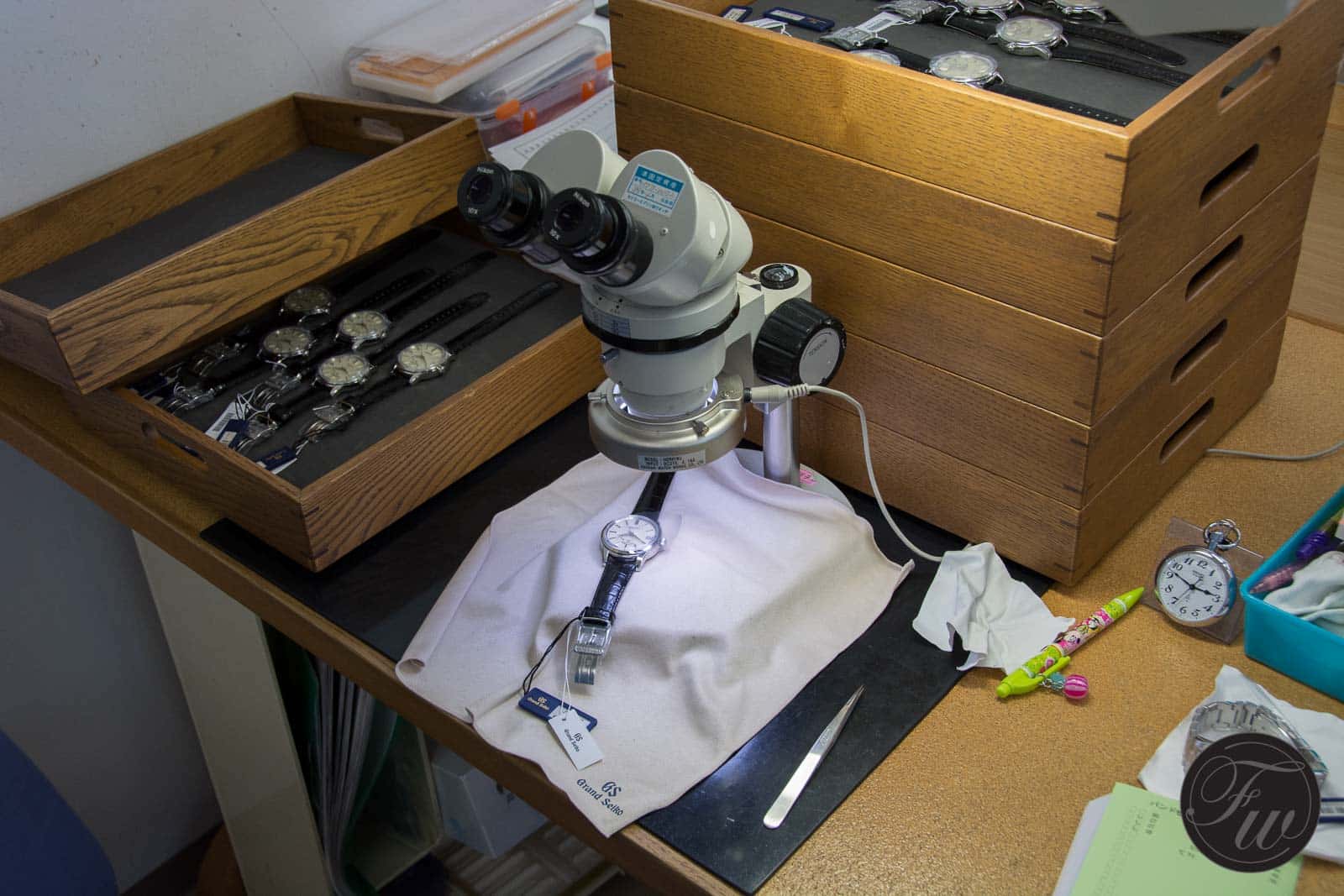 After witnessing how incredibly precise the Seiko watchmakers are working on these movements and cases, I can only imagine that these watches must have a very low return rate. Every watch is being checked and double checked before they are even tested using the most modern test equipment for pressure tests, vibrations & shocks and accuracy.
The Spring Drive timepieces are very interesting to learn about. Although I already was familiar with the concept, somehow it always made me cringe a bit that it was using a coil and an IC (on the contrary to what some people thing, Spring Drive is not the same as Kinetic and is not using a battery for power). The Spring Drive mechanism uses an electric speed control mechanism instead of a mechanical escapement. The regulator (Tri-Syncro) generates electricity by using the power of the main spring. This electricity is not being stored (so no battery) but consumed immediately by the IC. The IC generates a reference signal that steers the electromagnetic brake controlling the speed of the wheel train. This invention, developed by Yoshikazu Akahane (who passed away in the meanwhile), took 20 years to be developed by Seiko.
His wish was to develop a mechanical movement with the accuracy of a quartz movement, in which the Spring Drive mechanism succeeded. Due to the IC (quartz) and Tri-Synchro regulator, the watch is incredibly accurate. Also, the hands have this nice smooth glide around the dial, controlled by the Tri-Syncro regulator. In the future, when we will review a Seiko Spring Drive watch, we will dive into this technology a bit deeper. In any case, my own perception of how this mechanism works has changed during this visit. It is truly a very interesting development, but it needs some time to understand it and see that it doesn't harm the mechanical soul of a watch.
The Spring Drive technology is not only used for Grand Seiko (including a chronograph model), but also for the Credor timepieces. So let's hop over to the Micro Artist Studio before focusing on the case and dial workshops.
Micro Artist Studio
The Micro Artist Studio mainly works on the high grade movements that Seiko produces, those used in the Credor models. The Credor Sonnerie, Minute Repeater and beautiful Eichi II models were shown to us in the Micro Artist Studio.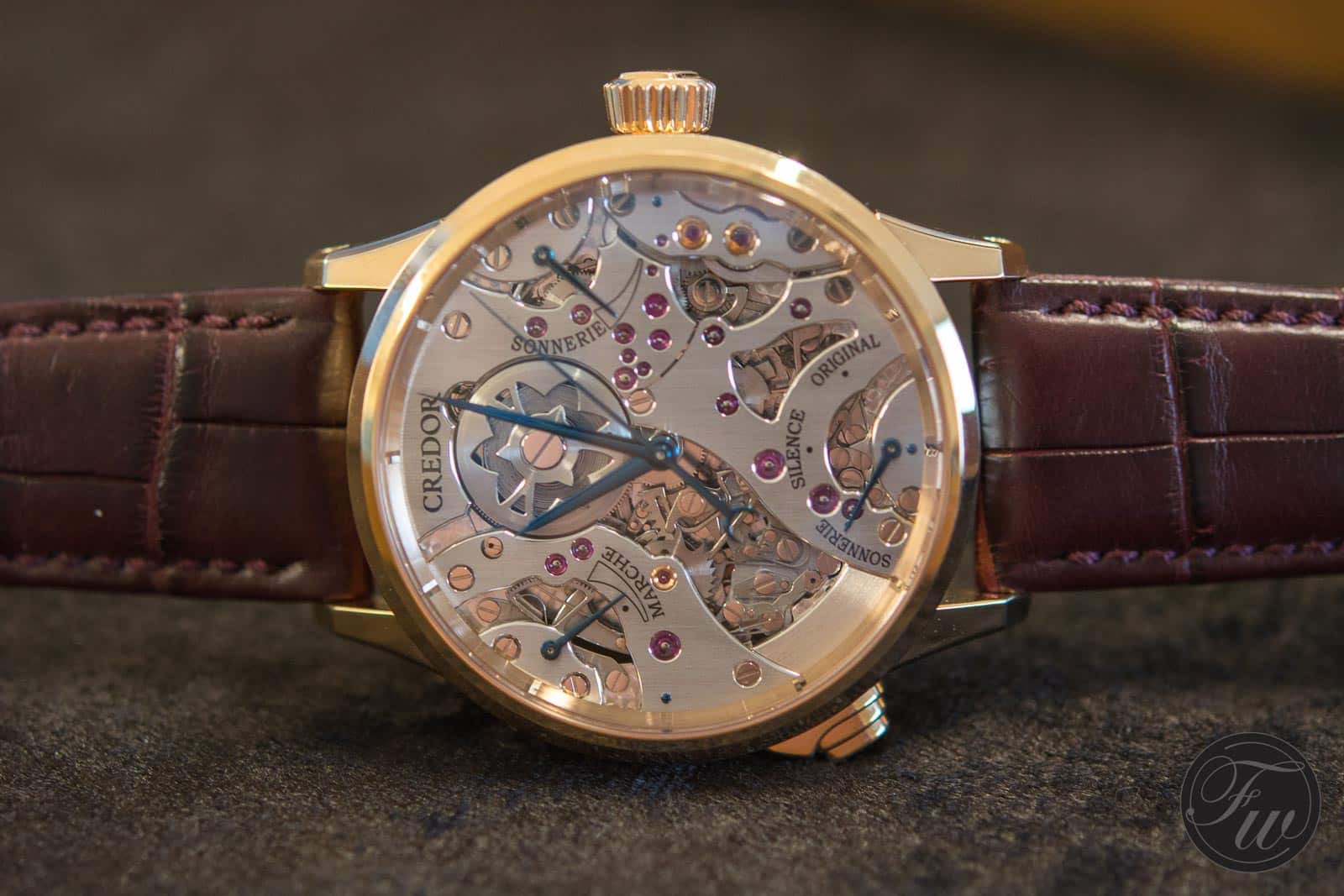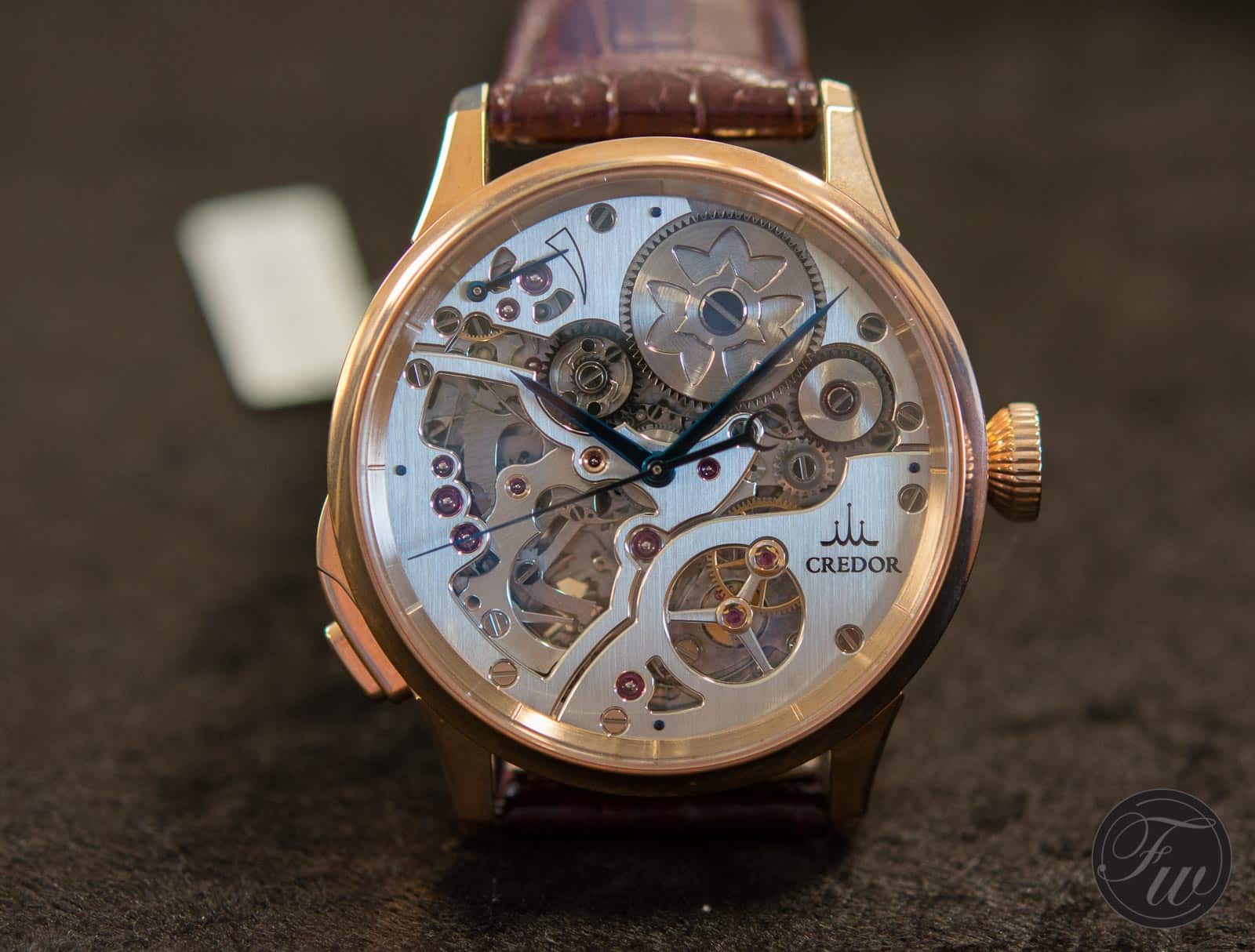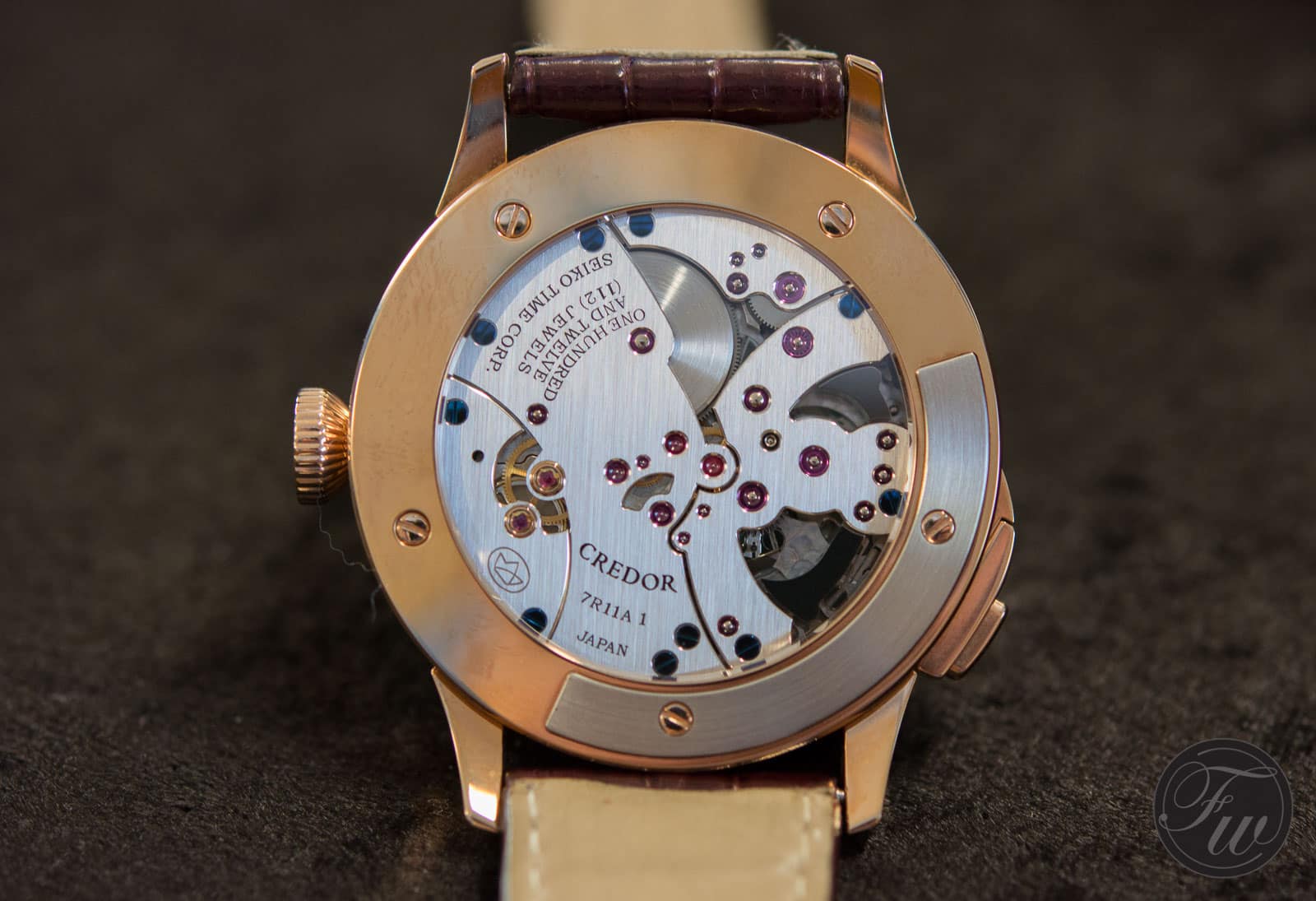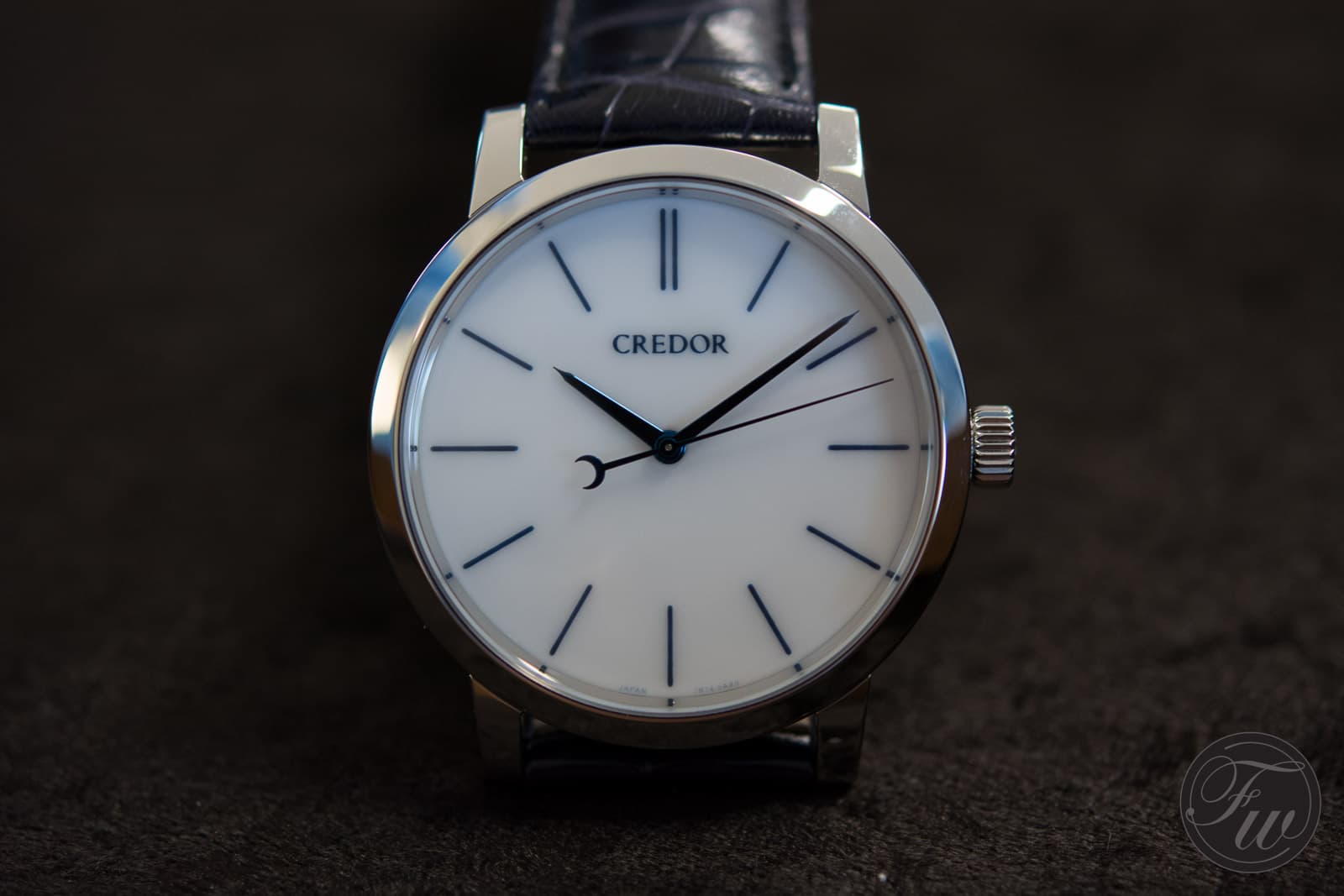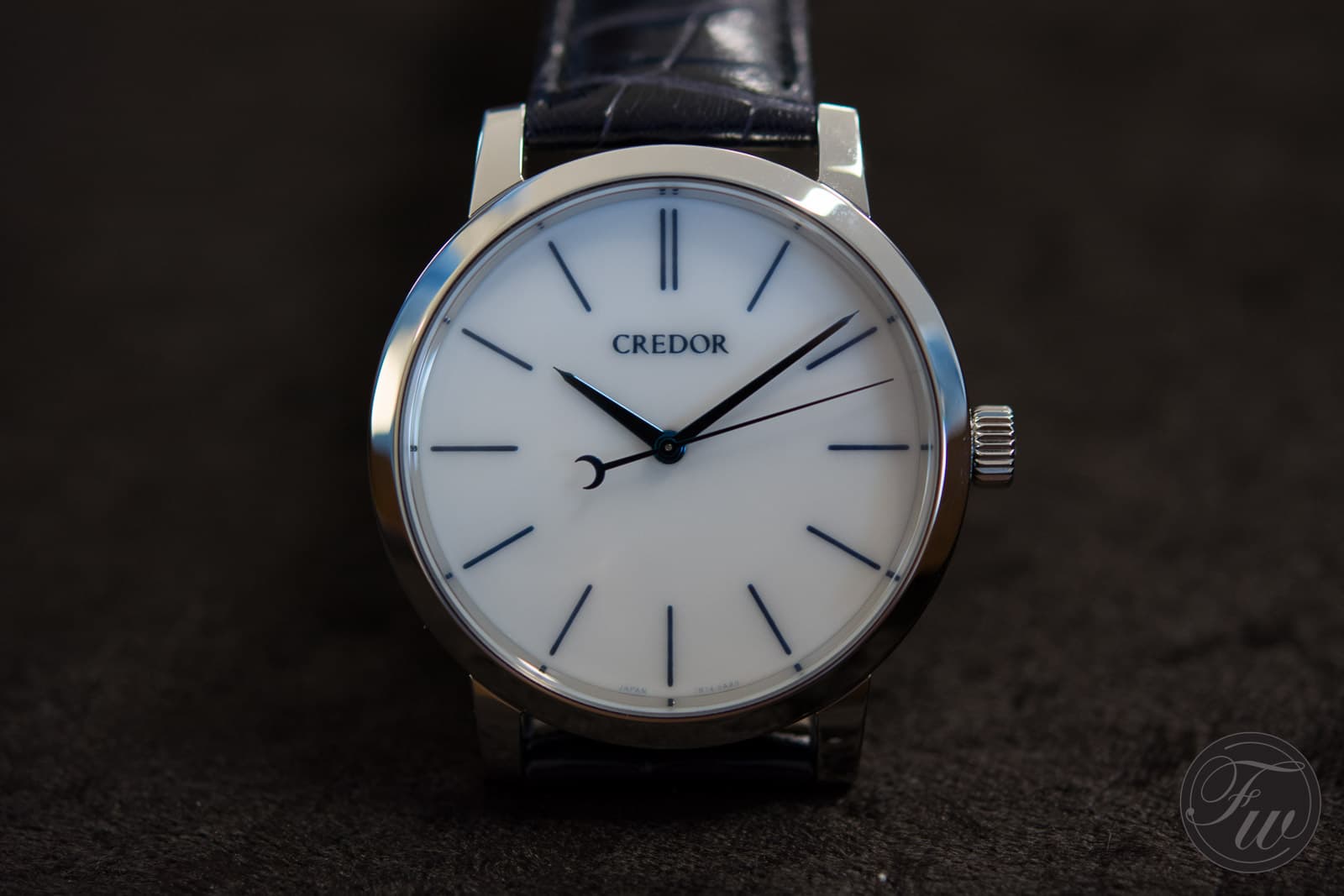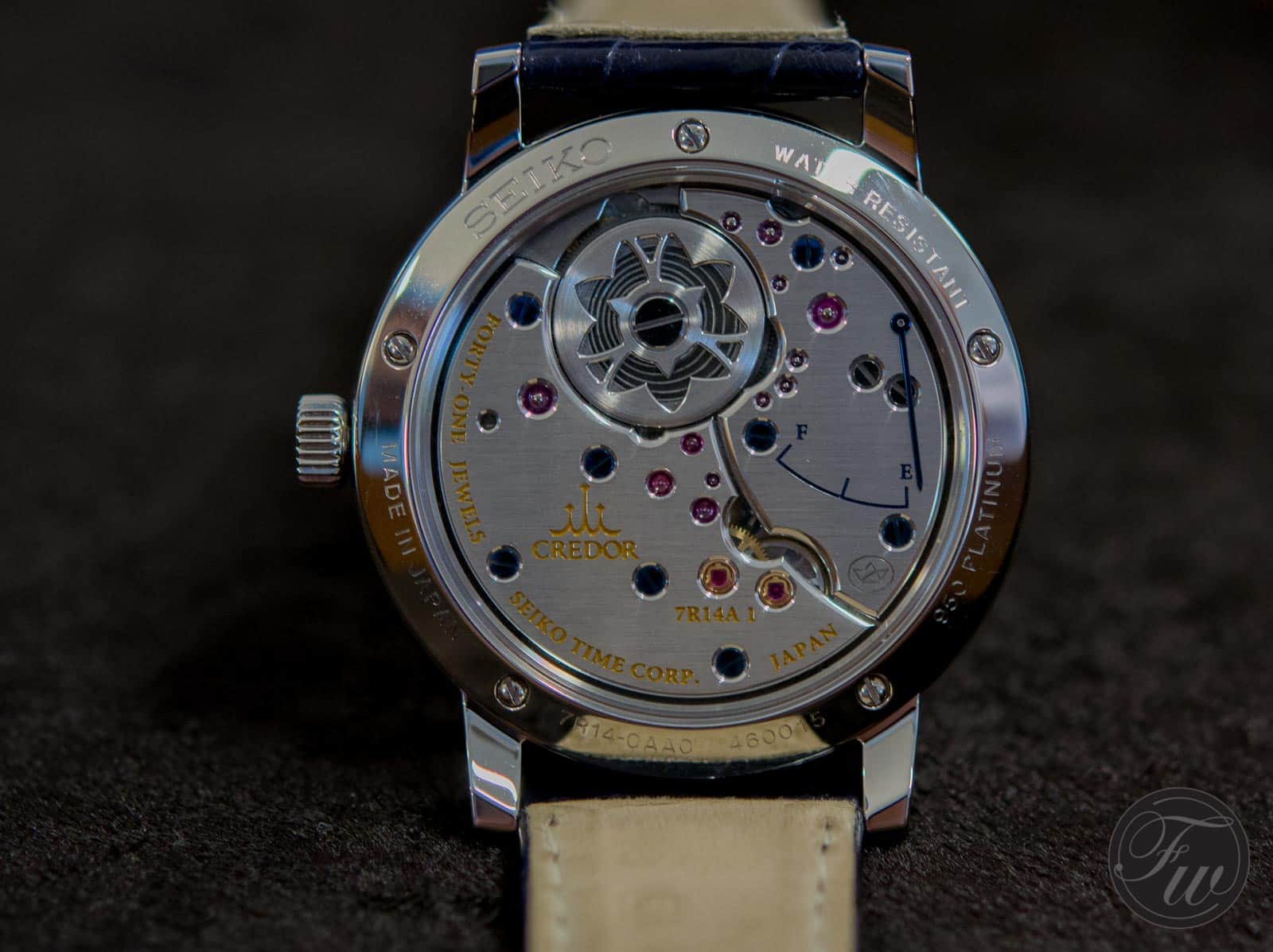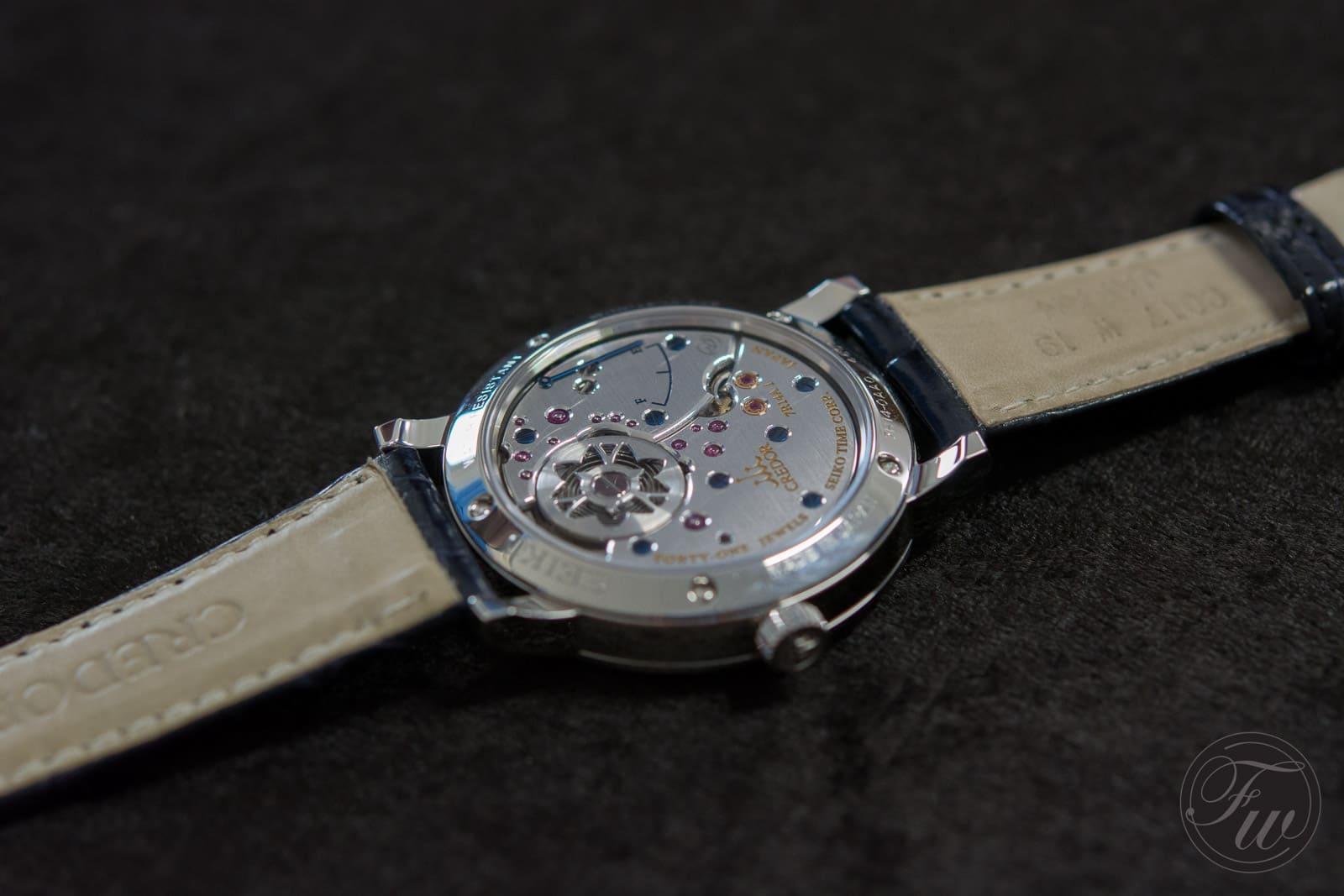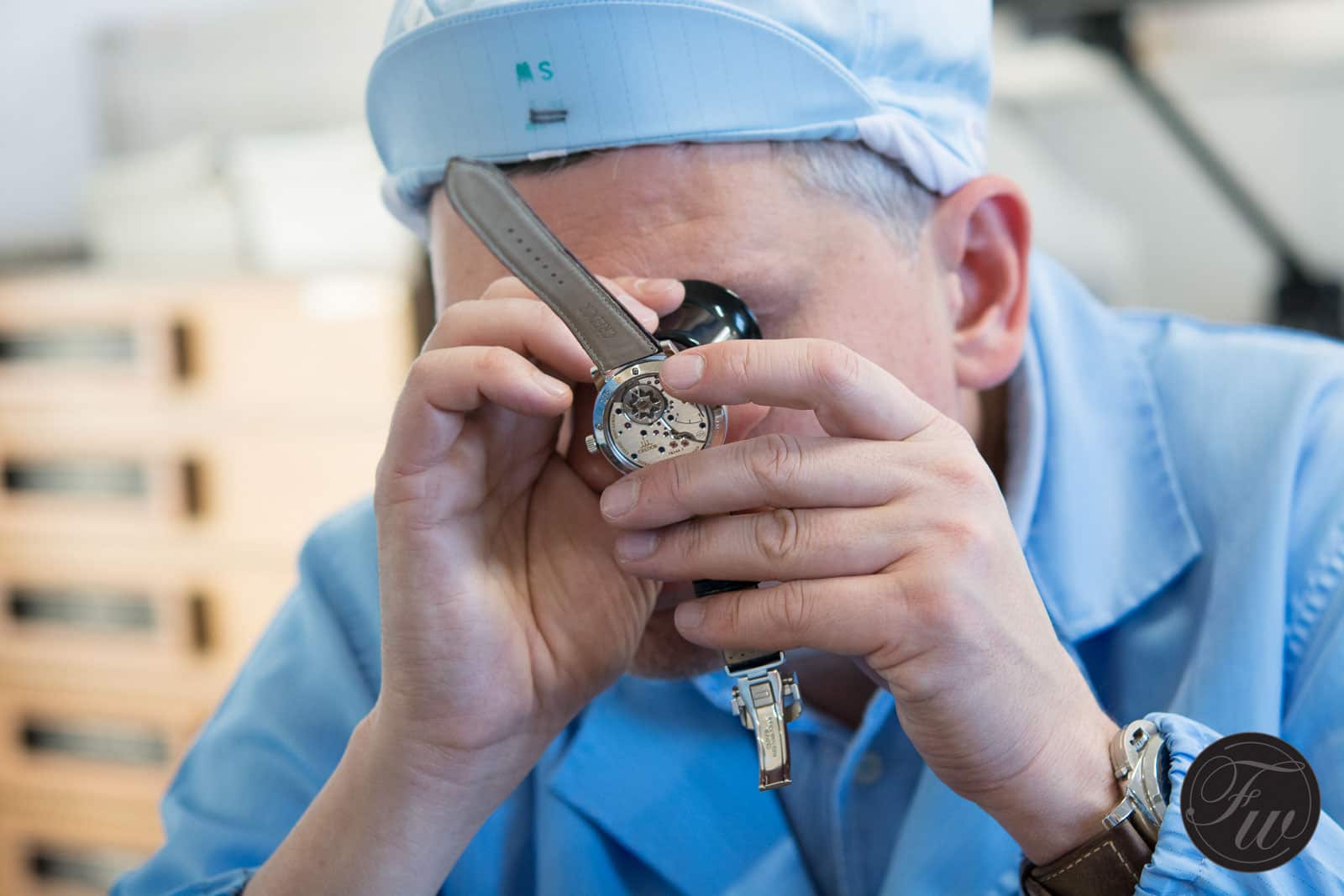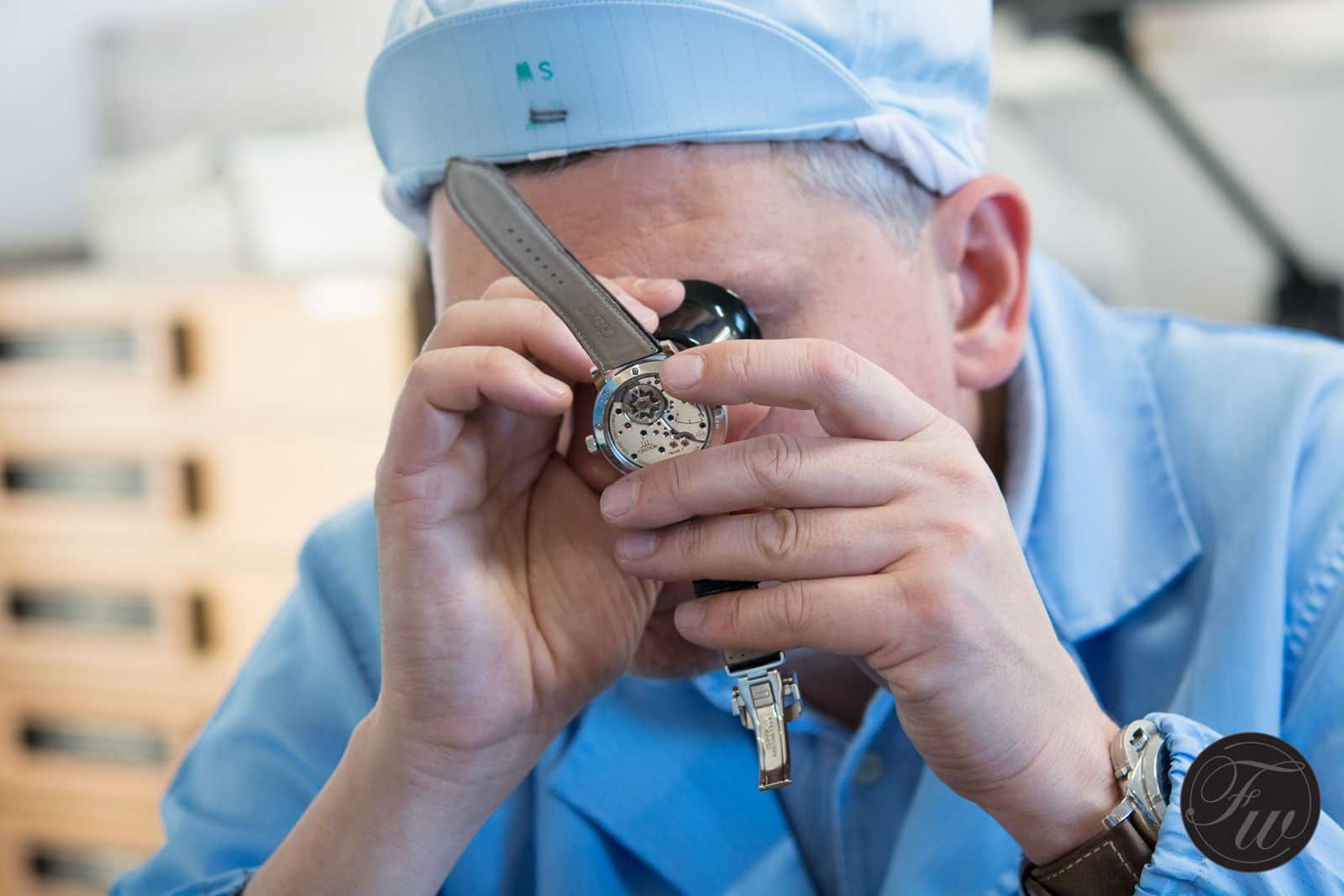 Below you see a couple of images that I took of one of the artisans that is responsible for the dial on the – in this case – Credor Eichi II timepiece.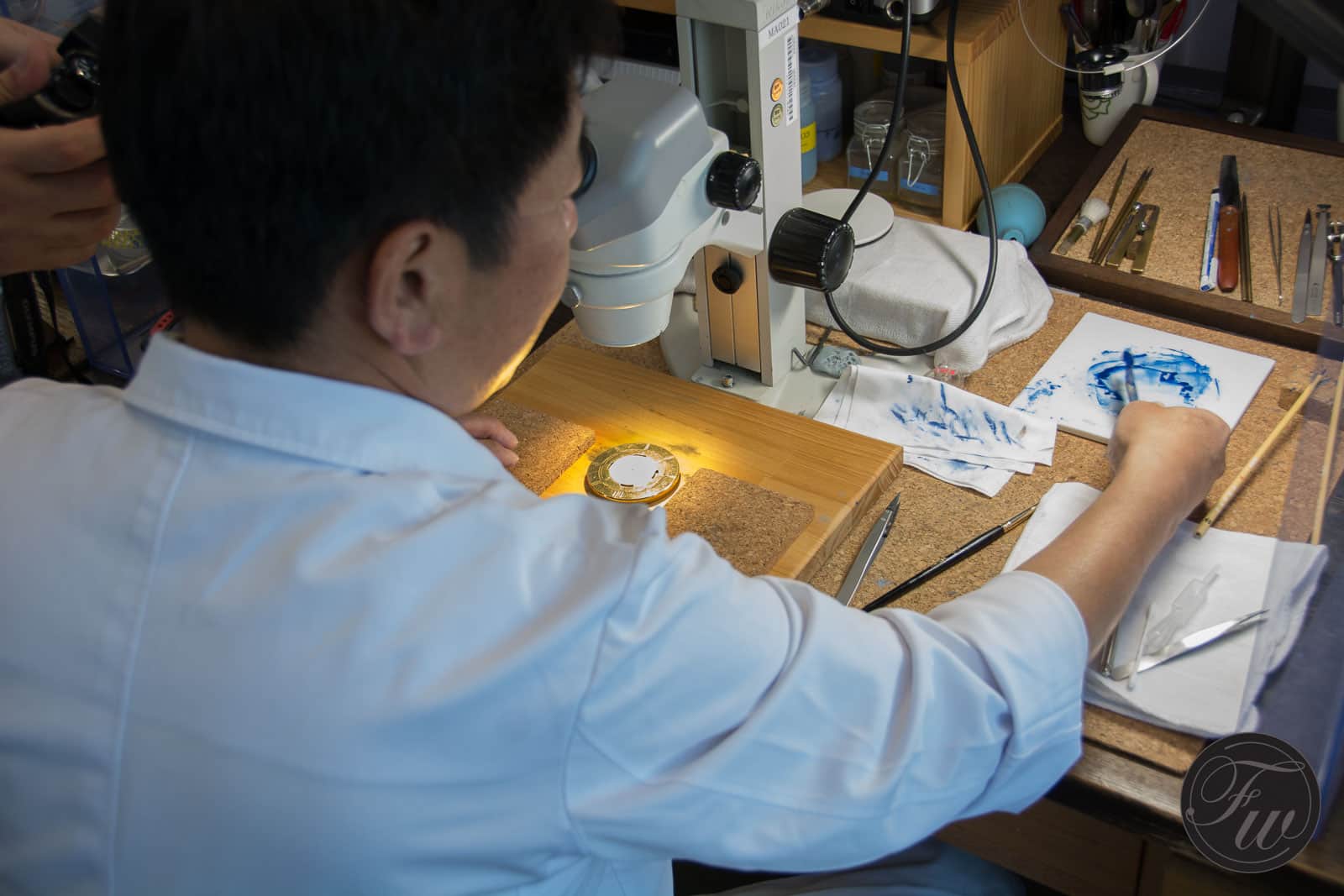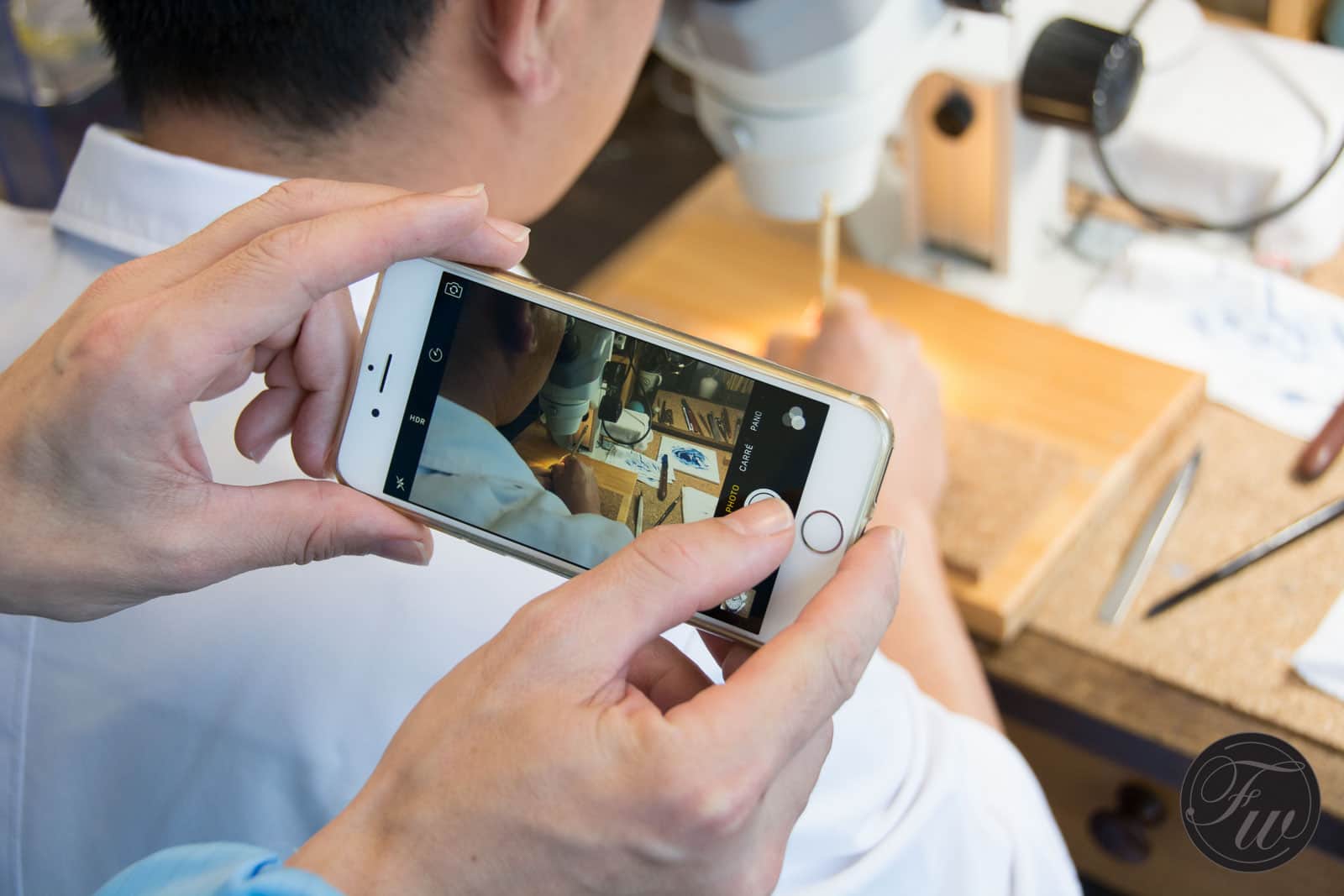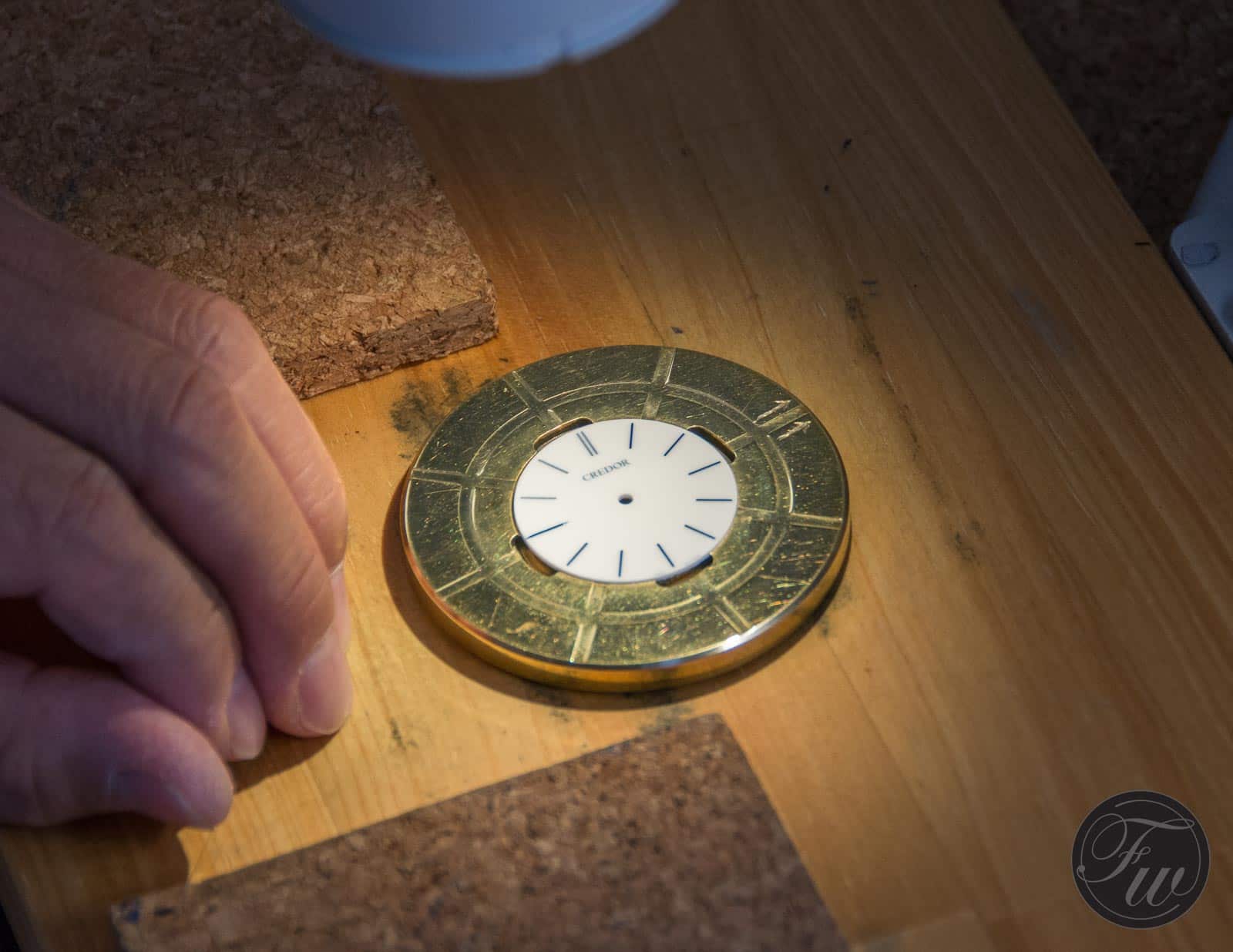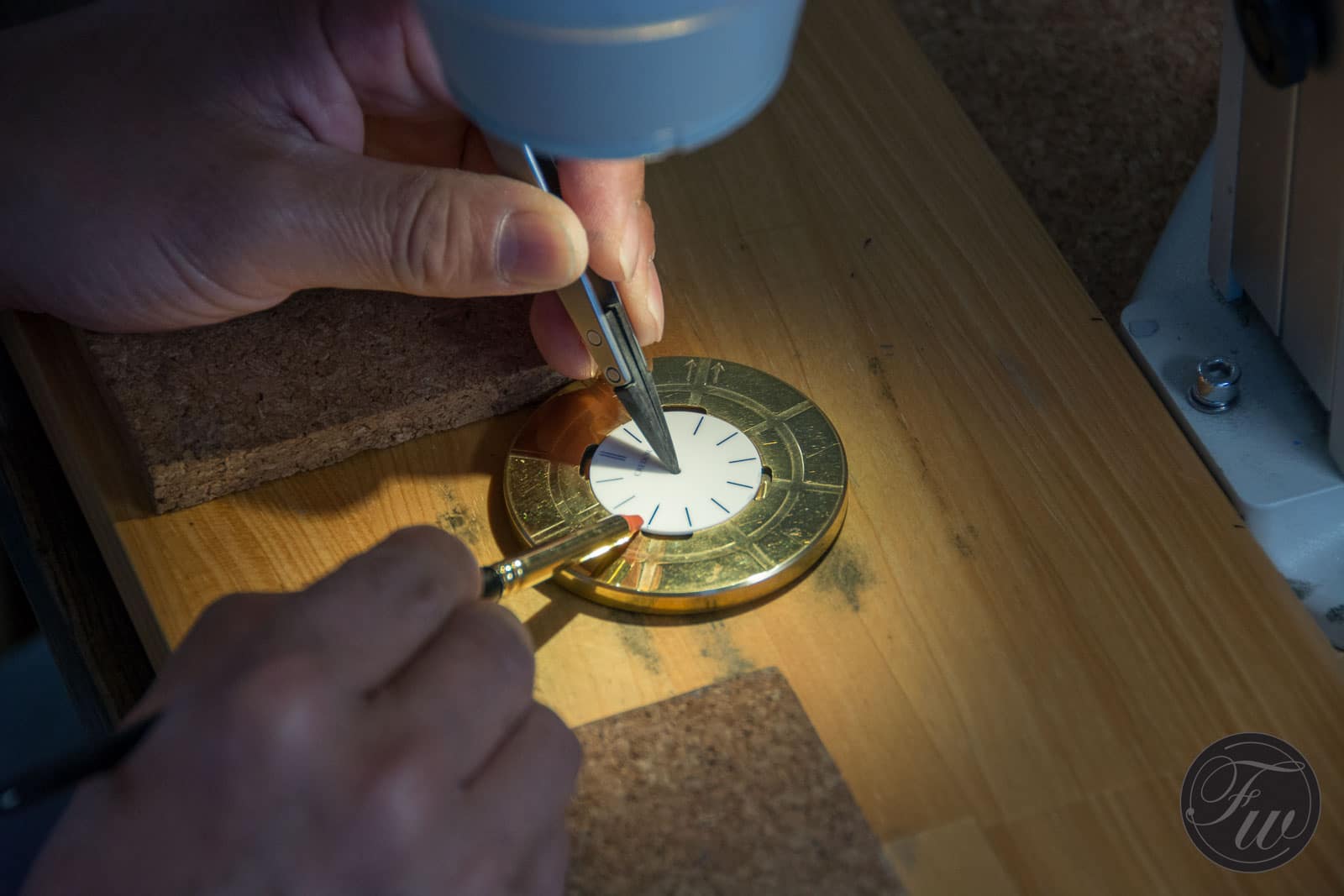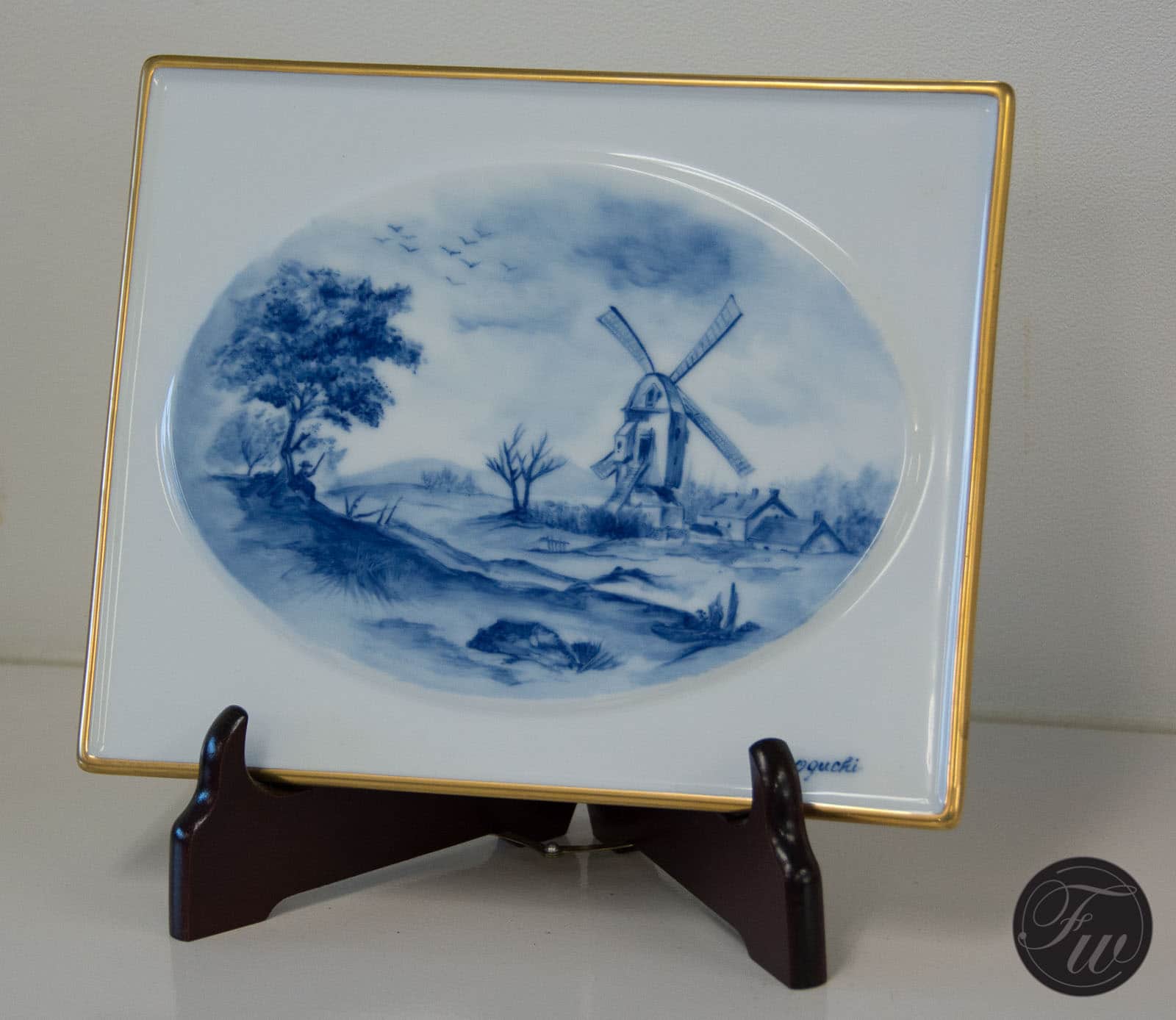 Another watchmaker was responsible for the finishing (polishing) the movement. A painstakingly task that is being done in this Micro Artist Studio as well. A photo of watchmaker Philipe Dufour was on the wall, who has helped and advised the artisans of this studio a couple of times on the watch finishing subject.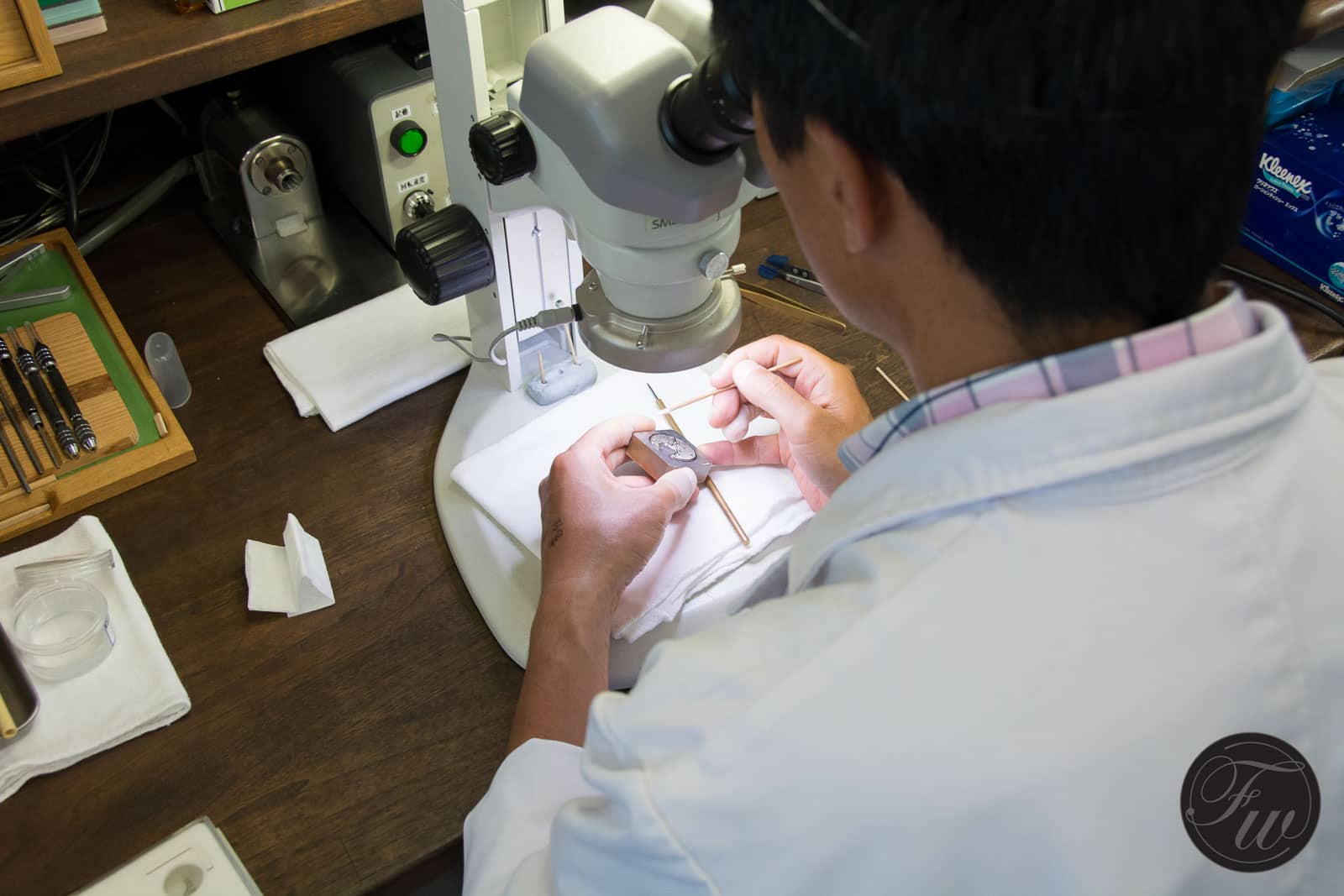 On the way out of this studio, I noticed a pile of magazines from our sister publication Chronos (the Japanese edition). I asked one of the watchmakers later on (during dinner) how he and his team keep themselves informed about what's happening in the watch industry, which is mainly a Swiss and German thing. He told me basically that he keeps track of what's happening in the market and at other brands using magazines like this. The little colored papers probably mark some interesting stories on Seiko, Credor or simply watches with complications they adore and found to be interesting.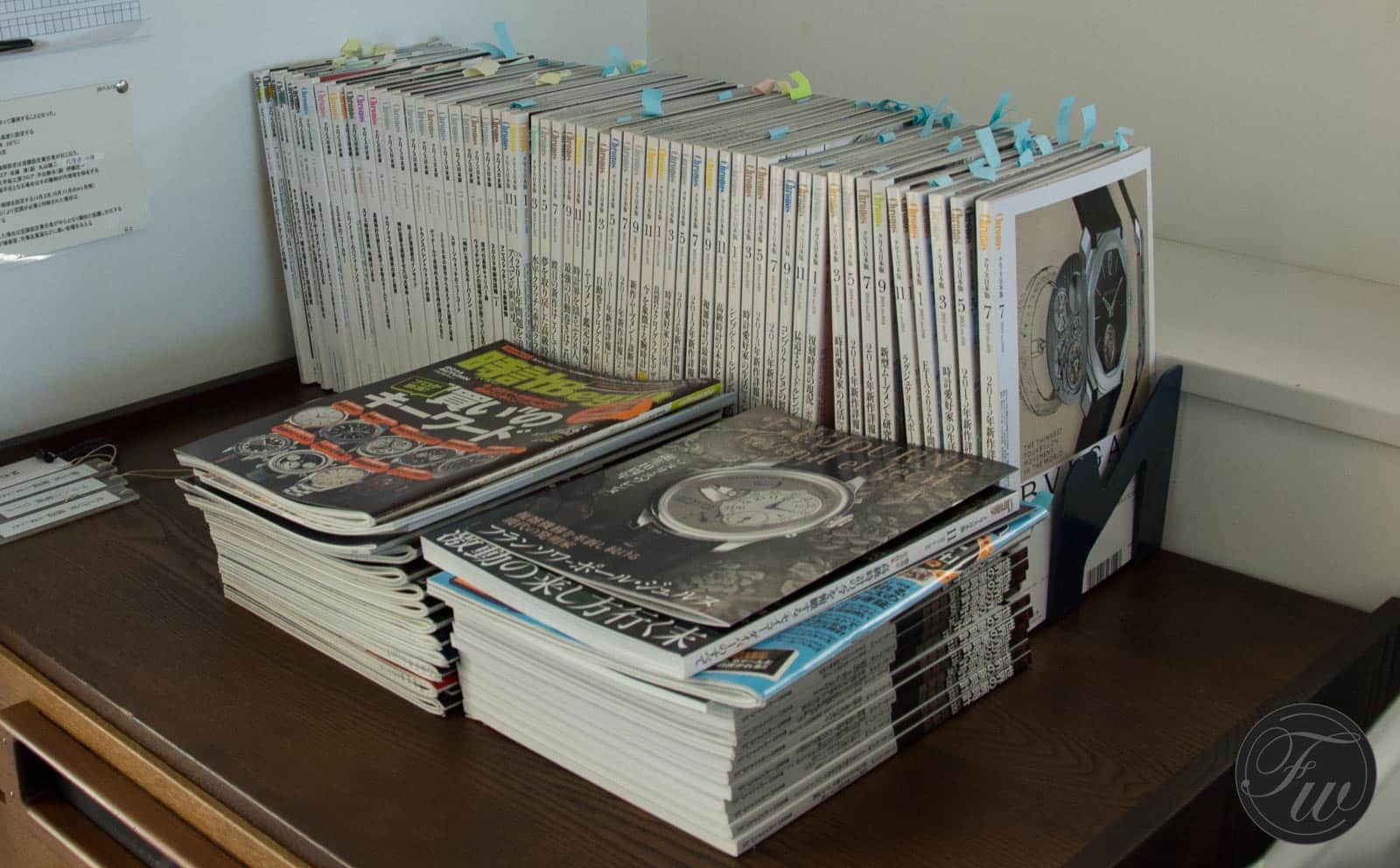 Case Studio and Dial Workshop
Although looking at artisans working on dials and movements is a bit more attractive then looking at these big green pieces of equipement in a watch manufacture, let's not underestimate the effort and precision that goes into creating that perfect case and dial. The case studio was something that really amazed me. For Grand Seiko watches, there is so much hand-finishing done with regards to the cases. Incredible. Having that said, the "Zaratsu" polishing method is what makes these Grand Seiko watches so attractive for the eyes.
The photos below show how much work is going into polishing the Grand Seiko cases and give them that unique appeal (like we wrote in our reviews of the Grand Seiko SBVG009 and SBGH001). Further below, you will find some photos that I took of the Grand Seiko collection that was shown to us during this day.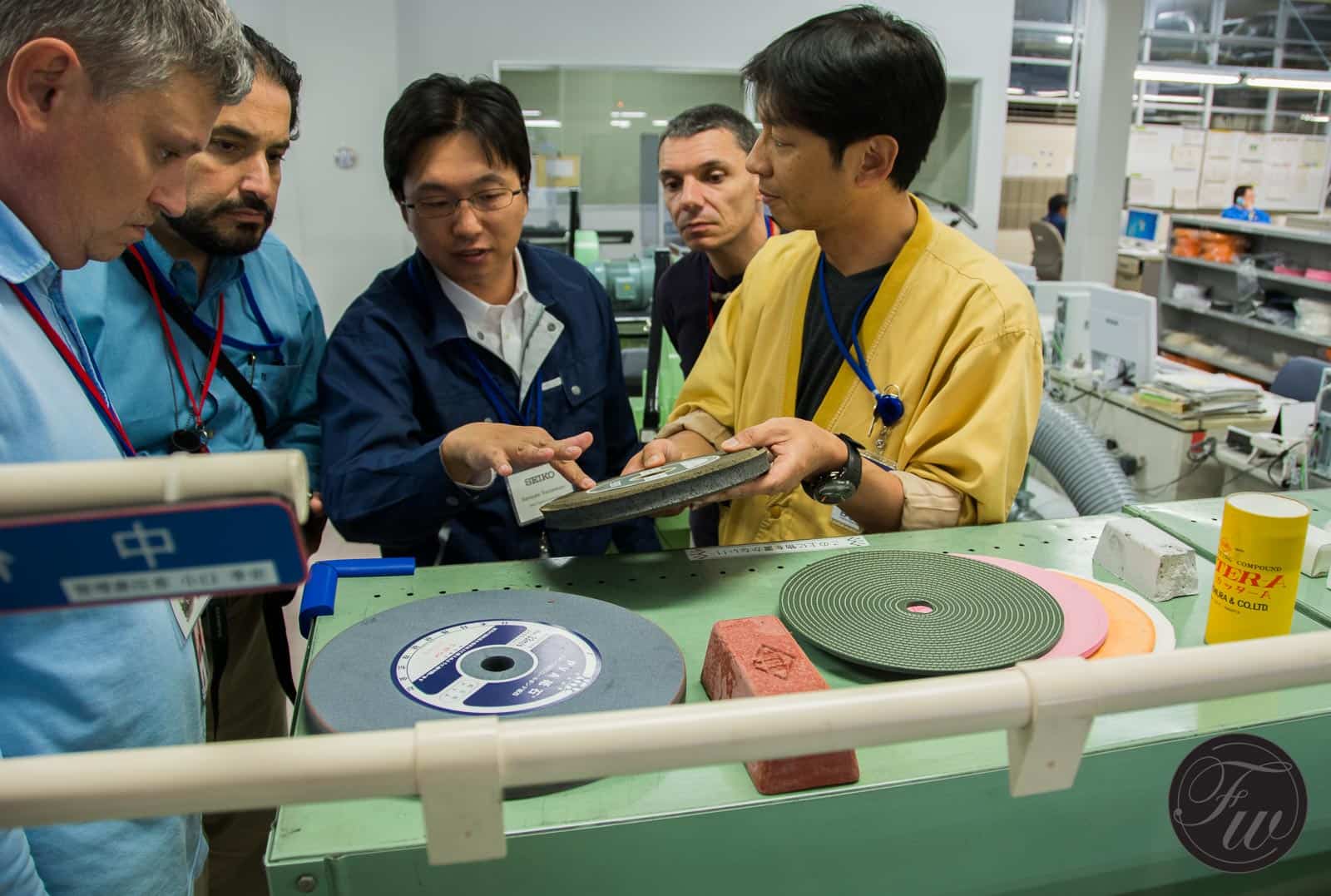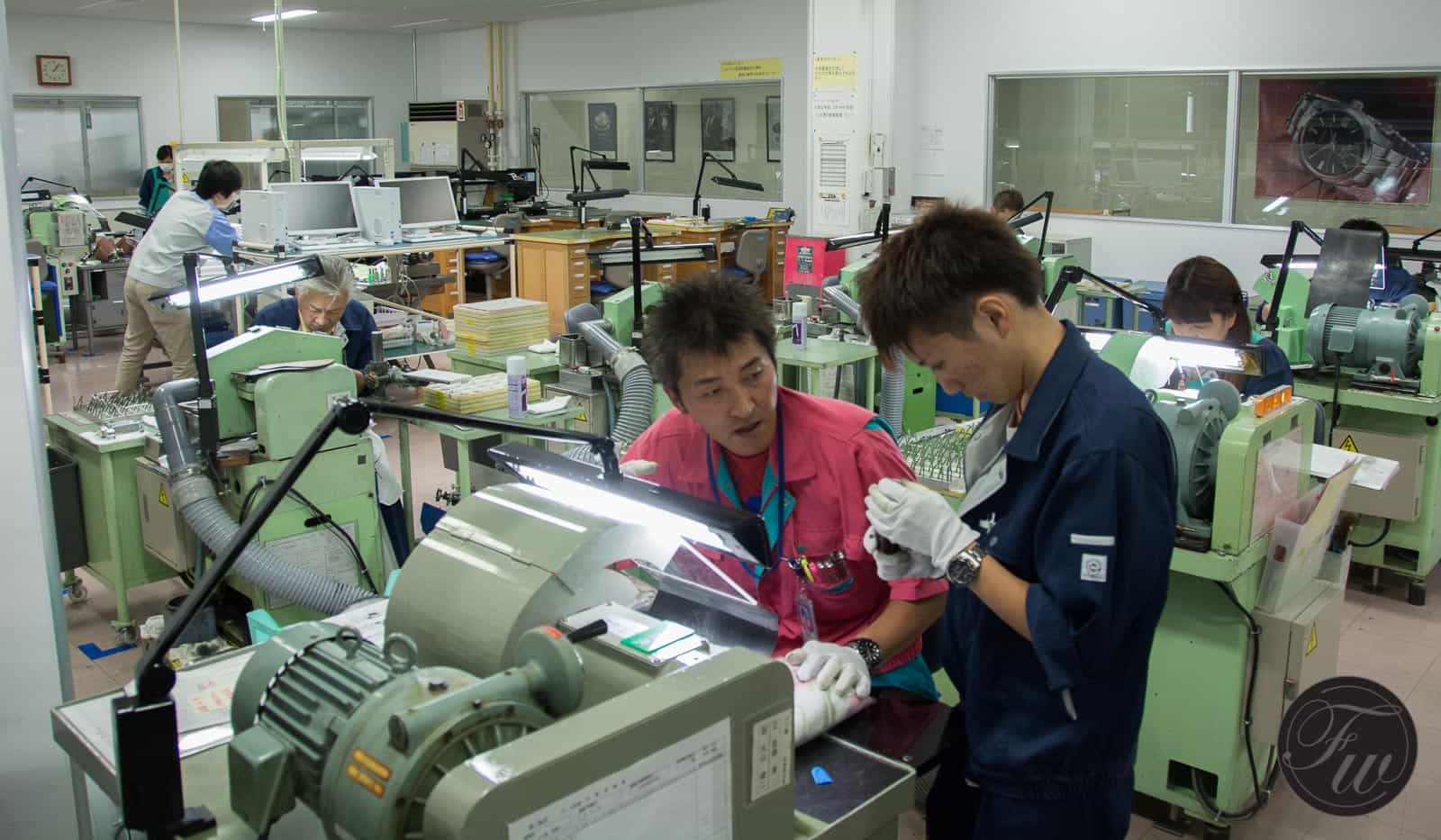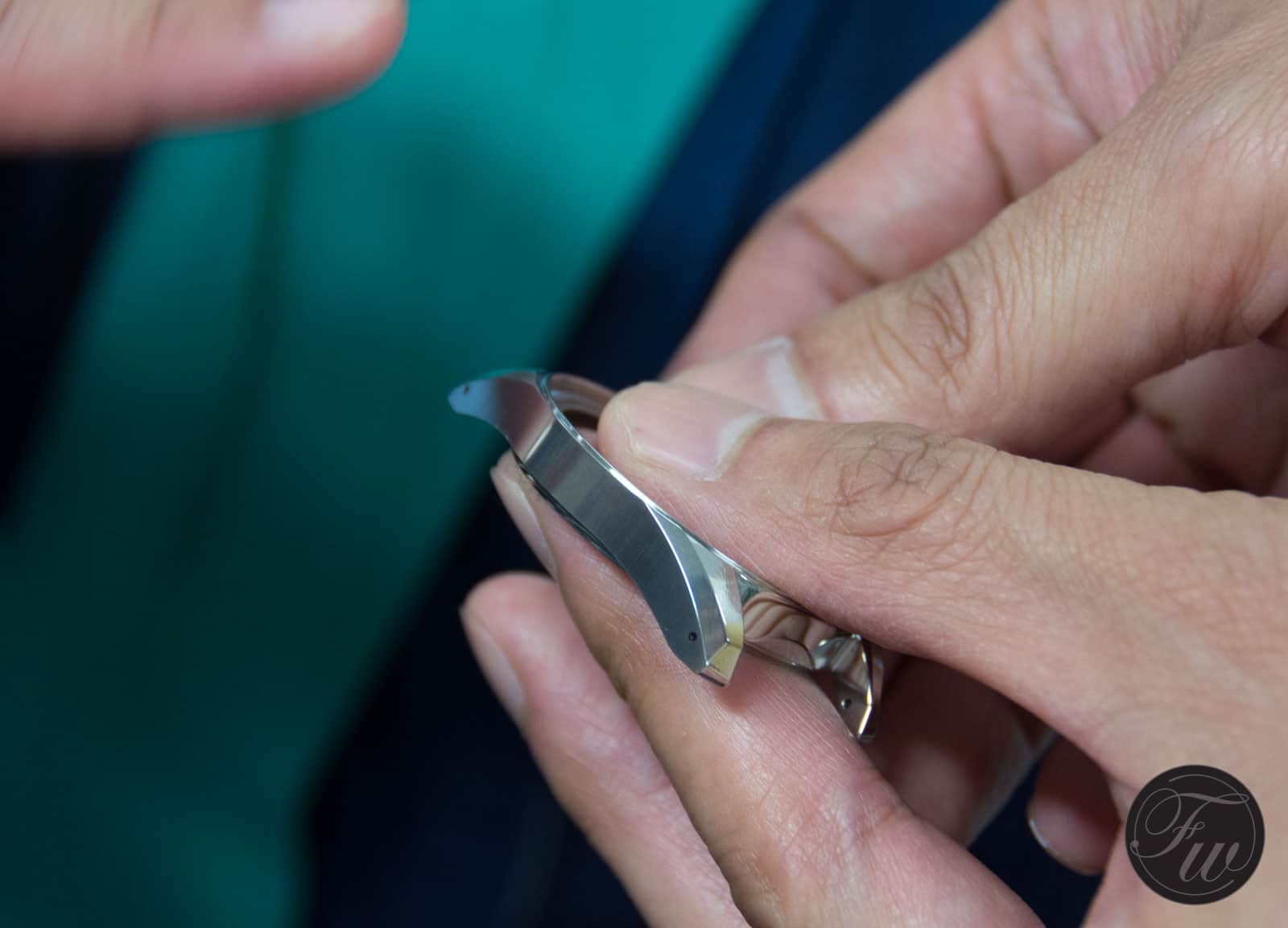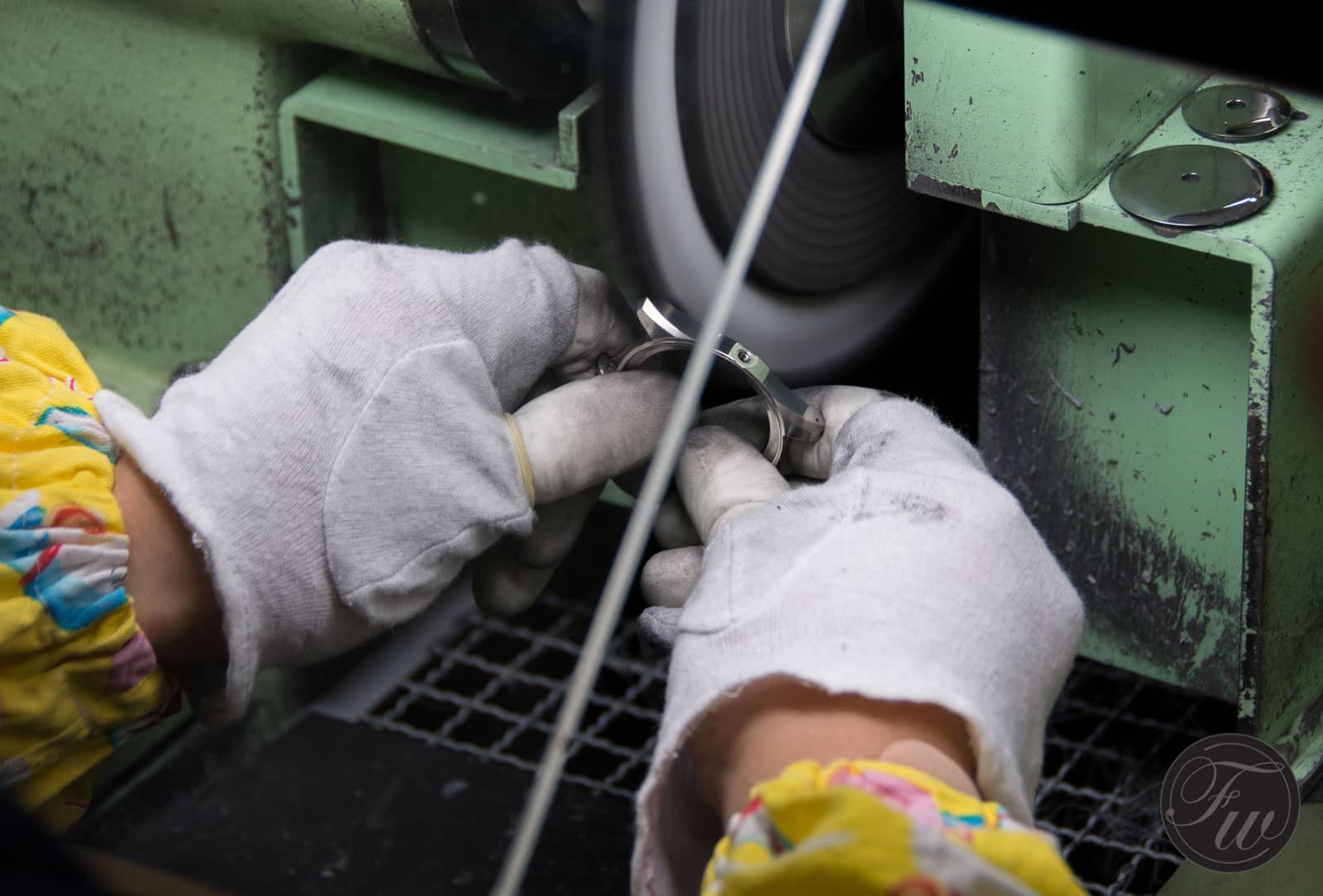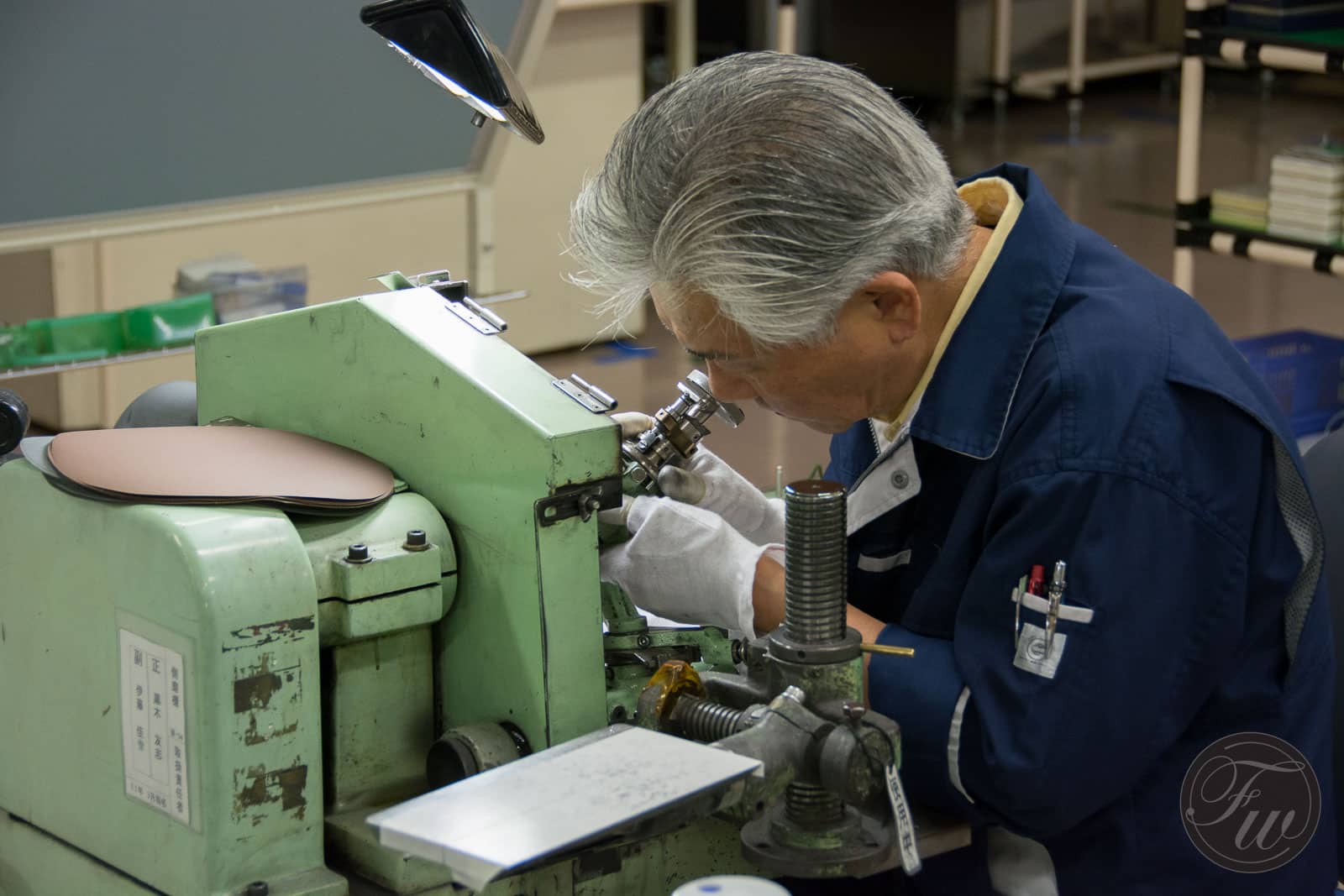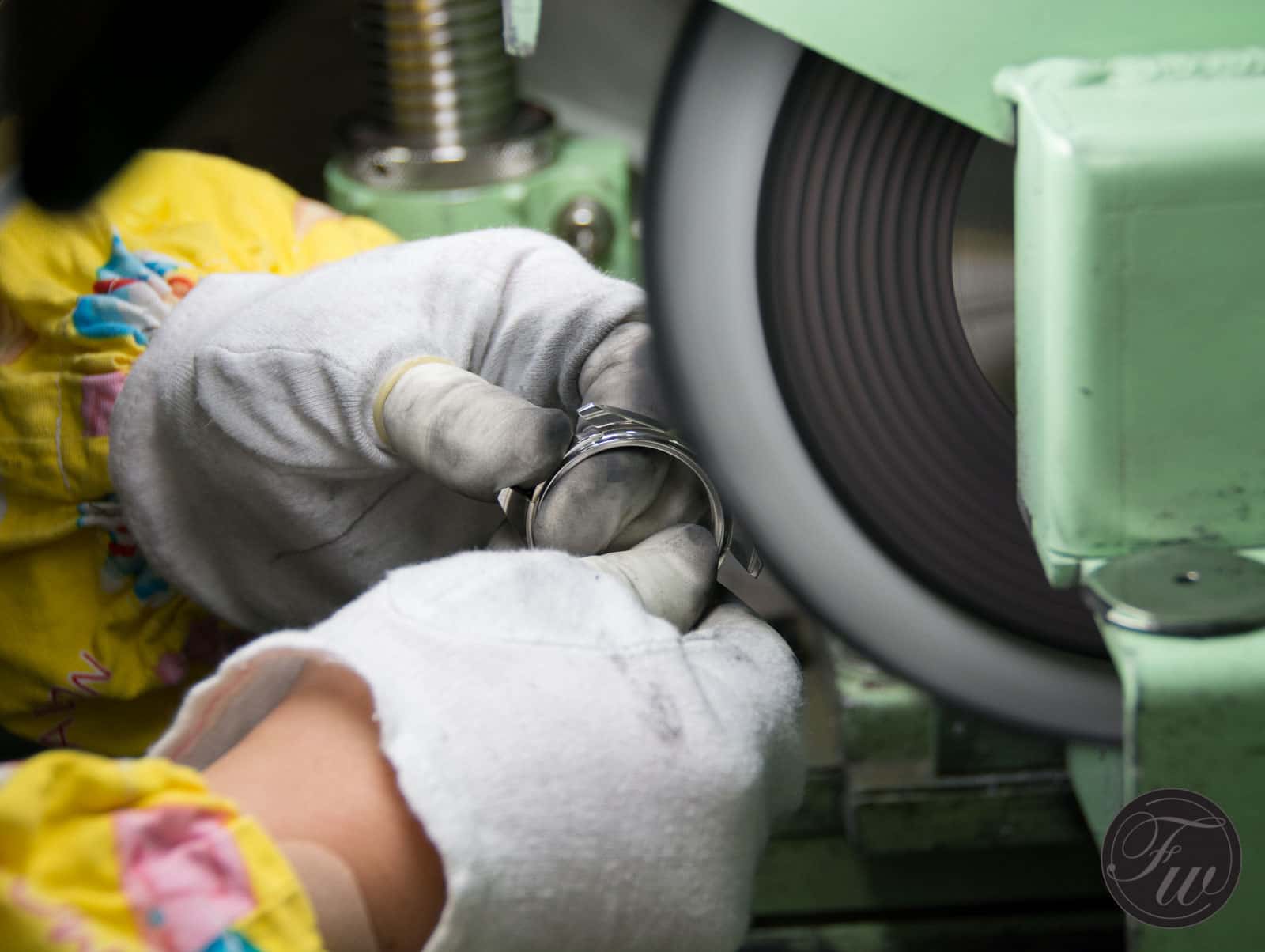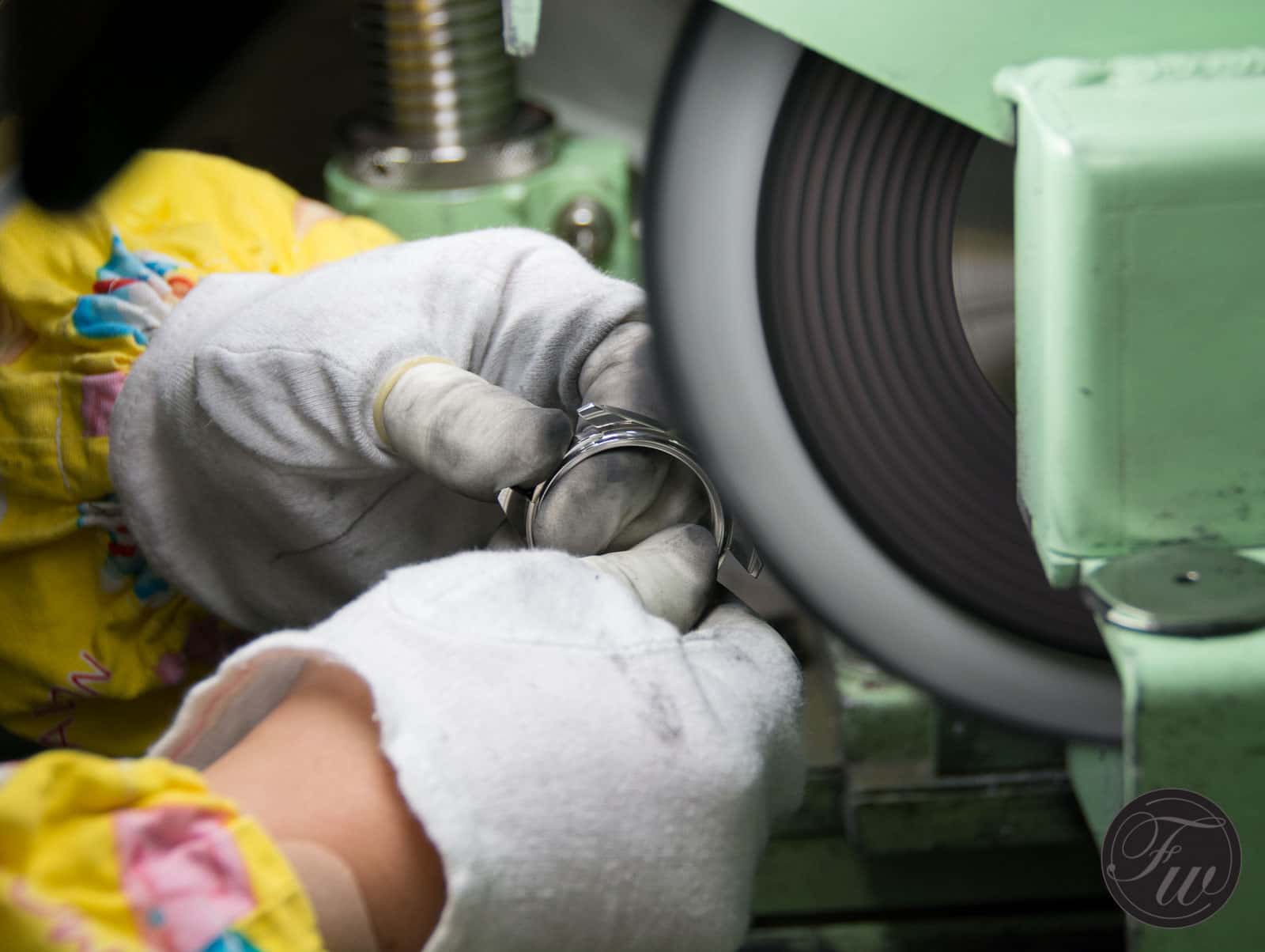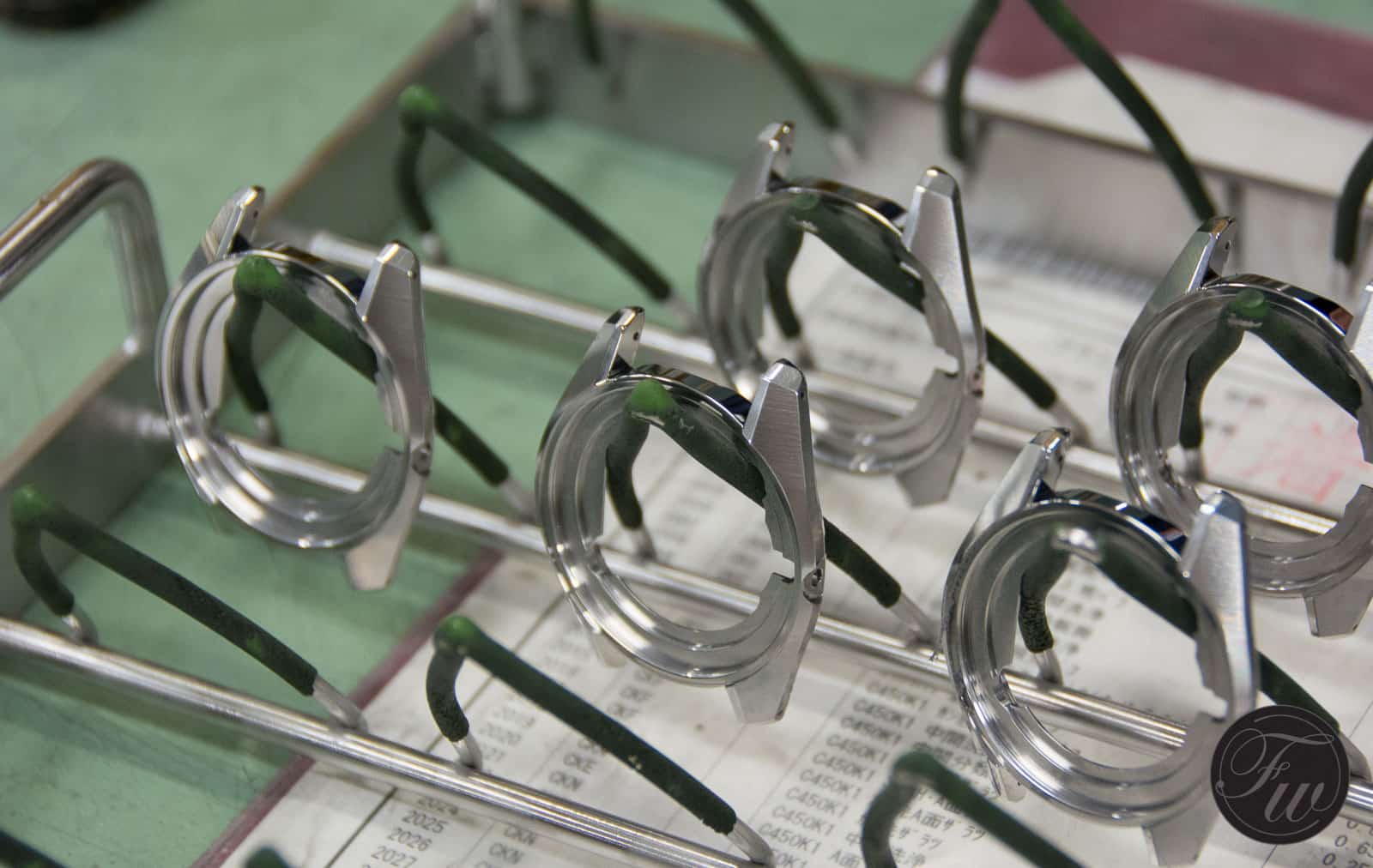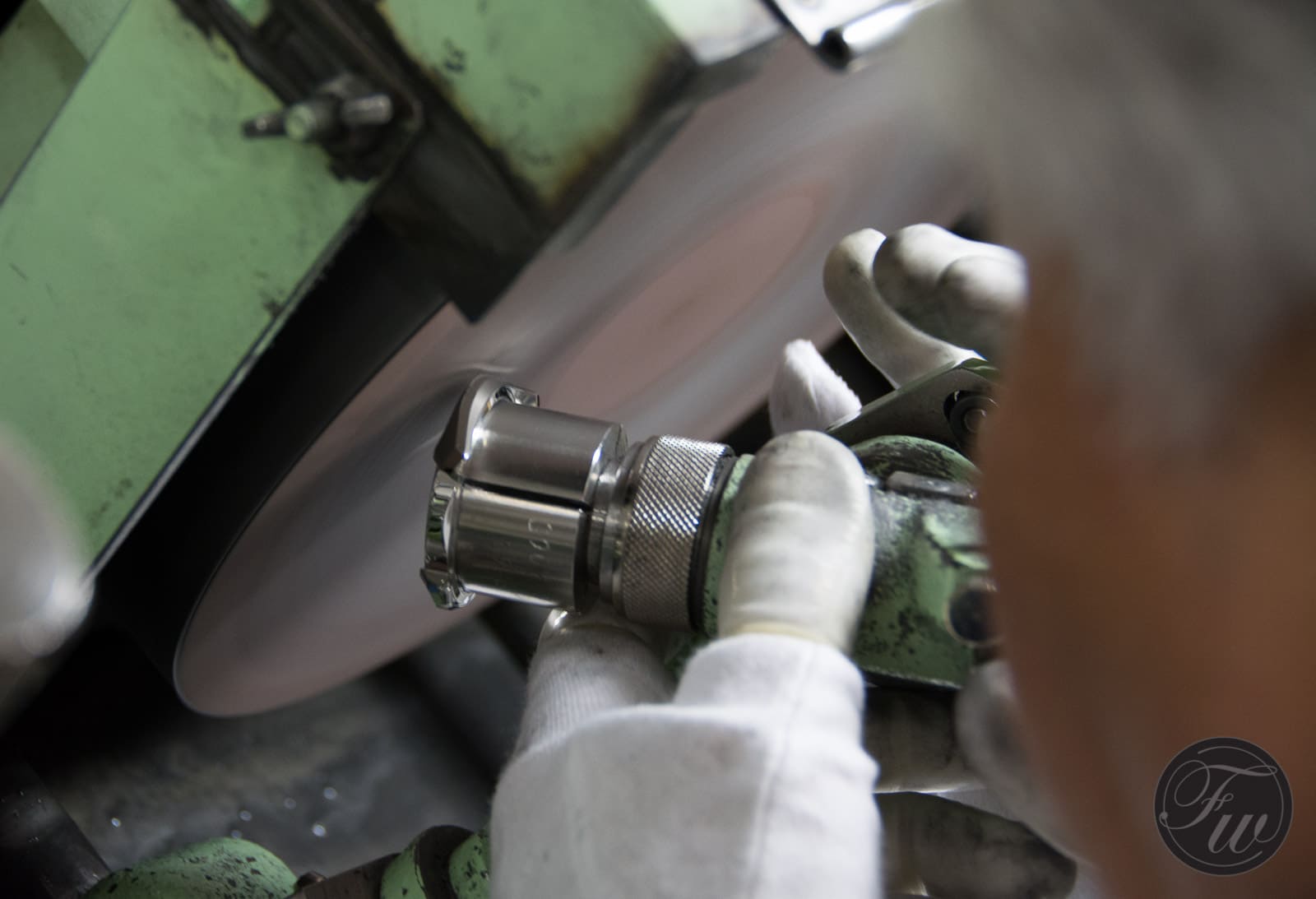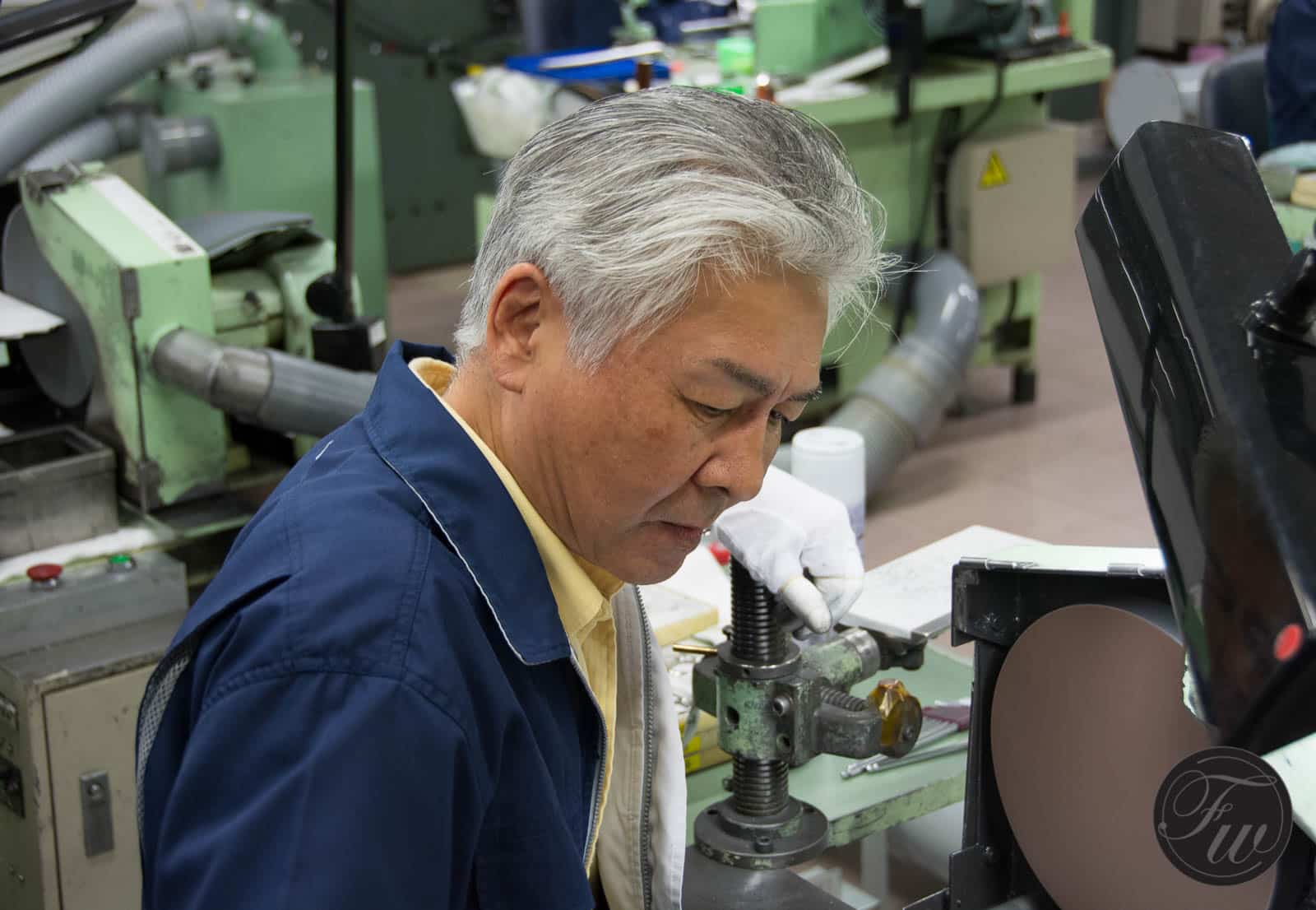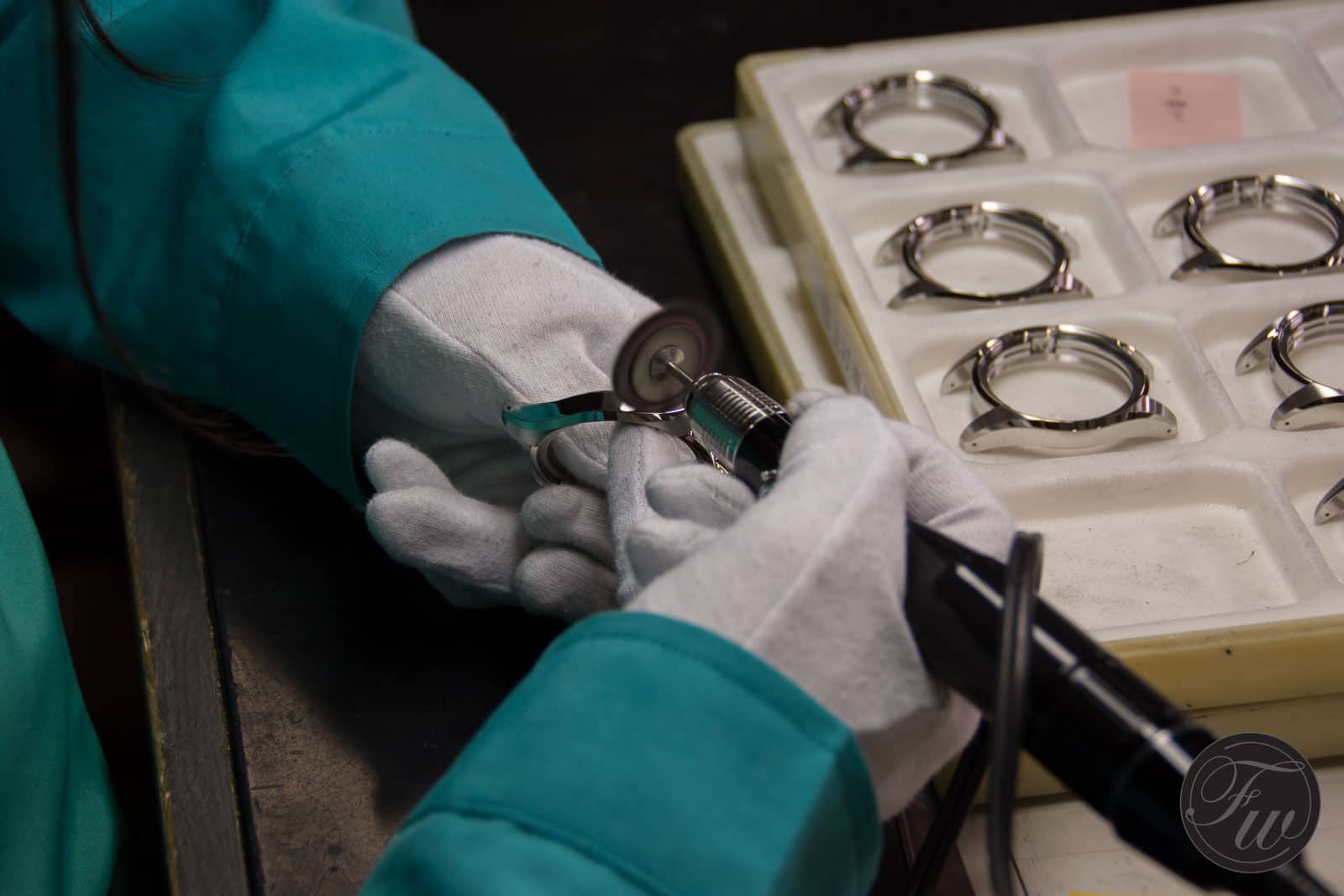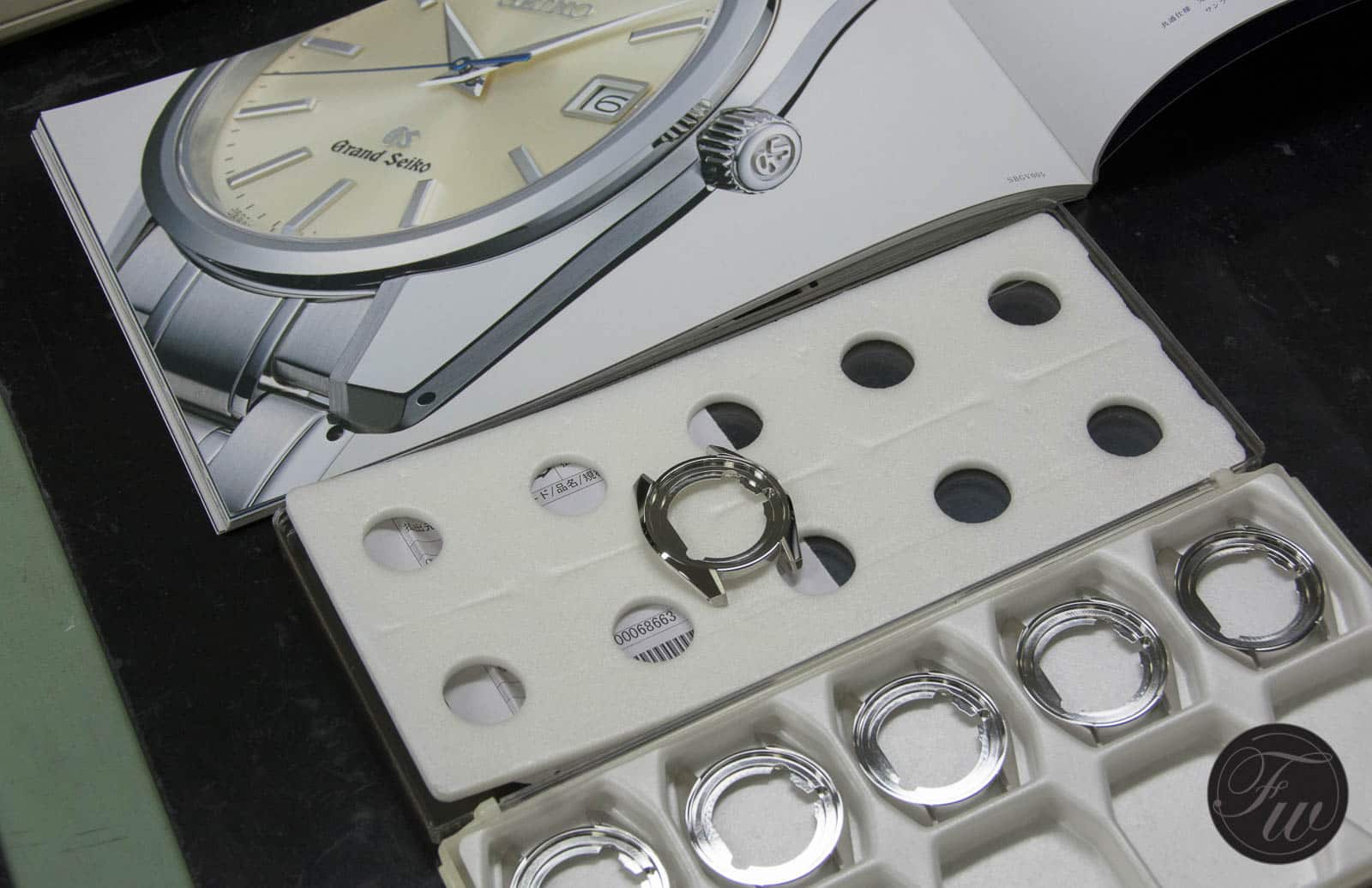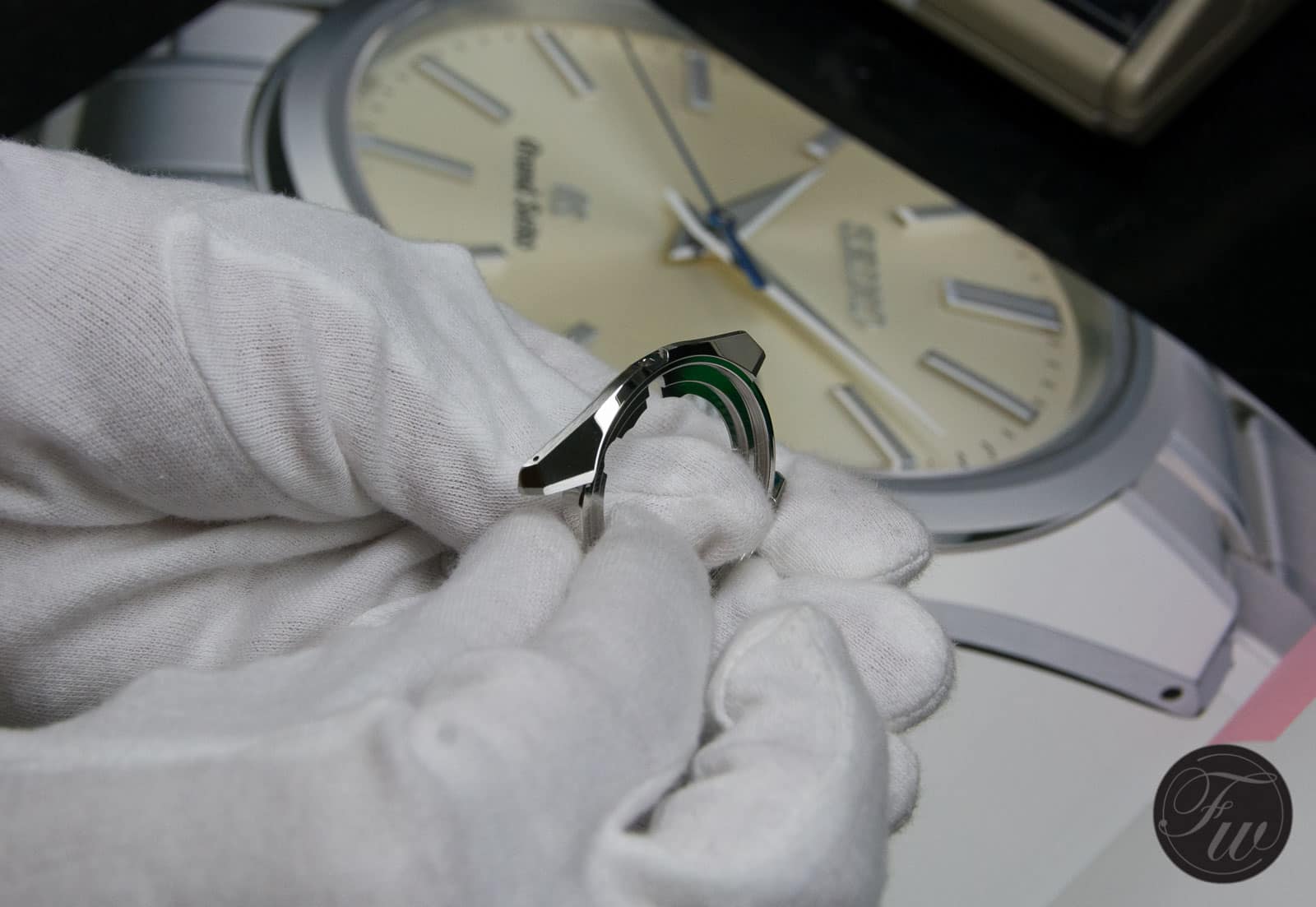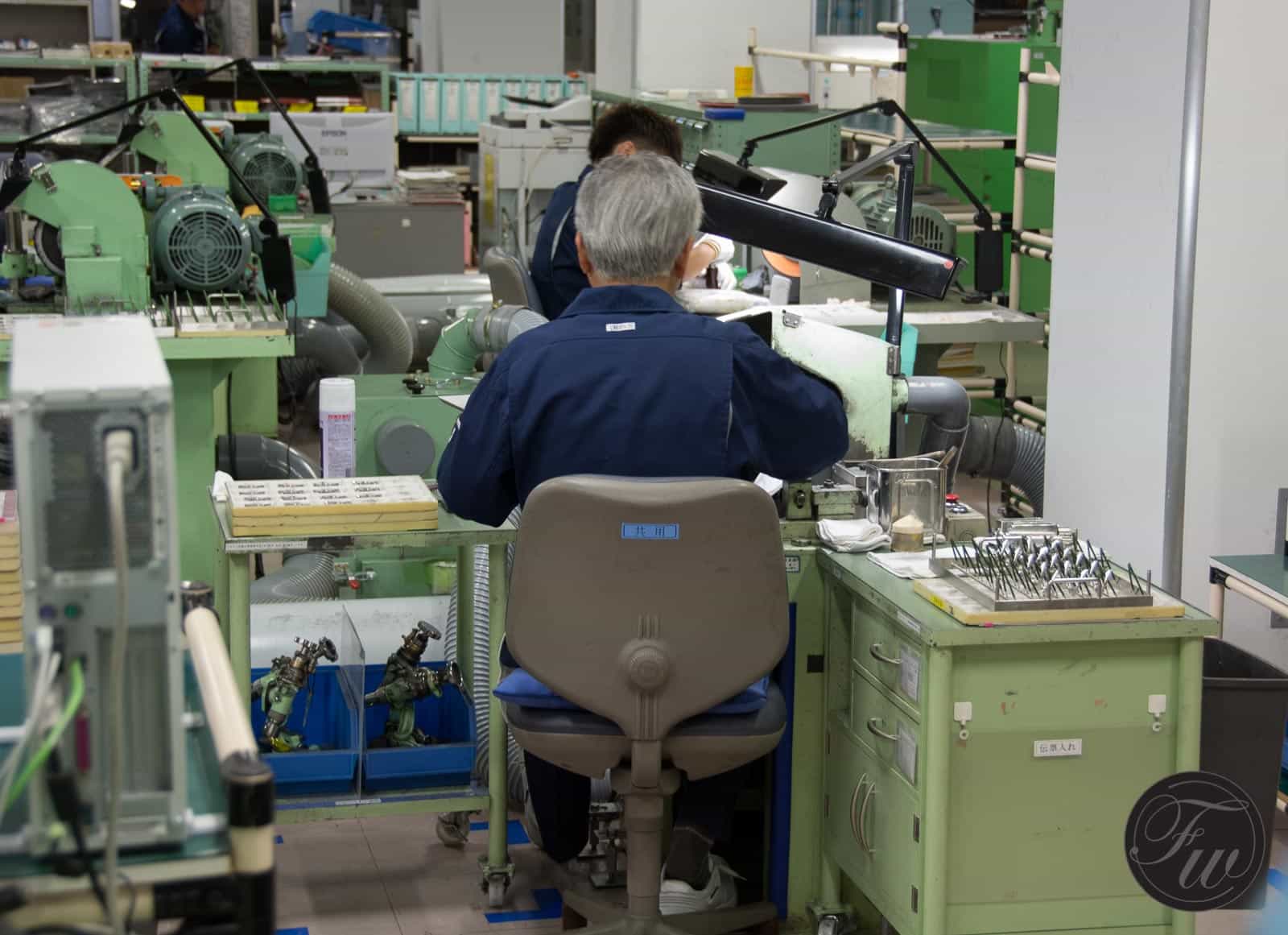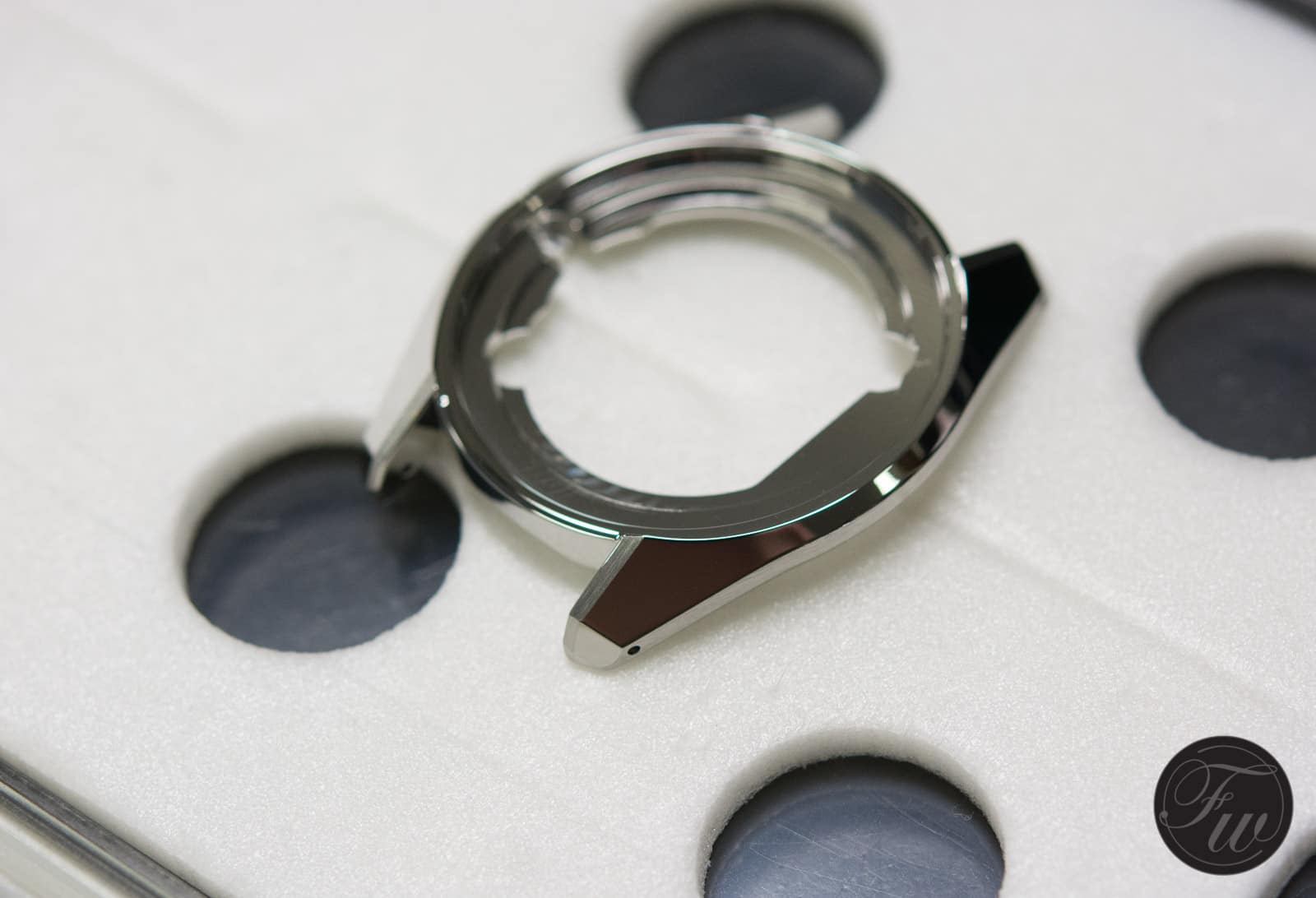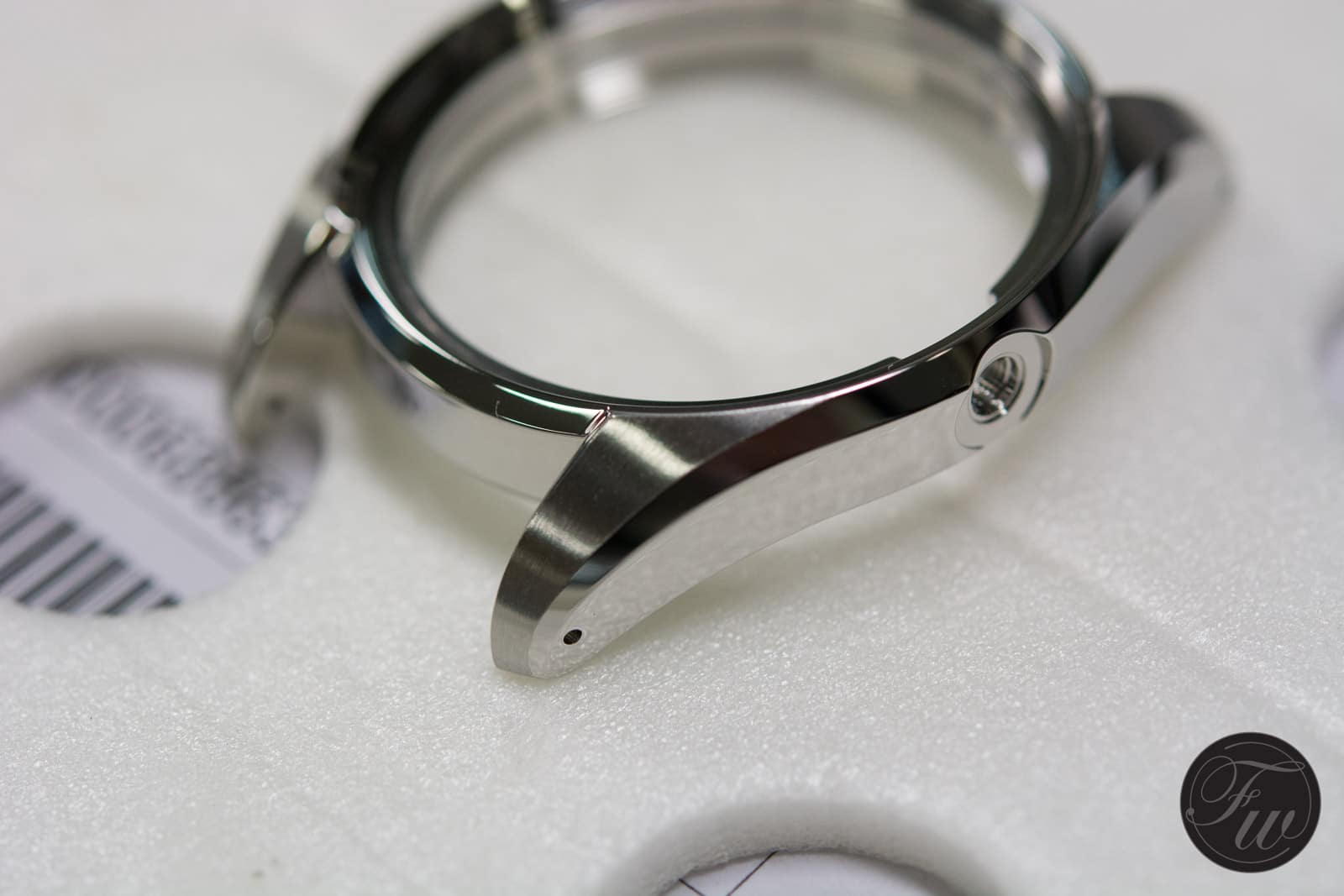 All the steps of dial making were shown to us during the presentation, but to see how it's done in the flesh is – of course – more exciting.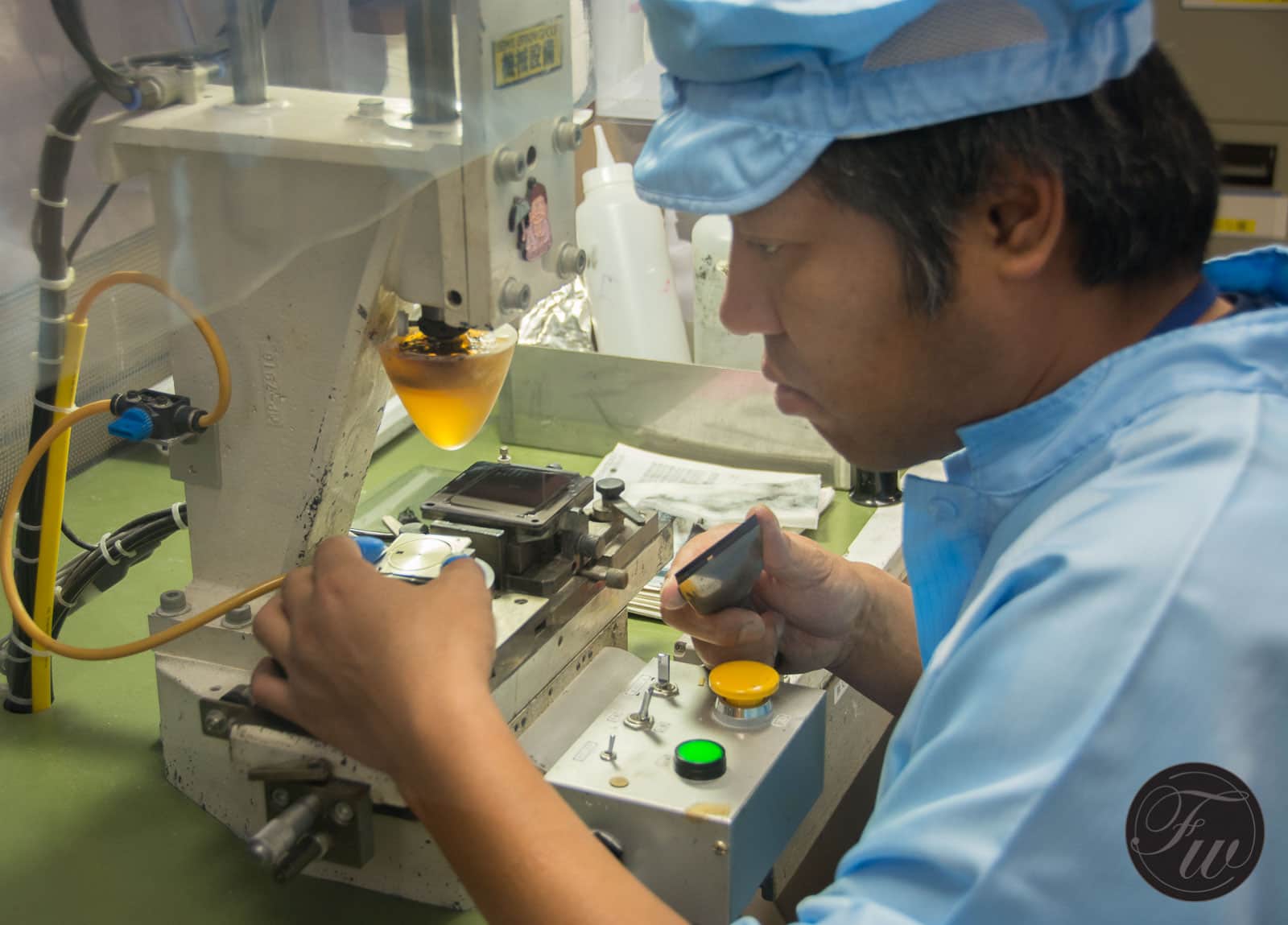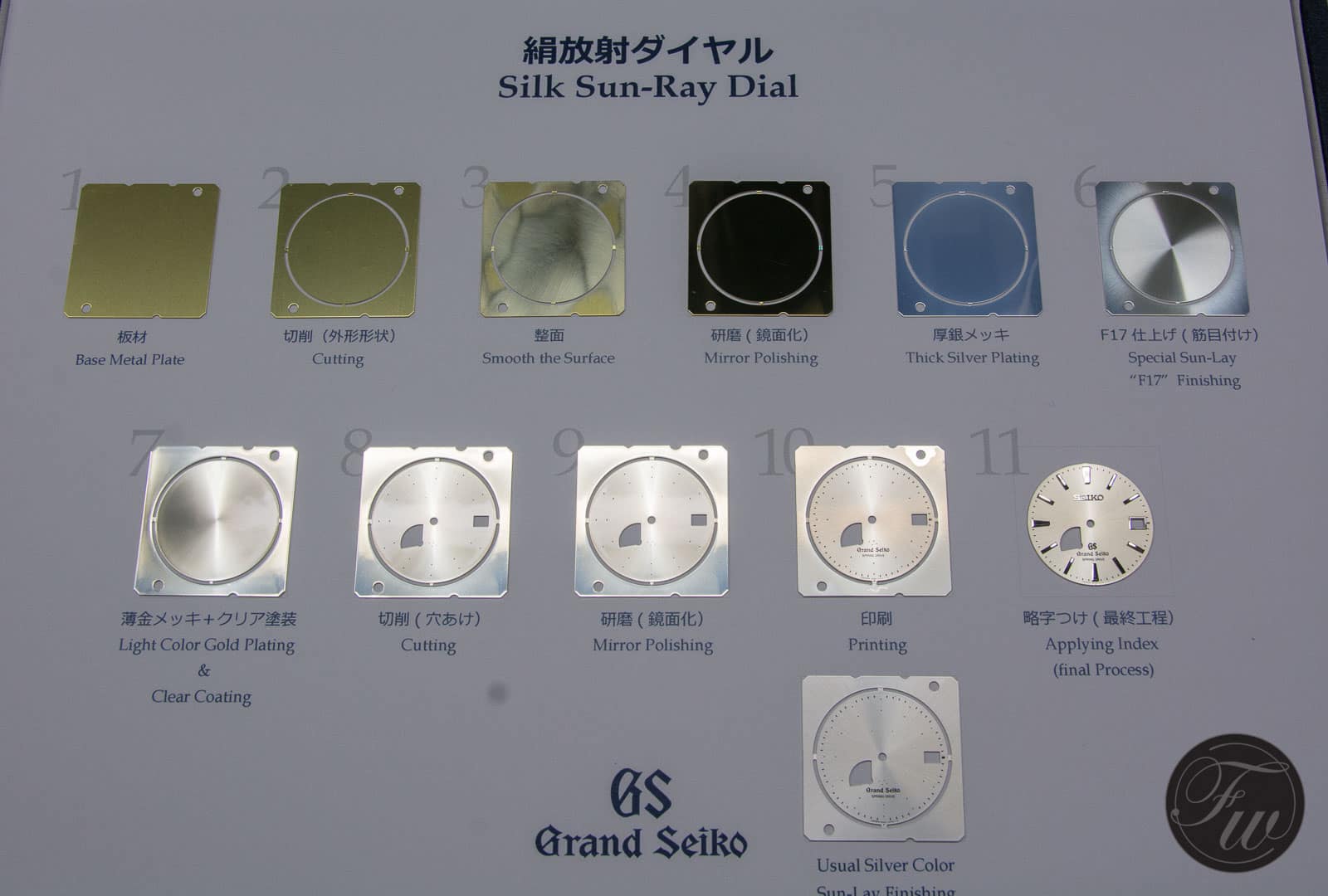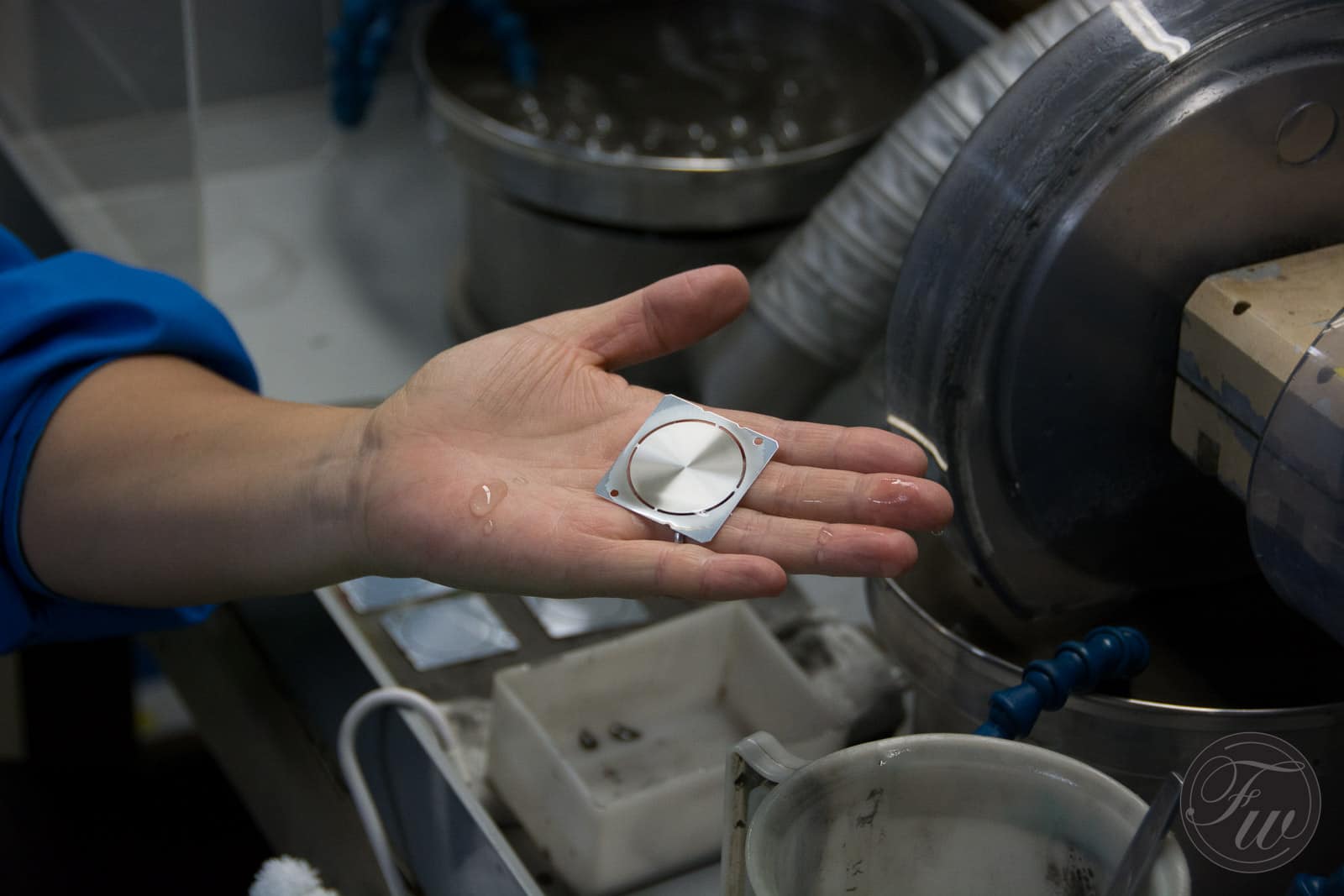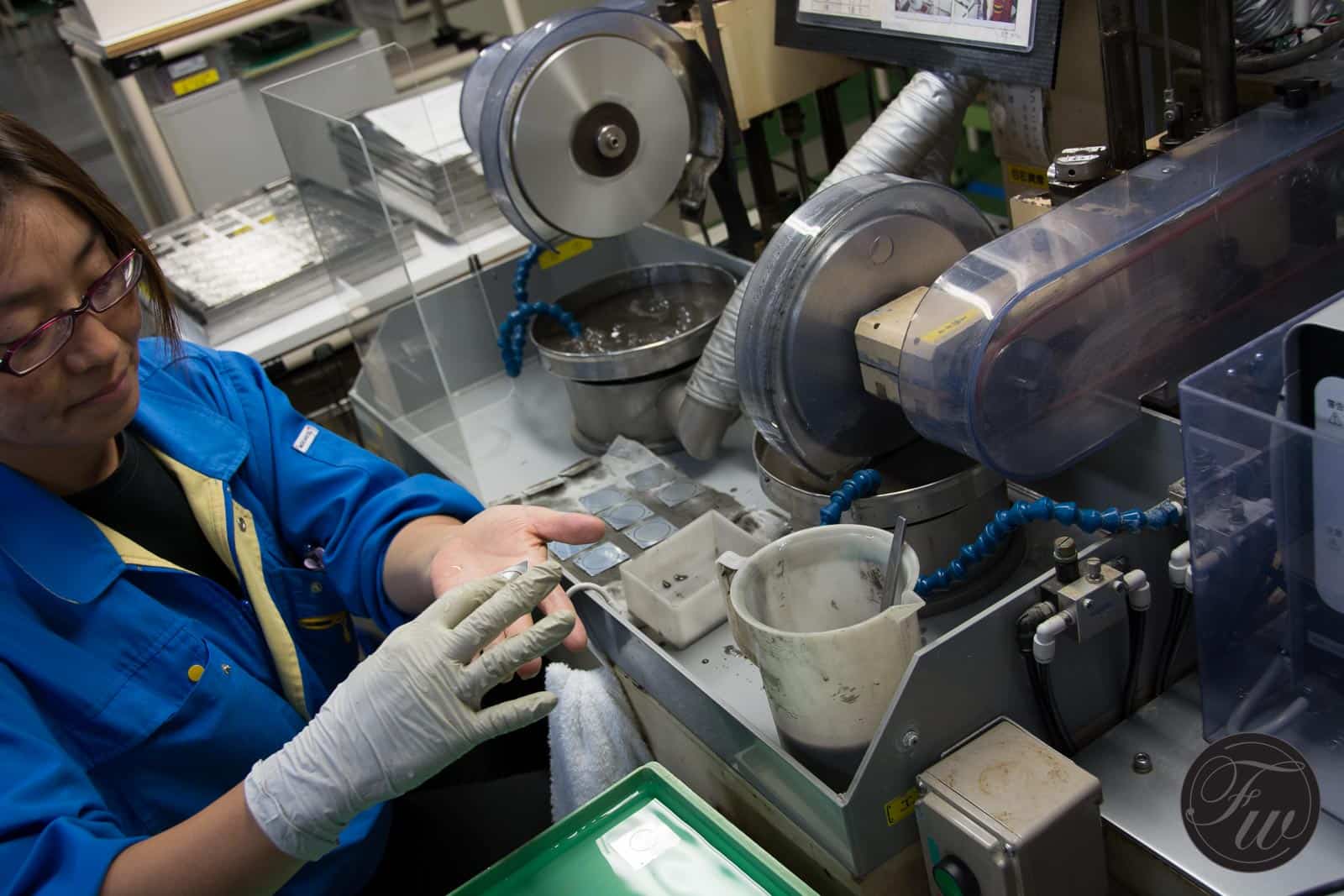 The process of cutting the markers was something interesting to see as well. A big roll of markers were cut and polished by a guy using a little mirror to check his work for imperfections. The hands were blued using a heater, putting them on just long enough turning blue.
Grand Seiko Watches
During this day, we were also shown some of the models of the current Grand Seiko collection. The snow-flake dial being one of my absolute favorites, but some of the other models are also irresistible. Let me end this first part of the Seiko Factory Visit report with a couple of photos that I took of these Grand Seiko models.
This is the end of the first part of the Seiko Factory Visit trip report! Make sure to subscribe our newsletter so you are sure you didn't miss anything!
Also, if you have specific questions or things you'd like to see addressed in these Seiko Factory Visit trip reports, leave a note in the comments section below.
June 8, 2017: You can now sign-up for the same adventure as described in this article. Sign-up for the Grand Seiko Experience with Fratello Watches.