Summer Special: Seiko SKX007 vs Citizen NY0040
Sun's out guns out! Yes, it's June and that means that people are giving serious thought to where they will spend their vacation. For most, this entails some sort of beach setting and may include activities in the water such as swimming, diving, sailing or surfing. If not, though, the vacation usually involves some sort of travel and often to a foreign land. This is where, if you like watch forums, things get entertaining.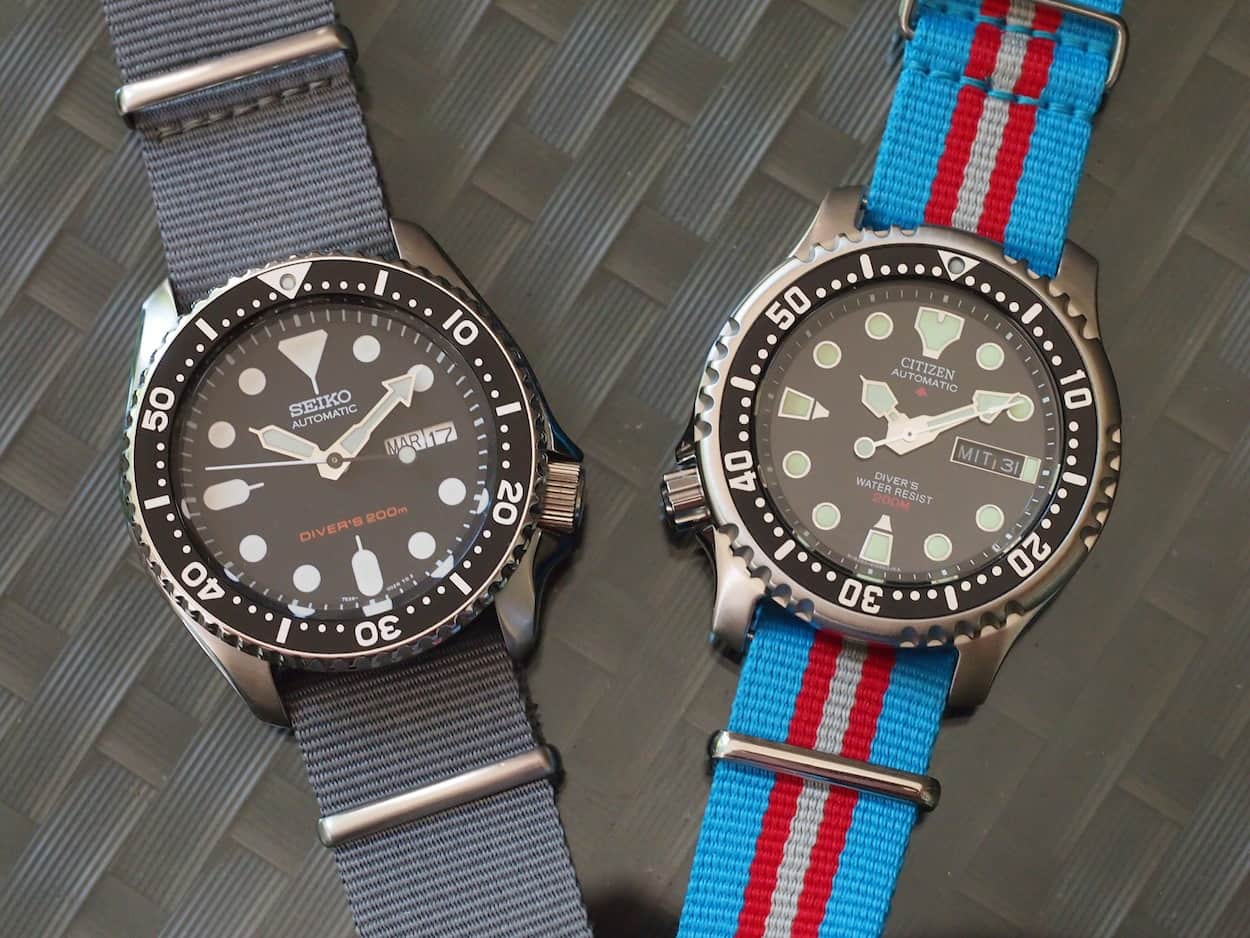 So, if you're a forum reader, especially on a forum that focuses on more expensive brands, we are now entering the season of the infamous, "Is it safe to wear my insert watch brand and model to insert destination" threads. The threads often ask about South American locales where eagle-eyed squadrons of motorcycle gangs apparently roam the streets poised and ready to forcefully pilfer your Rolex with nary a thought about your life's worth. Amazingly, as our news media becomes increasingly sensational, I see questions from quaking travelers asking about bucolic places in America because, as you know, the entirety of America carries assault rifles and apparently mows down all comers at merely the suggestion of a wrongful glance. Ok, so I am being overly harsh, as people honestly do want to know about safety. You love your watches and want to bring them with but you also desire some reassurance.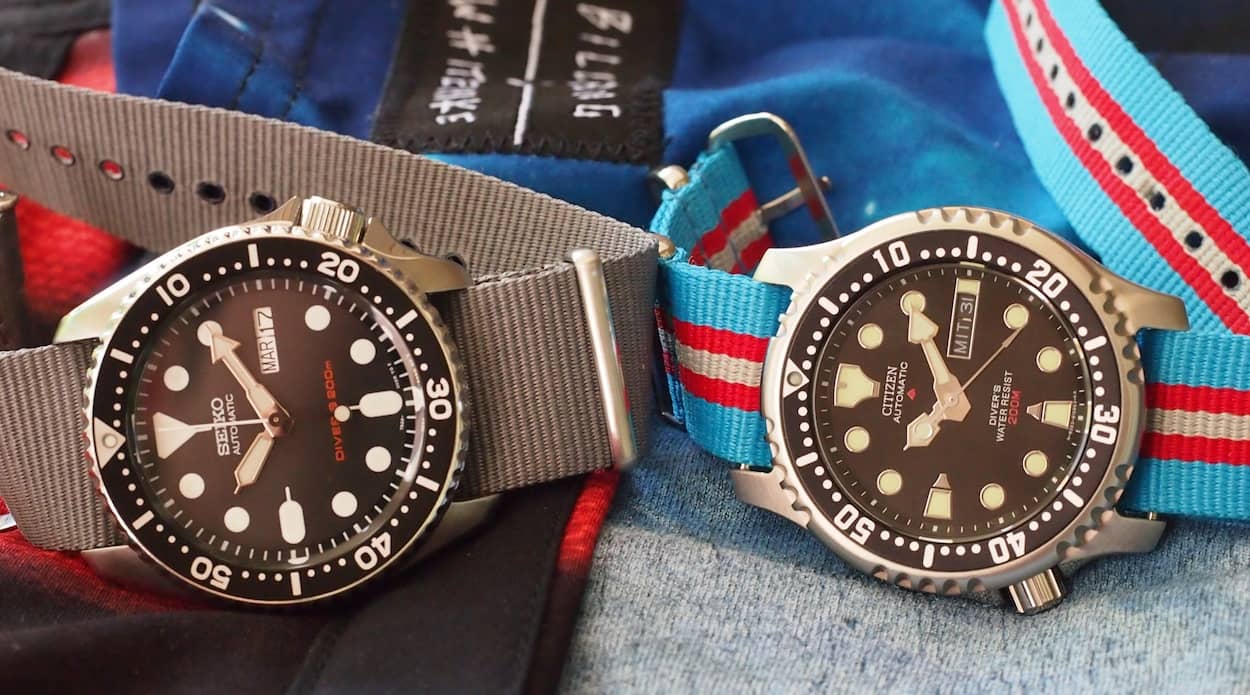 So, if safety is a concern, a messy or rugged environment is on the docket, or, perhaps, you're not used to traveling and may be the type of person who is prone to leaving their watch lying around in a hotel room while stepping out, what's an inexpensive and durable, yet credible (read: mechanical) watch to bring on your journey? Well, we're glad you asked because knowing us here at Fratellowatches, we have a couple ideas for you. One watch is immensely popular while the other is slightly more reclusive, but no less compelling. Let's have ourselves a little Summer competition between two solid, ISO-rated choices: the Seiko SKX007 Diver and the Citizen Promaster NY0040.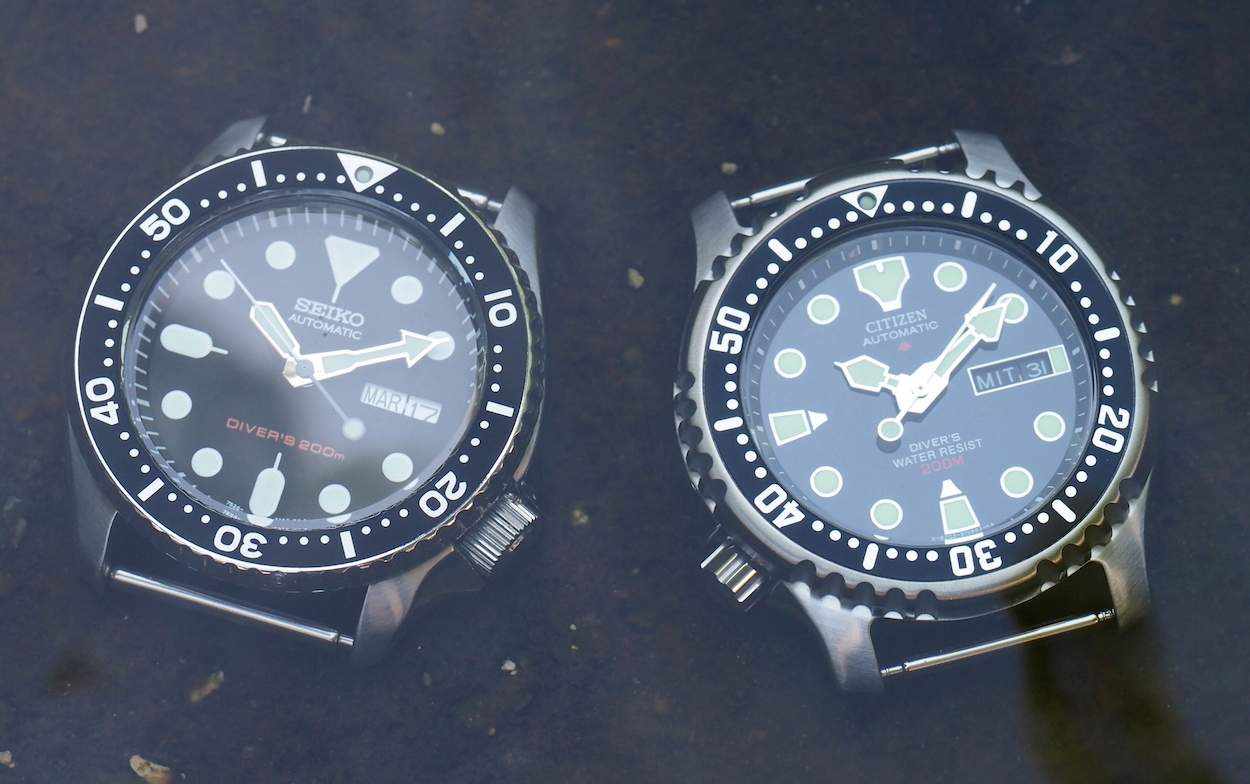 Seiko and Citizen are two Japanese watch companies that have been duking it out for decades. Both offer watches at all sorts of price ranges but really bring in revenue through production of moderately inexpensive, yet high quality, timepieces. Impressively, each company manufactures in-house movements and most of its own parts. Due to economic pressures, both now utilize factories throughout Asia instead of solely relying on Japan, but I've never been able to tell the difference quality-wise no matter where the pieces are made. Seiko and Citizen are famous in many sub-genres of watches, but both have really done well when it comes to their divers. Here again, the two make dive watches with a wide range of pricing and functionality and are revered by both professional and recreational divers.
Seiko SKX007 vs Citizen NY0040: An Introduction

The Seiko SKX007 has been around since 1996 and is the latest in a long line of robust Seiko divers. It followed the successful 7002 diver, which actually followed the absolutely famous 6309 divers. Whereas the 7002 had a very similar case design as today's SKX007, it only contained a day display versus the day/date found on today's model. The SKX007 contains many of the traits found in Seiko's earliest divers, some of which we will discuss later, and, therefore, exhibits a strong sense of lineage. The bottom line is that this is a common watch for vintage Seiko lovers to own and, in fact, was one of my earliest Seiko purchases.
The Citizen Promaster NY0040 was introduced in 1997. I'll be honest that I do not see a direct predecessor to this watch, but Citizen had clearly started down a far more revolutionary path in the 1980's versus its Japanese competitor. Promasters often fused digital displays with analog while embracing quartz and eco-drive technology to create some interesting designs during the period. Still, though, the NY0040 contains a classic automatic movement and has certainly been produced for long enough to earn classic status in its own rite. Evidence of such status is its frequent use by military divers.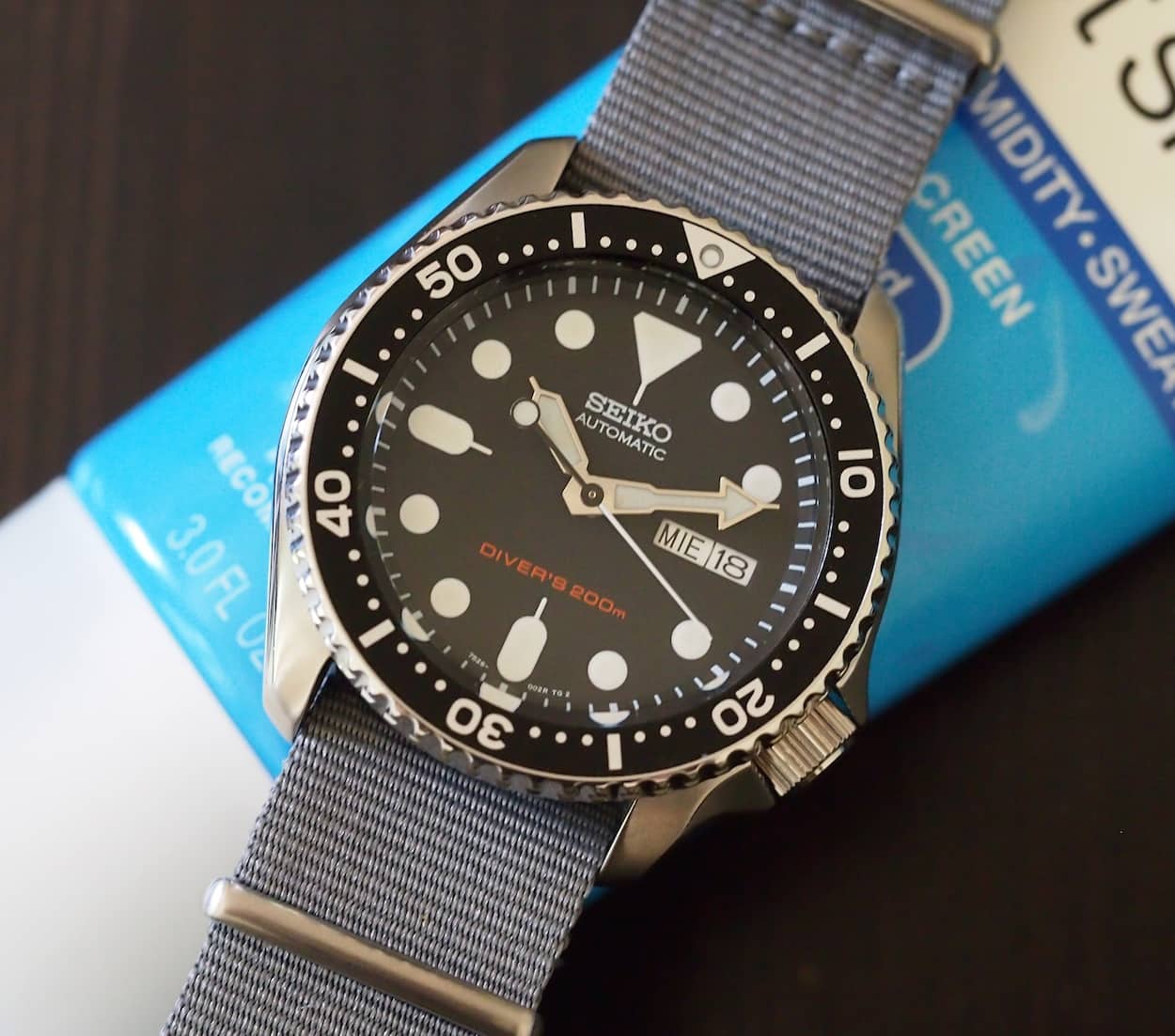 The Specs

The Seiko SKX007 contains a 42.5mm stainless case with 22mm lugs and is water resistant to 200m. It has a 120-click unidirectional bezel that sits on top of the case. The crystal is a flat Hardlex mineral glass. It has a screw down case back and crown. Inside of the watch is the Seiko 7s26 automatic with 21 jewels and a 21,600 bph frequency. The movement contains a day and date function, is non-hacking, and cannot be hand wound due to the employment of Seiko's Magic Lever. The crown sits in a Seiko-familiar 4:00 position.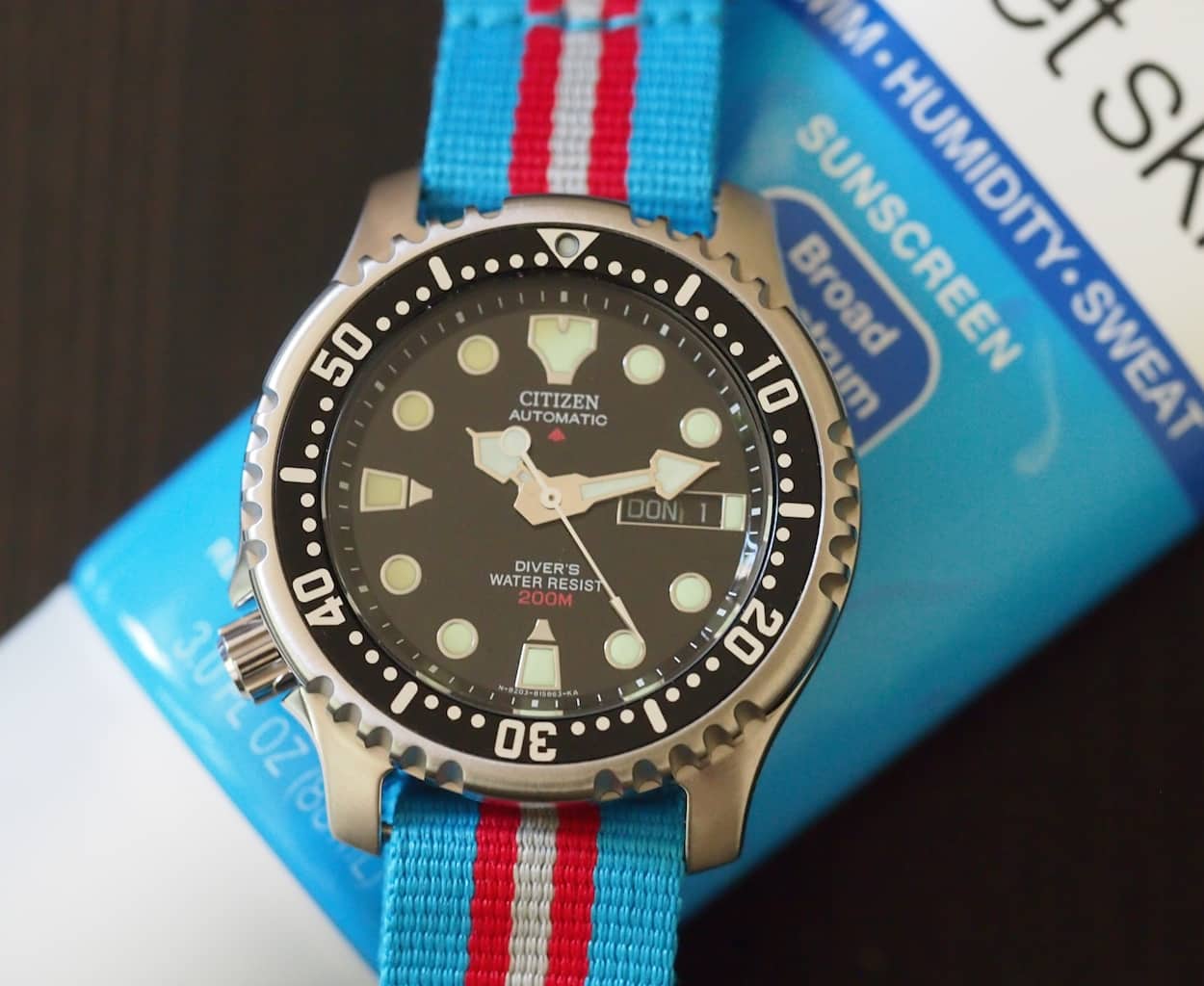 The Citizen NY0040 is equipped with a 42mm stainless case with 20mm lugs and is also water resistant to 200m. It has a 60-click unidirectional bezel that sports a diameter equal to that of the case below it. Like the Seiko, Citizen uses a mineral glass for its crystal. The Citizen uses its in-house Miyota 8200 movement with 21 jewels and 21,600 bph frequency. Here again, it's similar to the Seiko with a day and date function, but it strays in that it can be hand wound. Also, oddly, the crown sits at 8:00. It should be known that most find the Citizen movement to be more accurate than the Seiko.
The Aesthetics

Both of these watches are purposeful-looking dive watches that seem prepared to take a beating. They both have solid lugs, crown guards and bulky bezels. Dial-wise, though, they take different paths.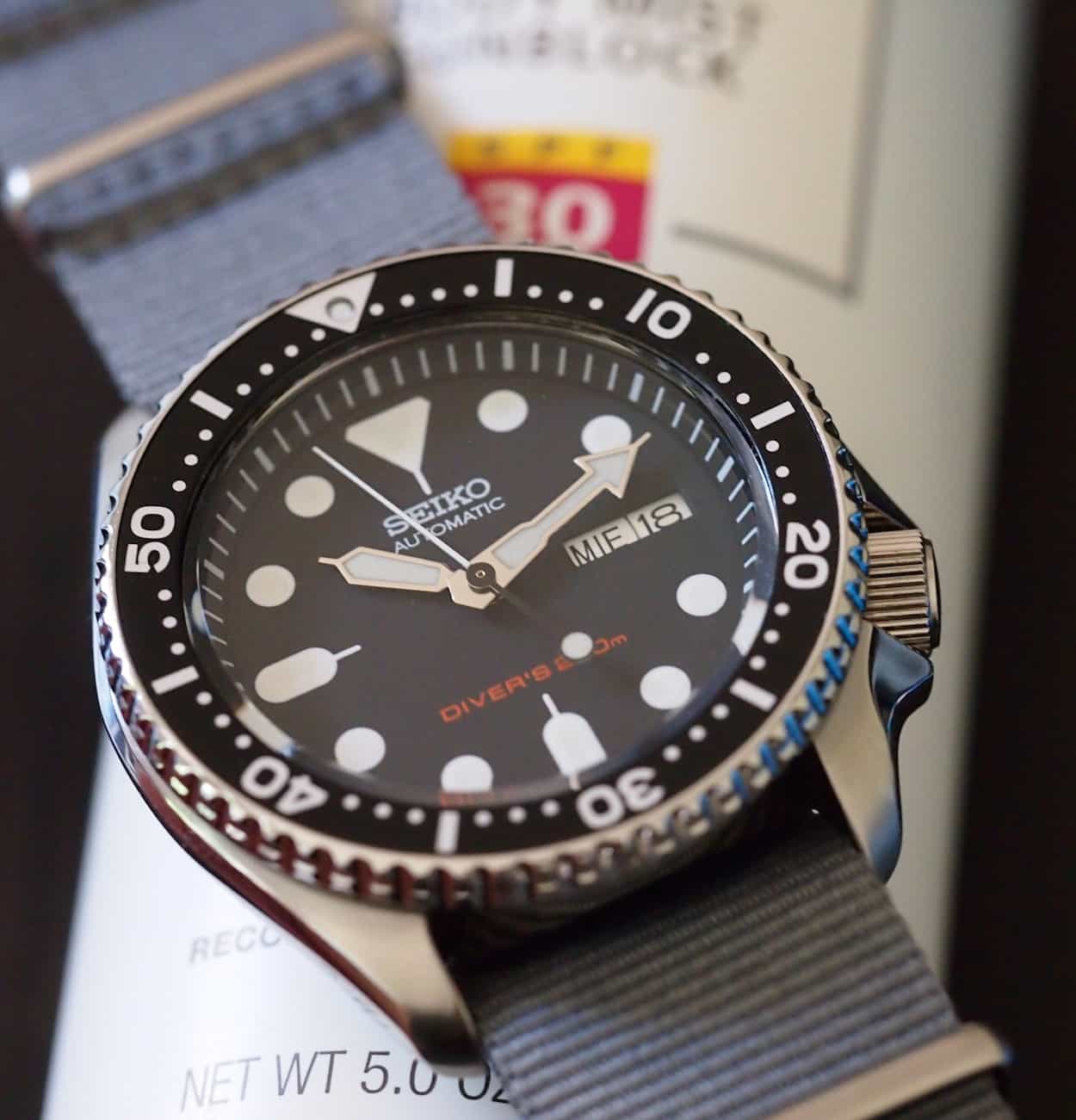 The Seiko SKX007 makes do with the bare minimum of details on its dial. It uses printed hour markers and has a matte finish. The day/date window is beveled but contains no surround. The only hint of color, in fact, is the red verbiage stating the water resistance. As mentioned, it's a design that Seiko lovers will be familiar with and aside from the crown position it wouldn't look out of place on the wrist of someone who is interested in, say, the Rolex Submariner. The SKX007 contains hands that are similar to far more expensive Prospex pieces and it also exhibits the familiar "tsunami" motif on its screw down case back. It's finished well from a dial, case and bezel perspective and certainly could battle watches costing twice the price. Regarding the case, it's nicely brushed on the top surface and polished to a mirror shine on the sides. The screw-down crown is unsigned as is the typical Seiko way and nestles flush with the crown guards. Furthermore, luminescence is a seriously strong suit.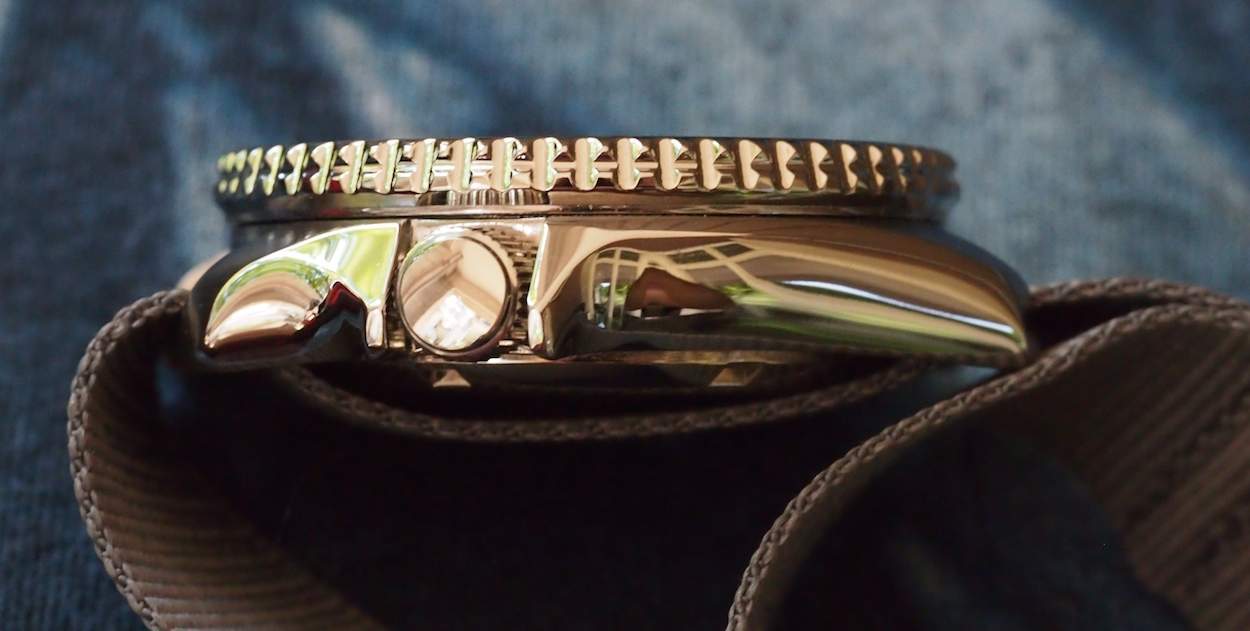 Regarding weaknesses of the SKX007, I dislike how the dial is a crisp white and the hands are off-white. To some, it may appear like patina, but I find it a little cheesy. Also, I see a small gap between the day and date wheel, which is not typical for Seiko. Aside from that, my only other general wish is for a hand-winding movement, but because this is Seiko, I can't be too surprised that the watch is sold without one.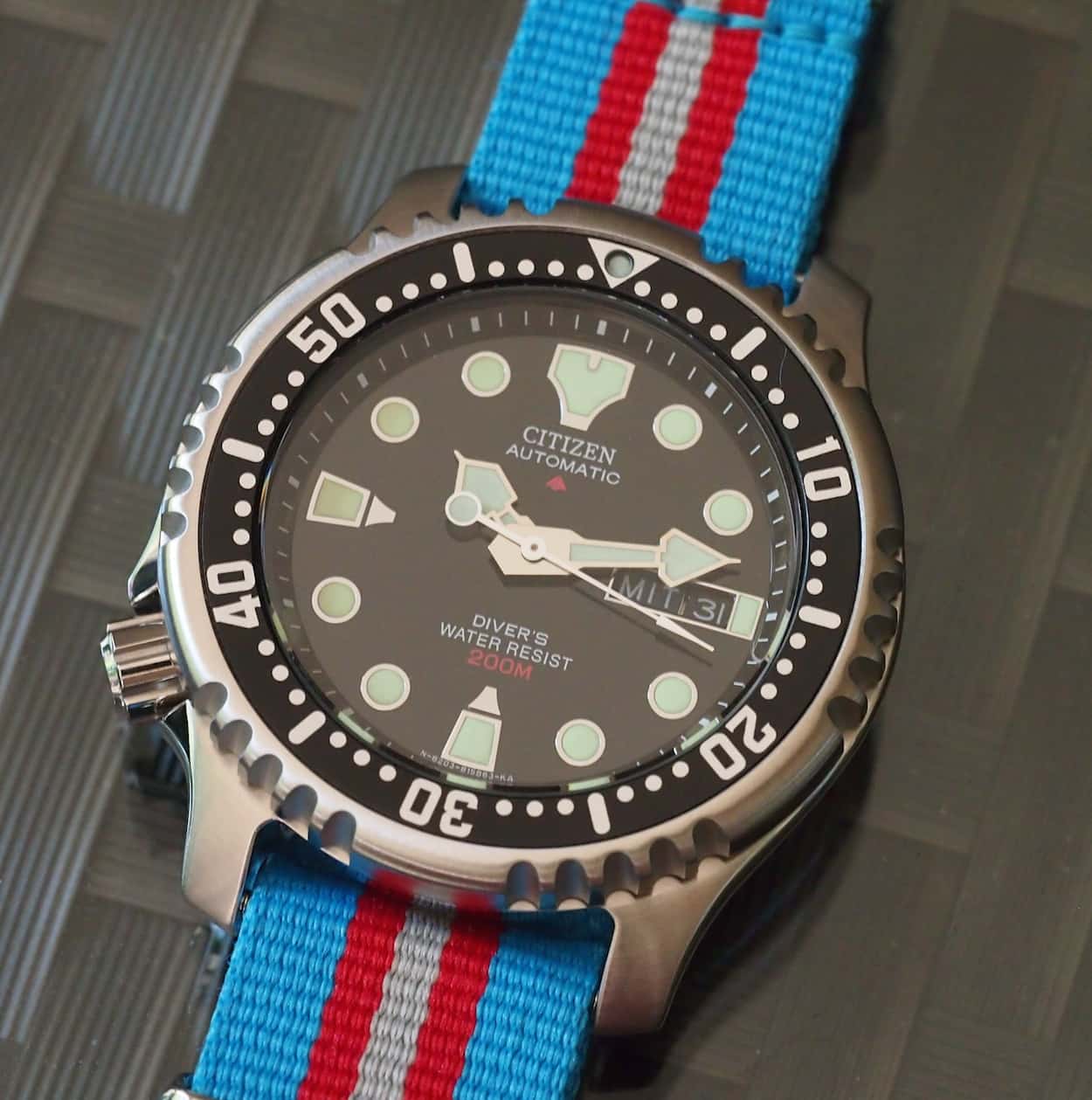 Whereas the Seiko SKX007 is a very simple piece, the Citizen NY0040 contains a lot more detail. First off, the dial is glossy and contains applied indices. The hands are similarly shaped to the Seiko but match the dial perfectly. Color, while also sparse, also comes in the form of red with the mention of water resistance on the lower half and Citizen's trademark Promaster arrow on the upper half. It's a high quality dial that even adds the nicety such as a day/date bezel surround. The bezel on the NY0040 is quite a bit different than the SKX007 in that it is 60-click instead of the Seiko's 120 and it is also rounded at top versus angling inwards in the case of the Seiko. It's knurled between the 10-minute marks and, as mentioned, follows the diameter of the case. Regarding the case, it is polished on the sides and matte on the top. The unsigned crown contains thick ridges and screws down but still protrudes far beyond the crown guards.   The case back contains the Citizen Promaster arrow.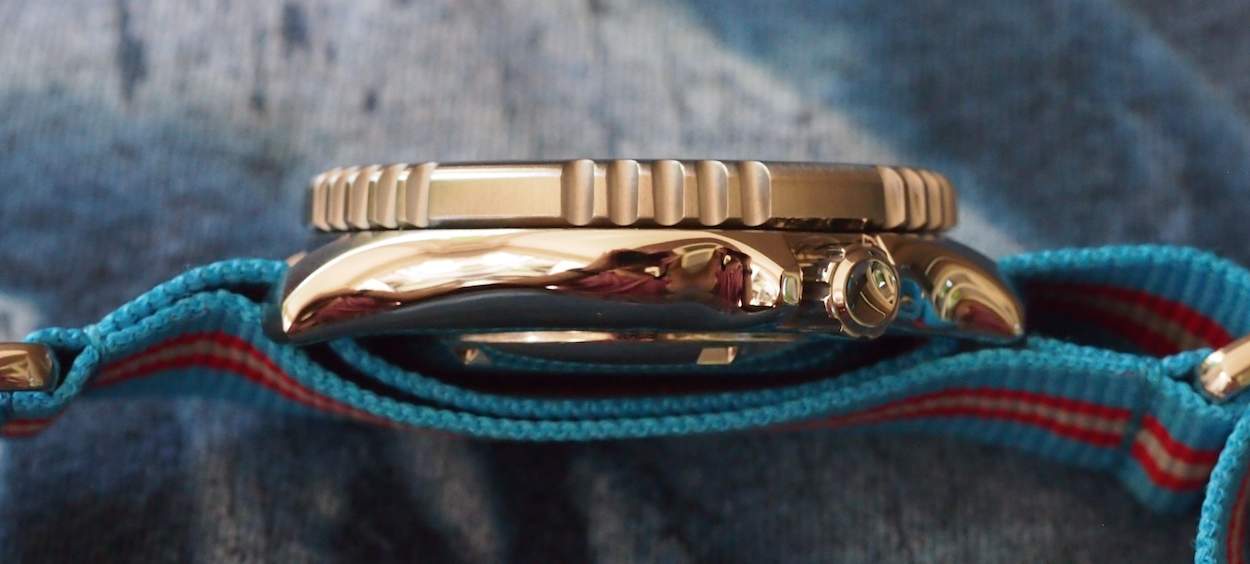 If we speak about drawbacks to the NY0040, I'd say that it looks a little less timeless due to the amount of detailing. On the other hand, for the most part, those details are managed well and to a very high standard well beyond its price. Oddly, like the Seiko, this piece contains a big gap between its day and date wheels. Finally, the crown position makes this watch unique but it is a little awkward to use unless, perhaps, you're left-handed.
On the Wrist

Let's get this out of the way; both the Seiko SKX007 and Citizen NY0040 are good looking watches on the wrist. They are weighty and feel extremely solid. Both have presence but are extremely comfortable due to their median size. Speaking of size, while both are similar on paper, they certainly wear differently.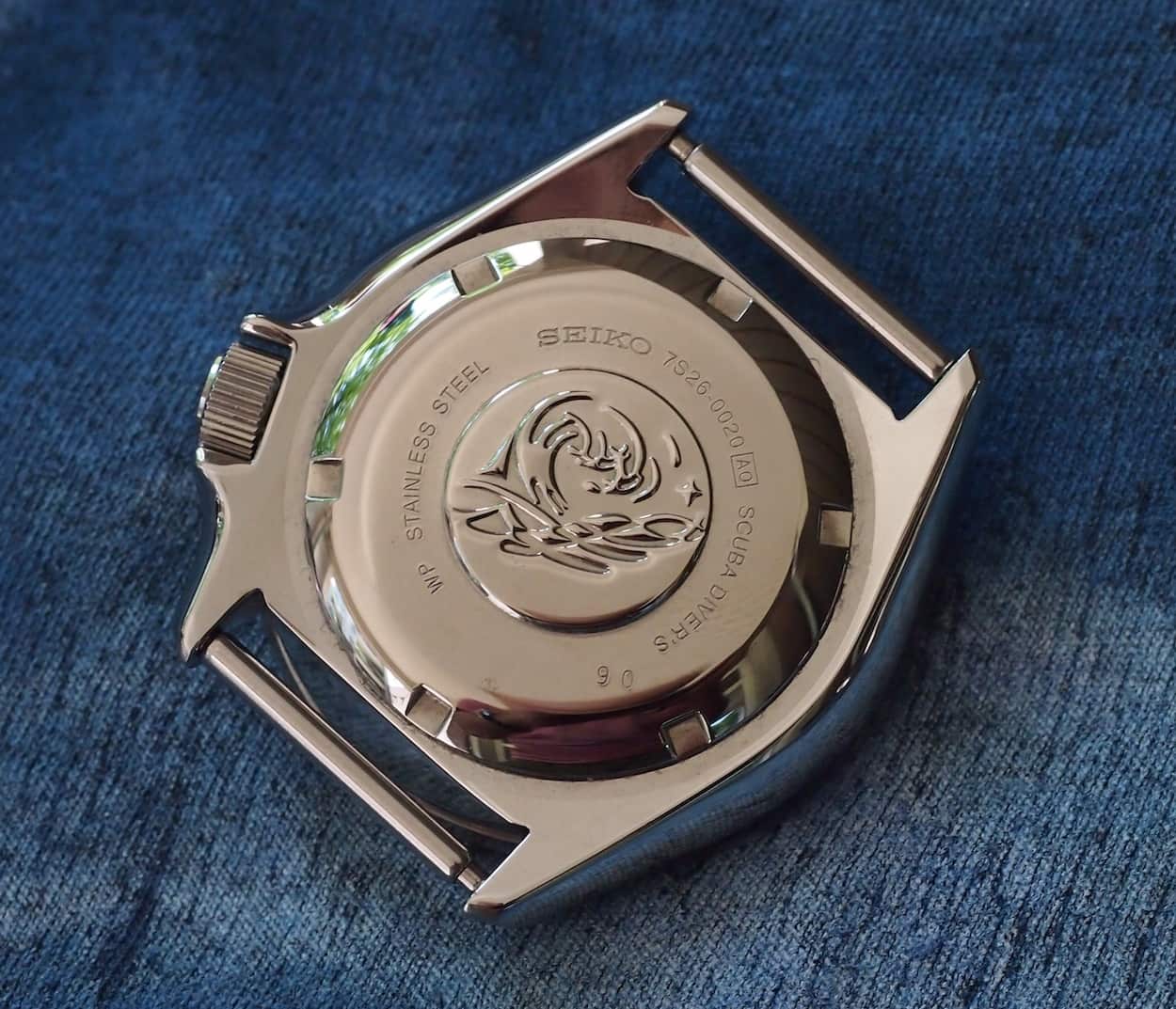 The SKX007 wears a bit bigger due to its bezel shape and what at least appears to be a larger diameter dial. A fat crown, wider and longer lugs, further augments this size advantage. When I say that it wears longer, one curious thing is that the right side above the crown really seems to lengthen the appearance of the watch if that makes sense. It almost wears thin but long. Also, it does sit reasonably tall due to a thick case and bezel. In any case, it's a nice wearing watch but it certainly doesn't wear as large as vintage Seiko's such as the famous 6309. Bezel action is really nice with little slop. Using the crown is also a nice experience due to its large diameter.
You'll see that I've paired the SKX007 with a gray NATO strap. Due to my small wrists and the fact that I don't really care for Seiko's stock rubber strap, I went for this look. The rubber strap is well-liked by many, but to me, it's just too thick, stiff, and lengthy. The SKX007 is available with a jubilee style bracelet for little extra expense and might not be a terrible idea to pick up if you like the option. Lastly, it is available as the SKX009 with a red and blue bezel if the "Pepsi" look is of interest.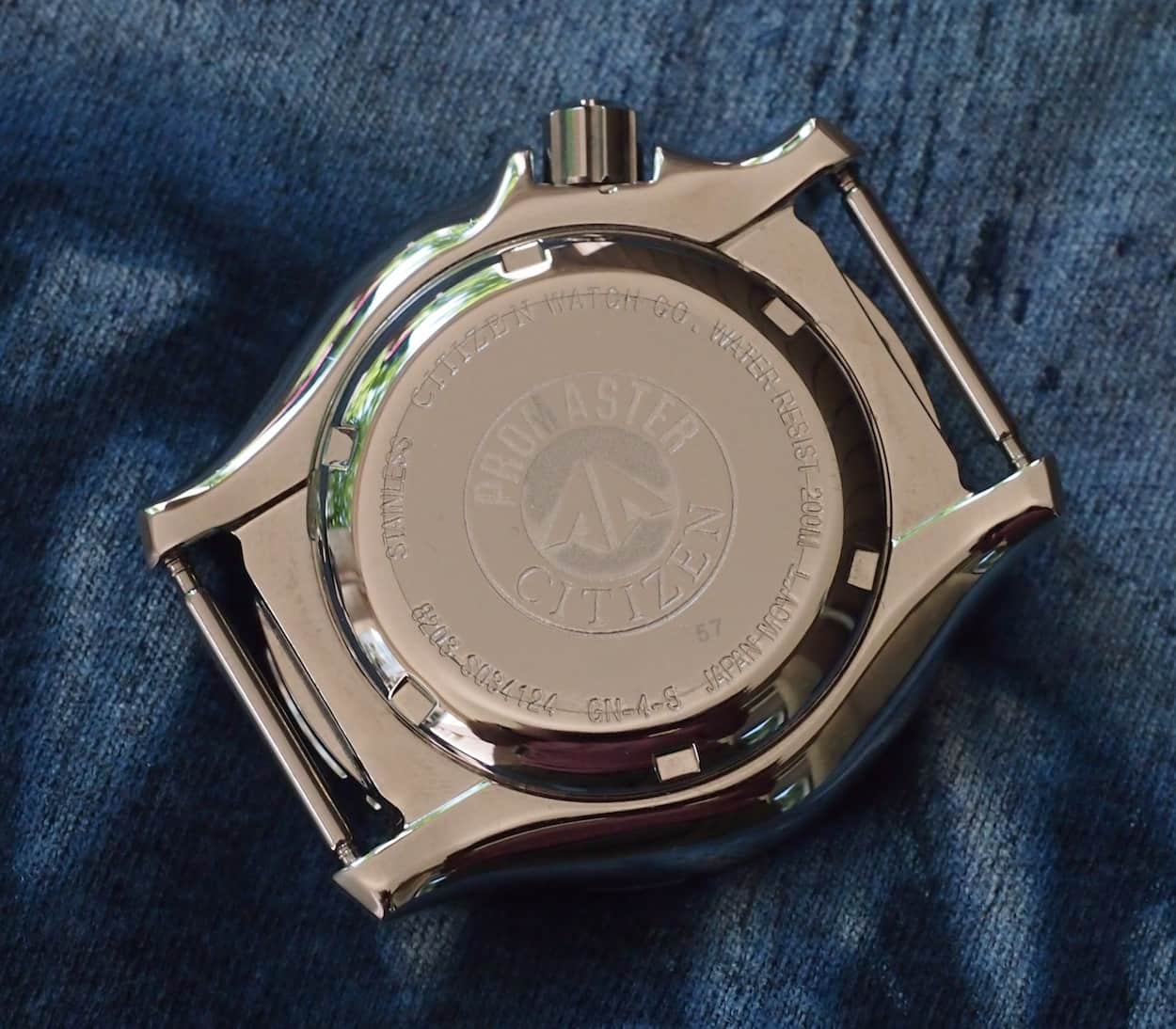 The Citizen NY0040 is another great wearing watch that wears smaller than the Seiko. The smaller lug width and length of said lugs along with a smaller crown are the main contributors to this look as well as a bezel that rounds inwards towards the dial. However, the NY0040 wears "more round" due to its short lugs and case-hugging bezel. It's also not as tall as the Seiko, which gives it a more compact look. The bezel action is nowhere as smooth as the Seiko due to its 60 clicks, but it's still not bad. Crown action and winding are nice. As mentioned, I like a bigger crown but this does have good tactile feel and I do like the finishing. Luminescence on the NY0040 is also quite good, but perhaps not quite as strong as the Seiko's.
Here again, I've paired the Citizen with a NATO strap. This one is admittedly brighter than what I paired with the SKX007 but I think that augments the glossy dial and greener lume plots. I've seen Citizens on bracelets and it looks great but I cannot speak to their quality. This watch came with a slightly more flexible rubber strap that is still too long for me. Also, I know it's Citizen tradition, but I don't love the decompression tables printed on the side of the strap. One nice thing about the NY0040 is that they are available in several dial colors along with black such as cream, blue and yellow.
Buying Advice and Conclusions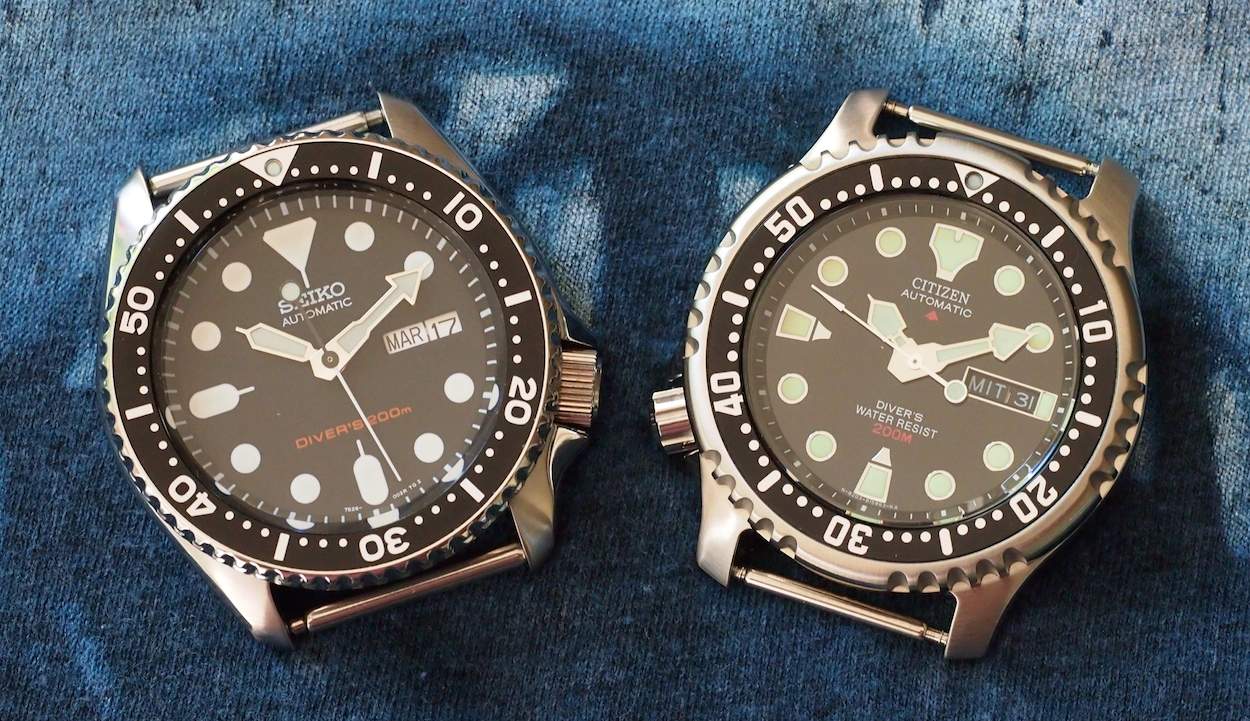 We mentioned in the beginning of our article that both of these watches are affordable. You can find either for under $200, brand new, all day long on sites like Amazon or eBay. They retail for far more but are discounted heavily. For some reason, it seems as though the NY0040 is less available from US-based sellers but it is easily imported. This price, to me, just feels like a no-brainer.
Both the Seiko SKX007 and Citizen NY0040 represent great value for the capabilities they possess. Plus, you get a watch that can be worn every day no matter the activity. Both are credible ISO-rated dive watches and you certainly do not have to worry about them no matter where you decide to travel on holiday. Oh, and they can withstand a beating be it during a hike or a margarita-induced thwack against the side of the pool!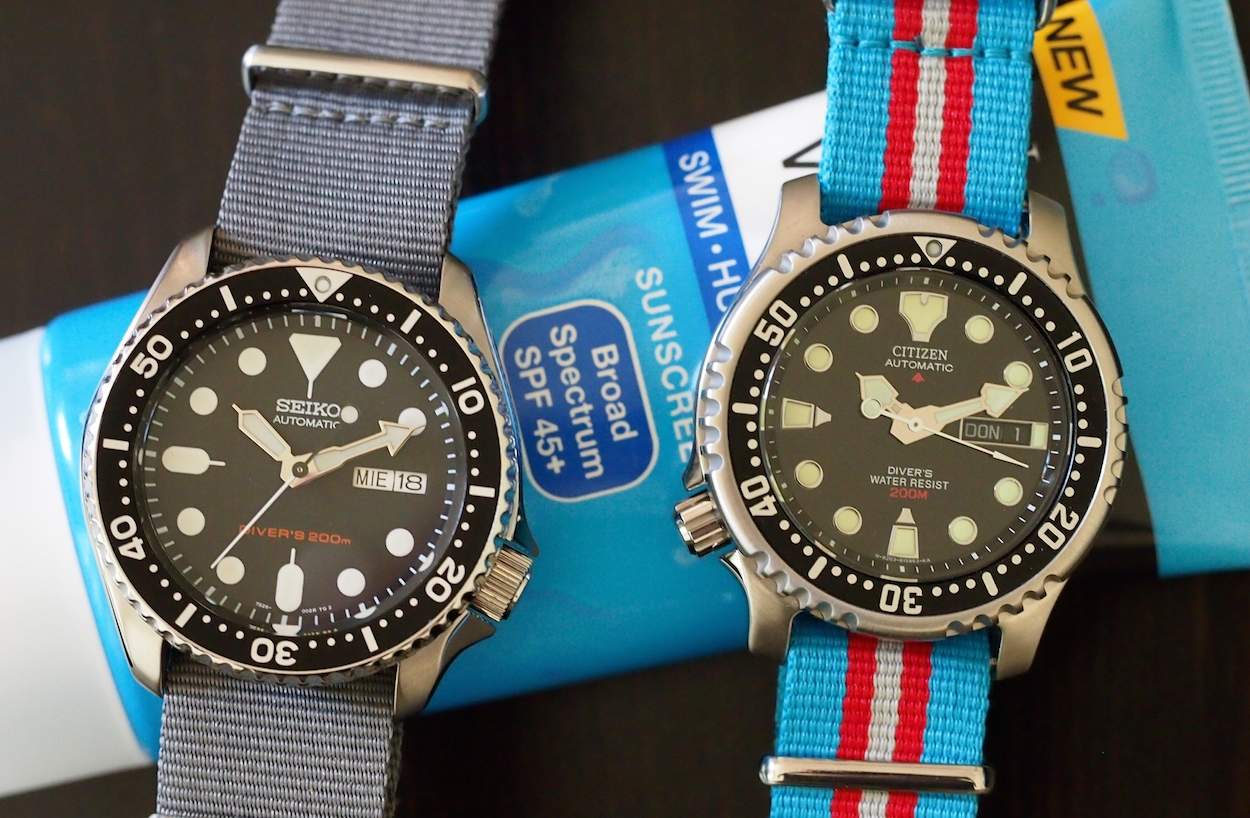 In the beginning of the article I mentioned that this was a competition and I suppose that means I need to choose a winner. There's no doubt that's a tough decision as both watches are great looking, boast similar features and build quality, and are priced similarly. If you've read articles by me, you'll assume right off the bat that the Seiko is the clear winner due to my affection for the brand and also due to the fact that I collect vintage Seiko divers. This is a great argument, but honestly, if forced to choose, I'd probably pocket the Citizen. There's just something about it that I like. I love the simplicity of the SKX007 but I like the details on the NY0040 even more. To me, the Citizen feels like a slightly more expensive watch due to its finishing and hand-winding movement. Plus, it fits me a bit better but that is completely down to genetics. In the end, though, one could not go wrong with either as a great every day watch that can be mixed and matched with so many strap options, or as a great vacation watch.
I hope you enjoyed our take on 2 affordable Summer watches. We know that both of these pieces are popular, so let's hear your take in the comments section below. In the meantime, enjoy your Summer!